! >
Broadway To Vegas
  
  REVIEWS  INTERVIEWS COMMENTARY NEWS

| | |
| --- | --- |
| | |
THEATRICAL COMMUNITY COMMEMORATES 10th ANNIVERSARY OF 9/11 - - IN FOCUS THE SKY - - ALL STAR HAIRSPRAY AT THE HOLLYWOOD BOWL - - THE UNAUTHORIZED AUTOBIOGRAPHY OF SAMANTHA BROWN - - THE PEER GYNT FESTIVAL - - ZARA PHILLIPS AND MIKE TINDALL HAVE A ROYAL WEDDING - - BERKSHIRE THEATRE FESTIVAL'S MUSICAL MONDAYS - - MONACO RED CROSS GALA - - DONATE . . . Scroll Down



THEATRICAL COMMUNITY COMMEMORATES 10th ANNIVERSARY OF 9/11


The 10th anniversary of 9/11 - the day that forever changed the world - will be commemorated by theatrical projects around the world.

With a little more than a month until the actual anniversary, live tributes have already begun.

Whether large or small, presented by professionals or amateurs, they are all significant - created out of respect and love or those who perished, the loved ones who survived and the way in which the world has survived.

Two towers. Ten years. Thousands of opinions. No-one can forget the moment they heard the news.

September 11th.

Ten years later, a team of major writers and thinkers explore our responses to the defining event of our times in a new production, Decade, directed by Headlong's Artistic Director Rupert Goold.

The production is written by Samuel Adamson, Mike Bartlett, John Logan, Abi Morgan, Lynn Nottage, Simon Schama, and Christopher Shinn.

Decade will be staged in an unused office building on the St Katharine Docks in the East End of London, with Goold emphasizing that the production will be "An immersive theatrical experience, taking you from the tranquil setting of the River Thames to the bright blue skies of downtown Manhattan and beyond."

Produced by Headlong Theatre in association with the National Theatre and Chichester Festival Theatre, the unique event stars Tobias Menzies, Charlotte Randle, Lia Williams, Cat Simmons, Jonathan Bonnici, Leila Crerar, Kevin Harvey, Tom Hodkins, Samuel James, Arinze Kene, Amy Lennox and Claire Prempah.

The production team includes Associate Director Robert Icke and Assistant Director Nadia Latif.

Design by Miriam Buether. Choreographer is Scott Ambler. Lighting by Malcolm Rippeth. Music and Sound by Adam Cork. September 1, 2011 to October 15, 2011.

PBS will commemorate the tenth anniversary of September 11th with a special series of new and encore programs leading up to and continuing throughout the week. On the evening of 9/11 PBS will present Great Performances The New York Philharmonic 10th Anniversary Concert for 9/11 which will be taped at Avery Fisher Hall in Lincoln Center for the Performing Arts in New York City on September 10.

The New York Philharmonic, with conductor Alan Gilbert, soprano Dorothea Rischmann, mezzo-soprano Michelle DeYoung, and the New York Choral Artists (Joseph Flummerfeltt, director), performs Gustav Mahler's Symphony No. 2, Resurrection "in a concert for New York for the tenth Anniversary of 9/11 - in remembrance and renewal."

More like an adjoining state, rather than a bordering country, Canada was there for America and what they experienced in helping left a lasting imprint.

Last March Gander Mayor Claude Elliott announced plans for a tribute initiative, Beyond Words, to commemorate the 10th anniversary of central Newfoundland's response to the horrific events that took place in the United States on Sept. 11, 2001.

It also marked the first time in history all airborne planes from the United States and Canada were immediately forced to land, and air space in the U.S. was closed.

Gander International Airport was one of several airports in the province used by Transport Canada that day as a temporary landing site for the 230 transatlantic aircraft diverted to Canada. Its runways became the parking lot for 39 diverted planes, while the surrounding area opened its doors to approximately 7,000 people who were left stranded far from home, anxious and fearful in the face of such devastation. Gander residents opened up their hearts and homes and gained prominence around the world for its hospitality.

Beyond Words is a three-week tribute.

"As Canada's most easterly province, Newfoundland and Labrador played a vital role in the days following September 11, 2001. Those days have had a lasting and significant effect on the Central Region and its people and we see the upcoming 9/11 Anniversary is as an ideal opportunity to reflect and to reaffirm our friendship with our friends to the south."



Mayor Claude Elliott, whose son lives in Gander, regularly vacations in Oklahoma with daughter Tina, her husband Mark and grandchildren Jake and Will.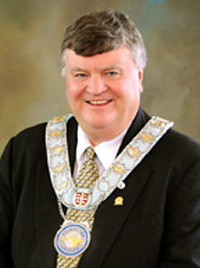 The Central Region has developed a comprehensive plan to recognize this key anniversary. It is essentially a month-long tribute that will incorporate a memorial service, live theatre production, concert, golf tournament and a fundraising drive.

Their ultimate goal is raise enough funds for a scholarship for children who lost a parent in the 9/11 attacks.

Elliott said the fundraising goal of the scholarship has been set at $250,000.

This September 11th the Town of Gander will also welcome back those who came to stay with them during this fearful ordeal, not only to remember the tragedy, but also to remember the countless acts of kindness that were precipitated by that single act of devastation."

"Ten years on, our hearts, thoughts and prayers remain with those who were most directly impacted. The Beyond Words initiative demonstrates that our friendship was not simply driven by the immediate crisis, but represents a genuine and lasting bond between people who shared an extraordinary experience and who grew stronger and wiser because of it," said Elliott.

Gander is also being acknowledged by the New York Fire Department.

The small Newfoundland town was given a steel beam from New York's World Trade Center, which collapsed in the Sept. 11, 2001, terrorist attacks.

The beam is a gift from the Bethpage Fire Department in Long Island, New York, to commemorate Gander's role in welcoming the stranded air passengers.



World Trade Center wreckage. Photo NYC gov.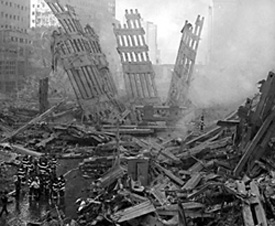 "It's an honor for us," Mayor Elliott told Postmedia News. A memorial will be built at the North Atlantic Aviation Museum.

Debby Yannakidis, a board member of the North Atlantic Aviation Museum in Gander, said through a spokesman that the museum is grateful to receive the beam. The museum will undergo major renovations in the fall and 9/11 will be a theme of some displays.

The Edinburgh Fringe Festival running August 5-29 will feature several 9/11 inspired presentations.

The American High School Theater Festival presents War at Home, August 9, 10 and 12, "created out of the journals of students, teachers and community members after the attacks."

In a one-man show, American Chris Wolfe explores how 9/11 affected a generation through television and the internet. Edinburgh's Cutting Edge Theater Productions will premiere a new musical 11 weaving in stories of people whose lives have been affected by two world wars and 9/11 itself.

In honor of the 10th anniversary of 9/11, New Britain's Hole in the Wall Theater in New Britain', CT will present Anne Nelson's The Guys Sept. 9-11.

The work was originally commissioned by Jim Simpson, artistic director of the Flea Theater in Lower Manhattan. Based on Nelson's own experience, the story centers on a writer helping a firefighter friend prepare to speak publicly at the funerals of those who died on the day of the terrorist attack.

The Hole in the Wall production will feature Steve Kelly and Virginia Wolf and is directed by Julia Kiley, who is the former artistic director of the Ivoryton Playhouse.

The 9/11 Performance Project, Art of Justice Series in New York City was created in 2008. The series focuses on how the artistic imagination can shed light on the many perceptions of justice in society. Co-Curated with The Department of Communication and Theatre the 9/11 Performance Project, taking place September 9-11, will present a set of three very different yet complementary plays:

The Domestic Crusaders written by Wajahat Ali, Another Life written by Karen Malpede, and The Demolition of the Eiffel Tower written by Jeton Neziraj.

The Project is a vehicle for cultural diplomacy, advocates reform of the post-September 11th political atmosphere and promotes a return to critical thinking, adherence to the rule of law, respect of civil liberties and upholding human rights in the United States and abroad.

The goal of the performances and public dialogue is to create an experience that will engage the public and help society enact more progressive thinking and action in the search for understanding current U.S. and world policies, and their consequences, and furthering the understanding of Islam as it is lived today. A JUST-US Dialogue will follow most performances. A series of free panel discussions will round out the 9/11 Performance Project.

Performing Tribute 9/11: Ordinary People, Remarkable Stories presented by New York City's Endurance Theatre, brings together the unique and inspiring stories of individuals who were directly impacted by the events of 9/11 - survivors of the North and South Towers; family members who lost loved ones; an evacuated area resident; a retired FDNY firefighter who responded to the site, a New Jersey resident who volunteered in the aftermath with the Salvation Army, and volunteers who helped in the rescue and recovery.

The individual experiences are told first-hand and woven together in a moving theatrical event.

The actual people who experienced 9/11 perform the piece, telling their stories via a reader's theatre style in front of moving images from the day.

At each presentation of Performing Tribute a piece from the cladding of the towers will be on display. The Port Authority of New York and New Jersey distributed pieces of the World Trade Center rubble to organizations and cities around the world for memorials. Endurance Theatre received a small piece in August of 2010.

Performing Tribute will be staged on August 17th at Harlem Stage, September 7th at Theatre at St Clement's, September 8th at All Souls Church and on August 31st at the Mount St Olive library in Flanders, New Jersey.



Broadway To Vegas is supported through advertising and donations. Priority consideration is given to interview suggestions, news, press releases, etc from paid supporters. However, no paid supporters control, alter, edit, or in any way manipulate the content of this site. Your donation is appreciated. We accept PAYPAL. Thank you for your interest.



ART AND ABOUT


IN FOCUS: THE SKY

Martin Munkacsi, Fireworks., 1932. Gelatin silver print. Image: 23.8 x 27.3 cm (9 3/8 x 10 3/4 in.). The J. Paul Getty Museum, Los Angeles © Estate of Martin Munkacsi, Courtesy Howard Greenberg Gallery, NYC 84.XM.203.2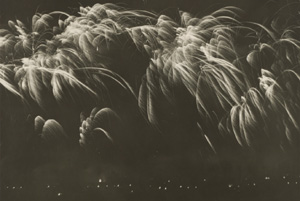 Generations of artists have found inspiration in the sky, which became a rich subject for the medium of photography after it was introduced in 1839.

Drawn from the J. Paul Getty Museum's permanent collection, this selection of 22 artworks explores the genre through the history of photography.

The exhibition features photographs by artists such as: Ansel Adams, John Divola, André Kertész, Joel Meyerowitz, Alfred Stieglitz, and Carleton Watkins, among others.

The Getty's collection includes exemplary objects that demonstrate both technological and aesthetic innovations in photography.

Among the different processes highlighted are daguerreotypes, albumen silver prints, palladium prints, platinum prints, and more contemporary inkjet prints.

Four sections - urban skies, clouds, dark skies, and skies in color give an overview of the diverse and imaginative ways photographers have approached this theme.

Opened last week and is on display through December 4, 2011 at The Getty Center in Los Angeles.

FLASHBACK: STREET SCENES BY DAIRA DESHUK THE LARRY RIVERA YEARS

Daria Deshuk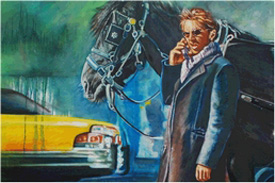 an exhibition of 24 original oil paintings by Daria Deshuk.

"This series is about creating snapshots of life, my chosen imagery takes that reality and depth of the viewer to a level of universal and subjective intimacy. With paint and brush I strive to capture the essence and atmosphere of the ordinary and mindless vignettes of daily life," said Deshuk. "The work explores Intensity, Interaction, Passion and Mediation, the individual references the collective and art is created. The artist as voyeur steals selectively from the public environment of streets, parks, images that define a New York City American experience."

Daria Deshuk studied art at Parson's School of Design she received her BFA in Painting in 1978. Daria found herself part of the exciting art scene in the early '80s living in the East Village, receiving a MFA in Painting from Hunter College. She was a member of PS 122 Artist Space, working and exhibiting for 10 years. Daria met the artist Larry Rivers and at the age of 22, began a companionship of 15 years. Their son Sam Deshuk Rivers was born in 1985. Daria now resides in Bridgehampton, NY full-time, with her partner David Kushnir.

The show is on view through September 5, 2011, with an Opening Reception on Thursday August 4th, at Gallery at New World Stages, NYC.


IN THE COURTS


PRINCE ALBERT AND PRINCESS CHARLENE OF MONACO have sued the French magazine L'Express for spreading what they assert were false rumors about them in the week before their July 2 wedding.

The news magazine reported on its website June 28 that Princess Charlene, née Wittstock, tried to flee to her home in South Africa days before the lavish wedding. It alleged that she wanted to leave after she discovered that Prince Albert had fathered a third illegitimate child while still engaged to her. The article purported that Charlene was stopped from leaving the Nice airport after the palace contacted police.

In a statement July 22, Michel Roger, the principality's head of government, said the couple are suing the weekly magazine for "invasion of private life and printing fallacious information on its website following unfounded allegations."

L'Express in an article July 22, the magazine said it stands by its original reporting, which it said came from sources close to the wedding process.

The lack of a proper spin doctor and people talking too much have only acerbated the rumors.

Even the bride's younger brother meant to help, but didn't, when he voiced some comments to South Africa's top selling English weekly magazine You.

"Everyone's making up their own stories. I can promise you, my sister is very happy," younger brother Sean Wittstock, 27, said. "She and her bridesmaid were in SA on a game farm a week before the wedding. She could have stayed behind if she'd wanted to."

But then he continued talking - basically saying she no longer could leave her marriage.

"She's a Roman Catholic now and they don't believe in divorce," he told the newspaper.

As for the allegations that Albert fathered a third child out of wedlock while engaged to Charlene, Roger said there was proof that this was false.

SEX ACT UNDER A HAT resulted in Nicholas Read, 40, who appeared as a goblin in a Harry Potter film, resulted in a 20-week suspended sentence for indecently exposing himself on a train.

Read was found guilty of performing a sex act under cover of a juggler's hat in October 2010.

A 17-year-old girl told Leicester Crown Court in England how she felt "trapped" sitting next to the actor on a London to Leicester train.

Read who played a goblin in the 2000 Harry Potter and the Philosopher's Stone film and an ewok in Return of the Jedi, was previously convicted of making explicit phone calls to "random" women from a hotel room. Read must undertake a community sex offender group work program.

HOLLYWOOD ANIMAL SUPPLIER CHARGE Simon Wilson, 49, a taxidermist whose firm supplied the dead, preserved animals to dozens of Hollywood films from the Harry Potter series to Casino Royale was charged with trading in endangered species.

Wilson had been arrested last March when officers raided his studio in Mayfair, England after he allegedly tried to sell a stuffed tiger, worth £50,000, to a client.

Since then an investigation by Scotland Yard's Wildlife Crime Unit has been on going. Now Wilson has been formally charged with storing the corpses of exotic animals in a freezer at his workshop.

He is also charged with falsifying documents relating to endangered animals and fraud. His company, Animatronic Animals Ltd, has provided animals to scores of blockbuster movies, among them Robin Hood Prince of Thieves, The Mummy, 101 Dalmatians, Indiana Jones and the Kingdom of the Crystal Skull and five Harry Potter films.

Wilson was arrested as part of London Metropolitan Police's Operation Charm, the London-wide crackdown on the illegal wildlife trade.

It is thought that more than 350 million wild animals and plants are bought and sold worldwide each year. The US State Department has estimated that the illegal trade in endangered species is worth over $9bn annually.


SWEET CHARITY


MONACO RED CROSS GALA which takes place August 5 at the Sporting d'Eté Club in Monaco will star Joe Cocker.

For decades this event had been a sought after hot ticket, made even more so this year, since it will be the first black tie soiree for Prince Albert and his bride Charlene since their marriage last month and the subsequent turmoil surrounding the event.

The Monaco Red Cross was created by Prince Louis II on March 3, 1948. Shows were organized since 1948, when the Monaco Red Cross was founded, to raise funds for its programs.

In 1957, the former Hollywood actress Grace Kelly, who had become Princess Grace a year earlier, took over as President for The Red Cross which is Monaco's masthead charity. With Grace's Hollywood connections, Monaco's Red Cross Ball was transformed into a blue ribbon European gala.

Since his mother's death the annual event is under the patronage of H.S.H. Prince Albert II. It is assumed that Princess Charlene will become actively involved with the fund-raiser which brings out scores of international celebrities who dine on elegantly prepared meals, enjoy top entertainers and a display ball gowns that dazzle.

For the 1957 ball Princess Grace invited America's top rated singer, Eddie Fisher, to headline.

Since then other superstars who have toplined the bill include: Sarah Vaughan, Carmen Cavallero, Ella Fitzgerald, Tony Martin, Nat King Cole, Beatrice Lillie, Sammy Davis, Jr, Charles Trenet, Rosemary Clooney, Sacha Distel, Eleanor Powell, Trini Lopez, Carol Lawrence, Bobby Darin, Gilbert Becaud, Josephine Baker, Charles Aznavour, Shirley Bassey, Tony Bennett, Andy William, Line Renaud, Engelbert Humperdinck, Enrico Macias, Harry Belafonte, Gloria Gaynor, Frank Sinatra, Julio Iglesias, Joël Grey, Elton John Paul Anka, Julia Migenes-Johnson, Grace Jones, Gregory Hines, Liza Minnelli, Tina Turner, Shirley MacLaine, Whitney Houston, Stevie Wonder, Barbara Hendricks and Michael Bolton.

There were production shows Riverdance, Lord of the Dance, and Notre Dame de Paris.

The Beach Boys, Rod Stewart, Lionel Ritchie, Anastacia, Duran Duran, Raul Midor, Diana Ross, Bill Wyman and the Rhythm Kings Gloria Estefan, and Tom Jones also headlined.


SPORTS STARS ROYALLY WED
Newlyweds Mike Tindall and Zara Phillips leave the church. Photo: Getty.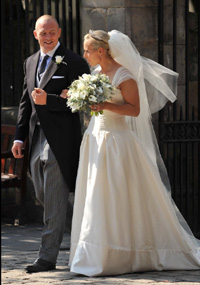 Capt. Mark Phillips escorts his daughter Zara into the church. Photo: Getty.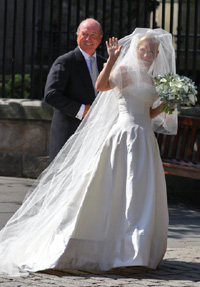 Local officials viewed the wedding yesterday as a union of two sports celebrities, one of whom has some royal relatives.

That would be the bride - Zara Anne Elizabeth Phillips - whose grandmother is Queen Elizabeth.

The groom is rubgy star Mike Tindall. His family includes his father, Phil, 65, a retired Barclays Bank worker, and his mother Linda, 63, a social worker and elder brother, Ian, 36. The groom's uncle Stuart, and his wife Paula, together with their daughters Sarah, 18, and Kathryn, 15, perform as the folk band The Tindalls. The group has been playing together since 2005, with gigs at clubs and festivals across the UK.

The bride arrived at the 17th century kirk, in a black Bentley, and accompanied by her father, Captain Mark Phillips.

Zara was gorgeous in an ivory silk faille and silk duchess satin gown by British and Edinburgh-trained designer Stewart Parvin from the exclusive White Room bridal boutique in Minchinhampton.

The gown featured a chevron pleated bodice ending in dramatic inverted pleats on a dropped waist was designed to create a bell-shaped silhouette and the gown has a concealed structured corset.

Silk tulle straps form a V at the back and the bust is in silk duchess satin, with simple bias-cut raw edged ribbons of top-stitched silk faille and duchess satin decorating the neckline and empire seam.

The full skirt has concealed pockets, a band of silk duchess satin at the hem, and a subtle train.

Delicate fabric-covered buttons decorate the center back of the gown, from its neckline to the hem.

Her fine silk tulle cathedral length bouffant-style veil, was held in place by the Greek Key tiara, lent to her by her mother the Princess Royal. Anne was reported to have been given the priceless head piece by her father the Duke of Edinburgh, Prince Phillip.

Zara selected Jimmy Choo shoes, and carried a bouquet by London-based florist Paul Thomas. Her upswept hair was styled by Evangelos Tsiapkinis at Mayfair salon Michael John and make-up was by Bobbi Brown.



Princess Eugenie, Princess Beatrice arrive at the wedding with their father Prince Andrew. Photo: Getty.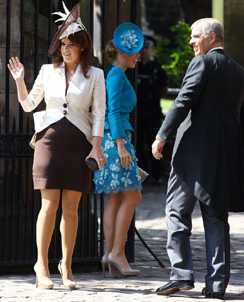 Queen Elizabeth selected a Parvin apricot wool coat and matching silk patterned dress, accessorized with a matching straw hat by the royal milliner Rachel Trevor-Morgan, Photo: Getty.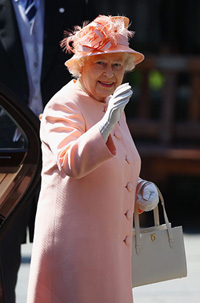 The bride best friend, horse trainer Dolly Maude served as her maid of honor and wore a light grey cocktail length dress with a pencil skirt also from designer Stewart Parvin.

Maude's six-year-old son Ted, who is Zara's godson, acted as page boy.

The bridesmaids were Stephanie Phillips, Zara's half-sister, the daughter of Captain Mark Phillips and his second wife Sandy Pflueger, Nell Maude, Jaz Jocelyn and Hope Balshaw. All wore dresses by Sue Palmer, a local Scottish dressmaker.

The Gordounstoun choir performed during the service, singing Amazing Grace and two psalms. Zara vowed to "honor" her groom rather than "obey" when she made her vows.

Because of her career in equestrianism Zara will keep her maiden name.

The groom, best-man and ushers, who included Zara's brother, Peter, wore black morning suits with spongebag trousers, by the bespoke London tailors, Cad & the Dandy, made with black "barathea" cloth sourced from Huddersfield, as a salute to Tindalls' Yorkshire roots. They also sported white carnation buttonholes.

The tailors reported that because of the muscular build of the rugby players, they had to use more material than customary.

The groom's "supporters" were his best man Iain Balshaw, his former Gloucester and England team-mate - sporting a black eye from a moped accident in France earlier this month - and his groomsman, James Simpson-Daniel, an England team-mate. Balshaw and Tindall were part of England's winning 2003 rugby World Cup squad in Australia, where the couple were introduced by Zara's cousin Prince Harry.

The guest list was composed of royal relatives of the bride and sports star friends of both the bride and groom, Michael Tindall.

Princess Anne and her husband Commander Timothy Laurence arrived along with Tindall's parents. Prince Charles and Camilla were accompanied by Prince Harry. The Duchess of Cornwall chose a peppermint pleated dress, worn under a fitted jacket accessorised with an elaborate floral headdress.

The groom arrived at the Kirk with Peter Phillips.

Princess Beatrice attended with her boyfriend Dave Clark and Princess Eugenie arrived together.

Princess Eugenie selected an outfit by Angela Kelly. The oyster satin fitted jacket featured a high collar and two silk buttons. The jacket was complete with flared bustle with a large bow, lined in chocolate silk. The silk dress was fitted at the waist with a Swarovski crystals on the waistband.

Eugenie also wore a silk angled hat in brown with oyster colored feathers.

Princess Beatrice selected a double silk, bright turquoise embellished floral suit, also by Angela Kelly. Her matching hat was created from double silk crepe with lace details.

Seen at the happy event were England rugby stars Jonny Wilkinson and Ben Foden and current rugby national coach Martin Johnson and his predecessor Sir Clive Woodward. Zara's godfather, former Formula One racing champion Sir Jackie Stewart - who wore a blue, green and red kilt and blue navy jacket - and his wife Helen were there, as were the late Princess Margaret's daughter, Lady Sarah Chatto and her husband Daniel, Una Healy – a member of girl group The Saturdays, actor Katherine Kelly and TV presenters Natalie Pinkham and Kirsty Gallacher.

Equestrians making an appearance included William Fox-Pitt, Elizabeth Power and Jayne Doherty.



In attendance at the wedding were top jockey AP McCoy and his wife Chanelle who wore a hat by milliner Mark T Burke with a black Jenny Peckham dress complimented with a jeweled yellow sash.

Almost stealing the scene - Prince William and bride Catherine - attending their first wedding since their own. Kate wore the cream jacquard coat and dress she worn in 2006 for the wedding of Camilla's daughter Laura Parker Bowles to Harry Lopes. Five years later, the Bowles-Lopes three-year-old daughter would be one of Kate's young bridesmaids.

Zara, 30, the younger child of the Queen's only daughter Princess Anne. Her first name is Greek and means bright as the dawn. It was suggested by her uncle, Prince Charles. Zara is 13th in line to the throne but has no titles. She is an accomplished horsewoman and a trained equestrian physical therapist. Tindall, 32, plays for Gloucester and the English national rugby team. They were united in marriage at the 321-year-old Cannongate Kirk, the palace's official church located in Edinburgh's Royal Mile, which is a short walk from Scottish Parliament.

Celebrating the big day was the bride's brother Peter Phillips and his wife Autumn Kelly. They left their daughter, Savannah Phillips at home. The great-granddaughter of Her Majesty was born last December and christened in April at the Church of the Holy Cross in Avening, Gloucestershire, in a family gathering that had Queen Elizabeth smiling the entire time.

Savannah's birth dropped Zara down an inheritance peg, a situation that William and Kate want changed before they have children.



Kate wears a cream jacquard coat and dress. Photo: Getty.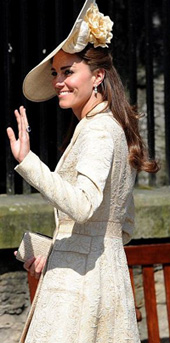 Sophie, The Countess of Wessex looked stylish in pastel pink. Photo: Getty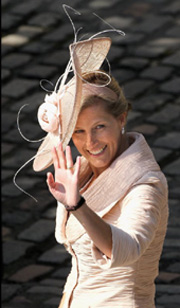 This was Scotland's first royal wedding in almost 20 years. The last British royal to marry in Scotland was Princess Anne. Her second wedding in 1992 to Timothy Laurence, was held at Crathie Kirk near Balmoral because she would have been unable to marry in an Anglican church.

A few days before her wedding Zara had a last-minute toning workout and a relaxing facial. The bride-to-be went to Calcot Manor in Gloucestershire for the facial, which incorporated yoga breathing for relaxation, as well as a Japanese Anma massage and a hair treatment.

On Friday preparations at their historic ceremony venue lasted all day, with florists carting in and arranging Stargazer lilies, beech tree branches, ornate flower pedestals and other decorations.

Umbrellas were also dropped off at Holyroodhouse – their reception venue – in case of inclement weather.

The rehearsal was a happy affair with Zara and Mike arriving in a chauffeur-driven Jaguar car as on-lookers cheered.

Zara, with her hair pulled back, was wearing sunglasses, sandals, jeans and a striped top. Mike was relaxed in a white shirt and torn denims.

The Rev. Neil Gardner led them in a run-through.

The bride's mother Princess Anne and step-father Timothy Laurence were there as were the bride's father, Captain Mark Phillips and his second wife Sandy Pflueger.



Princess Anne received a gift of a miniature wedding cake to celebrate the forthcoming wedding of her daughter, Zara Phillips, during a visit this past week to Amerton Farm and Craft Centre in Stowe-by-Chartley Photo: Amerton Farm and Craft Centre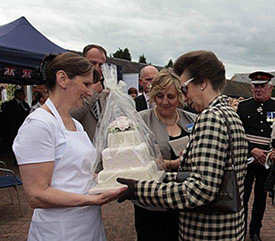 Mother-of-the-bride Princess Anne, who selected a rose pink skirt and embroidered cream jacket for her daughter's wedding, spent the week before the wedding keeping a full schedule.

That included visiting Amerton Farm and Craft Centre in Stowe-by-Chartley earlier in the week. There she was delightfully surprised when she was presented with a miniature three-tier wedding cake.

Following the rehearsal Zara and Mike kissed outside the church.

Zara then changed from her jeans into a glam tie-dye creme and blue silk dress from the U.S. label Alice and Olivia for pre-wedding drinks aboard the 412-ft royal yacht Britannia, which is moored in Leith.

Zara and Mike arrived with Zara's parents. The 150 guests arrived at around 6:30pm, wearing dinner suits and cocktail dresses. Prince Harry was the last to arrive. Many of those attending were rugby player friends of the couple.

Also on board sipping pink champagne and listening to a jazz band were the Earl and Countess of Wessex, that would be Prince Edward and Sophie, Zara's brother Peter Phillips and his wife Autumn, racing legend Jackie Stewart, rugby player Lewis Moody and Kate's mother, Carole Middleton.

Ultra thin Kate wore the green silk Diane von Furstenberg "maja" dress she wore for an event in Los Angeles. Princess Eugenie was in red and Beatrice in purple with a distinctive butterfly belt.

Zara then spent the night before her wedding at Holyroodhouse and was driven 400 yards down the Royal Mile to Canongate Kirk on Saturday afternoon, with senior members of the royal family including her mother, the Princess Royal, the Queen, Prince Philip, Prince Charles, Camilla, and William and Kate who are using their Scottish titles, the Earl and Countess of Strathearn, while they're in the Northern region of the UK.

Following the afternoon ceremony the wedding reception of drinks and canapés, followed by dinner and dancing - a gift of the bride's grandmother - was at the Palace of Holyroodhouse – the Queen's official residence in Scotland.


BERKSHIRE THEATRE FESTIVAL'S MUSICAL MONDAYS


The famed Berkshire Theatre Festival which began joining forces with the Colonial Theatre of Pittsfield last December, completing the process in June, is now known as the nonprofit Colonial Theatre/Berkshire Theatre Festival Merger Corporation. While the name is a mouthful, the merger makes it possible to present Musical Mondays, a series of readings of classical musicals every Monday in the 800-seat Colonial Theatre. These readings will feature talented actors and performers reading and singing their way through classic shows of yesteryear. The series is curated by Ralph Hammann.

On August 1: Good News, featuring a book by Laurence Schwab, B.G. DeSylva and Frank Mandel, with words and music by DeSylva, Brown and Henderson. This new adaptation by Mark Madama and Wayne Bryan will be directed by Ralph Hammann with musical direction and accompaniment by Mark Gionfriddo.

August 8: Take Me Along, based on the Eugene O'Neill play Ah, Wilderness, with music and lyrics by Bob Merrill and book by Joseph Stein and Robert Russell.

August 15: Strike Up the Band, with a book by Morrie Ryskind, lyrics by Ira Gershwin, and music by George Gershwin.

August 22: A special tribute to legend Richard Wilbur, who is celebrating his 90th birthday this year. The program will feature selections of his work in drama, musical theater and poetry.

Born in New York City, Wilbur was appointed the second Poet Laureate Consultant in Poetry to the Library of Congress in 1987, and twice received the Pulitzer Prize in Poetry in 1957 and again in 1989.

The Berkshire Theatre Festival in Stockbridge, MA opened as the Berkshire Playhouse in 1928 and runs the 408-seat Fitzpatrick Main Stage and 122-seat Unicorn Theatre. Hit hard by the recession, the company cut its budget roughly 25 percent between the 2009 and 2010 seasons.

The Colonial was built in 1903 and served as theater and movie house until 1951, when it was converted to retail use. "After a nearly $22 million renovation, it reopened for performances in 2006, presenting concerts and touring productions. There's little debt left from the renovation, but the venue was still relatively new on the scene when the recession delivered a 20 percent hit to the box office and a 30 percent hit to donations," reported Michael MacDonald, who is president of the new entity's board after serving in the same position at the Colonial.

Outside productions are booked by local promoter Simon Shaw who is now serving as a contractor rather than staff member.


SPREADING THE WORD


TENNESSEE AT 100: READINGS AND REMINISCENCE CELEBRATING TENNESSEE WILLIAMS Scripted entirely from Williams' essays, letters, journals and plays, assembled by Harris Yulin and Jack Canfora.

Starring Mercedes Ruehl, Eli Wallach, Harris Yulin, and more.

Directed by Harris Yulin.

Friday, August 5 at Guild Hall in East Hampton, NY.

50th ANNIVERSARY OF THE CAPE COD NATIONAL SEASHORE ACT To commemorate the 50th anniversary of President John F. Kennedy's signing the Cape Cod National Seashore Act, the Kennedy Library, in conjunction with PEN New England and the National Park Service, will host readings by local authors Rebecca Goldstein, Alice Hoffman, Kermit Moyer, Dale Peterson, Steven Pinker, Richard Russo, and others extolling the beauty of this unique shoreline - its dunes, its habitats and wildlife - that was preserved by the stroke of his pen.

Introduction by Senator Paul Kirk.

Refreshments served. Blankets and lawn chairs recommended. All forums are free and open to the public. Sunday, August 7, at the Salt Pond Visitor Center, Eastham, MA.

OFFICER, GET US TO THE FOLLIES! The Fabulous Palm Springs Follies in Palm Springs, CA has a devoted audience - none more so that a group of Red Hatters whose vehicle had stalled some 15 miles outside of town. "With no intention of missing the Follies curtain, they flagged down a (good natured) officer from our neighboring Desert Hot Springs Police Department, who deposited them curbside here at the historic Plaza Theatre, siren apparently silenced just before arrival," reported Follies founder and managing director Riff Markowitz, who added a special thanks to "Desert Hot Springs' Finest."

Entering their third decade of performing, The Fabulous Palm Springs Follies - a world-famous, Broadway-caliber celebration of the music, dance, and comedy of Mid-Century America with a cast old enough to have lived it - opens it's new show Hot! Hot! Hot! on November 1. The season's celebrity line-up includes John Davidson, Maureen McGovern and The Diamonds.


OTHER PEOPLE'S MONEY


THE SMITH CENTER the new Las Vegas performing arts venue, scheduled to open next March, has put season tickets on sale for its first season. On the roster, The Color Purple, Mary Poppins, Million Dollar Quartet and Memphis. Season ticket prices range from $99 to $519.

Single tickets for Broadway Las Vegas will start at $24 and go on-sale in November.

While the target audience is different, as a comparison the Ahmanson in Los Angeles has a five show season - October 30, 2011 through July 22, 2012 - featuring Green Day's American Idiot, Bring It On: The Musical, Fela!, Funny Girl and the incredible War Horse. Prices for the 5 show package begin at $99.

LONDON THEATRES have reported a 2 percent increase at the box office between April and June of this year as compared to last year, according to the Society of London Theatres (SOLT).

Credit for the increase was given to plays, which saw a 13 percent increase in ticket buyers.

Plays featuring bankable stars such as Kevin Spacey's sell-out run in Richard III were singled out. Other star performances included Jonny Lee Miller and Benedict Cumberbatch in Danny Boyle's Frankenstein and David Tennant and Catherine Tate in Much Ado About Nothing.

The boost to London tourism during the time of the royal wedding is also credited with helping increased ticket sales.



HAPPY BIRTHDAY TO . . . .


SAM MENDES who gets to blow out the candles on August 1. The English stage and film director has won two Laurence Olivier Awards for his London stage productions The Glass Menagerie and Company in 1996, and Twelfth Night and Uncle Vanya in 2003. He also received a Tony Award nomination for Best Director of a Musical for the Broadway revival of Cabaret in 1998. His debut film American Beauty (1999) earned him an Academy Award for Best Director.

TONY BENNETT the ageless crooner who is the birthday boy on August 3. He sold over 50 million records and won 15 Grammy Awards. Bennett is also a serious and accomplished painter, creating works under the name Benedetto that are on permanent public display in several institutions.

MARTIN SHEEN who has appeared in more than 65 feature films has been nominated for 10 Emmy Awards, winning one, celebrates his natal day on August 3.



HAIRSPRAY

Harvey Fierstein as Edna Turnblad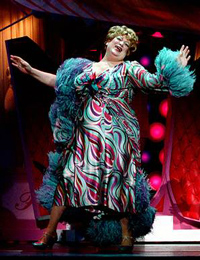 the Tony-winning musical by Marc Shaiman, Scott Wittman, Mark O'Donnell and Thomas Meehan. Directed and choreographed by Jerry Mitchell.

Starring Tony winners Harvey Fierstein and Marissa Jaret Winokur, who created the roles of, respectively, mother Edna Turnblad and daughter Tracy Turnblad in the original Broadway company, will reprise their roles.

They will be joined by an all star cast: Susan Anton (Velma Von Tussle), Corbin Bleu (Seaweed), Drew Carey (Wilbur Turnblad), Diana DeGarmo (Penny Pingleton), Mo Gaffney (Prudy Pingleton, the Gym Teacher, the Matron), Nick Jonas (Link Larkin), Darlene Love (Motormouth Maybelle), Tara Macri (Amber), John Stamos (Corny Collins) and Michael McDonald (Harriman F. Spritzer, the Principal, Mr. Pinky, the Guard.

Lon Hoyt will be the musical director for the production.

Presented by LA Phil August 5-7 as part of the Week-end Spectacular Series at the Hollywood Bowl, Los Angeles.

UNCLE VANYA Sydney Theatre Company returns with Andrew Upton's new adaptation of Chekhov's tragicomedy Uncle Vanya, starring Cate Blanchett, Richard Roxburgh, Jacki Weaver, and Hugo Weaving.

August 4 - 27, 2011 at the Kennedy Center's Eisenhower Theater, Washington, DC.

THE PEER GYNT FESTIVAL celebrates this magical play with dance and concert performances, art exhibitions, literature and other artistic events.

Peer Gynt is Norway's national epic, and has its natural place in world literature. Henrik Ibsen's story about Peer, the impoverished young man, show-off and adventurer has inspired audiences and tugged at their heartstrings the world over. What does it mean to be oneself?

With the Gudbrandsdal scenery as a background, and with Edvard Grieg's music, the outdoor performance of Peer Gynt at Lake Gala is the nearest you will get to Henrik Ibsen's "original" Peer Gynt. The Peer Gynt Festival takes place August 3-14, 2011 in Vinstra, Norway.

THE UNAUTHORIZED AUTOBIOGRAPHY OF SAMANTHA BROWN a new musical created by Kait Kerrigan and Brian Lowdermilk.

It is dawn. Samantha Brown is supposed to leave for college today. She sits in her car with her bags packed, but she can't turn the key in the ignition. She is filled with doubts as the defining moments of her senior year flash through her mind. Somehow Samantha has to come to terms with her parents' expectations, her first love, and a lost friendship before she can turn the key and make the first decision of her adult life.

Performances August 4 - August 28. Presented by Goodspeed Musicals on The Norma Terris Theatre, Chester CT.

THIS by Melissa James Gibson. Directed by Daniel Aukin.

A new American comedy bill as "every bit as poetic as it is honest and revelatory. This captures forty-something life at its most vulnerable in a narrative that charms, shocks and resonates. There is your first adult life full of hope and promise, and then there is your second adult life when an unexpected twist or turn drastically diverts your course. In This, five friends navigate unforeseen circumstances without a road map."

July 31-August 28, 2011 at the Kirk Douglas Theatre in Los Angeles.

IN THE MOOD by Kathleen Clark.

A World Premiere presented by the Berkshire Theatre Festival.

Perri Rubin has spent six months planning the perfect surprise party for her husband Derek in their penthouse apartment. The surprise turns out to be on her when her pianist cancels, the elevator breaks down, an ex-boyfriend shows up and her husband arrives early with his mistress. As the evening spirals out of control, we are witness to an hilarious examination of love, marriage and making it work.

Previews August 2, 3, 4, 5, 6 Opening Night/Press Night August 6. Closes August 13. At the Fitzpatrick Main Stage in Stockbridge, MA.

SEVEN BRIDES FOR SEVEN BROTHERS music by Saul Chaplin and Gene de Paul, and lyrics by Johnny Mercer.

Directed by Mark Schneider with choreography by Pepper Clyde. The musical director is Michael Horsley,

The production stars James Clow as Adam, Colt Prattes as Benjamin, Drew Humphrey as Ephraim, Cameron Hobbs as Caleb, Eric Santagata as Daniel, Sam Lips as Frank, Andy Jones as Gideon, Neal Frederiksen as Mr. Bixby, Michelle Rombola as Mrs. Bixby, Gary Glasgow as Preacher, John Contini as Mr. Perkins, Jenny Powers as Milly, John Meurer as Town Drunk, Sarah Meahl as Ruth, Alexandra Matteo as Liza, Kristy Hronick as Martha, Cara Salerno as Sarah, Lili Froehlich as Alice, Merrill West as Dorcas, Adam Rogers as Jeb, Alex DeLeo as Zeke, Harris Milgrim as Carl, R.J. Brown as Matt, Abigail Friedmann as Dorcas' Sister, Lynn Humphrey as Mrs. Perkins, James Tolbert as Joel and Will Burton as Luke. Merril l West is the dance captain.

The ensemble includes R.J. Brown, Will Burton, John Contini, Alex DeLeo, Neal Frederiksen, Gary Glasgow, Lynn Humphrey, John Meurer, Harris Milgrim, Adam Rogers, Michelle Rombola and James Tolbert.

Backwoodsman Adam Pontipee struts down from his mountain to find himself a bride from town. It's love at first sight for Millie, a sweet and sassy gal who happily marries him and heads back up the mountain for an idyllic life with Adam. And his six brothers? Add six abductions of six town beauties, an avalanche, and a long, long winter for one of the greatest dance shows of the summer. This is the barn-raising, axe-jumping seven times everything musical!

Features the Songs Bless Yore Beautiful Hide, Goin' Cotin' and Sobbin' Women.

The creative team includes scenic designer Steven Gilliam, lighting designer F. Mitchell Dana, sound designer Jason Krueger, production stage manager Matthew Lacey, assistant stage manager Suzi Bonnot and associate choreographer Jim Ruttman, with costumes designed by Kansas City Costume.

August 1-7 at the St Louis MUNY.


WHO'S WHERE


PETER FRAMPTON brings his Frampton Comes Alive 35th Anniversary Tour - celebrating his multi-platinum-selling album of the same name - to the Balboa Theatre in San Diego, CA on Tuesday, August 2. The three-hour show will feature a complete performance of Frampton Comes Alive! along with highlights from Frampton's catalog, including his Grammy Award-winning instrumental album, 2006's Fingerprints.

TIM ALLEN brings his comedy patter to the Venetian Hotel in Las Vegas August 4-6.

KEITH URBAN performs Thursday, August 4, at the Gwinnett Center in Duluth, GA. On Saturday the show is at the Bridgestone Arena in Nashville.

IRON MAIDEN perform this week in the UK with a show Monday, August 1 at the Cardiff CIA. Wednesday they are in the spotlight at the Belfast Odyssey. On Friday the performance is at the London O2 Arena.

SADE AND JOHN LEGEND perform Monday, August 1 at the Bridgestone Arena in Nashville. On Wednesday the show is at the Palace of Auburn Hills in Auburn Hills, MI. A three nighter opens Friday, August 5 at the United Center in Chicago.

JOSH GROBAN in the spotlight Tuesday, August 2, at the Prudential Center in Newark, NJ. On Wednesday he's on stage at the Consol Energy Center in Pittsburgh. Friday finds him at the Schottenstein Center in Columbus, OH. On Saturday he stars at the Van Andel Arena in Grand Rapids, MI.

DOLLY PARTON on stage Tuesday, August 2, at the Performing Arts Center in Durham, NC. On Wednesday the show is at the Verizon Wireless Amphitheatre in Alpharetta, GA. Then Dolly heads across the pond to open a two nighter on Saturday at the S.E.C.C. in Glasgow, Scotland.




FINAL OVATION


DAN PEEK one of the founders of the Grammy-winning band America, died in his sleep, July 24, 2011 at his home in Farmington, Mo. He was 60.

On the band's website, America members Dewey Bunnell and Gerry Beckley expressed their sympathies. "We created lasting music together and experienced a life that we could never have imagined," Bunnell wrote. "Dan was an equal and integral part of that early history, and I have never forgotten the good times we spent making that music and learning about life together. " Peek became a born-again Christian in 1977, which led to him leaving America the same year. In 1979, he began a career in Christian pop with his first solo album All Things Are Possible, which was recorded for Pat Boone's Lamb and Lion Records. In recent years, Peek went into semi-retirement while remaining active as a songwriter.

America was one of the most popular bands of the 1970s, with hits such as A Horse With No Name, Ventura Highway and Sister Golden Hair.

He is survived by his wife Catherine.

MICHAEL CACOYANNIS the film and theatrical director, died in Athens from heart attack complications and chronic respiratory problems on July 25, 2011. He was 89.

Cacoyannis' stage adaptation of the Trojan Women ran in New York for two consecutive years, amounting to a total of over 600 performances (1964-1966).

While in the middle of the success of Trojan Women Cacoyannis directed the Broadway production of Terrence McNally's And Things That Go Bump in the Night, and The Devils. Among his other Broadway credits including being both the book writer and director of Lysistrata, and directing The Bacchae, as well directing as the 1983 revival of the musical Zorba, which starred Anthony Quinn, whom Cacoyannis had also directed in the 1964 movie Zorba the Greek, which inspired the musical. Since 2004, Cacoyannis concentrated all his efforts towards establishing a charitable foundation in Athens, his last "gift" to his beloved adopted country, Greece. The aim of the foundation that bears his name is "to support, preserve and promote the arts of Theatre and Cinema."

He is survived by a sister, Giannoula. He was buried in the premises of his foundation on Thursday, July 28, 2011.

JANE WHITE veteran stage actress died July 24, 2011 in New York City. She was 88.

White created the role of Queen Aggravain in Once Upon a Mattress alongside Carol Burnett and Joseph Bova.

She made her Broadway debut was in the 1945 play Strange Fruit. Other Broadway productions included The Insect Comedy (1948), Razzle Dazzle (1951),The Climate of Eden (1952), Take a Giant Step (1953), Jane Eyre (1958) and The Power and the Glory (1958).

She won an Obie Award in 1971 for sustained achievement. She won the 1988-89 Los Angeles Critics Circle Award for her role as the Mother in Federico Garcia Lorca's Blood Wedding.

Jane was born to Walter Francis White, a notable civil rights leader and national secretary of the NAACP from 1931–1955, and Gladys Leah Powell. She grew up in the fashionable Sugar Hill neighborhood of Harlem at 409 Edgecombe Avenue. The house was nicknamed "The White House of Harlem" because of the prominent and important figures who were part of her parents' circle. She had one brother, Walter Carl Darrow White.

She was preceded in death by her husband New York restaurateur Alfredo Viazzi, who died of a heart attack on December 28, 1987, at age 66.








Next Column: August 7, 2011
Copyright: July 31, 2011. All Rights Reserved. Reviews, Interviews, Commentary, Photographs or Graphics from any Broadway To Vegas (TM) columns may not be published, broadcast, rewritten, utilized as leads, or used in any manner without permission, compensation and/or credit.
Link to Main Page
---
Laura Deni



For the snail mail address, please E-mail your request.
CLICK HERE FOR COMMENT SECTION