! >
Broadway To Vegas
  SHOW REVIEWS     CELEBRITY INTERVIEWS     GOSSIP     NEWS 
TAP YOUR TROUBLES AWAY

Last week he was in Canada for the filming of the Bojangles Robinson story, which will air on HBO. Then he flew to Detroit for their Tap Festival, returned to Canada, came home to Las Vegas to get clean clothes before heading to St. Louis for this week's Tap Festival where he will be teaching Aug. 1-3.

Tony Award winner Henry LeTang is 85 years old.

"His work keep him young," reported Elle his wife of 40 years. "My husband can't sit down. He does something every single day. He started tap dancing when he was a child, about 7 years old and then he opened up his first studio in New York when he was 17."

"Gregory Hines is starring in the movie," continued Elle about the movie. "It's the life story of Bojangles Robinson. My husband choreographed the whole thing and it's going to be on Showtime for Black History Month."



GREGORY HINES stars as Bill Bojangles Robinson
Luther Robinson, a.k.a. Bill "Bojangles" Robinson was born in Richmond, Virginia on May 25, 1878, to Maxwell Robinson, a machine-shop worker, and Maria Robinson, a choir singer. He was raised by his grandmother after the death of his parents when he was still a baby. He was christened Luther, a name he did not like, so he suggested to his younger brother Bill that they should exchange names. When Bill objected, Luther applied his fists, and the exchange was made!

The new 'Luther' later adopted the name Percy and became a well-known drummer.

The details of Robinson's early life are known only through legend, much of it perpetuated by Bill Robinson himself.

As a youngster, he often danced for pennies on the streets and in saloons, shined shoes and sold newspapers to earn money. He left school before the age of eight and ran away to Washington, D.C. where he worked as a racetrack stable boy. It was while living in Washington that Robinson, by copying the styles of dancers in traveling minstrel shows, perfected his unique dance style which was characterized by highly rhythmic, syncopated and complex footwork.

Around 1890 he joined a touring theater group and ended up in New York City, where critics praised his tap dancing skills in a string of Broadway shows.



Bill "Bojangles" Robinson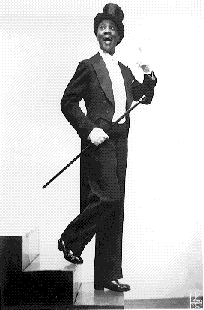 He is most remembered for his famous dance on a staircase, - a routine he later performed with Shirley Temple in The Little Colonel in 1935. He was also famous for the rhythmic percussive sounds made by his wooden-soled shoes. The famous staircase routine would be repeated by Vegas performers from Sammy Davis, Jr. to Carol Lawrence who always included a tribute to Bojangles in their nightclub routines.

Although Robinson was middle-aged when his career started to take off, he remained in top physical condition. Starring in the Broadway show Hot Mikado when he turned sixty years old, he celebrated by dancing sixty city blocks from above Columbus Circle down Broadway and into the theater where he was performing.

In 1892 Robinson debuted as a professional dancer in a minstrel show called The South Before the War. In 1908 Marty Forkins, a successful vaudeville agent, became his manager and helped Robinson become a vaudeville and musical theater star.

Robinson was the first black single dancer to star in white vaudeville circuits, for nearly thirty years as a headliner, earning $3,500 per week.

Not only did he get top billing at the Palace in New York, he also played command performances for presidents and kings, which resulted in the "stair dance" He claimed to have invented the tricky dance - on the spur of the moment - when he was receiving some honor--he could never remember exactly what-- from the King of England. The King was standing at the top of a flight of stairs, and Bojangles' feet just danced up to be honored.

Among his most memorable stage performances were; Blackbirds of 1928, Brown Buddies (1930), Blackbirds of 1933, and The Hot Mikado (1939)

In 1930 he went to Hollywood where he appeared in 14 motion pictures. Audiences took him to their hearts in four Shirley Temple motion pictures The Little Colonel (1935) The Littlest Rebel (1935); Rebecca of Sunnybrook Farm (1938); and Just Around the Corner (1938) are his most memorable.



Bill "Bojangles" Robinson and Shirley Temple
Although in his movie roles he was always a kindly, affable character, off-screen he was known for his hot temper and ability to eat ice cream by the quart.

Because his public image became preeminent, little is known of his first marriage to Fannie S. Clay in Chicago shortly after World War I, his divorce in 1943, or his marriage to Elaine Plaines on January 27, 1944, in Columbus, Ohio.

He was also the holder of the World's Record for running backwards, setting a World's Record of 8.2 seconds for the 75-yard backward dash.

When he died at age 71 on November 25, 1949, sixty thousand people filed past his coffin as it lay in state in a Harlem armory. After his funeral in the Abyssinian Baptist Church, thousands of people lined the streets as the procession wound down Broadway. It stopped on 47th Street while a band played "Give My Regards to Broadway."

Obviously the Robinson story is an interesting one and LeTang has been involved since the inception.

"It's hard keeping up with him," continued his wife. "They filmed in Canada and he will be going to California for the editing. They went to New York for a day to pick a Shirley Temple and some dancers from New York. He went down on a Monday morning and flew back to Canada that night. He was very instrumental deciding who would play Shirley Temple. He had to be. He found a very talented eight year old. He also needed some adult dancers besides the Canadian dancers. He then left Canada again for two days to go to Detroit and then he went back up to Toronto and then he came home this past Wednesday and he leaves Monday for St. Louis."

LeTang received the 1989 Tony Award for Best Choreography in a Musical for his work in Black and Blue. He was also nominated for two Tony Awards, Drama Critic's Award and Outer Critics Circle Awards for his choreography of the Broadway shows Eubie! and Sophisticated Ladies.

He also choreographed Francis Ford Coppolla's movie The Cotton Club and the movie Tap which starred Gregory Hines.

Other Broadway shows he has choreographed include Crazy With The Heat, My Dear Public, Dream With Music and Shuffle Along, and the Tin Man part in The Wiz.

Among the numerous stars he'd taught how to hoof include Bette Midler, Gregory Hines, Ben Vereen, Peter Gennaro, Lee Marvin, Leslie Uggams, Jack Albertson, Debbie Allen and Hinton Battle.



JOEY HEATHERTON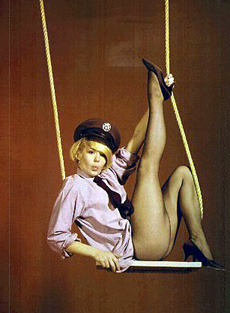 LeTang choreographed acts for Joey Heatherton, Lola Falana, Flip Wilson, Marty Allen, Joe Frazier, Sugar Ray Robinson, Billie Holliday and Lena Horne. He's also staged shows for George Balanchin, Olson and Johnson, Milton Berle and staged and choreographed The Gary Moore Show for seven years.

When most people think of a choreographer, they think of a person dancing. That's the finished product - the public persona. In an era of copyright law each step becomes not just a work of art but a legal document which must be registered. People don't realize the business aspects of "doing choreography"

" No, they don't," agreed Elle who serves as her husband's assistant.

"All of his steps are original," she stressed. "Thank God he has lived through many eras, and he not only has them documented but committed to memory. Everything that he does is his. My role is that I am usually the assistant choreographer. I got my background from him. I met him when I was ten years old. He was my dance teacher."



SAVION GLOVER was discovered by Henry LeTang and is also in the Bojangles Robinson movie
As to when she fell in love with him, there isn't a time step hesitation in the reply. "When I was ten." Being a mere man Henry wasn't aware that he had fallen in love, so Elle needed to point that out to him, which she did after she finished college."I went to college and then three-and-a-half years of med school at Columbia University and then I was in the medical business for over twenty six years. I happened to look for him and looked him up and that's how we started."

They got married in New York City and moved to Las Vegas nine years ago."The first time we came to Las Vegas we were doing the movie Tap and Sammy Davis, Jr. brought us down. Then we came here again after Sammy died to do a tribute on the Jerry Lewis Labor Day Telethon. I happened to like it here and I said to my husband - let's move here. So, we moved here in November of '92. I love it. So many of the show people live here."
The Tony Award is kept "here at the house."

What does an 85-year old teaching legend do to relax?

"Do to relax?" she repeated as her voice took on an incredulous tone. "He teaches. He teaches only professionals and adults. He teaches children the caliber of Maurice and Gregory Hines. He had them when they were five and six straight through."

"We had Savion Glover," said Elle about the talented tap dancer. "Savion is also in the Bojangles movie. We got him in Black and Blue. He was 11 and we took him to Paris and been with him ever since. He's very sweet. He's gotten himself together," she said referring to his spell of personal problems. "When you're a kid, you go through different things- that's what happens, but he is very pro teaching tap, very sweet and has really gotten himself together. He really does believe that there would be fewer delinquents if there were tap shoes on more children's feet."


GUILLOTINE DROPPING AND MORE LIVES THAN A CAT

Notre Dame de Paris an innovative and ambitious undertaking that staged a pop musical version of Victor Hugo's classic The Hunchback of Notre Dame in Las Vegas at the Paris Hotel, got the guillotine treatment.

While in some respects it may have been a groundbreaking show the audience voted by walking away. The production tended to polarize people and not enough were tempted to part with $69.50 plus tax. Most of the critics panned the production, which has been an enormous success in Paris and Canada. The final curtain rang down on Saturday.

Also going bye-bye is Sam Shepard's dark comedy True West which closed last night in New York after 21 previews and 154 regular performances.

Receiving a stay from the executioner was The Rat Pack Is Back which has had more lives than a cat.

The David Cassidy creation first opened at the Desert Inn Hotel drawing in both crowd and lawsuits from the Frank Sinatra and Sammy Davis, Jr. estates over marketing and licensing. Displaying a tenacity that Ol' Blue Eyes would have appreciated Cassidy moved the show to the Sahara Hotel where it was building a respectable clientele.

First the Sahara announced they would evict the five-member cast and 12-piece band on Aug. 13 to make room for a production show staring magician Steve Wyrick, a production in which the hotel has a larger financial interest.

An uprising of fans caused the hotel to reverse itself. "We had really an outcry of public support for the show," admitted John McManus, the hotel's executive vice president and general counsel. The eviction is still planned but the date has been delayed until Oct. 29.

Trick or Treat?
LIGHTS, CAMERA, ACTION

BEN AFFLECK

PICTURED (left-right): Ben Affleck, Lisa Kudrow, Dan Bucatinsky and Don Roos on the set of All Over The Guy, which recently completed shooting. PHOTO BY: Matthew Cazier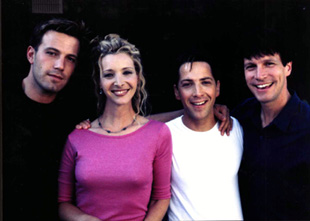 who recently completed the film Bounce, co-starring Gwenyth Paltrow, developed enough of a friendship with writer/director Don Roos that he paid a visit to the set of the Roos produced feature film All Over The Guy.

Written by and starring Dan Bucatinsky, directed by Julie Davis, features Lisa Kudrow. Roos may delude himself into thinking that Affleck came to see him, but Kudrow is prettier and we think she had something to do with the visit.

Also featured in All Over The Guy are Richard Ruccolo, Sasha Alexander, Adam Goldberg Joanna Kearns, Andrea Martin and Doris Roberts.

It's a contemporary romantic comedy about the quest to find the "one" when "the one" doesn't know he's the "one."

WERNER HERZOG

Filmmaker Werner Herzog with Siegfried & Roy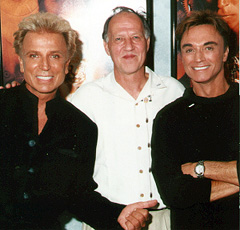 considered worldwide to be one of the greatest living filmmakers, was in Las Vegas and took time to catch Siegfried and Roy's Show at the Mirage Hotel.

Afterwards he went backstage to chat with the master illusionists.

Described as "eccentric" in his German homeland, because his movie issues concern mysticism, alchemy, psychology and his own nightmares, Herzog told the Magicians of the Century "you have to be daring to do things like this because the world is not easily accepting of filmmaking."

"There will always be some sort of an obstacle, and the worst of all obstacles is the spirit of bureaucracy. You have to out smart it, to out gut it, to out number it, to out film them - that's what you have to do."


ARTS AND CRAFTS

THE PHILLIPS COLLECTION art museum of Washington, D.C. has become partners with the Bellagio Hotel in Las Vegas. The deal calls for the Phillips to hold a six-month exhibit of classic art works beginning September 1 at the Bellagio's museum of Fine Art.

The 26-piece exhibit will include works by Picasso, Monet, Manet and Van Gogh.



Broadway To Vegas is supported through advertising and donations. Priority consideration is given to interview suggestions, news, press releases, etc from paid supporters. However, no paid supporters control, alter, edit, or in any way manipulate the content of this site. Your donation is appreciated. We accept PAYPAL. Thank you for your interest.



"THE MAN WHO CAME TO DINNER

NATHAN LANE as Sheridan Whiteside in The Man Who Came To Dinner.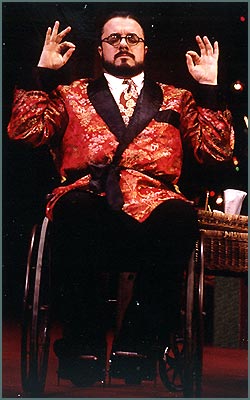 by Moss Hart and George S. Kaufman is directed by four-time Tony Award winner Jerry Zaks.

In this hilarious romp, a pompous writer and critic is forced to stay with a Midwestern family during the winter and thoroughly disrupts their well-ordered lives.

Lane plays curmudgeonly wit Sheridan Whiteside - based on real-life curmudgeon Alexander Woollcott - and after the first reading Zaks refused to do the show without Lane, even though the talented actor was committed to other projects for two years.

The production proves Zaks waiting for the best was a good move.

Don't miss this show.

It's at the American Airlines Theater, which is the new name for the end result of the Roundabout's $21 million face lift.

PATTY DUKE will star as Mary Todd Lincoln in James Prideaux's The Last of Mrs. Lincoln, February 2-25, 2001. At the El Portel Center for the Arts in North Hollywood.

HIGH SOCIETY which ran for about four months on Broadway has been re-tooled by playwright Arthur Kopit and is staging its Midwestern debut in St. Louis. Corinne Melancon stars as Tracy Lord. Larry Alexander plays Dexter. Directed by Michael Hamilton, who also worked with Kopit as he revised the Broadway script, which was a stage adaptation of the 1956 movie musical High Society. Getting good reviews in St. Louis. Look for this version to tour. Produced by Stages St. Louis.

GEORGE GERSHWIN ALONE starring Hershey Felder as George Gershwin. Directed by Joel Zwick. At the Tiffany Theatre, Los Angeles through August 20.

SAVE IT FOR THE STAGE starring Charles Nelson Reilly, directed by Paul Linke. Falcon Theatre, Los Angeles.

THE CRUMPLE ZONE a new play by Buddy Thomas, directed by Jason Moore (Associate Director, Les Miserables), and presented by Marcus Kettles, has been playing to sold out audiences at The Rattlestick Theatre - formerly Theatre Off Park - NYC, has been extended through August 27. An ensemble cast that features Mario Cantone (Love, Valor, Compassion!).

GOT PHAT? --TALES OF A PLUS-SIZE' MODEL

VANESSA MARSHALL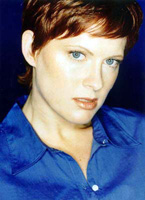 starring Vanessa Marshall, written by Vanessa Marshall with Cynthia Szigeti who also directs Marshall's show focuses on growing up as the overweight daughter of two of Hollywood's "beautiful people" -- actress Joan Van Ark (Knots Landing) and newscaster John Marshall (KNBC), her lifelong battle with weight and her equally passionate love affair with food.

A graduate of Princeton University, she holds a B.A. in English, Theater and Dance Certificate from New York University. She's a TISCH Graduate Acting Program, M.A. Acting and is certified as a kickboxer - so don't get her riled Her one woman show has been described as both appealing and funny. September 6 at PS NBC - HERE at 145 Sixth Avenue, NYC.

In addition to jokes being told Ding Dongs are served!


WHO'S WHERE

AUDRA McDONALD in Detroit, at the Meadowbrook Festival with the Detroit Symphony on August 6.

LINDA EDER performs in concert at the Wildflower Music Festival in White Mills, PA on August 5. Then she teams up with Michael Feinstein August 6 at the PNC Bank Arts Center in Holmdel, N.J. On August 9 the duo do it again at the Wolftrap Filene Center in Vienna VA.

WILLIE NELSON will host a "Live By Request" concert on August 14 in NYC at Sony Studios for airing on A&E.

THE SMOTHERS BROTHERS are celebrating their 42nd year performing together. Last Friday, at Planet Hollywood in Las Vegas, Tom and Dick dipped their hands into cement for the restaurant's permanent display. After washing them they helped pass out anniversary cake to their fans, signed autographs and posed for pictures.

RON SEYKELL who was Marius in Les Miserables on Broadway and portrayed Jan in the musical Metro is currently entertaining at Don't Tell Mama in NYC. The award winning Bistro artist holds his official opening this week with a portion of the proceeds benefiting Broadway Cares/Equity Fights AIDS

PAULA COLE BAND August 3 at the Ventura Theatre in Ventura, CA then a two nighter August 5-6 at the Coach House in San Juan Capistrano.

BRIAN SETZER ORCHEATRA August 5 at the Greek. The guys then swing on into Vegas performing Aug. 8 at Mandalay Bay.

TONY BENNETT AND DIANA KRALL August 4 and 5th with the Los Angeles Philharmonic Orchestra Hollywood Bowl.

POLLY BERGAN was the precursor to Connie Stevens - a singer/actress who got beautifully rich through a line of skin care products. For Polly it was Oil of the Turtle. Now Bergan has tuned up her vocal cords and returns to her singing roots. She opens at Feinstein's at the Regency, NYC on October 10. Bergan is also recording a new CD of standards.


THIS AND THAT

LORD OF THE DANCE with two years of 800 shows, 72,000 minutes, 4,320,000 seconds, 120,950,000 taps and 623,192 tickets sold celebrates all that with a second anniversary party August 2, New York-New York Hotel in Las Vegas.




Mention BROADWAY TO VEGAS for Special Consideration
Call (800) 942-9027









Next Column: August 6, 2000
Copyright: July 30, 2000. All Rights Reserved. Reviews, Interviews, Commentary, Photographs or Graphics from any Broadway To Vegas (TM) columns may not be published, broadcast, rewritten, utilized as leads, or used in any manner without permission, compensation and/or credit.
Link to Main Page
---
Laura Deni


CLICK HERE FOR COMMENT SECTION