! >
Broadway To Vegas
  
 SHOW REVIEWS CELEBRITY INTERVIEWS GOSSIP NEWS

| | |
| --- | --- |
| | |
JULIE ANDREWS DIRECTS THE BOYFRIEND - - ART OF THE TEASE BALL - - TONY BENNETT GRADUATES - - THE TOWER OF LONDON - - STARS AND AUTHOR DISCUSS DOUBT - -JENNIFER TILLY WINS WORLD SERIES OF POKER - - CHICAGO OPENS IN TAIPEI - - SUZANNE SOMERS BRINGS HER WELL SHAPED THIGHS TO BROADWAY - - DONATE . . . Scroll Down


Copyright: July 3, 2005
By: Laura Deni

CLICK HERE FOR COMMENT SECTION
TOWER OF LONDON: SCENE OF THE BEHEADING BECOMES A STAGE


The Tower of London will be the venue for one of the most exciting Operatic events of the year during it's first ever Festival of Music, July 6-16.

It is here, in the heart of the Tower that Donizetti's great tragic opera, Anna Bolena, will be staged and it was here in 1536 that Anne Boleyn, the second wife of King Henry VIII, was imprisoned, beheaded and buried. Sparks fly as Henry, tired of Anne, courts her lady in waiting Jane Seymour. When Jane becomes pregnant Henry sets a devious trap for the unfortunate Anne whose fear, despair, dissolution and final defiance are witnessed by all as she is dramatically executed on Tower Green while the bells ring out for the King's new wife.

This gripping story is brought vividly to life by the Italian composer Donizetti in his opera Anna Bolena, in a dramatic new production directed by Tom Hawkes and designed by Peter Rice.

The music will be performed by the internationally renowned Philharmonia Orchestra under the baton of Alexander Ingram. The Opera will be sung in Italian with English subtitles.

The title role will be sung by Hannah Francis, ex principal soprano at English National Opera, whose determination to stage the opera in the Tower of London has brought this Festival to fruition. Rarely staged, the last time this opera was performed was at The Royal Opera House in 1989 with Dame Joan Sutherland.

Watch out for her ghost as she is said to haunt the Tower.

The eagerly anticipated Gala Charity Evening premiere of the production takes place on Wednesday July 6.

For over 900 years HM Tower of London has dominated the City of London and is still one of the capital's most prominent landmarks. Throughout its long history, the Tower has served as a Royal Palace and fortress, prison and place of execution, royal mint, menagerie and jewel house. Today, Her Majesty's great royal fortress is home to some of the most potent symbols of British history; the Yeoman Warders, Ravens, and the Crown Jewels. Now HM Tower of London Festival of Music will complement both these symbols and the setting.

This marks the first time in history that The Tower of London has played host to a Festival of Music. Alternating between the five nights of Grand Opera will be six nights of exceptional jazz featuring famous names from the international scene including the eldest son of Clint Eastwood, Kyle Eastwood. Others on the bill include;

Amy Winehouse, Humphrey Lyttelton, Acker Bilk, Georgie Fame & The Blue Flames, James Taylor Quartet, Katie Melua, Clare Teal, Alison Moyet, Blue Harlem, Lisa Stansfield, and Swing Out Sister.

A magnificent covered stage and seating for 1,500 guests will be built in the West Moat against the dramatic backdrop of The Tower.


POKER CHAMP JENNIFER TILLY: WIN BETTER THAN AN OSCAR


Oscar nominee Jennifer Tilly used her acting prowess of role playing and expression control to win the Ladies World Poker Championship held at the Rio Hotel in Las Vegas. When she received the coveted World Series gold bracelet she said, "This is better than winning an Oscar."

Jennifer earned an Academy Award nomination for her portrayal of the aspiring, but hopelessly untalented, actress Olive Neal in Woody Allen's Bullets over Broadway. She won a Theater World Award for her performance in off-Broadway's One Shoe Off, and starred on Broadway in the 2001 revival of The Women - which was later taped for, and broadcast on, PBS.

With a $1,000 buy in, she beat out 60l entrants at No-Limit Hold'em.

Although Tilly studied acting at Stephens College in Missouri, she learned to play poker from her boyfriend, poker player Phil "Unabomber" Laak. While Tilly is the first celebrity to ever win the event she is not the first actor to enjoy the game.

Over the past 30 years, many well-known actors have played at the World Series of Poker. Telly Savalas - best known as Kojak - played in the main event numerous times between 1983 and 1991. Gabe Kaplan - TV's Kotter started playing in poker's world championship during the late 70s becoming a highly respected professional poker player. Matt Damon, Ed Norton, Ben Affleck, Tobey Maguire are just a few famous actors who have come to play in the world's biggest poker game.

From the first shuffle it seemed that Tilly was destined to win. By the time the final table was set with nine players, Tilly enjoyed a 3-to-1 chip lead on her opponents. When play became four handed, which marked the start of Day Two, Tilly was up 5-to-1 over the remaining three players.

#1- Jennifer Tilly $158,335
#2- Anh Le $83,540
#3- Carolyn Ancheta $43,680
#4- Cecilia deMortensen $38,220
#5- Angel Wood $32,760.


SPREADING THE WORD


THE ART OF THE TEASE: THE BEAUTIFUL AND THE DAMNED An extravaganza mixing the worlds of theatre, museum and clubculture to serve up a glamorous cocktail of decadent encounters and fantastical side shows.

Join Mistress of Ceremonies Miss High Leg Kick on a four hour magical mystery tour and marvel at the thirty showgirls and showboys performing throughout the Theatre Museum. Dance to the tunes of the Even Moore Than Vegas club, follow the mysterious Shunt Tropicana Girls through the Victoriana Fairground and gasp at the Pretty Freaky Show, or have your picture taken with the Hanky Spanky girls in the Coco de Mer Home Theatre Photobooth.

Whatever entertains you, there are singers and live acts in Café Bohemia, and Miss Katie's Adora-ble Pinups fashion show, where everyone can play a part.

And if this doesn't thrill you enough, you can always step outside and take a peek in David Piper's Woo Woo Wagon.

So come along in your best tails and feathers and be part of the Beautiful and the Damned!

Part of the Inside Theatreland season of talks and events exploring performance past, present and future. Art of Tease Ball in the Theatre Museum. Official after-party next door at Papagenos burlesque bar/restaurant. An Art of Tease Ball ticket allows a 2 for 1 price offer for the West End show - Burlesque.

Strictly over 18 - Cash only bars - Smoke free zone - Dress to excess.

Theatre Museum in London, a branch of the Victoria and Albert Museum in association with Deepaz productions.

DOUBT John Patrick Shanley, Cherry Jones and Brian O'Byrne in conversation with Roma Torre.

One of this season's most critically acclaimed plays is Doubt, which moved to Broadway from the Manhattan Theater Club earlier this year.

The play, awarded this year's Pulitzer Prize, and the Tony Award winner for Best Play, is the story of the strong-willed, conservative headmistress of a Catholic elementary school in the Bronx and her dark suspicions about a popular priest who teaches at the school, which may or may not be true. New York 1's Roma Torre discusses the experience of acting in this morally complicated and layered play with its stars, Cherry Jones and Brian O'Byrne, and playwright John Patrick Shanley. At the Makor in NYC on Monday, July 11, which replaced the previously scheduled date of June 27.



Broadway To Vegas is supported through advertising and donations. Priority consideration is given to interview suggestions, news, press releases, etc from paid supporters. However, no paid supporters control, alter, edit, or in any way manipulate the content of this site. Your donation is appreciated. We accept PAYPAL. Thank you for your interest.


TONY BENNETT GRADUATES


Singer/artist Tony Bennett, was awarded an honorary diploma at the High School of Art and Design graduation ceremony on Wednesday, June 29th.

The ceremony took place at Alice Tully Hall at Lincoln Center. The presentation was made by principal John Lachky and alumni president Yvonne Fitzner, who lobbied for the award to be bestowed.

Bennett, who is also an accomplished painter, attended the High School of Art and Design when it was known as the School of Industrial Art. He would have graduated in 1945 but left the school to support his family by working as a singing waiter.

The performer appears at the Hollywood Bowl August 12-13 and returns to Las Vegas in September.



THE BOYFRIEND Book, Music & Lyrics by Sandy Wilson. Choreographed by John DeLuca. Directed by Julie Andrews, its original Broadway star, The Boy Friend is a jazzy, romantic spoof of 1920s musical comedy Having made its Broadway debut in 1954 with Andrews as its star, The Boy Friend is a jazzy spoof of 1920s musical comedies: English heiress falls in love with delivery boy - and he happens to be the son of a wealthy nobleman. In the original staging, Andrews portrayed the role of Polly Browne.

A family favorite, this joyful comedy sparkles and will leave you floating on air with Won't You Charleston with Me?, It's Never Too Late to Fall in Love and more.

Andrews' career as a director began in August 2003 at the Bay Street Theater in Sag Harbor, New York where she originally created this version of The Boy Friend.

"I am very pleased that Goodspeed has chosen to produce this musical as the centerpiece of its 2005 season," notes Julie Andrews in a release. "Goodspeed provides a wonderfully supportive environment for creating high quality productions. It's exciting to direct a production at Goodspeed and then work with their staff to bring it to audiences around the country."

Touring its productions is an integral part of Goodspeed's long-range plan. After Goodspeed, the tour will begin in Wilmington, Delaware and continue on to Boston, Massachusetts; Greenville, South Carolina; Hershey, Pennsylvania; East Lansing, Michigan; Chicago, Illinois; Green Bay, Wisconsin; St. Paul, Minnesota; and others to be announced at a later date.

Scenic and costume design by Tony Walton.

Goodspeed Opera House in East Haddam, Conn., July 8 – Sept. 18.

THE UN INSPECTOR freely adapted from Gogol's Russian satire The Government Inspector by David Farr.

Spotted at the Marriott by government aides in search of a decent cappuccino, a British businessman nonentity is mistaken for the dreaded UN inspector. While he exploits the situation for all it's worth, presidential panic ensues as ex-Soviet Ministers make farcical attempts to cover up the corruption that lies at the State's core.

Starring Michael Sheen as Carson, the UN Inspector, David Ryall will play Justice.

Directed by David Farr. Design by Ti Green. Lighting by Mark Henderson. Music by Keith Clouston.

Opens at the Olivier Theatre in London on June 16 following previews from June 7.

BEAU JEST by James Sherman Sarah's found the perfect guy and her parents are excited to finally meet him – a nice Jewish doctor. There's a small problem however: What Sarah's parents don't know is that he's really a hired escort employed to fool them and allow Sarah the freedom to date her real boyfriend, definitely not the Jewish doctor of her parents' dreams. When the unsuspecting couple arrives, and the family begins a traditional Shabbos celebration, her best-laid plans go awry. Unable to act his way through the religious ceremony, the hired date nervously fakes his way through the evening and ultimately wins the heart of Sarah's parents and Sarah too. July 6 - 23 at the Flat Rock Playhouse in Flat Rock, N.C.

PSYCHO BEACH PARTY by Charles Busch.

Gidget, Frankie and Annette beach party epics and Hitchcock psychological suspense thrillers such as Spellbound and Marnie are given a shotgun marriage. Chicklet Forrest, a teenage tomboy, desperately wants to be part of the surf crowd Malibu Beach in 1962. One thing getting in her way is her unfortunate tendency towards split personalities. Among them is a black supermarket check out girl, an elderly radio talk show hostess, a male model named Steve and the accounting firm of Edelman and Edelman.

Her most dangerous alter ego is a sexually voracious vixen named Ann Bowman who has nothing less than world domination on her mind.

Directed by Michael Buino. Stage-managed by Laura Hadley. Costumed by Tina Haglund. Light Design by Tina Salamone and Prop Design by Rania Baxter.

The cast includes Sarah Ball, Tim Ballard, Rania Baxter, Aaron Caponigro, Adam El-Sharkawi, Keely Flynn, Tina Haglund, Steve Hickson, Shannon Moutinho, P.J. Schoeny and Steve Truncale.

July 8th through August 6th at Theatre Building Chicago in Chicago.

THE BLONDE IN THE THUNDERBIRD a new one-woman musical starring Suzanne Somers. Written and directed by Ken & Mitzi Welch. Previews begin July 8. Performances through Sept. 3, at the Brooks Atkinson Theater, NYC.

LADY WINDERMERE'S FAN by Oscar Wilde.

Determined not to trust her husband when circumstances suggest he's been unfaithful, the effortlessly desirable Lady Margaret Windermere – modern, independent and deliciously free of self-doubt – resolves to leave him flat. But the true nature of her husband's relationship with the "other woman" is very different from what young Margaret assumes it to be. The play is Oscar Wilde's first comedy and, more than a century later, a provocative season-opener for WTF's 2005 season in the hands of cutting-edge director Moisés Kaufman.

Starring; Leavey Ballou, Corey Brill, Elliotte Crowell, Amber Gray, Isabel Keating, Derek Lucci, Ben Pelteson, Adam Rothenberg, Sandra Shipley, Jean Smart, Samantha Soule, Benjamin Walker, Chandler Williams, Jack Willis and Liz Wisan. The ensemble includes; Loren Bidner, Molly Casey, Elizabeth Clark, Todd Estrin, Steven Gottlieb, Alexis MacDonald, Cory O'Donnell, Tedford Taylor and Josh Wade.

Sets by Neil Patel. Costumes by Kaye Voyce. Lights by David Lander. Sound by Andre Pluess. Choreography by Sandra Burton. Main Stage of the Williamstown Theatre Festival July 6 - 17.

Nestled in the Berkshire Hills of western Massachusetts, the Williamstown Theatre Festival is a summer-long celebration of theater that brings together a vast and impressive array of artists and offers audiences varied cultural experiences. From mid-June through late August every summer, WTF presents over two hundred performances of classic and new plays on its Main and Nikos Stages, outdoor Free Theatre, Cabaret, and countless readings, workshops, and other special events including a program for youngsters in North Adams called the Greylock Theatre Project. Since the Festival was founded in 1954, many WTF productions have transferred to Broadway, Off-Broadway and to regional theatres around the nation.

THE PAIN AND THE ITCH a world premiere by Bruce Norris. Directed by ensemble member Anna D. Shapiro Featuring ensemble members Tracy Letts and Mariann Mayberry with Lillian Almaguer, Kate Arrington, Darragh Quinn Dolan, Jayne Houdyshell, James Vincent Meredith and Zak Orth. Something's been gnawing at the avocados in Clay and Kelly's kitchen. This upper middle class American couple will go to any lengths to protect their children from whatever creature has invaded their domestic bliss, but the sense of invasion will not stop. This darkly funny, bitingly insightful comedy exposes one family's dysfunction and darkest secrets during a particularly interesting Thanksgiving.

Contains adult language and content. In the Downstairs Theatre of Chicago's Steppenwolf Theatre through August 28.

PRIMO the acclaimed National Theatre of Great Britain production starring Antony Sher. The actor also adapted the 90-minute monologue from several of Italian chemist and Holocaust survivor, Primo Levi's books, most prominently the Auschwitz memoir If This Is a Man. Previews begin Friday. Officially opens July 11 with performances through Aug. 7 at the Music Box Theater, NYC.

CHICAGO the international touring production with the role of Roxie will be played by Tracy Shayne, a Broadway veteran and previously the star of Les Miserable, A Chorus Line and Phantom of the Opera. Velma will be played by Terra MacLeod, who recently had her debut on Broadway and first played Velma in the original French production of Chicago. Stage and television star Kevin Neil McCready will play Billy Flynn.

July 6 through Sunday, July 17 at the Taipei National Theater of the CKS Memorial Hall in Taipei City.

FATAL ATTRACTION: A GREEK TRAGEDY by Alana McNair and Kate Wilkinson.

The production stars Corey Feldman in the role played by Michael Douglas in the movie Fatal Attraction. The cast includes, Kellie Arens, Nick Arens, Ebony Cross, Aaron Haskell and Sergio Lobito.

This new comedy that lovingly, liberally and loosely satirizes the well-known thriller film Fatal Attraction from 1987.

A big-time corporate lawyer has a one-night stand with a no-nonsense business woman while his wife is away. When the corporate hag forgets her place, all heck breaks loose! The park, the opera, the bunny, and the tub ensue.

Skewering the film's blatant fear of the successful business woman, and celebration of traditional family values, this Greek Tragedy adopts a chorus that comments on the action by using texts from the Greek tragedy oeuvre, as well as from turn of the century home etiquette propaganda.

Running at a breakneck pace of 70 minutes, this stage to screen adaptation, directed by Timothy Haskell, is very much its own story, told with a kinetic beat, a boiled bunny dream/ dance sequence and lots of Kung-Pow action.

The show opens July 10 following previews which began July 1. East 13th Street Theatre in NYC.

THE MUSICAL OF MUSICALS - THE MUSICAL! Book by Eric Rockwell & Joanne Bogart. Music by Eric Rockwell. Lyrics by Joanne Bogart. Directed by Pamela Hunt.

Sometimes one musical is not enough. The Musical of Musicals - The Musical! is 5 musicals in one. It is a musical about - musicals! In a comic satire of musical theatre genres, one story becomes five musicals, each in the distinctive style of a different master of the form, from Rodgers and Hammerstein to Stephen Sondheim.

The cast includes Tony Award-nominee Mary Gordon Murray, Alli Mauzey, Jeffrey Rockwell and Brent Schindele.

July 5 - September 4 at the Laguna Playhouse in Laguna, CA.

BOSTON MARRIAGE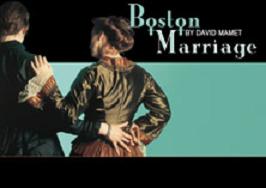 by David Mamet. Director Jude Gibson.

It has been said that diamonds are a girl's best friend, but at the heart of David Mamet's play Boston Marriage lies the acquisition and ownership of a large and expensive emerald necklace.

Anna and Claire are two bantering, scheming ladies of fashion who have long lived on the fringes of upper-class society. Anna has recently had the good fortune of becoming the mistress of a wealthy man. With him come an extraordinary emerald necklace and a generous allowance, guaranteeing her future comfort. Claire wishes to enlist Anna's help for an assignation with a new flame. However their plotting to arrange Claire's tryst embroils them neck deep in trouble when the young object of her affections sparks off a crisis of hilarious proportions.

Featuring Heather Bolton, Tandi Wright, and Dena Kennedy.

Designed by Tolis Papazoglou.

Performing July 3-23 Downstage Theatre, Wellington, New Zealand.


| | | |
| --- | --- | --- |
| | | |
WHO'S WHERE


CHRIS ISAAK has a busy week. On Wednesday, July 6 he opens a three night gig at Historic Mountain Winery in Saratoga, CA. On Saturday the show is at Konochti Harbor Resort and Spa in Kelseyville, CA.

STEPHEN SONDHEIM'S 75TH: THE CONCERT with Los Angeles Philharmonic; Paul Gemignani, conductor. Confirmed performers; Jason Alexander, Carol Burnett, Len Cariou, Barbara Cook, Jason Danieley, Victor Garber, Nathan Lane, Angela Lansbury, Marin Mazzie, Audra McDonald, Brian Stokes Mitchell, Donna Murphy, Bernadette Peters, Emmy Rossum, Vanessa Williams. Paul Lazarus is the producer/director of this blue ribbon event. Friday, July 8, at The Hollywood Bowl in Los Angeles.

ALVIN AILEY AMERICAN DANCE THEATER performs in St. Petersburg from July 8 through 10 as part of the Stars of the White Nights Festival. This event is their first visit to Russia in 15 years.

MICHAEL FLATLEY has mounted a new show in which he is both the chorographer and star. Celtic Tiger, a dance performance traces the spirit and history of Ireland from earliest days until the present. The 90-minute, two-act show, with 24 dance numbers and a cast of 60, begins its tour in Eastern Europe on July 9.

ALANIS MORISSETTE performs Tuesday, July 5 at the Paramount Theater in Denver. On Friday she's on stage at Arlene Schnitzer Hall in Portland, Oregon. Saturday finds her at the Orpheum Theatre in Vancouver, BC.

BIG BAD VOODOO DADDY getting the place swinging Thursday, July 7 at the Blue Jay Festival at Lake Arrowhead, CA. On Saturday they can be enjoyed at the Equestrian Center in Burbank, CA.

MICHAEL BUBLE performs Tuesday, July 5, at the Mohegan Sun Casino in Uncasville, CT. On Wednesday he stars at the Merriam Theatre in Philadelphia, PA. Friday the show is at the Beacon Theatre in New York City and on Saturday he's in the spotlight at the Wang Center in Boston.

BLIND BOYS OF ALABAMA take part in the Central Park Summer Stage program in NYC on Sunday, July 10.

DIANNE REEVES still on her European tour. She performs Thursday, July 7, at the Jardim Quinta Magnolia in Funchal, Portugal. On Saturday she's in the spotlight at the Rivieren in Antwerp, Belgium. Next Sunday she's center stage at Congress Centre at The Hague.

JOHN FOGERTY entertains Monday, July 4 at Soaring Eagle Casino in Mount Pleasant, Michigan. On Tuesday he'll be performing his hits at the Post Gazette Pavilion in Burgettstown, PA. Thursday finds him at the Tweeter Center for the Performing Arts in Mansfield, MA. Friday the show is at Tommy Hilfiger at Jones Beach in Wantagh, NY and next Sunday, July 10 he's on stage at the Meadows Music Center in Hartford, Connecticut.

U2 entertain Tuesday, July 5 at Stadionie Slaskim in Chorzow, Poland. Their European tour continues Thursday with a show at Olympiastadion in Berlin. On Saturday they open a two night stand at the Stade de France in Paris.

MERCY ME perform Thursday, July 7 at Life Fest at the Expo Center in Oshkosh, Wisconsin. On Saturday the show is at Paramount King's Island in Kings Mills OH.


PIFFLE AND PROFUNDITIES


AUBREY REUBEN has completed his term as Acting President of the Outer Critics Circle. Reuben was brought into that temporary position, for the purpose of chairing the annual awards presentation. Marjorie Gunner, who served the organization well in her 25-years as president, suddenly had to step down due to serious health concerns. Reuben stepped in to preside over the annual event. Although no longer Acting President of the Outer Critics Circle, he remains an active member.
















Next Column: July 10, 2005
Copyright: July 3, 2005. All Rights Reserved. Reviews, Interviews, Commentary, Photographs or Graphics from any Broadway To Vegas (TM) columns may not be published, broadcast, rewritten, utilized as leads, or used in any manner without permission, compensation and/or credit.
Link to Main Page
---
Laura Deni


CLICK HERE FOR COMMENT SECTION