! >
Broadway To Vegas
  
  REVIEWS INTERVIEWS COMMENTARY NEWS

| | |
| --- | --- |
| | |
LES MOONVES ACCUSED OF SEXUAL MISCONDUCT - - THE STRATFORD FESTIVAL IN TORONTO OFFERS VARIETY AND EXPANSION - - DAME JUDI DENCH GIVES CAMILLA, THE DUCHESS OF CORNWALL A TOUR - - THE PALACE MUSEUM IN BEIJING - - US YOUTH ORCHESTRA HAS RETURNED TO ASIA - - $1 BILLION WARNER BROS. WORLD ABU DHABI THEME PARK HAS OPENED - - HONOR PRINCESS DIANA WITH CHARITY WORK NOT HATRED - - THE INFINITE UNIVERSE OF JIM STARLIN - - DONATE . . . Scroll Down





Copyright: July 29, 2018
By: Laura Deni
CLICK HERE FOR COMMENT SECTION


LES MOONVES ACCUSED OF SEXUAL MISCONDUCT


Courageous and brilliant Ronan Farrow, who broke the Harvey Weinstein sexual assault scandal, has penned an investigative report about some of the inappropriate antics of chief executive officer of CBS Corporation Les Moonves for The New Yorker.

Bravo! Finally!

Moonves groping women goes back to his days as an agent - prior to his ever joining CBS.

The actual type of investigation CBS will conduct regarding the sexual misconduct allegations is murky. Charlie Rose being immediately fired is different than Moonves. Rose was an employee. Moonves is the network. He demands total and complete loyalty. It's a type of owning and controlling - saying and doing anything he instructs them to say or do. He also has unlimited funds and contacts enabling him, if he so chooses, to wreck careers and destroy lives.

Moonves' statement that "I have never misused my position to harm or hinder anyone's career," is a lie.

Farrow doesn't write from a knee jerk perspective. His courage, professionalism and investigative skills have become the gold standard.

Everyone should read Farrow's article in the New Yorker.

Moonves' wife Julie Chen posted a statement in support of her husband which contained too much information - doing him more harm than good: "I have known my husband, Leslie Moonves, since the mid-90s, and I have been married to him for almost 14 years. Leslie is a good man and loving father, devoted husband and inspiring corporate leader. He has always been a kind, decent and moral human being. I fully support my husband and stand behind him and his statement."

. . . always been a kind, decent and moral . . . words not generally viewed as the mantra for Les Moonves.


THE STRATFORD FESTIVAL IN TORONTO OFFERS VARIETY AND EXPANSION


Questions of Identity

That's the theme of this year's festival.

"We all want to be free. But finding true freedom within our communities, our families and within ourselves is no easy task. Nor is it easy to reconcile our own freedom with the political, religious and cultural freedoms of others. Happily, the conflict created by our search for freedom makes for great theatre," declared a statement from Artistic Director Antoni Cimolino.

He offers brief explanations of the productions:

"Shakespeare's The Tempest, in which I'm delighted to direct Martha Henry, is a play about the yearning to be released from imprisonment, as revenge and forgiveness vie for the upper hand in Prospero's heart."

The Detroit born Henry is a stage, film, and television actress, perhaps best known for her work at the Stratford Festival, having appeared in some 65 productions at the Festival, 30 of them plays by William Shakespeare. Henry received a Governor General's Performing Arts Award for her lifetime contribution to Canadian theatre in 1996.

"Erin Shields's exciting new interpretation of Milton's Paradise Lost takes an ultra-contemporary look at humanity's age-old desire for free will – and the consequences of acting on it," continued Cimolino about this year's productions.

"I'm very proud that we have the internationally renowned Robert Lepage with us directing Shakespeare's Coriolanus, a play about early Roman democracy. It is as important to understanding the current state of our democratic institutions as is Shakespeare's play about the end of the Roman Republic, Julius Caesar.

"Recent events have underlined the need for the iconic story To Kill a Mockingbird to be told, as a powerful reminder that there can be no freedom without justice," he continued.

"Freedom is no less central to our two musicals: in The Music Man, freedom of expression through the arts brings joy and self-discovery into the hearts of young people, while the raucous fun of The Rocky Horror Show celebrates the joy of simply being oneself, without judgement."



Daren A. Herbert as Harold Hill in The Music Man. Photo by: Cylia von Tiedemann/Stratford.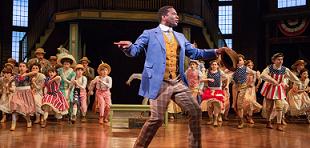 Meredith Willson's Tony Award-winning musical comedy The Music Man follows a charming but fraudulent salesman who arrives in River City, Iowa, to work his usual scam – only to find that a bill of goods can be the real deal. Directed and choreographed by Donna Feore, the production features a colossal cast of 40 performers, showcasing Ms Feore's original choreography in spectacular dance numbers, and a live 19-piece orchestra, led by Music Director Franklin Brasz, playing such hits as Shipoopi; Till There Was You and the show-stopping Seventy-Six Trombones.

"This musical has so many beautiful elements," says Cimolino. "Donna has made it a massive dance show, which injects an infectious vibrancy throughout, but with an irresistible love story at its heart – and not just for the main characters, but for the whole River City community whose hearts are opened by the power of music. It's an enduring master work, perfect for the entire family, and just itching to be shared with the next generation."

"The term classic is often used to describe shows that have been around for a while and have enjoyed successful runs on stages from Broadway to high school gyms," says Ms Feore. "Something about these shows keeps drawing us back again and again. In the case of The Music Man, it's one thing. One voice. Meredith Willson's voice.

"Willson puts real people and real love before us, imperfections intact. Harold Hill is a con man, a liar. And yet Willson allows Marian Paroo, the show's moral compass, to fall for him – but with her eyes open. Harold may attack with his massive charm and may have won over the whole of River City, but he doesn't fool Marian for a minute. Marian doesn't need anyone. When and if she chooses, she will choose wisely. And Harold, the agent of change, will in his turn be changed. And, all in the end, for the better."

Daren A. Herbert and Danielle Wade, both making their Stratford debut, play Harold Hill and Marian Paroo. They are joined by Denise Oucharek as Mrs. Paroo, Steve Ross as Mayor Shinn, Mark Uhre as Marcellus Washburn, Blythe Wilson as Eulalie MacKecknie Shinn and Alexander Elliot as Winthrop Paroo.

The creative team includes Set Designer Michael Gianfrancesco, Costume Designer Dana Osborne, Lighting Designer Michael Walton, Sound Designer Peter McBoyle and Fight Director John Stead.

The Music Man runs until November 3.

Special events surrounding The Music Man include and old fashioned Ice Cream Social on August 11.

Take the whole family back in time for a turn-of-the-century Ice Cream Social. Try your luck with some old-fashioned carnival games, get creative with some picnic crafts and enjoy the melodious sounds of a barbershop quartet. Features a buffet lunch and extraordinary ice cream bar with all the fixins. Featured quartets: Imagine That Quartet from London, Ontario and HOPE Quartet from Stratford, Ontario.

Regarding the season, Cimolino continued: "Sometimes freedom comes in finding our other half, as in Shakespeare's The Comedy of Errors or Oscar Wilde's brilliant An Ideal Husband. Other times our families make our own individual dreams elusive, as in Eugene O'Neill's great play Long Day's Journey Into Night or Jordi Mand's engrossing new work about three sisters called Brontë.



The world premiere of Brontë: The World Without runs until October 13, 2018.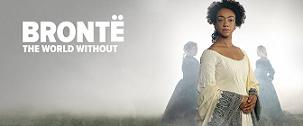 This World première: Brontë: The World Without is Jordi Mand's new play about the Brontë sisters which draws on creative learning and development fostered in the Stratford Festival's Laboratory. The production runs until October 13. Directed by Vanessa Porteous, the production features Beryl Bain, Jessica B. Hill and Andrea Rankin.

"Jordi Mand, among the very finest playwrights of her generation, has created a profoundly beautiful and detailed exploration of these three women," explains Cimolino. "In writing they find desperately needed self-expression, but they also find competition as each one seeks to outshine the others, whom they nonetheless love very much. As this truly gripping story unfolds, we follow their personal victories and defeats as their individual fortunes rise and fall."

Commissioned by the Festival, Mand's play examines the sisters' relationships as they deal with their ailing father and dissolute, dying brother, all the while jealously guarding secrets of their inner thoughts and individual creativity. Desperation drives them to a life-changing choice that sees them reveal the literary talent that will win them world-wide fame.

"Our play conjures five important days over approximately five years in their lives," says Porteous. "The field of action is the confined terrain of their parlor, with a view of the village on one side, the cemetery on the other, and the moors beyond. It would be hard for anyone to share such tight quarters, let alone three driven, competitive, and talented sisters, all pursuing the same thing: literary triumph. We explore themes of sibling rivalry, ambition and the struggle of female artists striving for success in what remains a male-dominated endeavor even today."

Artistic credits include Designer Narda McCarroll, Lighting Designer Kimberly Purtell, Sound Designer Anton de Groot, Dramaturge Bob White and Fight Director John Stead.

In related events - Brontë: The World Without at the Forum is a series of events, such as exclusive showcases, guest speakers, special meals, music and family fun, that offer theatregoers a unique opportunity to delve deeper into the ideas and issues raised by the production.

Ideas at Stratford: Freedom From Lies takes place Saturday, August 18.

Freedom of the press is a holy grail in Western societies, but in an era of "fake news" and "truthiness," what are journalists to hang on to? Paul Kennedy, host of CBC's Ideas, moderates a discussion featuring CBC senior correspondent Susan Ormiston; journalist, author and social critic Linda McQuaig; and freelance journalist and activist Desmond Cole.

In the Mind of the Artist takes place Wednesday, August 22.

A panel discussion considering the artist's mind and the extraordinary demands of artists' work: factors that make them both brilliant and often vulnerable to diseases of the psyche. The panel features Canadian comic icon and Bell Let's Talk ambassador Mary Walsh; David Goldbloom, senior medical advisor at the Centre for Addiction and Mental Health; and veteran company member Steve Ross.

The Anthropology of Bias is set for Wednesday, September 5.

The Brontë sisters hid their gender by publishing under pseudonyms or anonymously. Jordi Mand, playwright of Brontë: The World Without, leads a dialogue on gender bias with guests Kathleen Gallagher, of the Ontario Institute for Studies in Education, and Kim Solga, of the Department of Theatre and Drama Studies at Western University. Award-winning writer and company member Marion Adler moderates the discussion.



Napoli Milionaria! is staged at the Avon Theatre August 2 – October 27 with the official opening set for August 17.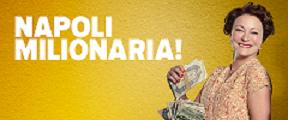 Cimolino concludes his description of the season with the exclamation: "I'm thrilled to direct Eduardo De Filippo's comic masterpiece Napoli Milionaria!, in which a family faces the greatest threat to our freedom – our desire for money."

Related events include Celebrated Speakers: Desperate Times, Desperate Measures Wednesday, August 8. In Napoli Milionaria!, the family's matriarch, Amalia, puts their fortunes in the Italian black market in order to survive. What are the economic impacts of war on the state and on citizens? Who walks away with the payload? Antoni Cimolino moderates a panel discussion with guests Brian Orend, of the University of Waterloo, and Donato Santeramo, dramaturge and translator.

In addition to the productions the Festival is just plain giddy that The Amazing Race Canada: Heroes Edition is coming to the Stratford Festival. It's unusual that a live venue staging a full season is encouraging patrons to turn on their television - but that is what is being touted. "Be sure to tune in to CTV next Tuesday, July 31, when The Amazing Race Canada: Heroes Edition visits the Stratford Festival!"

Tune in to watch these amazing racers get challenged Shakespeare style.

"We are thrilled to have these incredible Canadians race their way through the beautiful city of Stratford, where they will find themselves centre-stage," says Stratford Festival Executive Director Anita Gaffney. "We worked with the producers to dream up a dramatic, skill-testing, on-stage challenge that will have the competitors wishing they'd brushed up their Shakespeare. You won't want to miss this episode!"

There will be a free public viewing at City Hall on Tuesday, July 31, 2018.

Another event causing the Festival honchos to exhibit over-the top excitement is the Festival's Romeo and Juliet and Timon of Athens to be broadcast on CBC this summer.

"The Stratford Festival is a shining example of how incredible classical theatre can be, and how much Canada has to offer the world artistically," says Eric McCormack, a former Stratford company member and ambassador for the HD project, currently starring in the hit TV series Will & Grace and Travelers.

Romeo and Juliet stars Antoine Yared and Sara Farb with the Nurse played by Seana McKenna and Mercutio by Evan Buliung.

On Sunday, August 5, Timon of Athens will air. Stage director Stephen Ouimette's captivating production gets a glorious treatment on the screen by director Barry Avrich. This rarely produced Shakespearean treasure tells the story of Timon, a tremendously generous nobleman, who lavishes gifts upon his friends and entertains in high style. He's the most popular man in Athens – until his money runs out.

Joseph Ziegler stars in the title role with Ben Carlson, Michael Spencer-Davis and Tim Campbell.

Expansion of the Stratford Festival is being made possible through the Tom Patterson Theatre project known as The Stratford Festival's Spirit of the Tent campaign. Adding to the coffers has been a generous $1 million donation by Andy & Helen Spriet.

The Spirit of the Tent campaign has acquired $74 million in gifts and several million more soon to be announced. Government contributions have been of enormous importance, including $20 million coming from Ottawa and $20 million from the Province of Ontario.

"With the help of generous supporters like Andy and Helen Spriet, this campaign will allow us to create a stunning new facility, fund new and expanded programs, and strengthen a significant part of Canada's cultural heritage," says Dr. M. Lee Myers, Co-Chair of the campaign.

The new Tom Patterson Theatre Centre, has been designed by Siamak Hariri, of Toronto-based Hariri Pontarini, an architect with more than 50 architectural awards, including the Governor General's Medal in Architecture. Hariri is the architect behind the breathtaking Baha'i Temple of South America, and, the Richard Ivey Building at Western University in London, as well as the Schulich School of Business at York University.

The new center with pale brick masonry, will feature a uniquely appointed auditorium: an elongated thrust stage held in the warm embrace of the audience; a theatre reminiscent of its predecessor, but with vastly improved comfort and accessibility, as well as superb production capabilities.

The auditorium will be surrounded by a glass and bronze curtain, reflecting the beauty of the riverbank it overlooks and creating a variety of gathering and presentation spaces within the vast lobby.

"The new Tom Patterson Theatre Centre will put the Stratford Festival at the forefront of theatrical innovation, enhancing its position as a world leader. In addition to housing one of the finest theatre rooms in North America, it will offer spaces for cultural and social engagement, theatrical research and development, and education, with facilities for enhanced student engagement both onsite and in the digital realm," stated the release.

The finished project will open in the spring of 2020.

Located in Stratford, Ontario, Canada, they are North America's largest classical repertory theatre company. Each season a dozen or more productions in four distinctive venues are presented - including classics, contemporary dramas and musicals, with special emphasis on the plays of Shakespeare.



E-Book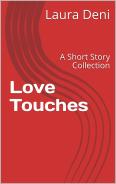 Soft back Book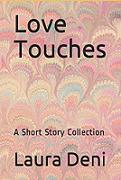 DAME JUDI DENCH TAKES CAMILLA, THE DUCHESS OF CORNWALL ON A TOUR
Dame Judi Dench in powder blue and Camilla, the Duchess of Cornwall looking as cool as possible in white, each enjoyed a vanilla ice cream cone and cookie on the deck of the private beach next to Osborne House. Photo: Clarence House.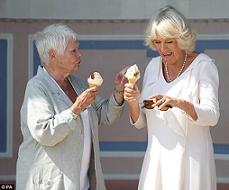 It's not often that an Academy, BAFTA, Olivier and Tony Award winning actress serves as a tour guide. But, she was between jobs and actors know how that is.

In the case of Judi Dench, the actress who is known as Dame Judi in England was engaging in a real life part - as Patron of the Friends of Osborne House. In that capacity she showed Camilla, the Duchess of Cornwall, around the place, including the newly restored Durbar Room, which was one of the locations for the film Victoria and Abdul in which she played Queen Victoria.



Dame Judi Dench as Queen Victoria and Ali Fazal as Abdul Karim in Victoria & Abdul. Towards the end of her life, the 14 year relationship between Queen Victoria and her handsome, young Indian attendant Abdul Karim was deemed so controversial that it scandalized Europe.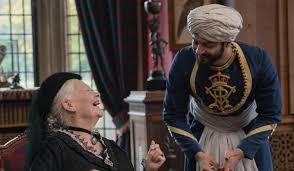 Having spent Summer 2016 at Osborne filming Victoria and Abdul, Dame Judi quickly accepted the invitation to become the first Patron of the Friends of Osborne.

In 2017 Dame Judi CH, DBE, FRSA attended the Friends of Osborne Gala Dinner, accompanied by her Victoria and Abdul co-star comedian Eddie Izzard who put on 20 pounds to play Queen Victoria's power-hungry son Bertie, The Duke of Wales.

Guests enjoyed a champagne reception in The Durbar Room followed by a dinner in the Terrace Restaurant.

Having spent a significant amount of time at Osborne made Judi an "experienced" guide, and anyone who has ever been on a tour knows that is crucial for a pleasant experience. It also wasn't the first time Judi and Camilla had met - enabling them to catch up with one another.

They didn't exactly turn into the 'ladies who lunch' but in the blistering hot July sun they each enjoyed a vanilla ice cream cone on the deck of Queen Victoria's private beach located adjacent to Osborne House.



Dunbar Room. Photo: Friends of Osborne.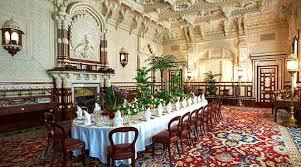 Osborne House was purchased by Victoria and Prince Albert in 1845 and was one of the Queen's favorite family homes.

She died there age 81, on Tuesday, January 22, 1901, at half past six in the evening. Her son and successor Kind Edward VII, and her eldest grandson, Emperor Wilhelm II of Germany, were at her deathbed. Her favorite Pomeranian dog Turi, was laid upon her deathbed as a last request.



Drawing Room in Osborne House. The Drawing Room has many similarities to the Penthouse Ballroom in the New York home of the late Joan Rivers. Photo: Friends of Osborne.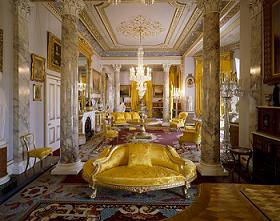 Afterwards the house was given to the state and parts of the pavilion first opened to the public as early as 1904.

It is now cared for by English Heritage and is open to the public year round. This was Camilla's first visit to Victoria's former holiday home since her last trip in 2009.

Dunbar Room was where Queen Victoria entertained European royalty in the later part of her reign, and designed as a state setting in what had, until then, been her family and personal retreat.

Now the Durbar Room at Osborne House on the Isle of Wight has been restored to give visitors will a glimpse of how it would have looked in the 1890s

As guests step through the door, they will go back in time and see the Durbar Room as she would have seen it – a banqueting hall.

There are ornate carpets around a huge dining table set with fine cutlery and crockery to give an idea of the opulent meals held there by Queen Victoria.

And, tourists should look up to see the restored plasterwork ceiling – designed originally by Bhai Ram Singh and Lockwood Kipling whose son, Rudyard, wrote The Jungle Book.






Broadway To Vegas is supported through advertising and donations. Priority consideration is given to interview suggestions, news, press releases, etc from paid supporters. However, no paid supporters control, alter, edit, or in any way manipulate the content of this site. Your donation is appreciated. We accept PAYPAL. Thank you for your interest.



E-Book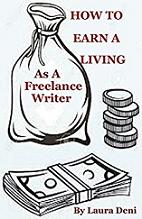 Soft back Book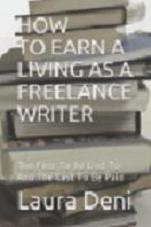 This is not your typical, totally boring textbook.

In the pages of How To Earn A Living As A Freelance Writer (the first to be lied to and the last to be paid) you'll find sex, celebrities, violence, threats, unethical editors, scummy managers and lawyers, treacherous press agents, sex discrimination; as well as a how-to for earning money by writing down words.





ART AND ABOUT


THE INFINITE UNIVERSE OF JIM STARLIN

Jim Starlin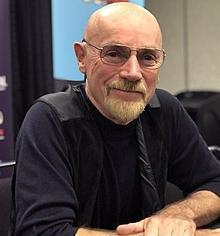 an exhibition celebrating the art and innovation of Jim Starlin. His acclaimed 1970s tenure as the writer and artist of the Marvel Comics series Captain Marvel and Warlock redefined the word "cosmic" and pushed the boundaries of mainstream superhero comics to their limits - and beyond.

Born in Detroit, Michigan, Starlin is best known for space opera stories; for revamping the Marvel Comics characters Captain Marvel and Adam Warlock; and for creating or co-creating the Marvel characters Thanos, Drax the Destroyer, Gamora and Shang-Chi, Master of Kung Fu. Later, for DC Comics, he drew many of their iconic characters, especially Darkseid and other characters from Jack Kirby's Fourth World. For Epic Illustrated he created his own character, Dreadstar.

Starlin's signature creation, Thanos, is the featured villain in Marvel Studios' feature film Avengers: Infinity War, which draws inspiration from many of Starlin's Marvel Comics stories, including Captain Marvel, Warlock, Silver Surfer, and The Infinity Gauntlet.

Starlin attended the world premiere and reviewed the movie on his Facebook page. "Josh Brolin's Thanos. Brolin is an incredible Thanos," Starlin posted, "moving and emoting just as I tried to portray him in the comics."

The Cartoon Art Museum's retrospective celebrates the art and the artist behind these cosmic masterworks with a showcase of his Marvel Comics creations.

Through September 4, 2018 at the Cartoon Art Museum in San Francisco, CA.

THE PALACE MUSEUM IN BEIJING or the Forbidden City, has received more than 100 million visitors since January 2012, the museum announced. That's a lot of humanity. To accommodate the masses the Museum has limited the number of people coming through to .a maximum of 80,000 visitors per day since June 2015, compared with more than 100,000 or even 180,000 visitors per day in previously years.

The museum experienced a record high of 16.7 million visitors in 2017.

In an effort to further protect the security of both the priceless relics and visitors the venue is opting to sell 2019 tickets with a specific admission time.






E-Book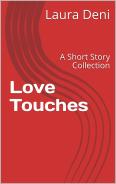 Soft back Book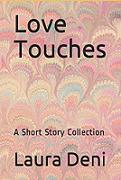 SWEET CHARITY


LIN-MANUEL MIRANDA, HIS FAMILY AND JEFFREY SELLER producer of Hamilton have announced the creation of the Flamboyan Arts Fund in partnership with the Flamboyan Foundation.

Vadim Nikitine and Kristin Ehrgood launched the the privately owned Flamboyan Foundation first in Puerto Rico in 2006 and then in Washington, DC in 2008. Their approach centers on their beliefs that change is possible, and that it requires more than money. "They see Flamboyan Foundation as a vehicle to solve problems in education and use the foundation's financial and human resources strategically to bring multiple stakeholders together to drive progress."

The first five recipients of the Flamboyan Arts Fund include:

Seven member local theater company, Y No Habia Luz, will receive $180,000. The company had struggled to find funds and was forced to cancel all events for several months after the hurricane.

An award $1 million each to the Theater of the University of Puerto Rico and the Puerto Rico Museum of Art.

Awards of $900,000 will go to Andanza Dance School & Company and $900,000 to Crearte Museo de Arte de Puerto Rico.

The Tony, Pulitzer Prize and Genius Grant Hamilton playwright said his goal is for the fund will reach $15 million in upcoming years.

Miranda and Hamilton's lead producer Seller also announced that all profits from Hamilton - with Miranda as the star in title role - in the Puerto Rican production January 8–27, 2019, staged at Teatro UPR, on the campus of the University of Puerto Rico. will be donated to the Fund. Additionally, some 9,600 tickets will be made available via digital lottery at $10 per ticket.

Monies from the fund will be used to support arts institutions, as well as individual artists, musicians, galleries, and more in order to ensure the artistic and cultural future of Miranda's ancestral home of Puerto Rico. According to a statement, "one of the Flamboyan Arts Fund's first philanthropic goals is to leave behind a new Actors' Equity-approved theatre at the University of Puerto Rico to entice future professional touring productions to come to the island."

This isn't the first time Miranda has come to the assistance of the birthplace of his parents. In November 2017 he announced a declared a partnership with the Hispanic Federation, with his intention of donating $2.5 million in grants for a variety of nonprofit projects focused on recovery following Hurricane Maria. See Broadway To Vegas column of November 12, 2017

THE MONACO RED CROSS BALL GALA celebrated its 70th anniversary, with Prince Albert II and his wife Princess Charlene enjoying a performance by Seal at the July 27, 2018 gala staged at the Salle des Etoiles at the Sporting Monte-Carlo.

The social and charity event was launched in 1948, when Prince Rainier III of Monaco presided at the first gala held by the newly founded Monaco Red Cross.

The annual gala became a 'must attend' event when Hollywood actress Grace Kelly married Prince Rainier III and became chairwoman of the event. She turned it into one of the largest charity galas in the world, bringing together some of the most famous people and celebrities.

Funds raised support the Red Cross both locally and internationally.

REMEMBERING PRINCESS DIANA recently public protests have been staged against the wife of Prince Charles in what was meant as a show of support for his ex-wife, Diana.

Charles and Diana married on July 29, 1981. The union ended in divorce, which was finalized on August 28, 1996, following well-publicized extramarital affairs by both parties. She was killed in an auto crash along with Dodi Al-Fayed on August 31, 1997.

It's been 21 years since her death - time to behave like an adult.

Princess Diana was on a holiday with Dodi Al-Fayed. There are conflicting opinions as to whether she was in love with Dodi or using him in an attempt to make Pakistani surgeon and cardiologist Hasnat Khan jealous. Many voiced that Khan, whom Diana was with from 1995 until he ended the relationship in June 1997, was the love of her life. It doesn't really matter.

For the rabid fans of Diana - and there are many - as the anniversary of her marriage takes place today, July 29, and the anniversary of her untimely and tragic death approaches - "honoring" her by attacking other members of the royal family is counterproductive and makes you look immature and mean spirited. Instead of using hatred, pent up anger, frustration and any other negative emotion to lash out at members of the royal family for their perceived treatment of Diana - use your time, energy, and money to support the charities favored by Diana, Dodi and/or Hasnat.

Diana is famous for her work against land minds and for the eradication of AIDS. There is also the Diana, Princess of Wales Memorial Fund. Dr. Khan supports numerous medical charities. Dodi is represented through the Dodi Fayed International Charitable Foundation. Pick one or several and honor Diana by engaging in positive charity work. Or, do a random act of kindness in her memory.




E-Book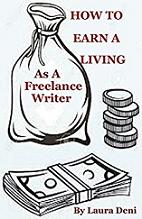 Soft back Book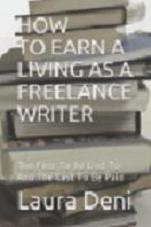 This is not your typical, totally boring textbook.

In the pages of How To Earn A Living As A Freelance Writer (the first to be lied to and the last to be paid) you'll find sex, celebrities, violence, threats, unethical editors, scummy managers and lawyers, treacherous press agents, sex discrimination; as well as a how-to for earning money by writing down words.





SPREADING THE WORD


$1 BILLION WARNER BROS. WORLD ABU DHABI the world's largest Warner Bros. branded indoor theme park taking has opened on Yas Island.

Prior to the grand opening on July 26, His Highness Sheikh Mohammed bin Rashid Al Maktoum, Vice-President and Prime Minister of the UAE and Ruler of Dubai, and His Highness Sheikh Mohamed bin Zayed Al Nahyan, Crown Prince of Abu Dhabi and Deputy Supreme Commander of the UAE Armed Forces, received a private tour of the park on Monday, July 23, 2018.

Following the tour, Sheikh Mohammed bin Rashid posted photos of the opening and tweeted: "With my brother Sheikh Mohamed bin Zayed while launching the Warner brothers World Abu Dhabi - a new milestone in our capital ... a new destination for our families and a key hub to boost the tourism sector for our national economy."

Sheikh Mohamed bin Zayed also took to Twitter to announce the opening. "We are developing the tourism sector to position the UAE among top global destinations for family entertainment and leisure," he tweeted.

The 1.65 million sq. ft. park, developed by Miral, offers six designed lands including DC's Metropolis and Gotham City, as well as Cartoon Junction, Bedrock, Dynamite Gulch and Warner Bros. Plaza.

In addition to numerous food stand and sit-down restaurants, the park is the first in the region to offer diners an opportunity to enjoy a sit down meal with a personal visit to their table from some of their favorite characters.

SATCHMO SUMMERFEST three days of outdoor concerts, music history seminars, jazz exhibits, a jazz mass, a second-line parade and plenty of local food delicacies and drinks, the festival honors Louis "Satchmo" Armstrong who was born in New Orleans on August 4, 1901.

Nearly all of the participating musicians are New Orleans-based. A Satchmo art contest and exhibit at the Crescent City Brewhouse attracts some of the city's most talented artists to create works in a Satchmo motif. There's even a fun-filled "Satchmo Strut" down Frenchmen Street, taking in most of the nightclubs in the city's preeminent live music district.

August 3-5, 2018 in New Orleans.

LOLLAPALOOZA the famed four-day music festival with more than 100 popular alternative rock, punk rock, heavy metal, and hip hop bands; comedy and dance; and craft booths. August 2-5, 2018 in Chicago's Grant Park.

Performers include: The Weeknd, Bruno Mars, Jack White, Arctic Monkeys, Travis Scott, The National, Vampire Weekend, Odesza, Logic, Post Malone, St. Vincent and more.

CAMBRIDGE FOLK FESTIVAL the BBC Radio 2 Cambridge Folk Festival is four days of folk music spanning across every definition and possible incarnation of the genre. The established event forms an annual crossroads where traditional and contemporary artists have met since 1965.

Cambridge's stunning Cherry Hinton Hall provides the festival with its intimate feel, while audiences enjoy the sounds of Americana, roots and blues as well as zydeco, klezmer and cajun. "The festival also has craft, music and instrument stalls, campsite entertainment and a food selection as varied as the line-up. A dedicated children's area is devoted to keeping them little 'uns amused and the spectator interaction is encouraged with festival-goers allowed to create their own music in the bar and campsite sessions."

The Festival takes place August 2-5, 2018.

US YOUTH ORCHESTRA HAS RETURNED TO ASIA with performances beginning last week and continuing tonight, July 29, at the National Centre for the Performing Arts in Beijing followed by an August 1 performance at the Lotte Concert Hall in Seoul and a performance at the Daejeon Arts Center on August 3, 2018.

Conducted by Michael Tilson Thomas, the National Youth Orchestra of the United States of America (NYO-USA), featuring 106 musicians ranging in age from 16 to 19 from 28 US states and Puerto Rico. This is their 6th year participating in a summer tour. Featured pianist is Jean-Yves Thibaudet who is performing a new Carnegie Hall-commissioned work Brass Tacks by Ted Hearne alongside Gershwin's Piano Concerto in F Major featuring Thibaudet and Sibelius's Symphony No. 2.

All of the youngsters have been recognized by Carnegie Hall as being among the finest young musicians in the country, following a comprehensive and highly competitive audition process. 36 are returning from previous years.

As part of their schedule, the musicians will also tour each city they visit, meet and collaborate with local young musicians and enjoy Asian culture.

THEATER RESOURCES UNLIMITED will hold a Writer-Director Communications Lab on Saturday, August 11, 2018 at Studios 353 in New York City.

Feedback will be given by commercial producers Ken Waissman and Ric Wanetik, senior advisor for America to the Royal Shakespeare Company (RSC), Tony nominated producer and TRU executive director Bob Ost will facilitate the day.

"One of the most important - and most sensitive - relationships in theater is that between playwright and director. In some ways, the entire success of a show can hinge on the shared understanding, trust and mutual respect between these two artists. The director and the writer need to see the show with the same eyes, otherwise their collaboration won't work. This is important to establish in the initial meetings. TRU has created a new, experimental program that will train theater artists in the crucial skills of communication. It is led by producers, since the producer is generally the real-world mediator in writer-director disagreements, and has the better overview of a production."

In this Lab ten directors will be teamed with ten writers prior to the Lab itself.

Confirmed directors participating are: Justin Baldridge, Elizabeth Bove, Andi Lee Carter, Miriam Eusebio, Neal Kowalsky, Noel MacDuffie, Katherine Ray, Kevin Ray, and Jonathan Warman.

SUNDAY, JULY 29 is National Lasagna Day and National Chicken Wing Day. Monday, July 30, is National Cheesecake Day while Tuesday is National Raspberry Cake Day, National Cotton Candy Day and National Mutt Day. Wednesday, August 1, is Yorkshire Day, and National Raspberry Cream Pie Day while Thursday is National Ice Cream Sandwich Day. Friday August 3, is National Watermelon Day. Saturday August 4, is National Chocolate Chip Cookie Day.






E-Book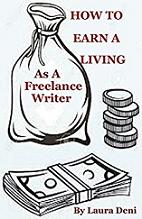 Soft back Book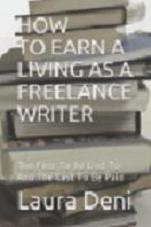 This is not your typical, totally boring textbook.

In the pages of How To Earn A Living As A Freelance Writer (the first to be lied to and the last to be paid) you'll find sex, celebrities, violence, threats, unethical editors, scummy managers and lawyers, treacherous press agents, sex discrimination; as well as a how-to for earning money by writing down words.





OTHER PEOPLE'S MONEY


THE HILL COUNTY COMMUNITY THEATRE has awarded The Phyl Holbert College Scholarship, in the amount of $1,000.00, to Christine Ashbaugh for her outstanding contributions to HCCT.

"In addition to performing on the Hill Country Community Theatre stage in Seussical; 9 to 5: The Musical, as Annie Oakley in Annie Get Your Gun, and currently in Rodgers and Hammerstein's State Fair, Christine has volunteered her talents for scenic design and painting, and as one of the directors of HCCT's Youth Summer Theatre Program. Christine will be attending Texas State University this September. She plans to major in music".

One of the oldest continuously operating community theatres in Texas, the Hill Country Community Theatre in Cottonwood Shores, was founded in 1985 by Phyl Holbert and Gigi Fischer. Its mission is to present and promote quality theatre activities and programs that entertain, educate and encourage community participation in the support of performance and related cultural arts.



E-Book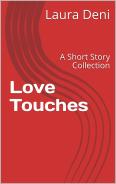 Soft back Book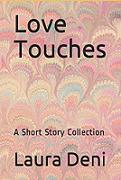 CURTAIN DOWN


THE BRONX TALE will perform its final Broadway performance on Sunday, August 5, at the Longacre Theatre. At that time it will have played 29 previews and 700 regular performances.

The show started off at the Paper Mill Playhouse and began Broadway previews on November 3, 2016, opening that December 1.

A North American tour begins October 14 in Rochester, NY, with its official press opening November 8 at the Hollywood Pantages in Hollywood, CA.



NEWLY NAMED KENNEDY CENTER HONOREES are Cher, composer Phillip Glass, country music star Reba McEntire and jazz legend Wayne Shorter. They will be honored for lifetime achievements in the arts at this year's 41st annual Kennedy Center Honors, which takes place December 2, 2018.

The national arts center also announced a special award for the ground breaking musical Hamilton,

The Hamilton honor marks a first-time honor for a specific piece of art, and a first for a contemporary work. The award will go to the four main creators of the musical: writer and actor Lin-Manuel Miranda, director Thomas Kail, choreographer Andy Blankenbuehler and music director Alex Lacamoire.

They are being honored as "trailblazing creators of a transformative work that defies category."

"This work has had such a huge impact in such a short time. It not only changed the way that people think about art, it changed the way they think about history and the storytelling of history," said Kennedy Center's president, Deborah F. Rutter, who didn't think awards like this would become regular events. "We felt it was important to honor it in real time and not 30 years in the future."

Directed by Glenn Weiss, The 41st Annual Kennedy Center Honors will be broadcast on CBS December 26, 2018.



MEET ME IN ST LOUIS has songs by Hugh Martin and Ralph Blane, a book by Hugh Wheeler and is based on The Kensington Stories by Sally Benson and the MGM motion picture Meet Me in St. Louis. This production will feature a revised book by Gordon Greenberg and new orchestrations by John McDaniel.

Directed by Marcia Milgrom Dodge.

Choreographed by Josh Walden.

Music direction by Charlie Alterman.

Starring Erin Dilly (Mrs. Anna Smith) and Stephen R. Buntrock (Mr. Alonso Smith), Ken Page (Grandpa Prophater), Kathy Fitzgerald (Katie), Emily Walton (Esther Smith), Liana Hunt (Rose Smith), Dan DeLuca (John Truitt), Jonathan Burke (Lon Smith), Elle Wesley (Agnes Smith) and Elena Adams (Tootie Smith). A spectacular ensemble completes this cast, including Akilah Ayanna, Michael Baxter, Leah Berry, Shawn Bowers, Michael Burrell, Emma Gassett, Berklea Going, Madison Johnson, Jeff Jordan, Halle Morse, Ben Nordstrom, Commodore C. Primous III, Payton Pritchett, Cooper Stanton, Julia Paige Thorn and Brion Marquis Watson. The company will also be joined by the Muny Kid and Teen youth ensembles.

The design team leading this production includes scenic design by Michael Schweikardt, costume design by Tristan Raines, lighting design by Rob Denton, sound design by John Shivers and David Patridge, video design by Matthew Young, wig design by Leah J. Loukas, with production stage manager J. Jason Daunter. August 4 - 12, 2018 at The Muny in (appropriately) St. Louis, MO.

MIKE BIRBIGLIA: THE NEW ONE a new comedy written and performed by Mike Birbiglia.

Directed by Seth Barrish.

In 2008, Nathan Lane introduced New York City theatergoers to Mike Birbiglia by presenting Birbiglia's solo theater debut, Sleepwalk with Me, which went on to be adapted into a New York Times bestselling book and Sundance award-winning feature film of the same name. . Lane said of Birbiglia, "When he walks on stage, the energy in the room changes, and you realize you're in the presence of a fresh and original voice. And that is very rare. You know you're getting the real turtle soup, not merely the mock. Like any great comedian, it's hard to categorize Mike - he is his own unique creation. You should definitely just go see him and get lost in his world."

Since then Birbiglia has written & performed Thank God For Jokes and My Girlfriend's Boyfriend for which he received a Lucille Lortel Award.

Opening Night for The New One is August 2 with a limited engagement through August 26, 2018 at the Cherry Lane Theatre in New York City.

CYRANO adapted by Erica Schmidt from Cyrano de Bergerac by Edmond Rostand. Music by Aaron and Bryce Dessner of The National Lyrics by Matt Berninger of The National and Carin Besser

Directed by Erica Schmidt.

Choreographed by Jeff & Rick Kuperman.

The legendary romance about a proud and impassioned poet who ghost writes love letters is rekindled in a timeless and unconventional new musical. Cyrano agrees to woo his true love, Roxanne, on behalf of another in this classic tale of unrequited love. New music by members of the Grammy Award-winning indie alternative band The National drives this story of mistaken identity, selfless courage and buried desire.

August 3 - September 2 at the The Terris Theatre in Chester, CT.


WHO'S WHERE




OPERA ON TAP The New Brew series brings patrons classical music written by some of today's most exciting composers, presented in entertaining and irreverent programs by young singers and instrumentalists who relish the direct contact with audiences not inhibited in their reactions by the looming menace of giant chandeliers. This program will feature the: Quince Ensemble, an all-female vocal chamber group, singing works by Kate Soper, Amy Beth Kirsten, Kaija Saariaho, Giacinto Scelsi, Gilda Lyons, Pascal Dusapin, and more. Friday, August 3rd, at Barbès in Brooklyn, NY.

VANESSA FERGUSON AND STEPHANIE RICE two popular contenders from last year's NBC-TV talent show The Voice, will perform a night of music live on stage with blues, soul, pop, rock and rap at the Historic North Theatre in Danville, VA on August 3, 2018. They will hit the stage with other musical artists Feleice and Cayenne the Lion King, along with Danville talents Austin Cox and KeyKey Hairston.

SMASHING PUMPKINS on their reunion tour makes a stop Tuesday July 31, at the TD Garden, Boston, MA. Wednesday's gig is at Madison Square Garden in New York City. On Saturday they' re in the spotlight at the PPG Paints Arena in Pittsburgh, PA. Next Sunday, August 5, they can be found at Little Caesars Arena, Detroit, MI.

ROD STEWART AND CYNDI LAUPER appear Wednesday, August 1, in Nashville, TN at the Bridgestone Arena. Friday's show is in Allentown, PA at the PPL Center. On Saturday they'll rock the Boardwalk Hall in Atlantic City, NJ.

ED SHEERAN brings his tour to the Olympiastadion in Munich, Germany on July 30. On August 3 he opens a two nighter at the Letzigrund Stadion in Zurich, Switzerland.

CELINE DION brings her tour to the Brisbane Entertainment Centre in Brisbane, Australia for a two night stand beginning Monday, July 30. On Saturday she can be enjoyed at the Perth Arena in Perth,

LYNYRD SKYNYRD entertains August 3 at the Hollywood Casino Amphitheatre in Tinley Park, IL. On August 4 the tour stops at the Ruoff Home Mortgage Music Center in Noblesville, IN.

BRAD PAISLEY performs Friday, August 3, at the Thunder Valley Casino Resort & Amphitheater, Lincoln, CA.

TOAD THE WET SPROCKET vocalist and guitarist Glen Phillips, guitarist Todd Nichols, bassist Dean Dinning, and drummer Randy Guss entertain Tuesday, July 31,at Red Butte Garden in Salt Lake City, UT. Thursday's show is at Washington's in Fort Collins, CO. Friday's stop is the Arvada Center in Arvada, CO. On Saturday they can be enjoyed at The Truman in Kansas City, MO.

DAVE KOZ & FRIENDS SUMMER HORNS TOUR featuring Gerald Albright, Rick Braun & Richard Elliot and introducing Aubrey Logan perform tonight, Sunday, July 29 at the Tower Theatre in Fresno, CA. On Thursday, August 2, the gig is at the Desert Diamond Casino in Saahuarita, Arizons. Friday finds them doing two shows at One World Theatre in Austin, Texas. On Saturday they play some cool nites at Meyerson Symphony Center in Dallas. Next Sunday, August 5, they'll be delighting fans at the Arena Theatre in Houston, Texas.


FINAL OVATION


BARBARA JANICE "JAN" DUNCAN co-founder of the Fullerton Civic Light Opera died July 13, 2018 at her home in California. She was 88

In 1971, along with her late husband Griff founded the Fullerton Civic Light Opera (FCLO Music Theatre), where she was Co-Executive Producer and Artistic Director until retiring in 2017. She was an award-winning performer and director with a career that spanned over 60 years.

The couple was instrumental helping to form the National Alliance of Musical Theatre which brought together regional theatre producers with a common goal: stage great theatre, and have the sets they needed. Members of the Alliance, including Griff Duncan, who had 30 years of Fortune 100 company experience, negotiating labor contracts with most major unions in the U.S. - wrote and produced such shows as Yeston & Kopit's Phantom of the Opera, Grand Hotel, and Stephen Schwartz's Children of Eden.

Since co-founding the Fullerton Civic Light Opera artistic director, Jan Duncan and her husband staged more than 150 musicals. The company grew to become one of the 100 largest musical theatres in the country. In addtion the FCLO were the Number Two set and costume producer behind Pittsburgh CLO.

At their height the company had 14,000 square feet here in one location and another 20,000 square feet in a second facility. They could costume 40 Broadway musicals and provide scenery for about 30.

As time passed in 2009 Jan and Griff founded and concentrated on the John Raitt Awards for Youth program which celebrates and showcases musical theater at the high school level. Today, the focus of FCLO is on the John Raitt Awards for Youth (JRAY). The JRAY program operates under the umbrella organization of FCLO Music Theatre. In addition to over 200 awards given locally for achievement, both the Performer of the Year (Male) and Performer of the Year (Female), are awarded $1500 and sent to New York for a one week intensive workshop with Broadway Professionals and then showcased before Broadway Casting Directors.

Jan was preceded in death by her son, Brett Moore, and last year, her husband, Griff Duncan. Jan is survived by her 2 sons, 2 daughters, 7 grandchildren, and 5 great-grandchildren. Donations in Jan's memory are requested to be made to the John Raitt Awards for Youth (JRAY).

PATRICK WILLIAMS Emmy and Grammy awarding winning film and television composer died Wednesday, July 25, 2018 of complications from cancer at St. John's Hospital in Santa Monica, California. He was 79.

Williams also received an Oscar nomination for his work in the 1979 film Breaking Away. His résumé revolves around his role as a major jazz leader - which earned him 19 Grammy nominations - and includes a Pulitzer nomination for his jazz quartet and symphony orchestra for An American Concerto. Musicians who have worked with Williams on concerts include Frank Sinatra, Barbra Streisand, Natalie Cole, Neil Diamond and Gloria Estefan. He also gave lectures around the country and served as the artistic director of the Henry Mancini Institute at the University of Miami Frost School of Music for five years. The Institute trains young musicians in pursuit of musical careers.

He received an honorary doctorate in fine arts from his alma mater, Duke University, in 2001. His last big-band album, 2015's Home Suite Home, featured long pieces dedicated to his wife Catherine and his three children, Elizabeth, Greer and Patrick, all of whom survive him. Survivors also include five grandchildren, a brother and a sister.

Neil Portnow President/CEO of the Recording Academy issued the following statement: "Two-time Grammy winner Patrick Williams was a highly regarded arranger, educator, and film and television composer. Williams helped create signature sounds for The Bob Newhart Show; The Mary Tyler Moore Show, and The Streets Of San Francisco, among others. He earned 19 Grammy nominations and won two Grammy Awards for his arranging - Best Instrumental Arrangement for Threshold for 1974 and Best Arrangement On An Instrumental for Suite Memories for 1986. The music, film, and television communities have lost a celebrated talent. Our sincerest condolences go out to his family, friends, and collaborators during this difficult time."













Next Column: August 5, 2018
Copyright: July 29, 2018 All Rights Reserved. Reviews, Interviews, Commentary, Photographs or Graphics from any Broadway To Vegas (TM) columns may not be published, broadcast, rewritten, utilized as leads, or used in any manner without permission, compensation and/or credit.
Link to Main Page
---
Laura Deni



For the snail mail address, please E-mail your request.
CLICK HERE FOR COMMENT SECTION