! >
Broadway To Vegas
  
 SHOW REVIEWS CELEBRITY INTERVIEWS GOSSIP NEWS

| | |
| --- | --- |
| | |
STRONG NEVADA CONNECTION FOR DISNEY'S LITTLE MERMAID - - THE HISTORY OF HAWAII'S 'JUMPIN' FLEA' - - RAINTREE COUNTY AND PIONEER PLAYHOUSE - - TONY WINNER MELBA MOORE TO STAR IN PALM SPRINGS FOLLIES - - SPAMALOT ICE CREAM - - SOUTH PACIFIC WITH REBA McENTIRE AND BRIAN STOKES MITCHELL - - NEW YORK THEATRE WORKSHOP - - ANDRE PREVIN'S A STREETCAR NAMED DESIRE HAS AUSTRALIAN PREMIERE - - DONATE . . . Scroll Down


Copyright: July 29, 2007
By: Laura Deni

CLICK HERE FOR COMMENT SECTION
CELEBRATING ELIZABETH TAYLOR'S RAINTREE COUNTY AND PIONEER PLAYHOUSE


It's been fifty years since Elizabeth Taylor, Montgomery Cliff and Eva Marie Saint splashed onto the big screen in Raintree County. The location where the epic was filmed - Danville, Kentucky - is celebrating the event with a two-week Raintree County Festival which kicked off July 24 and continues through August 5.

Movie-themed events include; a street dance, porch tour, Civil War 'living history' displays, workshops and screenings of the film, wine tastings, teas, lectures and the production of an original theatrical production A Jarful of Fireflies by Catherine Bush. Staged at the Pioneer Playhouse, it's a comedy full of nostalgic laughs about the filming of Raintree County - the film which garnered Taylor her third husband and first Academy Award nomination for her portrayal of Southern belle, Susanna Drake.

There is a lot to laugh about.

Elizabeth Taylor began the film as Mrs. Michael Wilding (husband #2) but went to the film's premiere as Mrs. Mike Todd (husband #3). Mike Todd was wooing her during filming, which scandalized Danville phone operators, who were eavesdropping in on her conversations and repeating them all over town.



Hollywood star Kim Darby, John Wayne's co-star in the 1967 classic western True Grit, appears in Jarful of Fireflies at Pioneer Playhouse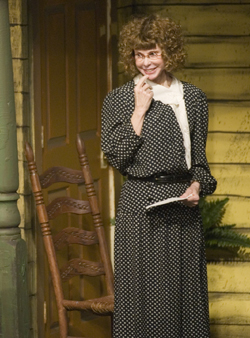 If it wasn't for the Pioneer Playhouse, which happens to be Kentucky's oldest outdoor theatre, Raintree Country would never have been shot in Danville. Never mind that last week was probably the busiest week of the year for her, Broadway To Vegas cornered Holly Henson, daughter of the late Playhouse founder, Col. Eben C. Henson. She serves as the Artistic Director of the Pioneer Playhouse. That isn't how she earns a living. To keep the wolf away from the door, she is a stand-up comedian. No joke.

Between juggling Raintree County Festival and Pioneer Playhouse duties, a gracious Holly spoke with Broadway To Vegas.

"My dad was an MGM extra and he talked them into visiting here when they were on their way to scout locations in Indiana," recalled Holly about her father, a former alligator wrestler whose movie career included doing stunt work in several Tarzan movies. "Dad was very charming. Back then, in 1956, you could do things like that. He befriended the production crew - especially the production manager. They became very thick, great friends, and he talked them into visiting. The rest is history. They decided to shoot here. So, my dad was responsible."

Eben was an extra in many Esther Williams movies being filmed by MGM in Silver Springs, Florida. That's where he met Eddie Woehler, the production manager that Holly indicated her father befriended. Woehler later became Unit Production Manager of Raintree County.



Eben Henson, twice named a Kentucky colonel by Governors of the state, Henson played up the title with his signature string tie and his considerable Southern charm on his annual recruiting trips to New York to audition prospective actors. Photo in front of the Pioneer Playhouse box office by Robert A. Powell
Eben convinced Eddie to check out central Kentucky as a possible location. Eddie came for a visit and Eben showed him one end of the county to another. The selection of Danville, Kentucky, was billed as MGM's "longest location hunt" in the studio's 32 year history, covering 16 states and 10,000 air miles.

The over-blown novel was set in 1859-1865 Indiana, but Indiana had become too industrialized to make a good backdrop for a Civil War era film. Danville was selected because of its natural beauty and pristine landscapes. Also, within a 60 mile radius the producers were able to find everything they needed for the film. With the exception of the swamp scene (filmed at Reelfoot Lake in Tennessee) and the Southern mansions (Natchez, Mississippi), most of the movie's exteriors (23 locations) were shot in and around Danville.

At that time Raintree County was the most expensive film ever made in America - $6 million dollars in 1957. The average daily expense was $27,500. MGM spent $750,000 while in Danville.

"There is a history here that is forgotten," continued Holly about the movie. "We have an enormous collection - hundred of photos - of Liz Taylor and all these stars in Danville, that the world has never seen. People are so thrilled and excited to dig up the memories when they see the photos."

Memories indeed.

Eva Marie Saint was applauded by the company for learning how to climb a tree wearing a hoopskirt!

The film brought the cream of Hollywood's crop to live, work, eat and socialize in a town with a population of 8,650. The crew lived in Danville long enough to be listed in the phone book - almost a year. The stars were in Danville for six weeks. Lee Marvin, Agnes Moorhead, Walter Abel, Nigel Patrick, Rod Taylor, Myrna Hansen, Rhys Williams, Burt Mustin, Jarma Lewis and DeForest Kelley rounded out the all-star cast. The major players lived in Danville homes, which were renovated to suit their tastes and needs.



Elizabeth Taylor, director Edward Dymtryk and Montgomery Cliff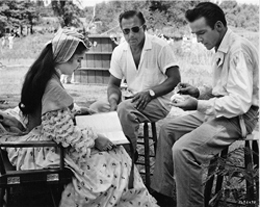 Liz asked for green curtains, sofa and bedspread in an all white room; she wore Capri pants to match the drapes. Montgomery Clift asked for thick black curtains and a custom-built liquor cabinet.

Award winning costumer Walter Plunkett, who costumed Gone with the Wind, considered Raintree County to be the best work of his career. The costumes of Elizabeth Taylor subtly reflect her character's emotional deterioration through texture, color and design. Some of Elizabeth's dresses weighed 30 pounds. A few months after filming, she had to have back surgery to repair crushed spinal disks.

Raintree County had the most speaking parts (119) and most costumes (3,500) and was the studio's most massive movement of property and equipment (216 tons), using enough electricity to power a city of 30,000 and 500 miles of cables and chords. They brought along 15,000 pounds of props, from pen wipers to cannons, as well as sunscreen and steam irons to cover every contingency from Civil War days to late summer of 1956 Kentucky.

It was the first movie to utilize mass marketing merchandising techniques, timed with the release. Everything from jewelry to pantaloons hit stores, carrying the Raintree County insignia.

Raintree County required 72 sets total - 34 were exterior sets.

The largest single prop was the 1856 wood-burning B & O locomotive 25, the William Mason, veteran of Civil War service, on loan from the B&O Transportation Museum in Baltimore, Maryland. The Railway Depot alone was decorated with 478 separate articles, from station signs to water barrels.

The box office at Pioneer Playhouse was featured prominently as a railway depot in the film and was designed MGM Art Director Urie McCleary to resemble Civil-War era depots in every detail. After filming was over, Pioneer Playhouse producer Eben Henson was given the box office as a 'thank you' gift from MGM. He had it dismantled & rebuilt on theatre property, where it sits today, a vivid reminder of Hollywood's 'Golden Age.'

"In the aftermath (of filming), the excitement stayed for a long time. Here we sit, fifty years later, still talking about the film. If you buy tickets at Pioneer Playhouse, you say, 'This ticket booth was in the movie, Montgomery Clift had his hand on the window right here'....After 50 years the paint has been changed, and I'm sure none of his DNA is left on the window sill, but people still want to touch what he touched and sit where they sat," says a former extra, Delys Hyde, "It was the most exciting thing that ever happened in Danville."

As founder of Pioneer Playhouse, Eben served as location representative for six major movie companies and was author of the book How to Play the Voice as an Instrument. This former mayor of Danville was a leading force in bringing film productions to the Bluegrass area and served in that capacity under six governors. For his work in helping establish the outdoor drama movement in the state, he received the Governor's Pioneering Award. Along with Rosemary Clooney and Loretta Lynn, he was one of six recipients to receive a Sidewalk Star in downtown Lexington.

As president and founding member of the Kentucky Arts Commission, he once visited the White House to consult on the formation of the National Endowment for the Arts. In addition to establishing the first State Theatre in the nation, he was also instrumental in helping form Kentucky's first Film Commission -- bringing an additional 14 movies to the region.

Getting the Pioneer Playhouse up and running was an exercise in creativity.



Pioneer Playhouse stage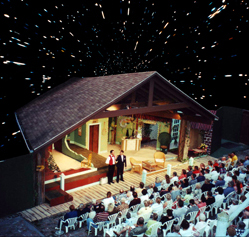 Etching of the Pioneer Playhouse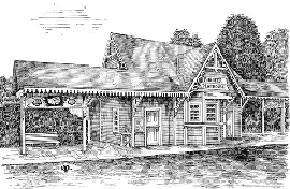 Henson built the theatre by acquiring many of the construction materials in unorthodox ways. He once bartered a fifth of whiskey for hand-hewn two hundred-year-old rafter beams and hired prisoners from the local county jail to help him lay the first foundations.

Those looking closely at the structural design will find it includes everything, from World War Two army barracks to movie sets from the Golden Era of cinema.

In the fifties and sixties it received national attention as the King of Summer Stocks in New York trade magazines and in 1962 was the first theatre in the nation to be accorded the legal status of State Theatre - by act of Legislation. This past May Pioneer Playhouse was selected by National Geographic as one of The 100 Best Vacations to Enrich Your Life, in a new book by Pam Grout.

Many Playhouse actors and interns have gone on to successful careers in the entertainment industry. More than 3,000 aspiring actors - including John Travolta, Lee Majors, Bo Hopkins and Jim Varney have strode across the stage since Henson turned an empty field into a theatre complex. Today the unconventional, hand-built theatre serves a pre-show dinner out of doors and a live performance Tuesday through Saturday, every summer, come rain or shine - indoors in case of rain..

"We have an air conditioned indoor theatre," related Holly. "We've always had the theatre indoors, but the air-conditioning is new."

Also relatively new is Holly's hands on running of Pioneer Playhouse. Holly came to the Playhouse not from another theatrical venue, but from the world of stand up comedy after an unsuccessful attempt to become a Hollywood star.



Holly Henson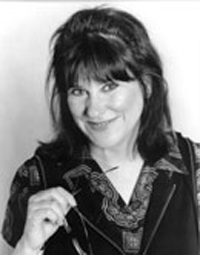 "I was out in Los Angeles trying to act," related Holly who went the waitress route to pay the bills. "I was tired of waiting tables, so I got into stand up comedy. I've been doing that for about 15 years," she said matter-of-factly about what is a difficult occupation in general and almost impossible for a woman to list as gainful employment.

"I was subject to the whim of all these people that would not hire me," she said of the thwarted acting career. "But, as a stand-up - if you're funny - if you can make people laugh, you can work. I can call my own shots."

"In the winters I live in Minnesota," said Holly whose comedy routines are rated PG - something that sets her apart from many other female comedians. "I'm sort of a blue collar Janeane Garafalo. My act is about politics, religion, taboo topics - I like to make fun of them. I do casino, club work and private parties. I've played Fortune Bay, Treasure Island - all of the casinos in Minnesota." She's performed in Laughlin, Nevada as part of Sandy Hackett's Comedy Club.

"I've been doing very well in the casino setting," she said of the 300 seat rooms. "It pays well."

Her parents didn't faint when their daughter took to the world of stand-up.

"I think they were glad, because there is more money in stand-up than in theatre."

Trying to get a giggle out of a stranger is the equivalent of Eva Marie Saint climbing a tree in a hoop skirt.

"It is hard and I pride myself on not being a dirty woman comic. I pride myself on being a smarter, intelligent comic. Not that other comics aren't smart, but sometimes other women go for the easy laughs. Or, they talk a lot about motherhood. I'm not a Mom so I don't go down the traditional female comic route."

"I talk about George Bush," she related with a laugh. "I talk about men with tractor phones and camouflage trucks. I like to tease the fellows. It is a weakness of mine. I talk about relationships - that's always fodder for much laughter. I talk about breast implants."

Holly grew up at Pioneer Playhouse and returned to Kentucky - at least during the summer seasons - four years ago.

"Dad passed away in 1994 so I had to come home and help my mother," she said of Playhouse co-founder Charlotte Henson. "Pioneer Playhouse is the oldest outdoor theatre in Kentucky. You don't want to let something like that vanish. There are not that many summer stock theatres left. It's like a time capsule. It looks like a 1950's summer stock theatre. It is exactly the way it was built in 1950 - very retro - very quaint, historic. There is no place like this. So, I can't let it die. Mom and I are trying to keep it going. We're strapped financially. We get drips and drabs, but we need more. We're trying to get grants."

Also in the mix to keep the theatre functioning is Holly's brother, Robby Henson, who received his MFA in film from New York University and directed his first production at Pioneer Playhouse in 1983. His award-winning documentaries have shown at the Sundance Film Festival, the Guggenheim Museum and on PBS. He wrote, produced and directed Pharaoh's Army, a Civil War drama starring Chris Cooper, Kris Kristofferson and Patricia Clarkson. He wrote and directed The Badge, a southern crime drama starring Billy Bob Thornton & Patricia Arquette. At Pioneer Playhouse he directs at least one show each summer.

"We do five shows," continued Holly. "My 76-year old mother picks them. She is in very good health and it is her pride and joy to pick the plays. She knows this region very well. It's populist fare. Arsenic and Old Lace. We don't do thinking dramas, deep plays. We do farcical comedies. We recently starting doing Neil Simon and that's going very well."

"We bring in five directors. We go to New York and get professional actors. We're non-union but our actors are very professional," she stressed.
ART AND ABOUT


EVOLUTION OF THE UKULELE: THE HISTORY OF HAWAII'S 'JUMPIN' FLEA'

Arthur Godfrey and his ukulele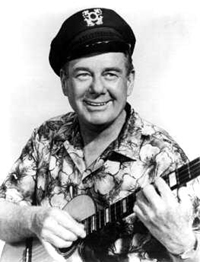 an exhibition which explores the folk tradition and fine craft of the Hawaiian ukulele (the word means "jumping flea" in Hawaiian), which is in the midst of a huge international revival.

The aloha spirit is alive in San Francisco as the Museum of Craft and Folk Art presents this exhibition August 2 - October 21.

The ukulele revival is even showing up on YouTube in performances by professional musicians from Bruce Springsteen to the "Jimi Hendrix of the Ukulele," Hawaiian Jake Shimabukuro, who will perform in San Francisco in September in conjunction with this exhibition.

Long after his death, most people can't think of the baritone uke without thinking of Arthur Godfrey who ranks as one of the important on-air stars of the first decade of American television. Indeed prior to 1959 there was no bigger TV luminary. His Arthur Godfrey's Talent Scouts (also known as Talent Scouts) was a radio and television variety show which ran on CBS from 1946 until 1958.

Godfrey learned to play the ukulele in the early twenties from a Hawaiian shipmate while in the Navy at Great Lakes Training Station. As early as 1929, he was giving uke lessons on the radio in Baltimore.

It was in January 1950 that he made an impulsive decision to promote his favorite musical instrument on his radio and TV shows. Thanks to Godfrey the ukulele earned the reputation as the family instrument of America.

Godfrey had a message - "If a kid has a uke in his hands he is not going to get into much trouble."

The baritone uke has a strong kin-ship with the guitar - since the 4 strings of the baritone uke are tuned exactly the same as the four smallest strings of a guitar. Thus everyone who has ever played any guitar at all will be instantly at home with the uke.

Evolution of the Ukulele: The History of Hawaii's 'Jumping Flea' provides an in-depth history of how a small group of Portuguese immigrants brought the little guitar-like Madeiran "machête" to Honolulu in 1879, sparking creation of a new and uniquely Hawaiian instrument and sound. The ukulele's popularity took turn-of-the-century Hawaii by storm, and then swept across the United States, Canada and Great Britain through the early 1900s. As accompaniment to Hawaiian, Hawaiian-inspired, and Tin Pan Alley music, the ukulele resurfaced in the 1950s to inspire everyone from Elvis to the Beatles.

The exhibition will include some of the finest ukuleles ever crafted, including historic 19th-century Hawaiian koa-wood instruments, and new designs created by today's best ukulele makers. The exhibition is accompanied by samples of over a century of ukulele music, ukulele performances, demonstrations of ukulele production, a hands-on area where visitors can pick up and play a ukulele, and colorful historic sheet music covers from the 'teens and twenties with titles such as Give Me a Ukulele (and a ukulele baby) and Leave the Rest to Me, Ukulele Lady, Ukulele Baby, and Say it With a Ukulele.

Curated by Stephen Becker, renowned folk art expert, historian and ukulele player, the exhibition is the centerpiece for the first-ever San Francisco Ukulele Festival, September 7 and 8. The festival features two days of performances at Herbst Theater and at the Yerba Buena Gardens Festival. Headlining the San Francisco Ukulele Festival will be the artistry of Jake Shimabukuro, in concert at Herbst Theater on Friday, September 7. The uke-fest continues at Yerba Buena Gardens on Saturday, September 8, featuring "uke-centric" music of all styles as local musicians perform Hawaiian music, tin pan alley favorites, and uke-driven contemporary pop and country, and sing-alongs with prominent Bay Area ukulele clubs.

Museum of Craft and Folk Art presents this exhibition August 2 - October 21.


SPREADING THE WORD


NEW YORK THEATRE WORKSHOP in New York City is holding a special post-performance program for the audience of The Black Eyed. On Thursday, August 2, a post-performance conversation with The Black Eyed playwright Betty Shamieh and Tony Award-winning playwright David Henry Hwang who will discuss their experiences as pioneering playwrights of color.



Broadway To Vegas is supported through advertising and donations. Priority consideration is given to interview suggestions, news, press releases, etc from paid supporters. However, no paid supporters control, alter, edit, or in any way manipulate the content of this site. Your donation is appreciated. We accept PAYPAL. Thank you for your interest.



THE LITTLE MERMAID based on one of the most beloved Disney films of all time and the classic Hans Christian Andersen fairy tale, The Little Mermaid is the new Disney musical that's poised to make a splash - first at the newly restored Ellie Caulkins Opera House, and then on Broadway. The Ellie Caulkins is similar in size to Broadway's Lunt-Fontaine where the show will be mounted in NYC.

There are eleven principal cast members, including Denver's Sierra Boggess, who plays Ariel. Sierra comes to this production from Las Vegas where she played Christine in Phantom of the Opera.

Sherie René Scott, who made her Broadway debut in 1993's The Who's Tommy, plays the horrible sea monster Ursula. Sean Palmer of Reno, Nevada is cast as Prince Eric. Norm Lewis is King Triton. Norm played Javert in Broadway's Les Miserables. Tituss Burgess is Sebastian. He appeared on Broadway in Jersey Boys. Eddie Korbich is Scuttle. Eddie starred in Broadway's The Drowsy Chaperone.

Others in the cast include; Jonathan Freeman as Grimsby. Cody Hanford and J.J. Singleton alternating as Flounder. Derrick Baskin, Jetsam, and Tyler Maynard as Flotsam. Ensemble members are; Adrian Bailey, Cathryn Basile, Heidi Blickenstaff, James Brown III, Robert Creighton, Cicily Daniels, John Treacy Egan, Tim Federle, Merwin Foard, Bahiyah Sayyed Gaines, Ben Hartley, Michelle Lookadoo, Alan Mingo Jr., Zakiya Young Mizen, Arbender J. Robinson, Bret Shuford, Chelsea Morgan Stock, Kay Trinidad, Daniel J. Watts. Swings: Meredith Inglesby , Joanne Manning, Betsy Morgan, Jason Snow and Price Waldman.

A magical kingdom beneath the sea, a beautiful young mermaid named Ariel longs to leave her ocean home to live in the world above But first, she'll have to defy her father—the king of the sea, escape the clutches of an evil sea witch and convince a prince that she's the girl with the perfect voice.

Some of Disney's most popular songs are featured in the show -including Part of Your World, Kiss the Girl, and the Academy Award-winning Best Original Song, Under the Sea by the songwriting team of 8-time Academy Award winner Alan Menken and the renowned Howard Ashman. The stage adaptation also features new songs by Menken and Glenn Slater, plus a book by Tony Award-winning playwright Doug Wright.

In the tradition of other Disney on Broadway musicals, a visionary team of theatre artists from around the world has gathered in Denver to bring this show to life. Helmed by director Francesca Zambello who helped start Opera Colorado 25 years ago, the show transports showgoers to an underwater world like no other, with choreography by Stephen Mear, scenery by George Tsypin, costumes by Tatiana Noginova and lighting by Tony Award winner Natasha Katz.

Disney's The Little Mermaid plays its limited pre-Broadway engagement at the Ellie Caulkins Opera House - called a seven- week public developmental incubation. Those began Thursday, July 26 and continue through September 9. Critics aren't allowed to see the show until Aug. 23.

SEDITION by David Wiltse. With their country in war, Americans discover their ability, and inability, to voice their opinions. In this true story a man is forced to stand up in defense of our freedom of speech – and paid the price for his courage. Wiltse's stunning new play questions and demands with razor sharp dialogue – and not without a sense of humor – what does it mean to be an American patriot?

A World Premiere presented August 2 – 18 at the Westport Country Playhouse in Westport, CT.

SOUTH PACIFIC with Reba McEntire and Tony award winner Brian Stokes Mitchell performs three concerts of this Rodgers and Hammerstein musical.

Mitchell and McEntire previously performed the roles of, respectively, Emile de Becque and Nellie Forbush, in a concert of the 1949 musical at Carnegie Hall. That evening was filmed and subsequently broadcast for PBS's Great Performances series and released on CD by Decca Broadway.

David Lee will direct the concerts, which will feature Paul Gemignani conducting the Hollywood Bowl Orchestra. Aug. 3 -5 at the Hollywood Bowl, Los Angeles, CA.

BELL, BOOK AND CANDLE by John Van Druten. Directed by Darko Tresnjak. In this comedy Gillian Holroyd, a bonafide witch, falls in love with publisher Sheperd Henderson. Gillian casts a spell on him, obliging him to dump his fiancée and rush to her side. But witches, unfortunately, cannot fall in love, which leads to a number of hilarious difficulties, where Gillian loses her witch's powers, her cat, Pywacket, deserts her, and her aunt and warlock brother don't quite know how to relate to Gillian as a human. Alas, the course of true love – with or without supernatural assistance – does not run smoothly in this timeless and funny classic which became a blockbuster movie starring Kim Novak and Jimmy Stewart.

August 4-September 9 at The Old Globe in San Diego.

MAMMA MIA! the Las Vegas version at Mandalay Bay Hotel on July 30 will welcome to the cast; Libby Winters, Rob Sutton, Ron McClary and T. Scott Cunningham playing the roles of, respectively, Sophie Sheridan, Sam Carmichael, Bill Austin and Harry Bright.

Mamma Mia! incorporates the hit songs of ABBA to tell the story of Sophie Sheridan, a young girl who hopes to discover the identity of her father. On the eve of her wedding, she brings three men from her mother Donna's past back to the Greek island they visited over two decades ago.

The show features music and lyrics by Benny Andersson and Björn Ulvaeus, a book by Catherine Johnson, direction by Phyllida Lloyd and choreography by Anthony Van Laast. The production is playing at several venues including the Winter Garden Theatre in New York City.

ABSURDIA A triple-bill of British Absurdist comedies.

Resounding Tinkle and Gladly Otherwise by N.F. Simpson and The Crimson Hotel by Michael Frayn.

A Resounding Tinkle - Mr. Trench, Oedipus Rex or Hiram B Larkspur? The Paradocks are anxious to decide an appropriate name for their pet elephant before the RSPCA arrive.

Gladly Otherwise - How are your handles? Fit the hand do they? A visit from a stranger gets Mrs. Brandywine to view her surroundings just a little bit differently.

The Crimson Hotel - Two lovers escape to a charming hotel, only to find it has no doors, wardrobes or crimson curtains to lurk behind.

Welcome to Absurdia. Riotous and ridiculous, this triple-bill gloriously reveals the absurdity of everyday life.

Douglas Hodge directs Peter Capaldi, John Hodgkinson, Lyndsey Marshal and Judith Scott.

N.F. Simpson, whose work includes One Way Pendulum, was a leading British Absurdist playwright of the twentieth century. Michael Frayn's plays include Donkeys' Years, Noises Off, Democracy and Copenhagen which won Evening Standard and Tony Awards for Best Play.

Through September 8 at the Donmar in London.

JERSEY BOYS the Tony Award winning not to be missed musical with a book by Marshall Brickman and Rick Elice. Music by Bob Gaudio. Lyrics by Bob Crewe. Directed by Des McAnuff.

Choreography by Sergio Trujillo. Set Design by Klara Sieglerova. Lighting Design by Howard Binkley. Steve Canyon Kennedy in charge of Sound Design.

Starring; Erich Bergen, Michael Ingersoll, Christopher Kale Jones, Deven May, John Altieri, Joseph Siravo, Miles Aubrey, Erik Bates, Sandra DeNise, Jennifer Evans, Rick Faugno, Eric Gutman, Nathan Klau, Brandon Matthieus, Jackie Seiden, Courter Simmons, Taylor Sternberg and Melissa Strom.

Extended through August 31 at the Ahmanson Theatre in Los Angeles.

Jersey Boys arrives is Vegas in early 2008. The production will be housed in a 1,650-seat theater on the grounds of the Palazzo Resort Hotel Casino, a $2.56 billion casino-resort, mall and condo tower that is being built by Las Vegas Sands Corp. and is set to open late this year.

MILK CARTONS - AND OTHER PLACES TO FIND YOURSELF is the next installment of Celebration Theatre's After Dark Series. From Todd Milliner and Rob Mello, the creators of 1985 and Id Napped!, and executive producers of the CW midseason comedy Eight Days A Week, and Bravo's, Situation: Comedy, comes a brand new sketch comedy experience.

An hour of comedy centered around the search to find our true selves and the stereotypes we all encounter on this journey.

The lighting and sound designs are by Tim Swiss. Milk Cartons opened on Friday, July 27th and runs for four more weeks through Saturday, August 18th at Celebration Theatre in Hollywood.

THE PALM SPRINGS FOLLIES has announced their Season 17 extravaganza, all-new show will be called Tin Pan Alley! Inspired by the famed New York City street where American pop music was published and then disseminated across the country and around the globe - from ragtime to doo-wop, from Broadway to bebop, The Palm Springs Follies Tin Pan Alley edition will celebrate the songs which were sang while people worked, played, marched to war, celebrated victory, danced and romanced!

Guest stars span the entire musical spectrum. From Opening Day through New Year's Eve, 2007 will feature Kaye Ballard. The Four Aces take over the star slot January 9 through February 9. From February 12 through March 22, marks the Follies debut of Tony Award winner Melba Moore. Anna Maria Alberghetti will grace the stage from March 26 through the end of our season on May 17.

Tin Pan Alley! opens on October 30, 2007, and runs through May 17, 2008 in Palm Springs, CA.

TWELFTH NIGHT, SNAPSHOTS '07 AND LATE-NIGHT COMEDY will launch the first annual Seaport Summer Theatre Festival. The Festival will run from August 2nd through August 26th at the S-P-A-C-E Gallery and Performance Space - a project of the Seaport District Cultural Association - at South Street Seaport, NYC.

Twelfth Night cast is led by Stephen Largay as Sir Toby Belch. Also featured in the principal cast are Danny Bruckert, Gene Gallerano, Jesse Gavin, Adam Hirsch, Mari Howells, Margaret Nichols, Patrick Pizzolorusso, Joli Tribuzio and Maxwell Zener. The ensemble cast features Sarah Bowles, Madeleine Burns, Rosalynd Darling, Jane Elliot, Manuel Fihman, Christopher Gooley, Jenna Harder, Rachael Hip-Flores, Claire Kenny and Tracy Weiler.

Snapshots '07 continues the popular series of One Acts presented by the Worth Street Theater Company that included notable work by Richard Greenberg, John Patrick Shanley and Tom Disch and featured premieres of work by Keith Reddin and Robert O'Hara. The 2007 edition of Snapshots will include world premieres of: First Date by Patrick Blake, two monologues by acclaimed playwright and novelist Clay McCleod Chapman, Bridesmaid and The Interstate and On, and Jeff Cohen's In These Times – scenes from the aftermath of September 11.

Mr. Cohen's Tribeca Playhouse was the closest theatre to Ground Zero and his Tribeca Playhouse StageDoor Canteen performances in the attack's aftermath made headlines around the world.

In These Times, with a cast that includes Madeleine Burns, Rosalynd Darling, Jenna Harder, Gabrielle Maisels and Mark M. Thomas, is an especially poignant tribute to the cultural life of the South Street Seaport and its proximity to Ground Zero as that day's 6th anniversary approaches.

A STREETCAR NAMED DESIRE Australian Premiere. In its first foray into contemporary American repertoire Opera Australia presents the Australian premiere of André Previn's A Streetcar Named Desire, in a new production directed by Bruce Beresford and starring Yvonne Kenny as Blanche.

When Blanche arrives in New Orleans her sister Stella takes her in, and neighbor Harold offers her a last chance at love, but it is Stella's husband, the charismatic but brutal Stanley, who will decide Blanche's future.

Yvonne Kenny brings her glowing voice and fearless instincts to play this unforgettable character for the first time. Joining her is Teddy Tahu Rhodes, who sang the role of Stanley in Austin and Washington, Stuart Skelton and Tiffany Speight as Mitch and Stella, with Tom Woods conducting.

Set and Costume Designer by John Stoddart. Lighting Designer by Nigel Levings. Vision Designer is Michael Gruchy.

Sung in English with surtitles. Running time: three hours and twenty minutes including two twenty-minute intervals.

Opera Theatre Sydney Opera House August 2, 8, 11, 14, 25 and 29. Pre-performance talks on August 8, 11 and 18.

Hopefully all cast members will stay healthy. In an unusual situation Opera Australia was forced to cancel last Thursday's performance of The Abduction from the Seraglio at the Sydney Opera House because several cast members were indisposed. Emma Matthews (Konstanze), Hye Seoung Kwon (Miss Matthews' cover) and Andrew Goodwin (Belmonte) were not well enough to perform.

Adrian Collette, Chief Executive, Opera Australia said: "It is extremely unusual for Opera Australia to have to cancel a performance as we have understudies who cover all our roles. But with two principal artists and one of our understudies unwell and unable to perform we could not provide a high-quality performance. We will, of course, offer all ticket-holders the opportunity to see another performance or to receive a refund. We apologize for any inconvenience."

No word on whether it was food or the flu that created the problem. While it's hot in America, Australia is in their flu and cold winter season.


| | | |
| --- | --- | --- |
| | | |
WHO'S WHERE


KEITH URBAN in a two night gig Tuesday, July 31, and Wednesday, August 1, at the Resch Center in Green Bay, WI.

JOSH GROBAN continues his American tour. On Monday he's on stage at the Mohegan Sun in Uncanville, CT. Tuesday the show is at the Wachovia Arena in Wilkes-Barre, PA. Friday the performance is at the Giant Center in Hershey, PA. On Saturday he's in the spotlight at the Mellon Arena in Pittsburgh, PA.

ARLO GUTHRIE entertains today, Sunday, July 29, at the Falcon River Folk Festival in Hillsdale, NY. On Saturday he performs at the LL Bean Summer Concert in Freeport, RI. Next Sunday he can be enjoyed appearing with the Nashua River Valley Folk Festival at the Lancaster Fairgrounds in Lancaster, MA.

COUNTING CROWS on stage Tuesday, July 31 at Jerry Uht Park in Erie, PA. On Wednesday the show is at Dunn Tire Park in Buffalo, NY. Friday they are at Louisville Slugger Field in Louisville, KY and on Saturday they entertain at Victory Field in Indianapolis, IN.

JOHN MAYER in the spotlight Monday, July 30 at the Verizon Wireless in Virginia Beach, VA. On Tuesday he performs at the Walnut Creek Amphitheatre in Raleigh, NC. Wednesday the show is at the Verizon Wireless Amphitheatre in Charlotte, NC. Friday he's on stage at the Sommet Center in Nashville, TN. On Saturday he entertains at the Chater Pavilion in Pelham, AL.

NORA JONES on tour in Europe takes to the stage Friday, August 3, at Sentrum Scene in Oslo, Norway. Saturday the show is at Cirkus Djurgarden in Stockholm, Sweden. On Saturday she can be enjoyed at the Falkoner Theatre in Copenhagen, Denmark.

MICHAEL FEINSTEIN opens a two nighter on Wednesday, August 1, at the Tweeter Center in Mansfield, MA. On Saturday he begins a two night stand at the New England Dodge Music Center in Hartford, CT.

DAVE MATTHEWS BAND in for a two night stand beginning Wednesday, August 1, at the Tweeter Center in Mansfield, MA. On Saturday they opens a two nighter at the New England Dodge Music Center in Hartford, CT.

SHeDAISY entertains Saturday, August 4, at the Freeborn County Fair in Albert Lea, MN.

LINDA RONSTADT appearing Friday, August 3, at the Dunkin' Donuts Newport Folk Festival in Newport, RI. On Saturday she's on stage at Mountain Laurel Center in Bushkill, PA.




PIFFLE AND PROFUNDITIES


IT'S HOT OUTSIDE AND THAT MEANS ICE CREAM so let us not forget the importance of ice cream in Broadway productions. Annie, The Music Man, and State Fair, all mention the cooling treat. She Loves Me even features the song, Vanilla Ice Cream.

Then there is Hairspray in which Blonsky had to quit her job as an ice cream store employee. Or, the fans who couldn't wait to relate a real-life sighting of Brian Stokes Mitchell eating ice cream.

A review of the 1957 movie Pal Joey which starred Frank Sinatra, Kim Novak and Rita Hayworth was described as; "like a one-scoop ice cream cone where not only is the cone there, it's the kind of cone you love, and there are two extra scoops of ice cream that happen to be your favorite flavors."

On February 6, 2006 Ben and Jerry's, the South Burlington, Vermont-based ice cream company began selling a Monty Python-themed ice cream. The company officially licensed confection,Vermonty Python, is only available in the traditional pint-sized containers.

The packaging features suitably Pythonesque images and a HolyGrail/Spamalot theme - including the Python Grail - and the following text:

"And now for something completely euphoric. We interrupt ourselves with much hooting through tin horns to bring you this brilliant new ice cream made from dried shrubbery and old cereal packets. Don't be daft – we're just having you on a bit,all right? This is a ripping good flavor, really, so buy it quickly now and run away, silly person, or we shall taunt you a second time!"

The flavor is coffee liqueur ice cream with a chocolate cookie crumb swirl and fudge cows. Enjoy.

Next Column: August 5, 2007
Copyright: July 29, 2007. All Rights Reserved. Reviews, Interviews, Commentary, Photographs or Graphics from any Broadway To Vegas (TM) columns may not be published, broadcast, rewritten, utilized as leads, or used in any manner without permission, compensation and/or credit.
Link to Main Page
---
Laura Deni


CLICK HERE FOR COMMENT SECTION