! >
Broadway To Vegas
  SHOW REVIEWS     CELEBRITY INTERVIEWS     GOSSIP     NEWS 
| | |
| --- | --- |
| | |
Copyright: July 29, 2001
By: Laura Deni
CLICK HERE FOR COMMENT SECTION

A DIAMOND AND HIS ZIRCONS
If imitation is the sincerest form of flattery Neil Diamond should feel honored. The guy doesn't have as many impersonators as Elvis Presley, but then again Presley is past tense, and Diamond has just gotten his second wind. There's a new CD. Tomorrow tickets go on sale for the first nights of Neil's three months cross country tour. And, last night there was that marvelous A&E live concert, the concept of which was the brainchild of Tony Bennett, whose son Danny serves as one of the executives. Diamond is white hot.

We discovered at least 100 Neil Diamond impersonators or tribute groups. They all have a lot in common - they seem to genuinely like, respect, and admire both the man and the music that is Neil Diamond. They tend to view their performances as Neil Diamond as a sincere tribute to him as opposed to attempting to attach their bank accounts to his coattails.

Diamond, who has sold 150,000 records, recorded 60 albums and during the 1990's was the top grossing artist in the country, is flattered by the attention.

"I love it. I've always loved it, because in a sense they keep the music alive, and in a way it's flattering. I guess I'm flattered. You have to have a sense of humor about it. It is a little weird," said Diamond about his impersonators and tribute bands.

Diamond has attended many of the impersonation shows and met even more of the artists who take to the stage as him.


Tom Sadge as Neil Diamond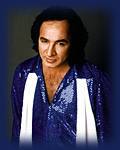 Tom Sadge had the honor of meeting Neil Diamond in December, 1999. Currently Sadge is in Pigeon Forge, Tennessee at the Memories Theatre where he is performing as Neil Diamond. Other impersonations include Linda Ronstadt, Tom Jones, Kenny Rogers, Rod Stewart and, of course, Elvis.

There is also a hilarious monologue by a Barney Fife impersonator.

Diamond fans have extended their love of the real Diamond to include the carbon copies. Sadge called it "an honor to perform, and visit with, some of the world's best Neil Diamond fans who traveled up to twelve hours to see the show."

A veteran of more than 5000 performances, Sadge commented, "Nothing matches the thrill of having a group of audience members approach you after a show and tell you that your impersonation is so good that they got the chills while watching you on stage. It makes it all worthwhile. No one can sing or look exactly like Neil Diamond except the great legend himself. But, if for a few fleeting moments I can convince the audience into thinking they are watching the real Neil ... then all the hard work, practice and persistence has been worth it."

Tom's voice has been described as so Diamond like that he has performed his vocal impression of the great legend on CDs, radio, and, during one instance, even auditioned successfully for a major network's daytime talk show when he sang Sweet Caroline and Cherry, Cherry over the telephone.

Popular Atlantic City radio personality, the late Sonny Schwartz, once challenged listeners to tell the difference between Tom's voice and Neil's. He's appeared with major headliners such as comedian Jackie Mason and Engelbert Humperdinck.



JAY WHITE as Diamond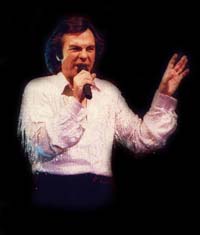 Since 1982 Jay White's performances have astounded more than three million people around the world, including Rose Diamond, Neil's mother.

During the 90's, Jay was Legends in Concert's longest running act ever to perform at the Imperial Palace in Las Vegas. Overall he's performed 4000 shows for some six million people since 1984, and his travels across America, Europe and Asia, led Jay, who grew up in Detroit, in 1998 to produce his own interactive tribute.

"October is the start of my 20th year performing full time, re-creating the work of this exceptionally gifted singer/songwriter," related White who has an uncanny resemblance to Diamond. "I thank Neil for having the opportunity to share his talent with so many appreciative fans, many of whom I consider part of my extended family. It's a joyous career that could not have been "unplanned" any better."

In December of 1996 Jay finally met his mentor at the MGM-Grand in Las Vegas. It was a thrill he had looked forward to for a long time and it could not have turned out better. "Neil was pleasant, gracious, witty and complimentary," said Jay. "We chatted a bit and he autographed a photo taken from his 1976 Vegas show at the Aladdin." Upon seeing the photo, Neil exclaimed "Is this me or you?" Then he signed: "Jay, only Memorex can tell."



Neil Diamond with Superdiamond
Constantly selling out is the super group Super Diamond. Over the past seven years, Super Diamond has sought to spread the word with their own interpretation of Neil Diamond's material. They are not impersonators as much as a tribute band.

As a child Randy Cordero - Surreal Neil - grew up listening to Neil Diamond along with his parents. After assembling a band of truly kindred spirits, Surreal Neil and Super Diamond began to perform regularly in San Francisco then branched out to points east. This show is dedicated to Neil Diamond with love and thanks.

They performed last Friday in Scottsdale, AZ and open Aug. 3 in Seattle, WA at the Showbox. The next night they perform in Portland, OR in the Crystal Ballroom followed by engagements at the House of Blues in Hollywood with August gigs in San Jose, San Diego and San Francisco.

The real gem came to see Super Diamond perform at the House of Blues in Hollywood CA. Neil came backstage to meet the band before the show, then not only attended the performance but jumped up on stage and sang I Am, I Said. The crowd went wild. Said Super Diamond "It was an amazing moment. Thanks Neil!"

Tony Rossini is from Memphis, Tennessee and was discovered by Scotty Moore who played guitar for Elvis in the early years. This led to an audio test at Sun Recording Studios and ultimately Rossini's first major contract. He's performed with Roy Orbison, Jerry Lee Lewis, and Charlie Rich and then developed his own Diamond tribute.

Rob Garrett was born and grew up in New York City. In 1974 he moved to Las Vegas along with his parents and younger brother.

In 1995 Rob took to the stage as Neil Diamond after being hired by John Stuart and Paul Revere (of The Raiders) to portray Diamond in the Legends In Concert show in Honolulu, Hawaii, that city' s biggest theatrical show and most popular "impersonation" type show in the world.

Rob's portrayal of Neil leans towards the 1976-1982 era because of the obvious age difference. "I figure the only advantage I have over him is that he can't be that Neil anymore." What was to be a two-month "trial" engagement for Rob had turned into 3 years and two months. His opinion of Neil Diamond? "He's the last of the breed that I refer to as minstrels, the performers who get on the stage for 2 hours plus with just their guitars and backup band and can still bring an audience to it's knees. He's still got it."

In August of 1998 Rob decided to return home to Las Vegas where he owns his own entertainment company, Rock 'n' Roll Heaven Ltd, and continues to perform as Neil Diamond.



Pete Nabarro as Neil Diamond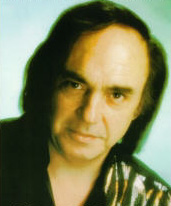 Diamond copies are not confined to America.

Pete Nabarro as Neil Diamond in The Diamond Experience is a show that travels the world.

Pete was born in Preston of Italian/Irish parents and joined his first group at the age of sixteen, working at the Tower Ballroom, Winter Gardens, Floral Hall and North Pier, Blackpool. He as worked with such names as Adam Faith, The Moody Blues, Gene Vincent, Them, Manfred Mann and Dave Berry.

Tributes to Diamond even include a new musical based on the music of the prolific composer and hit maker.

Last April Syncor Entertainment Inc. opened a new musical production, Cracklin' Rose at The Grand Palace Theatre in Branson, Mo.

Cracklin' Rose is a full stage production, with an orchestra and dancers with magnificent costumes. It features the songs made famous by Diamond including; Kentucky Woman, I Am I Said, Song Sung Blue, Girl You'll Be A Woman Soon, Solitary Man, Brother Love's Traveling Salvation Show, Heartlight and, of course, Cracklin' Rosie.

The production also includes songs from the movie, The Jazz Singer. Although the movie was panned by the critics the Diamond soundtrack sold more than six million units, providing Diamond with a zero-enhanced APRA check.

Songs in Cracklin' Rose from that movie include Love On The Rocks, Hello Again and a big closer with America!

Cracklin Rosie, produced by Roberta Copeland, continues though Labor Day



Broadway To Vegas is supported through advertising and donations. Priority consideration is given to interview suggestions, news, press releases, etc from paid supporters. However, no paid supporters control, alter, edit, or in any way manipulate the content of this site. Your donation is appreciated. We accept PAYPAL. Thank you for your interest.


DECEASED ENTERTAINMENT ICONS BOOST CITY REVENUES

Lucille Ball and Louis Satchmo Armstrong. Two American icons. Both born in August, both deceased, whose talents live on, are being celebrated this week with elaborate festivals in their respective hometowns.

In addition to honoring their memories and enormous accomplishments, the city fathers are not blind to the economic benefits that result when a city can stake claim to a celebrity - even if that hometown wasn't kind in childhood to that future marquee name.

It's been thirty years since Louis Armstrong joined that Great Jazz Band in the Sky Yet, his importance both as a musician and as a Black born in New Orleans, grows with each passing year. This week would mark the jazz legend's 100th birthday and officials are making it known that Armstrong put New Orleans on the map. (See Broadway To Vegas column of March 12, 2000)



Louis Armstrong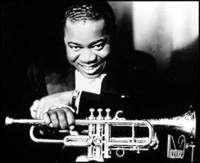 Armstrong, who spent much of his adult life in Chicago and New York, was born in New Orleans August 4, 1901. He always said his birthday was July 4, 1900, which is why Armstrong centennial festivals around the world began in earnest last year.

To not only honor the art and artistry of "Satchmo," but also the musical mentors that are part of New Orleans musical heritage, the University of New Orleans will host the Louis Armstrong Centennial Conference, August 2-4, at the Louisiana State Museum, in the historic French Quarter.

The conference offers a rare combination of rigorous scholarship and mainstream cultural education. Jazz scholars, Armstrong biographers and musicians from around the world will take part in the conference.

A welcome will be offered by Dr. Connie Atkinson of the Midlo Center for New Orleans Studies at the University of New Orleans, and Michael Cogswell, Director, Louis Armstrong House and Archives, Queens College, New York.

A session on Louis Armstrong: American Icon will be taught by Dr. John Edward Hasse, Smithsonian Institution, Washington, DC. An overview of the extraordinary life and legacy of Armstrong, providing the outlines of his life and career, pointing out his musical and professional highlights, and assessing his place in American history. The talk will be illustrated with slides, recording excerpts, and video clips.



Harry Connick, Jr.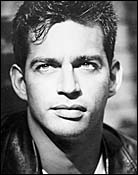 On Saturday, August 4, an evening of jazz featuring Branford, Wynton, Delfaeayo, and Jason Marsalis and Harry Connick, Jr. will star in a benefit concert, Satchmo to Marsalis: A Tribute to the Fathers of Jazz at the Keifer UNO Lakefront Arena. Proceeds from the concert will endow the Jazz Studies Program at the University of New Orleans in Ellis Marsalis' name. Marsalis is the father of the four jazz greats named above and one of Harry Connick, Jr's mentors.

Only once before has Ellis Marsalis, who's planning to retire from teaching, played publicly with his four musical sons -one brother does not play professionally.

The family thought it would be ideal to celebrate both the father's career and Armstrong's birthday together, Wynton Marsalis said, adding that Armstrong "is the one who taught all of us how to play. He taught the whole world about jazz."



Wynton Marsalis and his father Ellis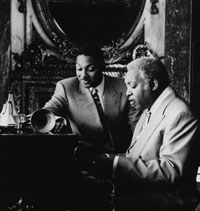 The concert is a highlight of a full weekend of panel discussions, lectures and other events that will bring together jazz scholars from around the world and musicians who once played with Armstrong. Also planned: a jazz Mass at St. Augustine Church, the nation's oldest black Roman Catholic church.

''He was the most widely known New Orleanian in the world and certainly has been more instrumental than many in making New Orleans the popular and familiar place that it is,'' said Jackie Harris, director of the New Orleans Music and Entertainment Commission.

Once Armstrong left New Orleans, he seldom returned because he resented having to play in segregated bands or for segregated crowds. The place where he was born, along with the building he lived in as a child, have long since been razed -- and no plaques mark the spots.

But with New Orleans' population decreasing and a depressed economy ever more dependent on tourism, the city has realized that Armstrong is their natural resource - a cultural export and icon. Celebrating Armstrong is a financial high note for the city.

''They should recognize him because of who he was and what he did for New Orleans,'' says jazz star Wynton Marsalis, a New Orleans native. Organizers of the four-day Satchmo Summerfest will open the events with a ceremony renaming New Orleans International Airport for ol' Pops.

On July 5th the New Orleans City Council unanimously approved Mayor Marc Morial's proposal to rename the New Orleans International Airport to the "Louis Armstrong New Orleans International Airport."

Public Radio Tribute: the NPR radio show American Routes will air a "Louis Armstrong Centennial Celebration" during the week of August 1. The Satchmo tribute features interviews with members of Armstrong's All-Stars band, Arvell Shaw (bass) and Joe Muranyi (clarinet), and also New Orleans trumpeters Nicholas Payton and Kermit Ruffins.

''His music, his walk, his talk, his entire being spoke New Orleans. It's something he couldn't luckily get rid of and something he didn't want to get rid of,'' said New Orleans researcher, Tad Jones, who will lead one of the seminars. Jones is the man who discovered baptism records that proved when Armstrong was really born.



Satchmo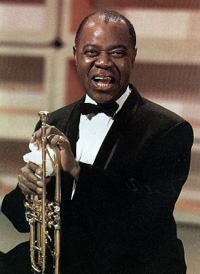 In 1980, the city named a park for Armstrong just outside the French Quarter at an area also known as Congo Square -- where jazz is thought to have originated. The grounds are now home to a small jazz historical park and a dignified 11-foot bronze of Armstrong holding a trumpet.

Armstrong's likeness also appears on a large mural, painted in 1998, depicting a handful of jazz greats at the airport now being named for him.

The city is trying to raise money to build a jazz walk of fame on the Mississippi River levee at Algiers Point, across the river from the French Quarter. This year's New Orleans Jazz and Heritage Festival was presented as a tribute to Armstrong. He was featured on the official poster, which has sold out 14,000 prints.

Jamestown, New York, where Lucille Ball was born on August 6, 1911, is staging a three-day birthday bash - August 3-5 in honor of their most famous daughter. On hand to help blow out the candles will be Ball's two children Desi and Lucie. Ground zero is The Fenton History Center, a local history museum housed in an 1863 mansion built by New York State Civil War Governor Reuben E. Fenton. Offerings include period rooms and exhibits of local interest, including a permanent display about Lucille Ball.



Lucille Ball

The festival is kicked into high gear with a proclamation and mural unveiling on Friday. Jamestown Mayor Sam Teresi does the honors proclaiming the official start of Lucy's Birthday Celebration and unveil the third in a series of I Love Lucy wall murals created by Jamestown artist Gary Peters, with the cooperation of CBS, Worldwide and Desilu, too, LLC.

The festival will include the 3rd Annual Visions Of Lucy Art Exhibit, where the walls of Kaldi's Coffee House are decorated with visions of Lucy, Ricky, Fred, and Ethel, thanks to the talents of Jamestown area artists and a few from across the nation. All original artwork will be on display until August 5, when it will be shipped to Burbank, California and incorporated into an auction at Loving Lucy 2001.

The Downtown Jamestown Loves Lucy Scavenger Hunt has been ongoing throughout the summer.This year, images from the classic I Love Lucy series are offered at 25 downtown businesses. Participants record their findings on the scavenger hunt entry form in hopes of winning one of $500 in I Love Lucy prizes.

Then there is the Lucille Ball TV Guide Exhibit at Bro Laines Bridal. Lucille Ball holds the record of appearing on the cover of TV Guide more often than any other celebrity.

A Here's Lucy Film Festival, sponsored by Time Warner Cable, will showcase several of Ball's films and back-to-back commercial free episodes seldom seen in the 1970's sitcom, courtesy of The Estate of Lucille Ball.



RICCI MARTIN, DESI ARNAZ, JR and BILLY HINCHE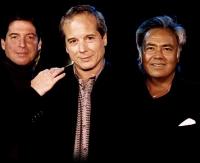 Melody Thomas Scott, star of The Young & The Restless, will host a Books & Breakfast forum where she'll interviews several Lucy-Desi authors including Tom Gilbert, Rob Edelman and Audrey Kupferberg.

The climax of the festival involves Lucy's family. Lucille Ball's hometown welcomes her son, Desi Arnaz, Jr. and fellow musicians, Ricci Martin and Billy Hinsche, for a special "unplugged" evening of music and conversation. They have a new CD, recorded live at the MGM Grand.

Desi lives in Boulder City, Nevada, just outside Las Vegas, where he and his wife, Amy, manage the nonprofit Boulder City Ballet Company. They recently acquired and remodeled the Boulder Theatre, which will stage a variety of musical and community productions.

Lucie Arnaz, who just moved back to New York with her husband, actor Larry Luckinbill (see Broadway to Vegas columns of March 1, 1999 and March 6, 1999), after making her London stage debut in The Witches of Eastwick, joins her brother, Desi Jr. for a special Lucy-Desi Museum Gala.



LUCIE ARNAZ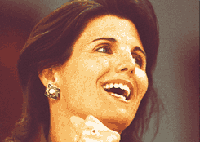 An Afternoon With Lucie Arnaz will feature the Emmy Award-Winning Documentary, Lucy & Desi: A Home Movie. Arnaz shares her Emmy Award-winning documentary that examines the lives of her parents and includes family home movies. Ms. Arnaz will introduce the film and return to the stage after the screening for a question & answer seminar

You can't have a birthday party without games and cake and this party has both.

On Sunday Melodie Thomas Scott will host a Lucy Trivia Contest. There will be nine rounds in which 35 names will be randomly drawn from those in the audience. They'll step on stage and prove their I Love Lucy knowledge.

The Egg Stuffing Contest is inspired by the 1957 I Love Lucy episode, Lucy Does The Tango, this unique Lucy contest will bring new meaning to the words "scrambled eggs."

You can't have a birthday without cake and Lucy's Birthday Bake-Off will take the cake. Local bakeries, supermarkets, and caterers enter the third annual competition celebrating the birthday of The Queen of Comedy. Birthday cake for everyone!


SWEET CHARITY

TONY BENNETT will be honored for his 75 years by RPM Music at a gala this Thursday at the Metropolitan Museum in New York City. The event benefits the Tony Bennett Juvenile Diabetes Research Fund. The singer/artist has donated a Limited Edition Lithograph to benefit the Juvenile Diabetes Foundation.

BETTY BUCKLEY performs July 29 at the Provincetown Town Hall in Provincetown, MA in a Fund raiser for Wellfleet Harbor Actors Theater.

OTHER PEOPLE'S MONEY

THE INDIANA REPERTORY THEATRE has met requirements for a $500,000 challenge grant from the Kresge Foundation, putting it over the top of its $16.5 million capital campaign.

The IRT qualified for the challenge grant by raising $1.937 million for its Great Theatre Is Good Business campaign from September 2000 through June 2001 The money will be used to renovate the theater's three stages and create a $10 million endowment. The renovation and restoration project, done in four stages, included redoing the Upperstage and Cabaret lobby and stage area and restoring the Grand Lobby to its original opulence as a 1927 Moroccan-style movie palace. The IRT Cabaret was turned into a rehearsal hall and meeting space. The restoration of the Mainstage auditorium completes the project. It will be finished by the beginning of the 2001-02 season in the fall. The building includes two working theaters, rehearsal spaces, administrative offices and scenery and costume construction shops.


APPLAUSE, APPLAUSE

JULIE WILSON is having a new cabaret room named in her honor. Denis Carey and Van Pano, owners of The Hideaway Restaurant in NYC change the venue's entertainment direction from big band and jazz to "elegant cabaret" come September. In conjunction with that, the restaurant will be renamed The Hideaway Cabaret and Supper Club, and its main performance space will be christened The Julie Wilson Room in honor of the legendary lady who is studied by other cabaret artists. With grace and grandeur Wilson is a spellbinder that is the essence of cabaret class and talent.

The room will offer shows by rising cabaret stars as well as established names. Wilson will be attend the gala opening on September 5; she will also perform there on September 6, 7, and 8, along with Dave Frishberg, Barbara Carroll, Margaret Whiting, and other greats, in a benefit for the Susan G. Kormen Breast Cancer Foundation. These performances will be dedicated to the memory of the cabaret and jazz singer Susannah McCorkle, who ended her own life earlier this year.

Performers set to appear in The Julie Wilson Room in upcoming weeks and months include KT Sullivan and Larry Woodard, Amanda McBroom, Wesla Whitfield, Mark Murphy, Kristin Chenoweth and Tom Wopat.



DO I HEAR A WALTZ?

(Left to right) Anthony Crivello, Alyson Reed and Carol Lawrence star in the Los Angeles revival of Do I Hear A Waltz?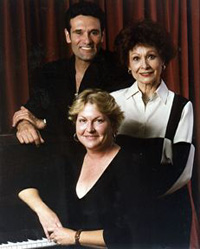 Book by Arthur Laurents, Lyrics by Stephen Sondheim and Music by Richard Rodgers. The production of this rarely staged collaboration between composers Richard Rodgers and Stephen Sondheim is being directed by David Lee, one of the creators of the TV series Frasier.

In Do I Hear A Waltz? an American tourist from the Midwest, Leona Samish, spends her life savings on a trip to Venice, for what she hopes will be a romance-filled vacation. Once in Italy, she discovers that the residents of her hotel are finding more romance than she is. Leona finally does meet the man of her dreams, a local antique shop owner named Renato di Rossi. He sweeps her off her feet and promises to be the love her life has lacked -- until she discovers a secret that could tear their relationship apart.

This bittersweet 1965 romantic musical was based on Arthur Laurents successful 1952 play, The Time of the Cuckoo.

Anthony Crivello, Alyson Reed Benjamin Sprunger, Jack Riley, Elmarie Wendel, Alyson Reed, Annie Wersching and Carol Lawrence are in the production with Lawrence playing the pension owner, Signora Fioria. It's not the first time Lawrence has been in a Laurents-Sondheim collaboration. She was the original Maria in West Side Story The talented performer, who lived in Las Vegas when she was married to Robert Goulet, has boned up on her Italian accent. The production run through August 19 at the Pasadena Playhouse.

THE ODD COUPLE will star Pat Sajak as fussy Felix Unger opposite old friend Army buddy, Honolulu newscaster Joe Moore who will play the slovenly Oscar Madison. The production runs Sept. 27-30 at the Hawaii Theatre in Honolulu.

HAIR The first Broadway musical to feature rock music, opened July 24 at the Wilshire Theatre in Los Angeles for an engagement through September 2.

STAND BY YOUR MAN - THE TAMMY WYNETTE STORY will star Nicolette Hart as Wynette. She was handpicked by Tammy's widower, George Richey, after he heard her sing. Nicolette starred opposite Larry Gatlin in a touring company of Civil War, and starred in Always Patsy Cline in Rochester, NY. Stand By Your Man - The Tammy Wynette Story runs Sept. 13-Oct. 28 at the Ryman in Nashville.

IF YOU EVER LEAVE ME, I'M GOING WITH YOU the comedy by Renee Taylor and Joe Bologna opens August 6 at the Cort Theatre, NYC, the same night the couples their 36th wedding anniversary. Renee and Joe have been married 35 times - to each other. Every year on their anniversary they get all dolled up and get re-hitched. We're not sure if this year's vow taking will be an on stage event.

Meanwhile, Renee is so busy she doesn't have time for wedding or opening night jitters. Taylor, who played Fran Drescher's mom on The Nanny, has taken over from Rue McClanahan as the host of the all gay-version of Family Feud. The raunchy show plays every Wednesday at the Chelsea club Blu. Taylor is there through August 1.

DIVORCIADAS, EVANGELICAS Y VEGETARIANAS - Divorcees, Evangelists and Vegetarians

Divorcees, Evangelists and Vegetarians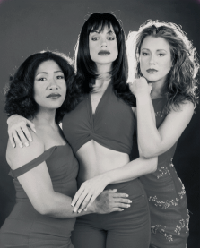 The divorced one is Puerto Rican, the evangelical one is Dominican and the vegetarian is Venezuelan. On a subway platform, the suicidal Latina meets the scandalous one.

They become fast friends and descend on the third at work in a Manhattan multiplex; then proceed to Central Park for a marvelous encounter with their own selves.

The production features Dominican actress Xiomara Rodriguez and popular Puerto Rican television actresses Olga Sesta and Yvonne Caro. Presented by Raul Mandez Productions, Inc; this comedy played to critical acclaim in Venezuela, the Dominican Republic, Spain, Argentina and Puerto Rico.

Gramercy Arts Theatre August 16th through 26th

COMPLETING DEHLIA continues through September 1 at the Purple Rose Theatre in Chelsea, MI. World premiere of Annie Martin's comedy about a modern woman seeking satisfaction in the new millennium. Directed by Anthony Caselli. Recommended for mature audiences. Officials of the Purple Rose Theatre are: Executive Director actor Jeff Daniels, Artistic Director Guy Sanville, Managing Director Alan Ribant and Development Director Judy Gallagher

FATHER OF THE BRIDE July 31-Aug. 5 at Okoboji Summer Theatre, Spirit Lake.

FOSSE Tokyo, Japan on Orchard Hall opening August 3 with performance through September4.

MISSISSIPPI LOVE

JERRY VAN DYKE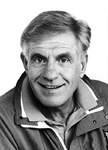 an original musical comedy, starring Debby Boone and Jerry Van Dyke, will have its premiere September 8, at the Mark Twain Playhouse in Branson, Missouri.

The production includes over 30 entertainers who bring to life many of Mark Twain's colorful storybook characters as they discover the attractions - and distractions - of Showboating, fishing all night, young love, and the zany antics of the folks of Hannibal. Over 15 original musical numbers are featured in Mississippi Love.

Debby Boone will perform the lead role of Aunt Polly during the months of September and October. Jerry Van Dyke will star in the lead role of Duke from November 1 through December 15. Michael Jenkins is the producer and director.


WHO'S WHERE

MARY CHAPIN CARPENTER July 26 at The Greek Theatre, Los Angeles.

SADE July 26 at the Coors Amphitheatre in Chula Vista, CA.

AIR SUPPLY July 27 at the Fantasy Springs Casino in Indio, CA.

ALEJANDRO ESCOVEDO will play the Zephyr Club, on Tuesday, July 31 in Salt Lake City, Utah. His new album is Man Under the Influence.

TOM JONES opens August 2 in Atlantic City, NJ at the Mark G. Etess Arena for a four night engagement.

DESTINY'S CHILD opens July 30 in Minneapolis, MN at the Target Center. On Wednesday it's center stage in Bonner Springs, Kansas at the Sandstone Amphitheatre. Thursday finds the group headlining in Oklahoma City, OK at the Myriad Convention Center. On Friday they're in Schertz, TX at the Verizon Wireless Amphitheatre and on Saturday the spotlight is on them in Houston, Texas at the Compaq Center.

MADONNA does a two nighter, Thursday and Friday in East Rutherford, NJ at the Continental Airline Arena.

BRIAN SETZER '68 COMEBACK SPECIAL can be found Tuesday in Boulder, Colorado at the Fox Theatre and on Wednesday in Beaver Creek, CO at the Vilar Center For The Arts.

JOHNNY MATHIS performs Saturday and Sunday in Hyannis, MA at the Cape Cod Melody Tent.

TONY BENNETT sings July 31 in Holmdel, NJ at the P.N.C. Bank Arts Center. On Friday he's center stage in Charlotte, NC at the Verizon Wireless Amp.Charlotte and on Saturday he'll delight the crowds in Greenville, SC at the Bi-Lo Center.

KATHY MATTEA and her band will play with the Utah Symphony Friday in Abravanel Hall, Salt Lake City and on Saturday at the Deer Valley Ski Resort. This year Mattea is doing only 30 shows, instead of her normal 80.

BRETT BUTLER returns to the Riviera hotel, Las Vegas August 3-4.

NATALIE COLE opens a Las Vegas engagement at the Paris Hotel on August 3. The engagement runs three nights.

TONY DANZA on Wednesday takes his charm and tap shoes to Muskegon, M for an engagement at the Frauenthal Center. On Thursday he'll do it again then travel to Suttons Bay, MI for a Friday engagement at the Leelanau Sands Casino.

BEN E. KING WITH THE SAN DIEGO SYMPHONY July 27 & 28. Navy Pier in San Diego, CA.

ALAN JACKSON July 27 at the Coors Amphitheatre in Chula Vista, CA.

PATTY LOVELESS July 27 Humphrey's Concerts by the Bay in Shelter Island, CA.

TIM MCGRAW at the Verizon Wireless Music Center on Monday, July 30 Indianpolis, Indiana.

ROD STEWART is in and out of the country this week. On Wednesday he entertains in Toronto, ON at the Air Canada Centre. Thursday finds him in Montreal, QC at the Molson Centre Then on Saturday he's back on American soil in Camden, NJ at the Tweeter Center At The Waterfront.


PIFFLE AND PROFUNDITIES

ROBERT GOULET dropped the curtain on his show at the Venetian hotel, Las Vegas, saying he can't afford the $15,000 nightly showroom rental. (See last week's Broadway To Vegas column) Goulet bowed out after Monday's performance, four weeks into a nine-week run. The showroom withheld box-office receipts on Tuesday. Rogo & Rove, the company he owns with his business-manager wife Vera, was faced with an overhead of $200,000 a week after a backer dropped out at the last minute. Goulet said they would have broken even with 50 percent attendance, but counts were only in the 30-40 percent range.

ENGELBERT HUMPERDINCK refuses to wear anything green or ride in a green vehicle. He thinks it is an unlucky color.












Next Column: August 5, 2001
Copyright: July 29, 2001. All Rights Reserved. Reviews, Interviews, Commentary, Photographs or Graphics from any Broadway To Vegas (TM) columns may not be published, broadcast, rewritten, utilized as leads, or used in any manner without permission, compensation and/or credit.
Link to Main Page
---
Laura Deni



U.S. Postal Address: Post Office Box 60538, Las Vegas, NV 89160
CLICK HERE FOR COMMENT SECTION