! >
Broadway To Vegas
  
  REVIEWS INTERVIEWS COMMENTARY NEWS

| | |
| --- | --- |
| | |
EDINBURGH FRINGE FESTIVAL - - WONDERLAND LIVE STREAMING - - WOMEN'S PROJECT THEATER - - ASPEN ARTCRUSH - - CHITA RIVERA IN THE VISIT - - PRINCE GEORGE GETS A VINTAGE GIFT - - FESTIVAL DEL SOLE HONORS SOPHIA LOREN - - 100th ANNIVERSARY OF WORLD WAR ONE INCLUDES PLAYS AND DOWNTON ABBEY - - DONATE . . . Scroll Down




Copyright: July 27, 2014
By: Laura Deni
CLICK HERE FOR COMMENT SECTION


POWERFUL, JOLTING WONDERLAND IN LIVE STREAMING FROM HAMPSTEAD THEATRE
Wonderland photo Hampstead Theatre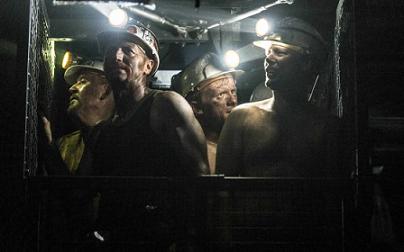 Last Saturday, July 26, 2014, London's Hampstead Theatre live-streamed the final performance of its current production of Wonderland online on either the Hampstead Theatre or the Guardian's website. The streaming was free for the viewing.

The visual and sound quality depended upon your device of choice: computer, tablet or smartphone. I watched over a computer and my sound quality was excellent. Nor did I have any problem understanding the skillfully trained actors whose excellent articulation didn't eviscerate their British accents, which are important for this production.

During the live stream there was also a Twitter feed disclosing backstage details about the production.

Making the production look realistic was no easy task and great attention was paid to the smallest detail. To prepare for the production the cast visited a real mine in which they traveled 465 feet below the earth's surface, a process which the cast called "eye opening."

All the boots in the show were "very kindly donated by famed shoe maker Dr. Martens."

The live streaming of the marvelous production brought together the world, enabling audiences across the globe to learn about Wonderland, Beth Steel's acclaimed play about the miners' strike. Wonderland - an underground world for the miners, a world which didn't exist for the politicians. Steel wrote what she knows about having grown up in a pit village in Nottinghamshire. Her father is still a miner at Thoresby Colliery.



Photo of the live streaming control room. Photo: Hampstead Theatre.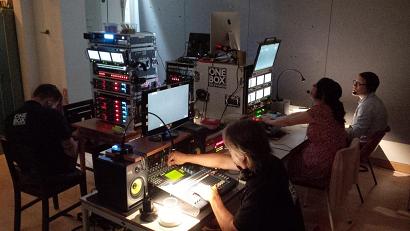 Directed by Hampstead Theatre' Artistic Director Edward Hall, the ambitious three decker set was the work of Ashley Martin Davis. The set is an important part of the action. When part of the roof collapses and a miner is injured, the action is both jolting and believable.

Some of the realistic stage props are too graphic for general description, such as instructions for the miners on how to relieve themselves. Other props are more easily explained:

"The beer is made of burnt sugar solution with a head of whipped egg whites. The hanging white bags are part of the mine fire suppression system, releasing stone dust to suppress any flames. Some are real, salvaged from Thoresby mine by Beth's dad but most are fake, made from yoghurt pots and coat hangers."

The cage lift used by the actors portraying miners, "can lift up to 750kg and travels 10m between the grid and the substage."

The 'coal dust' on the miners is actually face paint - the cast going through 50 palettes. According to the posts: "There's about 50kg of real coal and the rest is foam with 500kg of rubber crumb spread around as coal dust."

"The sweat isn't real (well, not all of it) but is actually glycerin spray," posted the cast.

To remove and fake sweat and coal dust the cast has gone through "on average, 10 bottles of shower gel each (180 in total) over the run of the show."

Awesome, emotional lighting by double Olivier award winner Peter Mumford.

Set in 1984, the play explores the year's turbulent events that transformed Britain - from the corridors of Westminster to the coal faces of Nottinghamshire. The play in which Prime Minister Margaret Thatcher took on Arthur Scargill, the British politician and trade unionist who was president of the National Union of Mineworkers from 1982 to 2002, retells the story from both the miners' and the government's viewpoints.

Thatcher and Arthur Scargill aren't part of the production, but their power permeates.

This is a story about the men who worked the mines - from two 16-year old newbies to the hardened men whose lives are as dark as the dungeon of their workspace. For Americans not affected by the coal miners' strike; not familiar with the political names, or perhaps not even alive during that period of history - this play enthralls. It is both moving and disturbing.

Malcom, Apprentice Pitman touchingly played by David Moorst will tear your heart out when his character recalls reaching the breaking point in his desperate struggle to feed his wife and baby. He feels he is committing an act of kindness when he describes killing his pet dog because he can no longer afford to feed it. It's a riveting, horrific emotional scene and I still can't get his words out of my head.

Miners are a brotherhood, a family. They look out for each other as is stressed by the pit boss, known as Colonel Deputy, played by Paul Brennen. He's both tough and tender, charging his men to look out for each other. His speech about the dignity of hard work and taking pride in a job well done is moving.

A strike is called and the play pivots around the issues.

The casting for this production is spot on.

Andrew Havill portrays Energy Secretary Peter Walker who defeated Britain's striking miners in one of the greatest and bloodiest industrial battles of the twentieth century. Paul Cawley is cast as Nicholas Ridley, a staunch supporter of free-market economic policies and one of Prime Minister Margaret Thatcher's closest political allies. Coal Board chairman Ian MacGregor is played by Michael Cochrane and the maverick David Hart, is brought to live by Dugald Bruce-Lockhart - who attempted to persuade miners to go back to work even though it meant braving picket lines and violence.

As the two sides clash, the miners fight for their livelihoods and families, and the government for its vision of a free Britain. Together they change the fabric of the nation forever. Marking the thirtieth anniversary of the Miners' Strike, Beth Steel's epic and witty drama takes a 360 degree look at the clashing ideologies during the Strike in 1984 and presents the full sweep of the turbulent events that transformed the country - from the corridors of Westminster, to pitched battles with the police, to the coal faces of Nottinghamshire.

Power stations ran out of coal in the 1974 strike leading to power cuts. The strike brought down Heath's government.

Also delivering hard hitting performances are: Nigel Betts, Paul Brennen, Dugald Bruce-Lockhart, Gunnar Cauthery, Paul Cawley, Michael Cochrane, Ben-Ryan Davies, Andrew Havill, David Moorst, Paul Rattray, Andrew Readman, Simon Slater, with Edd Muruako, Jack Pike, Guy Remy, Darius Ryan, Jack Silver and Thomas Winsor.

The Creatives include: Lighting: Peter Mumford - Music: Simon Slater - Choreographer: Scott Ambler - Sound: Matt McKenzie - Casting Directors: Suzanne Crowley & Gilly Poole - Assistant Director: Tom Attenborough - Design Assistants: Emma Bailey & Louie Whitemore - Production Manager: Pam Nichol - Company Stage Manager: Robyn Hardy - Deputy Stage Manager: Rebecca James - Assistant Stage Manager: Helen Clarkson - Duty Stage: Steve Evans - Lighting Operator: Tom Nickson - Costume Supervisor: Deborah Andrews - Wardrobe Mistress: Molly Bray - Show Crew: Simon Narciso - Set Construction: Weld-Fab & Illusion Design And Construct.

In an official statement, Hampstead Artistic Director Edward Hall, who directed Wonderland, stated: "At Hampstead, we believe in accessible theatre - Access for All. As such, we're thrilled to present our third live and free streamed production to the world. Our aim is to live free stream as many of our productions as possible so everyone has the opportunity to enjoy free quality theatre. Our previous free streamed productions have been watched from the home, in classrooms, in hospitals and by those 'on-the-go'," he said referring to the live-stream free transmissions of The Arrest Of Ai Weiwei and Drawing The Line, which were watched by more than 20,000 people in 86 countries.

"Free live-streaming allows us to break new ground and reach an audience who can't access Hampstead Theatre in person," the statement continued. "We hope people all over the country, and, indeed, all over the world watch Wonderland and engage with this extraordinary piece of British history which coincides with the thirtieth anniversary of the Miners' Strike. Hampstead Theatre is grateful to Beth, and the Company for their support in enabling us to show their work in this way."

Hampstead Theatre acknowledges that "this production is made possible by the generous support of Lin & Ken Craig." As far as Broadway To Vegas is concerned the Craig's substantial donation was money well spent.

An on-demand version of the Wonderland live-streaming will be available for 72 hours immediately after the live stream on Hampstead Theatre and the Guardian's websites - meaning, depending upon your location, you may have until Tuesday morning to watch this incredible event. If at all possible, watch the live stream.





Broadway To Vegas is supported through advertising and donations. Priority consideration is given to interview suggestions, news, press releases, etc from paid supporters. However, no paid supporters control, alter, edit, or in any way manipulate the content of this site. Your donation is appreciated. We accept PAYPAL. Thank you for your interest.





ART AND ABOUT


THE 100 ANNIVERSARY OF THE START OF THE FIRST WORLD WAR

The Trapeze by Max Beckmann is part of the Art on the Front Line exhibit at the Toledo Museum of Art.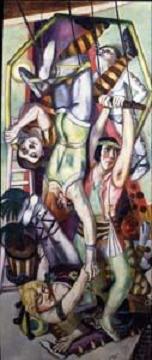 which began in Europe on July 28, 1914 is being commemorated with a variety of related events around the world, including involvement of Downton Abbey.

World War I (1914–1918), a global conflict that resulted in more than 17-million deaths and another 20-million wounded.

The Liberty Memorial, located in Kansas City, Missouri, USA, is a memorial to the soldiers who died in World War I and houses The National World War I Museum, as designated by the United States Congress in 2004.

In March of 2013 the The National World War I Museum hosted an international WWI Centennial planning conference. Eight countries were represented by featured speakers, panelists and attendees including Great Britain, France, Germany, Belgium (Flanders), Canada, Turkey, Slovakia and Japan.

The conference's agenda included panels that covered a variety of subjects from the idea of making WWI battlefields UNESCO World Heritage sites, to the effort to digitize its historical records to interpreting the conflict through the visual and performing arts. Four prominent WWI scholars were the conference's featured speakers, presenting topics that ranged from the origins of the War, to its Eastern Front campaigns, to the effects of the conflict on an occupied nation, to how the War can be interpreted and memorialized by art.

In Britain to mark a hundred years since the start of what is called The Great War, an extensive program, beginning now and running to 2018, is coordinated by the First World War Centenary Partnership, a coalition, established in 2010, of more than 1,800 museums, galleries, arts groups, tourist boards, government bodies, and some overseas organizations.

The plans will see more than 2,000 different public performances of plays and exhibitions across the country in an attempt to engage the whole nation in the centenary commemorations.

Diane Lees, director general of Imperial War Museum (IWM), which is leading the partnership, said: "We are all connected to the First World War and this huge and growing program shows that millions of people want to remember and learn more about its impact."

In August an event at Highclere Castle - where Downton Abbey is filmed - which will feature a display by vintage aircraft from the conflict. The stately home was converted into a hospital during the war, just as it was in its fictional role, during the show's second series. Other stately homes, such as Castle Howard, are also hosting Great War-related shows.

There will be a service for commonwealth leaders at Glasgow Cathedral and a candle-lit vigil in Westminster Abbey.

The Toledo Museum of Art in Toledo, Ohio is opening The Great War: Art on the Front Line on display July 25–October 19, 2017.

Whether they fought in the war or not, artists in Europe and America sought new styles and new philosophies to express their views of a society now forever changed. The Great War includes paintings, sculpture and works on paper by Max Beckmann, Otto Dix, George Grosz, Childe Hassam, Ernst Ludwig Kirchner, Käthe Kollwitz and others. In her series of woodcut prints called War (Krieg), German artist Käthe Kollwitz portrays with devastating accuracy the emotional toll of World War I. The faces of mothers, fathers, soldiers, widows and refugees are etched with anguish, not glory. She knew this grief firsthand - her son was killed in battle.

Max Beckmann was one of the artists whose style was drastically changed by his experiences. Serving as a medical orderly, he saw a steady influx of mutilated bodies that led to his nervous breakdown in 1915. After returning from the warfront, the German painter's depictions became distorted and claustrophobic. In The Trapeze, on view in the exhibition, Beckmann employs circus and carnival imagery as metaphor, expressing his dark view of human nature.

The exposure to violence also impacted Otto Dix, who worked as an officer in the German army's machine gun unit. The trauma he witnessed became a constant theme of the artist's later work, in which he often portrayed desolate fields or injured veterans living in poverty. Dix was especially aggravated with what he perceived as society's urge to forget the war, and directed his efforts at bringing it to viewers' attention through bleak, graphic portrayals.

"Much of what we have in our collection is strikingly anti-war," curator Paula Reich said. "Art isn't created in a vacuum, and it's a way that these feelings toward the changes of the time got expressed. One hundred years later, there are still so many consequences of the aftermath playing out."

Free admission for this display at the Toledo Museum of Art.


SWEET CHARITY


ART CRUSH GALA Prominent artists, art collectors, curators, gallery owners, celebrities, and philanthropists from around the world gather in Aspen, Colorado every year during the first week in August to celebrate the Aspen Art Museum.

Featuring a celebrated wine tasting and auction, seated dinner for 350 guests, live and silent auctions of major works of contemporary art, and the presentation of the AAM's Aspen Award for Art to 2014 artist nominee Ernesto Neto, ArtCrush is considered the area's preeminent party of the summer season.

The gala dinner takes place August 3, 2014.

MONEGASQUE RED CROSS GALA the held at the prestigious Sporting d'Eté Club. This important fundraiser attracts ball gown-clad celebrities by the dozens.

August 1 in Monaco.


EDINBURGH FRINGE FESTIVAL- THE BIGGEST IN HISTORY - GOES FROM STAGE TO SCREEN
Danny Chivers has turned his arrests as an environmental activist into a slam poet Fringe presentation Arrest That Poet!. Photo: wdm.org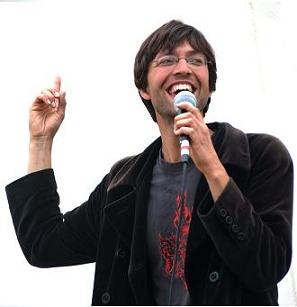 The largest fringe festival on the planet, the Edinburgh Fringe Festival - turns the Scottish city into the world's festival city from August 1-25.

Every year thousands of performers take to a multitude of stages all over Edinburgh to present shows for every taste. From big names in the world of entertainment to unknown artists looking to build their careers, the festival caters for everyone and includes theatre, comedy, dance, physical theatre, cabaret, children's shows, musicals, operas, music, spoken word, exhibitions and events.

In 2013 the Fringe enjoyed a record-breaking 2,871 different shows staging 45,464 performances in 273 venues by 24,107 performers.

That record is expected to be broken this year.

From legitimate stages to pub back room and alleyways, a total of 299 venues will stage 49,497 performances of 3,193 shows.

The shows include 1,789 premieres, and artists and creators from 47 different countries. There will also be a minimum of 825 free shows.

A dramatic new development this year is am ambitious use of viewing technology as a way to lure in a broader based audience.

Hibrow, a digital arts company putting original performance and art online, announced a deal in which eight of the festival performances will be beamed to nearly 30 Odeon cinema screens across the UK.

The plan is to broadcast eight shows beginning August 4 with The Dispute, a new version of the 18th century Marivaux comedy, which tells the story of four babies raised in isolation for 18 years before being released in to the world. Other shows going immediately from stage to screen are a set by the satirical rockers Jonny & The Baptists; a one man show called Berkoff the Inimitable; and comedy from the sketch quartet Four Screws Loose.

The shows are all being performed at Edinburgh's Summerhall venue in the afternoon and will be shown in cinemas in the evening. The object is to attract two different sets of people.

Getting attention is slam poet Danny Chivers' one person show Arrest That Poet! regaling his real-life arrests at environmental protests including when climbed up a power station, D-locked himself to a construction company's staircase, been spied on by undercover cops and sued for $7.5 million.

On July 24 Chivers, who is also a freelance carbon analyst researcher and environmental writer, learned that his performance has been shortlisted for the Edinburgh Fringe Sustainable Practice Award. The award, supported by the Centre for Sustainable Practice in the Arts and Creative Carbon Scotland, honors artists who are engaging with the topic of climate change in creative and innovative ways.

For months buzz has been circulating about Oscar-nominated Anne Archer staring in the world premiere of seven-time Emmy-winning producer/director Terry Jastrow's The Trial of Jane Fonda.

Performances begin July 30 at the Music Hall at the Assembly Rooms for a run through August 24. This will be Archer's Edinburgh debut.

The play revolves around the "true story of Jane Fonda's controversial efforts to end the Vietnam War. The actress, who was vocal in her opposition to the Vietnam War, went to the capital city of North Vietnam, Hanoi in 1972 to call worldwide public attention to the Nixon Administration's cover-up of US policy of deliberately bombing the country's vital system of dikes. During that trip she made radio broadcasts denouncing as a war crime the U.S. use of antipersonnel bombs banned by the Hague Convention, and visited US POWs. On the final day of her trip, she was photographed laughing and clapping astride a North Vietnamese anti-aircraft gun. This activity by Fonda caused enormous controversy and galvanized a huge hate campaign amongst the US military and supporters."

The play focuses on a little-known event which occurred in Waterbury, Connecticut June 18, 1988, where Fonda confronted a room full of hostile war veteran's intent on boycotting the filming of her movie Stanley & Iris (co-starring Robert De Niro). Many of the controversial and polarizing issues that had festered for years regarding Fonda's activism during the Vietnam War surfaced during the course of this meeting.

It has been stressed that "while Fonda has contributed time and information to ensure her story is told accurately, she has no creative input or veto power, has never read or seen the play, and has no participation in ownership or proceeds from the production."

Archer has been involved with The Trial of Jane Fonda since it began as an October 8, 2011 workshopped production called In The Court of Public Opinion. The reading took place at the Edgemar Center for the Arts in Santa Monica, CA. Archer, the daughter of actors Marjorie Lord and John Archer, is a passionate supporter of human rights having founded Artists for Human Rights.

In addition to Archer the show features John Sackville as the Rev John Clarke; Larry Bonk is played by Darrell Brockis; Ian Virgo is cast as Donny Simpson, Tommy Lee Cook is portrayed by Greg Patmore; Buzzy Banks is played by Ian Porter; Jay Benedict is Archie Bellows and the TV reporter is played by Chauntae Pink. Set and Costume Desig by Alex Marker while the Lighting Designer is Tony Simpson.

A major component of the festival will be the centenary of the First World War. The official program indicates that the fringe will have a special performance on August 4 , starting at 10:30pm and ending at midnight, marking the anniversary of the day Britain declared war on Germany.

The play, Forgotten Voices, "is based on the memories of combatants from all the nations that became caught up in the first global war. The vivid oral testimonies, recollections of battles and civilian casualties, battles and life and death on the front and behind the lines, were collected by the Imperial War Museum in the 1970s from the rapidly thinning ranks of veterans in Britain, Germany, America, Canada and Australia."

Promotional materials indicate that "the archive was assembled just in time, as there are now no surviving veterans, and became a moving book, Forgotten Voices of the Great War, by the historian and journalist Max Arthur. It has now been adapted by Malcolm McKay as a play.



A modern take on Lysistrata. Photo: Christopher Adams' Lysistrata.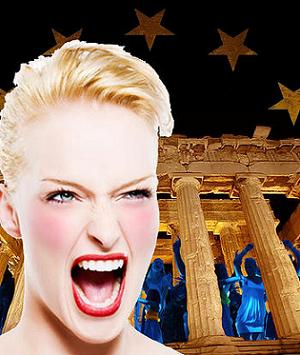 It will open just before the official start of the fringe, running July 30 to August 24 in the Pleasance Courtyard, "with a shifting cast of international guest artists joining the company."

This year's shows also include a portrayal of the late Margaret Thatcher as a drag queen and the mountings culled from lives and work of Andy Williams, Kate Bush and Charlie Chaplin. Jeffrey Holland will star in a solo show about Stan Laurel.

Others on the program include Morgana O'Reilly from the cast of Neighbours, in a one-woman show called The Height of the Eiffel Tower, and Katy Manning, glamorous companion to Jon Pertwee in Doctor Who in the 1970s, in Keeping Up with the Joans. Olivia Poulet, who played spin doctor Emma Messinger in the political satire The Thick of It, will be appearing in a revival of Mark Ravenhill's Hollywood satire Product. Russell Grant is promising a "showbiz extravaganza" at the Gilded Balloon, while Sex Pistols founder member Glen Matlock "will be recalling the beer - and expletive-splattered early days of the band."

As in the past, comedy is a dominate force, capturing over a third of the offerings. Laugh makers appearing will include Rob Newman, Ruby Wax, Jerry Sadowitz, Robert Llewellyn of Red Dwarf and Rab C Nesbitt star Elaine Smith.

The spoken word category includes an appearance by poet Liz Lochhead.

Christopher Adams has adapted and will direct the world premiere of a very loose, modern take on Aristophanes' classic comedy Lysistrata. which is promoted as "dynamic and different" in that it features "a unique angle on sex in that the show is about withholding it; it is often sexy and often sexualized but never both at the same time. The show asks interesting questions on what it is to be a woman in modern society and engage in politics with men who don't respect them. At a stylistic level, the intense cross-casting, with actors gliding between genders, raises substantial questions of what it is to be a man or a woman."








SPREADING THE WORD


WOMEN'S PROJECT THEATER in New York City has announced the appointment of Lisa McNulty to become the Off-Broadway theatre's new Producing Artistic Director. Ms. McNulty, who has been Artistic Line Producer at Manhattan Theatre Club since 2006, will assume her new position as of August 11, 2014.

Interim Executive Producer Jessica R. Jenen, who had stepped in during the transition period after the resignation of Julie Crosby, the theatre's previous Producing Artistic Director, will continue in her current role through September, after which she will join the Board of Directors.

Women's Project Theater accomplishes its mission through two fundamental programs: the Main Stage series, which annually features three off-Broadway productions written and directed by extraordinary women theater artists, and the WP Lab, a two-year mentorship and new play development program for women playwrights, directors, and producers.

With that in mind, Women's Project Theater has announced the participants in its upcoming 2014-2016 Lab program. They are:

Playwrights: Sarah Burgess, Monet Hurst-Mendoza, Martyna Majok, Sharyn Rothstein, Riti Sachdeva.

Directors: Adrienne Campbell-Holt, Lee Sunday Evans, Sarah Krohn, Danya Taymor, Tamilla Woodard.

Producers: Rachel Karpf Reidy, Pearl Kermani, Kristen Luciani, Liz Olson, Rachel Sussman.

Five new members of the Board of Directors are: Sandy Ashendorf, Onute Miller, Atoosa Rubenstein, Jenna Segal and Robin Zarel.

The award-winning Women's Project Theater is the nation's oldest and largest company dedicated to producing and promoting plays written and directed by women, who receive only 20% of the professional opportunities nationwide. Now in its 36th year, Women's Project Theater has produced and/or developed over 600 main stage productions and developmental projects, and published 11 anthologies of plays by women.

FESTIVAL DEL SOLE HONORS SOPHIA LOREN was a sold out event which took place Saturday, July 19, 2014 at the Far Niente Winery in Oaskville, CA.

American composer Daniel Brewbaker presented the tribute Sinfinietta per Sofia concert he was commissioned to write specifically for the evening.

Her son, Maestro Carlo Ponti debuted LA Virtuosi Orchestra with the tribute concert to his mother.

Following the concert was a dinner honoring Loren, hosted by Whoopi Goldberg. Presenters included Francis Ford Coppolla and Robert Redford.

Dinner was orchestrated by Piero Selvaggio and Michael Chiarello to reflect the Ponti family's Italian roots and passion for food, and featured world famous vintages from Far Niente.

The evening included the debut of the LA Virtuosi, an ensemble devoted to the advocacy and support of music education. The musicians performed selections chosen just for the occasion, including the theme from Two Women, for which Loren won her Oscar for Best Actress.

ATLANTA INTERNATIONAL FASHION WEEK showcases Atlanta's elite designers and models in the fashion industry and features runway shows, live entertainment, learning sessions, and networking events.

July 29-August 3, 2014 in Atlanta, GA.

MAGNOLIA SUMMERFEST an annual event for over 50 years, includes the annual Art Show, live music featuring great jazz, folk, pop, rock, brass and vocal groups. There are also merchants, food vendors, arts and crafts booths, pony rides, inflatable rides, clowns and magicians, and a beer garden. And, of course, the Seafair Parade and Kid's Parade. August 1-2 in Seattle, Washington.

BOTANICUM SEEDLINGS Theatricum Botanicum's Development Series for Playwrights has announced their submission window for playwrights is from Sept. 1 – Dec. 1, 2014. Works received during this period will be considered for development and production during the following year. Opportunities through Botanicum Seedlings include GreenReads (for a fresh look at early drafts), playreadings and festivals. Since its inception, the series has been instrumental in the development of over 100 new plays, at least 25 of which have gone on to be published, win awards and receive major productions.

According to Artistic Director Ellen Geer, Botanicum Seedlings is committed to gender parity; the goal is to have 50% or more of the playwrights and directors involved in its public readings be women. Over the past 13 years, 63% of playwrights selected for Seedlings playreadings and 72% of Seedlings directors have been women.

Theatricum Botanicum is located in the Los Angeles area of Topanga Caynon.

PRINCE GEORGE'S VINTAGE BIRTHDAY GIFT the vibrant bundle of royal adorableness, known as Prince George, celebrated his first birthday last Tuesday, Among the presents he received was a magnum of red wine from the Otago Valley in New Zealand, which his parents, Prince William and Duchess Kate visited in April.

According to reports: "It will be laid down in the cellar at Kensington Palace until he turns 18."


OTHER PEOPLE'S MONEY


THE NEW YORK WHEEL an observation Ferris wheel planned for Staten Island that will be the tallest of its kind in the world, "has so far received $150 million from foreign investors, the vast majority from China in exchange for green cards," according to China Daily.

The wheel project, which was approved last Monday by the US Citizen and Immigration Services (USCIS) as an EB-5 investment, "has received $500,000 from each of the 300 Chinese investors," according to the paper.

The EB-5 program provides foreign investors and their families temporary visas if they invest at least $500,000 and green cards if they create at least 10 jobs for US workers within two years through their investment.

The USCIS oversees the EB-5 program and determines which projects qualify for this program.


CURTAIN DOWN


MAMA MIA! which enjoyed a six year run at Mandalay Bay Resort in Las Vegas, didn't do so well the second time around. The hit musical which opened May 16, 2014 at the Las Vegas Tropicana Hotel closes August 3, 2014.



THE VISIT by John Kander and Fred Ebb, based on Friedrich Durrenmatt's dark 20th century play. Book by Tony Award-winning playwright Terrence McNally.

Directed by Tony Award winner John Doyle.

Choreographed by Graciela Daniele.

Starring Chita Rivera.

Rivera portrays Claire Zachanassian, an often-widowed millionairess who pays a visit to her hardship-stricken birthplace. The locals hope she'll bring them a new lease on life, but little do they know her offer to revitalize the town comes at a dreadful price.

Co-starring Roger Rees as Anton with Judy Kuhn, Matthew Deming, Howard McGillin, David Garrison and Nancy Opel.

July 31-Auguse 17 at the Williamstown Theatre Festival in Williamstown, MA.

GREASE Directed and choreographed by Denis Jones.

Musical Direction by Michael Horsley.

One of the most popular shows in Muny history, Grease returns for nine nights in its first Muny production since 2007. Packed with explosive energy, Grease takes you back to a simpler time as "bad boy" Danny and "the girl next door" Sandy fall in love all over again.

Sings include Summer Nights, Greased Lightnin', We Go Together, and Hopelessly Devoted to You.

July 31-August 8 at The Muny in St. Louis.

THE DROWSY CHAPERONE book by Tony Award winners Bob Martin and Don McKellar. Music and lyrics by Tony Award winners Lisa Lambert and Greg Morrison.

Directed by Kevin McKee.

This comedy begins with a man listening to his favorite Broadway show, The Drowsy Chaperone. Magically, as the record spins, the star-studded cast comes to life in his living room and whisks him away on a hilarious adventure that will leave you rolling in the aisles.

This Broadway sensation explodes with darling debutantes, tap-dancing groomsmen, gangsters with a flair for French pastries, and a whole cast of zany characters. A tribute to the dazzling musicals of the 1920's.

July 29-August 28 at the Festhalle Theater in Leavenworth, WA.

MY LIFE IS A MUSICAL Book, Music and Lyrics by Adam Overett.

Directed and Choreographed by Marlo Hunter.

My Life Is A Musical "is a new musical comedy about Parker, who isn't like you or me. When Parker wakes up in the morning and leaves his apartment, he hears people singing, he sees people dancing - and no other person on earth has a clue this is happening. Because Parker's life is a musical. And Parker hates musicals. My Life Is A Musical is Parker's story, as he struggles to hide his predicament from the world, tries to save a rock band, is pursued by a mysterious blogger, and finds love along the way."

An industry only developmental lab was held last December in New York City. A World Premiere July 29-August 31 at the Bay Street Theatre in Sag Harbor NY.

LITTLE WOMEN THE MUSICAL Based on Louis May Alcott's classic 1869 semi-autobiographical novel with a book by Allan Knee, lyrics by Mindi Dickstein.

Directed and Choreographed by Amber Burgess.

Little Women focuses on the four March sisters – brassy, tomboy and aspiring writer Jo, romantic Meg, pretentious Amy, and kind hearted Beth and, of course, their beloved Marmee, at home in Concord, Massachusetts while the family patriarch is away serving as a Union chaplain during the Civil War.

Opening July 29, 2014 with performances through August 21, 2014 at The Round Barn Theatre at Amish Acres, Nappanee, Indiana.

The Round Barn Theatre is northern Indiana's only professional repertory musical theatre company. The acting company is cast from annual auditions held in New York City, Chicago, and Nappanee. Actors live on Amish Acres farm and perform eight shows per week.

HAIR a rock opera with book and lyrics by Gerome Ragni and James Rado and music by Galt MacDermot.

Directed and choreographed by Adam Shankman.

Conducted by Lon Hoyt. Zach Woodlee will serve as associate director and associate choreographer.

Starring Kristen Bell as Sheila, Hunter Parrish as Claude, Amber Riley as Dionne, Jenna Ushkowitz as Jeanie and Beverly D'Angelo as Mom.

Celebrating the hippie counterculture, anti-war movement and sexual revolution of the 1960s with a rainbow score of hits - including Aquarius, Good Morning Starshine, and Easy to be Hard.

August 1-3 at the Hollywood Bowl in Los Angeles.

OPERATION OPERA Written and directed by Michael Mackenzie Wills.

Direct from its Lincoln Center debut, Feinstein's marks the West Coast premiere of this MAC Award-winning show that "delights audiences with virtuoso operatic singing and paralyzes them with laughter, while taking them on an inspiring journey into a world of music and comedy."

"Operation Operas distinctive blend of vintage madness weaves well-known opera arias and their pop-culture counterparts into musical gold. Its Music Hall-style allows it to encompass everything from a night at the opera to a day with Bugs Bunny on the Warner Brothers lot. Due to the current state of the industry, Operation Opera has been actively pursuing new audiences for opera in order to keep the art alive and give it a fresh spin to attract fans both new and old to the magic that is opera," said Wills. "At one point, we demonstrate how accessible opera is by using baseball as a comparative platform, proving that you already understand the basis of opera and there's nothing to be afraid of so go and see an opera!"

July 31-August 10 at Feinsteins at the Hotel Nikko in San Francisco.

REASONS TO BE PRETTY Written by Neil LaBute. Directed by Randall Arney.

Featuring Nick Gehlfuss, Shawn Hatosy, Amber Tamblyn & Alicia Witt.

In Reasons to Be Pretty, Playwright Neil LaBute takes on our ongoing fixation with beauty and one man's inability to say the right thing – ever. When Greg makes an innocuous, off-handed remark about his girlfriend Steph, it triggers a battle by which their relationship will forever be defined.

Scenic Designer: Takeshi Kata - Costume Designer: David Mickelsen - Lighting Designer: David Ionazzi - Sound Designer & Composer: Richard Woodbury - Violence Designer: Ned Mochel - Production Stage Manager: Young Ji - Assistant Stage Manager: Jessica R. Aguilar - Casting by Phyllis Schuringa, CSA.

July 29 - August 31, 2014 Gil Cates Theater at the Geffen Playhouse, Los Angeles.


WHO'S WHERE


MELISSA ETHERIDGE takes the stage for two nights with hits like Come to my Window and I'm the Only One plus tracks from her latest studio album. Conductor Sean O'Loughlin leads the San Francisco symphony sets. July 30-31 at Davies Symphony Hall, San Francisco.

BRUNO MARS continues his tour this week with a stop Saturday, August 2, at the MTS Centre in Winnipeg, CA. Next Sunday, August 3, he's on stage at the Credit Union Centre in Saskatoon, SK.

KISS AND DEF LEPPARD rocking Friday August 1 in Mansfield, Massachusetts at the Xfinity Center. On Saturday the performance is in Atlantic City, New Jersey at Boardwalk Hall. Next Sunday, August 3, in Camden, New Jersey they'll star at the Susquehanna Bank Center.

MONTE-CARLO PHILHARMONIC ORCHESTRA conducted by Kazuki Yamada with Vadim Repin, violin. On the program: Max Bruch and Claude Debussy. Thursday, July 31, 2014 at the Cour d'Honneur, Palais Princier in Monaco.

AEROSMITH headline The Forum in Inglewood, CA on Wednesday, July 30. On Saturday, August 2 they star at the MGM Grand in Las Vegas.

ROD STEWART entertains Thursday, July 31, at the Matthew Knight Arena in Eugene, Oregon. On Saturday the show is at the Rogers Arena in Vancouver, BC.

LIONEL RICHIE on stage Monday, July 28, at the Bell Centre in Montreal, QC, Wednesday's performance is at the Molson Canadian Amphitheatre in Toronto. On Thursday he can be enjoyed at the Midweister Gardens in London, ON. On Saturday he's in the spotlight at the Bethel Woods Center for the Arts in Bethel, NY.

THE NATIONAL have a busy week performing today, Sunday, July 27, at the Paleo Festival in Nyon, Switzerland. On Monday they appear at the Les Nuits de Fourvieres 2-14 in Lyon, France. On Tuesday the show is at the Anfiteatro Del Vittoriale in Brescia, Italy. On Thursday the gig is at the A2 in St. Petersburg, Russia. y open a two nighter Friday' stop is at Arena Moscow in Moscow, Russia.


FINAL OVATION


JAMES GARNER Academy Award nominated actor was found dead in his California home on Saturday night July 19, 2014 the Los Angeles Police said. He was 86.

Garner, who smoked for most of his life, even after open-heart surgery in 1988, had suffered a stroke in 2008.

Best known as the womanizing gambler Bret Maverick in the 1950s western Maverick and the cranky sleuth Jim Rockford in the 1970s series The Rockford Files, began his career as a stage actor, cast in a nonspeaking part in his production of Herman Wouk's Caine Mutiny Court-Martial, which starred Henry Fonda, John Hodiak and Lloyd Nolan. It opened in Santa Barbara and toured the country before going to Broadway, where it opened in January 1954 and ran for 415 performances.

Garner said he learned to act from running lines with the stars and watching them perform, especially Fonda.

Although he claimed to have stage fright he later played Lt. Maryk (the Hodiak role) in a touring company of the play that starred Charles Laughton, but afterward would almost never appear on stage again.

In 1964 he starred with Julie Andrews in The Americanization of Emily which he called his favorite of all his films.

He served in the Army during the Korean War. He was wounded in action twice, earning two Purple Hearts.

Often injured on the job; during the Rockford years, he had several knee operations and back trouble. More seriously, in 1988, he had a quintuple bypass operation, which cost him his job as spokesman for the beef industry.

Garner, a lifelong Democrat who was active in behalf of civil rights and environmental causes, always said he met his wife, the former Lois Clarke, in 1956 at a presidential campaign rally for Adlai Stevenson, though in the book The Garner Files Mrs. Garner said they had actually met at a party earlier. She survives him, as do their daughter, Greta, known as Gigi; and Mrs. Garner's daughter from a previous marriage, Kimberly.















Next Column: August 3, 2014
Copyright: July 27, 2014 All Rights Reserved. Reviews, Interviews, Commentary, Photographs or Graphics from any Broadway To Vegas (TM) columns may not be published, broadcast, rewritten, utilized as leads, or used in any manner without permission, compensation and/or credit.
Link to Main Page
---
Laura Deni



For the snail mail address, please E-mail your request.
CLICK HERE FOR COMMENT SECTION