! >
Broadway To Vegas
  
 SHOW REVIEWS CELEBRITY INTERVIEWS GOSSIP NEWS

| | |
| --- | --- |
| | |
WALTER REED SCANDAL SPAWNS PLAY AND CONVERSATIONS - - BUCKINGHAM PALACE SHOWS OFF THE BANQUET HALL - - TONY AWARD WINNING THEATRE FOLDS - - ROGER REES WHAT YOU WILL - - WHOOPI GOLDBERG STARS IN XANADU - - OUR COUNTRY'S GOOD - - I LOVE YOU, YOU'RE PERFECT, NOW CHANGE CLOSES AFTER 5,003 PERFORMANCES - - QUEEN VICTORIA'S CROTCHLESS BLOOMERS ARE FOR SALE - - DONATE . . . Scroll Down


Copyright: July 27, 2008
By: Laura Deni

CLICK HERE FOR COMMENT SECTION
WALTER REED SCANDAL SPAWNS PLAY AND CONVERSATIONS
The Walter Reed National Army Medical Center (WRAMC) serving more than 150,000 active and retired personnel from all branches of the military. Citizens assumed it dispensed the best possible medical services.

In February of 2007, The Washington Post published a series of investigative articles outlining cases of alleged neglect.

WRAMC's Building 18 is described in the article as rat-and cockroach-infested, with stained carpets, cheap mattresses, and black mold, with no heat and water reported by some soldiers at the facility. The unmonitored entrance created security problems, including reports of drug dealers in front of the facility.

Injured soldiers stated they are forced to "pull guard duty" to obtain a level of security. In an attempt to alleviate the toll that Building 18's condition is taking on the wounded soldiers, a staff team headed by a clinical social worker at WRAMC obtained a grant of $30,000 from the Commander's Initiative Account for improvements; however, "a Psychiatry Department functionary held up the rest of the money because she feared that buying a lot of recreational equipment close to Christmas would trigger an audit."

By January the funds were no longer available.

Although the Post's authors are quick to point out that "not all the quarters are as bleak as" Building 18, "the despair of Building 18 symbolizes a larger problem in Walter Reed's treatment of the wounded. The typical soldier is required to file 22 documents with eight different commands – most of them off-post – to enter and exit the medical processing world, according to government investigators. Sixteen different information systems are used to process the forms, but few of them can communicate with one another. The Army's three personnel databases cannot read each other's files and can't interact with the separate pay system or the medical recordkeeping databases."



Major General George W. Weightman, a U.S. Army Family Medicine physician, had been commander of the North Atlantic Regional Medical Command and Walter Reed Medical Center. He was relieved of his WRAMC command on March 1, 2007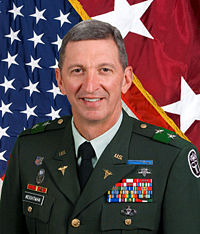 Francis J. Harvey, Secretary of the Army, resigned March 2, 2007 in the wake of the Walter Reed Medical Center neglect scandal. Harvey announced his resignation after being asked to do so by Secretary of Defense Robert Gates.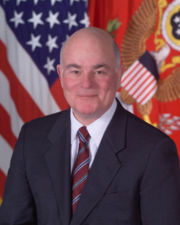 This complicated system has required some soldiers to prove they were in the Iraq War or the War in Afghanistan in order to obtain medical treatment and benefits because Walter Reed employees are unable to locate their records.

A scandal and media furor quickly developed resulting in the firing of the WRAMC commanding general Maj. Gen. George W. Weightman, the resignation of Secretary of the Army Francis J. Harvey, reportedly at the request of Secretary of Defense Robert Gates, the forced resignation of Lt. Gen. Kevin C. Kiley, commander from 2002 to 2004, congressional committee hearings, and commentary from numerous politicians. Several independent governmental investigations are ongoing and the controversy has spread to other military health facilities and the Department of Veterans Affairs health care system.

Addressing that issue in play form is Body Politic written by Jessica Goldberg and directed by Chris Fields.

The mounting of this West Coast premiere at the Echo Theater in West Hollywood will feature an extraordinary series of talkbacks. To further expand on the very provocative themes the play explores, Echo Theater has assembled an amazing roster of guests to discuss the issues the play examines following each Sunday performance.

Body Politic is presented as not just artistically significant, but also socially important. Goldberg's play challenges us to respect various viewpoints about the most important event confronting our country in this decade, it also provokes us to recognize a supremely human issue: our soldiers returning from Iraq. To further engage its audiences Viet Nam veterans, Operation Iraqi Freedom veterans, parents, and health professionals from The U.S Welcome Home Foundation, The Soldiers Project, The Courage Community and VetCo will participate.

The play centers on what happens when screenwriter Wendy Hoffman, is determined to gain access to Ward 57 of Walter Reed Hospital, the ward where soldiers who have suffered cataclysmic injuries in Iraq recover. Captain Gray Whitlock is the Army captain in charge who denies her access. Private Small is a patient on the ward who wants to die. And the studio executive, Eric, just wants a screenplay.

What occurs between all of them, in Jessica Goldberg's Body Politic, is the surprising and poignant story of what can happen when people with deep commitments and beliefs come to recognize each other's humanity.

The schedule for the talkbacks is as follows.

Sunday July 27 - Talkback with R.J. Bonds and Rick Gallavan. Michigan born Bonds was drafted into the army where he served for 2 years, of which 14 months were served in Vietnam from 1968-1969. He was in the 104th Artillery Battery. R.J. was an actor for 25 years. He was a founding member of VetCo, Veterans Ensemble Theatre Company, with whom he performed Tracers at the Public Theater in NYC, the Royal Court in London and in Los Angeles.



Tracers Conceived by John DiFusco. Written by Vincent Caristi, Richard Chaves, John DiFusco, Eric E. Emerson, Rick Gallavan, Merlin Marston, Harry Stephens and Sheldon Lettich. The picture is from the Steppenwolf Theatre production February 1, 1984 directed by ensemble member Gary Sinise. Featuring ensemble members Cary Cole, Tom Irwin, Terry Kinney and Akan Wilderr with Dennis Farina, Afram Bill Williams, Greg Williams and Will Zahrn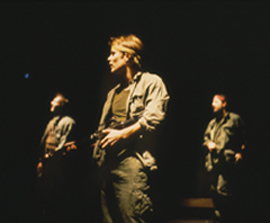 Rick Gallavan is a Vietnam Veteran who spent a year in country from 1967 – 1968. He was an 11 Bravo Infantryman until he was pulled out of Infantry to work in headquarters, where he ended up working in G5 psychological warfare. Rick was an original cast member and co-writer of the play Tracers, which recounts the story of eight veteran's tour of duty in Vietnam at the height of that disastrous conflict through a series of vignettes and soliloquies written - and first performed- by men who were there.

Sunday, August 3 - Confronting the aftermath of war with Carlana Stone and Guests - The Courage Community, which is a non-profit, non-partisan, apolitical, organization, which provides support for our growing veteran population as they return to face a different kind of battle here at home.

Sunday. August 10 - Sema Olson/ Michael Wagner, PhD, retired Colonel from the US Army Medical Service Corps founder of U.S. Welcome Home Foundation.

There are over 1.5 million service men and women that have been deployed to Iraq and Afghanistan, most of whom return with 'hidden wounds' of the mind, heart and soul. The US Welcome Home Foundation was inspired and created from the founders' experience in Vietnam and Desert Storm, and living and working at Walter Reed AMC and Ward 57. The US Welcome Home Foundation takes care of the soldiers and families after the parades and parties are over, after Ward 57; the foundation addresses the social, emotional, and spiritual wounds of war, when the soldier returns home.

Sema Olson stayed in Walter Reed hospital for a year and a half looking after her son Cpl. Bobby T. Rosendahl. Private Rosendahl served in Iraq for 5 1/2 months when his Stryker vehicle drove over an IED (improvised explosive device). During the time she cared for her son, she lost her car, her home and her job. Sema is a co-founder and executive staff member of the U.S. Welcome Home Foundation.

Michael J Wagner was stationed at Fitzsimmons Army Medical Center during the Vietnam Conflict receiving wounded from Vietnam. More recently, he worked at Walter Reed Army Medical Center where he saw 6,000 wounded return from Iraq and Afghanistan and worked with over 3,000 families during his three years at Walter Reed.

Dr. Wagner founded the United States Welcome Home Foundation to assist returning combat veterans reintegrate into their families and communities after their combat duties. Dr. Wagner is the Director of the Warrior Care Initiative at the University of North Texas Health Sciences Center focused on attending to the Hidden Wounds of War, the combat related mental health problems.

Sunday, August 17 - Dr. Judith Broder/The Soldiers Project. The Soldiers Project is a private, independent group of volunteer licensed psychiatrists, psychologists, social workers, and marriage and family therapists that provides free, confidential counseling and support to active-duty soldiers and veterans of the Iraq and Afghanistan conflicts and to their families who are struggling with the effects of deployment, homecoming, and re-entry to civilian life.

The cast of Body Politic will feature: Kristina Lear, Michael James Reed, Samantha Shelton and Jeremy Maxwell. The set design is by Torry Bend. The lighting design is by Ian Garrett. The sound design is by Fionnegan Murphy. The costume design is by Audrey Eisner. Performances . through Sunday, August 24. at the Zephyr Theatre in West Hollywood.
THE RICH ARE DIFFERENT: HOW ROYALTY PUTS ON THE FEEDBAG
Buckingham Palace Ballroom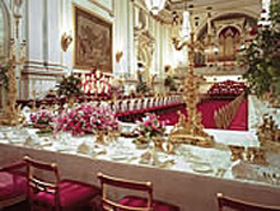 For the first time ever and for this summer only, visitors to Buckingham Palace will experience the spectacle of the Ballroom set up for a State Banquet. Held in honor of a visiting Head of State, the State Banquet is the occasion when The Queen entertains around 170 guests on the first evening of a State Visit. During Her Majesty's reign, 77 State Banquets have been held at Buckingham Palace, 18 at Windsor Castle and two at the Palace of Holyroodhouse. The State Banquet at Windsor for the President of the French Republic and Madame Nicolas Sarkozy on March 26 was the 97th hosted by Queen Elizabeth since her accession in 1952.

At this year's Summer Opening of Buckingham Palace - July 29 to September 29 - the horseshoe-shaped table traditionally used at State Banquets will be set with dazzling silver-gilt from the Grand Service and adorned with magnificent flower arrangements.

Lavish displays of tureens, dishes, ornamental cups and fine English and Continental porcelain will flank the table. Film footage will show the behind-the-scenes work of Royal Household staff, including chefs, footmen, pages, florists and housemaids, who ensure the highest standards of presentation and delivery.



George IV - the guy knew how to throw a party. Portrait by Sir Thomas Lawrence, 1816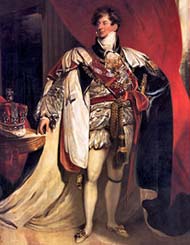 Sumptuous banquets have always been an integral part of royal ceremonies and the traditional way to mark significant occasions, although the style of dining has changed considerably over the last two centuries.

In the field of entertaining, as in so many others, no monarch has rivaled George IV. In 1811, when he became Prince Regent, he famously gave a supper for 3,000 people at his private residence, Carlton House.

The single dining table, which extended the entire length of the building, incorporated a stream with live goldfish. Water issued from a fountain at the head of the table and fell through a succession of cascades into a circular lake surrounded by architectural features.



Waiter sets the table with dazzling silver-gilt from the Grand Service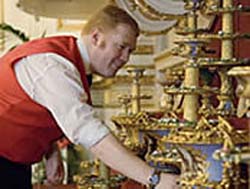 While the displays and menus for State Banquets are now considerably more restrained – guests are typically served one choice for each of the four courses – George IV's spectacular gilt tableware is still used.

The form of today's State Banquet largely dates from the reign of Queen Victoria, who introduced the ceremony of the royal procession before the meal.

Guests are first received by The Queen and the visiting Head of State in the Palace's Music Room and proceed to the Ballroom. The royal procession, led by The Queen and the Head of State, then makes its way to the Banquet, preceded by the Lord Chamberlain and the Lord Steward. Before dinner is served, The Queen proposes the health of her guest, who replies and proposes The Queen's health.

During dinner, a program of music is played by a military orchestra in the gallery, and at the end of the Banquet pipers process around the room. The Queen and the visiting Head of State leave through the West Gallery, and guests move to the State Dining Room and the Blue Drawing Room for coffee.



Lavish displays of tureens, dishes, ornamental cups and fine English and Continental porcelain will flank the banquet table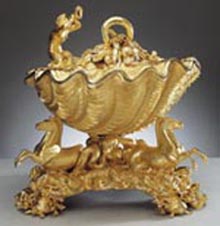 The brigade of twenty chefs, ranging from experienced sous chefs to young apprentice chefs just beginning their careers, is led by Royal Chef Mark Flanagan, who took up his post in 2002. The previous Royal Chef, Lionel Mann, had held his position for 40 years, since arriving in the kitchen as a young man to help cut sandwiches for Princess Margaret's wedding in 1960.

While members of the Royal Household staff are offered a varied menu to meet the changing needs of a large group of people, The Queen chooses every menu personally. The process begins with the forwarding of two possible menus for The Queen's approval. She will choose whichever menu she prefers.

For the November 18, 2003 dinner in honor of President George Bush and his wife, Laura, the menu selected included; consommé, halibut dressed with herbs, chicken flavored with basil and served with Savoy cabbage, roast potatoes and salad, followed by vanilla praline and coffee ice cream.

Those present included members of the Royal Family, Prime Minister Tony Blair, members of the Government, political leaders of the Opposition, Church leaders, diplomats and prominent American dignitaries.



Broadway To Vegas is supported through advertising and donations. Priority consideration is given to interview suggestions, news, press releases, etc from paid supporters. However, no paid supporters control, alter, edit, or in any way manipulate the content of this site. Your donation is appreciated. We accept PAYPAL. Thank you for your interest.


OTHER PEOPLE'S MONEY


THEATRE DE LA JEUNE LUNE the innovative Minneapolis based theatre which in 2005 won the special Tony award for the nation's best regional playhouse shutters on July 31 because of a lack of money.

In a letter posted on their website Bruce Neary Board President wrote that the board had voted: "to list the theatre's headquarters for sale and to shut down the arts group as currently organized. Included in the decision is a planned significant reduction in artistic and administrative staff, effective July 31, 2008."

"We have reached these decisions with great regret; however, our fiduciary responsibilities to our artists, our staff, our donors and our creditors dictate this action. We are listing the building for sale in order to fully satisfy our creditors. The Board is committed to an orderly shutdown, including satisfying all existing rental obligations through September 30, 2008. "

Dominique Serrand the Artistic Director who helped found the theater in 1976 said, "It has been an amazing thirty years. Few theatre companies last as long. We never sought nor desired to be an institution. Our home was always intended to be a playground in which we could gather with other adventurous souls and create the unimaginable. We have benefited enormously from the incredible generosity of this community, and especially all of the artists without whom we would never have survived this long or created as much. We can never thank them enough."


THE QUEEN'S UNDERPANTS ARE FOR SALE


Quick, the smelling salts.



Queen Victoria photographed on the occassion of her Diamond Jubilee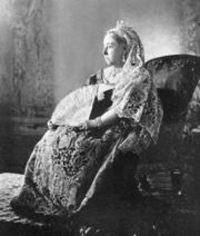 The Queen wore crotchless underpants. And, they go on the auction block July 30. As do some of her other unmentionables - stockings, chemise and a nightdress. The queen who wore them was Queen Victoria. Throwing a spotlight on the intimate dainties allows one to learn that dainty was not a word fit for the queen. At barely 5 feet tall, she had enjoyed entirely too much of the full bodied English cooking and thus developed a full body herself - becoming morbidly obese by her 70's

The underpants, or knickers as they are called across the pond, have a 50-inch waist and date from the 1890s. And - gasp - they are open-crotch whose separate legs were joined by a draw-string at the waist. That may help explain one of the reasons she had nine children. Crotchless panties were first believed to be something only a prostitute would dare to wear, but they became fashionable for all ladies during the late-Victorian Era.

Victoria's other garments are also a testament to her hefty carriage. The chemise has an impressive 66 inch bust and the nightdress is also 50 inch from shoulder to hem - lending credence to the theory that she was almost as broad as she was tall.

Auctioneer Charles Hanson said: "These pants, considering their provenance and pedigree, are very exciting. "They are monogrammed (with VR for Victoria Regina) and crested and we know that they are hers." Vanessa Savage, a textiles expert at Hanson's Auctioneers, said "They may not look too regal at first glance, but their provenance is concrete. All the items are made of a soft, fine cotton and sewn by hand, with fine attention to stitchwork, and the minute sewing would have taken days."

The auctioneers are gearing up for a flood of bids since examples of Her Majesty's underwear, including her stockings, are considered the crowning curiosities for Victoriana collectors worldwide. The knickers are expected to fetch $1,000 and the chemise and nightdress $600 each at a sale in Mackworth, Derby, on July 30.

Queen Victoria lived from 1819 until 1901 and was the UK's longest-reigning monarch. The daughter of Edward, the Duke of Kent and Princess Victoria of Saxe-Coburg, she was born in Kensington Palace in London on May 24th, 1819. On Feb 10th, 1840, only three years after taking the throne, Victoria married her cousin, Prince Albert of Saxe-Coburg-Gotha. Their marriage was one of history's greatest love stories. Together they bore nine children - four sons and five daughters: Victoria, Bertie, Alice, Alfred, Helena, Louise, Arthur, Leopold, and Beatrice.

The Victoria and Albert Museum in London features clothes worn by Queen Victoria and Prince Albert when they were young adults. At that time Victoria was extremely petite with a tiny waist.

As to having her crotchless knickers discussed in public, doubtless she would not be amused.


CURTAIN DOWN


A CATERED AFFAIR which received three Tony nominations closes on July 27, 2008 after 27 previews and 116 regular performances.

The John Bucchino and Harvey Fierstein musical got its start at San Diego's Old Globe before transferring to the Walter Kerr Theatre on Broadway.

I LOVE YOU, YOU'RE PERFECT, NOW CHANGE closes July 27, 2008 20 previews and 5,003 regular performances, making it the second longest-running musical in Off-Broadway history. The Fantasticks had bragging rights to the number-one spot. Music by Jimmy Roberts with a book and lyrics by Joe DiPietro, the show opened at the Westside Theatre Aug. 1, 1996. I Love You has grossed a total of $200 million in world-wide productions.



ROGER REES WHAT YOU WILL hysterical (somewhat historical) gallop through all things Shakespearean: the greatest soliloquies ever written, alongside side-splitting accounts of the funniest disasters ever perpetrated on the stage.

Roger Rees, a member of the Royal Shakespeare Company for 22 years, won both Olivier and Tony awards for his acclaimed performance in The Life and Adventures of Nicholas Nickleby. Television audiences know him as the dashing English tycoon Robin Colcord on Cheers, Lord John Marbury on The West Wing, and Dr. Colin Marlow on Grey's Anatomy. His film credits include The Prestige, Robin Hood: Men in Tights, Frida, and The Pink Panther.

Performances through August 9 at the American Conservatory Theater in San Francisco.

XANADU welcomes Whoopi Goldberg who steps - not roller skates - into the role of Calliope on July 29. The versatile Tony Award winning Goldberg has signed on for a six week run. Zanadu plays at The Helen Hayes Theatre in Manhattan.

AIDA by Verdi. Glorious pageantry, rousing choruses, and a basketful of great tunes elevate the moving tale of forbidden love between general and slave girl in ancient Egypt. The grandest of all grand operas, Aida is also an intensely personal love story overflowing with passions as up to the minute as our own. Verdi's power to translate human emotion into magnificent music was at its zenith when he created this highly original and enjoyable masterwork, arguably the best evening's entertainment he ever devised.

The double cast roles include: Aida: Lisa Daltirus and Ana Lucrecia Garcia. Radames: Antonello Palombi and Rosario La Spina. Amneris: Stephanie Blythe and Luretta Bybee. Amonasro: Charles Taylor and Richard Paul Fink. Ramfis: Luiz-Ottavio Faria and Carsten Wittmoser. The King is played by Joseph Rawley while Priti Gandhi is cast as the High Priestess: The messanger is played by Karl Marx Reyes.

Conductor: Riccardo Frizza. Stage Director: Robin Guarino. Set Designer: Michaek Yeargan. Costume Designer: Peter Hall. Lighting Designer: Robert Wierzel. Choreographer: Donald Byrd. English Captions: Jonathan Dean. Sets San Diego Opera. Costumes: Dallas Opera.

Presented by Seattle Opera with performances August 3, 8, 10, 15, 22, 2008.

OUR COUNTRY'S GOOD by Timberlake Wertenbaker. Winner of the Laurence Olivier Play of the Year Award. Adapted from the novel The Playmaker by Thomas Keneally. Director Michael Booth

Around the same time Mr. Darcy and Elizabeth were prancing at Pemberley- what was happening in that country Down Under?

Will Lieutenant Ralph and the convict Mary break all the rules with their forbidden love? Will Liz Morden be the first woman hung in Australia? Is Governor Arthur Phillip a visionary or madman?

Our Country's Good takes us back to Australia's convict past and tells the true story of the first theatrical production staged by white people in Australia -performed entirely by convicts.

Sydney 1789, Governor Phillip faces the challenge of building a new society out of bitter, resentful officers, and hundreds of thieves, pickpockets and murderers. In an effort to humanize the population, bring some culture to the colony, and provide alternative entertainment to public hangings, the progressive Governor decides to stage a play.

Our Country's Good delves into the amazing true stories from the convict past; it details the forbidden love between a Lieutenant and one of the convict cast members, we meet the now famed Mary Bryant who phenomenally escaped to Timor in a stolen boat, and the colony prepares for its first female hanging.

A wild, haunting and hilarious true story from Australia's neglected history.

Most characters in the play are based on real people who sailed with the First Fleet, though some have had their names changed. In order to portray them accurately Wertenbaker read the journals of First Fleet members.

Featuring Charles Cousins, Jessica Donoghue, Damion Hunter, Nadia Karim, Amy Kersey, Leof Kingsford-Smith, Dale March, Libby Richmond, Chris Rodwell, Adrian Twigg and David Wheeler.

Set and Lighting Design by Sean Pardy & Kris Bird Stage Manager is Ariel Page-De Mars.

Presented by Darlinghurst Theatre Company and The Group Theatre. Officially opened last night with performances through Saturday, August 23. Kings Cross, New South Wales, Australia.

ABOVE THE CALL; BEYOND THE DUTY Written and performed by actor and author James McEachin.

This one-man play opens with the film short Old Glory, written and directed by Mr. McEachin. It introduces "The Old Vet," a ghost who embarks on a journey into his past to don his old uniform and once again salute the American flag. The Old Vet then materializes onstage to perform a series of soliloquies and stories derived from James McEachin's books and audio novels.

The second half of the play opens with a short video about Memorial Day and concludes with selections from VOICES: A Tribute to the American Veteran.

July 29 - 31, Terrace Theater, Kennedy Center for the Performing Arts in Washington, DC.

FELA! with a book by Jim Lewis and Tony Award winner Bill T. Jones who also serves as director and choreographer. The musical based on the life of Nigerian multi-instrumentalist musician and composer, pioneer of Afrobeat music, human rights activist and political maverick Fela Anikulapo-Kuti - or Fela Kuti, as he is widely known. The music is by Kuti, who died of AIDS in 1997. Performances in New York City Off Broadway at 37 Arts from July 29 to Sept. 21.

JENNY & ME

Known for the hundreds of caricatures of show-business celebrities that adorn its walls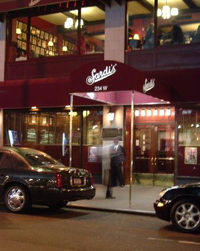 a new musical with Book and Lyrics by Darryl Hickman, music by Peter Matz, and additional music by Steve Lang, will be presented as part of The York Theatre Company's Developmental Reading Series on Monday, July 28.

The cast features Jeffery Coreia, Keith Crowningshield, Harry Danner, Valerie Di Lorenzo, Valerie Fagin, Robert Felbinger, Paul Jason Green, Darryl Hickman, Paolo Montalban. Justin Packard, Elise Tuscano and James Walsh.

The creative team includes Music Director Steven Freeman, Music Supervisor Jack Lee and Director Guy Stroman.

Set in New York City during the Roaring Twenties, jenny & me is the true story of Eugenia and Vincent Sardi, two penniless Italian immigrants who built a restaurant on East 44th Street under the patronage of the most powerful man in the theater, Lee Shubert: he simply couldn't resist the way Jenny cooked his smelts!

With speakeasy-legend Texas Guinan at their side, our heroes defied eviction, bootleggers, and a Mafia Don to turn Sardi's into the most famous theatrical watering hole since The Mermaid Tavern.

There is no admission charge for the York's Developmental Reading Series, which presents over 40 new works annually. The York Theatre Company in Saint Peter's Theatre, NYC.

THE SPIN CYCLE Written by David Rambo. Directed by Rubicon Artistic Director James O'Neil and starring Tony nominee Marcia Rodd, Morgan Rusler, and Rubicon Company member Stephanie Zimbalist.

The comedic three-person play pivots upon the return of a baby boomer to her childhood home - a home in which her mother is still trying to do her live-in adult son's laundry. As the sibling rivals quibble, and all three attempt to "spin" their shared history and tell the story from their point of view, they slowly confront each other's limits, strengths, and the mother's mortality. Among the hilarious antics of the trio, the trials of the baby boomer generation are exposed.

The design team of The Spin Cycle features Scenic Designer Tom Buderwitz, Lighting Designer Nick McCord, Rubicon Resident Sound Designer David Beaudry, Costume Designer Rachel Myer, and Resident Property Designer T Theresa Scarano with production stage manager Linda M. Tross.

Previews begin Thursday, July 31 with the official opening taking place Saturday, August 2. Performances continue through August 24 at the Rubicon Theatre in Ventura, CA.

SWAN LAKE-NATIONAL BALLET OF CHINA one of the world's great ballet companies, is appearing for the first time on the stage of the Royal Opera House, Covent Garden under the artistic direction of Sonia Zhao. Founded in 1959, based on the finest traditions of Russian classical dance, it has become renowned both for its outstanding productions of the traditional classics and for its inspired blending of Chinese culture and history with classical western elements. The Company has toured worldwide, winning international acclaim for its outstanding artistic achievements in Western and Chinese classical and contemporary ballet. Main Auditorium, Royal Opera House, London. July 28, 2008 to July 30, 2008.

TINY FEATS OF COWARDICE

Susan Bernfield cuddling up to a fire extinguisher. Photo by Dixie Sheridan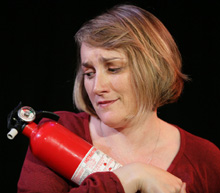 book and lyrics at Susan Bernfield. Music by Rachel Peters. Directed by Daniella Topol. A one-woman musical about writer/performer Bernfield's lifelong love affair…with worry. What starts off as a catalog of fears planes, fire, heights, scuba gear, toasters - soon extends to the less obvious, the more subtle moments in which we find ourselves immobile, hesitant, unable to speak. By exploring fears of all shapes and sizes, but especially the often-contradictory experience of shyness, she demonstrates how fears can hold us back, but also how they make us who we are.

The lighting will be designed by Nicole Pearce. Johnson Henshaw will serve as assistant director. The three-member band will be Scott Ethier on piano, Dan Shuman on bass, and Cesar Vega on drums.

Presented by Precipice Partners as part of the 12th annual New York International Fringe Festival. Performed at The Players Theatre on Friday, August 8; Monday, August 11; Thursday, August 14; Saturday, August 16 and Friday, August 22.




WHO'S WHERE


ROGUE'S GALLERY Pirate Ballads, Sea Songs & Chanteys on Monday, July 28 features Pete Doherty, Baby Gramps, Martha Wainwright, David Thomas, Gavin Friday, Ralph Steadman, Tim Robbins at the Barbican Hall, London.

SA DINGDING recently signed to Universal Records and winner of a coveted 2008 BBC Award for World Music, China's next big export Sa Dingding comes to Harrogate for one of only three UK shows this summer. Already hailed as the oriental equivalent of stars including the ethereal Enya and the fiery Icelandic chanteuse Björk, Sa Dingding fuses Chinese folk melodies played on zheng, bamboo flute and ma tou qin (fiddle) with electric guitars and digital beats. Harrogate International Festival. Friday, August 1, Royal Hall. North Yorkshire, UK.

RODGERS AND HAMMERSTEIN AT THE MOVIES National Symphony Orchestra conducted by Emil de Cou. Toe-tappers abound in this evening of big-screen moments from The Sound of Music, Carousel, The King and I and more, with giant screens in-house and on the lawn. Whether you're looking for "Mr. Snow" or a "Girl Who Cain't Say No," or even a "Surrey with the Fringe on Top", everyone in your family will experience "Some Enchanted Evening!" Friday, August 1 at the Filene Center, Wolftrap, Vienna, VA.

GEORGE MICHAEL on stage Tuesday, July 29, at the Verizon Center in Washington, DC. On Thursday the show is at the Philips Arena in Atlanta, GA. Saturday the performance takes place at the St. Pete Times Forum in Tampa, FL and next Sunday, August 3, he is in the spotlight at the BankAtlantic Center in Sunrise, FL.

COLDPLAY performs Tuesday, July 29, at the Bell Centre in Montreal, Quebec. Wednesday the show is at the Air Canada Centre in Toronto. On Saturday they take to the stage at the XL Center in Hartford, CT. Next Sunday, they are in the spotlight at the Verizon Center in Washington, DC.

EAGLES opens a two night stand Monday, July 28, at the TD Banknorth Garden in Boston. On Thursday the show moves to the Mohegan Sun Arena in Uncasville, CT. On Saturday they will be appearing with the Magnetic Hill Music Festival in Moncton, NB.

BRUCE SPRINGSTEEN opens a three night stand tonight, Sunday, July 27, at the Giants Stadium in East Rutherford, NJ. On Saturday the group takes to the stage at Gillette Stadium in Foxborough, MA.

LYLE LOVETT stars at John Ascuaga's Nugget in Sparks, NV on Tuesday, July 29. On Wednesday he is on stage at the Wells Fargo Center for the Arts in Santa Rosa, CA. Thursday finds him at the Wente Vineyaards in Livermore, CA. On Friday he opens a two night gig at The Mountain Winery in Saratoga, CA.

K.D. LANG is across the pond performing Tuesday, July 29, at The Bridgewater Hall in Manchester, England. On Friday she can be enjoyed at Symphony Hall in Birmingham, England.

CAROL CHANNING IN CONCERT STARRING RICHARD SKIPPER Musical Direction by Jesse Kissell, with a five piece band and back-up singers. In this intimate evening with one of Broadway's greatest treasures, Skipper takes his audience back to a time of clean wholesome entertainment, featuring highlights from two of Channing's greatest hits, Gentlemen Prefer Blondes and Hello Dolly! August 2, at Tim McLoone's Supper Club, Asbury Park, NJ.

CHRIS BOTTI blowing his own horn Saturday, August 2. at Rodney Strong Vineyards in Healdsburg, CA. On Sunday, August 3, he is at the Chateau Ste. Michelle Winery in Woodinville, WA.

EDDIE VEDDER of Pearl Jam is going on a solo tour, beginning Aug. 1. Liam Finn is the opening act. The tour kicks off with a two night gig beginning Friday, August 1 at the Opera House in Boston.

PETER FRAMPTON on stage Tuesday, July 29 at the DTE Energy Music Theatre in Clarkston, MI. On Friday the show is at the Seneca Allegany Casino in Salamanca, NY. Saturday the performance is at the Tropicana Casino in Atlantic City.


FINAL OVATION


BRUCE ADLER

Bruce Adler holding his homemade Valentine - Jacob Hayden Adler - immediately after the boy's birth on February 14, 2007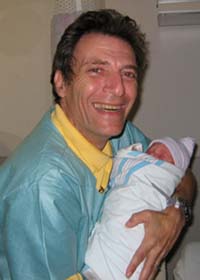 nominated two times for a Tony Award, died in South Florida on July 25 of liver cancer. He was 64.

Adler had been diagnosed with cancer in 2004, but continued to perform. He was last on stage May 19 as the lead in Boca Raton's New Vista Theatre production of I'm Not Rappaport, which was directed by his wife, Amy London.

The son of Yiddish theater stars Henrietta Jacobson and Julius Adler, Bruce Adler was raised on stage - performing since the age of 3. He celebrated his bar mitzvah between the matinee and evening performances of It's a Funny World at New York's National Theater in 1957

Adler starred for four years on Broadway, in the Tony Award-winning Gershwin musical Crazy For You, for which he received 1992 Best Featured Actor in a Musical Tony and Drama Desk Award nominations. Prior to that, his performance in Those Were The Days (1991) earned him a Drama Desk Award as well as a Tony nomination in the same category. He has also been featured in the Disney animated films Beauty and The Beast and Aladdin inr which he sings the opening song Arabian Nights.

Among his many Broadway credits are; Rumors, Sunday In The Park With George, George Abbott's Broadway, Oh, Brother!, and the 1979 revival of Oklahoma!.

Bruce has also starred in regional theatres throughout the country as Willie Clark in Neil Simon's The Sunshine Boys, Fagin in Oliver!, Moonface Martin in Anything Goes, Nathan Detroit in Guys and Dolls, Bill Snibson in Me and My Girl, Hysterium in A Funny Thing Happened On The Way To The Forum, The Cowardly Lion in The Wizard of Oz, Vernon Hines in The Pajama Game, Chief Sitting Bull in Annie Get Your Gun, and Alfred P. Doolittle in My Fair Lady.

He toured extensively in Come Fly With Me, an evening celebrating the work of composer Sammy Cahn, and in his own one-man evening Song And Dance Man which celebrates the artistry of all of his boyhood performing heroes.

Most recently, he appeared in New York at the York Theatre in their production of the musical Enter Laughing which was part of their Musicals In Mufti series celebrating the work of Joseph Stein.

He first met his wife when they were active in Actors' Equity in New York. They married in December 2003 and Adler became stepdad to Emily and A.J., London's children with actor Barry J. Tarallo, which published reports describe as "a supportive friend to both Adler and his ex." With the birth of Jacob Hayden Adler on Valentine's Day 2007, Adler became a first-time dad at the age of 62. He was overjoyed.

Next Column: August 3, 2008
Copyright: July 27, 2008. All Rights Reserved. Reviews, Interviews, Commentary, Photographs or Graphics from any Broadway To Vegas (TM) columns may not be published, broadcast, rewritten, utilized as leads, or used in any manner without permission, compensation/credit.
Link to Main Page
---
Laura Deni


CLICK HERE FOR COMMENT SECTION