! >
Broadway To Vegas
 
  SHOW REVIEWS CELEBRITY INTERVIEWS GOSSIP NEWS

| | |
| --- | --- |
| | |
CABARET CONFERENCE AT YALE - - JULIE ANDREWS DIRECTS - - BOYS TOWN CELEBRATION HONORS ROONEY & TRACY - - B.B. KING HUNTS NEW TALENT - - FASHION ROCKS - -CONNIE STEVENS TREATS MILITARY MAN TO VEGAS SHOW - - ROMANTIQUE - - MY FAIR LADY AT HOLLYWOOD BOWL - - DONATE . . . Scroll Down


BOYS TOWN CELEBRATES 65th ANNIVERSARY; MICKEY ROONEY & SPENCER TRACY HONORED

The movie Boys Town took two weeks to shoot and cost $400,000.

The flick put Boys Town on the map.

Yesterday, July 26th, the 82-year-old actor returned to Omaha, Nebraska to help the home for troubled youth celebrate the 65th anniversary of the 1938 Oscar-winning movie.

Boys Town starred Rooney as a young tough Whitey Marsh, whose life was turned around at Boys Town. Spencer Tracy, in an Oscar winning role, portrayed Father Flanagan.

Waiting at Boys Town to greet Rooney were Tracy's two great-grandsons.

Randa Zalman, a public relation associate with Boys Town, spoke with Broadway To Vegas about the week-end celebration.



Mickey Rooney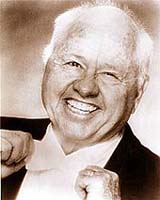 "Mickey Rooney is here as part of our bi-annual alumni convention. Itís something that happens ever other year where we invite past students who have been residents here to come - itís like a family reunion."

"So, Mickey Rooney is the highlight of that part. He is also here to celebrate the 65th anniversary of the movie. Parts of the movie were shown and he addressed his role in it and what it meant to him."

"The Tracy family was here on Friday," said Zalman referring to Spencer Tracy's son John, grandson Joe, and great-grandchildren.



Spencer Tracy with his children Susie and John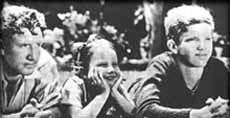 "His son, John, who is 79, was born with Usher's Syndrome. People born with Usher's Syndrome are born deaf and then go blind. So, he is deaf and blind, but he is verbal."

"Interestingly, our research hospital, the Boys Town Research Hospital in Omaha, specializes in Usher's Syndrome," Zalman related.

Usher's syndrome is a form of Retinitis Pigmentosa (RP), with associated deafness. Usher's syndrome is the cause of approximately 10% of all hereditary deafness, with deafness existing at birth or developing soon afterward. The eye symptoms of RP appear later, usually by the age of 10, and start with night blindness. Visual acuity continues to decrease as the child grows older, and may result in complete blindness by midlife.

The study of Usher syndrome is among the most promising research programs underway at Boys Town National Research Hospital. Foremost among the hospital's achievements has been the identification of three of the 10 genes suspected of causing the disorder. Usher syndrome affects an estimated 30,000 to 40,000 Americans. As many as 30 million people may be carriers of Usher genes.



Louise Treadwell Tracy was determined her son would live a normal life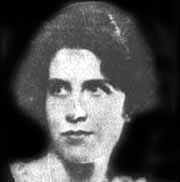 "John was able to really lead a normal life, thanks to his mother," continued Zalman. "She constantly worked with him as a child."

Indeed.

A few months after Louise Tracy gave birth, in June of 1924, to a son they named after his paternal grandfather, the baby was discovered to be deaf. Louise immediately acquired a focused determination that young John would have a full and happy life despite his disability.

That effort paid off not only for John, but in the establishment of the world famous John Tracy Clinic.

"John is a very gifted animator and, for a time, was able to work for the Walt Disney company as an animator. He is a remarkable person," stressed Zalman.

"The Tracy family was here so we could present to them the first brick in what will be our Wall of Fame," she continued. "The wall will be loacted in the front of our museum. That first tile honors Spencer Tracy for his work in the film Boys Town."

"After the ceremony John visited our hospital and went on a tour of the research facility."



Father Flanaghan House. Photo Credit: Girls and Boys Town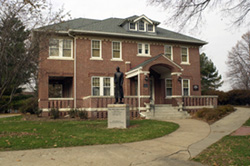 "One of the fun activities Saturday morning was Mickey Rooney and our current executive director, Father Val Peter, arriving on a bus in front of Father Flanaganís house on campus. They reenacted the movie scene of Whitey Marsh coming to Boys Town with Father Flanagan."

"It was quite the event," she emphasized. "Girls and Boys Town youth were there to greet them. Then, in another twist to that, the Tracy family stayed over until Saturday so that Spencer Tracyís two great-grand sons Sean, 11, and Shane, 8, were they to greet Mickey and Father Peterís arrival. It was great!" she exclaimed.



Spencer Tracy, Father Flanagan and Mickey Rooney. Photo Credit: Girls and Boys Town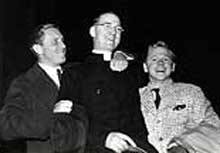 "The reenactment was closed to the public. It was an alumni only event."

"Itís absolutely fantastic and people have been so supportive," she reiterated. "Itís such an exciting atmosphere to be able to recreate it and meet the people actually involved with the movie - which basically helped get Boys Town on the map."

"On Saturday we had a plaque dedication with Mickey Rooney. They had the presentation at the actual building in which Mickey Rooney, in his character as White Marsh, was elected mayor. The plaque specifically highlights that fact. The plaque will put on the building. It was kind of a neat ceremony."

Mickey Rooney was also appointed honorary mayor for life here. He was presented a proclamation by our current mayor, student Daniel Ocanto. The proclamation stated that Mickey Rooney is mayor of Girls and Boys Town for life."



Boys Town. Photo Credit: Girls and Boys Town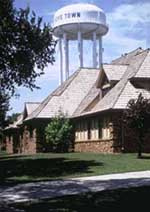 Boys Town was founded just west of Omaha in 1917 by the Rev. Edward Flanagan. Today there are about 500 residents both boys and girls. "Itís about 48 percent girls," explained Zalman. "We renamed the organization in 2000 because we were getting so many girls. They are definitely from all over the United States."

"Father Flanagan's dream is still part of the big screen of life for thousands of children and families who utilize the organization's services," said Father Peter, Father Flanagan's successor and national executive director of Girls and Boys Town. "We thank Mickey Rooney and members of Spencer Tracy's family for helping us celebrate the success of Father Flanagan's dream in 1938 and today."

"I'm just proud to be a small part of Boys Town," stated Rooney.

Father Flanagan's Girls and Boys Town, a nonprofit, nonsectarian organization, is a leader in the treatment and care of abused, abandoned and neglected girls and boys. In 2002, a record number of children - 37,984 - received help, healing and hope from Girls and Boys Town's direct care programs at 19 sites in 14 states and in the District of Columbia. More than 450,000 children and families were helped through the Girls and Boys Town National Hotline, and more than 1.1 million more were served through outreach and professional training programs last year.

NOTE: The John Tracy Clinic offers a Correspondence Learning Program for Parents of Young Deaf-Blind Children. This is a home-study course for parents of deaf-blind children from birth to age six. Services are free. The John Tracy Clinic is at 806 West Adams Boulevard Los Angeles, CA 90007. The phone number is (213) 748-5481.


INTEREST PEAKS FOR JULIE ANDREWS' DIRECTORIAL DEBUT


Julie Andrews is launching a new career - as a director. She couldn't feel more at home.



Graphics by Tony Walton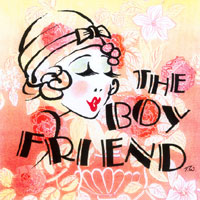 She is helming a new production of The Boy Friend, the play in which she starred on Broadway in 1954.

The location is Sag Harborís acclaimed Bay Street Theatre, whose co-artistic directors are Sybil Burton Christopher and Emma Walton. Christopher was married to Richard Burton, who co-starred with Andrews in Camelot, and Walton is Andrews' daughter. Sets and costumes by Tony Walton. He Andrews' ex-husband and Emma's father.

It's a built in support system, even though Andrews doesn't need one. Nobody doubts that Andrews could direct this with her eyes closed.

The ticket buying incentive is to be a part of something involving the beloved Julie Andrews. Fans would follow her into a well, or into the theatre which is staging this delightful musical.

This new production of Sandy Wilsonís musical comedy, The Boy Friend stars Veanne Cox, Nancy Hess, Sean Palmer, Meredith Patterson and Tony Roberts.

A musical comedy set in the Roaring '20's at a school for perfect young ladies on the French Riviera, The Boy Friend follows the story of an ingenuous debutante who is desperately seeking a beau. The score includes classic songs such as Wonít You Charleston With Me?,and Itís Never Too Late to Fall in Love.

With lights by Eric Schlobohm, musical direction by Larry Grossman and choreography by John DeLuca, the cast also features: Justin Bohon, Joyce Chittick, Andrea Chamberlain, Jenny Fellner, Rick Faugno, Delphi Harrington, Byron Jennings, Mark Price, Annie Ramsey, and Wayne Wilcox.

Tuesday Talkback, where the audience can participate in a post-performance discussion with company members, takes place August 12.

Opens August 5th with performances through August 31st at Sag Harborís Bay Street Theatre.


HEADLINERS: THE FUTURE OF MUSIC SERIES
B.B. King playing Lucille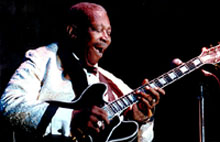 Legendary entertainer B.B. King is using his B.B. King Blues Club in Manhattan to launch a series aimed at developing unsigned recording talent.

On Monday nights this fall, new unsigned artists will perform their original compositions before a live audience, as well as a panel of celebrity judges.

The winners will be awarded a slot opening for one of the major artists appearing in the main showroom plus a headlining slot in Lucille's Bar & Grill.

In an announcement King emphasized, "Anyone with a decent voice can sing, I Will Always Love You or Kiss From A Rose. But whatís more real than an artist performing original material written from their heart and inspired by their lifeís experiences?"

The artists and their original material will be carefully selected from all genres of music with a slant towards the more commercial aspects of those genres.

"Weíre looking for artists who have songs and performers who know how to command a stage - For they are truly the future of music," said King.

Mail Demo CD's to The B.B. King Blues Club in New York City. All Materials must be postmarked by August 15th. Do not call them. They will contact you before September lst if your Demo is chosen for Headliners.


CABARET CONFERENCE AT YALE UNIVERSITY
Erv Raible

An intensive nine-day teaching program is offering aspiring cabaret artists an inside look at this specialized - and many times misunderstood - live performance arena.

This unique event takes place August 1-10 on the Yale campus. The Cabaret Conference at Yale University and was developed by Erv Raible, Executive Director of Cabaret & Concert Artists International and co-founded the Manhattan Association of Cabarets & Clubs, in conjunction with the Yale School of Drama/Yale Repertory Theater.



Tovah Feldshuh

Entertainment professionals will guide thirty-six students in classes and lectures covering cabaret performance technique, acting for singers, lyric interpretation, focus and concentration, act structure, act writing, material research, and comedic development, to musical director and director relations, arranging, orchestration, composer/lyricist relations, maintenance of the vocal instrument, and image consultation.

They will also examine the importance of act presentation through club relations, marketing, press and public relations as well as the technical language of light and sound, representation, booking, management and personal networking; with an emphasis on integration into the live entertainment community.

At the Cabaret Conference Curtain Call, August 9, the graduates will perform an evening of three, one-hour cabaret acts at Yale's University Theater.



Composer Carol Hall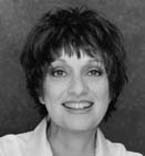 The conference has an impressive faculty: Tovah Feldshuh, Carol Hall, George Hall, Julie Halston, Lina Koutrakos, Marilynn Lovell Matz, Sally Mayes, Erv Raible, Fred Voelpel, Thommie Walsh and Julie Wilson.

The piano faculty includes Tex Arnold, Christopher Denny, Rick Jensen, Jeff Klitz, and Shelly Markham.

The conference consultants/lecturers include:Light and sound technician Matt Berman, Shirley Callaway vocal coach, critic John Hoglund, and Michael Kerker ASCAP, Director of Musical Theater and Cabaret.



Amanda McBroom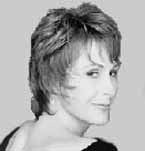 As an added plus, several of the bold name faculty will offer concerts, which are open to the public.

On Aug. 2 Tovah Feldshuh will perform Tovah: Out of Her Mind on a double bill with cabaret legend Julie Wilson.

The Cabaret Conference Faculty Concert is scheduled for Aug. 3 featuring performances by Tovah Feldshuh, George Hall, Carol Hall, Rick Jensen, Jeff Klitz, Lina Koutrakos, Marilynn Lovell Matz, Sally Mayes, Amanda McBroom, Erv Raible, Paul Trueblood and Julie Wilson.



Jason Graae from Cabaret to 6 Feet Under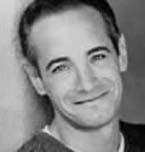 2 Women U Should Know is the title of the Aug. 7 concert, which features Marnie Baumer in Animato in G: A Tribute to Women in Animated Film and Pam Tate singing Something Wonderful.

Jason Graae and Sally Mayes will take to the stage on August 8: Graae has titled his show An Evening of Self-Indulgence and Mayes will perform The Story Hour.

Participants, including one from Las Vegas, were selected through auditions held in: Boston, Chicago, Los Angeles, Minneapolis-St.Paul, New York, San Francisco, and Washington, DC. Click for a list of those making the cut

Conference sessions will be held in the facilities of the Yale School of Drama/Yale Repertory Theater, including the University Theater and the recently opened New Theater.



Broadway To Vegas is supported through advertising and donations. Priority consideration is given to interview suggestions, news, press releases, etc from paid supporters. However, no paid supporters control, alter, edit, or in any way manipulate the content of this site. Your donation is appreciated. We accept PAYPAL. Thank you for your interest.


SWEET CHARITY


FASHION ROCKS is set to fuse the high-profiled worlds of fashion and music with an explosive charity event hosted by Liz Hurley, scheduled to take place October 15th at Londonís Royal Albert Hall.

Elton John, Victoria Beckham, Bryan Ferry and Robbie Williams headline. David Bowie will be beamed into the show by satellite.

Created in aid of The Princeís Trust and organized by Clear Channel, Fashion Rocks promises to be a catwalk presentation like no other.

With director David Mallet at the helm, the event will showcase catwalk collections accompanied by live music from a star performer.

Top designers taking part include Alexander McQueen, Calvin Klein, Chanel, Chloe, Dolce & Gabbana, Gucci, Julien Macdonald, Matthew Williamson, Stella McCartney and Versace.

Sir Tom Shebbeare, chief executive of The Prince's Trust, said: "Fashion Rocks is a hugely exciting fundraising event for The Prince's Trust, a charity has helped 450,000 young people have a second chance at life since it was established in 1976.

Tickets for the event are on sale.



MY FAIR LADY

Melissa Errico as Eliza Doolittle a role she played on Broadway opposite Richard Chamberlain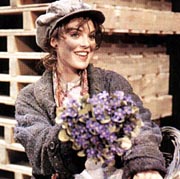 a staged reading starring John Lithgow as Prof. Henry Higgins, Melissa Errico as Eliza Doolittle, Roger Daltrey as Alfred P. Doolittle, Paxton Whitehead as Colonel Pickering, Kevin Earley as Freddie Eynsford-Hill, Lauri Johnson as Mrs. Pearce and Rosemary Harris as Mrs. Higgins takes center stage at the Hollywood Bowl on August 3rd.

John Mauceri conducts the Hollywood Bowl Orchestra for the company which includes; Jody Ashworth, Brooke Aston, Chad Borden, Larry Cedar, Nikki Crawford, Melissa Driscol, Eddie Driscoll, Andy Ferrara, Phil Gold, Henry Graham, Seth Hampton, Richard Israel, Diana Kavalis, Linda Kerns, Frank Kopyc, Robert Lauder Jr., Roy Leake Jr., Don Lucas, Bets Malone, Robert Marra, Claci Miller, Jill Morrison, Joanne O'Brien, Jindra Payne, Robert Pendilla, Tracy Powell, Barbi Lynn Rinks, Johanna Sapakie, Wayne Scherzer and Carol Swarbick.

Book and lyrics by Alan Jay Lerner; music by Frederick Loewe; directed by Gordon Hunt.

My Fair Lady is based on George Bernard Shaw's Pygmalion. The original Broadway production opened at the Mark Hellinger Theatre on March 15, 1956 and enjoyed a run of 2,717 performances. The original production featured Rex Harrison as Henry Higgins and Julie Andrews as Eliza and won nine Tony Awards, including one for Best Musical.

When the production opened one British scribe wrote: "not comparable with other hit American Musicals, for lack of songs capable of solo release."

"The musical My Fair Lady would not be what it is today without Vic Damone," asserted Geoff Littlefield, who segued from working in the diplomatic service to starting his own PR and Image Consultancy firm in Great Britain, where My Fair Lady is playing through August 30 at the Drury Lane Theatre. "In the 60's the producers wanted to remove the song On The Street Where You Live," said Littlefield, who added. "Because Vic had such a big hit with it they decided to leave it in."

Damone's waxing of On The Street Where You Live was a multi-million seller.

The My Fair Lady score also contains such Broadway classics as I Could Have Danced All Night, Wouldn't It Be Loverly? and Get Me to the Church on Time.

The 1964 film version starred Rex Harrison, Stanley Holloway and Audrey Hepburn

My Fair Lady, in a staged concert adaptation, Sunday, August 3rd at the Hollywood Bowl, California.

AVENUE Q this off Broadway hit involving puppets - think social satire crossed with R-rated Sesame Street - transfers to the John Golden Theater opening July 31.

The musical, set in New York City, is about a group of young people - one being a Princeton college grad who moves to New York City and immediately gets laid off from his job. Attention getting songs include; Everyone's a Little Bit Racist and The Internet is for Porn. Based on a concept by Robert Lopez and Jeff Marx; music and lyrics by Lopez and Marx; book by Jeff Whitty. Directed by Jason Moore. Opens July 31.

STARLIGHT EXPRESS with music by Andrew Lloyd Webber. A feel good musical for the entire family. A story of hope and a story of love, filled with thrills, stunts and roller-racing action about The "Little Engine That Could." July 29 - August 3 at the Starlight Theatre in Kansas City.

PRIDE AND PREJUDICE By Jane Austen, adapted for the stage by James Maxwell, revised by Alan Stanford and directed by Joe Dowling, officially opens at the Guthrie Theatre in Minneapolis on August lst.

The production stars Barbara Bryne as Lady Catherine de Bourgh. The cast includes Bianca Amato, Erin Anderson, Julian Bailey, Robert O. Berdahl, Raye Birk, Jennifer Blagen, Virginia S. Burke, Cheyenne Casebier, Laura Esping, Bard Goodrich, Matthew Greer, Summer Hagen, Richard S. Iglewski, Heather Kendzierski, Tracey Maloney, Lee Mark Nelson, Alex Podulke and Sally Wingert.

John Lee Beatty is the set designer. Mathew J. LeFebvre costume designer. Kenneth Posner lighting designer. Scott W. Edwards sound designer. Tom Linker musical consultant. Carla Steen dramaturg. Marcela Lorca movement. Gillian Lane-Plescia voice and dialect consultant.

Previews began Saturday. A Pre-Play Symposium takes place tonight, Sunday, July 27. Post play discussions occur on Sunday, August 10, Tuesday, August 12, Sunday, August 17, and Saturday, August 30.

Officially opens on August lst. Guthrie Theatre in Minneapolis.

ROMANTIQUE

Stephanie Zimbalist (George Sand), Hershey Felder (Chopin), and Anthony Crivello (Delacroix) at Sand's estate in Nohant, France. Photo: Kati Mitchell, A.R.T.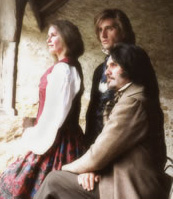 A world premiere from the creators of George Gershwin Alone! by Hershey Felder - directed by Joel Zwick & Andrew Robinson.

Starring Stephanie Zimbalist as George Sand, Hershey Felder as Chopin and Anthony Crivello as Delacrox.

Composer Frťdťric Chopin - authoress George Sand - painter EugŤne Delacroix. Three of the most celebrated figures of the nineteenth century - and close friends.

Romantique transports the audience to a fateful evening in 1846, when Delacroix visited Chopin and Sand, who were lovers for nearly a decade, at Sand's country estate outside Paris. Combining Delacroix's emotional art, Sand's revealing stories, and Chopin's greatest music, Romantique illuminates one of the most dramatic moments in these artists' lives.

August 1-17 at the American Repertory Theatre, Conn.


| | | |
| --- | --- | --- |
| | | |
WHO'S WHERE


BRUCE SPRINGSTEEN AND THE E-STREET BAND in a two nighter Friday and Saturday at the Gillette Stadium in Foxboro, MA.

JAZZ IN JULY AT THE 92nd STREET Y a salute to the early music of Benny Goodman takes place July 29. Licorice Schticks, a jazz clarinet hootenanny, slated for July 30, will be a virtual Clarinet Bash with an array of clarinetists, all swinging with host Dick Hyman, who is the artistic director of the series.

Complementing the music is an exhibition of 62 jazz photographs by Hank O'Neal, including images of luminaries like Dizzy Gillespie, Cab Calloway and Clint Eastwood. Through July 31, the 92nd Street Y in the Big Apple features a host of notable performers in a series of concerts highlighting the best of New York jazz.

MICHELLE BRANCH performs Tuesday at the SBC Center in San Antonio, Texas. On Wednesday the show is at the Compaq Center in Houston. Friday finds the singer on stage at the Alltel Arena in North Little Rock, Arkansas and on Saturday she's be singing songs from her new album Hotel Paper at The Pyramid in Memphis.

JOSH GROBAN joins the Boston Pops for Film Night. Conductor John Williams leads the Boston Pops with special guest Groban in an evening of his celebrated work for film, including new music from Harry Potter and the Chamber of Secrets and Steven Spielberg's Catch Me If You Can. Tanglewood August 2nd at the Koussevitzky Music Shed in Lenox, MA.

CONNIE STEVENS wraps up a three night engagement tonight in the 500-seat showroom of the SunCoast Hotel in Las Vegas. This engagement marked a return to headlining in Las Vegas for Stevens after an absence of 14 years. Cheering her on was her Number One fan, grandson Holden.

Also enjoying the performance was a 31-year-old soldier and his wife who were treated to a Las Vegas vacation by Stevens. The military man stepped on a land mind while serving in the mid-east. The lady who starred on Broadway with Anthony Perkins and Dick Benjamin in Neil Simon's Star Spangled Girl, and founded the Forever Spring empire, is a fervent supporter of the U.S. military.

KRISTIN CHENOWETH & BAND Tony award winner sings classic songs of the 20's, 30's and 40's, accompanied by Rob Fisher and the Coffee Club Orchestra. Saturday August 2 at Guild Hall in East Hampton, NY.


PIFFLE AND PROFUNDITIES


WE ARE SHOCKED Liza Minnelli and husband David Gest have split.
















Next Column: August 3, 2003
Copyright: July 27, 2003. All Rights Reserved. Reviews, Interviews, Commentary, Photographs or graphics from any Broadway To Vegas (TM) columns may not be published all or in part, broadcast, rewritten, utilized as leads, or used in any manner without permission, compensation/credit.
Link to Main Page
---
Laura Deni


CLICK HERE FOR COMMENT SECTION