! >
Broadway To Vegas
  SHOW REVIEWS     CELEBRITY INTERVIEWS     GOSSIP     NEWS 
| | |
| --- | --- |
| | |
Copyright July 25, 1999
By: Laura Deni
CLICK HERE FOR COMMENT SECTION

TRUST FUND HEIR DIES IN SQUALOR

When Will Rogers died more than 64 years ago in a plane crash in Alaska, the Cowboy Philosopher was mourned by the world


WILL ROGERS; His life story was made into a Broadway musical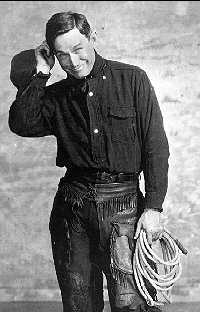 When his grandson, with a $500,000 trust account, was found dead in a cheap boarding house bathroom, few noticed.

Descendants learned about the death of Carlos Rogers, 47, through news reports.

Carlos, son of the late Will Rogers, Jr., was found dead June 29 in the bathroom of a boarding house in Loraine, Ohio where he lived in a single room, cluttered with empty beer bottles and clothes strewn around the room.

Police said he had a half million dollar trust fund.

"I didn't see any bugs or roaches, but it was filthy," police Lt. Robert Poli reported. According to published reports the preliminary cause of death was listed by the coroner as uknown-natural.

Carlos Rogers was adopted as a young boy by Will Rogers, Jr. and his wife, Collier, who lived in Tubac, Ariz. The couple adopted another son, Clem, reportedly a police officer in Arizona.

James Rogers, Carlos' uncle, told The Oklahoman that his nephew had owned a restaurant in Arizona in the 1980s but apparently became depressed after the death of his father. He lost touch with family and last year his wife and son moved to Quebec.

Carlos followed them to Canada, but then visited with a childhood friend in Cleveland.His landlord said Rogers moved into the boarding house in February, working in construction and temporary jobs.

Lorain County Coroner Paul Matus said Rogers has been drinking heavily and coughing up blood. His body was cremated and his remains sent to his family in Arizona.



WILL ROGERS MEMORIAL IN OKLAHOMA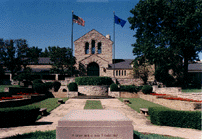 Greg Malak, acting director of the Will Rogers Memorial in Claremont, OK, told the press that it appears "Carlos Rogers and his father had a troubled relationship. In fact, Will, Jr., although he had an interesting life on his own, was uneasy with his role as the son of the beloved celebrity." Malak added he believed Will, Jr. "was in his 60s before he came to terms with his own identity." Will Rogers, Jr. died in 1993 after a career in movies, newspapers and politics.

His father - who never met a man he didn't like - was often called the heart, soul and conscious of America. He was born on a ranch near what is now Claremore, Ok in 1879. As a young man he toured the world as a trick roper in traveling rodeos. He performed in vaudeville in NewYork and with the Zeigfield Follies. His humorous comments of world affairs, presidents, royalty and the news of the day while twirling the rope, made him famous.



A MULTIPLE TONY AWARD WINNING PRODUCTION
The 1991 Broadway show Will Rogers Follies, book by Peter Stone and music by Cy Coleman with lyrics from the pens of Betty Comden and Adolph Green, was a multiple Tony Award winner.

Now making the rounds on a national tour, the original production starred Keith Carradine as Will and Dee Hoty as Betty Blake, the lady who would become his wife.

The talented James Whitmore turned his Will Rogers U.S.A. one man show into a remarkable30-year run, which surprised Whitmore more than anyone else. "I didn't anticipate I would be doing it after the first show. I had no confidence in myself. But I always had confidence in Will Rogers. When I came out there on-stage, the genius of the man came out with me," Whitmore had explained when he performed his show in Las Vegas.

Rogers' boyhood home is now the Will Rogers Memorial. After living in Beverly Hills, CA Rogers bought 150 acres, later expanded to over 300, and built a small cottage. In 1928 Will, Betty and their three children moved to the ranch, which had 11 bathrooms. It is now known as The Will Rogers State Park, in Pacific Palisades, Ca.




CALIFORNIA HOME featured a stuffed cow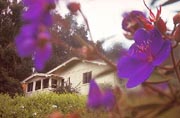 It is where he lived until his death in August 1935. Visitors can tour portions of the 31 room rambling ranch house, and see a film of Rogers' life. The conversation piece in the living room is a stuffed cow he used for lasso practice. The cow was a gift from a friend who tired of Rogers' habit of lassoing his dinner guests. The stuffed cow prompted Rogers to quip he was "without a doubt the best dead cow roper in the world."

Rogers enjoyed practicing rope tricks inside the house, but the low ceiling interfered, so he raised the roof and added a second story.

The original house had no dining room because Rogers loved to eat outside on the patio. He even built his own portable barbeque. An outdoor fireplace kept the family and guests warm on cool nights. Ahead of his time in many respects, his bathroom had a shower equipped with rows of circular pipes for an all-body shower and massage.

The Will Rogers State Park in Pacific Palisades is open daily except Thanksgiving, Christmas and New Years.


LOSS OF EYE MEANT ARTISTIC VISION


World renown glass artist Dale Chihuly, 57, whose multi million dollar chandelier graces the lobby of the Las Vegas Bellagio hotel turned tragedy into creativity.
Most people wouldn't consider losing an eye a career move. At first, neither did Chihuly.



CHIHULY CHANDELIER graces the lobby of the Bellagio Hotel, Las Vegas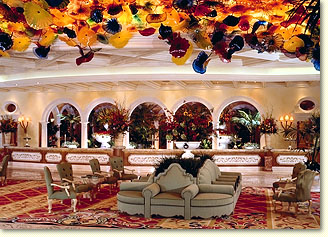 Until l966 Chihuly was a weaver. He labored on an Alaskan fishing boat earning tuition to enroll in the first graduate program in glass in the United States, at the University of Wisconsin. Under the tutorage of Harvey Littleton, considered the father of contemporary studio glass, Chihuly learned his craft.

Things were going well for the budding molten glass designer. Things changed.

In 1976 he was in England when an automobile accident occurred. The artist required 156 stitches in his face and he lost the sight in his left eye. That meant he could no longer work with molten glass because he could no longer judge distances.

Undaunted that he needed to develop a new career, the creative genius became a "director" instructing the gaffers, or glassblowers, in the hot shop as they blew the pipe. He used the constraints of his eyes to open his mind and began creating and designing. He experimented with vivid, saturated colors such as cadmium red, cobalt blue and purple. He once experienced a dream in which he used all 300 colors in the glassblower's palette. He awoke obsessed. The result was the "macchia" series, after the Italian word for "spotted," featuring large multicolored vessels with contrasting wraps around the rim.

His work emphasis organic forms with asymmetrical pieces looking like huge clam shells or flower petals.

Recently Chihuly installed "Chihuly: In the Light of Jerusalem" at the Tower of David Museum in Israel, covering the ancient structure with 10,000 pieces of hand-blown glass.

An exhibit simply called "Dale Chihuly: Installation is showcased at the Mint Museum of Craft and Design in Charlotte, N.C.

A companion exhibit, "Dale Chihuly: New Work" followed, opening this weekend at Charlotte's Jerald Melberg Gallery. Chihuly was on hand for a gala fund raiser for the crafts museum. To bring in the millennium he'll light up a bridge in Tacoma, Wash, his hometown. In the meantime he's lighting up the lobby of the Bellagio Hotel in Las Vegas.


JAZZ IT UP

The joint is jumpin' with sounds of New Orleans jazz, swing and ragtime. The 15th annual Jazz in July Festival is swinging in a six-concert gig at the 92d Street Y in New York City.



PRESERVATION HALL JAZZ BAND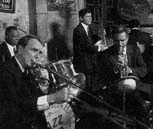 The festival kicked off with "Bob Haggart s South Rampart Street Parade," a tribute to Haggart, the bassist and arranger who died in 1998.

Last Thursday it was "Swing Piano," and on July 26 it's "Saxophone City." They'll be ragtime from "The Time of the Titanic" on July 27, jazz version of "September Song" on July 28 and the Preservation Hall Jazz Band is the finale on July 29.

The Preservation Hall Jazz Band has been on a cross country July tour which kicked off July 2 in Wisconsin, headed to California before shaking the roof off at the West Hampton Beach, NY Country Playhouse last Saturday and the following day knocking em dead at the Westport County Playhouse in CT.


JOHN DREW THEATRE STAGES PROBLEM CHILD
Pictured (left to right):CHRISTOPHER BURNS and TASHA LAWRENCE featured in Problem Child PHOTO BY: Carol Rosegg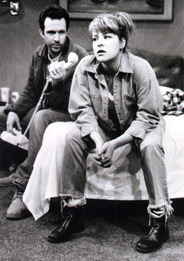 Problem Child by George F. Walker, who has been called "the most prolific and celebrated English language playwright in Canadian history, will be directed by Daniel DeRacy.
It's a Runyonesque mix of colorful losers. A troubled couple await a call from the social worker who will decide whether they get their baby back from state custody.

Starring in the production: Christopher Burns, Kathleen Goldpaugh, Mark Hammer and Tasha Lawrence.

The Tony and Drama Desk nominated Willow Cabin Theatre Company is one of three innovative New York theatre companies that will bring their distinctive style to the Drew Stage. The others are The LAB Theatre Co and the Africa Arts Theater Co.

The Monday evening play reading series will focus on the artistry of the actors: the power of the voice, gestures, and inflection. Problem Child will be read Monday, August 2 at the John Drew Theater, East Hampton, N.Y.


A SERENDIPITOUS REUNION

Nine original members of the Serendipity Singers will reunite on August 14 at the Celebrity Theater in Branson, Mo., for a one night stand - their first live concert performance since 1966

The Serendipity Singers helped define folk music of the 1960s. The group was founded by Brian Sennet, who was influenced by The New Christy Minstrals.

Their career was launched when they made their debut in 1964 on the ABC-TV show Hootenanny. Their infectious music resulted in the Grammy nominated Don't Let The Rain Come Down, and the novelty tune Beans In My Ears.

The Serendipity Singers agreed to reunite as part of the Fifth Annual Cruisin' Branson Lights Festival, an event which attracts thousands of auto enthusiasts to an exhibit of vintage restored cars.

Bryan Sennet, Mike Brovsky, Brooks Hatch, John Madden, John Arbenz, Bob Young. Lynne (Weintraub) Kline, Tommy Tiemann, and Diane (Decker) Poddick - will play their own acoustic instruments, just as they did originally.

Coupled with the intricate vocal harmonies which helped turn the group into folk icons, the Serendipities will recreate the sound and feel of a 1960s folk music concert.


NATIONAL SEARCH FOR THEATER DIRECTOR

Bill McHale producer/director of the Country Dinner Playhouse, Denver, has announced he will retire when his contract expires next April.

Called the "heart and soul" of the Country Dinner Playhouse, he's produced and directed 181 Playhouse shows seen by 4.5 million in 12,000 performances. He is a recipient of the Tajiri Award for theater achievement.

A national search is being conducted for his successor. It has not yet been decided whether the theater will continue as an Equity house.



Broadway To Vegas is supported through advertising and donations. Priority consideration is given to interview suggestions, news, press releases, etc from paid supporters. However, no paid supporters control, alter, edit, or in any way manipulate the content of this site. Your donation is appreciated. We accept PAYPAL. Thank you for your interest.



CATS the longest running show on Broadway purrs into Las Vegas for performances Sept. 7-12, MGM Grand.

KAT AND THE KINGS London's 1999 Oliver Award winner for Best New Musical begins preview performances August 6, Cort Theatre, NYC.

VOICES IN THE DARK a thriller starring Judith Ivey begins previews Aug. 1 at the Longacre Theater, NYC.

SANDY DUNCAN stars as murderess Roxie Hart in Kander and Ebb's musical, Chicago at the Performing Arts Center, Tulsa, OK - through August 1. Co-starring as Hart's partner in crime, Velma Kelly, is former Oklahoman Deidra Goodwin, making her debut return to her home state in this national touring production.

CHILDREN OF EDEN a musical retelling of the Book of Genesis getting rave reviews. Being staged in Charlotte, N.C. at the Pease Auditorium by the CPCC Summer Theatre.

THE ASCOT THEATRE, LITTLETON, COLO used as the grief counseling center following the Columbine high School heartache, is staging The Unsinkable Molly Brown through August 31. During intermission "Titanic desserts" are served in the courtyard. In the cast is Helen Beniger McKinney, one of the great-granddaughters of Molly Brown. A special part was written for her. She portrays her own great-great grandmother - Molly Brown's mother.


WHO'S WHERE


BOB NEWHART brings his button down mind to Casino Magic, Bossier City, LA July 29-30.

THE VIENNA BOYS CHOIR August 3 at the Van Wezel Performing Arts Center, Sarasota, Florida.

KATHLEEN CHALFANT finishes her magnificent run in Wit on August 8th and hurries home to see her son get married. On Aug. 10 Judith Light will step into the part of a woman dying of ovarian cancer.Union Square Theatre, NYC.

ANDREW MC CARTHY slides into Side Man, Golden Theatre, NYC.

PETULA CLARK getting well deserved rave reviews for her starring role in Sunset Blvd. Petula is on a cross country tour with the production. The Los Angeles engagement was a strong one.

FLORIDA INTERNATIONAL FESTIVAL continues through Aug 8, featuring the London Symphony Orchestra with various artists offering concerts in numerous Daytona, Florida locations.

'N SYNC have changed their MGM Grand Las Vegas dates from September 17-18 to November 26-27.

RICKY MARTIN who has been knocking about the music business for years and suddenly turned into an overnight success - sold out in less than three hours for his Las Vegas date.


THIS AND THAT


SOAP OPERA FESTIVALS, INC. presented by Joyce Becker brings The Young and the Restless stars J. Eddy Peck, Cole Howard, Christian La Blanc, and Michael Baldwin to Casino Magic, Bossier City, LA on July 31 to get up close and personal with the fans.

JERMAINE JACKSON his wife and Steve Manning, president of the Michael Jackson Fan Club, accompanied by an entourage of eight Jackson children and friends, showed up in Las Vegas to attend the July 16th early performance of the Splash production show at the Riviera Hotel. A portion of the show includes tributes to Janet Jackson and Michael Jackson. Following the show the Jackson party went backstage where the Jackson children talked incessantly about the motorcycle riding segment. Jermaine has long ties to the Riviera Hotel. He once recorded a duet - When The Rain Begins to Fall - with Pia Zadora, who was then the wife of the Meshulam Riklis, who owned the Riviera.

GREAT TEXAS MOSQUITO FESTIVAL gets a buzz on July 29-31. The fun event is devoted to the pest with mosquito-calling, costume and mosquite-legs contests. Call (402)265-8392

MEET BEHIND THE MOBIL STATION at Kennebunk, Maine for the Kennebunk Farmers Market lectures and demonstrations. No word on whether Former President George Bush and his Barbara will participate in the fill-up and fun event. The ex-prez always summers at Kennebunkport, across the road from the port less Kennebunk.The difference between Kennebunk and Kennebunkport is that the "port" has the water and the other has the Mobil station.


Mention BROADWAY TO VEGAS for Special Consideration
Call (800) 942-9027









Next Column: August 2, 1999
Copyright: July 25, 1999. All Rights Reserved. Reviews, Interviews, Commentary, Photographs or Graphics from any Broadway To Vegas (TM) columns may not be published, broadcast, rewritten, utilized as leads, or used in any manner without permission, compensation and/or credit.
Link to Main Page
---
Laura Deni




For the snail mail address, please E-mail your request.
CLICK HERE FOR COMMENT SECTION