! >
Broadway To Vegas
  SHOW REVIEWS     CELEBRITY INTERVIEWS     GOSSIP     NEWS 
| | |
| --- | --- |
| | |
Copyright: July 22, 2001
By: Laura Deni
CLICK HERE FOR COMMENT SECTION

THROWING THE BULL AROUND
From long running hit television series to the recent Broadway revival of Annie Get Your Gun, Americans have been fascinated by the wild West.

Most cannot do as Billy Crystal did in City Slickers and sign on for a working dude ranch vacation. But, annually millions of people with a hankering for the pioneer spirit- abet with indoor plumbing - trek to various "old west" reenactments.

The granddaddy of them all is taking place this week in Cheyenne, Wyoming.

The first Frontier Day was held in 1897, long before the word "rodeo" was even used. Saddle bronc riding was the featured event, although they called it "bucking and pitching" in those days.

Today, Cheyenne rodeo spectators are treated to more cowboy, bronco, bull, steer, and calf action every afternoon -- over 40 bucking bulls and over 70 saddle and bareback broncos in each performance -- than they would likely see during the entire run of another rodeo -- and it all takes place in the biggest rodeo arena in the West.

More than 1600 contestants will compete for a purse of over $750,000 - the largest purse in professional rodeo.

Called the "Daddy of 'em All," it's a phrase coined in 1919 when Cheyenne gained worldwide recognition for having the biggest and best rodeo in the West. The locals still enjoy the bragging rites.

Events Include: Steer Wrestling, Steer Roping and Senior Steer Roping, Saddle Bronco, Rookie Bronco Riding, Calf Roping, Bull Riding, Bareback, Bronco, Wild Horse Race, Barrel Racing, and this year marks the addition of Team Roping. If you don't know what that is - it's when cowboys rope muley cattle and those critters are cattle without horns.


BROOKS AND DUNN and LEEANN WOMACK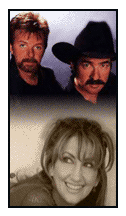 The entertainment on stage is as varied and top notch as the rodeo. Performers include; Brooks and Dunn, LeeAnn Womack, Kansas, Survivor, REO Speedwagon, Toby Keith, Chris LeDoux, Clay Walker, Lonestar, 3 Doors Down, and Bryan Adams.

Cheyenne Frontier Days celebrates its western heritage with a town complete with merchants, craftspeople, and artisans. Visitors can experience the old frontier style, while learning about daily life and work in 19th century Cheyenne.

The week long hoot-a-nanny also showcases a world-class western art show and sale, a renowned museum that has the American West on display with color filled, authentic examples of Native American art and culture.

There are also free pancake breakfasts that attract tens of thousands of hungry visitors. The Grand parades feature one of the world's largest collections of horse-drawn vehicles

Across the border into Utah the Old West Wellsville festival, celebrating its 30th anniversary this year, takes place July 27-Aug 4.

You can milk a cow or help build a log cabin with hands on exhibits in the American West Heritage Center, which provides a living-history look at the past on its 160-acre site in Wellsville.

Guides at the various locations help the visitors learn why people lived as they did, what they ate, the skills they used and what was important to them.

The center has a number of venues, including a Pioneer Settlement, showing life between 1845-70; a Frontier Town, 1870-1900; and the Jensen Historical Farm, interpreting the years between 1880-1917.

During the festival, other historical villages are established: a Native American Encampment, focusing on 1820-80; a Mountain Man Area, 1822-40; a Military Encampment, 1863-90.

The new Shoshone Encampment was dedicated in June and is the first part of what will eventually be a complete American Indian village. That is an important addition, since it is the only place in all of North America where you'll find American Indians showing their culture as it was in 1835, before contact with white settlers.

The Shoshone Indians, also known as the Snake Nation, occupied areas both east and west of the Rocky Mountains. Unlike the bands west of the Rockies, which lived in roofless grass huts and hunted fish, birds and rabbits, the Shoshones in the east and north lived in tepees and hunted buffalo.

The festival worked closely with members of the Northwest Shoshone tribe, which has curated and written the text for the artifacts exhibit in the Interpretive Center. That display includes the story of the 1863 Bear River Massacre event, when Col. Patrick Connor and his soldiers wiped out a settlement of 200 Shoshone men, women and children.

An authentic shelter of branches and leaves has also been built, where members of the tribe will demonstrate and share aspects of their culture. They are also working on a buffalo hide-covered teepee.

Spokespeople for the Shoshone tribe's involvement in this project indicate they hope this will be a place of importance to their people, enabling their children to know how their mothers and grandmothers grew up, and the importance of family and tradition.

In the early 1800s, the Shoshone were a nation of semi-nomadic gatherers, hunters and fishermen who lived in small extended-family groups. They traveled with the changing seasons and visited the valley that the Heritage Center now overlooks. "It is not about surviving but about the things that helped us survive: family, respect, values."



WILD WEST SHOW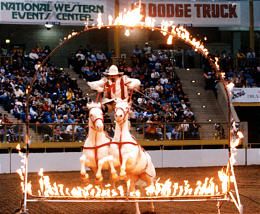 For those who think a Wild West Show went the way of the nickel cup of coffee, listen up.

The Great American Wild West Show stampeded into Salt Lake City this week-end for the first time, during the Days of '47 celebration.

This touring show, which is separate from the Days of '47 Rodeo, takes a page right out of the history books by re-creating much of the old Buffalo Bill Wild West shows of more than a century ago.

It has toured all across the United States including the opening ceremonies at the National Finals Rodeo last December in Las Vegas, and is a consistent favorite at Denver's annual National Western Stock Show and Rodeo, where they have sold out for four years and counting, said the show's producer Don Endsley.

Endsley started the Wild West show five years ago when he saw that a lot of the acts for this kind of show were becoming a dying breed. "Some of favorite parts of the old rodeos were the trick riders and ropers," Endsley said. "Later those things got taken out as rodeo became a sport. I wanted to bring back a show that's strictly entertainment."



PAULA SALETNIK as Annie Oakley
To put this show together, Endsley recruited Paula Saletnik, a world champion gun spinner, to play Annie Oakley. He also hog tie J.W. Stoker, a 72-year-old world-champion trick roper and National Cowboy Hall of Fame inductee from Texas, who has performed with legendary cowboys Roy Rogers and Gene Autry.

Of course, nothing stays exactly the same with revivals. One main difference between this Buffalo Bill show and the original is the feel of a big Broadway production with lighting effects and non-stop action, Endsley said.

Another change from the old to the new is the treatment of American Indians. Gone are the massacres and re-enactments of Custer's Last Stand. The Wild West revival acknowledges the importance of American Indians in the West and has traditional dances as part of the show.

The production then moves to on for performances July 24 & 25, at the Sonoma County Fair, Santa Rosa, CA.



Broadway To Vegas is supported through advertising and donations. Priority consideration is given to interview suggestions, news, press releases, etc from paid supporters. However, no paid supporters control, alter, edit, or in any way manipulate the content of this site. Your donation is appreciated. We accept PAYPAL. Thank you for your interest.


WANNA BE A PRODUCER? INSTEAD, OWN THE THEATER

It getting tougher and tougher to make a living in the glam world of show business. It's not easy to turn a profit. In far too many instances, there isn't even a light at the end of that break even tunnel.

For decades people have been crabbing that ticket prices are skyrocking, yet the people still ante up for the ducats.

Somebody is making money.

If people are singing I Want To Be A Producer.... perhaps what they should be chanting is - I Want To Be The Person Who Owns The Theater

Seussical was a loss for its investors, marking the first time in their 30 year career that producers Fran and Barry Weissler had to face investors without a shekel to give them for their efforts. In an attempt to recoup, the Weisslers intend to take, Seussical on the road and turn the production into a movie.

Before Bells Are Ringing closed, the checks bounced.

To keep up the venues in New York most theaters have tacked on a $1.00 maintenance fee to tickets.

If you think Broadway is expensive, you ought to check out Las Vegas.
Shows such as O at the Bellagio, Siegfried and Roy $150. at the Mirage, Mystere is $88 at Treasure Island and Danny Gans at $74.25, also at the Mirage, are always sold out.

Back in the good old days when folks like to recall how the Mob ran the place and knew how to treat people, Las Vegas was a town for grown ups and entertainment was a lost leader. The performers - mostly handsome, male, tuxedo wearing ballad singers or a handful of male comedians who were really "story tellers" as opposed to punch line comedians, signed long term contracts from the hotels.

They were booked by their appeal to the ladies, either the gamblers wife, or his just introduced best friend for the night.



Robert Goulet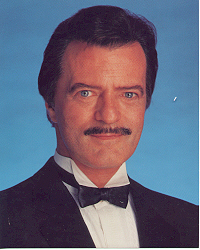 Enter Robert Goulet. Handsome, tuxedo clad, ballad singer who was enjoyed not only by the ladies but also by their escorts. The showrooms weren't expected to make a profit. The entertainers were the equivalent of a grocery store's lost leader. Dress em up, put them in a prominent display and entertainment point of purchase people turn into casino play customers.

Then Vegas got kid friendly, people stopped dressing up to go out, hotels were owned by corporations where bean counters determined that every department had to pay for itself. No more lost leaders.

Entertainment also changed. Selling out and getting a standing ovation has more to do with strobe lights, vibrating sound and puberty infused ticket buyers, bankrolled by their credit card carrying parents. To add insult to injury the old guard - those guys who could communicate lyrics and sing on key - started dying off or losing their notes.

Goulet is still handsome and can still delight a crowd- but to do that the crowd has to be there.

Under a lease arrangement Goulet is currently starring at the Venetian Hotel in Las Vegas that has on the bill entertainer Paige O'Hara, best known as the voice of Belle in Beauty and the Beast, all backed the Vincent Falcone Orchestra.

If nothing else, that guy who was Lancelot opposite Julie Andrews and Richard Burton on Broadway in Camelot is persistent and has courage.

The singer, who has recorded 60 albums, was one of the first performers to bankroll himself at a Vegas hotel. He played the Dunes Hotel for nine months investing his own money without a hotel guarantee. That was a success and opened the door for hotels to suggest that other entertainers do the same.

Vegas started two-walling and then four-walling the entertainment rooms. Hotels how lease their entertainment venues. With stockholders to answer to the hotels will get their money. The people who end up receiving the Cliff note version of a business course - is the entertainer.

Goulet knows for any entertainer to use his own money is a high risk proposition. Goulet's renting the Aladdin Hotel in 1991 folded, followed by lawsuits.

Now the personable Goulet is facing problems at the Venetian Hotel, which leased their 745 seat showroom out to a company that then subleases.

Goulet says that this time his own money isn't invested. That means the people who have bankrolled Goulet get paid before he does.

The estimated rental: $15,000 per show or $90,000 per week. Before Goulet sees a penny in his pocket, the bills must be paid - to the ticket brokers, the performers and musicians, lights, sound and advertising.

The chances of Goulet making one cent on this deal is just about zero. Slated to run until September 2, rumors are flying that the show will close early. Tickets were originally priced at $78-$88. Then dropped to $75. Two for one offers have been generated in hopes of boosting sales.

This isn't Goulet's fault. He's a dynamite entertainer. He's one of the last of the really great male ballad singers who can deliver a lyric on key, with delightful patter between selections. It may also be a signal of an end to a another type of Las Vegas entertainment - gone the way of the dinner show, the Rat Pack and the glamour era of Las Vegas.

The venues are now huge, the productions loud, with some top ticket selling performers who can sing only because of the sound mix board.

As a comparison, what follows is a random sample of Broadway shows that are of a musical or comedy nature. Many have or intend to play Vegas. The statistics for last week are provided by the League of American Theatre and Producers.

42nd Street at the Ford Center doing 86.2% capacity with an average ticket price of $68.14; A Thousand Clowns starring Tom Selleck at the Longacre at 62.5% capacity with an average ticket price of $40.63; Annie Get Your Gun at the Marquis with 71.0% capacity with patrons paying an average of $50.37; Cabaret at Studio 54 with 96.1% capacity with customers forking over an average of $56.11; Kiss Me, Kate at the Martin Beck with 64.7% capacity and ticket holders shelling out an average of $55.29; Les Miserables at the Imperial with 79.5% capacity and folks paying an average of $50.47; The Full Monty at the Eugene O'Neill did 91.6% capacity with patrons dolling out an average of $70.11; The Lion King at the New Amsterdam with 101.1% with tickets averaging $69.85; The Music Man at the Neil Simon with 84.2% capacity, with showgoers paying an average of $60.03; The Phantom of the Opera at the Majestic at 81.3% capacity paying $60.92; The Producers at the St. James at 101.0% capacity with those lucky enough to get tickets happily shelling out an average of $77.26; The Rocky Horror Show at Circle in Square with 92.1% capacity with tickets averaging $48.54.

SIEGFRIED AND ROY reach a major milestone tomorrow when they perform their 5,000th live show at the Mirage.in Las Vegas. The "Magicians of the Century" also mark their 20,000 live performance worldwide and can count more than 20 million audience members who have attended their Las Vegas productions. That seems to mean that within a very short period of time every single person in the world will have seen them perform at least once.

THE RAT PACK IS BACK a tribute show a legendary time in Las Vegas history with Steve Lippia as Frank Sinatra, Rick Michel as Dean Martin, Doug Starks as Sammy Davis, Jr., and Mark Cohen as Joey Bishop, celebrates their 500th performance at the Sahara Hotel, Las Vegas tomorrow, July 23. In honor of that they are offering $5.00 tickets.

THE DONKEY SHOW celebrated its 600th performance at Club El Flamingo in New York City on July 21.



LES MISERABLES is looking for a lot of good people - two entire casts and crews, to be precise. If your secret wish has been to belt out I Dreamed A Dream and then live that dream on stage - this is your chance.

The year 2005 will be the 20th anniversary of the show and there will be two special productions to celebrate this fact. In must the same fashion in which many cities have community Messiah productions. Les Miserables will stage two productions that are composed of fans - and it's not too soon to get your name on the call board.

There will be one production in Chicago and one in London. Apply to the one closest to you.

It's not just actors and singers are that needed - we're talking an entire production - and that means musicians, set designers, costumers all the way down to gofers.

Les Miserables has been seen by over 40 million people worldwide in 27 countries and in 16 languages, Les Miserables is the world's most popular musical. There have been 31 cast recordings of Les Miserables. Still storming the barricades, the current national tour takes center stage at the Marcus Center - Uilhein Hall in Milwaukee, Wisconsin July 25 to Sunday, July 29.

AND THEN THERE'S BEA starring Bea Arthur July 24-29 at the Helen Hayes Theatre in Nyack, NY.

THE LAST NIGHT OF BALLYHOO Summer Theatre, Spirit Lake, Iowa. July 24-29.

CRIMES OF THE HEART by Beth Henley, starring Sandy Duncan continues at The Cape Playhouse in Dennis, MA through July 28.

FOOL MOON starring David Shiner opened last Friday in the Geary Theatre, San Francisco. The production runs through August 12. The design team for Fool Moon includes Douglas Stein (sets), Bill Kellard (costumes), Nancy Schertler (lighting) and Tom Morse (sound). Shiner is also currently filming the HBO production of The Laramie Project.

THE CHERRY ORCHARD stars Kevin Kilner as Lopakhin, Peter Donat is Gayev and Mia Dillon plays Varya with Marsha Mason as Madame Ranevskaya in this production. Tom Moore directs. Opened last night with a run through August 5. Santa Fe Stages at the Lensic Performing Arts Center in Santa Fe, NM.

ART by Yasmina Reza, which has enjoyed a long-run in London's West End, at Wyndham's Theatre, will have its 19th cast change this week. Taking over on July 31 are Judd Hirsch, as Marc, Richard Thomas as Yvan and Joe Morton as Serge - all of whom have previously been in the comedy. The London production was translated by Christopher Hampton and directed by Matthew Warchus.

DAME EDNA THE ROYAL TOUR in Dallas, Texas at the Fair Park Music Hall July 24 - July 29.

THE WITCHES OF EASTWICK John Dempsey and Dana P. Rowe and is based on the novel by John Updike and the Warner Bros. Motion Picture is currently at the Prince of Wales Theatre in London.



CLARKE PETERS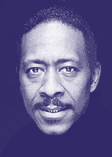 The production has a new cast and a press night was held last Thursday. Clarke Peters, who recently starred as Billy Flynn in Chicago on Broadway has returned to the West End to star as Darryl Van Horne.

Josefina Gabrielle has stepped into the role of Alexandra and Rebecca Thornhill the part of Sukie. Olivier Award-winning actress Joanna Riding remains with the production starring as Jane.

Lucie Arnaz and Maria Friedman, who played Alexandra and Sukie, left the production at the end of June at the completion of their contracts. Arnaz, who celebrated her 50th birthday on July 17, will be joining her brother, Las Vegas area resident Desi Arnaz, in participating next week in events that commemerate the birthday of their late mother, Lucille Ball.

Produced by Cameron Mackintosh, orchestrations are by William David Brohn, musical supervision by David Caddick, musical direction by David White, sound design by Andrew Bruce and lighting design by Howard Harrison. The show is designed by Bob Crowley, with choreography by Bob Avian and Stephen Mear, and the director is Eric Schaeffer.


WHO'S WHERE

NEIL DIAMOND July 27 in New York, NY performing on the Today Show. ( See Broadway To Vegas column of July 20, 1998 )



NEIL DIAMOND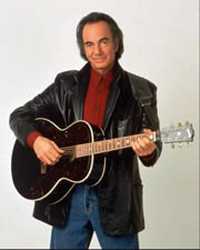 Diamond is also the next artist featured on A&E's Live By Request, which will air live on Saturday, July 28 from Sony Music Studios in Manhattan. During the concert, hosted by Mark McEwen, Diamond will take song requests via a special 800 phone number. Fans can also log onto livebyrequest.com to join the official webcast, e-mail song requests, post messages and more.

Diamond has written such hits as Cracklin' Rosie, You Don't Bring Me Flowers, Song Sung Blue and Heartlight.

MICHAEL FEINSTEIN July 24 in Brevard, NC at the Brevard Music Center

TONY BENNETT tonight in Pittsburgh, PA at Heinz Hall, Then on Wednesday the crooner performs in Portland, ME at the Cumberland Civic Center. On Friday he's center stage in Columbus, OH at the Polaris Amphitheater

BRIAN SETZER COMEBAK 68 TOUR July 24 in Pittsburgh, PA at Club Laga. Then it's on to Cleveland, OH for a Wednesday gig at the Odeon Concert Club. On Friday the group is in Dayton, OH At the Courthouse Square. The following night they're in Chicago, IL at the House Of Blues

MADONNA with rumors swirling around that she is fighting with her husband crosses the pond to open her North American segment of her tour. New York City has her and Madison Square Garden is the place. Reportedly there are no comp tickets and celebrities are being sent bills for the tickets that assumed were free. She opens Thursday and the engagement runs through July 31.

DESTINY'S CHILD July 24 in Hershey, PA at Hershey Park Stadium On Wednesday they are in Buffalo, NY at the HSBC Arena. On Friday they'll be starring in Paso Robles, CA at the California Mid-State Fair They close out the week Saturday in Atlanta, GA in the Philips Arena

JOURNEY tonight are in the spotlight in Tinley Park, IL at the Tweeter Center. On Tuesday it's Morrison, CO at the Red Rocks Amphitheatre. Then they head on down the road for an engagement the next night in Colorado Springs, Colorado at the World Arena. On Friday the tour stops in Maryland Heights, MO for a Riverport Amphitheatre show and the weeks closes on Saturday in Bonner Springs, Kansas. Standstone Amphitheatre.

WHOOPI GOLDBERG after an absence of over a decade returns to Las Vegas, opening July 25 at the Paris Hotel & Casino Her X-rated show runs through July 29.

ENGELBERT HUMPERDINCK performs July 27 in Chautauqua, NY at the Chautauqua Amphitheater. On Saturday Enge is in the spotlight in Cohasset, MA at the So. Shore Music Circus.

THE LETTERMEN harmonizing July 26 for a private engagement at the River Run Lodge in Sun Valley, ID

BETTY BUCKLEY July 27 and 28 at the Bottom Line in New York, NY

JOHN LEGUIZAMO July 24 - Shubert Theatre in Boston, MA July 28 - James L. Knight Center in Miami, Florida.

TOM JONES on July 26 performs in London, UK at Hyde Park. Then swivel hips has a two nighter Saturday and Sunday in Cardiff, UK at Cardiff Castle.

LUTHER VANDROSS who has lost 140 pounds take aerobics and step classes and even takes his step instructor on the road with him. He'll bring his slimmed down body and magnificent voice to Foxwoods Casino in Mashantucket, CT on July 27 and 28.

DONNA McKECHNIE Tony-winner for her original Cassie in A Chorus Line opens Tuesday at Arci's Place, NYC. It's her first cabaret outing in over 15 years. She'll be performing a retrospective on Michael Bennett, Gwen Verdon, Bob Fosse, Frank Loesser, Stephen Sondheim, et al. She's in for three weeks. Don't miss.


PIFFLE AND PROFUNDITIES

THEY DON'T INTEND TO LAY AN EGG West County Theater Arts Guild is looking for singers for the chorus of a new production on the history of the Jewish chicken ranchers of Petaluma,CA.

No, this is not a joke. Even Patti LuPone once raised chickens in Connecticut.

The play will be produced in October at the Spreckels Theater in Rohnert Park.

Director is Pauline Pfandler; music director is Sonia Tubridy.

The Dorothy Rohnert Spreckels Performing Arts Center, a city-owned and operated facility, is considered the North Bay's premier performance venue.

The $8 million facility opened its doors to the public in April 1990. Since then over 2500 arts events have been staged in its two performance spaces, the 550 seat Nell Codding Theatre and the versatile Bette Condiotti Experimental Theatre. The facility totals 37,000 square feet and was built exclusively for dance, music and theatrical performances.












Next Column: July 29, 2001
Copyright: July 22, 2001. All Rights Reserved. Reviews, Interviews, Commentary, Photographs or Graphics from any Broadway To Vegas (TM) columns may not be published, broadcast, rewritten, utilized as leads, or used in any manner without permission, compensation and/or credit.
Link to Main Page
---
Laura Deni



U.S. Postal Address: Post Office Box 60538, Las Vegas, NV 89160
CLICK HERE FOR COMMENT SECTION