! >
Broadway To Vegas
  
  REVIEWS INTERVIEWS COMMENTARY NEWS

| | |
| --- | --- |
| | |
THE PEER GYNT FESTIVAL - - JOHNNY BASEBALL - - THE LEGEND OF SLEEPY HOLLOW WORLD PREMIERE - - CANNON ROCK SESSION - - GREAT TEXAS MOSQUITO FESTIVAL - - BETTY BLUE EYES - - SEVEN COME ELEVEN CD REVIEW - - THE NATIONAL CLEVELAND-STYLE POLKA HALL OF FAME - - DONATE . . . Scroll Down




Copyright: July 21, 2013
By: Laura Deni
CLICK HERE FOR COMMENT SECTION


THE PEER GYNT FESTIVAL
Peer Gynt from the Festival. Photo: Gundersenogmeg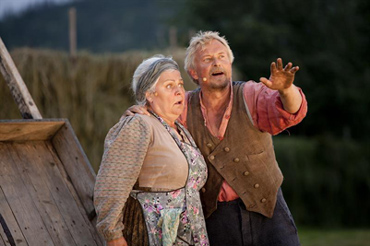 Named after Ibsen's famous character, the Peer Gynt Festival, which features some 30 events in 15 different locations in and around Vinstra in the Gudbrandsdalen Valley of Norway, aims to bring Ibsen's work to a larger audience.

Events include theatre, concerts, art exhibitions, literary lectures, stand-up comedy performed by both professionals and amateurs, and wilderness hikes. Much of it takes place outdoors, with the Norwegian landscape providing a suitable backdrop for Ibsen's work.

This year the Festival takes place August 1-10.

The first Peer Gynt Festival was held in 1928, to commemorate the 100th anniversary of the birth of Henrik Ibsen.

The festival is based on the idea of a meeting between the two - Per and Peer – and aims to give visitors a unique cultural adventure, by embracing the known and the unknown, the local and the international, as well as the traditional and contemporary.

Peer Gynt by Henrik Ibsen is Norway's top National Drama. Edward Grieg's music helps elevate the text dimensions to the optimal Norwegian experience.

The Peer Gynt Festival celebrates this magical play with dance and concert performances, art exhibitions, literature and other artistic events.

Henrik Ibsen's story about Peer, the impoverished young man, show-off and adventurer has inspired audiences and tugged at their heartstrings the world over. What does it mean to be oneself? With the Gudbrandsdal scenery as a background, and with Edvard Grieg's music, the outdoor performance of Peer Gynt at Lake Gala is the nearest you will get to Henrik Ibsen's "original" Peer Gynt.

A five act play in verse. Peer Gynt loosely based on the fairy tale Per Gynt. Peer Gynt has also been described as the story of a life based on procrastination and avoidance. Ibsen wrote Peer Gynt in deliberate disregard of the limitations that the conventional stagecraft of the 19th century imposed on drama. Its 40 scenes move uninhibitedly in time and space and between consciousness and the unconscious, blending folkloric fantasy and unsentimental realism

Peer Gynt was first performed in Christiania (now Oslo) on 24 February 1876, with original music composed by Edvard Grieg, which includes some of today's most recognized classical pieces, In the Hall of the Mountain King and Morning Mood. It was published in a German translation in 1881, in English in 1892, and in French in 1896.







Broadway To Vegas is supported through advertising and donations. Priority consideration is given to interview suggestions, news, press releases, etc from paid supporters. However, no paid supporters control, alter, edit, or in any way manipulate the content of this site. Your donation is appreciated. We accept PAYPAL. Thank you for your interest.


ART AND ABOUT


THE QUEEN'S CORONATION

Queen Elizabeth II's Coronation photograph by Cecil Beaton. Meant to look like it was taken in Westminster Abbey, Beaton actually used theatrical backdrops for the photo shoot which took place at Buckingham Palace.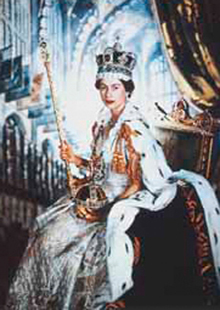 the summer exhibition at Buckingham Palace is the largest display of artifacts related to Queen Elizabeth's ascent to the throne since the Coronation itself.

Caroline De Gutaint, the curator of the exhibition says the dresses, uniforms and robes being shown mark "one of the most momentous occasions in our national history, one of the great celebrations of the twentieth century."

This summer marks the 60th anniversary of the Coronation of Her Majesty Queen Elizabeth II.

The Queen acceded to the throne on February 6, 1952 and was crowned at Westminster Abbey the following year, on June 2, 1953.

Paintings, works of art and other objects used on the day will help recreate the atmosphere of that extraordinary moment and the pageantry of a State occasion that has remained essentially unchanged for 1,000 years.

Buckingham Palace was at the heart of the celebrations on Coronation Day, which heralded the dawn of a New Elizabethan Era. Hundreds of thousands of well-wishers lined the Mall and filled the specially constructed stands around the Victoria Monument in front of the Palace.

From here they witnessed the carriage processions of Members of the Royal Family, foreign Heads of State and Commonwealth Prime Ministers depart Buckingham Palace for Westminster Abbey.

For the annual Summer Opening in 2013, the Palace's Ballroom will be transformed into the centre of the largest-ever exhibition about the Coronation.

Here, the dress, robes and uniforms worn by the principal royal party will be brought together for the first time since June 2, 1953.

The display will include HM The Queen's Coronation Dress and Robe; the uniform, robe and Coronet of HRH The Duke of Edinburgh; the dress and robe of HM Queen Elizabeth The Queen Mother and the dress and robe of HRH The Princess Margaret.



Prince Charles and Princess Anne in their Coronation clothes, July 23, 1953, Marcus Adams, RCIN 2943772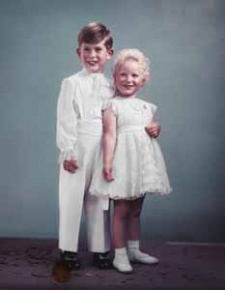 Also on display the tiny cream colored outfits worn on the day by four-year-old Prince Charles and two-year-old Princess Anne. The clothes worn by Prince Charles and Princess Anne were supplied by the children's outfitter Miss Hodgson, of 33 Sloane Street, London, who was a regular supplier to the Royal Family at the time.

The four-year-old Prince's outfit consisted of a cream silk shirt with a lace jabot and lace trimmed cuffs, and cream woolen trousers. He wore black patent shoes with buckles. The Prince, who was known as The Duke of Cornwall in 1953, also wore his Coronation Medal.

Princess Anne wore a dress of cream silk and lace with a silk sash and silk-covered buttons, with matching cream, silk ballet pumps. The Princess who was just two did not attend the Coronation ceremony in Westminster Abbey, as she was considered too young. Exhibition curator Caroline de Guitaut said, "The children's outfits help to remind us of The Queen as Sovereign and, at the same time, a mother of two young children."

As they tour the State Rooms, visitors will experience a sense of the atmosphere of Coronation Day and learn how individual rooms were used in 1953.

For example, it was in the Green Drawing Room that Cecil Beaton (1904-80) took his famous Coronation portraits of Queen Elizabeth, using his signature theatrical backdrops to recreate the inside of Westminster Abbey.

Other official portraits were taken in the Throne Room. The Coronation State Banquets were held on the evenings of June 3 and 4, 1953, and for the Summer Opening of the Palace, the table in the State Dining Room will be dressed to evoke the Banquets' magnificent settings of porcelain, silver-gilt and flowers.

The Summer Opening of Buckingham Palace, London July 27–September 29, 2013.

THE NATIONAL CLEVELAND-STYLE POLKA HALL OF FAME

Frankie Yankovic (July 28, 1915- October 14, 1998) was a Grammy Award-winning polka musician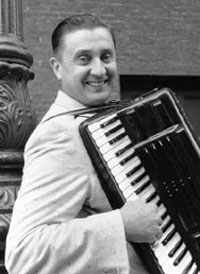 located in Euclid, just east of Cleveland, chronicles the history of Polka from its roots in Slovenia to its heyday in Cleveland during the mid-20th century.

Filled with artifacts and memorabilia from polka stars of yesterday and today, some of the highlights include "America's Polka King" Frank Yankovic's accordion and stage outfits, as well as memorabilia and awards from Tony Petkovsek's 50 years in polka radio and promotion. Within these walls you will find items dating back to the turn of the century, as well as information on the polka stars who have been inducted into the Hall of Fame.

So what is Cleveland-Style Polka? Polka originated in Bohemia, but many different nationalities have embraced the lively music and adapted it to their own customs. Cleveland-style polka has its roots in Slovenian culture, and as such is sometimes referred to as Slovenian-style polka. It took off in Cleveland thanks to the tens of thousands of Slovenian immigrants that flooded Cleveland in the late 19th and early 20th-centuries.

The Cleveland-Style Polka is characterized by fluid moves and a slower pace than other ethnic polkas. It became most popular in the post-World War II era, with Frankie Yankovic leading the way as its most recognizable star.

The style was perhaps most beloved by second and third generation Slovenian Americans looking for a reminder of their youth and heritage (the songs were based on Old World, Slovene-language folk music), while still wanting to dance and swing to a fresher form of music with English lyrics. The music appealed to all types of Americans, however, and became commercially successful, with Polka bands touring the nation and radio stations from coast to coast playing Cleveland-style polkas.

There is a section dedicated to Lifetime Achievement Honorees, the Trustee's Honor Roll and the Greatest All-Time Hits. The museum has also established an archival library and video collection of polka history.

CANNON ROCK SESSION a unique biennial residency program from the Portland Museum of Art in Portland, Maine incorporates the ways in which Winslow Homer and his Studio influence American art, history, and identity.

Cannon Rock Sessions features a week-long residency and think tank for two guest intellects, or "visiting minds," in a series of small community conversations and a public event. The theme for this year's program is "weather" and its influence on art, science, and culture. This year's visiting minds are Don Perkins, President and CEO of the Gulf of Maine Research Institute, and Maine artist, Anna Hepler. The free public event, Summer Dialogue, will take place on Thursday, August 1 at the Portland Museum of Art.

Designed to model the Getty Research Institute's Guest Scholar Program, Cannon Rock Sessions brings two emerging nationally acclaimed intellects to Maine to help inspire new ideas that influence and impact PMA programs centered on the Winslow Homer Studio in the following year. At the conclusion of their visit, the PMA will host a public Summer Dialogue at which the visiting minds will present their perspective on that summer's theme and synthesize community conversations that took place during their stay.

The museum will record the dialogue for online access and publish a transcript to document the program. The program's title, Cannon Rock Sessions, refers to a specific site on Prouts Neck called "cannon rock," which Homer immortalized in his 1895 painting. The cannon-shaped rock is still visible to this day from the Cliff Walk on Prouts Neck.


SWEET CHARITY


ANN MARGARET has been announced as the recipient of the Rolex Dance Award, presented by Career Transition For Dancers at their 28th Anniversary Jubilee Broadway & Beyond! Celebrating Theatre & Dance event, which will take place on Tuesday, October 8th, 2013 at New York City Center, NYC.

Ann-Margret is a two time Academy Award Nominee, winner of 5 Golden Globes, Emmy Award winner and a Grammy Nominee.

The 28th Anniversary Chairs are Anka K. Palitz, and Susan & Stewart Wicht.

Gala Chairs are Avery & Andrew Barth, Robert Dagger, Victor Elmaleh, James Fayette-AGMA, AFL-CIO, Darlene & Brian Heidtke, John Kimmins, Nigel Lythgoe, Nancy & Duncan MacMillan, Philip S. Masters, Michele & Ronald Riggi, Ann & William Van Ness, and Misty Widelitz.

Janice Becker is the Dinner Chair; Ann Van Ness is the Auction Chair; and Craig Dix is the Journal Chair.

Vice Chairs are Alexander J. Dubé, Mercedes Ellington, Vicki & Christopher Kellogg, Christina Rose, Irene & Fred Shen, and Michael A. Terlizzi Capezio Ballet Makers.

Career Transition For Dancers, with offices in New York City, Los Angeles, and Chicago, has helped over 5,800 professional dancers identify their unique talents in preparation for establishing new careers when dance is no longer an option.


GREAT TEXAS MOSQUITO FESTIVAL


Mosquitoes rule - at least at the 33rd Annual Great Texas Mosquito Festival which takes place July 25-27 in Clute, Texas.

Hovering over the festival activities is Willie-Man-Chew, the world's largest mosquito. Willie is a 26 ft. Texas mosquito, complete with a cowboy hat, boots, blown up wings and a big stinger.

This event now draws 14,000 festival patrons who buzz on down to participate numerous activities including the Haystack Dive, Mosquito Calling Contest and Mosquito Legs Contest.







THE MUSIC GOES ROUND AND ROUND


SEVEN COME ELEVEN released by Masterworks Broadway on July 16, 2013, the first time this album can be purchased as a CD.

Seven Come Eleven is witty, irreverent, infectious and captivating.

It's what used to be called a Party Record. Decades ago families would buy a record, perhaps Bob Newhart's The Man With The Button Down Mind. Or, an LP by comedians such as Redd Foxx, Richard Pryor and Bill Cosby.

All of the party records had a few things in common: they were intelligent, could hold the listener's attention and were clever. The family would invite their friends over. Drinks would be served and there would be something to nibble on. Everybody would sit in the living room or the den. The LP would be played as everyone sat listening, eating snacks and laughing. After the LP ended, then another hour or two would be spent laughing, repeating and discussing what had just been heard.

Depending upon what you served to nosh on, it was an inexpensive evening, getting together with your friends, all listening to a really great LP and then chatting. Party albums were so popular that every Monday you could chart the record sale spikes. What people had heard on Friday or Saturday night at a friend's house, they would buy on Monday.

Why the original LP of Seven Come Eleven never made the charts is because the only place you could buy it was at the performance.

Seven Come Eleven was the sixth in a series of witty, elegant and original cafe revues invented and produced between 1956 and 1968 by the urbane polymath Julius Monk.

It opened to rave notices on October 5, 1961. At that time Monk staged his revues in a converted New York mansion formerly owned by John Wanamaker.

As the liner notes explain: "A uniformed doorman greets the couples arriving from Broadway shows or late dinners and ushers them inside to join a crowd waiting to ascend the circular marble staircase leading to the Upstairs Room, where the show is about to go on.



Mary Louise Wilson in Grey Gardens. Early in her career she was one of the stars in Seven Come Eleven. Wilson went on to achieve great acclaim on Broadway including receiving in 1998, a Tony nomination for her role as Fraulein Schneider in the revival of Kander and Ebb's Cabaret and winning a Tony in 2007 for her performance in Grey Gardens, portraying the character Edith Bouvier Beale.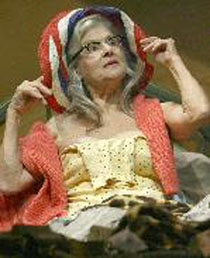 "The Upstairs Room, formerly the sitting room of the mansion, is lined with rich, red fabric and softly lighted by glowing globes from the last century. Visitors are seated at little tables, and soon the lights dim. Suddenly, a half dozen bright, young Thespians leap onto the tiny stage at one end of the room. Accompanied by twin pianos, they spend the next hour and a half singing songs and performing sketches which touch upon just about every event in the newspapers, every phobia in the textbooks, and every celebrity in the history of the world. Seven Come Eleven, for example, contains hilarious spoofs on the John Birch Society, the Peace Corps, sick comedians, Cuban highjacking of airplanes and other topics close to the hearts of New Yorkers: school scandals and the construction of a new hotel designed in typical Miami Beach fashion."

Listening to this new CD of a recording which took place 52 years ago, is still entertainingly infectious. The listener is drawn into it. You can't just put in this on and use it as background music. You not only must - but will want to - stop everything, sit down and permit yourself to be transported back into that dimly lit, red velvet cafe where you become as much a part of the audience as those who were there enjoying this entertaining, campy, irreverent revue.

Produced by Miles Kreuger. Recorded on November 25, 1961. Recording engineer Murray Zimney. A substantial amount of credit goes to the technicians who brough the original LP up to today's listening standards. A gold standard set by Masterworks Broadway.

Conceived, devised, and directed by Julius Monk. Musical and Vocal Arrangements by William Roy, who began his career at the age of three when he was a "professional trouper" on The Lone Ranger, The Green Hornet, and The Children's Theater of the Air. Roy is billed with keyboardist Cal Norman as the "Plural Pianos".

While sass is the trademark of Seven Come Eleven, not every song is an erudite send up. Christmas Long Ago, is performed by real life married couple Steve Roland and Donna Sanders. Their beautifully blending voices recall what the holiday meant in they eflect on as a simplier time. I Found Him, with a melody by Jacques Urbont and lyrics by Bruce Geller, has Sanders singing about finding that special Mr. Right.

Even though Seven Come Elevent is a time slice of New York City, the concept is current. All you have to dos, in your own mind, is to substitute the name of a current organization or situation for the one mentioned in the song.

The 17 tracks include familiar tunes infused with edgy lyrics as well as original songs. In addition to Roland and Sanders, Seven Come Eleven features (then a future Tony Award winner) Mary Louise Wilson, Rex Robbins, Ceil Cabot and Philip Bruns. As in all the Monk revues, the cast was attired in tuxedos and black gowns.


SPREADING THE WORD


BRITISH ACTRESS ANNE-MARIE DUFF will make her Broadway debut in a new production of Macbeth. Three time Tony Award winner Jack O'Brien will direct. Duff will play Lady Macbeth opposite Ethan Hawke. Lincoln Centre Theatre will mount the production beginning in October.

ORLANDO BLOOM will be making his Broadway debut in a modern adaptation of Romeo and Juliet with Condola Rashad. Director David Leveaux will cast white actors as the Montagues and black actors as the Capulets.


OTHER PEOPLE'S MONEY


THE ATLANTIC THEATRE COMPANY in New York City has annnounced a change to their ticketing structure with the introduction of their new Back20 initiative. For every preview performance of Atlantic Theater Company Mainstage productions, Atlantic now offers $20 tickets to the public.

Atlantic Artistic Director Neil Pepe and Managing Director Jeffory Lawson said of the new initiative, "At Atlantic, we have always been committed to affordable and accessible theater through our specially priced membership program, but now we're taking it one step further with our new Back20 initiative. For all previews in our Mainstage season, we are offering $20 tickets in two rows in the back of the theater. Just go online, call or stop by the box office and select a Back20 ticket; there are no discount codes, signups or coupons needed. It's that easy. With our newly renovated theater nestled in with the beautiful homes on 20th Street, we want our neighbors, community and theater goers all across town to feel welcome to experience live theater in our intimate home. We're thrilled to offer these lower-priced tickets to make our productions even more accessible."

Back20 tickets will be available for all four of Atlantic's 2013-2014 season Mainstage productions, which will include the world premiere of Academy Award winning filmmaker Ethan Coen's first full-length play, Women or Nothing, as well as a revival of the original Marc Blitzenstein English adaptation of Bertolt Brecht's and Kurt Weill's The Threepenny Opera, staged by acclaimed director and choreographer Martha Clarke, and the world premiere of Tony Award nominated playwright Stephen Adly Guirgis's Between Riverside and Crazy/

DETROIT is the city that gave us the Motown sound, currently represented on Broadway in the money making hit Motown The Musical at the Lunt-Fontanne Theartre. Motor City isn't doing as well. Detroit has filed for bankrupty, becoming the largest city in U.S. history to file for bankruptcy.



BETTY BLUE EYES book by Ron Cowen and Daniel Lipman. Music by George Stiles. Lyrics by Anthony Drewe.

Based on the Handmade film A Private Function, and the original story by Alan Bennett and Malcolm Mowbray. Adapted from the screenplay by Alan Bennett. Originally produced in London by Cameron Mackintosh.

Set in 1947 England, when Princess Elizabeth's forthcoming royal wedding is to be cause for celebratory banquets, a meat-deprived village wages internal subterfuge.

Having won the war Britain seems to have lost the peace, and the country is staggering under the burden of acute rationing, unemployment and the coldest winter for decades. The only bright spark on the horizon is the impending marriage of Princess Elizabeth and Prince Philip.

Betty is an adorable pig, who is being illegally reared to ensure the local dignitaries can celebrate the Royal Wedding with a lavish banquet while the local population make do with Spam.

Betty Blue Eyes received rave reviews in London. Among the most talked about scenes: a gentleman preoccupied with good dinners and bad feet; "best song ever written about verrucas," a duet performed with clothespins on the nose, a Lindy-hop in an air raid, and a chorus of town officials in a pub urinal. There's an animatronic pig, and a dream sequence involving Prince Philip doing a soft-shoe shuffle.

The US Premiere takes place July 24-28 at the Music Theatre of Wichita in Wichita, Kansas.

CHICAGO Book by Fred Ebb and Bob Fosse. Music by John Kander. Lyrics by Fred Ebb Based on the play Chicago by Maurine Dallas Watkins.

Directed by Brooke Shields.

Rob Fisher conductor. Gregory Butler choreographer

Come on babe, we're gonna paint the town… it's Chicago, the brilliantly sexy tale of fame, fortune and all that jazz. Set amid the razzle-dazzle of the 1920s, this winner of six Tony Awards will come to decadent life with a sensational cast in a one-of-a-kind Bowl production, steaming up the night with sass and brass.

Starring Samatha Barks as Velma, Drew Carey as Amos, Lucy Lawles as Mama Morton, Stephen Moyer as Billy and Ashlee Simpson as Roxie.

Friday, July 26 - Sunday, July 28, 2013 at The Hollywood Bowl in Los Angeles.

ANNIE the revival at the Palace Theatre in New York City has welcomed Tony Award winner Faith Prince into the production. Prince assumed the role of Miss Hannigan on July 19. She succeeded Emmy Award-winning Glee star Jane Lynch, who played her final performance July 14.

ANNIE GET YOUR GUN Music and Lyrics by Irving Berlin. Book by Herbert & Dorothy Fields.

Annie Get Your Gun was the greatest box-office triumph of Irving Berlin's rich Broadway career; it is his only musical to achieve an initial run of more than one thousand performances.

The score is his best and most varied for the theatre, yielding as it does at least half a dozen substantial song hits.

Presented by The Brandywiners with performances July 25, 26, 27 and August 1, 2, 3, 2013 at Longwood Gardens Open Air Theatre in Kennett Square, Pennsylvania .

MARY POPPINS the Disney and Cameron Mackintosh version will be directed by Gary Griffin.

Alex Sanchez will choreograph the classic musical with musical direction by Michael Horsley.

Making its Muny premiere, The Muny Production of Disney and Cameron Mackintosh's Mary Poppins is one of the most eagerly anticipated productions of the season. Winner of 44 major theatre awards from around the globe, Mary Poppins has captivated audiences for generations, and now the irresistible story, unforgettable songs and breathtaking dance numbers promises to dazzle and delight Muny audiences.

July 25-August 2 at The Muny in St. Louis, MO.

LOVE'S LABOUR'S LOST new musical adaptation with a book by two-time Tony nominee Alex Timbers and a score by Michael Friedman.

Directed by Alex Timbers.

The production marks the first new Shakespeare-based musical to be produced at the Delacorte since the Tony-winning Galt MacDermot musical Two Gentleman of Verona premiered there in 1971 prior to a Broadway run.

"In Love's Labour's Lost, romance, revelry and enchanting music ignite in this contemporary yet lovingly faithful musical adaptation of Shakespeare's comedy. The King and his best buds decide at their five-year college reunion to swear off the joys of women. But when four cute, clever girls from their past show up, they're forced to reconsider all of that nonsense! Smart, sexy, outrageous, and irreverent, Love's Labour's Lost is a madcap celebration of true love and coming of age..."

Scenic design by John Lee Beatty.

July 23-August 18 at the Delacorte Theater in NYC as part of The Public Theater's 2013 Shakespeare in the Park program.

THE LEGEND OF SLEEPY HOLLOW a world premiere written by James Rana, based on the haunting tale by Washington Irving.

East Lynne Theatre Artistic Director Gayle Stahlhuth directs a cast of six, five of whom play a multitude of characters in this true ensemble piece, running from July 24-August 31 at the East Lynne Theater Company in West Cape May, NJ.

JOHNNY BASEBALL book by Richard Dresser. Music by Robert Reale. Lyrics by Willie Reale. Directed by Marc Bruni.

Originally called Red Sox Nation, Johnny Baseball was conceived after the Red Sox's stunning collapse in the 2003 playoffs due to the "Curse", which is often cited as a reason for the failure of the Boston Red Sox baseball team to win the World Series in the 86-year period from 1918 until 2004.

The Curse is traced to the interactions of three people: the fictional Johnny O'Brien, a hard-luck right-hander on the 1919 Red Sox; his idol, Babe Ruth; and O'Brien's love interest, Daisy Wyatt, an African American blues singer. The show is told through flashbacks between the fourth game of the 2004 American League Championship Series and the fictional life of Johnny O'Brien.

The infamous Curse of the Boston Red Sox is brought to life through the changing fortunes of three orphaned souls: Johnny O'Brien, a hard-luck right-hander on the 1919 Sox; his idol, Babe Ruth; and Daisy Wyatt, a dazzling African-American blues singer and the love of Johnny's life.

The mystical intertwining of their fates reveals both the source of the Curse and the secret to its triumphant end off Big Papi's bat in 2004. Packing a resonant commentary on social history into a quintessentially American musical, Johnny Baseball promises to "bring cheers and tears to baseball fans and theatre lovers alike."

July 24 - August 4, 2013 on the Nikos stage of the Williamstown Theatre Festival in Williamstown, MA.

TITANIC a new chamber version of the Tony-winning 1997 Broadway musical, with music and lyrics by Maury Yeston and book by Peter Stone. Directed by Thom Southerland.

In the final hour of 14th April 1912 the RMS Titanic, on her maiden voyage from Southampton to New York, collided with an iceberg and 'the unsinkable ship' slowly sank. It was one of the most tragic disasters of the 20th Century. 1517 men, women and children lost their lives.

Based on actual characters aboard the greatest ship in the world, Maury Yeston and Peter Stone's stunning musical focuses on their hopes and aspirations. Unaware of the fate that awaits them, the Third Class immigrants dream of a better life in America, the newly-enfranchised Second Class dream of achieving the lifestyles of the rich and famous, and the millionaire Barons of the First Class dream of their hegemony lasting forever.

The creative team also includes musical staging by Cressida Carre, musical direction by Mark Aspinall, design by David Woodhead, lighting by Howard Hudson and sound design by Andrew Johnson.

This European premiere will be produced at London's Southwark Playhouse, beginning performances July 26 prior to an official opening July 31, for a six-week run through August 31.

BALLROOM WITH A TWIST features celebrity pros Anna Trebunskaya and Tristan MacManus from Dancing with the Stars, along with finalists from So You Think You Can Dance and American Idol.

Ballroom With A Twist brings a frenzy of sizzling dance moves by professional international dancers spanning the hot moves of Samba, Waltz, Foxtrot, Quickstep, and Jive. Billed as a "spectacular dancing and singing extravaganza that is fun entertainment for the whole family."

July 22-August 3 at the Cape Playhouse in Dennis, MA.

QUIDAM by Cirque du Soleil will be presented for the very first time in Brooklyn from July 24-28, 2013 at Barclays Center.

Quidam had its world premiere in Montreal under the Big Top in April 1996. Since then, the production has toured on five continents and been experienced by millions of people. The show performed in New York under the blue & yellow Big Top in Battery Park City in 1998. In December 2010, Quidam embarked on a new journey, performing in arenas throughout North America. The international cast features 52 world-class acrobats, musicians, singers and characters.

Young Zoé is bored; her parents, distant and apathetic, ignore her. Her life has lost all meaning. Seeking to fill the void of her existence, she slides into an imaginary world - the world of Quidam - where she meets characters who encourage her to free her soul.

DOUBLE INDEMNITY adapted by David Pichette and R. Hamilton Wright from the novel by James M. Cain.

Directed by John Gould Rubin.

The classic crime novel and film noir masterpiece Double Indemnity has been reinvented for the stage. When small-time insurance agent Walter Huff falls under the spell of Phyllis, a gorgeous femme fatale, the two conspire to murder her husband for the insurance money. It seems like the perfect crime - until it all starts to unravel. Sexy, fun and wildly theatrical, Double Indemnity is a riveting summer thriller.

Starring tony Award nominee Michael Hayden (Walter Huff), and Angel Desai (Phyllis Nirlinger) with Murphy Guyer (Keyes, Hebert Nirlinger), Megan Ketch (Lola Nirlinger, Nettie) and Vayu O'Donnell (Sachetti, Jackson, Norton).

The creative team includes Christopher Barreca (Scenic Design), David Israel Reynoso (Costume Design), Stephen Strawbridge (Lighting Design), Elizabeth Rhodes (Sound Design), Keith Skretch (Projection Design), Kwan-Fai Lam (Original Music), Caparelliotis Casting (Casting) and Peter Van Dyke (Stage Manager).

July 27 – August 25, 2013 in the Sheryl and Harvey White Theatre, part of the Old Globe's Conrad Prebys Theatre Center i San Diego, CA. Opening night is Thursday, August 1, 2013.

THREE ELEANORS written by Karen Wurl and Dorothy Chansky who also directs.

Original Art by Carol Flueckiger who uses documents from The University of Glasgow and Eleanor Roosevelt Papers Project for this production. Production Design by Emmett Buhmann.

Celebrity. Who gets to have it and how? When a celebrity dies, how is her legacy sustained? Pictures, biographies, letters, DVDs – flat items deliver information about Eleanor of Aquitaine, Eleonora Duse, and Eleanor Roosevelt, but it's the people intrigued by them who breathe life into the evidence. Do fans and followers trump archives and objects when it comes to fame? Through an intricate tapestry of original visual art, historical texts and performance, we are enveloped by the worldviews, charisma, and foibles of three larger-than-life icons and the love/hate relationships everyday women have with them.

The cast includes Courtney Brown, Liz Douglas, Rachel Evans, Maggie Low, and Elizabeth Stromsness.

Performances for Three Eleanors will be held at Stage Left Studios in NYC from July 24-August 4th, 2013.

L M N O P a new muzical with music by Paul Loesel. Book and Lyrics by Scott Burkell. Based on the novel Ella Minnow Pea by Mark Dunn. Directed by Joe Calarco.

When letters begin to fall from a monument in town, government officials ban them one by one. Chaos ensues until a determined teenage girl rallies the community to fight for freedom of speech.

This unique musical is part romance, part clever word game and part adult fable that reminds us of how precious our liberties are; how quickly unbridled extremism can take them from us; and how important it is to have the courage to stand up for what we believe. A captivating story you'll n_v_r forg_t!

For almost 30 years, The Norma Terris Theatre has been Goodspeed's home for developing fresh, innovative, and original new musicals.

These new works have been developed at Goodspeed before they've moved on to other theatres.

Because this is a developmental theatre, the show can change on a day-to-day basis. New scenes are added, songs are moved, costumes are changed, dialogue is tweaked - all based on audience response and feedback. Be a part of the process and be among the first to enjoy the Broadway hits of tomorrow.

July 25 - Aug 18, 2013 The Norma Terris Theatre in Chester, MA.


WHO'S WHERE




SAM DAVIS the Jonathan Larson Award-winning composer makes his 54 Below debut on July 21, 2013. Home After Dark: The Music of Sam Davis will feature performances by Nick Blaemire, Andrea Burns, Charles Busch, Liz Callaway, Sarah Corey, Drew Gehling, Edward Hibbert, Matthew Scott, Kirsten Scott, and David Hyde Pierce, plus cast members from his Off-Broadway musical comedy Bunnincula the Musical: Ashley Campana, Abe Goldfarb, John Garry, Robert Anthony Jones, Prescott Seymour. July 21, 2013 at 54 Below in New York City.

JUSTIN BIEBER is in the spotlight Tuesday, July 23, at Scotiabank Place in Ottawa, ON. On Thursday he opens a two night gig at the air Canada Centre in Toronto and next Sunday, July 28, he's in the spotlight at the Joe Louis Arena in Detroit.

JUSTIN TIMBERLAKE AND JAY Z will appear live in concert at The Rose Bowl in Pasadena, CA on Sunday, July 28.

BRUNO MARS stars at the Rose Garden Arena in Portland, OR on Monday, July 22. Wednesday's show is at the Sleep Train Arena in Sacramento. Thursday finds him at the HP Pavilion at San Jose. On Saturday he begins a two night stand at the Staples Center in Los Angeles.

PHISH take part in a two night gig beginning Friday, July 26, at the Gorge Amphitheatre in Quincy, WA.

BLAKE SHELTON brings his tour to the Verizon Wireless Amphitheatre in Maryland Heights, MO on Friday, July 26. Saturday's show is at the Klipsch Music Center in Noblesville, IN. Next Sunday, July 28, he's on stage at the Riverbend Music Center in Cincinnati, OH.

PINK continues performances at the Brisbane Entertainment Centre in Boondall, Australia with shows Monday, July 22 and the following night.

TAYLOR SWIFT has a two night stand beginning Friday, July 26, at Gillette Stadium in Foxboro, MA.

RENEE FLEMING opens a two nighter, Wednesday, July 24, at the National Concert Hall in Dublin, Ireland.

TITO PUENTE, JR. performs Saturday, July 27 at the Arts Garage in Delray Beach, FL.


FINAL OVATION


VIKTOR SEDOV senior violinist at Russia's Bolshoi Theatre has died July 17, 2013 after falling into the orchestra pit below the stage on July 16. He was 65.

He had been a member of the opera house's orchestra for almost 40 years and played in the second violins.

Bolshoi spokeswoman Katerina Novikova issued a release which stated that Sedov was much loved in the theatre for his "sense of humour and extraordinary erudition".













Next Column: July 28, 2013
Copyright: July 21, 2013. All Rights Reserved. Reviews, Interviews, Commentary, Photographs or Graphics from any Broadway To Vegas (TM) columns may not be published, broadcast, rewritten, utilized as leads, or used in any manner without permission, compensation and/or credit.
Link to Main Page
---
Laura Deni



For the snail mail address, please E-mail your request.
CLICK HERE FOR COMMENT SECTION