! >
Broadway To Vegas
  SHOW REVIEWS     CELEBRITY INTERVIEWS     GOSSIP     NEWS 
| | |
| --- | --- |
| | |
NO SHOWER/NOT HOMOPHOBIC - -THE BOYS FROM SYRACUSE - - JASON ALEXANDER & MARTIN SHORT TEAM UP - - ROY ROGERS MUSEUM OPEN AND BUSY - - CHRISTOPHER REEVE GOLF GALA - - WALKING ON ANDY GRIFFTH & JAMES TAYLOR - - PURPLE HEART - - TOO MUCH HYPE CAN TARNISH MISS SPECTACULAR - - DONATE . . . Scroll Down


Copyright: July 21, 2002
By: Laura Deni

CLICK HERE FOR COMMENT SECTION
HYPE TARNISHES MISS SPECTACULAR


Lately there has been entirely too much hype regarding mounting the Jerry Herman musical Miss Spectacular in Las Vegas. The printed commentary explained that audiences in New York are too sophisticated and jaded for this show, while the Las Vegas rubes will like anything.

We take exception.

Audiences in New York are not jaded. They are the most wonderful audiences you can hope ever enter your theatre. Over 50 percent of the show goers are from outside of the tri-state area. What is jaded are a couple of powerful critics.

Vegas has the toughest audiences in the world - because they are distracted. There is too much to command their attention. Think gambling. By the time this show could get mounted numerous hotels will have opened up high roller rooms where the minimum play will be a half million dollars at minimum bets of $5,000. That's the new direction many hotels hope the industry takes. We don't foresee those gamblers feeling that a good perk is a comp ticket to see Miss Spectacular.

Not one potential tourist is going to say - Let's pack up the kids and go to Vegas, so we can see a show that is playing there, because everyone involved with it says it wasn't good enough to ever open in New York. Nor do people see a show in Las Vegas because they heard it has a good score.

Nevada may be forced to be the dumping ground for nuclear waste but for those involved in theatre projects who think they can drop off anything in Las Vegas and turn it into a profit - think again. How much of a tax write off do you guys need? It isn't - if you built it they will come. It's - what if you rent a room and nobody purchases a ticket?

Miss Spectacular is about a star-struck Kansas girl named Sarah Jane Hotchkiss who has fantasies about being a glamorous Vegas showgirl, and comes to Nevada to compete in a contest hoping to become Miss Spectacular.

It's been decades since naive girls came to Las Vegas wanting to be showgirls. The days of every hotel having a line of chorus girls ended in the 1970's. Even when that dream was floating around, most showgirls were girlfriends of casino bosses or hoping to land a wealthy husband. A couple did - Barbara Marx is now the widow Sinatra, Claudine Longet married Andy Williams and then became an ex-con. Valerie Perrine didn't marry well, but her acting career is steady. That is an exception. When did you ever hear an acting instructor suggest that thespians use Las Vegas as a launch pad to a serious acting career?

Las Vegas is not the end of the rainbow for women.

As for Miss Spectacular, if you are capitalizing on a mystique then you play to the crowd that still believes in the dream.

Branson, Missouri would be ideal because Branson is what Las Vegas was 40 years ago, just minus the gambling and drunks.

Jerry Herman is already represented in Las Vegas at Bally's Hotel with Donn Arden's magnificent Jubilee! production show.

This year marks the 20th anniversary of Arden's lavish, not to be missed, stage spectacular. There's A-1 tune-crooning, million-dollar sets, and the most glitter this side of Hollywood with costumes by Bob Mackie. And then there's the Jubilee! dancers - voted Best Showgirls in numerous polls. It's a trip back in time, Las Vegas-style.

The $3 million 15 minute opening is based on Jerry Herman's Hundreds of Girls number and features 74 performers in brand new Bob Mackie costumes including extravagant new feathered headdresses and costumes. Costume designer Pete Menefee said the showgirl's new outfits reflect adult elegance. "This is a sophisticated show and we want our showgirls to reflect refinement, dignity and excitement," he said. "So we're using beautiful, brightly colored ostrich features, embroidery, more jewelry, and long gloves."

The seventy-five cast members appear on stage during the opening. The total regular cast numbers 94 and specialty performers bring the total to more than 100.

This is the one of only two big budget shows in Las Vegas that are throw backs to the days when a small town girl might have had a reason to dream about wearing the costumes and gliding down those stairs - with hopes of a tuxedo clad, handsome and wealthy stagedoor Johnny waiting in her dressing room.

Not any more. The shows are different and so are the customers.

Today's Las Vegas "showgirls" are adept enough at pole dancing to keep rope burns to a minimum.

When Herman thought Miss Spectacular was going to open in a new theatre at the Mirage, he viewed and expressed his opinions of Las Vegas casinos through promises etched in rose tinted glasses.

At this point Miss Spectacular is not signed to open anywhere. All of the headlines and hype are based upon somebody talking to somebody else. Wanting to work on a project and actually opening a show is the difference between the beginning and the end. Too much premature hype can be counter-productive.

Turning the ratchet up on the most recent Miss Spectacular rumor mill is Michael Riedel of the New York Post. He is a skilled entertainment reporter, who also does an excellent job co-hosting a weekly television program called Theatre Talk, which deserves to be aired on a national cable channel.

He flew to Las Vegas to catch Tommy Tune open in EFX at the MGM-Grand. Riedel blasted both the city and the show, writing that Tune should dump the show and the town and get back to New York when he belonged.

Now it is Riedel that not only floated the rumors but admonished his many readers to remember that this was his idea - that Tune should direct and choreograph Miss Spectacular for Las Vegas. As it is now, the flimsy plot outline for Miss Spectacular makes EFX look like Shakespeare.

The important Playbill on Line, which also promotes Riedel's Theatre Talk show, jumped on the story and has been playing it up almost on a daily basis. They even headlined; "Producers Kenneth Greenblatt and Ben Sprecher have a deal with composer-lyricist Jerry Herman to mount Miss Spectacular a lavish Las Vegas-set musical comedy and are in serious discussions with Tommy Tune to direct and choreograph, a Sprecher spokesman confirmed."

We actually hope the production finally gets off the ground and succeeds - just don't mount it first in Vegas. Shows that are/were runaway hits in New York have a tough time making it in Las Vegas. Blue Man Group is the exception and it took them time to build an audience. They worked up the success of the show in several other cities before opening in Glitter Gulch. Had they opened in Sin City first they would have closed before the first case of make-up was used.



Jerry Herman of Hello Dolly! and Mame fame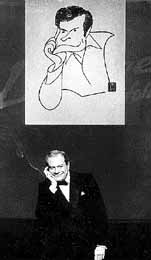 Steve Wynn first had the Miss Spectacular concept and threw the project out to composers in a lottery. (See the Cy Coleman section of Broadway To Vegas December 12, 1999) Apparently, Herman drew the long straw and won the job. Concepts and ownership's changed and the project was off the books long before Herman and his group finally admitted to themselves that the show was spiked. Herman now owns the show outright.

We've interviewed Herman and been a fan of his since he was on the Ed Sullivan Show playing the piano. Milk and Honey was a personal favorite. He is a brilliant, emotional composer - therefore he is vulnerable. He's put his all into writing the music and lyrics for Miss Spectacular.

At age 70 Herman is feeling fine, but he has survived some serious health battles. Miss Spectacular may be Herman's last major effort. He doesn't deserve run-it-up-the-flag pole publicity hype in an effort to see who salutes - if the game plan is to originate Miss Spectacular in Las Vegas. If you open in Vegas first you'll end his career with a failure.

The CD, which Herman paid to have recorded, is wonderful. At another point in time the CD by itself would have topped the charts. As the poets wrote;"Of all sad words of tongue or pen the saddest are these, it might have been."


HAPPY TRAILS TO YOU LEAD ROY ROGERS MUSEUM TO BRANSON
Roy Rogers, Trigger and Dale Evans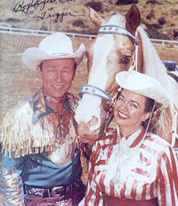 The Roy Rogers-Dale Evans Museum, which has attracted thousands of visitors to its site next to Interstate 15 - between Nevada and California - for 26 years, will eventually close and the exhibits moved to Branson, Mo.

Press reports implied that the museum was about to shutter, with one paper printing that they didn't know if the place was still open but that the phones were still working.

Indeed they are.

Broadway To Vegas spoke with Roy and Dale's daughter-in-law Linda Rogers, about the family and the status of the museum.

"This museum in California will be open until about February or March of next year," emphasized Linda, who is the wife of Roy "Dusty" Rogers, Jr. "We have a piece of property in Branson. We are working with a developer to build exactly what we need. We will stay open here until the new facility is ready. Our down time will be only about three or four weeks while everything is moved to Branson. We are moving everything - Trigger, Buttercup, Nelliebelle. We are doing a lot of business right now, but it is really crucial for people to realize that we are still open," stressed Linda.

"There are two sides to the move," she continued. "One is sad because we have lived here a long time and have many friends. But, it is lovely to have something positive to work toward," she said of Branson, a city of 6,000 in the Ozark Mountains of southern Missouri, which draws almost eight million visitors annually to its 49 theaters, 12 golf courses, three lakes and three theme parks.



Rob Johnson lead singer and songwriter for Heritage. Rogers' white hat sits on stage while he sings Hero the song he wrote in tribute to his grandfather.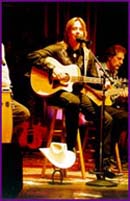 "In addition to the museum we are going to have a small theater where Dusty and his group the Highlanders will perform. Several of the grandchildren will also entertain carrying on the Rogers' legacy," added Linda.

"Dusty's sister, Linda, has a son Rob Johnson who has a group called Heritage," reported Linda about the band which has opened and performed at events headlined by Steve Wariner, Merle Haggard, Ty Herndon, Reba McIntyre, Garth Brooks, Brooks & Dunn, Martina McBride, Marty Stuart, and Bailey & The Boys.

"Tom Fox, Dale's son from her first marriage, has three daughters who have a group called Roy's Legacy. They are just a terrific group of girls who are very talented and do a lot of Christian singing. They will all be performing at our theater in Branson."

Rogers was an intricate part of the museum. For many years, visitors could greet the cowboy star among the exhibits. Rogers delighted in appearing, fully attired in his western garb, greeting buckaroos young and old.



Roy and Dale on their wedding day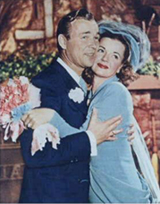 It is a captivating museum that makes the tourist feel like a member of the family - a family that endured tremendous problems yet represented a longed for loving, stable, emotionally secure lifestyle.

What Dusty has been told about his mother is that she "passed away when I was like four days old. My mother was Arlene, Dad's first marriage. When Mom died, it was due to complications of childbirth, and she had an embolism. About three or four days after I was born, Dad was on his way to the hospital to pick us up, and this embolism went through Mom's system, went through her heart system, got up to her brain and, instant seizure, killed her, I mean instantly."

Dusty had two older sisters and Dale had a son from a previous marriage. The blended family became even more so when Roy and Dale adopted.



Roy Rogers and Dale Evans, with two of their children, getting off a plane in a publicity photo
"We had American Indian girl, a little girl from Korea, and a girl from Scotland. Six of the children survive. My sisters and myself, we knew that she (Dale) loved us unconditionally. And she really was the glue that held the family together."

The museum contains family photos dating back to Roy and Dale's childhood, colorful costumes, parade saddles, memorabilia from the silver screen and television, fan mail, comic strips, Roy and Dale's Remington collection, and artifacts from Roy's real-life safari adventures. Next to each mounted animal is a sign stressing that the kill took place at a time when the animal was not endangered.

"He didn't do anything illegal. It was years ago. It was legal. But, that is where we get the complaints, the negative comments," Linda admitted, referring to the stuffed animals and mounted animals heads - "trophies" attesting to Roy's skill with a gun.

Years ago standing next to one of the mounted heads I discussed with Rogers the controversy those displays created.

"Back then, and that was a long time ago, we didn't know any better," said Roy about a time period so long ago that over half of the people alive today weren't yet born. "They weren't endangered and everyone went on safari where you used a gun. Now there are photo safari groups where you come home with a beautiful picture, rather than a stuffed head. If we had known then what we know now we wouldn't have done it. I'm not ashamed of any of it. I don't apologize. It was what everybody did. It was considered right at the time. You can't see into the future like that and know that decades later something is going to be called endangered. I feel I'm doing the best I can by putting them on display. They are very educational. You can learn a lot by studying them. I can't do any more than that. They are already dead. I can't bring them back to life."

Towards the rear of the museum is Trigger. The stuffed and mounted horse became fodder for comedians, but seeing the beloved animal is both a dignified and sweet experience.

Dale Evans wearing fancy hats for her first photo session. The babies adopted and the child that died. The museum guest becomes a part of Roy and Dale's memories - of the good times and the bad times and the hard times.

"We feel it is our obligation to carry on their legacy," explained Linda about the museum move.



Roy Rogers 1954 ad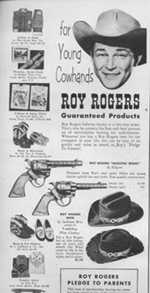 Soon after The Roy Rogers Show went on the air, Roy's likeness began appearing on Post cereal boxes, advertising such prizes as cardboard reproductions of the Double-R Bar and lapel pins with portraits of Trigger and Buttermilk. Roy's endorsements began the year after he was crowned King of the Cowboys in 1943. He lent his name to every kind of child's toy imaginable, including cap guns and quick draw holsters, child-size guitars, rings, badges, lassos, and musical hobby horses.

Rogers was a pack rat and never threw anything away. The museum overflows with artifacts. People simply assumed the museum was a permanent part of the landscape.

Roy Rogers was from what his son called the "old school."

"He came from nothing," he son had explained. "So anything that he got, no matter what it was, was of value to him. And you were very appreciative of anything anybody gave you. A gift is a gift, and a gift is not something that you give away. It's something that you usually display in honor of the person that gave it to you. So that's really where all of this started. I mean, the man kept everything."

"If you have any souvenirs keep them, because they are valuable," laughed Linda.

Rogers and Evans, the stars of Western films, concerts, recordings and TV shows, made their home in Apple Valley starting in the early 1960s. The museum was originally located in Apple Valley before moving to Victorville to take advantage of I-15 traffic in 1976.

In December, son Roy "Dusty" Rogers Jr. said the number of museum visitors had steadily fallen off since his father's death in 1998 at the age of 86. Evans died in February 7, 2001 at the age of 88.

In March, the family auctioned off hundreds of personal items at her request.

The family recently sold 25 acres to the north and east of the museum, where a statue of Rogers' famous horse, Trigger, rears two stories above the parking lot, serving as a Victorville landmark. The city purchased 25 acres the Rogers family owned east and north of the museum in June.

The family had proposed a 50-acre Western-theme park in Victorville about 10 years ago, Rogersdale, but the idea never got off the ground.

Victorville Councilman Bob Hunter said the Rogers were "icons for the community."

"While I understand economics and business, I'm extremely disappointed they would leave the city."

"They've been extremely important to Apple Valley and its promotion, and people all over the world know Apple Valley because of their fame and kindheartedness," said Heidi Larkin-Reed, Apple Valley Chamber of Commerce chief executive officer and former mayor of Apple Valley.

The sadness of Victorville can only be equaled by the joy in Missouri that the Roy Rogers Museum will call Branson home.



Broadway To Vegas is supported through advertising and donations. Priority consideration is given to interview suggestions, news, press releases, etc from paid supporters. However, no paid supporters control, alter, edit, or in any way manipulate the content of this site. Your donation is appreciated. We accept PAYPAL. Thank you for your interest.


NO SHOWER AND ISN'T HOMOPHOBIC
Bill Macy and Krya Sedgwick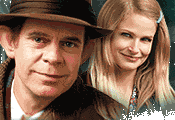 Afflicted with cerebral palsy and burdened with continual pain, Bill Porter was determined not to live on government disability. He started out selling Watkins household products door to door in one of Portland's worst neighborhoods and went on to become Watkins' top-grossing salesman in the United States.

His story was brought to the cable channel TNT last Sunday night in a movie called Door To Door and turned out to be a ratings winner. The movie, starring Bill Macy, was flawlessly written, directed and acted. It's an inspiration and heartwarming piece that opened both hearts and minds, deserving to be annually aired, perhaps during the Christmas season, or during Mothers Day week.

Porter's website, billporter.com - which was featured on a title card at the end of the movie was so inundated with "hits" that it crashed. Porter sells Watkins products on the site.

The movie gave Watkins a publicity shot that money can't buy.

The Watkins website touts the movie, has a link to Shelly Brady's book, Ten Things I've Learned From Bill Porter - published by New World Library, and offers customers the opportunity to click a link so that 10 percent of their order is donated to Cerebral Palsy.

So how did the subjects like the way they were portrayed?

On Porter's website, and elsewhere, both Shelly and Bill rate the movie and express their feelings.

Bill Porter wrote: "My life story was filmed in British Columbia as Door To Door, starring William H. Macy as me. The movie was co-written by and stars Oscar nominee William H. Macy. The cast includes Oscar nominee Helen Mirren as my mother Irene Porter, Golden Globe nominee Krya Sedgwick, as Shelly Brady, and Emmy Award winner Kathy Baker, as one of my customers. The real Shelly Brady, my friend and helper for many years, also has a cameo role as a Watkins secretary."

Though Bill's mother Irene Porter, portrayed by Helen Mirren, only appears the first thirty-five minutes of the film, it is clear that the values she instilled in him gave him his abundant spirit and are the reason for his success. Their relationship is pivotal to the film.



Helen Mirren and Bill Macy in Door to Door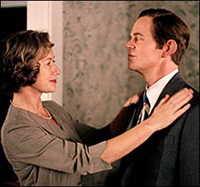 "I loved the movie," continued Porter. "Bill Macy did a tremendous job! Sometimes I thought I was looking in the mirror. I can't get over how Helen Mirren and Kyra Sedgwick portrayed the two most important people in my live. I felt as though I were watching my own mother and dear friend Shelly. I have great friendships with my customers. Even though the customers in the movie were fictionalized they reminded me of many of the people I have sold to over the years. I cried when Kathy Baker's character died as I thought of so many of my customers and friends who are now gone."

"Oh, one more thing . . . the Bradys did buy my house because my back went out in 1993 and I asked Shelly and John to help me out. I have been living in my home since the 1960s and live there still . . . I never moved out like the movie suggested. I was concerned that people might be worried about where I was living."

Shelly Brady, who lives in Portland, Oregon with her husband and six children has some mixed feelings. As a total entity she loved Door To Door. "Wow! What an amazing movie! It kind of reminds me of It's a Wonderful Life."

"Having visited the set during the filming of the movie I saw first hand the labor of love this film was to everyone involved from the executives at TNT to the director Steven Schachter, from Bill Macy and the other leading actors, to all of the cast and crew."



Kathy Baker in Door To Door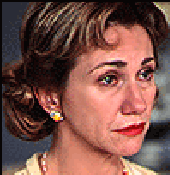 "It's such a positive movie, Bill Macy absolutely captured the heart and spirit of my dear friend Bill. Helen Mirren and Kathy Baker did outstanding in their roles as Bill's mother and one of his customers. Kyra Sedgwick did a great job too," said Brady who served as creative consultant on the film.

As with all docu-drama movies, a literary license is mandatory because important points have only seconds to be established. Door To Door chronicles 40 years in Porter's remarkable life and also recounts the changing times of our country through one amazing man and the neighborhoods he walked. The creative team did a magnificent job of capturing the tenure of the times and the emotional state of the characters.

However, Brady would like to clarify a couple of points which are extremely important to her.

"Bill kept saying . . . "that sure is you, Shelly!" I just want to assure the viewers of a couple of things," Brady declares.

"#1 - So far, I have not taken a shower at Bill's. Although, Bill laughingly told me the other day with all of the interviews we've had at his house, I just may need to yet."

"#2 - The movie has Shelly getting a little upset about the (homosexual) Brad and Allen characters. This annoyed me as when I was majoring in theater I had many friends just like Brad and Allen . . . in fact, I was Grace back before there ever was a Will and Grace."

"Other than the few Hollywood moments, I loved the movie and give it a 12 out of a possible 10!"



Steven Schachter was one of the youngest directors on Broadway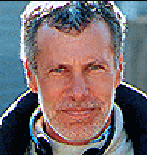 "Bill Porter's story is so compelling because it's about a simple man with cerebral palsy," said screenwriter/director Steven Schachter. "He is unheroic in his deeds, but when you look at the totality of his life, he's an amazing hero because of the daily obstacles he faces and the odds he's overcome. He represents a kind of work ethic that's long gone a guy who trudges through neighborhoods day after day after day, just connecting with people."

Schachter's career began at Goddard College, where he studied with David Mamet. While there, he also met Macy, his now long-time associate. The three of them later went on to found The St. Nicholas Theater in Chicago, where Schachter served as Artistic Director, directing more than 20 productions and winning the Joseph Jefferson Award for Best Director. One project in particular, Mamet's The Water Engine, was brought to the Public Theatre and then moved on to Broadway. This made Schachter, at 24 years old, one of the youngest directors on Broadway.

"Bill Porter is a remarkable man," Macy said. "I think there are millions of remarkable men and women who, against some formidable odds, get up every day and go to work. You never hear about them. I've always been attracted to stories that talk about the ordinary Joe who, without fanfare, does his job and touches so many people along the way."


SWEET CHARITY


THE CHRISTOPHER REEVE PARALYSIS FOUNDATION

Karrie Webb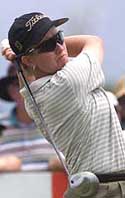 benefits from the Karrie Webb Celebrity Pro-Am golf tournament. Webb, winner of 26 LPGA titles, including five major championships, will join eight other LPGA professionals for the 3rd Annual Karrie Webb Celebrity Pro-Am to benefit the Christopher Reeve Paralysis Foundation. The event will be held at Century Country Club in Purchase, New York on Monday, July 22. Century Country Club was founded in 1898 as the summer playground for a group of Wall Street bankers immortalized in Stephen Birmingham's book, Our Crowd. The golf course at Century is a par 71 that stretches to 6807 yards from the Championship Tees.

Competing with Karrie are fellow LPGA professionals Beth Daniel, Meg Mallon, Lorie Kane, Michelle McGann, Nancy Scranton, Kelly Robbins and Rachel Teske.

Celebrities teeing off include among others; Billy Crudup, James Naughton, Jerry Orbach , Joe Piscopo, Billy Baldwin, Kenneth Cole, New York Ch. 4 anchor Maurice DuBois and NASCAR racing champ Dale Jarrett.

THE FOUNDATION FOR THE ADVANCEMENT OF CARDIAC THERAPIES gets a boost thanks to Atlantic Records mogul Ahmet Ertegun and wife, Mica, who host a Southampton fund-raiser on July 26. Dr. Mehmet Oz, who performed bypass surgery on Ertegan last year, created this foundation. Paul Simon, Aretha Franklin and Billy Joel are expected.

DIXON PLACE BENEFIT hosted by Holly Hughes.Two evenings of up-and-coming work from various artists dealing with gender, sex and at least two of the four basic food groups. July 23-24. Dixon Place's Obie Award-winning programming features infamous and emerging writers and theatre artists presented in an ongoing monthly series.

In 1999 Dixon Place was awarded the Edwin Booth Award for Excellence in the theatre by the Doctoral Theatre Students Association of the CUNY Graduate Center, joining a distinguished list of Booth Award Honorees which include: Joseph Papp and the New York Shakespeare Festival, The Brooklyn Academy of Music(BAM), Harold Prince, Arthur Miller, The Negro Ensemble Company, The Wooster Group, and Ellen Stewart.


OTHER PEOPLE'S MONEY

LEONARD NIMOY and his wife have donated $1 million to the Los Angeles Museum of Contemporary Art. The Nimoy Fund for Emerging Artists will showcase new artistic talent. "We are appreciative of the generosity of the Nimoys," said Bob Tuttle, museum chairman. "Their support continues MOCA's invaluable role in advancing contemporary art and ensures stable resources to fund exhibitions and projects by emerging artists."

The fund will help support a variety of projects, including painting and sculpture, artist books and publications and performance and video works, said museum director Jeremy Strick.


JABBER, JABBER, JABBER

THE PASADENA PLAYHOUSE Community Outreach & Education Program staged one of their Writers Gallery sessions yesterday called The New Voices of American Stage, Film and Television with celebrity readers Joan Van Ark and Maxwell Caulfield.

A Celebration of Playwrights meant a lively discussion and showcase of hot new writers featuring celebrity readers. Playwrights Gary Socol and Velina Hasu Houston gave a "sneak peek" of their latest works. Joining them were the director of The Waverly Gallery, Bruno Kirby, and Reed Johnson of the Los Angeles Times.

Writing for Stage, Television and Film had Academy Award nominee Robert Nelson Jacobs, Emmy Award nominee Wil Calhoun, creator/executive producer Mara Brock Akil, and novelist Peter Lefcourt in a stimulating discussion on the "art" of writing with KCET's Jon Beaupr.


MERRILY WE ROLL ALONG OVER ANDY GRIFFITH AND JAMES TAYLOR


The North Carolina state Department of Transportation has decided to honor North Carolina natives James Taylor and Andy Griffith by naming roads in their honor.

The DOT has named the U.S. 15-501 bridge over Morgan Creek in Chapel Hill after Taylor, a singer-songwriter who spent his early years in the area four decades ago.

The DOT also voted to name a section of U.S. Highway 52 in Surry County in honor of Griffith, a Mt. Airy native and the star of The Andy Griffith Show.

The stretch of the highway from Interstate 74 to the Virginia state line will be known as the Andy Griffith Parkway

"We now have a 'go' from the governor and the secretary of transportation," Transportation Board member Sam Erby said. "And, barring some kind of illness, Andy Griffith and his wife, Cindy, are planning to attend the ceremony."



THE BOYS FROM SYRACUSE Music by Richard Rodgers, Lyrics by Lorenz Hart with a new book by Nicky Silver based on the original book by George Abbott. Music Direction & Vocal Arrangements by David Loud.

Based on Shakespeare's The Comedy of Errors, this outrageously funny musical comedy tells the tale of two sets of identical twins and the women who can't tell them apart. Set in ancient Rome, The Boys From Syracuse contains some of Rodgers and Hart's most lovely and unforgettable songs, including such favorites as Falling in Love with Love, Sing for Your Supper and This Can't Be Love.

The cast for The Boys From Syracuse includes Jeffrey Broadhurst, Walter Charles, Toni DiBuono, Erin Dilly, Jonathan Dokuchitz, Tom Galantich, Sara Gettelfinger, Deidre Goodwin, Milena Govich, George Hall, Teri Hansen, Tripp Hanson, Jackee Harry, Tom Hewitt, Fred Inkley, Mark Lotito, Kirk McDonald, Elizabeth Mills, Lauren Mitchell, J.C. Montgomery, Scott Robertson, Allyson Turner, Lee Wilkof, and Chip Zien,

Choreography is by 2002 Tony Award winner Rob Ashford for Thoroughly Modern Millie, and Roundabout Associate Artistic Director, Scott Ellis directs.

Do not miss this hilarious musical in its first ever Broadway revival!

Major support for this production generously provided by The Blanche and Irving Laurie Foundation. Additional support provided by The Eleanor Naylor Dana Charitable Trust.

THE PRODUCERS will open in Los Angeles at the Pantages Theatre May 2, 2003 starring Jason Alexander and Martin Short. As Billy Crystal might say fabulous! The show will officially open on May 29 for an eight month run.

FIDDLER ON THE ROOF Book by Joseph Stein, Music by Jerry Bock, Lyrics by Sheldon Harnick Directed by Marla Gam Hudson July 26 through August 18 at the Huntington Beach Playhouse, California.

IN SEPTEMBER, THE LIGHT CHANGES Actor Stephen Nisbet returns to the stage in this solo performance rendition of two Fire Island tales by Andrew Holleran, the best-selling author of Dancer from the Dance and The Beauty of Men. Conceived and directed by Randy Gener, with scenic design by Brooklyn-based architect Annie Coggan. July 28 at Vineyard 26.

CHICAGO the musical with a book by Fred Ebb and Bob Fosse, Music by John Kander, opened July 17 with an engagement running through July 28 at the Bucks County Playhouse, The State Theatre of Pennsylvania. New Hope, PA.

GATSBY IN HOLLYWOOD a world premiere drama plays Los Angeles' MET Theatre. Jeff and A.K. Benninghofen star as F. Scott Fitzgerald and gossip columnist Sheilah Graham - the woman Fitzgerald had an affair with while married to Zelda. Fitzgerald died of a heart attack in Graham's apartment on December 21, 1940.

Also in the cast are Shirley Anderson, Linus David Cate, Russell Edge, Ben Davis, Andrew Friedman, Richard Gustafson, Beth Kirkpatrick, Kara Keeley, Linda Miller, Silas Weir Mitchell, Deena Rubinson and Quinn Sullivan.

Gatsby in Hollywood begins previews July 25 officially opening July 27 with a run through Aug. 31.

LIBERTY SMITH by Eric R. Cohen, Marc Madnick, Michael Weiner and Adam Abraham. The life and comic adventures of the unsung hero of the American Revolution will be presented in a July 22 reading at The Lamb's Theatre, NYC. The comedy stars by Richard Kind as Ben Franklin, Mary Stout ( See Broadway To Vegas column of January 14, 2001 ) (see Broadway To Vegas column of ) as Betsy Ross and Christian Borle as a young George Washington. Brandon Wardell plays the fictional title character and Darcie Roberts is cast as his love interest Emily. Dwayne Clark appears as Crispus Attucks, Laurie Gamache, Eddie Korbich (as Paul Revere), Garrett Long, William Parry (as Benedict Arnold), Josh Prince, Fran Prisco, Thom Christopher Warren (as Jefferson) and Michael Winther.

The show includes such events as the Boston Massacre, the French and Indian War, the Boston Tea Party, the Midnight Ride of Paul Revere, the Shot Head 'Round the World and more. Among the musical numbers are The World's Youngest Old Maid, Revolution Tomorrow and Truth, Justice and the New-England Way. Tomorrow's reading is directed by Michael Unger with Michael Lavine as musical director.

THE KING AND I music by Richard Rodgers with book and lyrics by Oscar Hammerstein II, opened July 17 with performances through July 28. Pocono Playhouse in Mountainhome, PA.

THE UNSINKABLE MOLLY BROWN by Meredith Willson, finds Susan Egan spending her summer vacation starring in this tuner. Joining her on stage will be Christopher Carl, who will play her husband, "Leadville" Johnny Brown. Others in the cast include Damon Kirsche, Elizabeth Ward, Cynthia Sophea and Rodger Hoopman. The creative team comprises Marcia Milgrom Dodge (director), Bob Richard (choreographer) and Valerie Gebert (musical director). July 22-28 at The Sacramento Music Circus, Sacramento, CA.

Egan was recently named Interim Artistic Director of California's Orange County High School of the Arts. She will serve as the artistic director of the Music and Theatre, Film and Television and Production and Design departments, assuming the position recently vacated by David Green while the school conducts a search for a permanent director. The actor/educator will be responsible for overseeing the expansion of the arts instructional program, assisting in bringing professional artists to teach and direct, and bringing in renowned artists for special appearances.

Eagan was a member of the first graduating class in 1987 of the nationally recognized high school.

PURPLE HEART by Bruce Norris stars Illinois born Laurie Metcalf who has been a Steppenwolf member since 1976 as Carla, the recently widowed 35-year-old wife of a Marine who was less than the ideal husband; Nathan Kiley as her angry, alternately implosive and explosive teenage son Thor; As The World Turns veteran Rosemary Prinz as her hovering mother-in-law, Grace, a woman who lives behind a curtain of denial, yet has a certain common sense approach to existence that is not totally without merit, and Christopher Evan Welch as Purdy, the man who seemingly appears out of nowhere to make his claim on Carla.

Purple Heart commissioned by the Steppenwolf Theatre is directed by Anna D. Shapiro.

Scenic design by Daniel P. Ostling, costume design by James Schuette, lighting design by James F. Ingalls, sound design by Rob Milburn & Michael Bodeen, dramaturg is Edward Sobel, and Laura D. Glenn is the stage manager.

Opened last Sunday and continues through Aug. 25 at Steppenwolf Theatre, Chicago.

"thePlaytalks" lecture series features Dr. Mary Agnes Doyle following the Wednesday matinee performances on August 14 & 21. Sign-language Interpreted performance: July 31. Audio-described performance August 1.Sponsorship support provided by The Harold and Mimi Steinberg Charitable Trust.


WHO'S WHERE


NEIL DIAMOND winds up the European arm of his tour this week performing tonight in Birmingham England at the NEC Arena. On Tuesday he's center stage in Nottingham at the Nottingham Arena. Then he's off to Sheffield for a Wednesday performance at the Sheffield Arena. Friday finds the songwriter/singer in London for a two nighter at the Earls Court Arena.

PILAR RIOJA the acclaimed Flamenco and Spanish dancer has a limited engagement July 25th through September 1. Rioja has amazed audiences for over half a century all over the world, opening many doors for Spanish Dance and single-handedly popularizing flamenco. Appearing with Ms. Rioja will be Jose Luis Negrete and Antonio Munoz, Flamenco Guitarists; Francisco Rold n, Classic Guitarist; Alfonso Cid, Flamenco Singer/Cantaor; and David Castellano, Musician. Presented by Repertorio Espanol at the Gramercy Arts Theatre, NYC.

Repertorio Espanol - Gilberto Zaldivar- Executive Producer, Rene Buch - Artistic Director, was founded in 1968 and has been awarded Drama Desk, OBIE and New York State Governor's Awards, as well as many ACE citations. Repertorio Espanol 's Education Program is based on the fundamental concept that thought-provoking theatre in any language challenges students' perceptions and teaches them to look at the world in different ways. Since its inception, Repertorio Espanol's Education Program has introduced over 270,000 students to intelligent Spanish-language theatre.

REUBEN BLADES performs Wednesday and Thursday at B.B. King Blues Club and Grill in NYC.

LYLE LOVETT at the microphone on July 26 in Pelham, Alabama at the Oak Mountain Amphitheatre. On Saturday the show is in Charlotte North Carolina at the Verizon Wireless Amphitheatre.

DICKIE BETTS AND GREAT SOUTHERN entertain tonight in Asheville, North Carolina at the Asheville Music Zone. On Friday the show is on stage in Charlotte, North Carolina at the Verizon Wireless Amphitheatre. He closes out the week on Saturday in Atlanta, Georgia at the HiFi Nuys Amphitheatre.

BURT BACHARACH across the pond in England performing Sunday, July 28 in Liverpool, England at the Liverpool Summer Pops.

DIANA ROSS reaching out to touch her fans Tuesday in Westbury, N.Y. at the Westbury Music Fair. On Wednesday the show moves to Boston, Mass for am engagement at FleetBoston Pavilion. On Friday the performer is in Rama, Ontario at Casino Rama.

PAT BENETAR on stage tonight in Boise, Idaho at the Big Easy. On Wednesday she'll be in Minneapolis at the Rib Fest. Thursday finds her in Milwaukee at the Potawatomi Casino. She closes out the wee, Saturday, in Rama, Ontario at Casino Rama.

MEAT LOAF finishes out a leg of his American tour tonight in Cadott, Wisconsin at the Rock Fest, then shoots across the pond for a show Wednesday in London at Hyde Park. On Thursday he's on stage in Leeds, UK at Millennium Square and on Saturday he's in Dublin, Ireland performing at Marlay Park.

GEORGE JONES promises to show up for his gigs Friday in Belterra, Indiana at the Belterra Casino and on Saturday in Strausstown, PA at the Pat Garrett Music Park.

JAY LENO performs Friday and Saturday in Las Vegas at the MGM Grand.

MARC ANTHONY on stage tonight in Cleveland, Ohio at the Tower City Amphitheatre. On Tuesday the show is in Minneapolis at the Target Center and on Friday he'll be center stage in Seattle at the KeyArena at Seattle Center.

THREE MO TENORS centerstage Monday in Vienna, Virginia at the Wolf Trap Filene Center and on Saturday they'll be in the spotlight in Los Angeles at the Greek Theatre.

MICHAEL BOLTON has a busy week. Tonight the show is in Warsaw, Indiana at the Wagon Wheel Theatre. On Wednesday he's center stage in Indianapolis, at 8 Seconds saloon. Thursday the gig is in Taylorville, Illinois at Nashville North Friday the city is Jefferson, Wisconsin at the Jefferson County Fair. He closes out the week, Saturday, in Columbus, Ohio at the PromoWest Pavilion.

DIANNE REEVES performs July 30 in Santa Fe, New Mexico at the Lensic Performing Arts Center.

HUEY LEWIS AND THE NEWS center stage on July 25 in Cheyenne, Wyoming during Frontier Days. On Saturday, July 27 they'll be in the spotlight in Minot, North Dakota at the North Dakota State Fair and on Sunday, July 28, the show is in Great Fall, Montana at the Montana State Fair.


BIG SHOTS


A.T.P.A.M. the Association of Theatrical Press Agents and Managers is the union and professional association representing over 800 press, marketing and management specialists in the live entertainment industry throughout the United States and Canada. In 1994, A.T.P.A.M. merged with the International Alliance of Theatrical Stage employees. Recently the Local 18032 re-elected all of their officers and board of governors. They are: Maria A. Soma President, David Calhoun Vice President and Gordon G. Forbes Secretary-Treasury. The Board of Governors include Chairman Douglas C. Baker of the Manager Chapter and Jim Baldassare of the Press Agent Chapter. Press agents re-elected include; Barbara Carroll, Kevin P. McAnarney, Kevin O'Connor and Molly Smyth and newly elected alternate David Gersten. Managers who will once again serve on the board include; Susan Elrod, Mark Schweppe, and alternate Susan Sampliner and newly elected members Robert Reilly and Howard Rogut. Members emeritus are Merle Debuskey, Shirley Herz and Richard Seader.













Next Column: July 28, 2002
Copyright: July 21, 2002. All Rights Reserved. Reviews, Interviews, Commentary, Photographs or Graphics from any Broadway To Vegas (TM) columns may not be published, broadcast, rewritten, utilized as leads, or used in any manner without permission, compensation and/or credit.
Link to Main Page
---
Laura Deni



U.S. Postal Address: Post Office Box 60538, Las Vegas, NV 89160
CLICK HERE FOR COMMENT SECTION