! >
Broadway To Vegas
  SHOW REVIEWS CELEBRITY INTERVIEWS GOSSIP NEWS

| | |
| --- | --- |
| | |
CHICAGO THEATRE IMMERSION WEEK-END - - CENTRAL PARK BIRTHDAY - - ARE YOU READY FOR CHRISTMAS? - - VICTORIA GOTTI GETS FRAMED - - TONY BLAIR WANTS TO VISIT NEVADA - - SHOOTING PAINTBALLS AT NAKED WOMEN - - PIGEON ON SHOULDER EARNS STANDING OVATION - - RED HOT JAY-JAY JOHANSON - - DONATE . . . Scroll Down


ONLY THE NOSE KNOWS


Everyone can breathe easier. The nose has been recovered.

Not just any old schnozzle - but the 220-pound, three-foot-high marble sculpture of Major Kovalyov's nose, the protagonist in one of Nikolai Gogol's (1809-1852) well-known short stories, The Nose.

The Nose, published in 1835, is the story of a man, named Major Kovalyov, who wakes up one morning and discovers that his nose is missing - only to learn it is wandering around St. Petersburg wearing his uniform.

The honker was sculpted by Vyacheslav Bukhayev and mounted on the side of an apartment building in St. Petersburg, Russia in 1994, as part of a humor and satire festival. The proboscis disappeared ten months ago.

At the time of the theft St Petersburg police official Pavel Rayevsky indicated detectives believed a collector was probably behind the theft.

"It required a ladder, significant physical strength as well as a lot of motivation," said Vladimir Timofeyev, director of the city's sculpture museum.

Russia is a hotspot for organized art theft, with St. Petersburg a particular focus for gangs.

The police said the proboscis was sniffed out in another building.


TONY BLAIR SPEAKS AND PAINTBALLS FLY
Tony Blair would like to visit Nevada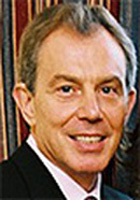 When Prime Minister Tony Blair delivered his speech before Congress last Thursday he announced that he has never been to Nevada, a place he would like to visit.

There is much for him to see in Sin City. World famous resorts and structures such as Hoover Dam, one of the seven architectural wonders of the world.

Of course, there is that current Bambi situation.

We know that Blair has pledged to ban hunting with dogs, and we are confident he'd be against hunting women.

A few minutes after Blair finished his speech, news coverage shifted to a story about a Las Vegas paintball sport called "Hunting for Bambi."

Grown men, wearing camouflage, stalk tennis shoe wearing, naked women through a sagebrush obstacle course, chase them down and shoot them with paintballs traveling at a velocity of 140 feet per second.

It is claimed that the men are charged $10,000 to participate. If the naked girl manages to complete the course, without being hit, she is paid $2,500. If she gets lambasted, she takes home only $1,000.

The story was first reported on Las Vegas television channel KLAS-TV by a respected, expert reporter who is not usually taken in by a hoax.

Other media picked up the story, including the CNN segment manned by Anderson Cooper.

Cooper interviewed Las Vegas Mayor Oscar Goodman, Faye Wattleton, former Planned Parenthood executive director and Michael Burdick, whose website invites potential customer to join "Master hunter Michael Burdick as he and his staff at Team Bambi take you on 10 incredible hunts that will shock you for life as well as give you a new outlook on women."

Burdick managed to get a plug in, suggesting that people buy his video.

That is hyped as: "More shocking than anything you've ever seen before. Labeled by CBS News as a cross between Sex and Violence a deadly combination! Women are being hunted down like animals and shot with paintball guns. This Raw and completely Uncensored video is a cross between Bum Fights and Girls Gone Wild and is sure to be the topic of many Howard Stern Show fans. You will be completely stunned when you see some of the wildest, most outrageous moments ever caught on tape. This is without a doubt one of the sickest and most shocking videos ever made. When it comes to hunting women if you can think of it we probably show it. Women are screaming with fear as our Team Bambi hunters track them down and blast them with paintball guns..."

Waddleton was appalled, as are the manufacturers of paintball equipment who want no part in this type of "hunt."



Las Vegas Mayor Oscar Goodman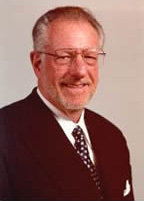 Las Vegas Mayor Oscar Goodman drew the line at violence against women, but touted Las Vegas as a place where just about anything goes. He plugged topless dancing - where in some establishments, to collect their tips, the girls are required to crawl naked, on all fours, along the stage while men put money in their mouths. Goodman mentioned that lap dancing was available and virtually gave directions as to how a cab can take a gent to a legal brothel.

Goodman wasn't too sure what to do about this situation, although he thought that any man who participated in such an event has "a screw loose." Goodman emphasized that the city would investigate whether all necessary licenses were in place.

In the accompanying video report, which CNN aired, a man identified as a professional psychologist was interviewed. He asserted his fears that men who participate in this type of game might start to blur fantasy with reality. However, he called these games "every man's fantasy."

Cooper, who is one of our favorites, was astute enough to pick up on that comment and courageous enough to question it.

When Cooper asked what type of men participated, Burdick responded by categorizing his customers as henpecked nerds who are dominated by their controlling wives. Badmouthing customers, whom he claims cough up thousands of dollars, is an unusual business tactic.

We think the hunts are a hoax and the video is staged, scripted acting. The latter is something that Burdick came close to confessing to Cooper.


ART AND ABOUT
PAGEANT OF THE MASTERS the world famous, annual, living art recreation, currently taking place in Laguna Beach, California (See Broadway To Vegas column of July 13, 2003 ) has some interesting behind the scenes tidbits.

"Once a pigeon landed on the shoulder of volunteer posing as a statue. She held her pose and received a standing ovation," Sharbie Higuchi, director of marketing for the Pageant, told Broadway To Vegas.

"There are approximately 600 volunteers in this year's show. There are two full casts. Each cast alternates performing – they perform seven days straight and are off seven days. Over 100 gallons of makeup are used. Each year is different. But, white and brown are the top contenders. Depending on the complexity of the piece. It takes anywhere from 10 minutes to one hour to apply the make-up."

Being able to post for 90 seconds without moving can lead to romance. "There have been couples who have met and married. In fact, our Technical Director Richard Hill met his wife Valerie who is a longtime cast volunteer."

"Officials are already at work thinking about next year's show. Our Pageant director Diane Challis Davy has selected next year's theme, which will be Portrait of an Artist."

FRAMED GOTTI It should surprise no one that a Gotti spent decades living a secret life.

When Victoria Gotti, the widow of John Gotti, wasn't in the kitchen stirring pasta sauce, she was living a colorful, secret life.

She was painting.

If a dutiful mob wife was going to pick up a paint brush, one might have thought she would gravitate toward the paint-by-the-numbers genre. Not this mob wife. Victoria prefers to brush stroke nudes and cats.

That didn't please the flamboyant crime head. The infamous Gambino mob boss, who died from cancer in June 2002, while serving a life sentence for murder and racketeering, was a conservative at home - a guy who didn't cotton to women going topless.



John Gotti portrait by his widow auctioned for charity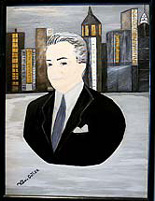 The mafia icon didn't approved of his wife's subject matter.

Last Thursday at the Gale Martin Fine Art in New York City, twenty-two of her paintings, spanning twenty-five years of work, went on exhibit - titled Praise of Older Women. Suddenly art critics and collectors of expensive art were saying her name in the same sentence as Manet, Cézanne, Matisse, Milton Avery, and Warhol.

Victoria Gotti, who does not have any professional art training, specializes in acrylic.

She signs her work "V. Gotti Sr." so that people don't confuse her with daughter, Victoria Gotti, who is a writer. In the art world the V. Gotti Sr prices are still cheap at $4,500 to $6,500.

Two of the most talked about pictures were of John Gotti and Rosie O'Donnell, titled Rosie O. Gotti's portrait shows him in a dark, shark skin suit, the style that helped earned him the name Dapper Don.



The artist admires Rosie O'Donnell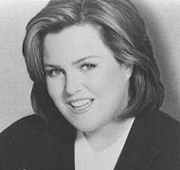 The Rosie O picture depicts a bosom-baring woman, looking like O'Donnell, riding a motorcycle on a beach of topless women. On a well toned arm are tattooed initials of John Gotti. It was reported that O'Donnell, who was flattered that Victoria had been a regular Rosie viewer, wanted the art for her living room.

Gallery Co-owners Kevin Platt and Doughba Hamilton Caranda-Martin were flooded with calls about the Rosie O painting - fielding at least 20 - and announced that the painting had been sold to an anonymous buyer for an undisclosed price.

Proceeds from the painting of John Gotti, which was to be gaveled down in a silent auction, will be given to St. Jude's Hospital. Half the proceeds from a painting of a firefighter were to be donated to a firefighters foundation. The exhibit is on display until Aug. 22.



The most famous park in the world - Central Park in New York City - is celebrating its 150th birthday.

Wollman Rink opened in 1950. Over 300,000 skaters glided across the ice that year. Today over 4,000 use the Rink daily.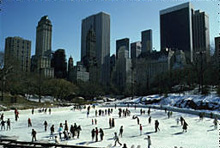 Each year over 25 million people visit the 843-acre grounds, which were designed by America's premier landscape architect, Frederick Law Olmstead.

A tree may grow in Brooklyn, but in Central Park there are 26,000, including 1,700 American Elms. Many of them are homes to the 275 of the 800 bird species found in North America.



Shakespeare Garden in Central Park. One tree in the garden is a graft of a white mulberry tree planted by Shakespeare at New Place, Stratford-on-Avon, in 1602.
If you walked around the park you would have ankled six miles - 2.5 miles up and down the avenues and .5 miles across Central Park North and South. You'd probably be tired. No problem. There are 8,968 benches upon which to rest your tired carcass. If placed end to end, they would stretch seven miles. You might also be thirsty. There are seven ornamental fountains and 125 drinking fountains.

The original Carousel, built in 1870 and, according to Park lore, was turned by a blind mule and a horse. Twice destroyed by fire, it was replaced by the current brick structure in 1951. One of the Park's most popular features with almost 250,000 riders a year.

The northern end of the Park was the site of a series of fortifications for the Revolutionary War and the War of 1812.

The Conservancy and City of New York have planned numerous events and exhibits this summer to mark Central Park's 150th anniversary. Among them: Yesterday, July 19, was the Park wide 150th birthday party. From Sept. 3-7 there will be the Central Park Film Festival. Now through Aug. 31 visitors can enjoy exhibition of drawings, blueprints and photographs at The Metropolitan Museum of Art. Beginning Tuesday, July 22, through Nov. 16 a historical look at recreation, parks and New Yorkers' health and happiness will be featured at the New York Historical Society. Beginning July 31st through August Aug. 24 one can enjoy Moving Performances where the audience literally following performers throughout the park, staged by the New York Classical Theatre group.

If you think Central Park looks familiar to you, no doubt it does. Since 1908, more than 170 movies containing scenes in Central Park have been released. CLICK FOR COMPLETE LIST OF MOVIES AND YEAR FILMED IN CENTRAL PARK
C
H R I S T M A S IN J U L Y

Think snow. It's 115 in the shade. Instead of singing Too Darn Hot from Kiss Me Kate, try visualizing snowflakes. It won't make you feel cooler, but the exercise will keep metaphysical practitioners happy.

Or, plan your holiday entertainment now. The stars are preparing - why aren't you?



Tony Orlando and Santa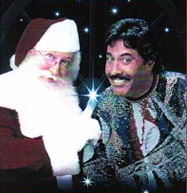 Tony Orlando's critically acclaimed Christmas Show - Santa and Me; A Holy Night Before Christmas. That is billed as "a miraculous musical tribute to the true meaning of Christmas," and puts the red suited one on stage at the Orleans Hotel in Las Vegas December 15-21.

Amy Grant and her hubby, Vince Gill, will headline a Christmas tour this year, replacing Amy's traditional Christmas tour. The Amy Grant and Vince Gill Christmas Show will play Belmont University's 5,000 seat Curb Event Center, which is slated to open this fall. The Grant/Gill Christmas frolic takes place Nov. 28-29.

To celebrate Hartford Stage's 40th anniversary season they will include Hartford Stage's most popular production of the past 40 years - A Christmas Carol - as part of the subscription series for the first and only time, rather than a separate presentation at a separate price.

Since its arrival in 1998, almost 100,000 people have been enraptured by New England's favorite holiday tradition. The Charles Dickens' classic, adapted and directed by Michael Wilson, is an annual sell-out. The run will also be longer than usual, presented November 13 to December 27 for a total of 60 performances.

A Tuna Christmas, that rollicking holiday hoot by Ed Howard, Joe Sears and Jaston Williams, will be staged November 6, 2003 - January 4, 2004 at the at the Actors Theatre of Louisville, Kentucky. Two consummate actors portray more than 20 zany citizens in the quirky Tuna, Texas.

For thousands, the Christmas season wouldn't be complete without seeing the Radio City Music Hall Rockettes Christmas Spectacular.

Branson, Missouri is one of only a handful of locations outside of New York where the Rockettes perform their high kicking holiday treat. Last year, more than 200,000 viewed the Christmas tradition in Branson.

This year you can also enjoy the production in Miami, the Gammage in Tempe, Seattle, and the Broward Center in Fort Lauderdale, Florida. However, this is the final season to enjoy the production in Branson. The Radio City Christmas Spectacular will present its final season at Branson's Grand Palace, October 31 through December 6.

The show, which premiered in Branson in 1994, will return this coming Christmas season for a gala 10th anniversary final year. Complete with a cast and crew of 100, the singers and dancers are elegantly complemented by 400 colorful costumes, dazzling lighting, live animals and elaborate sets during the two-hour extravaganza.

The show features production numbers such as Christmas in New York, Santa's Candy Castle, Carol of the Bells, Parade of the Wooden Soldiers, and the unforgettable Living Nativity. These last two scenes have been performed at Radio City Music Hall since 1933 and have captured audiences' hearts all over the world.

The Rockettes first kicked to life in 1925 as the "Missouri Rockets" and made their show business debut in St. Louis. They helped open the Radio City Music Hall on Dec. 27, 1932, sharing the stage with 17 diverse acts that included the Flying Wallendas, Ray Bolger, and Martha Graham.


IMMERSE YOURSELF IN THE THEATRE
The City of Chicago has developed a way to keep old customers and attract new visitors - their successful Immersion Weekends - which began June 1 and run through September 12.

This week's Immersion is Theatre, part of Play On Chicago, a collaborative initiative of the Chicago Office of Tourism, the Chicago Convention and Tourism Bureau, the Mayor's Office of Special Events, the Illinois Department of Commerce and Economic Opportunity, Bureau of Tourism, and the Chicago Federation of Musicians.

Those participating this sold-out weekend begin Friday by attending an exclusive reception and lecture at the theatre with members of the Lookingglass ensemble, followed by a performance of Race, the stage adaptation of Studs Terkel's acclaimed book, directed by David Schwimmer at the Lookingglass Theatre.

On Saturday there is an exclusive pre-show reception and lecture before participants head to the Cadillac Palace Theatre to see Disney's The Lion King. Chris Jones, arts reporter for the Chicago Tribune, will speak at the reception and provide an overview of the theatrical scene.

Each Immersion Weekend includes a two-night stay in a downtown hotel, along with tickets to some of the hottest musical events in the city and access to special receptions hosted by leading arts experts.

"Immersion Weekends offer unique experiences for visitors to enjoy Chicago's many cultural offerings--from theatre to blues and jazz," said Dorothy Coyle, Director of the Chicago Office of Tourism. "The packages provide flexibility for guests to add to their itinerary or just relax, and make planning a getaway easy and hassle-free."



Broadway To Vegas is supported through advertising and donations. Priority consideration is given to interview suggestions, news, press releases, etc from paid supporters. However, no paid supporters control, alter, edit, or in any way manipulate the content of this site. Your donation is appreciated. We accept PAYPAL. Thank you for your interest. Laura Deni P.O. Box 60538 Las Vegas, NV 89160



UTAH SHAKESPEARE FESTIVAL

Henry Woronicz (left) as Richard III and Craig Spidle as Duke of Buckingham in Richard 111 Photo by Karl Hugh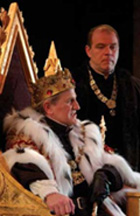 recipient of the 2000 Tony Award for outstanding regional theatre, is in full swing with all of the drama, passion and laughter that you'd expect from this Festival which runs through October 18.

Productions include; Measure for Measure, written by William Shakespeare, directed by Elizabeth Huddle. Much Ado about Nothing, written by William Shakespeare and directed by Kate Buckley. Richard III, written by William Shakespeare. Directed by J. R. Sullivan. 1776: The Musical with music and lyrics by Sherman Edwards. Book by Peter Stone. Directed by Brad Carroll. Born Yesterday, by Garson Kanin, directed by Kathleen F. Conlin, and The Servant of Two Masters, written by Carlo Goldoni and directed by Russell Treyz. Performances of those shows continue through August 30.

Shows with performances September 18 to October 18 include; Little Shop of Horrors, with book and Lyrics by Howard Ashman. Music by Alan Menken. Directed by Paul Barnes. The Importance of Being Earnest, written by Oscar Wilde. Directed by J. R. Sullivan. The Comedy of Errors, by William Shakespeare. Directed by John Neville Andrews.



Kurt Ziskie (left) as John Adams and Peter Sham as Benjamin Franklin in 1776 Photo by Karl Hugh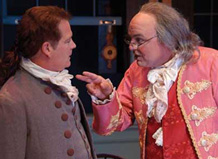 Now in its 42nd year, the Utah Shakespearean Festival, is hosted on the campus of Southern Utah University.

The Festival employs 27 people year-round. The summer and fall production company consists of approximately 350 individuals. Over 300 additional community members donate their time to support Festival activities.

Fred C. Adams founded the Utah Shakespearean Festival and is still at the helm as the Festival's executive producer. The managing director is R. Scott Phillips; Cameron Harvey is producing artistic director; and Kathleen F. Conlin and J. R. Sullivan are associate artistic directors.

A twenty-four person volunteer regional board of governors oversees all long range planning, marketing, and development of the Festival and is chaired by Thomas A. Thomas of Las Vegas.

The original budget of the Festival forty-one years ago was just under $1,000, and attendance was 3,276. In 2003, the total budget is nearly $5.6 million, and attendance is predicted to exceed 150,000.

Nearly 80 percent of the Festival's costs are funded through receipts from the box office and concessions.

DAMN YANKEES directed by James Warwick and starring Maureen O'Flynn with Dan Duquette portraying the manager of the Washington Senators. Although this will be Duquette's stage debut, he does have experience on the ball field. He was recently fired as general manager of the Boston Red Sox. Duquette accepted the role in Damn Yankees last November and has been taking singing and dancing lessons. In his role as Benny Van Buren, he inspires his team to win the pennant with a rendition of You Gotta Have Heart

Damn Yankees won the 1956 Tony Award as best musical.

The Colonial Theatre in the Berkshires was built in 1903. Many of the theater greats have performed on its stage including; George M Cohan, Sara Bernhardt, John Barrymore, Eubie Blake, Douglas Fairbanks Sr., Billie Burke, John Phillips Sousa and the Ziegfield Follies.

The Colonial Theatre was designed by Pittsfield architect Joseph McArthur Vance. Its ornate turn of the century interior has been well preserved by its various owners. Many of the theaters performers spoke glowingly of the acoustics which allowed them to be heard in the further most reaches of the audience.

The theater is currently undergoing restoration. First Lady Hillary Clinton visited the Colonial Theatre on July 14th, 1998 as part of her "Save America's Treasures Tour". This production of Damn Yankees will be staged at the historic Wahconah Park through the Colonial Theatre Association. July 31 through August 3 in Pittsfield, Mass.

TRUMBO about the famed screenwriter Dalton Trumbo, written by his son Christopher, who based the material from his father's letters.

Nathan Lane will star as Trumbo from Aug. 26 through Sept. 21 at the Westside Theatre in New York City.

Trumbo died in 1976 at age 71

The scribe was one of those dubbed the "Hollywood 10" - forced to appear before House Un-American Activities Committee in the 1950s. Trumbo's refusal to answer questions about his political affiliation got him fired from MGM Studios and imprisoned for a year.

THE SOUND OF MUSIC starring the Von Trapp Children, July 23-26 at the Aladdin Hotel in Las Vegas.

THOROUGHLY MODERN MILLIE the Tony award winning show by Dick Scanlan, Richard Morris and Jeanine Tesori has launched its national tour. Darcie Roberts stars as Millie Dillmount, Matt Cavenaugh as Jimmie and Diana Kaarina as Miss Dorothy. The national tour is directed by Michael Mayer.

The score of the show includes nine new songs with musical direction by Michael Rafter.

Scenic design by David Gallo. Donald Holder lighting and Jon Weston sound.

The production winds up a successful engagement in Kansas City tonight. Next stop is Dallas for a July 22-Aug 3 run at the Music Box.


| | | |
| --- | --- | --- |
| | | |
WHO'S WHERE


BROADWAY STARS performing the best songs from up-and-coming theater composers. On July 21, it's Liz Callaway, Rebecca Luker, Danny Burstein, George Dvorsky and Julia Murney. Symphony Space in NYC.

JAY-JAY JOHANSON the hot Swedish singer billed as "an unlikely combination of a retro crooner and a cutting-edge electronic artist," participates in the Stereoleto Festival July 26 at Molodyozhny Theater, Russia.

RICK SPRINGFIELD participating today, Sunday July 20, at Rock Fest in Cadott, Wisconsin. On Wednesday the former star of EFX in Las Vegas entertains at the Orange County Fair in Costa Mesa, California. On Friday he stars at the Gold Strike Casino in Robinsonville, Mississippi and on Saturday he performs at the Paragon Casino in Marksville, LA.

KT SULLIVAN With Mark Nadler, Heather McRae, Craig Rubano on Something Wonderful: Richard Rodgers Centennial of Song at the Caramoor Festival in Katonah, New York, July 22-24.

SMOKEY ROBINSON singing his hits in a two nighter Friday and Saturday at the Isleta Casino and Resort in Albuquerque, New Mexico.

WILLIE TYLER AND LESTER the one made out of wood is Lester. Tyler will be putting words in Lester's mouth July 21-27 at the comedy club inside the Riviera Hotel in Las Vegas.

CONNIE STEVENS on stage 25-27 at the Suncoast in Las Vegas.

GEORGE CARLIN brings an entire vocabulary to the MGM in Las Vegas for an engagement July 24-August 6.

LEE GREENWOOD on stage at the Marietta Field House in Marietta, Ohio on Wednesday, July 23.

MICHAEL BUBLE who was discovered by Paul Anka, has a two nighter Monday and Tuesday at Scullers in Boston.

METALLICA perform at the Metrodome in Minneapolis on July 27.

PAULA POUNDSTONE telling funny stories at Zanies in Nashville beginning Thursday for four night stand.

JANE OLIVOR performing at the Westbury Music Fair in Westbury, New York on Sunday, July 27.

PRESERVATION HALL JAZZ BAND entertaining Sunday July 27th at the Country Playhouse in Westport, CT.

RICHARD SKIPPER AS CAROL CHANNING his tribute to Carol Channing's amazing life and career with musical director John Bowen. Special guest is Annie Hughes. July 21 at The Duplex in New York City. On July 26 the show will feature George Fulginiti-Shakar on piano. This event is sponsored by The Arlington County Cultural Affairs Division, and is totally free!!! At the Lubber Run Amphitheater, Washington, DC.

ARLO GUTHRIE on stage Saturday, July 26 at the Falcon Ridge Folk Festival in Hillsdale, New York.

JERRY SEINFELD taking the jokes to Washington, DC. for a performance Saturday at the Kennedy Center.

BLIND BOYS OF ALABAMA participating in the Jazz & Blues Festival on July 25 at Snowbird, Utah. On Sunday, July 27, they are at the Toronto Star Bluesfest in Toronto.

ALISON KRAUSE on stage Friday at Wild Adventures Theme Park in Valdosta, Georgia. She closes out the week, Saturday, at Fun Fest in Kingsport, Tenn.

MARY CHAPIN CARPENTER on stage Thursday, July 24 at the Westbury Music Fair in Westbury, NY. On Friday she performs at the Calvin Theatre in Northampton, MA and on Saturday the show is at the South Shore Music Circus at Cohasset, MA.

THE EAGLES perform Monday at the Verizon Wireless Arena in Manchester, New Hampshire. On Tuesday they are on stage at the HSBC Arena in Buffalo. Thursday finds they at the Pepsi Arena in Albany, New York and on Friday the show is at the Atlantic City Boardwalk in Atlantic City.

LYLE LOVETT has a busy week. On Monday he is starring at the Potawatomi Casino in Milwaukee, Wisconsin. On Tuesday the singer is at the Ravinia Festival in Highland Park, Illinois. Wednesday finds him at Shelby Farms Plough Park in Memphis. Friday the show is at the Spartanburg Memorial Auditorium in Spartanbug, South Carolina and he closes out the week, Saturday, at the Amphitheatre at Regency Park in Cary, North Carolina.

BRANFORD MARSALIS performing Saturday at the Hawkins Amphitheatre Bartley Ranch in Reno, Nevada. Next Sunday she can be enjoyed at the Northwest Jazz and Wine Festival in Walla Walla, Washington.

HEART center stage Tuesday, July 22 at Pikes Peak Center in Colorado Springs, Colorado. On Thursday they entertain at the Anselmo Valencia Amphitheatre in Tucson, Arizona and on Friday they begin a two nighter at the Pechanga Entertainment Center in Temecula, California.
















Next Column: July 27, 2003
Copyright: July 20, 2003. All Rights Reserved. Reviews, Interviews, Commentary, Photographs or graphics from any Broadway To Vegas (TM) columns may not be published, broadcast, rewritten, utilized as leads, or used in any manner without permission, compensation/credit.
Link to Main Page
---
Laura Deni


CLICK HERE FOR COMMENT SECTION