! >
Broadway To Vegas
  
 SHOW REVIEWS CELEBRITY INTERVIEWS GOSSIP NEWS

| | |
| --- | --- |
| | |
LOVE OFFICIALLY OPENS AT THE MIRAGE - - SIR SIMON RATTLE AND THE RING CYCLE - - LORD OF THE RINGS RINGS OFF - - LEONARD NIMOY NARRATES TO BOLDLY GO - - TOWER OF LONDON MUSIC FESTIVAL - - EVERYBODY BENEFITS FROM MUSIC THERAPY - - UNDER THE BLACK FLAG - - HOOTIE AND THE BLOWFISH COLLECT SCHOOL SUPPLIES - - DONATE . . . Scroll Down


LOVE OFFICIALLY OPENS


The Beatles Love show at the Mirage Hotel officially opened Friday night. ( See Broadway To Vegas review )

More than 100 celebrities including current and ex-wives, sashayed down the red carpet at the Mirage hotel including; Ringo Starr and his wife Barbara Bach, Paul McCartney who said the show "just blows me away" and the widows of John Lennon and George Harrison, Yoko Ono and Olivia Harrison. John Lennon's first wife Cynthia Powell Lennon and their son Julian Lennon. Dhani Harrison the son of George Harrison and Olivia, and Sean Ono Lennon the son of John and Yoko.

Among the 4,000 attending were Guy Laliberté, the founder of Cirque; Sir George Martin and his son Giles Martin; Will and Grace star Megan Mullaly; Saturday Night Live veteran Kevin Nealon; Tony winner Robert and Vera Goulet; Las Vegas resident Phyllis McGuire; Siegfried & Roy, who used to perform in the theater where Love is now playing, and the woman is who driving force behind their success and Roy's remarkable recovery, Lynette Chappell; Monty Python member Eric Idle who is also author of the hit musical Spamalot, which will also be opening in Las Vegas.

Also on the invite list were Richard Marx the creator of Avenue Q; Roberta Flack, Paul Reiser, Corey Feldman, Little Steven Van Zandt, the Doors drummer John Densmore, Eddie Murphy, Wayne Brady who also performs at the Mirage - this new gig being July 13-15 - every other bold name you can think of and every creative genius associated with the mounting of Love which is a not to be missed show.


RING CYCLE BEGINS


Aix-en-Provence is a world renowned festival of opera and classical music which features a host of international singers and musicians. The event, in its 58th year, opens today Sunday, July 2, in southern France. This year for the first time a Wagner opera will be performed - The Rhinegold, with Sir Simon Rattle conducting The Berlin Philharmonic. The remaining operas of the Ring cycle will follow in future years.

The Rhinegold will be staged by French director Stéphane Braunschweig. The cast includes: Sir Willard White as Wotan, Detlef Roth, Joseph Kaiser and Robert Gambill

This year's arts festival will pay homage to Mozart, born 250 years ago in Salzburg, and to a native son, Cézanne, who died 100 years ago.

On Wednesday, Sir Simon and the Berlin Philharmonic will be heard in a free performance of Mahler's Fifth Symphony. This concert, as an unprecedented musical celebration, will take place at the base of St Victoire Mountain, in Bréguières quarry, which is featured in more than 80 Cézanne paintings.



For the 100th Anniversary of the death of the painter Paul Cézanne, the Festival d'Aix-en-Provence, with the participation of the Communauté du Pays d'Aix, will also stage an exceptional concert of the Berlin Philharmonic Orchestra, conducted by Sir Simon Rattle, who will play Gustav Malher's Symphony No. 5.

Like Cézanne, his contemporary Gustav Mahler was a pioneer. When he wrote his Fifth Symphony in 1901-1902, he was at the peak of his career. His works were finally being played everywhere, he was conducting the Vienna Opera, and had just married Alma; they had a girl. However, what could have been a hymn to life is a melancholy, somber work. Splendid. It was not until 1904 that the symphony was performed in Cologne, conducted by Mahler himself. In that same year, an entire room was devoted to Cézanne's work at the Autumn Exhibition in Paris.

The festival honors Mozart's 250th birthday year with a new production of The Magic Flute.


DOING TIME IN THE TOWER OF LONDON
Every weekend through July, the costumed event Thrown in Prison gives people that chance to experience what it was like to be a prisoner in the Tower of London in the sixteenth century.

The Tower of London has held prisoners throughout its history, until as late as the 1950s. Only prisoners from the higher levels of society were entitled to be held here and prisoners were even expected to pay their way, for the Asuite of irons (ie. being shackled to the Tower), food and accommodation. Now its your chance to step in to the shoes of a Tudor prisoner and follow in the footsteps of the likes of Queen Anne Boleyn, Queen Katherine Howard, Lady Jane Grey and Robert Devereux. A recreated cell with gaolers, guards, servants and interrogators will reveal the inner workings of this infamous fortress and prison.

So come along to the Tower of London and relive the experience of some of the nation's most famous prisoners inside one of the world's most famous, and infamous, prison.

The event takes place three times daily and is not suitable for young children.

Also at the Tower of London is the 2nd annual Tower Music Festival which opened June 27 and runs through July 14.

A wide choice of renowned artists ranging from Jamie Cullum to Madeleine Peyroux.

Tues 4 July: James Brown supported by Patrick Watson.
Thurs July 6: Dionne Warwick supported by Sirens.
Fri July 7: Dr John & Randy Newman.
Sat July 8: Pink Martini supported by Curtis Stigers.
Mon July 19: Jeff Beck & Buddy Guy.
Tues July 11: Madeleine Peyroux supported by Athena.
Wed July 12: Al Jarreau supported by Fourplay.
Thurs July 13: Jamie Cullum supported by Raul Midon.


HELLO, MOMMY


When opera singer Nancy Evans staged her recent - June 13-28 - musical comedy show Love with a Twist at The Theatre at Saint Peter's Church in Manhattan, one audience member was of particular interest to Nancy - her 25-year old daughter, Heather.

"She laughed at all the right moments, applauded appropriately and had a fabulous time," the proud mother told Broadway To Vegas in discussing how important music therapy has been to her special needs daughter.

Music therapy was something opera singer Nancy Evans never thought about.

The Virginia born and raised dramatic soprano graduated from Carnegie Mellon University. It was there she met and married her husband Peter S. Saretsky, a CPA who began his career in public accounting at Arthur Young & Co. (now Ernst & Young). He received both his BS and an MBA in Finance from Carnegie-Mellon University. Formerly with IBM Corporation where he most recently led the finance function for IBM's Global Telecommunications and Media division. Before joining IBM, Mr. Saretsky spent over 20 years at American Express Company, where he held a wide range of financial positions, and fulfilled a variety of CFO responsibilities, including two international assignments.

"In college I met a young man from New York," said Nancy. "We dated and then got married and moved to New York. I got to London because of my husband who worked for American Express. He was the Chief Financial Officer for the region, so he was in charge of the UK."

The Saretsky family was sitting pretty. They had a marvelous two year old son, Jason, and Nancy was pregnant.

"It was an uneventful pregnancy," Nancy told Broadway To Vegas remembering the time 25-years ago when she was eagerly anticipating the birth of daughter, Heather, while starring in the Mozart opera Cosi Fan Tutti.

"When Heather was first born she was perfectly normal," Nancy softly related. "Unfortunately, at 21 days, she had epileptic seizures on her entire left side. Then each month after that she had a different type of seizure. When she was five months old she was diagnosed with a horrendous disease that happens to one in 5,000 children - called infantile spasms. Hypsarrhythmis is the name for the pattern on the EEG. That is how they know it is infantile spasms. It means that the entire brain is seizuring. It was quite scary. It was horrible! They clinically called it developmentally delayed and epilepsy."

"They never could find out the ideology - never could understand why - the seizures."

"When Heather became ill we decided that we would have no expectations for her. So, even it was just a smile - we'd rejoice in that."



Jason and Heather. Photo courtesy Nancy Evans
"Also, because Jason was so young, we instilled in him that she was his sister. She was not going to be treated differently. We took her to restaurants. We took her out. When she got older we took her to musicals. He played with her and if she messed up his toys, it was the same sibling arguments - Mommy, she's playing with my toys, make her go away," she recalled with a laugh.

"Early on we realized that music had an effect on her."

"One time we were on vacation and Heather was having a rough time. I was reading her a story that she loved. I must gave read it to her five times. I wasn't sure about her, but I was getting a little bored. So, I then sang it as an opera. Then I sang it as a jazz reading and then as a musical comedy person. And, don't you know, she calmed right down," Nancy laughed.

It's a bedtime reading suggestion that many parents might try.

Introducing Heather to music therapy came early.

"When we lived in London I had her at the Nordoff Robbins Center and they have a branch at NYU, It was started by two gentleman Mr. Nordorf and Mr. Robbins - one was a Special Ed teacher and one was a musician. They got together and tried to figure out how music could be used as a therapy with people who were not being helped by any other therapy."

While horror stories have been reported regarding parents crossing country borders with a handicapped children, Evans reported only positive experiences.

"People have been lovely. It really brings out the kindness in people. She is a love. She is very social. She cannot speak. She has a language issue which a lot of autistic children have, although she is not termed autistic. She is very social. She makes eye contact and she makes sure she shakes your hand. She is able to use communication devices. But, she has a bad tremor. She has Ataxic cerebral palsy and while she can walk she has a very bad tremor so she needs constant care. Unfortunately, even though she understands almost everything, she can't do for herself."

The Nordoff-Robbins approach to creative music therapy is based upon the belief that there is an inborn musicality residing in every human being that can be activated in the service of personal growth and development. This self-actualizing potential is most effectively awakened through the use of improvisational music in which the individual's innate creativity is used to overcome emotional, physical, and cognitive difficulties.



Nordoff Robbins Center. Photo Nordoff Robbins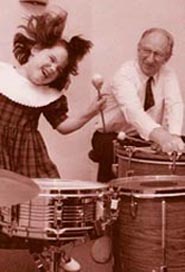 In this form of co-creative endeavor, clients take an active role in creating music together with their therapists on a variety of standard and specialized instruments. Because instruments can be chosen which are expressively gratifying yet do not require special skills to play, no prior experience or training in music is required of clients.

Nordoff-Robbins therapists work worldwide with a broad range of people, including disabled children, individuals under psychiatric care, self-referred adults seeking a creative approach to emotional difficulties or personal development, and individuals with medical problems and in geriatric care. In all of its applications this work emphasizes the potency of individualized musical experiences as a means of developing relationship and the inner resources of clients. Spontaneous, clinically directed musicianship is combined with a humanistic concern for the needs and growth potential of the individual in overcoming the barriers to a more gratifying life imposed by disability, disease and trauma. Music and musical experience are the primary areas in which the therapist intervenes and in which the client's development takes place.

Facilities dedicated to its application exist in the United States, Great Britain, Germany, Australia, and Scotland and an organization devoted to its study exists in Japan. In all of its forms, the practice is both artistic and scientific: artistic in the creativity and aesthetic sensitivity with which therapists create music to meet individual client needs; scientific in the thoroughness with which the tape recording of each session is studied and documented to effect ongoing assessment and treatment planning.

"Music has the power to reach any human condition," stressed Nancy. ( See Broadway To Vegas column of October 24, 2004 ) "Whereas physical therapy is just working on the physical, and speech therapy is maybe just working on the speech, music would be able to work on the emotional, physical, the intellectual - any phase of the human condition."

"Since 1998 Heather she has been at a residential facility called The Center for Discovery in Harris, N.Y.," related Nancy about the pediatric and adult facility - a facility where Heather will live for the rest of her life.

"It is fabulous," responded Nancy about the importance for parents to know that their child will always receive proper care.

"Those are exactly the fears that we lived with," confessed Nancy.



Greenhouse at Thanksgiving Farm. Photo Center for Discovery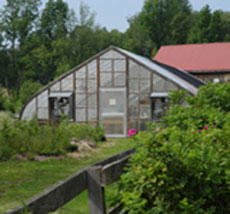 Residents and animals enjoy each other's company at Thanksgiving Farm. Photo; Center for Discovery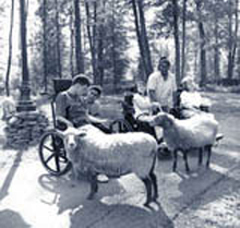 "We were extremely lucky we found this place and it is beautiful. They have an organic farm, a bakery and a stable. They have riding for the disabled. They have a swimming pool. They have just started another farm where they are working with autistic children."

"They have received some federal grants to do work with autism as well," she reported.

However, states are not always as eager to fund music therapy as they are other forms of treatment. Nancy performs benefit concerts for the facility four times a year.

A portion of the proceeds from Evans' Love With a Twist show at the Theatre at Saint Peter's went towards the Music Therapy Program at the Center For Discovery. For the past several years Nancy has actively helped fundraising for the Center. Over the past three years she has aggressively raised over $100,000 to fund the music therapy program.

"One of the reasons we started raising money for music therapy is because, when Heather moved into the adult side, they didn't have music therapy because the state wouldn't pay for it," she explained. "That is why most schools don't have a music therapist on staff. Music therapy is usually a private therapy that a parent will choose to go to and pay for."

"When we first got there in 1998 they had two music therapists. They added interns. You are allowed to have an intern for every two therapists. Now they have six music therapists."

"Then they started to do music in the houses before dinner time - classical, jazz - different things to see if the kids would calm down before eating. A lot of these kids can't wait. They have to be fed at a certain time and some can't chew. They have every disability you can imagine. Originally, it was a medically fragile facility, so you have a tremendous amount of the population in wheelchairs and on feeding tubes. Their food has to be processed a certain way. And, children get hungry because they are children. They are impatient. Even though they may not be able to talk or run, they let you know that they want to eat."

The facility is divided into an adult section and a pediatric side where the child stays until they are 21 "Heather is in a house with six other young adults. There is a ten-year age span. The first house she was in housed 12. They found that was too large, so they are building smaller houses."

"Heather is fantastic," emphasized her mother. "She had taught us a tremendous amount about life and what to look for and how to live your life."



Peter, Jason, Nancy Evans and Heather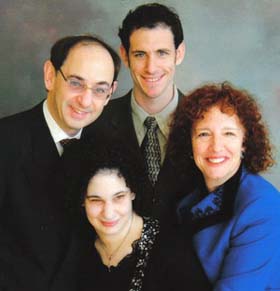 Today husband Peter is the CFO of MediZine Inc., which is the leader in consumer health educational marketing and publishes magazines including Healthy Living.

Son Jason played the French horn in high school. Deciding he preferred flying feet to flying fingers he put down the horn to put on track shoes.

Yesterday, July 1, Jason Saretsky began his new duties as Director of Men's and Women's Track and Field and Cross Country at Harvard.

Saretsky was a standout student-athlete in his own right as an undergraduate at Columbia. He was an Ivy League Heptagonal champion in the 3,200-meter relay, a member of Columbia's school-record relay squad in that event, and was a two-time All-Ivy League performer.

Proud brother to Heather, Saretsky is a 1999 graduate of Columbia with a bachelor's degree in psychology. He added a master's degree in applied physiology from Columbia's Teachers College in 2001 and is completing work toward a master's in business administration from Iona's Hagan School of Business.

Referring to her daughter's permanent residency Evans explained that, "The Center for Discovery's philosophy is - everything is a surprise. They are no expectations. Everyone is going to reach their capacity and be as independent as they can possible be. They make sure that they make a way to do it."



Heather in a musical therapy session. Photo courtesy Nancy Evans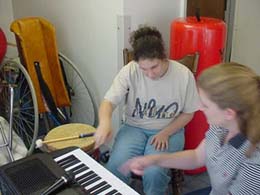 "One of the things that the Center and us as parents are trying to do, is raise awareness of music therapy and how important it is for every child - to get music therapy into the school system."

"Some of the wonderful things I have found in doing these concerts is that a lot of these kids are in wheelchairs and a lot of them have severe Cerebral Palsy. The minute the music starts they are singing with us, lifting their heads up and smiling. They are fabulous! They have started a jazz group with blind children who can play the piano and drums. It the most amazing thing you have ever seen. This jazz group is going out and performing in the community.

"One of the things we want to do in raising money for them is to be able to build a music studio."

"The child basically helps to steer the music therapy session," explained Evans. "There is a "Hello Song" and a "Good-bye Song," so that there is a structure. The child knows when they first come in that there is going to be a routine. We start with the "Hello Song" and we end with the "Goodbye Song," but in between we can do anything. We can play any instrument, do any key."

"In Heather's session we started this Hello Song and the therapist helps. It was "Hello. Stacy," who is the therapist. Then Heather would either have to point to herself or say her name. When I joined the session I sang "Hello. Mommy." The day that I was there, Heather said her name, which I couldn't get over because I had never heard her say her name," emotionally recalled Nancy. "Then at the next session, when I wasn't there, they went to sing the Hello Song and Stacy said "Hello. Stacy."

"And, Heather said, "Hello - Mommy."

"Of course, the music therapist immediately called me to say that my daughter had said hello to me in absentia."



Broadway To Vegas is supported through advertising and donations. Priority consideration is given to interview suggestions, news, press releases, etc from paid supporters. However, no paid supporters control, alter, edit, or in any way manipulate the content of this site. Your donation is appreciated. We accept PAYPAL. Thank you for your interest.


SPREADING THE WORD


CONVERSATION WITH JULIET STEVENSON the popular series of afternoon Platforms returns in the Cottesloe with London's National Theatre company members talking about their work. Juliet Stevenson who is currently appearing as Arkadina in The Seagull will be in a conversation chaired by Al Senter.

Friday, July 7 at the Cottseloe in London.


SWEET CHARITY


THE COLOR PURPLE stages an Actors' Fund performance Tuesday, July 11th at the Broadway Theatre, NYC.


OTHER PEOPLE'S MONEY


IOWA WANTS FILMS Sean Astin is in Cedar Rapids, starring as a high school basketball coach, in the movie The Final Seasons which wraps production today, July 2.

Since Iowa offers no tax credits for filmmakers, the number of shoots are few. Lawmakers intend to level the playing field with neighboring states. Film production teams in Illinois receive 20 percent of all instate expenditures back from the state, and in Wisconsin, the state government will begin granting ambitious project and infrastructure investment credits in 2008. Iowa Rep. Mark Davitt has proposed a tax-incentive bill which features a 25 percent qualified expenditure tax credit - a reimbursement of money spent on select goods and services. The bill is expected to pass next year.


CURTAIN DOWN


THE LORD OF THE RINGS the $24-million - production touted as the show which would return Toronto to it's entertainment heyday - will end its run on Sept. 3 at the Princess of Wales Theater in Toronto, where it began an open-ended engagement on March 23. Last week the producers announced that the musical adaptation of J. R. R. Tolkein's fantasy trilogy would begin performances in May 2007 at the Theater Royal Drury Lane in London.

THE LIGHT IN THE PIAZZA winner of six Tony awards, the Adam Guettel-Craig Lucas musical stages its final performance today, July 2, at Lincoln Center's Vivian Beaumont Theatre. The show began previews March 17, 2005, officially opening on April 18, 2005 playing 36 previews and 504 performances,

The show begins a national tour starring Christine Andreas, beginning Aug. 1.

DOUBT John Patrick Shanley's Pulitzer Prize-winner and 2005 Tony award winner for Best Play, ends its run today, July 2. The production began performances on Broadway on March 9, 2005 and opened on March 31, 2005 The play staged 525 performances and 25 previews at the Walter Kerr Theatre.



UNDER THE BLACK FLAG The Early Life, Adventures and Pyracies of the Famous Long John Silver Before He Lost His Leg by Simon Bent.

Roxana Silbert (Artistic Director of Paines Plough) directs, and acclaimed composer Orlando Gough provides the score. Set design by Laura Hopkins.

Starring Cal Macaninch as John Silver.

High seas and low politics.

King Charles is dead and Oliver Cromwell presides over the new Commonwealth. All should be well, but for a motley crew of disaffected radicals - chief among them John Silver - England under the 'Lord Protector' is little better than it was before. Only at sea, under a pirate flag, can the clamorous voices of republicanism, anarchy and theocracy be heard.

This boisterously bold production follows Silver as he plies his violent trade - dodging the knife of his ruthless pursuer, Captain Mission - and exposes the class hatred and religious hypocrisy of the 17th century.

According to Shakespeare's Globe Theatre, "this production features bare flesh and filthy language."

July 9-August 12 - 14 performances only at Shakespeare's Globe Theatre, Bankside, London.

SINGIN' IN THE RAIN at the award-winning North Shore Music Theatre. NSMT's technical artists will work their magic to create all the romance, glitz and glamour of Hollywood's golden age, including a nightly rainstorm live on stage.

The cast will be lead by Matt Loehr (Don Lockwood), Kelly Felthous (Kathy Selden) and Mark Ledbetter (Cosmo Brown) in the rolls made famous in the film by Gene Kelly, Debbie Reynolds and Donald O'Connor, respectively. Also featured in the cast is Boston's own Leigh Barrett (Miss Dinsmore and Dora Bialy), Beth Beyer (Lina Lamont), NSMT audience favorite David Coffee (Roscoe Dexter) and Martin Van Treuren (R.F. Simpson).

The ensemble includes Gordon Baird, Sae La Chin, Michael Brian Dunn, Sara Edwards, Jenny Florkowski, Garett Hawe, Regan Kays, Julie Kotarides, Leah Landau, Jeff Metzler, Josh Scheer, Nathan Scherich, Jonathan Stahl, Zephyrus White, Neka Zang.

Directed by Richard Stafford, the creative team for Singin' In The Rain also includes Rick Hip-Flores (Musical Director), Jonathan Stahl (Associate Director/Choreographer), Howard C. Jones (Scenic Designer), Randall Klein (Costume Designer), Martin E Vreeland (Lighting Designer), John A. Stone (Sound Design), Gerard Kelly (Hair and Wig Design), Michael Goudzwaard (Assistant Video Director), Bethany Ford (Production Stage Manager), Alicia D. Reece (Assistant Stage Manager), and Alison Franck & Matt Schreiber (Casting).

Singin' In The Rain plays from July 5 - 30, at the North Shore Music Theatre in Beverly MA.

ANYTHING GOES Music & Lyrics by - Cole Porter. Original Book by - Guy Bolton & P.G. Wodehouse & Howard Lindsay & Russel Crouse.

"Beethoven, Bach, Wagner, Brahms, Mendelssohn, Debussy, Chopin, Verdi, Strauss and Francis Scott Key could have marched into the room for all I cared. I still wouldn't have looked up." That's what Russell Crouse said after Cole Porter first played him the score of Anything Goes. He and his collaborator, Howard Lindsay, then concocted a merry musical mix of mayhem and madness on a Transatlantic crossing to bridge the spectacular songs in Porter's outstanding score. In between the melodic and lyric perfection of You're the Top, I Get a Kick Out of You, Blow, Gabriel, Blow, All Through the Night and the title song, you'll still find nightclub star Reno Sweeney setting sail, Moonface Martin (Public Enemy #13 with aspirations to be #1), and bounder Billy Crocker, stowed away in hopes of seducing heiress Hope Harcourt. But at WTF, you'll find them alive, well and ensconced aboard an outrageously reinvented production - captained by Artistic Director Roger Rees.

Main Stage Williamstown Theater Festival July 5 - 16. Williamstown, MA.

WAR SONGS A celebration of the songs written during the years of Vietnam. During our most controversial war, songs were written that we will never forget.

Remember the times and recall the feelings when being young meant being able to change the world.

This musicale looks back at that time and includes What The World Needs Now, Blowin' In The Wind, Joy To The World, You've Got A Friend, Eve Of Destruction, Scarborough Fair, Those Were The Days, My Sweet Lord, and others. Join us and sing them once again.

July 6 – 16 Bristol Riverside Music Series, Bristol, PA.

JACQUE BREL IS ALIVE AND WELL AND LIVING IN PARIS music and lyrics by Jacques Brel, additional material by Mort Shuman and Eric Blau. Directed by Jim Petosa.

Featuring songs of the Belgian-born musician, Jacques Brel. One of the 20th century's most famous singers in France and abroad, Brel carried on the classic troubadour tradition. Nearly thirty of Brel's extraordinary songs of life, death, and love fill this showcase. Come and celebrate being alive, well, and living in Paris!

Produced by Onley Theatre Center in the New Mainstage July 5 - 30. Olney, MD.

THE WORLD OF RYUJI SAWA a Japanese show that incorporates various elements of Japanese popular theater, including Kabuki dance, Taiko drumming, sword fighting and instant costume changes.

The cast of twelve is lead by the show's creator and director, Ryuji Sawa.

The World of Ryuji Sawa will be performed on July 8th and July 9th at The Kraine Theater in NYC. On Thursday, July 6, Sawa will also conduct two workshops on Kabuki dance and sword fighting. Those will take place at Nola Studio. There is no dialogue in this show, making it ideal for audiences of all ages and backgrounds.

ROOM SERVICE by John Murray and Allen Boretz, generally considered one of the funniest American plays of the 1930's, begins previews Thursday, July 6 at Off Broadway's Bank Street Theatre.

with a cast of twelve, the play will be directed by Dan Wackerman who is also the Artistic Director of the award-winning Peccadillo Theater Company.

A classic door-slamming farce, Room Service centers around a slippery theatrical producer, trying to find a backer for his new show while holed up in a Times Square hotel with nineteen starving actors. Hoping to forestall eviction, he convinces the show's gullible young playwright to fake his own death. Meanwhile, an emissary from one of the country's wealthiest businessmen turns up with money to invest; that is, until he discovers the hotel doctor bound and gagged in the bathroom. The situation goes from bad to worse as the irascible manager of the hotel threatens to have the entire show confiscated by the sheriff on opening night.

Cast as the unscrupulous producer is David Edwards. Fred Berman, Dale Carman, Sterling Coyne, Scott Evans, Blythe Gruda, Robert O'Gorman and Kim Rachelle Harris are also featured in the company. Scenic design is by Chris Jones, costume design by Gail Cooper-Hecht and lighting design by Jeffrey Salzberg.

HAPPY DAYS A FAMILY MUSICAL Music & Lyrics by Paul Williams. Book by Garry Marshal. Music Supervision, Vocal & Incidental Music Arrangements by Phil Reno. Choreography by Randy Skinner. Directed by Garry Marshall.

The high flyin´, sock-hoppin´ musical is based on the hit Paramount Pictures´ television series.

The full cast of Happy Days includes (in alphabetical order) Fred Applegate, Joseph Leo Bwarie, Sandra DeNise, Cynthia Ferrer, Christine Lakin, Philip Lightstone, Ryan Matthew, Joey McIntyre, Matt Merchant, Jaclyn Miller, DeQuina Moore, Rory O'Malley, Robert Petrarca, Jackie Seiden, Matt Walker, Anna A. White, and Jay Brian Winnick.

Through August 13 at the Falcon Theatre in Burbank, CA.

ASKING FOR IT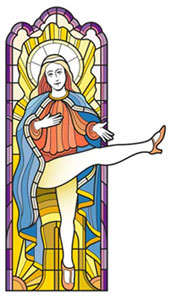 written and performed by Joanna Rush.

Directed by Lynne Taylor-Corbett.

Songs by Walter Willison, Jeffrey Silverman and Joachim Horsley.

Was Bernadette O'Connnell asking for it?

A one-woman dark comedy, a coming of age story about a feisty dancer and former Outstanding Catholic Youth of the Year who takes on New York City.

There she discovers that her convictions about religion bump up against the confusions of reality.

Set design by Dean Taucher. Lighting Design by Brant Thomas Murray.

July 10, 17th, and 24th at the Peter Jay Sharp Theatre in Playwrights Horizons, NYC.


| | | |
| --- | --- | --- |
| | | |
WHO'S WHERE


TO BOLDLY GO Emil de Cou, conductor. Leonard Nimoy, narrator.

Journey to the final frontier and beyond with Holst's The Planets and music from Star Trek, Star Wars, and other science fiction films, accompanied by stunning images of space.

Friday, July 7 in the Filene Center at Wolf Trap in Vienna, VA.

THE LEADING LADIES Starring three of Broadway's "Christines" from Phantom of the Opera Karen Culliver – Mary D'Arcy – Teri Bibb.

This trio of Broadway stars sing everything from Broadway classics to the Beatles as solo artists and in distinctively intricate three-part harmony providing an evening of surprises and flirtatious fun. Think the Three Tenors; but cooler, funnier and they look better in cocktail dresses!

Friday, July 7 at the historic El Portal Theatre in North Hollywood .

HOOTIE AND THE BLOWFISH kicks off their tour Monday, July 3 at the Starwood Amphitheatre in Antioch, TN. In addition to performing the band will be collecting school supplies. On each tour stop ticket holders are encouraged to bring supplies to be donated to the school system in each community, and in each city a business or organization will make a donation to the schools. On Tuesday and show and back to school collection will take place in Saint Louis, Mo. On Wednesday the group performs at the So. Shore Music Circus on Cohasset, MA. Saturday finds the performers at the Hanover Insurance Park in Worcester, MA. Next Sunday they can be enjoyed at the Cape Cod Melody Tent in Hyannis, MA.

ELVIS COSTELLO performs Wednesday, July 5 at Cape Cod Melody Tent in Hyannis, MA.

ERIC CLAPTON performs Friday, July 7 at the Piazza Napoleone in Lucca, Italy. On Saturday he's on stage at the Umbria Jazz Festival in Perugia, Italy.

JAMIE CULLUM on stage Thursday, July 6 at the Carolina Theatre in Durham, N.C. On Friday he's center stage at the Bijour Theatre in Knoxville, TN. Saturday finds him at the James K. Polk Theater in Nashville and next Sunday he's in the spotlight at Chastain Park Amphitheatre in Atlanta, GA.

COLDPLAY in the middle of a three night engagement at the Rod Laver Arena in Melbourne, Australia. On Wednesday he performs at the Entertainment Centre in Adelaide, Australia. On Friday the show is at Burswood Dome in Perth.

RED HOT CHILI PEPPERS heat up the Madejski Stadium in Rading, United Kingdom on Monday, July 3. On Wednesday they perform at Pride Park in Debry, UN. On Thursday the performance is at the Don Valley Stadium in Sheffeld, England.

DOOBIE BROTHERS entertain at Ribfest Monday, July 3, Naperville, IL.

THE KINGSTON TRIO open a two night stand Friday, July 7 at Cactus Pete's in Jackpot, NV.

JERRY SEINFELD has hit the road in a return to his first love - stand-up comedy. He'll be telling funny stories Saturday, July 8, at the San Diego Civic Theatre.

FOUR IN THE AFTERNOON Starring David Engel, Vicki Lewis, Damon Kirsche and Elizabeth Ward Land. An afternoon of fun and entertainment with Broadway and LA's most loved performers featuring songs from many of the shows we loved to see them in including Forever Plaid, The Scarlet Pimpernel, Putting It Together, La Cage Aux Folles, Side Show, Camelor, My Fair Lady and Kiss Me, Kate.

Sunday, July 9, El Portal Theatre in North Hollywood.

MICHAEL McDONALD AND STEELY DAN appear Friday, July 7 at the Marcus Amphitheatre in Milwaukee, WI. On Saturday they are on stage at the First Midwest Bank Amphitheatre in Tinley Park, IL.

KELLY CLARKSON has a busy week. On Monday she performs at the Alltel Pavilion at Walnut Creek in Raleigh, NC. Tuesday finds her at the Verizon Amphitheatre in Charlotte, NC. ON Thursday she is on stage at the Nissan Pavilion in Bristow, VA. Friday the show is at the Verizon Amphitheatre in Virginia Beach, VA. on next Sunday she's in the spotlight at the P.N.C. Bank Arts Center in Holmdel, NJ.

CHRIS ISAAK stars at the House of Blues in Las Vegas on Saturday, July 8. On Sunday, July 9 the show is at the Celebrity Theatre in Phoenix.

FAITH HILL AND TIM McGRAW today entertain at the Charleston Civic Center in Charleston, WV. Saturday they are center stage at the Philips Arena in Atlanta, GA.

MADONNA is in the middle of a three night gig at Madison Square Garden in NYC. On Thursday she begins a three night schedule at the Fleet Center in Boston with shows on Thursday, next Sunday and continuing into next week.

PAUL SIMON singing this evening at the Zoo Amphitheatre in Toledo, OH. On Tuesday he's in the spotlight at Doubleday Field in Cooperstown, N.Y. On Wednesday he takes part in the Montreal Jazz Festival, Friday he's on stage at the Champlain Valley Expo in Essex Junction, Vt.

SHERYL CROW Tuesday opens a two night gig at Casino Rama in Rama, Ontario.

ALEXI MURDOCK the London-born, Scottish-bred singer-songwriter performs Thursday , July 6, at the Makor Cafe, Steinhardt Building, NYC.


PIFFLE AND PROFUNDITIES


EATERS FROM JAPAN, ENGLAND, GERMANY WILL COMPETE AGAINST A NEVADA MAN on July 4 when the eyes of the world will focus on Coney Island for what is believed to be the 91st installment of the Nathan's Famous Fourth of July International Hot Dog-Eating Contest.

Four-time world champion Takeru Kobayashi of Japan will look to make history as he defends his title against 20 top eaters from around the globe.

The event will be televised as a live, one-hour broadcast on ESPN.

Kobayashi, who secured his fifth straight win on July 4, 2005, by inhaling 49 Nathan's Famous hot dogs and buns in 12 minutes, weighs only 144 pounds. His main competition this year is expected to come from Sonya Thomas, a 100-pound, 37-year-old Korean-born resident of Alexandria, VA, and Rich LeFevre, a 135-pound, 60-year-old resident of Henderson, NV. Both LeFevre and Thomas hope to bring home to American soil the Coveted Mustard Yellow International Belt, competitive eating's greatest prize, akin to the Master's green jacket of golf or the Vince Lombardi trophy to football.

The Fourth of July event, which is open to the public and which is sanctioned by the International Federation of Competitive eating, will take place at Nathan's Famous on the corner of Surf and Stillwell avenues in Coney Island, Brooklyn.
















Next Column: July 9, 2006
Copyright: July 2, 2006. All Rights Reserved. Reviews, Interviews, Commentary, Photographs or Graphics from any Broadway To Vegas (TM) columns may not be published, broadcast, rewritten, utilized as leads, or used in any manner without permission, compensation/credit.
Link to Main Page
---
Laura Deni


CLICK HERE FOR COMMENT SECTION