! >
Broadway To Vegas
  
 SHOW REVIEWS CELEBRITY INTERVIEWS GOSSIP NEWS

| | |
| --- | --- |
| | |
SATCHMO SUMMERFEST - - STEPHEN SONDHEIM AND SUSAN STROMAN - - PARIS COMMUNE - - PRINCE PLAYS MAKE-UP DATES - - PIEROGI FESTIVAL - - CONTEMPORARY AMERICAN THEATER FESTIVAL - - ACTORS AND PRODUCERS REACH AGREEMENT - - ROGER BART REPLACES CHRIS KATTAN - - DONATE . . . Scroll Down


SATCHMO SUMMER FEST


There's no doubt that it's always jazzy in New Orleans. But, a special beat swings Crescent City when the fourth annual Satchmo SummerFest, August 4-8, celebrates Louis Satchmo Armstrong and his undeniable contribution to American music and the global music community.

Lionel Toyer, entertainment coordinator for Satchmo SummrFest spoke with Broadway To Vegas about this growing annual event.

"32,000 attended last year and we are expecting 50,000 this year," he stated. "The attendees just love Satchmo, his music and contribution."

The jazz-inspired program includes educational seminars, an outdoor music festival, exhibits, a jazz mass, activities for budding young jazz fans, a club crawl, local cuisine, and a star-studded line-up of performances from local and international jazz musicians.

It is Toyer who booked the speakers.

"I worked on this event directly with a gentleman named Tad Jones, who actually is the gentleman who discovered the original birth certificate of Louie Armstrong. We also had a group of scholars who gave input as to the speakers. Then I'm the one who ironed it out. We tried to touch on all aspects of Satchmo's life and his importance to history."

"All of the seminars are free, first come and first served. Yes, we expect people to be falling all over each other to get in the door," he answered.

Already in the planning stages for next year, Toyer and his associates plan to broaden the base, including performers who are too young to have known or worked with Satchmo, but whose careers have been strongly influenced by the legend.

"We'll definitely start incorporating others," replied Toyer.



Louis Satchmo Armstrong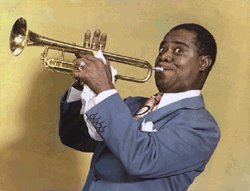 "It's a celebration of his life," stressed Toyer. " The bottom line is - there isn't anyone who hasn't been touched in some way - by the music of Satchmo."

Head to Crescent City and enjoy:

On Thursday, Aug. 4, a keynote address Jazz and its Mythmakers will be delivered by Dr. S. Frederick Starr, Chair. of the Central Asia-Caucasus Institute, research professor at Johns Hopkins University School of Advanced International Studies, and co-leader of the Louisiana Repertory Jazz Ensemble of New Orleans. He'll address commonly accepted notions that early New Orleans jazz was "invented" after the passing of the golden age (1932-1962) by a handful of northern immigrants to the Crescent City.

Michael Cogswell, Director of the Louis Armstrong House and Archives of Queens College, N.Y. brings Satchmo to life with his presentation of Louis Armstrong; The Offstage Story. He will present snippets of taped conversations recorded by Louis at home and on the road, one-of-a-kind photos and images of the boxes Armstrong hand-decorated to hold his recordings. Cogswell is the author of Louis Armstrong: the Offstage Story of Satchmo, recently published by Collectors' Press, foreword by Dan Morgenstern.



On August 4th the 103 anniversary of Satchmo's birth a rousing birthday salute will be held at Armstrong's statue in Armstrong Park. Birthday cake courtesy of Henry's Bakery & Deli!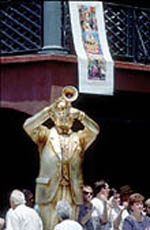 George Avakian, Armstrong's producer at Columbia Records in the 1950s and 1960s, will give his personal account of the influence that Louis had in various cities during his rise to fame in a seminar titled Louis Armstrong's First Three Steps to Fame: Chicago to New York to Chicago.

A History of the Louis Armstrong All-Stars 1948-1971 is toplined by Don Marquis, retired director of the Louisiana Jazz Museum and author of In Search of Buddy Bolden. He'll discuss Armstrong's All-Stars and will interview former All-Star band singer Jewel Brown.

During JazzFest the Louisiana State Museum Jazz Exhibit will host a special exhibit of rare Armstrong photographs from the museum's jazz collection of images will be on display many never before seen by the public. The permanent jazz collection includes a bugle and the cornet which Armstrong learned to play as a youngster. Exhibit includes memorabilia, authentic recordings and instruments played by other music legends.

There will also be a narrated bus excursion to the area a young Satchmo called home. Sightseers will visit the last remaining buildings of the South Rampart Street strip, where Armstrong was befriended by the Karnofsky family and performed as a child; the plaque marking Armstrong's birthplace on Jane Alley; the site of the Colored Waifs' Home where Armstrong learned the cornet; and Holt Cemetery where Buddy Bolden and members of Armstrong's family are buried.

Other seminars include;

Wax Impressions: Wax Cylinders 1897-1916: Jazz historian John McCusker will discuss and play popular songs from the turn of the century, including Over the Waves, Oh, Didn't He Ramble and High Society, which become jazz standards.



This year's jazz Mass takes place at St. Augustine Cathedral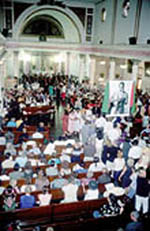 The Louis Armstrong I Knew: Dan Morgenstern, Director of the Institute of Jazz Studies at Rutgers University and former editor of DownBeat Magazine, will share memories and personal insights from his two-decade relationship with Armstrong.

Joe 'King' Oliver: the Man and His Music: Writer, editor, documentarian and musician Peter Gerler will discuss the nature of Oliver's persona, talent and his pivotal relationship with the young Louis Armstrong. He will be joined by Virginia Kay, grand niece of Oliver, and former translator and teacher of anthropology and English at Libera Universita Internazionale (Rome), Temple, and American Universities.

Economy Hall: Author and St. Peter's College lecturer Fatima Shaik will discuss the Societe d'Economie, one of the earliest 19th century benevolent associations in New Orleans and builders of Economy Hall, where Armstrong and hundreds of other musicians performed.

Music Goes Up the River: Riverboat Captain Clarke C. "Doc" Hawley has probably seen more of the Mississippi River System than any living boatman and has taught River History at Tulane University. Hawley will explore the role band leader Fate Marable played in bringing jazz to the nation via the rivers.

Strange Bedfellows: Jelly Roll Morton and Nick LaRocca: Historian and musician Dr. Jack Stewart will compare and contrast the careers of pianist Jelly Roll Morton, a Creole New Orleanian, and trumpeter Nick LaRocca, an Italian-American from New Orleans.

New Orleans Early Jazz Composers: Tom Morgan, WWOZ disk-jockey and author of From Cakewalks to Concert Hall: An Illustrated History of African-American Popular Music, from 1895-1930, will discuss and play examples of songs by composers such as Armond Piron, Tony Jackson, Jelly Roll Morton, Clarence Williams, and others.

The Influence of Armstrong on Singers and Vocalists: The Louis Armstrong Education Foundation panel discussion with singers Germaine Bazzle, Juanita Brooks, Charmaine Neville and David Torkanowsky. Moderated by Dr. Henry Lacy of Dillard University.

Three Drummers: Johnny Vidacovich, Lawrence Batiste, and Jason Marsalis discuss the influence of the drummer in a New Orleans-style jazz band. Moderated by Dr. Connie Atkinson, University of New Orleans history professor.

Living Next Door to the Armstrongs: Selma Heraldo, Louis and Lucille Armstrong's longtime neighbor in Queens, will talk about living next door to the world-famous musician and the house that is now a museum devoted to his memory. Interviewed by Michael Cogswell, Director of the Louis Armstrong House and Archives.


JAZZ IN JULY 20th ANNIVERSARY SEASON BEINGS JULY 20
Bucky Pizzarelli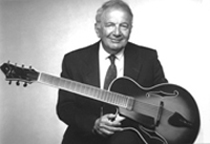 The Jazz in July 20th Birthday Bash begins July 20th. Opening night features some all-time Jazz In July favorite performers, starting with Vince Giordano's Nighthawks with Dan Levinson on clarinet. Together, they perform music from Benny Goodman's early days as a sideman in Ben Pollack's orchestra, back before Goodman was the "king of swing."

The second half of the show features a classic Jazz in July all-star band performing songs from Gershwin's Porgy and Bess, including classics like Summertime and I Got Plenty O' Nuttin.' Singers Terry Burrell and Ty Stephens join band members Bucky Pizzarelli on guitar, Ken Peplowski on clarinet, Byron Stripling on trumpet, John Allred on trombone, Peter Appleyard on vibraphone, Dick Hyman and Bill Charlap on piano, Nicki Parrott on bass, and Joe Ascione on drums.

Blues After Dark takes place July 21st. In the first half, Carrie Smith sings the blues of pioneers Bessie Smith (no relation) and Billie Holiday with a variety of different instrumental combos. The band, which plays in various combinations, features Dick Hyman and Bill Charlap on piano, Randy Sandke and Byron Stripling on trumpet, Ken Peplowski on tenor saxophone and clarinet, Peter Appleyard on vibraphone, Jay Leonhart on bass, and Joe Ascione on drums.

In the second half, a swinging big band presents Dick Hyman's journey through the world of big-band blues with "The Longest Blues in the World." Performing in the band are John Frosk, Byron Stripling, Randy Sandke, Virgil Jones, George Masso, John Allred and Paul Faulise on brass; Jerry Dodgion, Bill Easley, Ken Peplowski, Kenny Soderblum and Scott Robinson on reeds; Bill Charlap and Dick Hyman on piano; Peter Appleyard on vibraphone; James Chirillo on guitar; Jay Leonhart on bass; and Joe Ascione on drums.



Benny Carter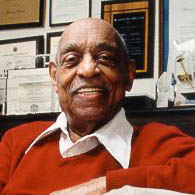 Saxophone City: In Memory of Benny Carter (1907-2003) is the offering for July 22nd. "No one in jazz history has attained the unique status of the late Benny Carter, who was a pioneering saxophonist, trumpeter, bandleader, arranger and composer," says Dick Hyman about the musician who died last summer. "He was the first one to master the art of writing for a sax section."

On the first half, Marian McPartland and her trio, Gary Mazzaroppi on bass and Winard Harper on drums, perform arrangements of Benny Carter's compositions. McPartland recorded these tunes with Carter himself on her Concord CD Marian McPartland Plays the Benny Carter Songbook.

In the second half, a gathering of saxophonists - Chuck Wilson, Bill Easley, Scott Robinson, Soderblum, Andy Stein and Vince Giordano - revisit Carter's arrangements for saxes and provide a demonstration of the whole sax family, from sopranino to contrabass. Dick Hyman, on piano, joins the sax players, along with Gary Mazzaroppi on bass and Winard Harper on drums.

All Concerts take place at the 92nd Street Y in New York City.


ELITE FRATERNITY GAINS ANOTHER MEMBER


Nobody aspires to join.

An elite fraternity of Broadway performers - those being replaced during rehearsal - has initiated another member.

Chris Kattan, a cast member of NBC's Saturday Night Live, was fired from the Lincoln Center Theater production of The Frogs, a musical by Stephen Sondheim and Burt Shevelove, which is currently in previews - officially opening on July 22, at the Vivian Beaumont Theater.

The Frogs, adapted by Shevelove then even more freely adapted by Nathan Lane from the Greek play by Aristophanes, starred Lane and Kattan, who had been playing the character of Xanthias the slave. Kattan has been replaced by Roger Bart.


BRAGGING RIGHTS


The Actors Theatre of Louisville is strutting it's pedigree - and well they should.

Getting their start on that stage: Kevin Bacon, Kathy Bates, Calista Flockhart, Holly Hunter, Julianne Moore. More fame from their stage includes; Armand Assante, Timothy Busfield, Ned Beatty, Clancy Brown, Roma Downey, Karen Grassle, Michael Gross, Delroy Lindo, Margo Martindale, Debra Monk, Mercedes Ruehl, John Spencer, Lily Taylor, John Turturro, Dianne Wiest, B.D. Wong, Michael Zaslow and Stephanie Zimbalist.


CONTEMPORARY AMERICAN THEATER FESTIVAL


Founded in 1990 by Ed Herendeen the festival is dedicated to producing and developing new American theater.

This year's festival, which continues to August 1, at Shepherd University in Shepherdstown, W. VA has an enticing lineup of four plays running in repertory.

Homeland Security, a drama by Chicago based Stuart Flack features original live music composed and performed by Fareed Hague and Kalyan Pathak. A 32-year-old, second generation Indian doctor and his American girlfriend are detained at O'Hare for questioning when they return home from a vacation in Amsterdam. The play traces the impact of the interrogation on the couple and explores how each person comes to view themselves, each other, and the world.

Rounding Third, a comedy by Richard Dresser, who is currently writing the book for Good Vibrations, a Broadway show featuring the music of the Beach Boys.

Rounding Third involves two Little League coaches whose approach to baseball and life could not be more different. Don is a wily win-at-all-costs veteran whose son is a star pitcher. Too bad his new assistant coach disagrees. Michael is a wide-eyed newcomer to the sport who just wants the kids to have fun. Wildly conflicting personalities and philosophies simmer and finally explode during their season in the sun. Don and Michael battle their own personal demons and each other as they coax, berate, and cajole their struggling young ballplayers into the playoffs.

Flag Day, a world premiere by Lee Blessing, directed by Lucie Tiberghien, takes a look at race relations in a corporate office. It also shows the aftermath of a car accident involving a writer and a woman intent on not missing the fun associated with Flag Day.America's true colors aren't red, white, and blue. They're black and white and seldom in harmony, as Lee Blessing explores in this bold new work on race relations. With deep, satirical comedy and darkly visionary imagery Flag Day, with two parts - Good, Clean Fun and Down and Dirty - examines our rawest emotions on this most combustible of American themes.

The Rose of Corazon: A Texas Songplay a world premiere of a musical by playwright Keith Glover with music composed by Billy Thompson and George Caldwell. Directed by Glover, an alumnus of The New Dramatist Playwrights Organization and a nominee for the Pulitzer Prize for Drama in 1997, this is about a bride's introduction to America after World War I. The Great War has been won. In Corazon Texas, Rosa, a rescued war bride has a new life in America with a husband who can walk on the wind, and a magic rose growing in the garden that can change her fate forever, if it will only bloom. Lucia, a Harlot, Ricardo, a Hobo and Miedal, a Heretic, tell her magical story and reveal her destiny.



Broadway To Vegas is supported through advertising and donations. Priority consideration is given to interview suggestions, news, press releases, etc from paid supporters. However, no paid supporters control, alter, edit, or in any way manipulate the content of this site. Your donation is appreciated. We accept PAYPAL. Thank you for your interest.


SPREADING THE WORD


JOANNE WOODWARD & STEWART STERN discussing Rachel, Rachel. Stewart Stern is the author of several memorable movies including Rebel Without a Cause and Sybil.

Many of his films have been successful collaborations with Joanne Woodward and Paul Newman.

In these two presentations Stewart Stern and Playhouse Artistic Director Joanne Woodward discuss and present Rachel, Rachel.

The movie stars Kate Harrington, Donald Moffat, James Olson, Estelle Parsons and Joanne Woodward. Directed by Paul Newman, Rachel Rachel won New York Film Critics awards for both Woodward and Newman, and an Oscar nomination for Joanne Woodward.

Tuesday, July 20, at The Fairfield Community Theater in Conn.

Thursday, July 22, at The Ridgefield Playhouse in Conn.

STEPHEN SONDHEIM AND SUSAN STROMAN the composer and the director-choreographer Susan Stroman will discuss their current collaboration, The Frogs, on July 20 at the Juilliard Theater in NYC. The event is presented in association with Lincoln Center Theater and The Juilliard School. The Frogs, which stars Nathan Lane, began previews on June 22. The 1974 show, based on the play by Aristophanes, with a book by Burt Shevelove, has been expanded by Lane - who also serves as the librettist - and composer Sondheim, who has written six new songs for the score.

MYTH AND RITUAL IN CONTEMPORARY LATINO THEATER Latino Theater Festival Director Henry Godinez moderates a panel discussion. Panelists include Luis Valdez and Luis Alfaro. Tuesday, July 20 Goodman Theater in Chicago.

EVERYTHING OLD IS NEW AGAIN hosted by David Kenney features the music of Ruth Brown. Plus an in-studio interview with this Legendary Singer. July 18th.

Everything Old Is New Again is heard on the internet and every Sunday 9-11 PM(ET) over WBAI 99.5 FM.

EDWARD P. JONES the author and winner of the Pulitzer Prize for his debut novel, The Known World, presents the Paris Review's new anthology, The Paris Review Book for Planes, Trains, Elevators, and Waiting Rooms. Tuesday, July 20, at the Politics & Prose Bookstore in Washington, D.C.


SWEET CHARITY


SUMMER GALA BENEFIT BASH for the Bay Street Theatre in Sag Harbor, N.Y.

Enjoy stunning sunsets, fabulous fare and sizzling music!

Cocktails - Dinnner - Dancing - Silent Auction.

The Live "Fantasy" Auction with Special Guest Auctioneers.

The gala takes place at Nova's Ark Project which is the Hamptons distinguished sculpture park - open meadows with breathtaking scenery, surrounded by ultra-modern sculpture and unique architecture.

Water Mill, N.Y.

Saturday, July 24.

CHUCK MANGIONE HEADLINES ANNUAL SHAKESPEARE BENEFIT CONCERT on July 19, as he takes the stage at Sand Harbor Stake Park in honor of Nevada's Lake Tahoe Shakespeare Festival. The Lake Tahoe Shakespeare Festival, which started its seasonal calendar on July 15 with performances running through August 22, welcomes Mangione as the headliner for its 8th annual benefit concert which serves as the main fundraiser event for the theatrical summer festival.


OTHER PEOPLE'S MONEY


ACTORS' EQUITY AND LEAGUE OF AMERICAN THEATRES AND BROADWAY PRODUCERS reached a tentative settlement Monday on a new four-year production contract. The formal ratification process could be approved next month.

The major features include;

Wages - The new contract provides an annual wage increase of three percent over the four-year contract meaning a walk-on part can result in a gross weekly salary of more than $1,500 plus pension and health care benefits.

Benefits - Producers have agreed to meaningful increases in health fund contributions that seek to stabilize the fund for the foreseeable future.

Experimental Touring Program - The most contentious issue had been the contract terms for touring productions. A new, tiered salary system provides an innovative approach to meet the economic needs of the road, which directly affects at least 65 theatres that feature touring productions of Broadway shows.

The appropriate tier is utilized based on a set of criteria which includes guarantees from presenters to producers, size of company and other variables including perceived commercial appeal. The agreement also includes a provision that provides additional compensation for Equity members for successful engagements before a show recoups, and still more compensation once a show is profitable.

Promotions - The parties have agreed to a mutually beneficial approach to encourage the use of advertising and marketing materials featuring actors across all mediums, providing more flexibility for producers in show marketing.

Safety - The parties have agreed to jointly develop a safety protocol that will assist producers, directors, designers and actors in the development and staging process to try to reduce the risk of injury to performers.

In a joint statement:

Jed Bernstein, President of the League, said: "This contract puts Broadway on a strong and steady footing in New York and across the country. We are confident that Broadway shows produced by League Members and with Equity actors can now be more competitive in the touring market. Most importantly, we are delighted that Broadway has remained vibrant during this difficult contract negotiation and that theatre-goers across the country can look forward to a great season to come."

Patrick Quinn, President of Actors' Equity stated: "These negotiations represent a benchmark for professional American theater. This contract is one that allows theater across the country to flourish and maintain the high standards that audiences expect from Equity touring productions, which include the finest theater actors and stage managers on Broadway and throughout America."



THE GLASS MENAGERIE by Tennessee Williams. A new production directed by Gregory Mosher, starring Sally Field as Amanda Wingfield. Jennifer Dundas plays her emotionally fragile daughter, Laura, who escapes from reality by immersing herself in her collection of glass animals. Corey Brill is the Gentleman Caller Jason Butler Harner is Tom.

This is the closing production in the Kennedy Center's "Tennessee Williams Explored" sires.

Field tackles the role of Amanda, mother of the fragile Laura, a role previously played on stage by Jessica Tandy and Maureen Stapleton.

The curtain went up July 17 with performances through August 8. Kennedy Center in Washington, D.C.

PARIS COMMUNE by Steve Cosson and Michael Friedman. Music and Lyrics adapted by Michael Friedman. Directed by Steve Cosson.

A part of the La Jolla Playhouse's acclaimed Page To Stage program, Paris Commune tells the story of the 1871 Parisian uprising, the first socialist revolution in Europe. Using text constructed from primary historical materials and songs from the period,Paris Commune explores this turbulent attempt to transform society and manifests the rise and fall of the Commune as a musical and kinetic performance rooted in the 19th century cabaret.

Paris Commune was first performed as a workshop production of The Civilians, an ensemble company that develops original projects using methods that combine oral histories and artistic practices. Cosson, who received an M.F.A. in directing from the University of California, San Diego, founded The Civilians in 2001.

The Playhouse began the Page To Stage program in 2001 to facilitate the development of new plays and musicals in a review-free workshop production. Doug Wright's I Am My Own Wife launched the Playhouse's Page To Stage program and is currently playing on Broadway to rave reviews.

July 20 - August 15 at the LaJolla Playhouse in San Diego, CA.

WICKED welcomes two-time Tony winner George Hearn Steps into the part of Wizard.

For medical reasons Joel Grey has not been able to performed since the matinee of June 20. Understudy Sean McCourt has been playing the role and will continue to do so until Hearn takes over the role on July 20. That is the same day Jennifer Laura Thompson and Joey McIntyre step into the Broadway production.

MIMI LE DUCK a world premiere musical. Book and lyrics by Diane Hansen-Young, music by Brian Feinstein.

Miriam is a Mormon mother of two living in Idaho who paints ducks to sell on the QVC channel, but dreams of the artist's life she never led. Inspired by Ernest Hemingway's ghost, she moves to Paris and begins a bohemian existence among a group of colorful characters. What ever will her accountant husband do now?

Part of The Adirondack Theatre Festival. July 21-31 at the new Charles R. Wood Theater in downtown Glens Falls, New York.

HUMBLE BOY by Charlotte Jones. A new play about life, love—and bee-keeping. Cambridge don Felix Humble comes home for his father's funeral only to discover that his bee-keeping dad hasn't exactly vacated the premises. And his queen-bee mother, Flora, has her eye on her next consort. Secrets of the past are rapidly coming to light, the present is confusing and the prospects for the future are disturbing. This tightly woven comedy, the 2001 winner of the London Critics' Circle Award, embraces broken vows, failed hopes and the irony of looking for a unified field theory in all the wrong places.

Staged in the arena configuration. Directed by Penny Metropulos.

Performances continue through October 31 In the New Theatre at The Oregon Shakespeare Festival in Ashland, Oregon.

A NIGHT WITH PAUL LYNDE with Michael Airington as the legendary comedian, directed by James Buglewicz and based in part on Lynde's actual 1976 touring show with original music written by Mark Savage. This show is produced with the full approval and co-operation of the estate of Paul Lynde. A Night With Paul Lynde features some of Lynde's own words, performance pieces and comedic monologues. Additionally, Peter Marshall, actor and original host of The Hollywood Squares, is lending his voice to the show as the perfect comedic straight man setting up Paul's famous one-liners that entertained us all for thirteen years.

Opened Friday, July 16, and runs through Friday, August 27, at Ultra Suede in West Hollywood,CA.

BIG RIVER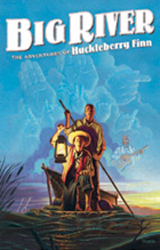 The Adventures of Huckleberry Finn, with deaf, hard-of-hearing and hearing actors performing each role in a synchronized ballet of speaking and signing.

The multi-award winning American Sign Language adaptation comes straight from Broadway, directed and choreographed by Jeff Calhoun.

Music and lyrics by Roger Miller and a book by William Hauptman.

Set in 1840's rural America, the musical follows the exploits of Huck and his friend Jim, a runaway slave, as they explore life along the mighty Mississippi River.

July 20-Aug. 1 Part of the Dallas Summer Musical Series.

Music Hall in Fair Park. Dallas, Texas.

FOREVER TANGO an all Argentine cast traces the Tango's colorful history through music, dance, song and dramatic vignettes. Sensuous and sophisticated, the tango inhabits a world where everything can be said with the flick of a leg, the tug of a hand, the tap of a foot and the arch of an eyebrow. Beginning July 20 at the Shubert Theatre, NYC.


| | | |
| --- | --- | --- |
| | | |
WHO'S WHERE


PRINCE playing make-up dates in Chicago on July 22 - 24 and Aug. 3. Those replace canceled performances, due to a death in the family of New Power Generation drummer John Blackwell, and one show ,which was canceled minutes before it was to start, because Prince went to the Advocate Lutheran General Hospital in Park Ridge to have his throat checked out. Performances at the Allstate Arena in Chicago.

ERIC CLAPTON along with special guest Robert Randolph, will perform at the Qwest Center in Omaha, NE on July 22.

BLUE BALLS FESTIVAL featuring: Sophie Zelmani, Zucchero, Keb'Mo', Nina Hagen & Leipzig Big Band, Wirsind Helden, Jethro Tull, Gary Moore, Stray Cats, Angie Stone, Eric Sardinas, Ladysmith Black Mambazo, Femi Kuti, Keziah Jones, Buddy Guy, India.Arie, Till Brönner July, 23-31 in Switzerland.

HARRY CONNICK, JR has a busy week. He performs tonight at the Sandia Casino in Albuquerque, N.M. On Tuesday he's on stage at the Music Hall in Tucson, Arizona. Wednesday finds him in the spotlight at the Dodge Theatre in Phoenix. On Thursday he brings the show to Summer Pops at Navy Pier in San Diego. On Friday he opens a two nighter at the Hollywood Bowl in Los Angeles.

DIANA KRALL center stage at the Santa Barbara Bowl this evening. On Tuesday she headlines the Davies Symphony Hall in San Francisco. Wednesday the performance is at the Historic Mountain Winery in Saratoga, CA. Friday the show is at the Arlene Schnitzer Hall in Portland, OR and she closes out the week, Saturday, at the Chateau Ste. Michelle in Woodinville, WA.

RENEE FLEMING soprano backed by the National Symphony Orchestra with Patrick Summers conducting makes her Wolf Trap debut Thursday, July 22 at the Filen Center in Vienna, Virginia.

BRAVO BROADWAY! the National Symphony Orchestra conducted by Marlin Hamlisch featuring Christiane Noll, soprano; Debbie Gravitte, mezzo-soprano; Doug LaBrecque, baritone. Friday, July 23 at the Filene Center in Vienna, Virginia.

CHRIS ISSAK today is at the Cisco Systems Blues Festival in Ottawa, ON. On Tuesday he begins a two night stand at Northern Lights in Milwaukee, WI. Friday finds him at MeadowBrook Music Festival in Rochester Hills, MI. He closes out the week, Saturday, at Scene Pavilion in Cleveland.

CAROLE KING performing today at the Saratoga Performing Arts Center in Saratoga Springs, NY. On Tuesday she brings her music to Meadowbook Farm Musical Arts Center in Gilford, NH. Wednesday the performance takes place at the Tower Theatre in Upper Darby, PA. Thursday finds her at the Cape Cod Melody Tent in Hynassis, MA. Saturday she's in the spotlight at the Westbury Music Fair in Westbury, NY.

BIG BAD VOODOO DADDY getting the place jumpin' tonight at Artscape in Baltimore, MD. On Friday they swing out at Fortune Valle Hotel-Casino in Central City, CO.

ROGER WILLIAMS opens a three night engagement on Friday at the Sun Coast Hotel in Las Vegas.

LINDA RONDSTADT AND STEVE TYRELL at the Universal Amphitheatre in Universal City, CA on Tuesday, July 20.

BILL COSBY will be delighting the crowds Saturday, July 24, at the Clio Amphitheatre in Clio, MI.

BEACH BOYS entertaining on the fair circuit this week. On July 22 they are at the Jones Country Fair in Monticello, Iowa. On Friday tit's the Porter County Fair in Valparaiso, Indiana and Saturday finds them at the Elkhart County 40-H Fair in Goshen, Indiana.

JEFF FOXWORTHY brings his red neck sense of humor to Sam's Town in Robinsonville, Mississippi on Saturday, July 24.

SMOKEY ROBINSON opens a three night engagement at Resorts International in Atlantic City on Friday, July 23.

REBA McENTIRE on stage today, July 18, at Jamboree in the Hills in Morristown, Ohio. On Thursday the delightful talent will be at the Soaring Eagle Casino in Mount Pleasant, Michigan. Friday finds her at Country Thunder USA in Twin Lakes, Wisconsin.

WAYNE NEWTON known as Mr. Las Vegas, at Harrah's in Atlantic City . July 23 and 24.

LILIAS WHITE on stage July 20 & 21 at the B.B. King Blues Club in NYC.


PIFFLE AND PROFUNDITIES


10th ANNUAL PIEROGI FESTIVAL"We're Stuffed with Fun!" being the slogan.

Held in historic downtown Whiting, Indiana with live polka bands, imported Slovak dancers, beer garden, Arts & Craft show, ethnic food vendors, Polka Parade, Kids' Kourt, more pierogies than there are in Warsaw, Mr. Pieorgi and his dancing Pieroguettes. July 23rd-25th.
















Next Column: July 25, 2004
Copyright: July 18, 2004. All Rights Reserved. Reviews, Interviews, Commentary, Photographs or Graphics from any Broadway To Vegas (TM) columns may not be published, broadcast, rewritten, utilized as leads, or used in any manner without permission, compensation/credit.
Link to Main Page
---
Laura Deni


CLICK HERE FOR COMMENT SECTION