! >
Broadway To Vegas
  
 SHOW REVIEWS CELEBRITY INTERVIEWS GOSSIP NEWS

| | |
| --- | --- |
| | |
HEROIC ANIMALS FEATURED IN THE ANIMALS' WAR - - MERCEDES RUEHL STARS IN VIVA LA VIDA - - MUSICAL CONVERSATIONS - - ORIGINAL CAST BERNARDA ALBA CD - - 250 YEARS OF CIRCUS DESIGN - -RISE UP AND SHOUT AT THEATRICUM BOTANICUM - - DEATHS OF BARNARD HUGHES, RED BUTTONS AND BILL MILLER - - MARTHA GRAHAM RULING - - DONATE . . . Scroll Down


THE ANIMALS' WAR
War Hero Bamse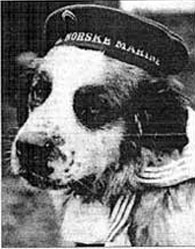 London's Imperial War Museum is paying homage to creatures great and small with a major exhibition. The Animals' War opened to the public on Friday, July 14.

Bamse the heroic World War 11 Norwegian hero buried in Montrose is part of this prestigious event. ( See Broadway To Vegas column of January 22,2006 ) The bronzed model of the Bamse statue that will be erected at Montrose Harbor later this year is featured in the Exhibition.

This significant new exhibition explores the remarkable role of animals in conflict from the First World War to the present day.

It is estimated that 16 million animals served during the First World War - by 1916 alone the warring nations had raised 103 cavalry divisions with over a million horses. Despite increasing mechanization and advances in technology, animals have continued to play their part in the front line. Mules, elephants, camels, horses and other beasts have transported men and materiel in difficult terrain.



Parachuting Pigeon. Image from Imperial War Museum Collection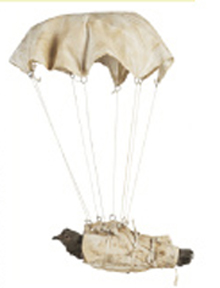 In the Second World War over 200,000 carrier pigeons were used by Britain's armed forces and secret service organizations. Dogs have guarded military personnel and property, located injured soldiers, tracked down enemy insurgents and sniffed out explosives. More recently rats and pigs have also been trained to clear minefields and the dolphin's sensitive sonar has been exploited to identify mines in the Persian Gulf.

The Animals' War will use photographs, film, sculptures, memorabilia and interactive features to explore the intriguing and often surprising stories of animals in war. Among the working animals whose stories are included in the exhibition are Rob, the SAS dog who made over twenty parachute drops during the Second World War; Winkie, the pigeon who saved the lives of a ditched aircrew by carrying a vital message revealing their location; Sefton, the cavalry horse who survived the Hyde Park terrorist bombing by the IRA; Endal, the assistance dog who helped to rehabilitate a badly-injured Gulf War veteran; and Roselle, the Labrador who led her blind owner to safety from the 78th floor of the World Trade Center after it was attacked on September 11, 2001.

Animals of many kinds from dogs and cats, to lions and eagles have also been adopted officially and unofficially as pets and mascots by the armed forces. A number of these will be featured in the exhibition including Rin Tin Tin.

The original Rin Tin Tin was a mere puppy of a few days old when Corporal Lee Duncan insisted that his battalion in Lorraine, France check out a bombed war dog kennel during World War I.

What he found on that fateful day of September 15, 1918 was a mother German Shepherd Dog and her litter, the only survivors of the bomb dropped. Betty had five puppies.



Rin Tin Tin with his Red Cross equipment. Photo; Rin Tin Tin Museum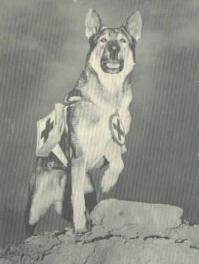 Duncan chose two of the puppies, a male and a female, and members of the battalion took the mother and remainder back to their camp. Ironically, the only survivors over the next few months were the two pups Duncan had claimed. He named the pups after tiny French puppets the children gave to the American soldiers for good luck. The male was named Rin Tin Tin and the female Nannette.

After the war Duncan was permitted to brings the pups with him on the ship that transported them to New York on a 15-day journey. Unfortunately Nannette became ill with distemper and didn't survive. Rin Tin Tin not only survived but became a major Hollywood star.

When World War II began Duncan wanted to serve his country but because of an injury during the first war was not allowed to re-enlist. So he did the next best thing.

He approached the U.S. Army and suggested they consider a training camp for military dogs in California. After many times being turned down, the army finally agreed and Duncan and Rin Tin Tin III became the head trainers for Camp Hahn.

During the course of the war, Duncan and Rin Tin Tin III – who was an official soldier with his number tattooed on his leg – trained more than 5,000 dogs and handlers for the war effort.

Other animals singled out include Judy, the Pointer - the only animal to have been officially registered as a Japanese prisoner of war. Voytekm the bear mascot of the 22nd Transport Company of the Polish Army Service Corps who saw action at Monte Cassino in 1944, and Simon the HMS Amethyst, the only cat to have been awarded the PDSA Dickin Medal, known as the "Animals Victoria Cross."



Buster wearing his Dickin Medal. Image Imperial War Museum Collection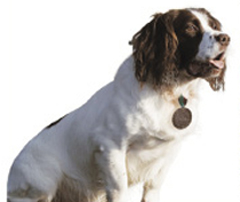 Dickin Medals on display will include those awarded to three police horses during the V1 Flying Bomb Offensive of 1944 and to Buster, the spaniel, who located a cache of arms in Iraq in 2003.

The accompanying exhibition book, The Animals' War, written by the historian Juliet Gardiner, with a foreword by Jilly Cooper, will be published by Portrait.

A children's book, Animals at War by Isabel George and Rob Lloyd Jones will also be published by Usborne to coincide with the exhibition.

Attending a VIP Private viewing on July 12 in London were Chairman Montrose Bamse Project, Dr, & Mrs Andrew Orr, Chairman Montrose Heritage Trust Dr. & Mrs. Anthony Sutton, Bamse sculptor Alan Herriot & Mrs. Herriot and Director Bamse Project, Henny King.

The Animals' War will transfer to the Imperial War Museum North in Manchester in the summer of 2007.

In related events - after participating in a goof sniff and slobber trek, four footers will participate in Dog Day Afternoons which take place July 22-23 in honor of Bamse's 62 anniversary. Vigdis Hafto, the owner of Bamse the Norwegian World War ll sea hero who is buried in Montrose, will receive the Gold Medal from the Chairman of the PDSA on Saturday prior to the full weekend of Dog events.


THE MUSIC GOES ROUND AND ROUND


BERNARDA ALBA penned by Michael John LaChiusa and based on The House of Bernarda Alba by Federico Garcia Lorca.

LaChiusa takes a dramatic turn towards the darkside and then offers wonderfully constructed character harmonies. An intelligent, energetic composer, La Chiusa has no qualms about scoring what many would choose to avoid. This is an adult musical which isn't going to leave you humming the score. Rather, you listen to a note filled storyline which engulfs the listener with an appreciation for performers possessing magnificent voices. Many storylines are difficult to comprehend on original cast CDs. Unless you've seen the production or have enough cliff notes to pass a course, the plotline can be left to the listener's imagination.

Not so with the original cast record of the Lincoln Center production of Bernanda Alba. As it is translated to a CD the production becomes more of an opera than simply a musical. The prologue sets up the storyline which progressed with every cut.

Beautifully, powerful executed.

Inspired by the rhythms of flamenco, the explosive score is infused with passion and reveals a tale of desire and despair. The recording features Tony winner Phylicia Rasjad, Tony nominated Daphne Ruben-Vega, Yolanda Bavan, Drama Desk award nominee Judith Blazer, Candy Buckley, Nikki M. James, Sally Murphy, Saundra Santiago, Laura Shoop and Nancy Tucotin.

Set in rural Spain in the 1940s, Bernarda Alba tells the story of a matriarch who isolates herself and her five adult daughters from the outside world while, mourning the death of her second husband. Believing that the men in town are beneath them in class, Bernarda keeps her daughters under close watch, shielding them form the men's advances. Smothered by their mother's attempts to suppress their desires, the young women yearn to break free.

Vivid orchestrations by Michael Starobin. Musical direction by Deborah Abramson. Musicians are; guitar-Stephen Benson. Woodwinds-Sarah Davol. Viola-Joseph Gottesman. Bass-Raymond Kilday. Cellos-Benjamin Wyatt and Katie Schlaikjer. Harp-Jennifer Hoult. Released by Ghostlight Record, the album was produced by Joel Moss and Kurt Duetsch.

Tracks include:
1. Prologue
2. Funeral
3. On The Day That I Marry/ Bernarda's Prayer
4. Love, Let Me Sing You
5. Let Me Go To The sea
6. Magdalena
7. Angustias
8. Amelia
9. Martirio
10. Adela
11. I Will Dream Of What I Saw
12. Poncia
13. Limbrada's Daughter
14. One Moorish Girl/ The Smallest Stream
15. Mare And The Stallion, The
16. Lullaby
17. Open The Door
18. Finale
19. Postlude


ART AND ABOUT


IN THE RING - 250 YEARS OF CIRCUS DESIGN from big tops to converted warehouses, this display looks at circus design of the past and present.

Prints, drawings and models illustrate the development of this unique performance space, as it moved out of the permanent theatre building into the impermanent circus tent.

It also looks at the international circus schools that are giving new life to disused industrial sites today.

Through October 15 Admission free at the Victoria and Albert Museum in London.



Broadway To Vegas is supported through advertising and donations. Priority consideration is given to interview suggestions, news, press releases, etc from paid supporters. However, no paid supporters control, alter, edit, or in any way manipulate the content of this site. Your donation is appreciated. We accept PAYPAL. Thank you for your interest.


SWEET CHARITY


RISE UP AND SHOUT! A star-studded staged reading of the words of visionaries past and present.

Directed by Ellen Geer. Featuring James Avery, Charles Durning, Mariette Hartley, Jack Klugman, Wendie Malick, Joe Mantegna, and Jean Smart . Presented by The Will Geer Theatricum Botanicum.

Rise Up and Shout! inspires with the words of leaders, thinkers, and muckrackers who, in good times and bad, have held our nation to visions of peace, justice, tolerance, and equal rights.

Friday, July 21 at the Theatricum Botanicum in Topanga CA. A portion of the proceeds will benefit an organization helping women and children in Iraq.


OTHER PEOPLE'S MONEY


MARTHA GRAHAM CENTER prevailed with The Second Circuit Court of Appeals which affirmed a lower-court ruling that seven dances choreographed by Martha Graham between 1956 and 1965 belong to the Martha Graham Center.

This is the latest development in a five year legal battle which has pitted the center and Graham's heir, Ron Protas, against each other over rights to the Graham legacy. Under the ruling, Protas owns two canonical Graham dances, Seraphic Dialogue and Acrobats of God, while the center controls the rest, except for those in the public domain.


SPREADING THE WORD


A DAY IN THE LIFE OF OPERA AUSTRALIA Join staff and artists past and present at Opera Australia's free Open Day On July 23 Opera Australia throws open the doors of its Sydney headquarters, the Opera Centre in Surry Hills, and welcomes all-comers of all ages to explore the inner workings of Australia's largest performing arts company.

MUSICAL CONVERSATIONS series at York Theatre Company discussing The Leading Ladies. On Tuesday July 18th John Kenrick turns his focus on Mary Martin, a gawky kid from Weatherford, Texas who took Broadway by storm singing My Heart Belongs to Daddy, and kept audiences cheering for the next half-century in such hits as South Pacific, The Sound of Music, and of course Peter Pan. Kenrick will cover the life and career of a beloved star that many considered the First Lady of the American Musical.

York Theatre Company in Saint Peter's Theatre, NYC.



VIVA LA VIDA! World Premiere.

Written by Diane Shaffer. Directed by Susana Tubert.

Tony and Oscar award-winning actress Mercedes Ruehl brings to life the Queen of Mexican Modernism, Frida Kahlo - celebrating her art, politics and her passions. The human spirit prevails in this stylish and uniquely theatrical experience.

Costume Design by Tony Leslie James. Sound Designer is Tony Melfa. Brian Meister serves as production stage manager.

July 18 -August 6 at Bay Street Theatre in Sag Harbor, NY.

SWEET BIRD OF YOUTH by Tennessee Williams.

Starring Margaret Colin in the role of Princess Kosmonopolis and Gerry Bamman will play the role of Boss Finley in the Williamstown Festival's production of Sweet Bird of Youth directed by David Jones.

"Relentless caper for all those who step / The legend of their youth into the noon." With this quote from his spiritual and literary mentor, Hart Crane, Tennessee Williams began his last great lyric play. A movie star who's seen better days, Alexandra Del Lago (travelling incognito as "Princess") occupies a hotel room with a young man, Chance Wayne. chance hit Hollywood with big dreams. Now he's returned to his hometown with nothing to show for himself but a faded movie queen's desperate attentions. Does he really believe Princess still has the clout to secure him that screen test, or has Chance really come home to start up with the girl he ruined years before? The sweet bird of youth, Williams tells us, perches nearby for such a very short time. Nothing to be done, except make the most of that bird before it flies, flies away. "...the biggest of all differences in this world is between the ones that had or have pleasure in love and those that haven't...between the spectators and the performers..."

Main Stage of the Williamstown Theater Festival July 19 - 30. Williamstown, PA.

SEX AND SEALING WAX written by Nordlinger and Adam Burns, and directed by Hilary Adams.

A multi-media solo show about the search for sexual freedom under the ever-watchful eye of the media

Ever since the dawn of mass media, it's been trying to tell people how to look, act, feel and think. Romy Nordlinger taps into this premise with an updated and expanded version of her acclaimed solo show, Sex and Sealing Wax, which focuses on women through the decades as they face life-changing moments beneath the gaze of the media. Darker questions about independence and individuality are also raised - just who is it that sets the moral compass in society?

The show will begin performances in Manhattan on Saturday, July 22nd at the Where Eagles Dare Theatre, as part of the Seventh Annual Midtown International Theatre Festival.

AVENUE Q where life may suck, but for a bright-eyed college graduate called Princeton, this is his new neighborhood. A tiny bank balance and a variety of weird and wonderful friends and neighbors lead Princeton on a hilarious journey of self-discovery. Performed by an unholy comedic alliance of humans and puppets, Avenue Q was the winner of the Tony Award for Best Musical, Best book of a Musical and Best Original Score.

Avenue Q started its life in 2002 with an off-Broadway run at the 200-seat Vineyard Theatre, where it was extended four times. It then opened at the Golden Theatre on Broadway in July 2003 to critical acclaim. London is only the third production of Avenue Q in the world - the other was a stay at the Wynn Hotel in Las Vegas until Steve Wynn tacked up an eviction notice.

In preparation for the UK premiere of Avenue Q, the producers auditioned the show in collaboration with the Theatre Royal Stratford East, who helped find hundreds of fresh musical performers of all backgrounds to be auditioned. The resulting company blends youthful newcomers with seasoned West End performers.

They sing clever songs such as What Do You Do With a BA In English? and I'm Not Wearing Underwear Today along with ditties about sex, drugs and surfing the internet for porn.

Fast paced and funny. At the Noel Coward Theatre in London.

STARS IN MY EYES recalls a bygone Hollywood era via The Poetry of Edward Field. Adapted and directed by Michael Boothroyd.

Joan Crawford, Mae West, Marlene Dietrich, Frankenstein, Cat People. Stars of the screen, stars made of celluloid. All larger than life. And all real people and all that that entails. These stories (and excesses) of Hollywood's Golden Age are examined through the insightful poetry of Edward Field in Stars in my Eyes.

A blending of fiction, fact and a bit of camp, the show takes an affectionate, yet penetrating look at the people and creations that inhabited Hollywood lore more than 70 years ago. The performances fuse the traditions of spoken word with the aesthetics of theatrical staging. As the narrator of each poem speaks the words of the poetry, the other members of the ensemble will act out the snippets of scenes being described, with vintage costumes from the Golden Era of Hollywood. two worlds"

The cast features: James Gash, Jessica Jennings, Ryan G. Metzger, Charlotte Miller, Paige and Benjamin Solomon.

Running from July 20th – August 5th, Stars In My Eyes will be performed at the MainStage Space of the WorkShop Theater as part of the Seventh Annual Midtown International Theatre Festival.

WHERE THREE ROADS MEET by Jon Carter. Directed by Will Warren.

The cast includes; features Morgan Baker, Emily Fink, Andrew Firda, Robb Hurst, Kathryn Merry, Elena McGhee, and Curtis Neilson.

The complicated and multi-layered relationship between Carl Jung and Sigmund Freud is put under the microscope (and on the couch) in this world premiere production, part of the Seventh Annual Midtown International Theatre Festival.

In 1906 at the age of 50, Sigmund Freud, revered by his peers as the reigning sovereign of the field of psychiatry, finds his professional heir in Carl Jung, whom Freud sees not only a mirror to his own psychoanalytic theories, but also as embodying in his physical being and personal life exactly what Freud longs to recapture. Jung, dazzled to blindness by Freud's ultimate flattery, at first gladly accepts his anointing as Freud's protégé, but the younger man carries ambitions of his own that diverge from his mentor's.

Also involved in the two men's orbit and affected by their actions are such contemporaries as the introspective Hungarian analyst Sandor Ferenczi, the troubled Austrian psychiatrist Otto Gross, and Jung's former patient (and lover) Sabina Speilrein. Through their eyes we observe what happens when the prince refuses to follow his king, the king disinherits the prince, and the struggle for the kingdom and the throne ensues.

Opens Friday, July 21 at the MainStage space at the WorkShop Theater, NYC.

PIPPIN Book by Roger O. Hirson. Music and Lyrics by Stephen Schwartz. Based on the story of Pippin, son of Charlemagne. Directed by Gabriel Barre. Choreographed by Mark Dendy.

Mischievous, magical, humorous and captivating - Tony Award-winning Pippin is the lively coming of age story of Charlemagne's oldest son. A surprise waits around every corner as Pippin wanders through the worlds of politics, love and war before finding his true calling.

Dazzling and imaginative with songs you'll remember, Magic to Do, Corner of the Sky and the audience sing-a-long No Time at All - Pippin is another fantastic tale from Stephen Schwartz, the composer of Wicked and Godspell. Performances through September 24 at the Goodspeed Opera House in East Haddam, Conn.


| | | |
| --- | --- | --- |
| | | |
WHO'S WHERE


BRILLIANT CORNERS: THE MUSIC OF THELONIOUS MONK Cedar Walton, piano. Wynton Marsalis, trumpet. Bill Charlap, piano. Jimmy Greene, tenor saxophone. Jeremy Pelt, trumpet. Steve Nelson, vibraphone. Peter Washington, bass. Lewis Nash, drums.

Thelonious Monk was a musical architect and a true innovator. His distinctive compositions and revolutionary piano style continue to influence generations of musicians.

Thursday, July 20 at the 82nd Street Y in NYC.

DAVID LEE ROTH performs at the House of Blues in Las Vegas on Thursday, July 20.

PETER FRAMPTON, DICKIE BETTS and HOOTIE AND THE BLOWFISH performs Monday, July 17 at Gold Country Casino in Oroville, CA. On Thursday the show is at Humphrey's By The Bay in San Diego. On Friday the performance takes place at the Montalva Arts Center in Saratoga. On Saturday they are in Oregon at the Britt Festivals in Jacksonville.

MATTHEW GRAYBILL AND NATALIA KAZARYAN major prize winners of the 2004 New York Piano Competition, will present a joint recital. Works by Scriabin, Beethoven, Chopin, Rachmaninoff, Ravel, Brahms, Schumann and Liszt will be performed. The evening concludes with Dvorak's Slavic Dances performed on one piano by both pianists. Part of Williamstown Theatre Festival's First Monday Event. July 24 on the Main Stage, Williamstown, Massachusetts.

KELLY CLARKSON on stage Tuesday, July 18, at the Tweet Center in Camden, NJ. On Wednesday she is in the spotlight at the Post-Gazette Pavilion in Burgettstown, PA. Friday finds her at the Verizon Wireless Amphitheater in Bonner Springs, KS. Saturday the show is at First Midwest Bank Amphitheatre in Tinley Park, IL.

EARTH, WIND & FIRE AND CHRIS BOTTI perform Thursday July 20, at Jones Beach Theatre in Wantagh, NY. On Friday they bring the show to the P.N.C. Bank Arts Center in Holmdel, NJ.

PAUL SIMON stars at the Chastain Park Amphitheatre in Atlanta, GA on Wednesday, July 19. On Friday he's center stage at the Nokia Theatre in Grand Prairie, TX. Saturday the show is at the C.W. Mitchell Pavilion in The Woodlands, TX.

MADONNA opens a two night stand Tuesday, July 18, at Madison Square Garden. On Saturday he starts a three night gig at the American Airlines Arena in Miami, FL.

ERIC CLAPTON brings his tour to the Arena in Prague, Czechoslovakia on Thursday, July 20. On Saturday the show is at Olympiahalle in Munich, Germany. On Sunday, July 23, he is on stage at the SAP Arena in Mannheim, Germany.

DIXIE CHICKS making music Friday, July 21, at the Joe Louis Arena in Detroit. On Saturday they star at the Mellon Arena in Pittsburgh, PA.

LYLE LOVETT has a busy schedule this week. Today, Sunday, July 16,he is on stage at Humphrey's By The Way in San Diego. On Monday he kicks off a two nighters at Wells Fargo Center for the Arts in Santa Rosa, CA. Thursday finds him at the Deer Valley Resort in Deer Valley, Utah. On Friday he can be found at the Grand Targhee festival in Alta, Wyoming. On Saturday he's entertaining at the Doo-Dah in Telluride, Colorado. And, next Sunday, July 23, he's in the spotlight at Red Rocks Amphitheatre in Morrison, Colorado.

BONNIE RAITT brings her talents to the Chevrolet Theatre in Wallingford, CT this evening, Sunday, July 16.

PAULA POUNDSTONE telling funny stories this evening, Sunday, July 16, at the Town Hall in Provincetown, MA.

VAN MORRISON performs Saturday, July 22, at the Montgomery County Fair in Montgomery, MO.

GEORGE JONES in a two nighter July 21-22 at the County Tonight Theatre in Pigeon Forge, TN.

JAMIE CULLUM entertaining Friday, July 21, at Delamere Forest in Cheshire, UK and on Saturday he's in Suffolk.

MELISSA ETHERIDGE opens a three night gig Thursday, July 20, at the Auditorium Theatre in Chicago.

THE KINGSTON TRIO bring their folk music to the Phillips Center for the Performing Arts in Gainsville, Florida on Friday, July 21. On Saturday they are performing at the Kravis Center in West Palm Beach.

THE MINNESOTA BRASS QUINTET on stage this evening, July 16, at the Old Log Theater in Excelsior, MN.

FAITH HILL AND TIM McGRAW perform Tuesday, July 18 at the Kemper Arena in Kansas City, MO. On Friday the show is at the American Airlines Center in Dallas. Saturday finds the duo at the Toyota Center in Houston and next Sunday they can be enjoyed at the AT&T Center in San Antonio, TX.

CHRIS ISAAC opens a three night engagement Monday, July 17, at the Historic Mountain Winery in Saratoga, CA. On Thursday, he performs as part of Wente Concerts at the Vineyard at Livermore, CA. Saturday finds him at the Konocti Harbor Resort and Spa in Kelseyville, CA, Next Sunday he performs at the Oregon Zoo Amphitheatre in Portland, Oregon.


FINAL OVATION


BARNARD HUGHES 90, best actor Tony award winner, died Tuesday, July 11, at New York Presbyterian Hospital.

He took home the Tony for his portrayal of the title character in Hugh Leonard's Da. Hughes made his Broadway debut in Herself Mrs. Patrick Crowley in 1935. Among Hughes' other major Broadway credits were A Majority of One (1959), Advise and Consent (1960), Nobody Loves an Albatross'(1963), the Richard Burton revival of Hamlet (1964), How Now, Dow Jones (1967), Abelard and Heloise (1971), The Good Doctor (1973), All Over Town (1974), Angels Fall (1983) and Prelude to a Kiss (1990).
His last Broadway appearance was in the Noel Coward comedy Waiting in the Wings in 1999.
Born July 16, 1915 in Bedford Hills, N.Y., Hughes is survived by his wife, actress Helen Stenborg, a son Doug, daughter Laura and grandson Samuel Hughes Rubin. Funeral services will be private.

RED BUTTONS

Red Buttons at the Sands Hotel in Las Vegas July, 1953.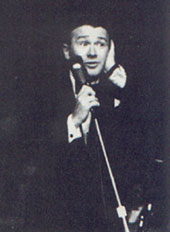 87, the Academy award winning actor/comedian succumbed to vascular disease, Thursday, July 13, in Los Angeles.

Buttons first appeared on Broadway in the 1948 flop Hold It. He returned to Broadway in 1995 with an autobiographical one-man show, Buttons on Broadway.

In between he picked up an Oscar for his role in Sayonara. With a story by James Michener, directed by Josh Logan, the movie starred Marlon Brando. Buttons portrayed Sgt. Joe Kelly, a soldier in the post-World War II occupation forces in Japan whose romance with a Japanese woman (Myoshi Umeki, who also won an Academy Award) ends in tragedy.

Buttons also had a hit television series, The Red Buttons Show, first broadcast on CBS Oct. 14, 1952.

A frequent star in Las Vegas he regular appearing in the Dean Martin Roasts many of which were taped in Las Vegas.

The brilliant actor/comedian coined the catch phrase "Never had a dinner" routine and a routine in which he pranced about the stage singing Ho! Ho! ... He! He! ... Ha! Ha!... Strange things are happening which became an absurd but catchy hit song.

Born Aaron Chwatt on Feb. 15, 1919, son of an immigrant milliner, Buttons was married and divorced twice. He and his late third wife, Alicia, had a son and daughter, Adam and Amy. In addition to the children, Buttons is survived by a brother and sister.

BILL MILLER 91, who spent over 46 years as Frank Sinatra's pianist, died Tuesday, July 13, at a Montreal hospital. On July lst while performing in Canada, Miller fell and broke a hip. That triggered a heart attack which necessitated bypass surgery, which resulted in complications.

Sinatra relied upon Miller's timing, talent and musical instincts. Ol' Blue Eyes first heard Miller tinkle the ivories in 1951 when Miller was a lounge act at the Desert Inn Hotel in Las Vegas. Sinatra offered Miller a job and he accepted.

When Sinatra died of a heart attack in 1998 at age 82, Miller played 'One for My Baby (And One More For The Road) at the funeral.

After Sinatra's death Miller went into retirement but six months later was persuaded to return to the stage by Frank Sinatra, Jr. The two performed together ever since and opened June 23 at Casino Montreal where they were scheduled to perform through July 30.

The Sinatra Family website offers a tribute to Miller.
















Next Column: July 23, 2006
Copyright: July 16, 2006. All Rights Reserved. Reviews, Interviews, Commentary, Photographs or Graphics from any Broadway To Vegas (TM) columns may not be published, broadcast, rewritten, utilized as leads, or used in any manner without permission, compensation/credit.
Link to Main Page
---
Laura Deni


CLICK HERE FOR COMMENT SECTION