! >
Broadway To Vegas
  SHOW REVIEWS     CELEBRITY INTERVIEWS     GOSSIP     NEWS 
AT TONIGHT'S PERFORMANCE THE ROLE OF...
SALLY STRUTHERS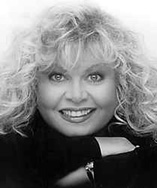 Sally Struthers is looking a little wild eyed. "I've had three Patsy's this week," she declared at the posh reception following the opening of Always ... Patsy Cline at the Silverton Hotel in Las Vegas.

It was a little disconcerting - something that is every stand in's secret dream and usually found only in movie scripts.

A week ago Saturday the production was to open with the press night slated for last Thursday. Rachel Ricci took the stage as Patsy Cline and immediately became ill. Stepping on stage in the tile role was understudy Christy Mauro-Cohen - her first time in the part.

She no sooner finished the show than she was felled by the same throat ailment that has silenced Ricci.

A production of this show is also playing at the Ryman Auditorium in Nashville, so the astonished Tennessee understudy, Terri Williams, was flown to Vegas to perform for two nights while Mauro-Cohen got her throat back in shape.

This may be the first time in theatrical history that both the star and understudy have become ill and another understudy flew through three times zones to fulfill "the show must go on" philosophy.

For Struthers - the lady who became a household name through the hit series All In The Family that has caused her eyes to roll around.



PATSY CLINE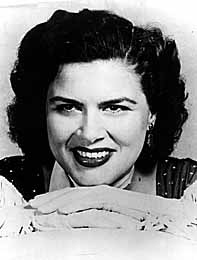 "I have to rehearse with each new Patsy during the day and then we perform at night," explained the star who seems to possess boundless energy. "I take a lot of vitamins and I've always had a lot of energy. When I was a child my mother could never get me to take a nap. I was never tired. So, I've always been this way."

That's been a blessing for both the show and for Struthers.

As for the revolving door of performers playing Patsy, understudy Mauro-Cohen seems to be Patsy for at least another week. "She is very ill," reported Mauro-Cohen about Rachel Ricci, who has managed to improve from being fed clear broth to attempting to swallow tapioca. "It's a throat infection that we got," continued Christy. The production company has been fabulous to us. They immediately got us the best doctors. They have been taking excellent care of us. I got well right away but Christy hasn't."

So, on the press night, last Thursday, a slip of paper said At Tonight's Performance The Role Of Patsy Cline Will Be Played By Christy Mauro-Cohen.

Who?

It didn't take long for the Ft. Lauderdale, Florida native to astound the crowd with her alto voice, stage presence and ability to step into a part against Sally Struthers and not only hold her own but balance and compliment.

Since her father was one of Barbra Streisand's vocal coaches, Christy feels she's been trained by the best.

For her part in Love Always ... Patsy Cline the singer is the understudy for both Louise and Patsy. Christy was last seen playing "Woman #2" in I Love You, You're Perfect, Now Change Mother to a tiny son, her husband is the show's piano player. Keeping the family together in the same location through November was one of the reasons Christy signed on for the production.

The latest Always ... Patsy Cline at the Silverton in Las Vegas is wonderful.

Sally Struthers is Louise, a part that almost seems tailor made for her. She's campy, poignant, fun, serious and can convey in a foot stomp, a facial expression or even how she just sits in a chair a gamut of emotional dynamics that serves as the conduit connecting the audience to this intimate friendship.

Backed by the Bodacious Bobcats Band - David Cohen, Jim Belk, Clarke Edson, Mark Kalson and Jimmy Tunk, Struthers surprised the crowd by harmonizing with Christy on a couple of Patsy's numbers.

The Patsy Cline character goes through nine costume changes that we counted. That are the creation of Therese Bruck who is currently the resident costumer for Playwrights Horizons in New York City. Copied from styles and outfits actually worn by Cline they are add to the production.

When questioned about fitting into somebody elses outfits Mauro-Cohen declared, "I have my own costumes. They made a complete set for me. Rachel Ricca is about twice as tall as I am."

A production filled with 22 Patsy Cline songs, Love Always ... Patsy Cline is both an entertaining and informative show. Sally Struthers is sensational and the understudy we saw Christy Mauro-Cohen, is not only a trooper but a star ready to shine.



A bout with rheumatic fever resulted in a low, booming voice

On March 5, 1963 Patsy Cline, Hawkshaw Hawkins, Cowboy Copas and Randy Hughes - all Grand Ole Opry stars - were killed in a plane crash after attending a benefit concert in Kansas City.

Just before her departure to Nashville, Ray Walker of the Jordonaires told Patsy to be careful. Her last words to him were prophetic: "Honey, I've been into two bad ones...the third one'll be a charm or it will kill me."

Her tragic death was preceded by two other close calls Her first brush with death was a serious case of rheumatic fever when she was 13. Patsy recalled the ironic fortune this illness brought her: "The fever affected my throat and when I recovered I had this booming voice like Kate Smith's."

In 1961, Patsy and her brother Sam were involved in a head-on car collision that nearly cost Patsy her life. As a result of the accident, Patsy had a large scar on her forehead that prompted her to wear wigs at her public appearances.

We'd be remiss if a special mention wasn't given to the white-gloved, post opening press reception. The Silverton is an off the beaten tract, comfortable casino-RV park with a western theme. Although it's a full service hotel, which has a lip smackin' restaurant and a buffet, we never really thought of it as a gourmet, white glove event maker - until now. With this reception Chef Rene Werner gave notice that his staff can hold their own again any major Strip resort.



Broadway To Vegas is supported through advertising and donations. Priority consideration is given to interview suggestions, news, press releases, etc from paid supporters. However, no paid supporters control, alter, edit, or in any way manipulate the content of this site. Your donation is appreciated. We accept PAYPAL. Thank you for your interest.


PETE ESCOVEDO OPENS NEW JAZZ CLUB
There's new hot spot in California thanks to Pete Escovedo. It was standing room only when the Oakland raised musical legend opened the doors to Mr's E's.

Escovedo was widely exposed to jazz long before he ever picked up an instrument, as he and his siblings often accompanied his father, a frustrated singer, to see the big bands traveling through Oakland. "We would just wait for him at different places listening to all that music. So I guess it soaked right into our heads, " recalled Pete who has always called the San Francisco Bay Area home. The virtuoso percussionist and band leader travels the world playing timbales, congas and other Latin percussion, but last week everyone gathered for the opening of Pete's new jazz club -Mr E's in Alameda. Calif.



PETE ESCOVEDO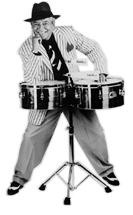 Ginny Prior spent years as a San Francisco radio personality and attended the opening and we think she made it home. She kept talking about heat and riffs and we worry that she is still there afraid that if she leaves she won't be able to get back in for the July 29th CD party celebrating the release of E Musica.

"Mr. E" as he is lovingly called, brought down the house at the recent opening of his new club," Prior informed us. Daughter Sheila ignited the audience with her band The Fifth Element, a perfect compliment to her passionate percussion. Pete is quick to point out that his famous daughter learned everything she knows about music from him."

"Sheila is devoted to her family and seems to always find time to play for her father's special events," continued Prior. "The grand opening of Mr. E's in Alameda was just such an event. Over 2000 people packed four sold-out shows at the new nightclub
"The Fifth Element captivated the audience with its high energy jazz, complimented by Sheila's percussion riffs. Eddie Minniefield brought instant heat to the room with his charismatic sax playing. Bassist Rhonda Smith, guitarist Kay Dyson, keyboard player Reneto Neto and vocalist Lynn Mabry each brought their own dynamic style to the show and it was a show stopper.

"Mr. E" himself doesn't need to take a back seat to anyone. Pete Escovedo continues to perform locally and abroad with his own orchestra. As a master percussionist, the elder E can whip the audience into a frenzy with his Latin timbale beat. The entire Escovedo family comes together again July 29th for Pete's new CD release party," added Prior.

Mr. E will have musicians flying in from Los Angeles to perform with him including: Peter Michael Escovedo, Juan E. and Sheila E. The first album ever produced by Sheila E. for Pete, this album is slammin with a lot more salsa flavor. This will be super hot event. "We are expecting a capacity crowd," said Mr. E.

"Mr E's Spotlight on the Square" in Alameda, CA is a very upscale venue that accommodates 500 people, has a restaurant, and abundant parking. For the rich at heart, we have a VIP section where you can have an unobstructed view of the entertainment, champagne, personal security, and other nice amenities. We have catered food," said Escovedo. " Salsa dancing on Wednesdays and Sundays. Swing dancing on Thursdays. Friday and Saturday night feature a variety of Jazz and Salsa bands from around the world. Sunday afternoons will feature special events.

"The fact that my kids play, is probably the most rewarding and proudest thing in my life," Pete continued. "I try to include the kids on most of my CDs, because the Escovedo sound is the Escovedo family, and that's what makes it all worth while for me."


TREASURES FROM THE LAND OF SNOWS

Tibet House Cultural Center in NYC is presenting Art Treasures from the Land of Snows. An important part of the Tibet House U.S. mandate from His Holiness the Dalai Lama is to create a conservatoire museum to collect the best and most diverse examples of Tibetan sacred, fine and folk art, ultimately to be repatriated to a National Museum in a free Tibet.

On exhibit are over 100 objects from this growing collection, begun in 1992, including gilt bronzes, tangkas, sculptures, and sacred objects from Tibet dating from the 12th century. Many of these objects are on display in the Gallery for the first time; others are included in Tibet House's traveling exhibitions.

The Repatriation Collection receives donated works of art and artifacts for eventual return to a National Museum in a free Tibet. Donors to the Tibet House Repatriation Collection includes Jacqueline Dunnington, Michael McCormick, Shelley and Donald Rubin, John Rezk, and many others. Also included in this show are some of the unique and wonderful "lantern slides" from the Marion G. Griebenow Collection of over 3,000 photographic images of northeastern Tibet taken during period 1928 to 1949.

Since the Communist Chinese occupation of Tibet beginning in 1949, a majority of Tibetan art works and Buddhist manuscripts were destroyed, particularly during the cultural Revolution.

The Tibet House Cultural Center in Chelsea is home to permanent and temporary exhibits of Tibetan art as well as works inspired by Tibet and Buddhism, a library and an audiovisual center. At the heart of the center is an authentic Tibetan shrine room hand painted by Tibetan artists and featuring an exquisite life-size clay Buddha. Art Treasure from the Land of Snows will be on display through September 22. A traveling exhibit is planned for the fall.


SWEET CHARITY

KAREN ZIEMBA will appear at the Memorial Tribute to the late Broadway producer David Merrick on July 18th at the St. James Theatre, in NYC. Karen will perform songs from two of Merrick's most popular musicals ---42nd Street - in which she co-starred with Jerry Orbach on Broadway - and from I DO! I DO! Karen starred in the recent off-Broadway revival playing the Mary Martin role


Brent Barrett, Andrea McArdle, Brian Stokes Mitchell and Howard McGillin are also scheduled to appear with Karen at the Merrick tribute which is open to the public.

YOU CAN'T TAKE IT WITH YOU

Pat Hingle
starring veteran actor Pat Hingle has opened at The Flat Rock Playhouse in North Carolina through July 29. Hingle portrays the grandfather in the Moss Hart and George S. Kaufman 1936 Pulitzer Prize winning comedy.

Hingle was most recently seen in New York as Benjamin Franklin in the Roundabout revival of 1776, with other Broadway credits including Cat on a Hot Tin Roof, J.B., Strange Interlude and That Championship Season.

Joining Hingle in the cast are Stacey Harris, Scott Treadway, Jane Bushway, Steve Carlisle, Ginger Poole, Damian D. Domingue, Dane Whitlock, Paige Posey and Peter Thomasson.

The Flat Rock Playhouse is the State Theater of North Carolina and is located, three miles south of Hendersonville.

GORE VIDAL'S THE BEST MAN begins rehearsals August 1 with performances beginning Sept 5 at the Virginia Theater. Opening night is slated for September 17. The cast includes, Jonathan Hadary, Mark Blum, four-time Emmy winner Michael Learned will play Mrs. Russell, wife to Spalding Gray's character of presidential candidate William Russell in the upcoming revival. Charles Durning is cast as President Hockstader. Chris Noth, Elizabeth Ashley and Christine Ebersole round out the ensemble Costumes by Theoni V. Aldredge, sets by John Arnote, lighting by Howell Binkley. Ethan McSweeny directs the production which is set to run through December 31.

THE MANDRAKE ROOT a new play written by Lynn Redgrave, in which she will also star, will make its World Premiere at George Street Playhouse. Ms. Redgrave, a Golden Globe Award Winner and multiple Tony, Oscar, and Emmy nominee, has written an affecting story of family secrets and unrealized dreams. In modern-day Los Angeles, an aspiring writer is caring for both her aging mother and her teenage daughter. As these women struggle with their relationships in the present, the romantic entanglements of decades earlier reverberate through three generations.The Mandrake Root will have performances February 10 - March 11, 2001

NASTY LITTLE SECRETS produced by Urban Haze Productions, in association with Jeff Murray and Nicolette Chaffey for Theatre/Theater, will present the west coast premiere of Lanie Robertson's off-Broadway hit directed by David Galligan. A dark comedy in the irreverent style of acclaimed British playwright Joe Orton, detailing the shocking lives and shocking deaths of Orton himself and his obsessed lover/mentor Kenneth Halliwell, Nasty Little Secrets opened for a limited engagement at Theatre/Theater in Hollywood last night featuring Brant Cotton as Orton; Travis Michael Holder as Halliwell; Ian Abercrombie as Orton's agent, Edgar Willoughby; and Stuart McLean as their parole officer, Detective Constable Carnes.

THE ROCKY HORROR SHOW opens on Broadway in October. The undisputed champion of audience devotion, this cult classic is a story of love, lust, manipulation, seduction, submission, domination, creation, satisfaction, biological advancement and simultaneous orgasm.

THEATERWORKS/USA celebrates the opening night of the 12 season of free summer theatre with the World Premiere of a new musical revue of Reading Rainbow, based on the Emmy award-winning PBS series. Tomorrow night, July 17, actress Kyra Sedgwick, Honorary Co-Chair of the evening and her 8 year old daughter, actress Joanna Merlin will be on hand to help kick off the season at the Sylvia & Danny Kaye Playhouse. The production runs through July 29.

THE GIFT stars Alicia Witt as an exotic dancer with a special "gift" opened last night, July 15, at the Tiffany Theatre in West Hollywood. This marks Witt's Los Angeles stage debut in this world premiere which also stars James Barbour, Burke Moses and Robert Torti. Andy Fickman directs. Production runs through August 27.

AVOW starring screen legend Jane Powell began previews last night at Century Center.


JANE POWELL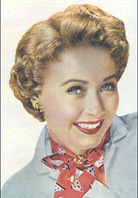 The MGM movie queen was born Suzanne Burce in Portland, Oregon. Her small size allowed her to play adolescent parts long after she had ceased to be a teen. She was 21 when she made Nancy goes To Rio in 1950. Powell made her Broadway debut in 1973 in the musical Irene, and she has toured the country in Marriage-Go-Round, Same Time, Next Year and Chapter Two for which she received a drama-Logue Award.

Avow a comedy-drama is about the relationship between two gay men, one of whom is a strongly observant Catholic.

On the advice of his confessor, one man decides to turn celibate. Meanwhile, his priest is feeling pangs of his own - for a woman.

Avow is written by Bill C. Davis. Also in the cast are Christopher Sieber, Scott Ferrara, Alan Campbell and Sarah Knowlton. The production officially opens on July 27.


WHO'S WHERE

LILLIAS WHITE who won a Tony for her performance in The Life reprises her highly acclaimed show, From Brooklyn To Broadway Tuesdays through Saturdays through July 22 at Arci's Place, NYC.

JIM CARUSO is at Arci's Place Monday's in July. He's making his debut at this new "in" spot. Recently, Jim was the Executive Associate to Liza Minnelli in the Broadway production of Minnelli on Minnelli. He was the founding member of the award winning vocal group Wiseguys, appearing at the Algonquin's Oak Room and Carnegie Hall and performed at the first State Dinner hosted by President Clinton at the White House. For this engagement, Caruso is accompanied at the piano by respected Grammy winning songwriter Billy Stritch.

ROSEMARY CLOONEY AND MICHAEL FEINSTEIN Hollywood Bowl July 21-22.

PAULA COLE at Caesars Tahoe July 21-22.

FAITH PRINCE, GREGORY HARRISON, TOM BOSLEY, AND DEE WALLACE STONE cast in Rodgers & Hammerstein's Carousel which will be presented in a semi-staged performance Aug. 13 with John Mauceri and the Hollywood Bowl Orchestra, LA.

DAVID HASSELHOFF taking his turn in the leading role in Broadway's Jekyll and Hyde.

MICHAEL GAMBON winner of three Olivier awards, last seen on Broadway in David Hare's Skylight in 1996 has been cast as the lead in The Caretaker, a London production celebrating playwright Harold Pinter's 70th birthday.

ARETHA FRANKLIN will sing the national anthem in Bridgehampton on July 22 at the Mercedes-Benz Polo Challenge by special request of Prince Albert of Monaco.

PAULA POUNDSTONE makes em laugh July 29 at Sunset Station, Las Vegas.

TONY DANZA Westbury Music Fair, Long Island on July 18.


THIS AND THAT
I SCREAM, YOU SCREAM, WE ALL SCREAM FOR Le Mars, Iowa is a town that calls itself the Ice Cream Capital of the World. In 1994, the Iowa Legislature even said so - issuing a proclamation designating the town as the ice cream capital.

Now there is an official museum, the only one of its kind, which has attracted more than 13,000 people since it opened in March.

Le Mars is the home of Wells Dairy, maker of Blue Bunny ice cream. Wells Dairy produces more ice cream in one location than any other single company. The Ice Cream Capital of the World Visitor Center is a joint project of the Le Mars Chamber of Commerce, Wells Dairy and local business developers. Wells Dairy, which distributes ice cream products to all 50 states and more than 30 foreign countries, traces its beginning to 1913. The museum has nifty exhibits and tours. Bring your own thermal underwear, one section is 40 degrees below zero.



Mention BROADWAY TO VEGAS for Special Consideration
Call (800) 942-9027









Next Column: July 23, 2000
Copyright: July 16, 2000. All Rights Reserved. Reviews, Interviews, Commentary, Photographs or Graphics from any Broadway To Vegas (TM) columns may not be published, broadcast, rewritten, utilized as leads, or used in any manner without permission, compensation and/or credit.
Link to Main Page
---
Laura Deni


CLICK HERE FOR COMMENT SECTION