! >
Broadway To Vegas
  
  REVIEWS INTERVIEWS COMMENTARY NEWS

| | |
| --- | --- |
| | |
BMW ART CARS - - RIVER OF MUSIC - - INSIDE BUCKINGHAM PALACE - - FAR FROM HEAVEN STARS KELLI O'HARA - - STACY KEACH IN CLASSIC CONVERSATIONS - - THE ROLLING STONES TO TOUR - - ELTON JOHN IS KEYNOTE SPEAKER - - DANNY DeVITO TO HOST MOVIE PREMIERE IN LONDON - - DONATE . . . Scroll Down


Copyright: July 15, 2012
By: Laura Deni
CLICK HERE FOR COMMENT SECTION

INSIDE BUCKINGHAM PALACE AND - OH, THOSE ROOMS !!! THOSE JEWELS!!!


Physically fit Queen Elizabeth regularly climbs the 47 steps of the John Nash designed Grand Staircase which features a gilt-bronze balustrade. Friezes, designed by Thomas Stothard, depict the Four Seasons. Six portraits of Queen Victoria's family are set into the walls at the top of the stairs forming a perpetual 'receiving line' for visitors. Photo by Derry Moore.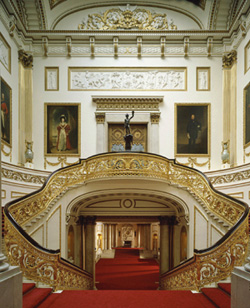 Going inside Buckingham Palace - Buck House to the natives - is a not to be missed experience.

It doesn't matter how many times Sir Paul McCartney has put his tennis shoe covered feet inside that abode, Sir Elton John performed, director Tim Burton, actors Helena Bonham-Carter, Kevin Spacey, Kristin Chenoweth, Tom Hanks, Rita Wilson, or historian Dorris Kearns Goodwin walked that famed staircase - each time must seem special.

It did when I gazed at the wonders of the State Rooms and the magnificent, breathtaking personal collection of jewels owned by Queen Elizabeth II - valued at a minimum $300 million.

Nobody does pomp and pageantry as well as the British. That Buckingham Palace was build to be a home is daunting.

Buckingham Palace gets its name from an eighteenth-century Tory politician. John Sheffield, 3rd Earl of Mulgrave and Marquess of Normanby, who was created Duke of Buckingham in 1703. A man noted for his arrogance, his nickname was Lord All Pride. Perhaps then, fittingly, he built Buckingham House for himself as a grand London home.

The site where Buckingham Palace now stands was originally a mulberry garden planted by King James I (r. 1603-25) to rear silkworms because he was a clothes horse who had a passion for the fabric. Unfortunately, he chose the wrong kind of mulberry bush - black mulberry trees - and the silk worms turned their noses up at the menu. Thus, silk production never took off in Britain.

George III bought Buckingham House in 1761 for his wife Queen Charlotte to use as a comfortable family home close to St James's Palace, where many court functions were held. Buckingham House became known as the Queen's House, and 14 of George III's 15 children were born there.



The Blue Drawing Room was originally known as the South Drawing Room. It is used by guests who gather here before State and diplomatic occasions. Photo: Peter Smith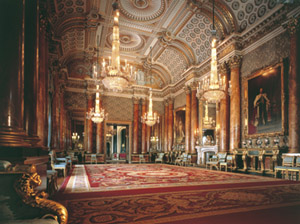 The White Drawing Room is used for receptions and audiences and has been used as the backdrop for a number of formal photographic portraits of members of the Royal Family. Photo: Derry Moore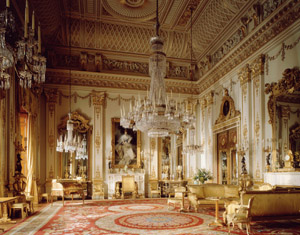 A fan of simple food and tastes who adored his wife and 15 children, he never-the-less employed tutors who would hold the children to the ground and beat them should they have slacked off in their studies.

George III was also a lover of fine art and he is the one who is responsible for the royal art collection which includes 50 Canalettos - the largest collection of Canalettos in the world.

His son, George IV, perhaps rebelling against his extremely stern upbringing, loved anything in excess - be it food, his five mistresses - any other women with two legs and Oriental fashion. That has been attributed to his nursery being decorated in the Oriental style and musings that the infant bonded with Far East decor.

Take, for instance the Buccleuch Vases - four Chinese porcelain baluster vases from Jiaqing period of 1796 to 1820.

There are only two known sets of these matching vases. Two of the vases were purchased in July 2011 in a Christie's London auction by Las Vegan Steve Wynn for $12.7 million and are on display at his Macao hotel property. The other set can be found at Buckingham Palace.

Buckingham wasn't really a 'fixer upper', when George IV got the deed, but it didn't really turn into a Palace until George IV and his architect, John Nash, decided to spruce the place up.

Nash added a new suite of rooms on the garden side facing west. Faced with mellow Bath stone, the external style reflected the French neo-classical influence favored by George IV.

The remodeled rooms are the State and semi-State Rooms, which remain virtually unchanged since Nash's time - breathtaking.

The place makes our White House look like servants' quarters.

And, like the place at 1600 Pennsylvania Avenue, there has been remodeling.



If the Throne Room seems theatrical it's because John Nash designed The Theatre Royal, Haymarket. Used principally for the reception of formal addresses on important occasions, Queen Elizabeth has only sat on her White Allom & Co designed throne chair once - at her 1953 coronation. The coronation chairs are flanked with chairs, each belonging to a different monarch. The throne dais and canopy are separated from the rest of the room by a proscenium arch. Photo: Derry Moore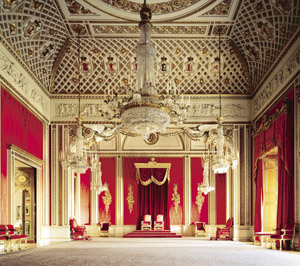 Many fine portraits hang on the classically proportioned walls of the Green Drawing Room including Nathaniel Dance's portrait of Edward Augustus, Duke of York (brother of George III) and Francis Cotes' Princesses Louisa Ann and Caroline Matilda (sisters of George III). There is a display of Sèvres porcelain including a pot pourri vase and a selection of green vases. The official portrait of King George III, also hangs in this room which leads into The Throne Room. Photo: Derry Moore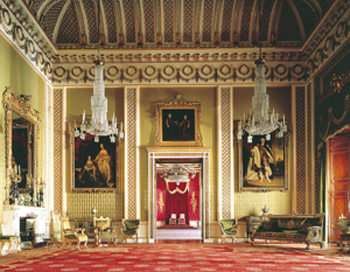 Queen Victoria was the first sovereign to take up residence in July 1837, just three weeks after her accession, and in June 1838 she was the first British sovereign to leave from Buckingham Palace for a Coronation.

However, after she married Prince Albert in 1840 - like many newlyweds - they discovered the place was too small for a family - no nurseries and too few bedrooms for visitors.

The only solution was to move the Marble Arch - it now stands at the north-east corner of Hyde Park - and build a fourth wing, thereby creating a quadrangle.

An attic floor was added to the main block of the Palace and decorated with marble friezes. The work was completed in 1847, but by the turn of the century the soft French stone used was showing signs of deterioration, largely due to London's notorious soot, and required replacing.

In 1913 the building underwent a face lift - a refacing of the façade.

Sir Aston Webb, with a number of large public buildings to his credit, was commissioned to create a new design. Webb chose Portland Stone, which took 12 months to prepare before building work could begin. When work did start it took 13 weeks to complete the refacing, a process that included removing the old stonework.

A modern touch is that the ornate gold molding surrounding the doors is really encased in class, similar to today's high end stores offering three layer glass doors and windows, where stained glass or blinds are put between two layers of glass.

Today Buckingham Palace is an office for the Head of State, as well as a home for The Queen.

Over 800 members of staff are based at Buckingham Palace.

Their jobs range from housekeeping to horticulture, catering to correspondence.

Some of the more unusual jobs include fendersmith, flagman and clockmaker.

There are more than 350 clocks and watches in Buckingham Palace, one of the largest collections of working clocks anywhere. Two full-time horological conservators wind them up every week and keep them in good working order.

There are 1,514 doors and 760 windows. All windows are cleaned every six weeks.

There are also all of those leaded and crystal lamps - one opulent chandelier after another. Originally they held candles which required 30 people just to keep them lit. The chandeliers are capable of being lowered to ground level for ease of cleaning. The original candle illumination was converted to electricity - totally skipping the gas age.

Electricity was first installed in the Ball Room of Buckingham Palace in 1883, and between 1883 and 1887 electricity was extended throughout the Palace. Today there are over 40,000 light bulbs in the Palace.

Buckingham Palace has its own chapel, post office, swimming pool, staff cafeteria, cinema and doctor's operating room.

The first person to go under the knife at Buck House was King Edward VII in 1902. Suffering from peritonitis and close to death, he was operated on in a room overlooking the garden. The surgery proved a success, and King Edward VII was crowned at Westminster Abbey in August that year.

Unless you're Katie Couric with an authorized ABC camera crew, the BBC lensing a series on the Royal Family or covering an official announcement, no picture taking is permitted inside Buckingham Palace. That's why they have royal photographers - and there are job openings. ( See Broadway To Vegas column of July 8, 2012. )



Lake in the backyard garden of Buckingham Palace. The area looks a lot like Central Park only with fog. Photo: Laura Deni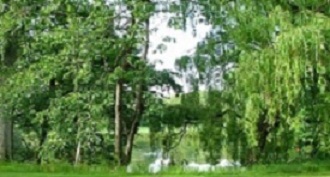 A person is allowed to get shutter happy in the garden.

Buckingham Palace's garden covers 40 acres, and includes a helicopter landing area, a lake, and a tennis court.

It is home to 30 different species of bird and more than 350 different wild flowers, some extremely rare.

It looks a lot like Central Park - only with fog.

As well as being the venue for summer garden parties, it has been the setting for a charity tennis competition, pop and classical music concerts and a children's party featuring a host of characters from children's books.

Environmental issues are a major concern in the running of Buckingham Palace. A Combined Heat and Power unit (CHP) helps to cut energy consumption; LED lights reduce electricity use; and double-glazed skylights reduce energy loss. In the garden, 99% of green waste is recycled on site.

More than 50,000 people visit the Palace each year as The Queen's guests at banquets, lunches, dinners and receptions. The Buckingham Palace kitchen is able to serve a sit-down meal to as many as 600 people at a time.

All menues are presented to Queen Elizabeth for her approval. Since she speaks and reads perfect French the menues are written in French, because the Buckingham chefs view French as the official language of food.

Her Majesty goes over each menu to make certain that the foods served will please those in attendance. She is noted for insisting that her guests feel comfortable and appreciated.

Queen Elizabeth also hosts several garden parties to acknowledge the achievements of people from all walks of life. At each party approximately 8,000 visitors consume 20,000 sandwiches, 20,000 slices of cake, and at least 25,000 cups of tea.

A person who has been invited to two is Chris Walker who is the Orchestrator of the current West End hit musical Top Hat. He's also been associated with previous West End and Broadway shows as either Musical Director or Orchestrator including Godspell, Oliver!, Side by Side by Sondheim, My Fair Lady, Tomfoolery, Me and My Girl, Cabaret, Follies, Hot Shoe Shuffle and The Secret Garden.

"You really don't know why you are invited," he admitted to Broadway To Vegas about his garden party invites. "They don't tell you, but I assume it's because of some charity work I've done."

"There is a dress code. I don't remember if I had to wear a tie, but you have to look smart. You can't just show up wearing jeans and a shirt. You see the Queen and the Duke (Prince Philip) as well. There are a lots of archbishops, officials, people in kilts, military officials - of all races and creeds. It was fun."

When mentioned that I thought the backyard garden looked like Central Park, he responded: "It does a bit, absolutely."

Buckingham Palace has 775 rooms. These include 19 State rooms, 52 Royal and guest bedrooms, 188 staff bedrooms, 92 offices and 78 bathrooms. Buckingham Palace is 354 feet long across the front, 394 feet deep (including the quadrangle) and 79 feet high. The total floor area of the Palace, from basement to roof, covers over 828,821 square feet.

Four Royal babies - Prince Charles, Princess Anne, Prince Andrew and Prince William - were christened by the Archbishop of Canterbury in the Music Room. The Music Room was originally known as the Bow Drawing Room. A prominent display is the handwritten sheet music by Andrew Lloyd-Webber for the 60th Anniversary Celebration.

The music room contains a piano with an interesting, ornate finish rather that a carving. Many of the rooms contain pianos and Broadway To Vegas was told that they are all in working order and are regularly tuned.

The magnificent State Dining Room features a highly ornamental ceiling, overdoors, pier glasses, pelmets and picture frames designed by Edward Blore. Several portraits line the walls including Queen Charlotte and George III, both by Allan Ramsay (ca.1763).

The room is dominated by a long dining table on which sits a silver-gilt centerpiece designed by Prince Albert. The piece is engraved with the names of more than 300 of Queen Victoria's dogs plus models of some of her favorites.

The largest room in the Palace is the Ballroom. It is 121 feet long, 59 feet wide and 44 feet high. The Ballroom has been used variously as a concert hall for memorial concerts and performances of the arts and it is the regular venue for Investitures of which there are usually 21 a year. The room is overlooked by a pair of carved and giltwood throne chairs originally made for use by King Edward VII and Queen Alexandra during the coronation ceremony of 1902.

From the Ballroom, the West Gallery, with its four Gobelin tapestries, leads into the first of the great rooms that overlook lawn and the formal gardens.

Somebody ought to get the name of the carpet cleaner that the Palace uses to keep those creme colored carpets looking brand new. Not to mention that none of the red carpets have a speck of soil. They might as well put their brand on the cleaning solution and sell it - they sell everything else.

I don't know if Buckingham Palace copied Graceland or vice versa. Queen Elizabeth knows how to market and promote.

You can buy everything from an umbrella to soap to wine with the Buckingham Palace label. There are key chains, china, toys, clothing, hand lotion, shopping bags, pens, bath towels - hundreds of items.

The biggest difference between what carries the Buckingham Palace label and the junk sold in souvenir shops at other tourist destinations is - quality. Somebody is paying serious attention to quality control, noticing details and accepting only the best.



Known in the family as the Grammy Crown, Queen Elizabeth inherited this crown - one of her favorites from her grandmother Queen Mary. The tiara was a present to Princess Victoria Mary of Teck from the "Girls of Great Britain and Ireland" for her wedding to the Duke of York, later King George V, in 1893, and was supplied by R & S Garrard & Co. Queen Mary gave Princess Elizabeth the tiara and the bandeau for her wedding in 1947. The two pieces were reunited in 1969. © The Royal Collection (c) 2011, Her Majesty Queen Elizabeth II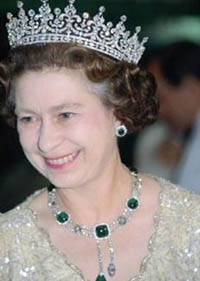 Another example of only the best - Diamonds: A Jubilee Celebration, celebrating the queen's 60-year-reign. Her Majesty's personal collection of jewels is on display.

Not just bling, but impeccably good taste bling, - even if some of the stones are so gigantic they look like the kind of stuff you buy in a craft store.

When osentagious is real a certain outstanding glow emerges. Whoever said you shouldn't wear diamonds before noon didn't own any.

More than 10,000 diamonds set in works acquired by six British monarchs over three centuries are on display.

To reach the display you walk down the grand hall. Gigantic portraits line the walls.

Those whose aren't overwhelmed by the hall and historical family portraits fall into two categories: those who were born and raised in Buckingham Palace and view the oil masterpieces as pictures of the family - and - the housekeeping staff who have to dust the top of the frames and view being in the hall as paid employment.

Showcased in a darkened room, the exhibition items were chosen for their artistic significance and their historic importance, and for the supreme skill in diamond cutting and mounting they embody, said Caroline de Guitaut, exhibition curator.

"The exhibition shows how over the past three centuries monarchs have used diamonds to display magnificence, whether in personal adornment or as a statement of power," de Guitaut said.

"Each piece demonstrates breathtaking workmanship and extraordinary ingenuity in design."

Actually, that's an understatement.

Several jewelry pieces-such as the Delhi Durbar Tiara, Queen Victoria's Fringe Brooch and the Kokoshnik Tiara-are on display for the first time.

And, you might jump to the conclusion that those enormous green sparklers were cut from the bottoms of 7-Up bottles.

No - they're emeralds.

Important emeralds.

The magnificent collection of emeralds came into the royal household as a raffle prize.

That's right - a raffle.

In 1811, the Duke of Cambridge - son of King George III – won a collection of fabulous emeralds in a raffle. He took them home to his wife, Queen Mary's Aunt Augusta, who wore them every chance she got - which was almost daily.

When she died the jewels transferred into the collection of Queen Mary in the early 1900s. Now known as Queen Mary's Cambridge Emerald Collection they were inherited by Queen Elizabeth II in 1953.

There is a necklace, a pair of earrings, a fabulous brooch, and a choker that the queen now wears with the Vladmir Tiara, which the family calls the Grammy Tiara.

The tiara is of scrolled and pierced foliate form, with the diamonds pave-set in silver and gold. The tiara could also be worn as a necklace or, when dismantled and mounted on a smaller frame, as a coronet. In around 1914, the lozenge-pattern bandeau from the base was removed, enabling it to be worn separately as a headband, to suit the fashion of the time.



This fabulous choker was created by Garrards out of the Cambridge Emeralds Queen Elizabeth gave the necklace to Princess Diana as her wedding gift. Diana famously wore the necklace as a headband - a common practice during the Queen Victoria era. Photo by Jayne Fincher/Princess Diana Archive/Getty Images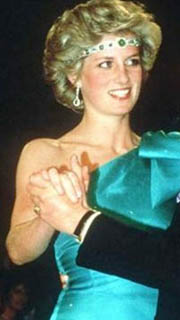 The necklace was presented to Queen Mary by the Maharani of Patiala on her first visit to India. Later, on the Queen's suggestion, the parure was altered by Garrads.

They made the emerald pendant detachable and added an 8.8 carat Cullinan VII diamond as another detachable pendant to it.

The earrings were studded with Cambridge cushion emeralds surrounded by 22 brilliant cut diamonds.

The choker the Queen gave to Princess Diana as her wedding gift was also a part of this collection.

Diana famously wore the necklace as a headband dancing with Prince Charles at a ball held at the Southern Cross Hotel, Melbourne, October 31, 1985.

Diana pared the diamond and emerald choker, with a turquoise Emanuel designed evening gown.

While most items in the collection were inherited, some were gifts.

Her Majesty has also added modern pieces to the collection, most notably the modern Aquamarine Parure, a set which she received in 1953 as a gift from the President and People of Brazil. In 1957 the Queen had a tiara made to match the set of aquamarines.

Later in 1968 when in Brazil, the Queen was again presented with aquamarines in the form of a V-shaped hair ornament, the stones from this item were later added to the tiara.

The exhibition also includes jewelry made from the world's largest diamond, the Cullinan Diamond, which weighed 3,106 carats as an uncut stone.



Queen Victoria's Fringe Brooch is on display for the first time. Photo Credit: The Royal Collection (c) 2011, Her Majesty Queen Elizabeth II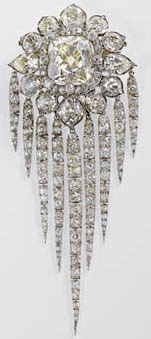 The Williamson Diamond Brooch incorporates at its center what is considered to be the finest pink diamond ever discovered. Photo Credit: The Royal Collection (c) 2011, Her Majesty Queen Elizabeth II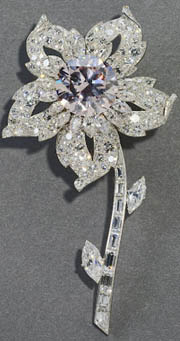 The Transvaal Government - a government that existed during the 19th century and today is known as the Republic of South Africa - purchased the rough diamond from Thomas Cullinan (grandfather of Patrick Cullinan, a prominent South African poet), the owner of the Premier Mine and presented it to King Edward VII on his birthday in 1907.

King Edward VII named the largest stone the Great Star of Africa.

Getting the rock from South Africa to England in 1905 posed a security problem. Detectives from London were placed on a steamboat that was rumored to carry the stone, but this was a diversionary tactic. That stone was a fake. The actual diamond was sent to England in a plain box via parcel post, albeit registered.

In England it was decided that the stone would be cut by Joseph Asscher in Holland, considered "the greatest cleaver of the day."

His company's fee was the remaining stones recovered from the rough stone once the two principal stones had been hewn.

However, in 1910 these 102 stones were bought by the Government of South Africa and given to Queen Mary.

In 1911, Queen Mary had the Cullinan III and IV mounted in a lattice-work settings and placed into her new crown made by Garrard for the coronation. The Royal Collection states that: "The following year the Delhi Durbar Tiara was adapted to take both stones. Cullinan III was occasionally used as a pendant to the Coronation Necklace in place of the Lahore Diamond, and on at least one occasion Queen Mary wore this necklace with Cullinan I and II as a brooch. However, the stones were most often worn hooked together as a pendant brooch. In 1953, The Queen inherited the brooch and has worn it regularly throughout her reign."

Pieces containing seven of the nine principal stones cut from the Cullinan Diamond are reunited for the first time.

They include the Cullinan III and IV Brooch, worn by the queen for the National Service of Thanksgiving for Her Majesty's Diamond Jubilee, at St Paul's Cathedral, June 5, 2012.

The exhibition contains several pieces commissioned by Queen Victoria, the only other monarch to celebrate a Diamond Jubilee.

They include the Coronation Necklace created for her and subsequently worn by Queen Alexandra, Queen Mary, Queen Elizabeth The Queen Mother and Queen Elizabeth.

Also on display is the miniature crown worn by Queen Victoria for her official Diamond Jubilee portrait in 1897.

The crown's 1,187 diamonds give it a grandeur that belies its tiny proportions - it measures just 3.5 x 4 inches.

It was supplied by R & S Garrard & Co. in March 1870 and consists of a silver openwork frame, laminated with gold and set with 1,187 brilliant, rose and mixed-cut diamonds and some diamond chips.

After Prince Albert's death in 1861, Queen Victoria spent the rest of her life in mourning clothes and the Small Diamond Crown satisfied the need for a formal head ornament of colorless stones, suitable for mourning.



Small Diamond Crown. Just 4 inches in diameter and weighing 140 grams, this crown became the most recognizable jewel of Queen Victoria's old age. © The Royal Collection (c) 2011, Her Majesty Queen Elizabeth II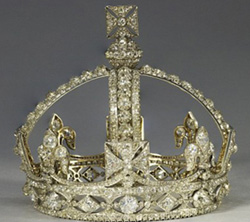 The crown was subsequently worn by Queen Alexandra, who relinquished it to Queen Mary. In 1937, King George VI added it to the display at the Tower of London, where it has remained.

Queen Victoria's Fringe Brooch, on display for the first time, was designed to be worn at the centre of a chaîne de corsage along the top of the fashionably low-cut bodices of the period.

The brooch consists of a large emerald-cut brilliant surrounded by twelve large brilliants, from which are suspended nine diamond chains.

It was made in October 1856 by R & S Garrard, who remodeled an existing piece of jewelry that had been presented to the Queen by the Sultan of Turkey, Abdul Mejid I in May that year.

After Prince Albert's death in 1861, Queen Victoria wore the Fringe Brooch without the chaîne.

The brooch was left to King Edward VII and often worn by his consort, Queen Alexandra. Queen Elizabeth The Queen Mother wore the brooch for the Coronation in 1953. The Diamond Diadem, made for the famously extravagant coronation of George IV in 1821, has been worn by the queen to and from the State Opening of Parliament throughout her reign.

Set with 1,333 brilliant-cut diamonds, it is one of Her Majesty's most widely recognized pieces of jewelry, appearing on British and Commonwealth stamps and also on certain issues of banknotes and coinage.

Among items of the queen's personal jewelry are a number of pieces marking important events in her life. The South Africa Necklace was presented to the then Princess Elizabeth on her 21st birthday in 1947.

The Williamson Brooch incorporates at its center what is considered to be the finest pink diamond ever discovered. The diamond was found in Tanzania in 1947 by the Canadian geologist Dr JT Williamson, who gave the uncut stone to Princess Elizabeth for her wedding in November that year. The brooch was created by Cartier.



18th-century bloodstone box made of nearly 3,000 diamonds. © The Royal Collection (c) 2011, Her Majesty Queen Elizabeth II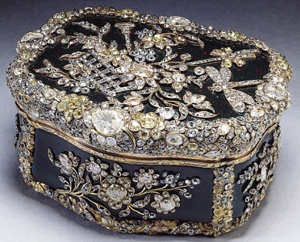 The exquisite 18th-century bloodstone box made for King Frederick the Great of Prussia incorporates nearly 3,000 diamonds. The stones are rose and brilliant-cut and set in a combination of silver and gold rub-over settings in designs of flowers, foliage, musical trophies, insects and ribbons.

This box is one of the finest of a series made in the Fabrique Royale in Berlin, many of the same distinctive shape, for Frederick II of Prussia and his court.

After the Russian Revolution, the box came to England and was sold twice before being purchased by Queen Mary in 1932.

The Jaipur Sword was presented to King Edward VII for his coronation in 1902 by the Maharajah of Jaipur. It is set with 719 diamonds, weighing a total of 2,000 carats.

At Buckingham Palace the jewels are kept in the royal vault deep underground in an old air-raid shelter.

When Queen Elizabeth travels within the United Kingdom to her different residences in England and Scotland, her jewels are transported in special leather cases, and when traveling abroad a selection of items are chosen for each occasion.

"The exhibition shows how over the past three centuries monarchs have used diamonds to display magnificence, whether in personal adornment or as a statement of power," says de Guitaut. "Diamonds have of course long been associated with endurance and longevity, so this is a very fitting way to mark Her Majesty's 60 years on the throne."

Since 1993, the State Rooms of the Palace have been open to members of the public to visit during August and September while The Queen is not in residence. The dates this year are July 31-October 7. Worth a special trip to London just to take part in the home tour.



Broadway To Vegas is supported through advertising and donations. Priority consideration is given to interview suggestions, news, press releases, etc from paid supporters. However, no paid supporters control, alter, edit, or in any way manipulate the content of this site. Your donation is appreciated. We accept PAYPAL. Thank you for your interest.



ART AND ABOUT


BMW ART CARS

One of the Art Cars on display. Photo: Festival London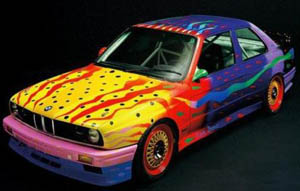 Seventeen BMW cars transformed into art by top international artists.

The BMW Art Cars are a collection of BMWs that, over the last 35 years, have been transformed into artworks by some of the world's leading contemporary artists including:

Andy Warhol, David Hockney, Jeff Koons, Frank Stella, Jenny Holzer, Alexander Kalder, Roy Lichtenstein, Sandro Chia, Matazo Kayama and many more.

This exhibition brings together the full collection in the UK for the first time and is a one off opportunity for art lovers and car enthusiasts alike.

Part of Festival London 2012.

On display at A Central London Carpark July 21-August 6, 2012.


SWEET CHARITY


ELTON JOHN Founder of the Elton John AIDS Foundation (EJAF), has been selected by the organizers of the 19th International AIDS Conference (AIDS 2012) to serve as a keynote speaker for the Conference, which will be held July 22-27, 2012, in Washington, DC. Sir Elton's keynote address will take place during the Monday, July 23, session of the Conference.

An estimated 25,000 conference participants will attend AIDS 2012, which has been organized under the theme Turning the Tide Together. This theme focuses on the urgent truth that a global and decisive commitment is crucial to change the course of the epidemic, now that science is presenting promising results in HIV treatment and biomedical prevention.


RIVER OF MUSIC
Scissor Sisters whose members are Jake Shears, Ana Matronic, Babydaddy, Randy Real and Del Marquis will be performing at the Tower of London on July 21. The group performed at the House of Blues in Las Vegas last month.

A River of Music - a music festival in London in anticipation of the 2012 Olympics.

"The idea that we can work with musicians from across the world and engage - is just simple and gorgeous," said Ruth Mackenzie, the Cultural Olympiad and London 2012 Festival director.

"Of all the ideas we have had [for the London 2012 Cultural Olympiad], it is probably one of the most ambitious and, I think, the biggest. This is a project of incredible scale. It is a chance for artists to share and collaborate, to get beyond the playlist and enjoy a bit of Olympic magic."

Jazz great Wynton Marsalis is slated to participate.

Established, award-winning and emerging artists from the 205 countries participating in the Olympics will perform on six iconic sites along the length of the River Thames each hosting music from a different continent. Flowing down the river from West to East the sites are: Asia stage at Battersea Part, Europe Stage at Sommerset House and Trafalgar Square. Americas Stage at Tower of London, Oceania Stage at old Royal Naval College Greenwich and African Stage at London Pleasure Gardens.

On the Americas stage, presented in partnership with Barbican, infectious glam-pop band Scissor Sisters will close the stage on the Saturday, performing material from their new album The Magic Hour. Cuban pianist and Buena Vista Social Club acolyte Roberto Fonseca brings together musicians from Cuba, Argentina and Uruguay. Aurelio Martinez will introduce the lilting 'Garifuna' music of the black populations of central America and Kevin Robinson helms the ambitious project Soul Caribbean, which brings together singers from every Caribbean island. And let's not forget the amazing Naturally 7 who take their classic close-harmony style to stratospheric new heights.



Jools Holland will rock the stage at Somerset House.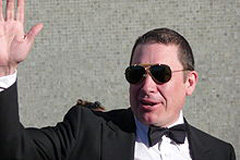 At Somerset House, Saxophone Massive will set the tone of excitement with a fanfare of 200 saxophones bursting from every corner. Portuguese star and global icon Mariza will set the stage alight. Penguin Cafe bring their beguiling, feisty charm, whilst 'Queen of Soul' Beverley Knight leads a very special collaboration. And Jools Holland and his Rhythm and Blues Orchestra with special guest Gregory Porter will bring the stage to a rocking close on Sunday night.

On the Trafalgar Square Stage young Bosnian singer Amira presents a project drawing together musicians from ten countries, reaching out across the past conflict lines of the Balkans.

World-class gypsy band Budapest Bar bring together an array of musicians from eleven countries across Europe to explore the eccentric cabaret culture of the 20s and 30s.

Striking composer and performer Kathryn Tickell brings with her Sage Gateshead's JigHop; an inventive mix of traditional music, fresh compositions, scratch DJ and dance. French stadium-star, Mr-Motown, Ben l'Oncle Soul returns to get the crowds dancing and leading Norwegian brass band The Brazz Brothers lead on a one-off collaboration that sees them teaming up with a 'Brazz Sister' from each Scandinavian country. Plus one of music's most versatile and prolific proponents Matthew Herbert, will front a Russian Big Band in a collaborative project, produced by the British Council.

On the Africa stage superband Staff Benda Bilili collaborate with Zao bridging a gap much bigger than the few miles of Congo River that separates their respective hometowns of Kinshasa and Brazzaville. Guitar whizo and international phenomenon King Sunny Ade takes to the stage in a project produced by the British Council. Indie-rock band The Noisettes will be heard as never before, with Shingai Shoniwa exploring her Zimbabwean heritage in collaboration with singers from across Southern Africa.



Famed guitarist Justin Adams will perform at the Southbank Centre.
Veteran singer Angelique Kidjo from Benin will be backed by the Manchester World Voices Choir. Ace guitarist Justin Adams (Robert Plant, Tinariwen) brings The Invisible Republic of JuJu with guest artists from across North Africa and the Sengalese master Baaba Maal, who is hosting the Africa Utopia festival at the Southbank Centre, will close the stage on Saturday night.

On the Oceania stage, Australian underground heroes The Barons of Tang make their debut UK performance. Indigenous Australian performance group The Black Arm Band Company present a specially commissioned collaboration with the alternative Welsh folk band 9 Bach, while Green Fire Islands is a project that brings together traditional Maori musicians from New Zealand and a group of Celtic musicians, led by Steve Cooney. Wantok Musik Sing Sing directed by David Bridie, joins together musicians from 18 different nations in the Australasian region to explore shared traditions through music, poetry and dance. Other highlights include Coastal Voices, a large scale participatory choral project that brings communities and people of all ages across Dorset and Devon together to sing Sonia Slany's arrangements of some Nick Cave classics.

On the Asia stage, legendary Indian tabla player Zakir Hussain revisits The Pulse of the World - a collaboration that brings together the sounds of South Indian and Scottish/Irish musical traditions. Pakistan's qawwali maestro As if Ali Khan teams up with London-based Bangladeshi singer Sanchita Farruque. Oud player Khyam Allami fronts the visionary Alif Ensemble, a group drawn together from across the Middle East and the renowned Kronos Quartet bring two world-class collaborations to the stage. Other highlights include a performance by the Chinese singing sensation Gong Linna and Transglobal Underground's British Council-funded collaboration In Transit, which features musicians from across the Gulf states.

The event will be held on July 21 and 22, the weekend before the Games begin.

Tickets are free.


SPREADING THE WORD


THE ROLLING STONES

The Rolling Stone exhibit at Somerset. Photo by: Laura Deni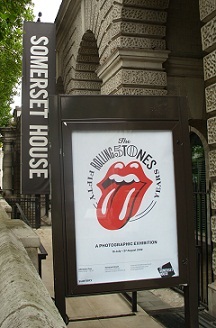 are going to tour.

The gigs will mark the 50th anniversary of the first time the rockers performed live - at London's Marquee CLub in 1962.

Sir Mick Jagger let the news slip during last Thursday's opening at London's Somerset House of an exhibition of photographs taken throughout their career.

Also attending the opening were Keith Richards, Ronnie Wood, Bill Wyman, Charlie Watts, playwright Tom Stoppard, and lyricist Tim Rice.

Entry to the exhibit is free.

The Stones have reportedly been secretly rehearsing in The Big Apple for this historically important tour.

STACY KEACH Shakespeare Theatre Company's affiliated artist will return to STC as the fourth guest of Classic Conversations, which invites some of the world's most renowned classical actors to discuss their craft.

The series is part of STC's 25th Anniversary Season.

Classic Conversations with Michael Kahn featuring Stacy Keach will be held on Monday, July 23, at Sidney Harman Hall in Washington, DC.

DANNY DeVITO current making his West End debut in The Sunshine Boys, will premiere his latest movie Dr Seuss' The Lorax at the Broad Street 12-screen Cineworld Cinema on the morning of Sunday, July 22.

In Dr Seuss' The Lorax, DeVito voices the title character, with co-stars including Zac Efron as Ted and Taylor Swift as Audrey.

It will be released on July 27. DeVito will host the premiere.

The Sunshine Boys closes July 28 at the Savoy Theatre.

BOB HOPE'S DAUGHTER Linda Hope was on hand Thursday to open an exhibit about her late father at England's Greenwich Heritage Center, located only two miles from where the famed comedian was born.

Hope used to joke about his birthplace: "I was born in a town called Eltham. That was a long time ago and the town hasdnt lived it down, yet."


OTHER PEOPLE'S MONEY


PRINCE PHILIP'S PHOTOGRAPH on the wrapper of a milk chocolate candy bar is one of the biggest sellers in the gift shop of the Victoria & Albert Museum in London.

The dark brown wrapper on the 100gram bar bears a photo of the Duke of Edinburgh taken on his wedding day. The candy bar sells for almost $6.00 and the shop has trouble keeping them in stock.



BROADWAY PRODUCER ROBERT BOYETT was made an Honorary Commander of the Most Excellent Order of the British Empire (CBE) by Her Majesty Queen Elizabeth II on Friday, July 13, at an investiture ceremony at The British Embassy, Washington, DC.

The honor is in recognition of "his invaluable service to British drama as both a philanthropist and a producer." British Ambassador Sir Peter Westmacott presented Boyett with the badge of the Order.

Boyett, an eight time Tony Award winner, is a noted philanthropist who has cultivated long-term relationships with a number of British theatre companies and producers, including the National Theatre of Great Britain. His support, including generous contributions over the last eight years to the National, has helped create new productions and new work.

Boyett "has brought the great glories of British stage to American audiences" by producing plays by Alan Bennett, Tom Stoppard, Martin McDonagh, Andrew Lloyd Webber and Michael Frayn on Broadway.

Presenting the award, Ambassador Westmacott said, "For the past decade, Bob Boyett has worked tirelessly to help British theatre productions find a foothold in the United States, both on and off Broadway. His production company, RB Theatricals, has brought 17 plays from England to the US since 2001."

Receiving the award, Boyett said, "It is indeed a great honor to be acknowledged for a role, however small, in the field of drama by the British Empire and Her Majesty for whom I have such respect and admiration."

The U.K. honors system "recognizes exceptional achievement and service to the nation, and includes non-British nationals who receive 'Honorary' awards for their important contribution to British interests."

All British honors are awarded on merit, and honorary awards are conferred by HM The Queen on the advice of the Foreign and Commonwealth Secretary. The Most Excellent Order of the British Empire was founded in 1917.


CURTAIN DOWN


FEINSTEIN'S AT LOWES REGENCY the cabaret located within the Regency Hotel on Park Avenue in New York City, will play their last note at the end of the year.

The multi-platinum-selling, Emmy and five-time Grammy-nominated entertainer Michael Feinstein said in a statement: "We are excited that Feinstein's will be moving to a new location in 2013 when the Loews Regency Hotel undergoes a major renovation. We have several new opportunities that we are considering at this time. It's been an amazing 14 year run with the hotel and I am extremely proud to have helped present some of the country's greatest entertainers. I am grateful to the hotel's management and staff for their hard work and dedication. We look forward to entertaining New York audiences at Feinstein's for the month of September and then our annual Holiday show in December, followed by a special toast to the future on New Year's Eve."

CHICAGO the West End's longest-ever running revival, now in its 15th year in London, where it is currently playing at the Garrick, after opening at the Adelphi and subsequently moving to the Cambridge Theatre, will close on September 1, 2012.

Barry Weissler, who with his wife Fran Weissler, co-produced the show issued a statement: "Bringing Chicago to the West End was a pivotal moment in Fran's and my career. Running 15 years has been a dream come true. We may be taking our 'parting shots' for now, but the Razzle Dazzle will never fade!"

British Olympic ice skating champion Robin Cousins will be the last to play slick lawyer Billy Flynn. Cousins assums the part on Tuesday. Sarah Soietavert plays Roxie Hart and Rachel McDowell is Velma Kelly.



SUNSET BOULEVARD a musical that weaves a magnificent tale of faded glory and unfulfilled ambition. Silent movie star Norma Desmond longs for a return to the big screen, having been discarded by tinsel town with the advent of 'talkies.' Her glamour has faded in all but her mind. When she meets struggling Hollywood screenwriter Joe Gillis in dramatic circumstances, their subsequent passionate and volatile relationship leads to an unforeseen and tragic conclusion.

July 18-August 4 at the Maine State Music Theater in Brunswick, Maine.

FUNNY GIRL by Jule Styne and Bob Merrill. Direction by Tobin Malone with Music Direction by John Gelsinger.

July 20-29, 2012. Northport Music Theater in Northport, Maine.

FAR FROM HEAVEN a new musical adaptation of Todd Haynes' 2002 film Far From Heaven with a book by Richard Greenberg and music and lyrics by Scott Frankel and Michael Korie. Directed by Michael Greif.

Starring Kelli O'Hara.

Cathy Whitaker seems to be the picture-perfect wife and mother in 1957 suburban Connecticut. But roiling beneath the surface, secret longings and forbidden desires cause her world to unravel - with incendiary consequences.

A score which promises to be both "lush" and " both jazz-inflected and hauntingly lyrical, Far From Heaven is a powerful story of romance, betrayal, intolerance, and a woman grappling with her own identity in a society on the verge of great upheaval."

July 19 - 29 at the Williamstown Theatre Festival in Williamstown, MA.

FRIED CHICKEN AND LATKES Rain Pryor's one-woman show, based on her life. It is an irreverent and poignant look at racism in the late 60's early 70's.

Created and written by Rain, including the original music and lyrics.

Growing up Black and Jewish provided Rain a unique perspective on race, religion and spirituality. She shares her views and has lead panel discussions on diversity in education and in the entertainment industry at Princeton University, The Jewish Federation of Los Angeles, Chicago and Baltimore.

Fried Chicken and Latkes begins an open-ended engagement on Saturday July 21st at the Actors Temple Theater in New York City. The show runs 70 minutes.


WHO'S WHERE


NEIL DIAMOND performs in Canada this week. He's in the spotlight Monday, July 16, at the Rexall Place in Edmonton, Alberta Canada. O Wednesday the show is at the Scotiabank Saddledome in Calgary. Saturday's show is at Rogers Arena in Vancouver.

MADONNA on stage Thursday, July 19 at the NIA in Birmingham, England. Saturday's gig is at the Murrayfield Stadium in Edinburgh, Scotland.

DIANA KRALL performs at Whitney Hall in Louisville, KY on Sunday, July 15. On Monday she can be enjoyed at the Riverside Theatre in Milwaukee, WI.

SMOKEY ROBINSON LOS ANGELES PHILHARMONIC King of Motown, vocalist and songwriter Smokey Robinson makes his Hollywood Bowl orchestral debut. Known for classic hits such as Tears of A Clown, I Second That Emotion, Tracks of My Tears and many more, his show is pure romance, sophistication and soul. July 20-21 at The Hollywood Bowl in Los Angeles.

AEROSMITH perform Tuesday, July 17, at the TD Gardens in Boston. Then on Thursday they return for another show. Saturday's performance is at the Wells Fargo Center in Philadelphia.




FINAL OVATION


MARTIN PAKLEDINAZ a two time Tony Award winning costume designer died Sunday, July 8, 2012 at his home after a long battle with brain cancer. He was 58.
A Michigan native, one of 7 sons, Pakledinaz moved to New York in 1977. He was nominated for 10 Tony Awards, winning in 2000 for the Kiss Me Kate revival and in 2002 for Thoroughly Modern Millie.

Pakledinaz worked in regional theater and in global opera, designing productions at the Met as well as Salzburg, Paris and Gothenburg. He was an instructer at NYU's Tisch School of the Arts and a longtime collaborator of choreographer Mark Morris.

His father worked in the model-making division of General Motors. He later joked that he learned that if he was going to draw a picture of a woman in costume, he better pose her in front of a Ford.

He entered the world of New York costume design doing sketches for the noted designer Theoni V. Aldredge. After years of executing Aldredge's ideas, he said it took a couple years to come upon his own style. He cut his teeth as a designer on productions at The York Theatre, New York Shakespeare Festival, McCarter Theatre and Roundabout Theatre Company in the 1980s. He is survived by six brothers and one sister, nine nieces and nephews, and his godson, Robert Gabriel Hill-Guarino. Private funeral services will be held in Michigan. A community memorial will be announced in the late fall.

The marquees of Broadway theatres in New York were dimmed in his memory on Thursday, July 12th.

Charlotte St. Martin, Executive Director of The Broadway League, said, "Our thoughts go out to friends, family, and colleagues of Marty Pakledinaz. His contributions to Broadway, opera, dance, and regional theater via costume design inspired countless performers and creative teams to tell stories with truth and style. His passion and deep knowledge of American theatre history, combined with his detailed approach and natural creativity was a gift to all of us."

ERNEST BORGNINE

Personable Ernest Borgnine went into a Vegas casino pit to sign autographs for dealers. Photo: Laura Deni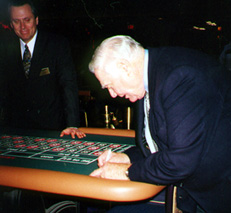 who won a best actor Academy Award for Marty in 1956, died July 8, 2012 at Cedars-Sinai Medical Center in Los Angeles of renal failure. His wife and children were at his side. He was 95 years old.

His career spanned more than six decades and included stage, television and movies.

Borgnine was also known for his role as Mermaid Man in the animated television series SpongeBob SquarePants. Borgnine earned an Emmy Award nomination at age 92 for his work on the series ER.

Borgnine served 10 years in the United States Navy reaching the rate of gunner's mate 1st class. He served aboard the destroyer USS Lamberton (DD-119). His military decorations include the Navy Good Conduct Medal, American Defense Service Medal with Fleet Clasp, American Campaign Medal, Asiatic-Pacific Campaign Medal and the World War II Victory Medal.

Borgnine received the honorary rating of chief petty officer in October 2004 from Master Chief Petty Officer of the Navy Terry Scott for Borgnine's support of the Navy and naval families worldwide.

After the war was over, he returned to his parents' home with no job and no direction, Borgnine said: After World War II we wanted no more part in war. I didn't even want to be a boy-scout. I went home and said that I was through with the Navy and so now, what do we do? So I went home to mother, and after a few weeks of patting on the back and, 'You did good,' and everything else, one day she said, 'Well?' like mothers do. Which meant, 'Alright, you gonna get a job or what?'

Since he was not willing to settle for a dead-end factory job, his mother encouraged him to pursue a more glamorous profession and suggested that his personality would be well suited for the stage.

He auditioned and was accepted to the Barter Theatre in Abingdon, Virginia, so-called for its audiences bartering their produce for admission during the Great Depression. In 1947, he landed his first stage role in State of the Union. Although it was a short role, he won over the audience. His next role was as the Gentleman Caller in Tennessee Williams' The Glass Menagerie. In 1949, he had his Broadway debut in the role of a nurse in the play Harvey. More roles on stage led him to being a decades-long character actor.

In 1951, he moved to Los Angeles, California, where he eventually received his big break in Here to Eternity, playing the sadistic Sergeant "Fatso" Judson, who beats a stockade prisoner in his charge, Angelo Maggio (played by Frank Sinatra). Borgnine built a reputation as a dependable character actor and appeared in early film roles as villains.

But in 1955, the actor starred as a warm-hearted butcher in Marty, the film version of the television play of the same name, which gained him an Academy Award for Best Actor over Frank Sinatra, James Dean (who had died by the time of the ceremony), and former best actor winners Spencer Tracy and James Cagney.

In 2009, at the age of 92, Borgnine earned an Emmy nomination for his performances in the final two episodes of the long-running NBC medical series ER.

Also in 1996, Borgnine toured the United States on a bus to meet his fans and see the country. The trip was the subject of a 1997 documentary, Ernest Borgnine on the Bus. He also served one year as the Chairman of the National Salute to Hospitalized Veterans, visiting patients in many Department of Veterans Affairs medical centers. Borgnine was a Freemason in Hollywood Lodge No. 355, and a 33rd° Scottish Rite Mason in the Southern Masonic Jurisdiction. He was also a member of the Loyal Order of Moose at that organization's Lodge in Junction City, Oregon.

Borgnine had volunteered to be Stories of Service National spokesman, urging his fellow World War II vets to come forward and share their stories.

In 2007, 90-year-old Borgnine starred in the Hallmark original film A Grandpa for Christmas. He played a man who, after his estranged daughter is in a car accident, discovers that he has a granddaughter he never knew about. She is taken into his care, and they soon become great friends. Borgnine received a Golden Globe nomination for Best Actor in a Mini-Series or Motion Picture made for Television for his performance. At 90, he was the oldest Golden Globe nominee ever.

In late 2011, Ernest Borgnine completed what would be his last film; playing Rex Page in The Man Who Shook The Hand of Vicente Fernandez.

Borgnine's autobiography Ernie was published by Citadel Press in July 2008.

Borgnine married five times with the first four marraiges ending in divorce. He was first married to Rhoda Kemins (1949–1958), whom he met while serving in the Navy; They had one daughter, Nancee (born May 28, 1952). His second wife was was actress Katy Jurado (1959–1963). Borgnine later married singer Ethel Merman (1964); the marriage barely lasted a month. Their divorce was finalized on May 25, 1965. He then married Donna Rancourt (1965–1972), with whom he had a son, Cristopher (born August 9, 1969) and two daughters, Sharon (born August 5, 1965) and Diana (born December 29, 1970). His fifth and last marriage was to Tova Traesnaes. They wed February 24, 1973.

Borgnine celebrated his 90th birthday at a bistro in West Hollywood, California. Guests included his wife Tova, decades-long friend Tim Conway, Dennis Farina, Army Archerd, Andy Granatelli, Bo Hopkins, Burt Young, Steven Bauer, his son Cris Borgnine, grandson Anthony Borgnine, Connie Stevens, David Gerber, Debbie Reynolds, Joe Mantegna, Norm Crosby and many more.

Borgnine was a member of the Lambda chapter of the Delta Kappa Epsilon fraternity. He was honored with the Screen Actors Guild Life Achievement Award at the 17th annual SAG Awards, held January 30, 2011. He is also survived by hid sister Evelyn Velardi.

Borgnine was one of thre most charming individuals you could ever meet.

HENRY a cocker spaniel known as the Figaro Dog - because he performed in Mozart's opera for the past eight seasons at the Royal Opera House in London - has died.

His was famous for playing the gun dog who trots acorss the stage when Count Almaviva returns home from the hunt, bearing a load of pheasants.

He most recently appeared in last February's staging of David McVicar's production of the opera.

He received credit in the program and rose to almost cult status.

He is survived by his pet parents, orchestra assistant Don Fuller and his wife Judy.








Next Column: July 22, 2012
Copyright: July 15, 2012. All Rights Reserved. Reviews, Interviews, Commentary, Photographs or Graphics from any Broadway To Vegas (TM) columns may not be published, broadcast, rewritten, utilized as leads, or used in any manner without permission, compensation and/or credit.
Link to Main Page
---
Laura Deni



For the snail mail address, please E-mail your request.
CLICK HERE FOR COMMENT SECTION