! >
Broadway To Vegas
  
  REVIEWS INTERVIEWS COMMENTARY NEWS

| | |
| --- | --- |
| | |
ROYAL CARRIAGES AWAIT NEW HEIR TO THE THRONE - - BARNUM - - TONIGHT AT 8:30 STARRING BLYTHE DANNER AND SIMON JONES - - FIRE ISLAND DANCE FESTIVAL - - LIVE CONCERT RECORDING - - WAG! THE MUSICAL - - FOX FILMS TO BE TURNED INTO STAGE MUSICALS - - THE 43rd ANNUAL UKULELE FESTIVAL HAWAII - - DONATE . . . Scroll Down





Copyright: July 14, 2013
By: Laura Deni
CLICK HERE FOR COMMENT SECTION


NEW ROYAL BABY: FROM MOSES BASKET TO STATE GOLD CARRIAGE
A charming closed pony carriage. Photo: Laura Deni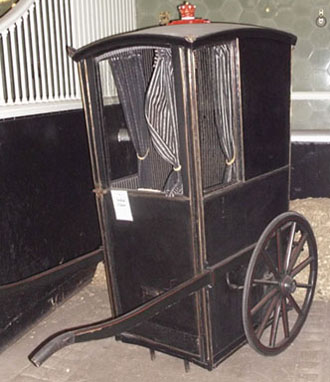 So far that Cambridge kid hadn't yet made it's appearance. Reports have been that Duchess Kate's due date was July 13, although last May the London Telegraph reported that Carole Middleton, Kate's mother, recently said her first grandchild will be a Leo, the star sign for those born between July 24 and August 23.

If that's the case then we all have a bit more time to pace the floor.

In any event, the wife of Prince William has been doing what all expectant mums do - shop!

Among her baby purchases - a Bugaboo, which is expensive to buy but cheaper in the long run, as it can be used as a pram from birth or as buggy for an older baby.

As expected, anything this soon-to-be-new mum buys becomes an instant best seller. American stores can't keep the Dutch made baby stroller in stock. The Bugaboo has also been used by Victoria Beckham, Gwyneth Paltrow, Anna Friel, Kourtney Kardashian and Sienna Miller.

Also snapped up by Kate was a large white wicker Moses basket from the Blue Almonds store. The price - about $450.

Undaunted by the price tag, Moses baskets flew off the shelves. Asda reported a 57 percent increase in online sales of Moses baskets.

To be fair, Moses baskets are extremely popular in England, credited with being the third most popular item on a mum-to-be's wish list.

Moses basket?

Check out Exodus 2:1-10.

"In the days when the Egyptians ruled, the king became fearful of the Israelites because they grew so mighty in number, and so the king issued a command to all his people: "take every newborn Hebrew boy and throw him into the Nile, but let all the girls live". During this time a man from the tribe of Levi married a woman of his own tribe, and she bore him a son. When she saw what a fine baby he was, she hid him for three months. But when she could hide him no longer, she took a basket made of reeds and covered it with tar to make it watertight. She put the baby in it, in the tall grass at the edge of the river. The king's daughter noticed the basket in the tall grass, and sent a slave girl to get it. The princess opened it and saw a baby boy, and took him as her own son. And she called his name Moses and she said, "because I drew him out of the water".



A Goat Cart. Photo: Laura Deni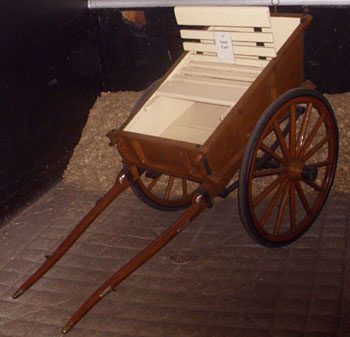 In the movie The 10 Commandments, which was the legendary film composer Elmer Bernstein's first major project and had an orgy scene which took three weeks to film, actor Charlton Heston starred as Moses. His infant son, Fraser Clarke, (who directed his father in Charlton Heston Presents the Bible) played the baby Moses who was placed in that basket.

In an interview with Catholic Lane Fraser recalled what he had been told about being in that film studio constructed Moses basket.

"When I was about three months old, I found myself floating down the Nile River on the back lot of Paramount in this little basket, and indeed the basket did begin to sink.

"Dad ran out there to rescue me and bumped into the social worker who the state mandates has to be on set when there are any infants around. She said, "Oh no, Mr. Heston! I'm the only one who can pick him up in front of the cameras."

"According to him, he turned to her, using a voice with only slightly less octane than he used on Pharaoh and said, "Give me that child!" I don't know what happened next, but I imagine she turned me over to him."



Victoria Buggy. Photo: Laura Deni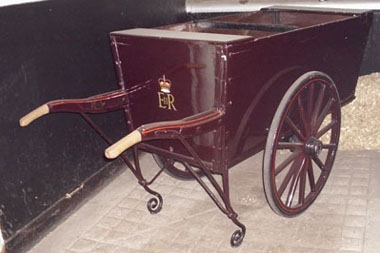 Apparently the prop department didn't use enough tar. Just like the movie basket, today's Moses baskets aren't waterproof, either. Portable, it's sized for a baby from birth to about four months. Keep the baskets out of a swimming pool.

When the future royal starts to walk, there are a variety of transportation options. The future heir to the British throne has a stable full of pint sized carriages already in the garage.

A dozen tiny carriages, many designed hundreds of years ago, were meant to be pulled by ponies, goats, sheep, heifers or dogs.

Just as the Royal Jewels are kept in the Tower of London, brought out when the occasion calls for some head glitter, the pint sized ride arounds are stored at The Mews, which is a large parking garage housing over 100 royal cars, carriages, some of the horses and the fully decorated Christmas sleigh, which Father Christmas rides.

The Mews is also home to a private riding school which is where in January 1930, at the age of three, the future Queen Elizabeth II had her first riding lesson.

Should one of transportation items be needed, it's a quick exit, since the large facility is adjacent to Buckingham Palace.



The Gold State Coach offers a queasy ride. Photo: Laura Deni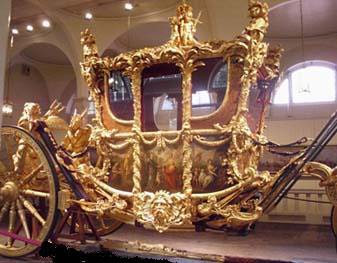 The only carriage which takes a bit of time to get on its way is the State Gold Coach. Housed in a special room with removable sides, the entire side of the building has to be unlatched to permit the grand coach to move out.

Fortunately, it's only used for events like coronations, so it doesn't see that much wear and tear.

From a goat cart to a gilded carriage, sixty or so years from now the new baby will ride to its coronation in that gold coach. It won't be a pleasant jaunt.

There are no shock absorbers and the carriage tends to slightly turn and vibrate.

Royals gets queasy, too.

King William IV said travelling in the Gold State Coach (built 1762) was like being on board a ship "tossing in a rough sea", while George VI described his coronation journey as "one of the most uncomfortable rides I have ever had in my life".

For her part, Queen Victoria complained of the "distressing oscillation".

The coach weighs four tons and is 24 feet long and 12 feet high. It is gilded and features painted panels by Giovanni Cipriani and rich gilded sculpture including three cherubs on the roof (representing England, Ireland and Scotland) and four tritons, one at each corner (representing Britain's imperial power).



A Sedan Chair. Photo: Laura Deni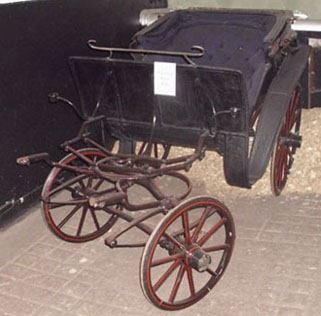 The body of the coach is slung by braces covered with Morocco leather and decorated with gilt buckles. The interior is lined with velvet and satin. The Gold State Coach is pulled by a team of eight horses wearing the Red Morocco harness.

Originally driven by a coachman, the horses are now postilion-ridden in pairs.

It was built for George III (r. 1760-1820). When he first became king, he wanted something special to travel to Westminster Abbey in for his Coronation, and for his wedding to Princess Charlotte of Mecklenburg-Strelitz. Unfortunately, the coach was not ready in time for the Coronation of George III.

The first time he used it was when he travelled to Westminster to open Parliament on November 25, 1762.

Before the new tot turns into a grown-up there will be plenty of moveable vehicles suitable for a small size. Should the new little bundle of joy desire a pull around on the grounds of Kensington, several models are available. Granted, all are old and used, but they do present an interesting picture.

All have histories.

This sedan chair was probably made in Italy, or by an Italian maker operating in London.

A miniature landau was made for the children of George V and designed to be pulled by ponies. It contains all the usual driven carriage amenities - whip holder, coach lamps, under seat storage and there is, as is traditional, a small driver's seat for the coachman as well as the passenger seat.

Goat carts were made first for Princess Victoria, later to be known as Queen Victoria. Her own children would then ride around on her hand-me-downs.







Broadway To Vegas is supported through advertising and donations. Priority consideration is given to interview suggestions, news, press releases, etc from paid supporters. However, no paid supporters control, alter, edit, or in any way manipulate the content of this site. Your donation is appreciated. We accept PAYPAL. Thank you for your interest.


ART AND ABOUT


ZANDRA RHODES: UNSEEN

Zandra Rhodes: Unseen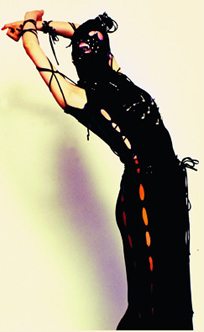 Unseen designs, ravishing dresses and spectacular textiles from the princess of punk, Zandra Rhodes:Unseen presents a rare opportunity to explore the archive, studio and creative process of one of the world's most distinctive designers.

For over 50 yrears, Zandra has experimented with color, print and fabric, as well as with her own image. Through sketches, designs and garments, only seen before in her spectacular 1980s fashion shows, this exhibition highlights the full scope of Zandra's artistic vision and archive. An inspiration to her contemporaries, this new exhibition combines lesser-known fashion collections with more familiar designs drawn from a prolific career.

Exhibition highlights include the outstanding 1977 Conceptual Chic collection, the pink and black jersey pieces with holes and beaded safety pins that earned Zandra Rhodes the 'Princess of Punk' name.

As the first designer to translate punk to high fashion, Conceptual Chic was Zandra's first collection without a printed design.

Also on display are garments which showcase Zandra's signature embroideries, beads, feathers and sequins, which make a dress unmistakably a Rhodes creation.

Throughout the 1980s, Zandra created an important series of collections - including Egypt and Manhattan - with fully beaded dresses. She made these in India, with support from the Indian government to help sustain and support craft skills in the country. The exhibition explores this pioneering initiative.

Zandra Rhodes: Unseen celebrates the 10th anniversary of the Fashion and Textile Museum, which the designer created and opened to the public in 2003. Officially opened July 12 and is on display through August 31, 2013 at the Fashion and Textile Museum in London.


SWEET CHARITY


BROADWAY BARKS 15th Animal Adoption Event too place yesterday, July 13, in Shubert Alley, NYC.

Joining Broadway Barks founders Mary Tyler Moore and Bernadette Peters to help find tail waggers new homes were:

Annaleigh Ashford (Kinky Boots), Bill Berloni and Sandy (Annie), Matt Bogart (Jersey Boys), Charl Brown (Motown The Musical), Bertie Carvel (Matilda The Musical), Joanna Christie (Once), Bryan Terrell Clark (Motown The Musical), Victoria Clark (Rodger's + Hammerstein's Cinderella), Corey Cott (Newsies), Lilla Crawford (Annie).

Helping humans find their new best friend were: Robert Cuccioli (Spider-Man: Turn off the Dark), Charlotte d'Amboise (Pippin), Arthur Darvill (Once), Brandon Victor Dixon (Motown The Musical), John Dossett (Newsies), Gabriel Ebert (Matilda The Musical), Harvey Fierstein (Kinky Boots), Felicia Finley (Mamma Mia), LaVon Fisher-Wilson (Newsies), and Drew Gehling (Jersey Boys).

Assisting animals to adopt a pet person were; Sophia Gennusa (Matilda The Musical), Ann Harada (Rodgers + Hammerstein's Cinderella), Carol Kane (Wicked), Morgan James (Motown The Musical), Andy Karl (Jersey Boys), Isabel Keating (Spider-Man: Turn off the Dark), Oona Laurence (Matilda The Musical), Valisia LeKae (Motown The Musical), Kara Lindsay (Newsies) and Jane Lynch (Annie).

Terrence Mann (Pippin), Lesli Margherita (Matilda The Musical), Andrea Martin (Pippin), Judy McLane (Mamma Mia), Patina Miller (Pippin), Michael Mulheren (Spider-Man: Turn off the Dark), Bebe Neuwirth, Laura Osnes (Rodgers+ Hammerstein's Cinderella), David Hyde Pierce (Vanya and Sonia and Masha and Spike) and Billy Porter (Kinky Boots) aided people in search of unrequited love from a four footer.

Andrew Rannells, Bailey Ryon (Matilda The Musical), Stark Sands (Kinky Boots), Dominic Scaglione Jr.(Jersey Boys), Milly Shapiro (Matilda The Musical), Matthew James Thomas (Pippin), Clarke Thorell (Annie), Michael Urie (Buyer & Cellar), Lauren Ward (Matilda The Musical), Sigourney Weaver (Vanya and Sonia and Masha, and Spike) and Liesel Allen Yeager (Vanya and Sonia and Masha and Spike) were on hand to assist in the match making.

Marking its 15th anniversary, Broadway Barks!, founded by Mary Tyler Moore and Bernadette Peters, helps many of New York City's shelter animals find permanent homes and also inform New Yorkers about the plight of the thousands of homeless dogs and cats in the metropolitan area.

To launch the sale of the new annual Broadway Barks! Calendar, famed Illustrator, Hilary Knight took part in a special signing of these limited edition calendars and event posters as did Bernadette Peters. In addition childrens books, Broadway Barks and Stella is a Star, written by Peters, were also autographed by the versitile Peters.

FIRE ISLAND DANCE FESTIVAL the most anticipated charity event of the season on Fire Island, returns July 19-21, 2013, for its 19th edition. Produced by and benefiting Dancers Responding to AIDS, a program of Broadway Cares/Equity Fights AIDS, more than 40 dancers from world-class dance companies such as Alvin Ailey American Dance Theater, Lar Lubovitch Dance Company, Kyle Abraham/Abraham.In.Motion will present a program spanning Broadway to ballet with the Great South Bay as their backdrop.

Three performances only: July 19-21 in Fire Island Pines, NY

Dancers Responding to AIDS, founded in 1991 by former Paul Taylor Dance Company members Denise Roberts Hurlin and Hernando Cortez, relies on the extraordinary compassion and efforts of the performing arts community to fund a safety net of social services for those in need.

As a program of Broadway Cares/Equity Fights AIDS, DRA supports more than 450 AIDS and family service organizations nationwide as well as the essential programs of The Actors Fund, including the HIV/AIDS Initiative and The Dancers' Resource. Through these organizations and programs, DRA and Broadway Cares help to ensure that those in need have access to medicines, counseling, healthy meals, supportive housing and emergency financial assistance.

ROCK THE DOCK Bay Street Theater's largest fundraiser of the year takes places Saturday, July 20.

Guest host is Susan Lucci with Richard King serving as celebrity auctioneer.

Dinner. Auctions. Cocktails. Dancing. Bay Street Theatre in Sag Harbor, NY.


POPULAR FOX FILMS COMING TO BROADWAY AS MUSICALS


The next great Broadway musicals are something you might have seen before - as a movie.

In a formal announcement first reported by the BBC and the NY Times Hollywood film studio 20th Century Fox has teamed with Broadway producer Kevin McCollum to develop up to a dozen stage musicals based on Fox films.

"For years we have been eager to expand our entertainment expertise to the world of live stage," said Fox chairman Jim Gianopulos in a statement. "But we wanted to do it right and, most importantly, with the right people."

That 'right person' is named Kevin McCollum, the producer behind Broadway hits Rent and Avenue Q.

McCollum, film producer John Davis and entertainment mogul Tom McGrath have agreed to match Fox's 50% investment in the venture.

Isaac Robert Hurwitz, the executive director and producer of The New York Musical Theatre Festival, who will act as a consultant.

McGrath previously worked for Viacom, where he was involved in the musical adaptations of Paramount titles White Christmas, Footloose and Saturday Night Fever.

McCollum, who delivered a version of High Fidelity to Broadway in 2006, is currently enjoying success with Motown: The Musical, which is a box office success and snared four Tony Award nominations.

"Theatre is about surprises and things that you haven't seen before on stage," McCollum told the New York Times. "There are amazing Fox Searchlight titles and great films from the '70s that nobody today has heard of."

The films turned musicals will be mounted either on Broadway or begin as major international tours.

The specific films were not announced.

The move to Broadway is considered smart, even though most productions never return a profit. As compared to big screen investment, the Broadway losses are relatively small potatoes. Disney recently bragged that the US tour of The Lion King has taken more than $1 billion.


THE 43rd ANNUAL UKULELE FESTIVAL HAWAII
Olympic champ Matthew Mitcham is famous for covering Beyonce's Single Ladies and playing The Family Guy theme.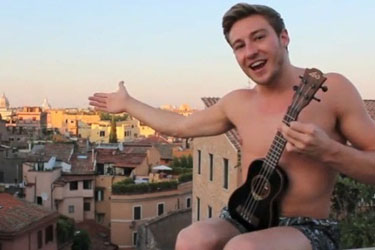 Elvis Presley, Tiny Tim, Arthur Godfrey, Marilyn Monroe, Adam Sandler, William H. Macy, Warren Buffett, Bruce Springsteen, Pink, Cyndi Lauper, Steven Tyler, Ryan Gosling, Bill Cosby, Brian May, Eric Clapton, Tom Hanks, Taylor Swift, Mick Fleetwood, Willie Nelson and Neil Armstrong.

President Barack Obama who was raised in Hawaii and former British Prime Minister Tony Blair who wasn't raised in Hawaii, are just a few of the many stars who have played the uke.

Makin the uke hip and sexy is Australian Olympic diving Gold Medal winner Matthew Mitcham. The 2008 Olympic champion in the 10 m platform, having received the highest single-dive score in Olympic history is also famous for covering Beyonce's Single Ladies and playing The Family Guy theme.

The 43rd Annual Ukulele Festival takes place July 21, 2013 at Kapiolani Park Bandstand in Waikiki.

Hawaiian ukulele legend Roy Sakuma and his sponsors stage the largest festival of its kind in the world, attracting thousands each year.

Families jam the park. Ukulele fans wouldn't miss it. Tourists follow the sounds of music. The music swirls over the tops of ironwood and monkeypod trees toward Diamond Head.

It's upbeat, infectious, bouncy about surf and sunny days. It's music you want to dance to or sing to like a beachboy. It embraces everyone who hears it.

That's the irresistible charm of the ukulele.

For the next four hours ukulele virtuosos, internationally known musicians, local celebrities donate their time and talented ukulele players from around the world and a ukulele orchestra of over 800 students, mostly children will take the stage and delight the crowd with laughter, love and hope.



James Imgram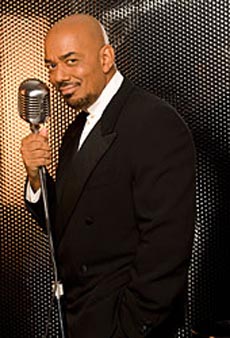 Music icon, multi Grammy award-winner and back-to-back Oscar nominee James Ingram returns for his 6th appearance. Ingram and his wife Debbie have supported Hawaii's Ukulele Festival through their personal friendship with Roy and Kathy Sakuma. James and Roy co-wrote the festival theme song Come and Join Us in 1994.

Performers from Hawaii include: Danny Kaleikini, Herb "Ohta-san" Ohta, Herb Ohta, Jr, Derick Sebastian, Manoa DNA, Nick Acosta, Kalei Gamiao, Aidan James, Roy Sakuma Ukulele 800 piece Ukulele Band.

Performers from around the world include; Australia - The Ukastle Ukestra. France - Adrien Janiak. New Zealand - Paul Tupou. Japan - Yuji IgarashKeiki Ukulele of Japan i & "Kolohe" Imamura, Boo Takagi, LeaLea Ukulele Garden with Pua Malima, and Keiki Ukulele. Thailand - Singto Numchok. Taiwan - Taiwan Ukulele, and Chocolele. Republic of Korea - Bambell Ukestra. Mainland USA - Sunset Strummers, and Hiram Bell & the HUI.

On Friday, July 19, 2013 in the Hibiscus Ballroom of the Ala Moana Hotel the annual benefit takes place.

Silent Auction, dinner and entertainment with Hawaii's Ambassador of Aloha Danny Kaleikini, ukulele master Ohta-san with guitarist Nando Suan, and more.

Proceeds raised from this event support the Ukulele Festival, and benefit the organization's college scholarship program which helps graduating seniors with an interest in ukulele playing who are pursuing higher education.





SPREADING THE WORD


LIVE CONCERT RECORDING if you've ever wanted to be in the audience when a concert was being recorded live for a CD, here's your chance.

On July 18-19 in Ottawa Canada the NAC Orchestra, conducted by Hannu Lintu with Angels Hewitt at the piano, will have both performances recorded live by Hyperion Records.

The selections performed will include: Valse Triste, Valse Romantique and Scene With Cranes from Kuolema, composed by Siebelius. Others from that composer on the program are selections from Pelléas et Mélisande.

Mozart compositions played will include Piano Concertos No. 24 and No. 22.

UNIQUE VOICES are needed by The Old Globe in San Diego for their world premiere production of Samuel D. Hunter's The Few.

Open voiceover auditions will be held on Sunday, July 21 from 10:00 a.m. to 5:00 p.m. The open call will take place on The Old Globe's Copley Plaza, and auditioners will be seen on a first-come, first-served basis. People without prior acting experience are highly encouraged to audition. Those chosen will be notified in August and will receive $150, two tickets to The Few and the opportunity to hear their voices featured in the show throughout its run.

The Old Globe will use voice recordings from 17 members of the public to create a distinct and vibrant storytelling component of The Few. Members of the public who are not professional actors can audition to voice one of the lonely characters who phones the struggling newspaper in the play and places a personal ad via voicemail. These characters are men and women from across America aged 40 and older, and the Globe is looking for authentic voices and accents to represent the nation's diversity. A short audition script will be provided that day, and no reservation is necessary to audition.

The Few will run Sept. 28 – Oct. 27 in the Sheryl and Harvey White Theatre, part of the Globe's Conrad Prebys Theatre Center.

THE ROYAL OPERA HOUSE IN LONDON has announced that they are following the National Theatre and the Royal Shaespeare Company with the transfer of a production to London's West End.

Wind in the Windows will be their first transfer. First performed at the Opera House's Linbury Studio Theatre a decade ago, the adaptation of the much-loved Kenneth Grahame tale of Ratty, Mole and Toad will play an eight-week run at The Duchess Theatre over Christmas.

THE DIVINE SISTER Charles Busch's hilarious homage to movie nuns starring Charles Busch and members of the original Off Broadway cast wrap up a four day recording session for L.A. Theatre Works on July 14.

The original Off Broadway cast members Charles Busch, Alison Fraser and Julie Halston have reunited to record Busch's comedy that takes a whack at pop-culture nuns – from the singing to the socially-conscious. An outrageous homage to nearly every Hollywood film involving nuns, The Divine Sister tells the story of St. Veronica's indomitable Mother Superior (Busch) who is determined to build a new school for her Pittsburgh convent. Also starring Emily Bergl, Maxwell Caulfield and Juliet Mills.

Diected by Carl Andress, all performances, which began July 11, were recorded live in front of an audience - without sets or costumes - at the James Bridges Theater in Los Angeles. The recordings will air on L.A. Theatre Works' syndicated radio theater series, which broadcasts weekly on public radio stations nationwide.


OTHER PEOPLE'S MONEY


THE MEBOURNE AUSTRALIA CABARET FESTIVAL now in its fourth year, gleefully reports that their audiences grew 89% over 2012, catapulting it to the second largest cabaret festival in the world. The Opening Gala at the Palais Theatre was attended by over 1,200.

Other big sellers included Motown Royalty Mary Wilson, Fem Belling's Dear Blossom, Oprahfication, Yana Alana's Between The Cracks, Little Orphan TrAshley and Spiderlash.


GET WELL SOON TO . . . .


RANDY TRAVIS the 54 yea old Grammy Award winner, who was admitted to a Texas hospital in critical condition suffering from acquired viral cardiomyopathy.

SIR ELTON JOHN has postponed a series of summer concert dates after being diagnosed with appendicitis. A statement on his website says he is on a course of "intensive antibiotics" and was expected to undergo surgery "in the coming weeks". The singer won't return to performing until he has fully recovered from both the planned surgery and any damage caused by the appendix abscess. He is expected to be well enough to perform at the First Direct Arena in Leeds and at Bestival in the UK in September before heading back to Las Vegas for a month-long residency at The Colosseum at Caesars Palace.


CURTAIN DOWN


PRISCILLA, QUEEN OF THE DESERT which opened June 20 the Venetian Hotel in Las Vegas, for an 11 week run, will hit the brakes early - after five weeks, on July 21, after a 30 show run.



WAG! THE MUSICAL music and lyrics by Grant Martin, Thomas Giron-Towers and Tony Bayliss, and a book by Belvedere Pashun.

Directed and staged by Alison Poll.

WAG! The Musical, centers around the U.K. phenomenon of WAGs - wives and girlfriends of high-profile football (soccer) players.

The cast is toplined by Olivier-winning musical actor Tim Flavin, TV presenter and former footballer's wife Lizzie Cundy, real-life footballer's WAG Pippa Fulton who recently became engaged to Brentford FC's highest goal scorer Clayton Donaldson, and Ariadne the Greek Wag which is the comic creation of Alyssa Kyria.

The cast also features Daisy Wood-Davis, Amy Scott, Gavin Alex, Chris Grierson, Katie Kerr, Philip Andrew and Nia Jermin.

According to the production: the contemporary musical, set in a big city department store, "follows a day in the life of best friends Jenny and Sharron, two working class girls making ends meet working on the cosmetics counter of a bustling high end departmental haven. Encountering daily the widest range of customers, from the aspiring plain Jane to the all-conquering entourage of WAGs, Jenny longs for escape and fulfillment. As mistress to a premier league superstar, she has tough decisions to make, while girl-next-door Sharron battles to retain her friend and control her own reciprocated and forbidden affections towards a new colleague."

Set design by Charles Camm, lighting by Simon Lord and sound by Peter Hargreaves.

Performances at London's Charing Cross Theatre July 18, prior to an official opening July 24, for a run through August 24, 2013.

TONIGHT AT 8:30 by Noel Coward. An Evening of Three Light and Musical Comedies: Hands Across the Sea, Family Album and Red Peppers. Directed by Tony Walton.

Starring Tony and Emmy Award winner Blythe Danner and Simon Jones.

Also starring Edward Hibbert, Andrew Botsford, Gerard Doyle, Delphi Harrington, Tina Jones, James Lawson, Kate Mueth, and Bobby Peterson.

Opens on July 17 and runs through August 4 at Guild Hall in East Hampton, NY.

MASTRO: LEONARD BERNSTEIN created by and starring Hershey Felder.

Directed by directed by Joel Zwick.

Conductor, composer, pianist, author, teacher, librettist, television star...for Leonard Bernstein, boundaries simply did not exist. Take an extraordinary journey through the life and career of this musical icon, who broke through every artistic ceiling possible to become the world's musical ambassador. Award-winning actor, playwright and concert pianist Hershey Felder in his latest composer creation with his latest composer creation, Maestro: Leonard Bernstein.

Musical Selections include: ongs include: Somewhere from West Side Story, music by Leonard Bernstein, lyrics by Stephen Sondheim); Carried Away from On the Town; music by Leonard Bernstein, book and lyrics by Betty Comden and Adolph Green, additional lyrics by Leonard Bernstein; Piano Sonata music by Leonard Bernstein; Variations 1 and 9 from Piano Variations music by Aaron Copland; A Little Bit in Lovefrom Wonderful Town; music by Leonard Bernstein, book and lyrics by Betty Comden and Adolph Green; I Hate Music music and lyrics by Leonard Bernstein; Lamentations from Symphony No. 1: Jeremiah, music by Leonard Bernstein; Greeting from Arias and Barcarolles, music by Leonard Bernstein; Glitter and Be Gay from Candide, music by Leonard Bernstein, lyrics by Richard Wilbur; Maria from West Side Story, music by Leonard Bernstein, lyrics by Stephen Sondheim.

July 17 to August 4, 2013 on the Allen Theatre stage of the Cleveland Playhouse in Cleveland, Ohio.

LOOT by Joe Orton. Directed by David Kennedy.

An outrageously wicked British farce. The late Mrs. McLeavy is not resting in peace—her son and his cohort of thieving miscreants have upset her final repose in this outrageous romp by the master of British farce. With hilarious depravities around every turn, this wickedly funny look at the most unmannerly of people is sure to leave you feeling just a little bit criminal.

July 16 – August 3, 2013 at the Westport Country Playhouse in Westport, CT.

UNNECESSARY FARCE by Paul Slade Smith.

Two cops. Three crooks. Eight doors. Go. In a cheap motel room, an embezzling mayor is waiting for a secret meeting with his female accountant, while in the room next-door, two undercover cops wait to catch the meeting on videotape. But the madcap fun begins with confusion as to who's in which room, and then who's being videotaped, who's taken the money, who's hired a bagpipe-playing Scottish hitman, and why the accountant keeps ending up undressed.

July 18-27 at the Timber Lake Playhouse in Mount Carroll, IL.

LES MISERABLES directed by Richard Jay-Alexander. Musical director for the production is Kevin Stites.

Last seen at The Muny in 2007, Les Misérables has been one of the most popular musicals since it opened in London in 1985. With its glorious scenery, grand theatrics and epic Victor Hugo story, Les Misérables promises to thrill the Muny audience.

July 15-21 at the outdoor Muny in St. Louis. MO.

PYGMALION by George Bernard Shaw. Directed by Nicholas Martin. Starring Robert Sean Leonard as Henry Higgins .

"You have no idea how frightfully interesting it is to take a human being and change her into a quite different human being."

With all the parallels of a modern reality-show makeover, an impoverished flower seller is taken in hand by a linguistics professor who attempts to change her accent and pass her off as the epitome of English society. For a wager. A sharp satire on class and women's independence, Shaw's century-old masterpiece features Robert Sean Leonard as Henry Higgins in an uproarious, poignant, and unforgettable battle of wits between two of theatre's most iconic characters.

July 17 - 27, 2013 on the Mainstage of the Williamstown Theatre Festival in Williamstown, MA.

SLOWGIRL by Greg Pierce. Directed by Ensemble member and former Steppenwolf Artistic Director Randall Arney.

Starring Rae Gray. Featuring William Peterson.

In the wake of a harrowing accident at a house party in Massachusetts, a teenager flees to her uncle's isolated retreat in the Costa Rican jungle to await, or avoid, the repercussions. As the reclusive Sterling and his impulsive niece get reacquainted over the course of a week, startling details about their pasts slowly unfold.

Performed in the newly reconfigured intimate Upstairs Theatre, Slowgirl is billed as "a compelling story about owning your past - and getting on with your life."

Scenic Design: Takeshi Kata. Costume Design: Janice Pytel. Lighting Design: Daniel Ionazzi. Sound Design: Richard Woodbury Stage Manager: Laura D. Glenn.

July 18 - August 25, 2013 at the Upstairs Theatre of Steppenwolf in Chicago.

SIDEWAYS by Rex Pickett Playhouse Director Emeritus Des McAnuff directs.

If anyone orders Merlot, I'm leaving - When friends Miles and Jack head to Santa Barbara wine country for one last blowout before Jack's wedding, their journey through wine, women and disappointment becomes the definitive mid-life road trip.

This honest and touching comedy comes from Rex Pickett, author of the novel from which the Academy Award-winning film was made.

July 16 - August 18 at the LaJolla Playhouse in LaJolla, CA.

CIRQUE-A-PALOOZA Summer Spectacle & Comic Calamity, created and directed by Stefan Haves.

Mainstage feature acts will include two performances of magician/entertainer Justin Willman's Tricked Out, Frank Ferrante's one-man show An Evening With Groucho and a special night with some of the greatest magicians of the Magic Castle.

Road to Palooza: A Variety Show Spectacular will also be a Mainstage event for five performances featuring a number of the amazing acts playing the festival and rotating special guest performers. These artists celebrate inclusion of all, through raw, atomic physical performance, circus skills and variety arts.

The Carrie Hamilton Theatre will host an eclectic variety of specialty acts over the three-week period.
The Cirque-a-Palooza will launch on July 19 and perform through August 11, 2013 at The Pasadena Playhouse in Pasadena, CA.

SOCIAL SECURITY by Andrew Bergman.

Two married art dealers struggle with the visit of the wife's goody-goody sister, her uptight CPA husband, and her archetypal Jewish Mother - who are there to try to save their college student daughter running wild.

July 19, 20, 26, & 27; August 1, 2, & 3, 2013 at the Fort Gordon Dinner Theatre in Fort Gordon, Georgia.

MAN OF LA MANCHA the Tony Award-winning classic, which has a book by Dale Wasserman, music by Mitch Leigh and lyrics by Joe Darion, was inspired by Miguel de Cervantes' 17th-century masterpiece Don Quixote.

Directed by Clive Cholerton.

Starring baritone William Michals. Palm Beach Dramaworks' concert performance of Man of La Mancha is staged through July 21 at Palm Beach Dramaworks in West Palm Beach, FL.

BARNUM Music by Cy Coleman/ Lyrics by Michael Stewart. Book by Mark Bramble. A revised version by Cameron Mackintosh and Mark Bramble.

Directed by Timothy Sheader. Co-Director and Choreographer is Liam Steel. Andrew Wright serves as Co-Choreographer. Musical Director is Adam Rowe.

'Barnum's the name, P T Barnum, and I want to tell you that tonight, on this stage, you are going to see - bar none - every sight, wonder and miracle that name stands for!' This exhilarating Broadway musical follows the irrepressible imagination and dreams of Phineas T Barnum, America's Greatest Showman. The story of his life and his marriage to Chairy reveals a couple who looked at the world from opposite sides of the spectrum, and also reveals that she was the practical one who made his dreams come true. We follow the legendary showman's life as he lit up the world with the color, warmth and excitement of his imagination and finally teamed up with J A Bailey to create Barnum and Bailey's Circus - the Greatest Show on Earth.

Cy Coleman's wonderfully exuberant score includes Come Follow The Band, The Colors Of My Life and There's A Sucker Born Ev'ry Minute.

Christopher Fitzgerland plays P T Barnum.

Set Designer Scott Pask. Costume Designer Paul Wills. Orchestrations by William David Brohn. Musical Supervisor Stephen Brooker. Lighting Designer Paule Constable. Sound Designer Mick Potter. Circus Consultant Vicki Amedume. Casting Directors are Trevor Jackson and James Orange.

July 15 - August 31, 2013 Theatre in the Park, Chichester Festival, England.


WHO'S WHERE




PINK MARTINI Transporting audiences from a samba parade in Rio to a 1930s French cabaret, the Portland-based, internationally loved group in a fanciful romp with the Los Angeles Philharmonic conducted by Bramwell Tovey with special guests Ari Shaprio and Saori Yuki. For the first time ever, China Forbes and Storm Large share the stage and co-helm the playfully diverse 12-piece band. Friday July 19 - Sunday, July 21, 2013 at the Hollywood Bowl in Los Angeles,.

IDINA MENZEL with the Eastern Festival Orchestra as the Grand Opening Event of the Appalachian Summer Festival. Thursday, July 18, the Schaefer Center for the Performing Arts in Boone, North Carolina.

BRUNO MARS performs tonight, Sunday, July 14, at the Xcel Energy Center in Saint Paul, MN. Wednesday he's on stage at the Scotiabank Saddledome in Calgary, AB. On Thursday he's in the spotlight at Rexall Place in Edmonton, AB. Saturday's gig is at Rogers Arena in Vancouver. Next Sunday, July 21, his tour stops at the Key Arena in Seattle.

HARRY CONNICK, JR entertains Tuesday, July 16, at the Kresge Auditorium in Interlochen, MI. Wednesday's gig is at the Frederick Meijer Gardens & SculpturePark in Grand Rapids, MI. On Friday he opens a two nighter at Symphony Center in Chicago. His new album Every Man Should Know contains twelve original songs for which Harry wrote music, lyrics and arrangements.

SLIM MAN performs Saturday, July 20, at the Rams Head in Annapolis. He'll be backed by Kevin Levi on sax. John E Coale on drums. George Hazelrigg on piano. And Hit Man Howie Z on bongos. New age keyboardist David Bach and his band will be opening the show.

BRUCE SPRINGSTEEN AND THE E STREET BAND on stage Tuesday, July 16, at Thomond Park in Limerick, Ireland. Thursday's show is at the Pairc Ui Chaoimh in Cork, Ireland. On Saturday they take to the stage at the King's Hall Complex in Belfast, Ireland.

PINK continues her engagement at the Rod Laver Arena in Melbourne, Australia with shows, today, July 14, followed by performances on Tuesday and Wednesday. On Friday, July 19, she opens a four show gig at the Brisbane Entertainment Centre in Boondall, Australia.

TAYLOR SWIFT is center stage Saturday, July 20, at Lincoln Financial Field in Philadelphia.

JUSTIN BIEBER stars at the First Niagara Center in Buffalo, NY on Monday, July 15. Wednesday's show is at the Wells Fargo Center in Philadelphia. On Thursday he performs at the XL Center in Hartford, CT. On Saturday he'll get the crowd worked up at the TD Garden in Boston.

PHISH open a two nighter Tuesday, July 16, at the Verizon Wireless Amphitheater in Alpharetta, GA. On Friday they begin a three night stand at Charter One Pavilion in Chicago.

DAVID BRENNER will be getting laughs, Monday, July 22, at the Bay Street Theatre in Sag Harbor, NY.

BLAKE SHELTON performs Friday, July 19, at the Farm Bureau Live at Virginia Beach, VA. Saturday's gig is at Jiffy Lube Live in Bristow, VA. Next Sunday, July 21, he's on stage at the Nikon at Jones Beach Theater in Wantagh, NY.


FINAL OVATION


JOHN KENDRICK former dancer and hotel owner, recently passed away. He was 59.

John won a Mr. New York talent contest and, at 24, packed all his belongings into his "blue Impala with a white top" and drove to Las Vegas, cased the shows, called the Stardust for an interview and started his professional career. He spent a dozen years as a dancer and singer in the Lido de Paris show, where he became the line captain. He performed with what was then known as the Las Vegas City Ballet and local opera companies. John and his life partner, Carter Poust, also a Lido singer and dancer, were joined in Las Vegas by John's parents, Richard and Shirley Kendrick, who moved next door to the couple.

When John and Carter were in their late 30s they thought their dancing days were over and moved to Palm Springs where they bought a nine-room bed-and-breakfast inn near downtown Palm Springs, acquired contiguous property, expanded eventually to a popular hotel called Inn Exile, billed as a "gay men, clothing-optional" resort.

After a successful career with Inn Exile, they sold the establishment and two months ago moved to Florida. Both John and Carter are former dancers with the Fabulous Palm Springs Follies.

Through the Palm Springs Hospitality Association John met Mary Jardin and Riff Markowitz, who created The Fabulous Palm Springs Follies, where all cast members must be over the age of 55. As John was quoted as saying, "as I got closer to 55, I just wanted to be in that show!"

At the age of 55 John auditioned for and was cast, becoming the youngest Follies performer, earning him the title of 'ingenue.' Carter also joined the Follies. ( See Broadway To Vegas column of December 21, 2008 )

In addition to his parents, John Kendrick was preceded in death by his sister Bunnie S. Kendrick of Apalachin, NY, who passed away from lung cancer on November 21, 2012. He is survived by his partner Carter Poust of Florida.

DUDLEY KNIGHT former UC Irvine professor and innovative drama teacher, who specialized in teaching actors how to speak clearly while lending their characters authentic, unforced accents and dialects died June 27. He was 73.

For his UC Irvine students, Knight devised an artificial language he called Omnish - after "omni," Latin for "all," because it included all vocalizations in most known languages. Students who could master Omnish, he reasoned, would be capable of saying anything well. He codified his method in Speaking With Skill, a 192-page book published in September.

Knight, who had retired 10 years ago from the University of California at Irvine to live in Easton, PA., returned to the campus in June to begin rehearsing his role as King Lear in an outdoor summer festival production of the Shakespeare tragedy.

According to his obit "shortly after greeting friends and fellow cast members during a get-acquainted meeting June 25, he had a heart attack while walking to his condominium near campus."

He never regained consciousness and died June 27 at Hoag Hospital Newport Beach, announced Eli Simon, the artistic director of UC Irvine's New Swan Shakespeare Festival, who cast Knight in King Lear.

He is survived by his wife Marta Whistler, three stepdaughters and his brother, Charles.

The August 2-30 run of King Lear will be staged as a tribute to Knight, with veteran Shakespearean actor Henson Keys. A memorial for Knight is being planned for August 24 at UC Irvine.








Next Column: July 21, 2013
Copyright: July 14, 2013. All Rights Reserved. Reviews, Interviews, Commentary, Photographs or Graphics from any Broadway To Vegas (TM) columns may not be published, broadcast, rewritten, utilized as leads, or used in any manner without permission, compensation and/or credit.
Link to Main Page
---
Laura Deni



For the snail mail address, please E-mail your request.
CLICK HERE FOR COMMENT SECTION