! >
Broadway To Vegas
 
  SHOW REVIEWS CELEBRITY  INTERVIEWS GOSSIP NEWS

| | |
| --- | --- |
| | |
PAGEANT OF THE MASTERS - - MELANIE GRIFFITH IN BROADWAY DEBUT - - KENNETH BRANAGH AS EDMOND - - A MUSICAL LEOPOLD & LOEB - - FRANKIE CALLS ANNETTE - - BIG RIVER - - LILIA! FROM ZIPPER FACTORY TO STAR - - FREDDY KRUGER & JASON VOORHEES STARE OFF - - DONATE . . . Scroll Down


LIFE IMITATING ART: PAGEANT OF THE MASTERS
Living actor imitating Joan of Arc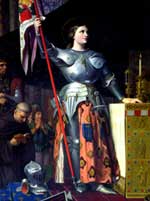 They eagerly audition, hoping to be cast in one of the coveted parts. The nameless actors yearn to spend hours in heavy make-up, so they can stand motionless and speechless for two minutes.

Strike that familiar poses. Now hold it. Become a living, breathing masterpiece.

Life re-creating art.

Ninety minutes of "living pictures" - incredibly faithful art re-creations of classical and contemporary works with real people posing to look exactly like their counterparts in the original pieces.

It's the Pageant of the Masters.



Live models become 20's American Kitchen in Frame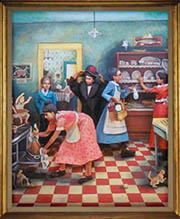 As Smithsonian Magazine once observed; "When she's not onstage, Whistler's Mother heads her own marketing company. Blue Boy is a real estate appraiser. Jesus and his disciples work a variety of jobs. James the Greater is a consultant. Judas is a financial planner. And Jesus, a former carpenter, is now a general contractor."

Since 1933, the arty beach town of Laguna has hosted this festival of living art. The pageant features tableaus vivants &emdash; paintings, statues, murals and other artworks posed by live actors. Raphael's Sistine Madonna, Washington Crossing the Delaware, works by Monet, Millet, Van Eyck; all are painstakingly posed onstage with such exactitude that audiences cannot distinguish them from actual paintings.

This awe-inspiring art form known as "tableaux vivants," or living pictures, date from the Middle Ages. While the Renaissance cultures practiced tableaux performances, Victorians especially enjoyed statue-like tableaux because the art form allowed women to be shown in tight outfits, bypassing the strict clothing regulations.



140 cast members are painstakingly painted before appearing on stage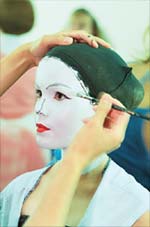 Under the guidance of an experienced and talented staff, 600 volunteers are magically transformed into life-sized re-creations of classical and contemporary paintings, sculptures and other works of art. Presentations are accompanied by the music of a full orchestra and live narration in a beautiful starlit amphitheater.

Audition notices are publicized but cast members are picked mainly by their dimensions, which fit the sizes required for particular paintings.

A casting notice for this year's season stated:

"Casting call is a fun experience for all involved. Prospective volunteers will be measured and photographed, enjoy refreshments and meet the behind-the-scenes Pageant staff. No theater experience is necessary. The only requirement is the ability to stand still and have fun.



Pageant volunteers positioning the actors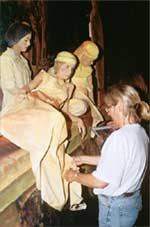 "In addition to needing volunteers to pose in the Pageant, volunteers are needed for positions in the wardrobe, make up, and headdress departments, as well as cast area coordinators and refreshment servers, among other positions. Pageant director Diane Challis Davy has this to say about the volunteers, "They are the most important aspect of the Pageant - without them there wouldn't even be a show!"

"Many volunteers come back year after year because they have so much fun over the course of the summer. It is common to have several generations of the same family volunteering for different aspects of the show. By volunteering for the Pageant, students can earn credit towards community service requirements."

The origins of the Pageant of the Masters date back to 1932, the first official year of the Festival of Arts. At that time, the Festival of Arts was a week-long celebration that included art exhibitions, community plays, outdoor pageants, a parade, a street market, a spectacle of lights, a costume ball, and tours of artists studios. A highlight of the Festival was the Living Pictures Show created by artist and vaudevillian Lolita Perine. She latched onto the idea of dressing local residents in costumes and seating them behind a makeshift frame.

The idea worked, and viewers were delighted.

In 1935, Roy Ropp, a local construction worker, real estate agent and artist, expanded Perine's concept and developed the performance into its present-day format. He renamed the event "The Spirit of the Masters." The following year it was renamed again, for the last time: "Pageant of the Masters."

Over the years the pageant has become a sophisticated eight-week affair that draws tens of thousands of people from around the world.

Each year, the Pageant of the Masters attempts to choose a theme that reflects both contemporary and traditional issues. This year's choice - Seasons.

From Botticelli¹s classical allegory of Spring, Primavera, to nostalgic keepsakes of Americana, the 2003 Pageant explores ways in which art tells time by offering unforgettable glimpses of our collective lives, past, present and future.

A special gala event will be held on Saturday, August 30. This event will include the final performance of "Seasons" the 2003 Pageant of the Masters.


IT'S A SOHO THINK TANK - OR - THEATRE IN SUMMER IS COOL


It's so hot out that your brain has fried. Might just as well take in a reading or some new play. You can't tell. You might be watching an inventive production certain to rake in millions for courageous first investors - or not.

Tony award winner Martin Charnin - the guy who penned those hopeful lyrics to Annie is directing a musical about the Leopold and Loeb murder case.

The Midtown International Theatre Festival Summer Reading Series will offer Hillary and Monica posing the question; What would have happened if Hillary Rodham Clinton and Monica Lewinsky had met by chance before the scandal broke? Find out in this history making query that takes a thoughtful look at an age old problem, infidelity (albeit in the White House).

If it turns out to be trash you won't care, because you're too hot to have accurate memory recall.

At least New York is still spawning creativity. The French have pulled the plug on their famed Avignon theater festival over fears that a strike by performers would continue to disrupt the schedule. The flap, over government reductions to performers' unemployment benefits, claimed its biggest casualty - the festival itself.

Organizers also canceled a renowned opera festival in Aix-en-Provence, after strikes brought down the curtain on many performances in their first few days.

The Avignon Festival draws 700,000 people for round-the-clock theater performances.

The official festival was scheduled to last until July 28. Avignon and the opera festival are the two highest-profile victims of protests by performers, costume designers, technicians and other stage hands against plans to scale back their unemployment benefits. Dozens of cultural events have been canceled. Organizers said it was the first time that the festival had been canceled in its 57-year history.

With France a wash out, try New York City where plays seem to be opening on every street corner.

The Soho Think Tank's annual festival opened July 9th continuing through August 16. Highlights include a revival of Charles Ludlam's Conquest of the Universe and a new offering from David Greenspan.

The Ice Factory is the Soho Think Tank's annual summer festival of new work. Under artistic director Robert Lyons, producing director Erich Jungwirth and artistic associates Samuel Buggeln, Lenora Champagne, and Marion Schoevaert they present work by their own community of artists, and by emerging and established downtown companies.

New plays to be presented include; Mother's Little Helper, Conquest of the Universe, Flop, The Myopia, Western Unidad, and Deception.

The Midtown International Theatre Festival, presented by John Chatterton, opens in New York City on July 14th running through August 3rd.

The focus this year is on The New Musical. The fourth annual series at the Abingdon Theatre includes a reality-TV satire called American Treacle. Not merely content to present some 23 shows in 21 days at the Abingdon Theatre Arts Complex from July 14th - August 3rd, the producers of the Midtown International Theatre Festival will be unveiling a series of staged readings during that period. Those will take place at noon on various weekdays at the Abingdon Mainstage theatre.

Slated for six performances is Thrill Me - The Leopold & Loeb Story. Book, music, and lyrics by Stephen Dolginoff, the MAC award winner who is developing the musical about Jesse Ventura, the former Navy seal, who went from pro wrestler to Minnesota governor.

Directed by Martin Charnin and produced by Jim Kierstead, this musical is based on the infamous "thrill killers" Leopold and Loeb who slaughtered a little boy in Chicago.



Leopold, Darrow, and Loeb during the arraignment
The production's website bills the production as: "Sexy Richard Loeb, one of the most charismatic criminals ever, used his charm to control and entice his childhood friend, Nathan Leopold, into becoming his accomplice. In return for his help, there was only one thing Nathan wanted — Richard. But when their 'perfect crime' goes wrong and their lofty aspirations come crashing to the ground, all they really have left is each other, and Richard is forced to confront a shocking revelation that could rock the very core of his being."

The trial transcripts of the 1924 murder trial of Richard Loeb and Nathan Leopold are studied by both law students and historians. Decades after Clarence Darrow delivered his twelve-hour long plea to save his young clients' lives, his moving summation stands as the most eloquent attack on the death penalty ever delivered in an American courtroom. Mixing poetry and prose, science and emotion, a world-weary cynicism and a dedication to his cause, hatred of bloodlust and love of man, Darrow took his audience on an oratorical ride that would be unimaginable in a criminal trial today.

The cast features Christopher Totten as Nathan and Matthew Morris as Richard.

Also getting mounted is The Colonel's Wife by Mario Fratti - you might remember seeing him up on the stage accepting a Tony Award for Nine. This production, adapted to "performance-cinema" is directed by Roi Escudero "Bubi." Film by François Bernadi. Music by Francisco Cantilo. Environmental Theatre de Camara. A passionate Argentinean colonel's widow comes to New York to start a new life.

Lilia!

Sidney Poitier and Lilia Skala in Lilies of the Field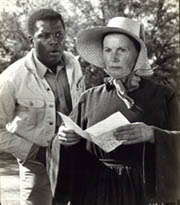 written and performed by Libby Skala. Immigrating from Austria in 1939, Lilia Skala worked her way to an Oscar nomination. Libby Skala captures her grandmother's fascinating life in a heartwarming one-woman show in which Libby plays both herself and her indomitable grandmother. Transforming from one character to another, Ms. Skala tells the true story of the Viennese-born actress who became the first female architect in Austria, a stage star in Max Reinhardt's theater, and finally a Hitler refugee who leaped from New York zipper factory to a career on Broadway, television and film.

Lilia Skala collected an Academy Award nomination for her role as the Mother Superior in the 1963 classic Lilies of the Field opposite Sidney Poitier, a Golden Globe nomination for Roseland and an Emmy nomination for Eleanor and Franklin.

"In the last conversation I had with my grandmother, she asked me to write a part for her," said Libby Skala. "She was an extraordinary woman who had an extraordinary life. I began developing the show immediately!" She has performed it across North America and at the Edinburgh Fringe Festival. It was selected as Best Show at the Winnipeg Fringe Festival in 2000 out of 118 shows. CBC TV, Canada called it "Alchemical and transforming!"

The production is directed by Gabriel Barre who helmed the off-Broadway musical The Wild Party, by Andrew Lippa, earning Barre a nominated for best director - Outer Critics Award and Drama Desk Award. His other credits include directing the national tour of Rogers and Hammerstein's Cinderella, starring Eartha Kitt.



Broadway To Vegas is supported through advertising and donations. Priority consideration is given to interview suggestions, news, press releases, etc from paid supporters. However, no paid supporters control, alter, edit, or in any way manipulate the content of this site. Your donation is appreciated. We accept PAYPAL. Thank you for your interest. Laura Deni P.O. Box 60538 Las Vegas, NV 89160


SWEET CHARITY


AUCTION OF 1000 STARS 2003 Bidding begins July 14. The Actors' Fund of America, in partnership with Yahoo! and Oxygen kicks-off a huge on-line auction featuring over 50 amazing extravagant experiences with the stars and undreds of one-of-a-kind memorabilia, including an incredible collection of autographed Playbills. Spectacular items from Broadway to Baseball will be available to the highest bidder to raise funds for Actors' Fund programs and services.

The current list includes confirmed experiences and memorabilia from: The Boy From Oz, Bruce Springsteen, The New York Yankees and Joe Torre, Queer As Folk, Nine, Uptown Girls, The Phantom of the Opera, Hollywood History Museum, Gypsy, Thoroughly Modern Millie, Little Shop of Horrors, Everybody Loves Raymond, Beauty and the Beast, Man of La Mancha, Radio City Rockettes, The Young & the Restless, Days of Our Lives, The Hollywood Bowl, Chess: The Concert, According To Jim, Sesame Street, Celebritiee Golf, The World Series.



Bebe Neuwirth auction chairperson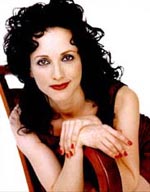 Celebrities donating one thing or another include just about everyone you know; Jerry Orbach, Kate Hudson, Elaine Stritch, Jack Johnson, Ben Harper, Peter Gallagher, Harvey Fierstein, Pearl Bailey, Bebe Neuwirth, Calista Flockhart, Lillian Gish, Julie Harris, Jason Robards, Kitty Carlisle Hart, Brittany Murphy, Patti LuPone, Amanda Plummer, Debbie Allen, Colleen Dewhurst, Frank Langella, George Hearn, Rex Robbins, Blair Brown, Lynn Redgrave, Lena Horne, Sammy Cahn, Cy Coleman, Celeste Holm, Chita Rivera, Barbara Cook, Blythe Danner, Joel Grey, Gwen Verdon, Nathan Lane, Polly Draper, Len Cariou, Glenn Close, John Malkovich, Dustin Hoffman, Lillias White, Kevin Conway, Carole Shelley, Ina Claire, Judith Anderson, James Earl Jones, Stockard Channing, Roger Bart, Danny Aiello, Bernadette Peters, Dudley Digges, Florence Henderson, Kathy Bates, Tyne Daly, Dana Ivey, Dee Wallace Stone, Philip Bosco, Harry Groener, Twiggy, Kathleen Turner, Beverly Sills, Garrison Keillor, Kevin Kline, Faith Prince, Jason Alexander, Julie Taymor, John Raitt, Michele Lee, Vincent Price, Heather Headley, Terrence McNally, Alec Baldwin, Judy Kaye, Jeff Goldblum, Tony Roberts, John Lithgow, Marin Mazzie, Judith Ivey, Gary Trudeau, Karen Ziemba, John Cullum, Charles Busch, Penny Fuller, Art Carney, Mercedes Ruehl, Anthony LaPaglia, Christopher Walken, Sigourney Weaver, Rebecca Luker, Andrew McCarthy, Swoosie Kurtz, Jon Voight, Phyllis Newman, Ann Miller, James Lapine, Burgess Meredith, Eli Wallach, Debra Monk, Kyra Sedgwick, Teri Garr, Julianne Margulies, Jayne Atkinson, Charlotte Rae, Alice Ripley, Brooke Shields, Ana Gasteyer, Kim Hunter, Eric Bogosian, Annette Bening, Art Garfunkel, Burt Reynolds, Donald Trump, Douglas Sills, Rachel York, Rex Smith, Ed Koch, Howard Safir, Jane Pauley, Joanne Woodward, John McDaniel, Joy Behar, Larry Storch, Lea Salonga, Martin Sheen, Marvin Hamlisch, Roger Corman, Sam Waterston, Tommy Hilfiger, Vendala, Arlene Dahl, Katie Couric, and many many more!!

Bidding begins on Monday, July 14 at Auction of 1000 Stars.


FOOD FOR THOUGHT
Bobby Flay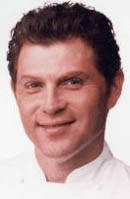 Celebrity chef Bobby Flay who regularly appears on the CBS Morning Show, has reached an agreement with Caesars Palace to bring the vibrant Southwestern cuisine of his nationally acclaimed Mesa Grill to the famed Las Vegas resort. According to an announcement made by Mark Juliano, president of Caesars Palace, the eatery is scheduled to open in the spring of 2004. The new Mesa Grill at Caesars Palace will be Flay's first restaurant outside of New York City.

On Thursday, July 17, Las Vegas Mayor Oscar Goodman will break the ice at the grand opening of IceHouse Lounge, a The two-story, 12,800-square-foot reto-Vegas restaurant lounge built not far from the city's original ice house.

Owner Dr. John Crofts of Florida hopes to make it a mini-Hard Rock Hotel with a young crowd attracted to ice block covered bars, photos of old Las Vegas and an interior and exterior inspired by the retro art deco resorts in Florida's South Beach.

With an eye for attracting sports fans the venue features more than $50,000 in HDTV Plasma Screen televisions with 13 42-inch screens and one 110-inch high definition projection screen for the upstairs lounge.

Herbert, a 25- year veteran of the restaurant business came to Las Vegas to help launch Emeril's New Orleans Fish House at the MGM Grand.

Executive chef J. Matthew Tryba is in charge of why you should go to a restaurant in the first place - the food.

While Julie Andrews is getting ready to make her directorial debut, husband Blake Edwards was in Las Vegas chowing down at Charlie Palmer Steak at the Four Seasons Hotel.



THE SOUND OF MUSIC is coming back to Wolf Trap July 15-20, the first time in 21 years! Tony Award nominee Marla Schaffel is Maria Von Trapp. Burke Moses plays Capt. Von Trapp. The production, loosely based on the true story of the Von Trapp Family Singers, originally opened on November 16, 1959 at the Lunt-Fontanne Theater on Broadway winning 8 Tony Awards including Best Musical, Book and Score.

Originally the show had a $5 ticket price and generated $2 million in advance sales which would be $40 million by today's standards.

The musical transferred to the big screen where it starred Julie Andrews winning 5 Academy Awards including Best Picture and produced one of the best-selling soundtracks of all time.

This final collaboration between composer Richard Rodgers and lyricist Oscar Hammerstein II features such favorites as Maria, My Favorite Things, Do-Re-Mi, Climb Ev'ry Mountain, and the stirring title track. July 15-20 at the Wolf Trap in Vienna, Virginia.

Another production, this one starring the the Von Trapp Children who are the great-grandchildren of Captain Von Trapp has performances July 13-16 at the Aladdin Hotel in Las Vegas.

GREASE STARRING FRANKIE AVALON July 15-20 at the Hummingbird Centre for the Performing Arts in Toronto, Canada. Following the performance Avalon offers a post show performance, singing a selection of hits - Beach Blanket Bingo, Venus, and has fun with a little Witch Doctor.

For all of you Frankie and Annette fans - Frankie calls Annette Funicello - who is struggling with multiple sclerosis - at least once every two weeks.

CHICAGO the hit revival at the Ambassador Theatre has welcomed Academy Award nominated Melanie Griffith to the show in the role of Roxie Hart. This marks Griffith's Broadway debut.

Griffith's husband Antonio Banderas is currently starring across the street in the Tony-winning revival of Nine at the Eugene O'Neill.

Griffith joins a cast consisting of; Deidre Goodwin as Velma Kelly, P. J. Benjamin as Amos Hart, Camille Saviola as Matron "Mama" Morton, Brent Barrett as Billy Flynn and D. Sabella as Mary Sunshine. Mrs. Banderas is scheduled to stay in the Broadway company of Chicago through Sept. 28.

BIG RIVER; THE ADVENTURES OF HUCKLEBERRY FINN Roundabout Theatre Company & Deaf West Theatre In association with the Mark Taper Forum present the American Sign Language adaptation of this musical. Music and Lyrics by Roger Miller. Book by William Hauptman. Adapted from the novel by Mark Twain. Directed and Choreographed by Jeff Calhoun.

Big River, The Adventures of Huckleberry Finn includes deaf, hard-of-hearing and hearing actors performing with both spoken English and American Sign Language (ASL), interweaving music, voice, sign language, dance and storytelling techniques from both hearing and deaf cultures into a unique theatrical event.

This American classic that captures the rhythms, sounds and spirit of life on the big river include musical numbers; Do You Want to Go To Heaven, Waiting for the Light To Shine, Hand for the Hog, Muddy Water, When the Sun Goes Down in the South and Worlds Apart.

The production was first done by Deaf West Theatre in California in 2001 and last fall was a big success at the Mark Taper Forum in Los Angeles.

The Roundabout production features Tyrone Giordano as Huck. Voicing the role of Huck and playing Mark Twain is Dan Jenkins — who was Tony nominated for his turn as Huck in the original 1985 production of the musical.

Steven Landau returns as musical director. The Broadway cast of Big River will feature; Michael Arden, Scott Barnhardt, Walter Charles, David Damane, Christina Dunams, Gina Ferrall, Phyllis Frelich, Tyrone Giordano, Dan Jenkins, Lyle Kanouse, Rod Keller, Troy Kotsur, George McDaniel, Michael McElroy, Ryan Schlect, Iosif Schneideman, Gwen Stewart, Melissa Van Der Schyff and Alexandria Wailes.

Ray Klausen sets, David R. Zyla costumes and Michael Gilliam lights.

The July 10th Today Show featured the production including rehearsal and performance footage as well as interviews with members of the creative team and cast.

Previews began July 1. The official opening is July 24. The production closes September 24. At the American Airlines Theatre in New York City.

EDMOND a play by David Mamet, starring Kenneth Branagh, who is making his debut at the National. Directed by National Theatre Associate Edward Hall with designs by Michael Pavelka, lighting by Mark Henderson and sound by Paul Groothuis.

A fortune-teller sends Edmond lurching into New York City's hellish underworld, his whole life abandoned in a searing quest for self-discovery and redemption.

The cast also includes Jude Akuwudike, Elli Garnett, Stephen Greif, Tony Haygarth, Robert Horwell, Rebecca Johnson, David Kennedy, Adam Levy, Tom Marshall, Iain Mitchell, Joseph Mydell, Tracy-Ann Oberman, Nicola Stephenson, Larry Towb and Nicola Walker.

Branagh has an international reputation as an actor, director, writer and producer. His stage work includes the title roles in Henry V and Hamlet for the RSC; numerous appearances for the Renaissance Theatre Company - which he co-founded. He has recently directed The Play What I Wrote in the West End and on Broadway.

Officially opens on July 17 running through October 4.

EVITA stars Felicia Finley as Eva Peron in the Andrew Lloyd Webber-Tim Rice musical. Straight from her leading role in Aida on Broadway, Finley takes the Playhouse stage as Argentina's charismatic but controversial First Lady and the country's love affair with her are the subject of this musical masterpiece. Told through a compelling score that fuses haunting chorales with exuberant Latin, pop and jazz influences, Her anthem of Don't Cry For Me, Argentina has become an icon of musical theatre, and the show, originally directed by Hal Prince, has become part of the lexicon of Musical theatre.

Starring opposite Finley is Julio Augustin as Che and David Brummel as Juan Peron. Gordon Greenberg will direct. Choreography will be supplied by Chris Gatelli with musical direction by Mark Hartman. July 21 - August 2 at the Ogunquit Playhouse in Ogunquit, Maine.

HENRY V Liev Schreiber plays Henry in the New York Shakespeare Festival production at the Delacorte Theater in Central Park. Officially opens July 15. Free.

BOY GETS GIRL by Rebecca Gilman stages its Nashville premiere this week in a production by Actors Bridge Ensemble at Darkhorse Theatre. Boy Gets Girl follows New York reporter Theresa Bedell, who finds herself in the frightening and all-too-common position of being stalked. A blind date with a guy leads to a request for a second date. You tell him no, but he won't take no for an answer.

Vali Forrister directs a cast that stars Francie Murphy and Clay Steakley, along with Brian Russell, Brad Forrister, Matt Gerbig, Amy Chomsky and Lisa Lisle. Boy Gets Girl, a theater production by Actors Bridge Ensemble, opens Friday and continues through Aug. 2 at Darkhorse Theatre, Nashville.

Boy Gets Girl premiered in March 2000 at Chicago's Goodman Theatre. Gilman has won the Evening Standard Award for Most Promising Playwright and the prestigious Osborn Award for new work from the American Theatre Critics Association.

MY FAIR LADY

Charles Shaughnessy as Prof. Harold Higgins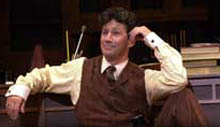 starring The Nanny's Charles Shaughnessy. Book and Lyrics by Alan Jay Lerner Music by Frederick Loewe Adapted from George Bernard Shaw's play and Gabriel Pascal's motion picture, Pygmalion. This Lerner and Loewe classic features a glorious score that includes On the Street Where You Live, Wouldn't It Be Loverly and I Could Have Danced All Night.

Charles Shaughnessy (Henry Higgins) is one of the few actors working today who really is a lawyer, but has not yet played one on TV!! He earned his Law Degree at Cambridge University where he was part of the famous Footlights Revue group. After Cambridge; however, he ditched his grey wig for a more theatrical variety and enrolled in London's CSSD. He eventually moved to Los Angeles to be with his then girlfriend, now wife, Susan Fallender.

Charles spent the next eight years playing ISA Agent Shane Donovan on Days of Our Lives, then six years as Maxwell Sheffield on the popular sitcom The Nanny. He was recently honored with an Emmy for his voice work as "Dennis" the fish on the Disney Channel's Stanley.



Glory Crampton as Eliza Doolittle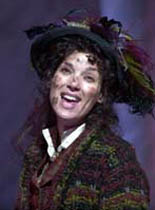 Starring opposite Shaughnessy is Glory Crampton as Eliza Doolittle.

Edmund Lyndeck is Colonel Pickering. Lenny Wolpe as Alfred P. Doolittle. Max von Essen as Freddy Eynsford-Hill, Patricia Fraser cast as Mrs. Higgins, Terry Wickline as Mrs. Pearce, Jim Walton as Harry and Scott P. Sambuco as Jamie

Ensemble: Megan Nicole Arnoldy, Jason Coll, Eric Hatch, Courtney Laine Mazza, Anna McNeely, Garrett Miller, Jo Ellen Miller, Pilar Millhollen, Gavan Pamer, Scott J. Pearson, Christina Lynn Phillips, Zachary Prince, Meg Pryor, Angel Reda, Mark Sanders, Eric Daniel Santagata, Sarrah Strimel, Justin Tanner, Will Taylor, Lisa Yuen.

Presented by the Pittsburgh Civic Light Opera at the Benedum in Pittsburgh, through July 20.


| | | |
| --- | --- | --- |
| | | |
WHO'S WHERE


BRUCE SPRINGSTEEN AND THE E STREET BAND on stage in their not to be missed shows. Tuesday, Thursday and Friday of this week at Giants Stadium in East Rutherford, N.J.

KRISTIN CHENOWETH not only isn't afraid of the competition, she is encouraging those with talent. Last Saturday, July 12, Kristin was asking - Do you have what it takes to get through a Broadway audition? Then the Tony Award-winning actress conducted an audition workshop, at the Wolf Trap in Vienna, Virginia, providing an insider's look at the Broadway audition process. Six participants, least 16 years of age and of advanced vocal study, were selected on a first-come basis to sing for her and receive feedback on their performances.

THE FIRST EVER HAMPTONS CABARET CONVENTION in association with the Mabel Mercer Foundation presents a three days songfest. Scheduled to Appear Subject to Availability on Friday, July 19; Barbara Carroll, Jeff Harnar, Shelley Mac Arthur, Karen Mason, Amanda McBroom, Sylvia Nair, Sally Mayes, Sidney Myer, Karen Oberlin, Craig Rubano, Billy Stritch, Larry Woodward.

Saturday, July 19; Christine Andreas, Tom Andersen, Mark Coffin, Mary Foster Conklin, Barbara Fasano, Rita Gardner, Alix Korey, Colleen McHugh, Julie Reyburn.

Sunday, July 20; Lisa Asher, Anna Bergman, Joyce Breach, Natalie Douglas, Tovah Feldshuh, Mark Nadler, Phillip Officer, Georga Osborne, Daryl Sherman, David Staller, Maureen Kelley Stewart, Julie Wilson.

$100 orchestra seat ticket includes post show Meet the Stars reception.

July 18-21 Guild Hall in East Hampton, N.Y.

RITA RUDNER one of our favorites - can always bring a smile - even when it's 115 in the shade. "It's so hot my swimming pool caught fire," says the funny lady who is putting together a new series of Ask Rita shows which will be taped in Las Vegas at the MGM-Grand. If you would like to attend a free taping on either July 27, 28, 29 or 30 at the MGM Grand, go to the Rita Rudner Theatre inside New York New York Casino. First come, first served. "We have air conditioning and it's free," chirps Rudner.

Last Friday Rita also staged a Rita Rudner LookaLike Competition. The winner gets to replace Rita for a day and the results will be shown on Ask Rita. Rita promising that the winner gets to "play with my dog, do my act and sleep with my husband." Rita's contestant requirements were: " an up to sixty second impersonation and you can be male or female." Ask Rita, airs Monday to Friday. "In some places it's on during the day and other places it's being shown late night," she explains. "We've had some great guests, including Steve Martin, Dennis Miller, Sinbad, Phyllis Diller, Cindy Margolis, Jeff Foxworthy, DL Hughley, Emily Procter, Sheena Easton and Kevin Nealon. We've got some really funny guests lined up for the upcoming shows."

Rita's tip of the day is: "If you take one step forward and two steps back, you're still not doing the cha cha."

FLEETWOOD MAC performing a two nighter - Wednesday and Thursday - at Arrowhead Pond in Anaheim, California. On Saturday they are on stage at the San Diego Sports Arena in San Diego, California.

EILEEN FULTON of As The World Turns fame, singing at Odette's in New Hope, Pa., July 18th-19th.

MICHELLE BRANCH in the spotlight Tuesday at the Oakland Arena in Oakland, CA. On Wednesday she is performing at the JP Pavilion at San Jose. Thursday she's in the spotlight at the ARCO Arena in Sacramento and on Saturday the show is at the Staples Center in Los Angeles.

HEART center stage Tuesday, July 15, at the Fraze Pavilion in Kettering, Ohio. On Thursday the performance takes place at the Clio Amphitheater in Clio, Michigan. On Friday the show is at the Fond Du Lac Fair in Fond du Lac, Wisconsin and they close out the week, Saturday, at the Tweeter Center in Tinley Park, IL.

LISA MARIE PRESLEY in the spotlight Wednesday at the Westbury Music Fair in Westbury, NY. On Thursday she is on stage at the Chevrolet Amphitheatre in Pittsburgh, PA. On Saturday the performance takes place at the Trump Marina in Atlantic City and next Sunday she'll be singing at the Stone Pony in Asbury PA, N.J.

PRESERVATION JAZZ HALL BAND brings their toe tapping sounds to the Lake Charles Civic Center in Lake Charles, LA on Saturday, July 19.

BEN VEREEN cruising down the river July 24-31 in concert aboard the Royal Caribbean Cruise Line.

ELVIS COSTELLO entertaining July 18 at the Hard Rock Hotel in Las Vegas.

AIR SUPPLY singing their hits July 18-20 at the Suncoast in Las Vegas.

LAINIE KAZAN performing July 20 and 21 at the Ravinia Festival in Highland Park, Illinois.

JOHN PIZZARELLI performing Tuesday, July 15, at Tanglewood in Lenox, MA. Next Sunday, July 20, he is at the Southern Vermont Arts Center in Manchester, Vermont.

CHICAGO on stage at Jones Beach, Friday, July 18.

NANCY SINATRA performs Wednesday at the House of Blues at the Mandalay Bay Resort in Las Vegas. This marks her first public performance in Las Vegas since 1982.

MELISSA ETHERIDGE on stage Friday, July 16 at Buffalo Bill's Primm Valley Resorts in Primm, Nevada.

MICHAEL BUBLE on stage Friday, July 18, at the Fraze Pavilion in Kettering, Ohio.

EDDIE IZZARD on tour in Australia performing Wednesday at the Melbourne Concert Hall in Mebourne, Australia and on Saturday at the Barton Theatre in Adelaide.

CROSBY, STILLS AND NASH perform Tuesday at the Pacific Amphitheatre in Costa Mesa, California. On Wednesday the show stops at the Historic Mountain Winery in Saratoga, California. On Friday they are on stage at Cal Expo in Sacramento and on Saturday the performance is at the Britt Festivals in Jacksonville, Oregon.

MIKAEL BARYSHNIKOV dancing up a storm at the Pantages Theater in Minneapolis July 17-18. Then he leaps to the Eldorado Showroom in Reno, Nevada for performances July 21.22.

DWIGHT YOAKAM Wednesday, July 16, at the Crystal Ballroom in Portland, Oregon. On Thursday he performs at the Jackson County Fair in Center Point, Oregon. On Friday the show is at the Emerald Queen Casino in Tacoma, Washington and on Saturday he is on stage at the Coeur d'Alene Tribal Casino in Worley, Idaho.

OAK RIDGE BOYS entertain Wednesday at the Grand Place in Branson. On Thursday they are in the spotlight at the Gage County Fair in Beatrice, Nebraska. Friday finds the guys at Country Thunder USA in Twin Lakes, Wisconson and on Saturday they can be enjoyed at Shooting Star Casino in Mahnomen, Minn.

PETER, PAUL AND MARY singing their hits Friday at Arlene Schnitzer Hall in Portland, Oregon. On Saturday the place is Marymoor Amphitheatre in Redmond, Washington.

NORAH JONES has a busy week. On Monday she performs at the Midland Theatre in Kansas City. On Tuesday the show is at the Fox Theatre in St Louis. Thursday finds her on stage at the Tennessee Performing Arts Center in Nasvhille. Friday she can be enjoyed at the Orpheum Theatre in Memphis and on Saturday she's in the spotlight at the Saenger Theatre in New Orleans.

REGIS PHILBIN AND JOY BEHAR on stage at New York's Westbury Music Fair July 18.

TIM McGRAW plays two shows at the Colosseum at Caesars Palace, Las Vegas July 18-19.


PIFFLE AND PROFUNDITIES


STARE OFF STUNT To hype the August opening of the flick Freddy vs. Jason, the producers are staging a "pre-fight" weigh-in and press conference at Bally's on July 15. Freddy Krueger and Jason Voorhees will stare each other down and take audience questions at an event hosted by that "Let's get ready to rrrruuuummmble ..." announcer Michael Buffer. Oddsmaker Johnny Avello will post pretend odds.
















Next Column: July 20, 2003
Copyright: July 13, 2003. All Rights Reserved. Reviews, Interviews, Commentary, Photographs or graphics from any Broadway To Vegas (TM) columns may not be published, broadcast, rewritten, utilized as leads, or used in any manner without permission, compensation/credit.
Link to Main Page
---
Laura Deni


CLICK HERE FOR COMMENT SECTION