! >
Broadway To Vegas
  
  REVIEWS INTERVIEWS COMMENTARY NEWS

| | |
| --- | --- |
| | |
THE VISIT CD REVIEW - - DANIELLE HOPE BRING THE FUTURE FASTER CD REVIEW - - BY THE WATER - - MACK AND MABLE - - A CENTENARY OF AUSTRALIAN WAR ART - - FIRE ISLAND DANCE FESTIVAL - - TRASHMASTERS GOLF - - THREE HUNDRED YEARS OF FRENCH LANDSCAPE PAINTING - - DONATE . . . Scroll Down
















Copyright: July 12, 2015
By: Laura Deni
CLICK HERE FOR COMMENT SECTION


WHEN IT COMES TO RECORDINGS, IT'S THE SOUND! THE VISIT AND DANIELLE HOPE PROVE THE POINT
An example of brilliant sound, expertly recorded, perfectly balanced - a joy to the ear - is the original Broadway cast recording of The Visit, which has been released on Broadway Records.

From a musical standpoint this CD is even more enjoyable that the Broadway production because the listener can concentrate on the music, rather than incorporating the experience with the action on stage.

I thoroughly enjoyed the production. See the review.

This CD is not only a must for anyone who has ever seen the performance, but just for the general listener who appreciates the stage; or the specific talents of Kander & Ebb, Chita Rivera, Roger Rees or Jason Danieley.

The Visit is the final score from the Tony award winning team of John Kander & Fred Ebb. The book by four-time Tony Award-winning playwright Terrence McNally, Orchestrations by Tony Award winner Larry Hochman with music direction and arrangements by David Loud.

Among 5 Tony Award nominations received this year was one for Best Original Score (Music and/or Lyrics).

Starring Tony Award winners Chita Rivera and Roger Rees, who died Friday, July 10, 2015. Rees had to bow out of The Visit shortly before the musical closed.

The Broadway cast of The Visit also features Jason Danieley, David Garrison, Mary Beth Peil, George Abud, Matthew Deming, Diana Dimarzio, Tony Award-nominee Rick Holmes, Tom Nelis, Chris Newcomer, Aaron Ramey, John Riddle, Elena Shaddow, Timothy Shew and Michelle Veintimilla.

Clear, brilliant recording. Each and every nuance is completely understood. Even if you've never seen The Visit, you'll be mesmerized by the numbers. The singers have voices to thrill and the orchestrations and arrangements even elevate the score, which is performed by a handful of musicians.

Associate conductor/piano/celeste/ Jesse Kissel. Orchestra: Paul Woodiel (violin), Sarah Carter (cello), Jim Donica (bass), Michael Miglior (flute/alto flute/piccolo/clarinet/bass/clarinet/alto sax) Julie Ferrara (oboe/ English horn/clarinet) Charles Rosen (guitar/zither/mandolin), Bruce Doctor (drums/percussion) and Charles Sauss (accordion).

It's easy to hear he individual instruments which are as important an element as the actors. They never overpower or detract from the presentation, rather add the third element of storytelling - along with acting and staging.



Chita Rivera and Roger Rees in The Visit. Rees died Friday, July 10, 2015. Photo by Thom Kaine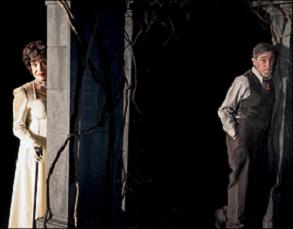 Many of these songs move along the story line; thus understanding what is said is crucial. This recording doesn't let the production down. There are a few bars here and there that remind one of other Kander and Ebb works. The show has a dark premise as do some of their other productions - such as Cabaret and Chicago. Cabaret comes to mind for a second or two in the greed song - Yellow Shoes.

Primarily composed of ballads, Jason Danieley's soaring tenor stands out singing The Only One. His ability to convey the meaning of the lyrics is memorable.

From cynical to sincere this score runs the gamut.

Songs which remind the listener of Marlene Dietrich are Love and Love Alone and Winter performed by Chita Rivera as Claire. From the oom-pah/operettea/merry-go-round citizens' town hall community sing greeting to the effective use of east European musical instruments - zither, mandolin and accordion - the citizen's unrealistic expectations are jauntily presented.

A Happy Ending is hopeful (flute/piccolo) - though not to come to fruition. The romantic, waltz time You, You, You is haunting and beautiful. You just might find the tune running through your head. The arrogant I Must Have Been Something and Look at Me with clever lyrics, are duets between Anton (Roger Rees) and Claire (Chita Rivera) in which Anton sings about what a fabulous lover he was.

The eunuchs, once men who were bought off - paid with liquor - to lie about Claire, helping to destroy her reputation, are now blind and speak in falsetto. They are expertly captured, with every word they utter clear and distinct.

Loved the show. Loved the CD.

Gorgeous accompanying booklet with photos by Joan Marcus and Thom Kaine.

Perfectly produced and mixed by Michael Croiter. Assistant Engineers Matthias Winter and Douglas Derryberry. Tracking Engineer Andy Manganello. Assistant Tracking Engineer Tyler Hartman. Mastered by Michael Fossenkemper. Recorded at Avatar Studios , NYC. mixed at Yellow Sound Lab, New York, NY.

Danielle Hope's one-woman show Bring The Future Faster was recorded live at 54 Below in New York City and released on Broadway Records. This young lady is enormously talented. A British import, Danielle got her start by winning BBC's hit television series Over The Rainbow against 9,000 girls, earning her the coveted role - and her debut - as Dorothy in The Wizard of Oz at the London Palladium alongside Michael Crawford. She then went on to star as Eponine in the West End production of Les Miserables at The Queens Theatre. Since then, she has played Cathy in The Last Five Years, the role of Narrator in the 2014 UK Tour of Joseph and the Amazing Technicolor Dreamcoat, before leaving for the role of Maria in the UK tour of The Sound Of Music.

She is new to American audiences and deserves to have a long career both on Broadway as well as the West End.

On this recording Hope is backed by a three-piece band, led by her musical director Steven Jamail, who also did many of the arrangements for the album. Her talent - nor the talent of any of the musicians - is not in doubt.

Let's begin in the middle.

Her rendition of Somewhere Over the Rainbow, delivered primarily as a solo voice is gorgeous. When the piano enters the notes are gentle - a gracefully tinkling. This cut and the following one proves that this recorded live album could have been great. Her banter after Rainbow welcomes her father, who was in the audience, visiting the United States for the first time. The Music of the Night is another song that starts out perfectly - she begins alone and then is joined by a balanced piano and Edward Baker-Duly and Ceili O'Connor, who had been in The Wizard of Oz with her. During the crescendo portions their voices and the piano are perfect. A dramatically delicious rendition.

Her cheerful chatter is clever; her accent charming to the American ear.

She proves she can be campy and fun by singing the old Rosemary Clooney hit Mambo Italiano, which was written by Bob Merrill in 1954. Hope's rendition sounds like she's enjoying the song. The piano providing an exuberant (but sound balanced) accompaniment. She offers a selection from The Sound of Music - I Have Confidence which starts out soft and timid and builds to a self assured statement making number.

Hope has a personal connection with Disney and she pays homage to that with her talk on "My love of the mouse" which leads into My Disney Medley, with selections from Beauty and the Beast, Cinderella, Tarzan, Mulan, Tangled, Newsies, and The Little Mermaid. Additional vocals on three of the selections are provided by Dan DeLuca.

On Invention - the first time I could hear an instrument other than the piano - there was an effective cello played by Allison Seidner. The booklet also lists Micah Burgess on guitars. I never could hear that instrument.

The ultra fast and wordy Invention shows off her excellent diction. Every single syllable can be understood.

That is followed by Ne Me Quitte Pas which emotionally roller-coasters between softly sorrowful and tormented anguish. Her closing number Feed the Birds is an elegant backdrop to showcase her pure, golden voice. Back by a soft piano, the middle section is a crescendo, which then closes as a gentle ending.

Then there are the first five tracks.

On the first number, an intense Today, Danielle is frequently overpowered by the piano. There are bars where she can be heard perfectly and then that piano stomps all over her.

By the third track, the Richard Rodgers/ Lorenz Hart penned Manhattan, Danielle came into her own showing off her gorgeous soprano voice. Unfortunately, that loud piano desperately tries to drown her out.

The piano was so overwhelming, and thus annoying, that I had a strong urge to magically reach in and slam the piano lid shut.

The frenetic Bring the Future Faster - again with the dominating piano - sounds like it could be interesting. However, the banging piano became so annoying that listening to this particular track one time was all I could manage.

The first five selections of this CD are so poorly sound balanced that it's enough to stop a listener from going any father, which would be a shame What saves the CD is that from selections six to the end, the sound is fine.

This is a record - be it a CD or a download. It's aural. If you're going to do a live recording, either mic it properly or don't record it.

I did not receive a defective CD, as I did with the one I was sent for John & Jen in which two of the tracks were stuck, which I didn't even mention. See the review. No track should be defective, but sometimes that happens.

In this case the tracks weren't defective; the CD product itself was in good condition. It's the sound that was bad.

Do not judge this woman's ability or that of the piano player and musical director Steven Jamail by the first five offerings. His fingers can fly over the keys and he knows which ones to touch. She is a British favorite who enjoys a strong fan base. Those rabid fans probably wouldn't care if this sounded like it had been recorded on the sole of a shoe.

For those who don't know her - the sound quality makes or breaks it. It's fine to have a microphone in or on the piano, but then appropriately mic the rest of the performers and balance the sound!



Broadway To Vegas is supported through advertising and donations. Priority consideration is given to interview suggestions, news, press releases, etc from paid supporters. However, no paid supporters control, alter, edit, or in any way manipulate the content of this site. Your donation is appreciated. We accept PAYPAL. Thank you for your interest.






ART AND ABOUT


100 SEASONS AT CLEVELAND PLAY HOUSE A Display Exhibit at Cleveland Public Library. The result of a partnership between Cleveland Play House, Cleveland Public Library and Kelvin Smith Library at Case Western Reserve University, 100 Seasons at Cleveland Play House celebrates the past, present and bright future of America's first professional regional theatre and recipient of the 2015 Regional Theatre Tony Award.

The exhibit, which encompasses 15 display cases spread across the second and third floors of the Main Library features photographs and items spanning the entire history of CPH from its inception in 1915 to the present. Many of the items and photographs on display are courtesy of the Cleveland Play House Archives at Kelvin Smith Library, Case Western Reserve University, and some of these never-before-seen items are on display for the first time. Included also are items from CPH's historical files and costume shop as well as books, photographs and other material from Cleveland Public Library's collection and archives.

Included also are items from CPH's historical files and costume shop as well as books, photographs and other material from Cleveland Public Library's collection and archives.

Opening reception takes place Saturday July 18, 2015. The free exhibit is on display through December.

A CENTENARY OF AUSTRALIAN WAR ART a new special exhibition, opens on Friday, July 17 in Memory Hall at the World War I Museum in Kansas City, MO.

The exhibition features the most comprehensive collection of Australian war art ever seen outside of Australia.

The Australian ambassador to the United States, The Hon. Kim Beazley, will visit the Museum on July 16 for an evening private reception as part of the exhibition opening.

Mr Beazley was born in Perth. He completed a Bachelor of Arts and Master of Arts at the University of Western Australia. He was awarded the Rhodes Scholarship for Western Australia in 1973 and completed a Master of Philosophy at Oxford University.

In conjunction with the new exhibition, award-winning producer Marian Bartsch travels to Kansas City for the U.S. premiere the documentary The Waler: Australia's Great War Horse at the Museum on July 23. Following the free screening, Bartsch will participate in a Q&A session with attendees.

The National World War I Museum and Memorial holds the most diverse collection of World War I objects and documents in the world and is the second-oldest public museum dedicated to preserving the objects, history and personal experiences of the war.

THREE HUNDRED YEARS OF FRENCH LANDSCAPE PAINTING Drawn entirely from the holdings of the Toledo Museum of Art, From the Collection: Three Hundred Years of French Landscape Painting contains a single, stunning example selected from each of the many styles that define the French tradition of depicting scenes in nature.

This one-gallery focus show begins with Claude Lorrain's 17th-century classicism and Boucher's Rococo fantasy and continues through the 19th century with Valenciennes (Neo-classicism), Rousseau (Barbizon School), Courbet (Realism), Renoir (Impressionism) and Cézanne (Post-Impressionism), and concludes in the early 20th century with the Fauvism of Derain.

Free admission.

July 17-October 11, at the Toledo Museum of Art in Toledo, Ohio.









SWEET CHARITY


THE TRASHMASTERS billed as The World's Most Unique Charity Golf Tournament takes place July 16-17, 2015 in Aspen, Colorado.

The Trashmasters rewards the strange and bizarre events as they occur in a round of golf. More importantly, the tournament raises money for outstanding college bound students in need of financial assistance.

The unique format goes beyond the traditional birdies, sandies and greenies to reward more exotic trash, such as, Rockies, Barkies, and the popular Billy, honoring former President Clinton. Each trash shot has a respective point value. A trash champion is crowned in four divisions: men's, women's, senior's and championship flights.

Past participants include: Wayne Rogers from the hit TV series M*A*S*H, actors Michael Douglas and Robert Wagner, the former Vice President Dan Quayle, Harvey Mackay and Woody Paige.

FIRE ISLAND DANCE FESTIVAL one of the most anticipated cultural event of the season on Fire Island, takes place July 17-19, 2015, featuring some of the most exciting and talked-about dance companies in the industry. The festival, produced by and benefiting Dancers Responding to AIDS, is performed outdoors on a picturesque waterfront stage in Fire Island Pines, NY.

Since the summer of 1995, Fire Island Dance Festival has raised more than $3.8 million. Last year's 20th anniversary celebration raised a staggering $530,860. Through their generous support, Fire Island Dance Festival attendees have helped ensure that men, women and children in all 50 states receive lifesaving medications and health care, nutritious meals, counseling and emergency financial assistance.

Past festivals have welcomed dancers from the country's top modern and ballet companies, including Alvin Ailey American Dance Theater, American Ballet Theatre, Keigwin + Company, New York City Ballet and MOMIX, and featured choreography by Paul Taylor, Kyle Abraham, Marcelo Gomes and Tony Award winners Rob Ashford and Jerry Mitchell.


SPREADING THE WORD


THE KING AND I the Tony Award winning Broadway revival, welcomes Jose Llana to the cast as the King. He joins the show July 14. He will play the King for 11 weeks through September 27, 2015.

CELEBRITY CHEF GORDON RAMSEY will be bringing his popular Bread Street Kitchen restaurant to Atlantis, The Palm Dubai, UAE. Set to open later this year, the restaurant will mark Ramsay's return to the city, after he ended his partnership at Verre at Hilton Dubai Creek in 2011. The Atlantis outlet for Bread Street Kitchen will be the brand's fourth outpost, following locations in London, Hong Kong and Singapore. The restaurant will service modern European food along with a bar area and menu.

MR LINCOLN presented by the East Lynne Theater Company in Cape May, New Jersey, will present an American Sign Language interpretation on Friday, July 17.

Since the early 1990's, ELTC has offered regularly scheduled ASL performances, as well as ASL performances when requested and ELTC is given appropriate notice.

The theatrical ASL interpreters are Kathy Filippo and Gina Lanza. The process involves them seeing the production at least once, plus going over the script several times to figure out who will interpret which roles, and in many cases, come up with signage for unusual names and words.

On Good Friday, April 14, 1865, when the President and Mrs. Lincoln were watching Our American Cousin at Ford's Theatre, John Wilkes Booth entered the President's box.

In Herbert Mitgang's play, Mr. Lincoln, the President's life flashes before him, from his early days as a flatboatman on the Mississippi River to his final night at the theater, as Booth fires his weapon. Most of the monologue for this compelling play is taken directly from Lincoln's own writings and speeches. The production stars Tom Byrn.







OTHER PEOPLE'S MONEY


THE OREGON SHAKESPEARE FESTIVAL currently celebrating 80 years, received $2 million from the State Lottery Fund to improve the aging infrastructure of OSF's two oldest and largest theatres and its landmark public courtyard. OSF is one of four arts organizations to receive funding, thanks to the efforts of the Cultural Advocacy Coalition. Other recipients are Portland Japanese Garden ($1.5 million), Oregon Public Broadcasting ($600,000) and Aurora Colony Museum ($400,000).



HAPPY DAYS

Carol Burns stars in Happy Days. Photo: Queensland Theatre company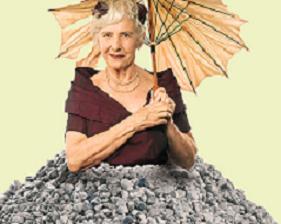 by Samuel Beckett.

Directed by Wesley Enoch.

Starring Carol Burns.

Winnie is trapped. Buried to her waist in a desolate place, under the pitiless gaze of the sun, she kindles hope out of a hundred little rituals and distracts herself with chatter and her meager bag of possessions as her slow sink into oblivion continues. Is this brave woman the eternal optimist – or just deep in denial?

Samuel Beckett's absurd, surreal masterpiece Happy Days is a powerful tale of resilience and of one woman's struggle to survive against the odds - a rueful hymn to the adaptability and indomitability of the human spirit, and an exploration of the meaning of life itself. Winnie is a tour-de-force role for a female actor, and Queensland theatre icon Carol Burns is set to bring her to life.

Composer/Sound Designer: Alan Lawrence. Designer: Penny Challen. Lighting Designer: Ben Hughes.

July 18-August15, 2015 in the Billie Brown Studio of the Queensland Theatre Company in Brisbane, Australia.

KINSHIP by Carey Perloff.

Directed by Obie-Award winning Jo Bonney.

Starring Emmy, Grammy, and Tony Award-winner Cynthia Nixon who will be making her Festival debut.

Billed as a "gripping and sexy new drama. The tightly wound lives of a fiery newspaper editor (Nixon), an upstart journalist, and an overly-protective mother unravel when a passionate entanglement turns into an intense power struggle. Kinship explores the deep, often funny, and always intense pursuit of total happiness."

This American Premiere has performances July 15 - July 25 on the Nikos Stage at the Williamstown Theatre Festival in Williamstown, MA.

MACK AND MABLE music and lyrics by Jerry Herman. Book by Michael Stewart.

Directed by Chichester's artistic director Jonathan Church.

Starring Michael Ball as Mack Sennett.

The musical is based on the true romance between Hollywood legends Mack Sennett and Mabel Normand.

Choreography by Stephen Mear. Set design by Robert Jones.

Performances at Chichester's Festival Theatre begin July 13, prior to an offiicial opening July 21, for a run through September 5. It will then embark on a U.K tour, beginning performances at Plymouth's Theatre Royal October 1, before stops at Manchester, Dublin, Edinburgh, Nottingham and Cardiff, ending December 6.

SIDE BY SIDE BY SONDHEIM music by Stephen Sondheim, Leonard Bernstein, Mary Rodgers, Richard Rodgers and Jule Styne. Lyrics by Stephen Sondheim. Continuity by Ned Sherrin.

Directed by David Ellenstein.

Revel in the sophistication, wit, insight, heart and genius of Broadway's most innovative and influential artist, composer-lyricist Stephen Sondheim. You'll hear familiar favorites from such shows as Company, Follies, A Little Night Music, A Funny Thing Happened on the Way to The Forum, Westside Story, Gypsy and so many more. An unmatched evening of enchantment for musical theatre fans.

Produced on Broadway by Harold Prince in association with Ruth Mitchell.

July 15 - August 9, 2015 at North Coast Repertory Theatre in Solana Beach, CA.

BY THE WATER by Sharyn Rothstein.

Directed by Adam Immerwahr.

Billed as "In this moving new play directed by Adam Immerwahr, Hurricane Sandy wields its force upon the home of Marty and Mary Murphy, threatening to destroy not only the life they have built together but the neighborhood they grew up in. Will Marty manage to save his neighborhood and his home, or are the secrets unearthed by the storm too powerful to overcome?"

Featuring Damian Buzzerio, Mike DiSalvo, Billy Finn, Deanna McGovern, Brian O'Neill, Sheila Stasack and Jo Twiss.

The New Jersey premiere presented by Premiere Stages at Kean University from July 16th through August 2nd in the Zella Fry Theatre.

In conjunction with By the Water, Premiere Stages has partnered with Kean University Galleries to present Asbury Park artist Laura Petrovich-Cheney's By the Block, an exhibition of salvaged wood quilts constructed from wooden debris collected after Hurricane Sandy, July 16 – September 14 in the James Howe Gallery, located in Vaughn Eames Hall. The exhibition, which is free, will be open to By the Water patrons two hours prior to every performance, and Ms. Petrovich-Cheney will appear as the first guest speaker for Premiere's 2015 Talk-Back Series, which offers free post-show discussions after select matinee performances, on Sunday, July 19.

Additional speakers include Dr. Paul J. Croft, Executive Director of Kean's School of Environmental & Sustainability Sciences, Sunday, July 26, and Sue Pniewski, who served as New Jersey Coordinator for Portlight Strategies, Inc. in the aftermath of the hurricane on Saturday, August 1.

GREEN GROW THE LILACS

WPA Poster from 1937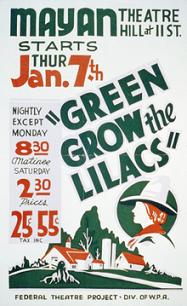 written by Lynn Riggs.

Directed by Ellen Geer.

Green Grow the Lilacs by Native American playwright Lynn Riggs is the rarely produced 1931 play that vied for the Pulitzer Prize and inspired Oklahoma! the first mega-musical by Rodgers and Hammerstein.

"Riggs set his play in the great, unchartered frontier of the Indian Territory a decade before the area known as Oklahoma became a state, incorporating the colorful vernacular of early 20th century settlers and infusing Lilacs with songs like Git Along Little Doggies, Home on the Range, Skip to My Lou and the title song, Green Grow the Lilacs - along with lesser known ballads and up-tempo hoedowns. Unlike modern musical convention with which today's audiences are familiar, the characters in Riggs' drama choose to sing for the sake of it rather than to move the action along, giving the play an organic richness that complements the style of the period. Critics of the day credited Riggs with the creation of a new form, the folk drama."

The semi-autobiographical story about cowhand Curly McLain, who goes up against an evil farmhand for the affection of Laurey, a farm girl - only to find himself arrested for murder on his wedding night - would make theater history. Although, Riggs' play was nominated for a Pulitzer Prize for drama, the popularity of the musical Oklahoma! has eclipsed the original, and Lilacs is little known to today's audiences.

The wild prairieland setting transfers beautifully to the verdant backdrop of Theatricum Botanicum's outdoor amphitheater, where Jeff Wiesen stars as Curly; Willow Geer as Laurey Williams; Melora Marshall as Aunt Eller Murphy; Elizabeth Tobias as Ado Annie; Steven B. Green as Jeeter Fry; Leo Knudson as Old Man Peck; Zachary Davidson as Peddler; and Wendy Pigott as Cory Elam. Rounding out the ensemble are Tate Ammons, Olivia Buntaine, Carina Cherbosque, Caitlin Durkin, Arielle Fodor, Devin Holliman, Dimitri Aleman Jones, Kathleen Leary, Kendall Linzee, John Manahan, Victoria Yvonne Martinez, Gray Schierholt, Jay Sosnicki, Schyler Tillett and Alexander Wauthier as townspeople.

Lighting design is by Zach Moore, sound design is by Ian Flanders, costume design is by Randy Hozian and the production stage manager is Kim Cameron.

Green Grow the Lilacs opened last night Saturday, July 11, at Will Geer's Theatricum Botanicum in Topanga, CA and continues through September 26, 2015.


WHO'S WHERE




IDINA MENZEL on Tuesday, July 14, 2015 brings her tour to Bethlehem, PA at the Sands Bethlehem Events Center. Thursday's gig is in Philadelphia, PA at the Mann Center for the Performing Arts. On Friday she's on stage in Wantagh, NY at Nikon at Jones Beach Theater and on Saturday she's in the spotlight in Washington, DC at Jiffy Lube Live.

ONE DIRECTION entertain Wednesday, July 15, 2015 at the Century Link Field in Seattle, WA. On Friday they're on stage at the BC Place Stadium in Vancouver, BC.

TAYLOR SWIFT opens a two night stand Monday, July 13 at the National Park in Washington, DC. On Saturday Vance Joy joins Swift for a two nighterat Solder Field in Chicago.

RUSH entertain Monday, July 13, at the Maverik Center in Salt Lake City. On Wednesday they perform at the Scotiabank Saddledome in Calgary, AB. On Friday they are on stage at the Rogers Arena in Vancouver, BC. Next Sunday, July 19, their gig is at the Key Arena in Seattle.

NICKELBACK bring their tour to the Wells Fargo Arena in Des Moines, IA on Tuesday, July 14. Wednesday's stop is at the Hollywood Casino Amphitheatre in Maryland Heights, MO. On Friday they perform at the Riverbend Music Center in Cincinnati, OH.

CHICK COREA AND HERBIE HANCOCK take part at the EDP Colljazz Festival in Oeiras, Portugal next Sunday, Sunday, July 19.

BILLY IDOL brings his tour to the SchlossPlatz in Emmendingen, Germany on Thursday, July 16. Saturday's stop is at the Stoppelmarkt Grounds in Vechta, Germany.

NEIL DIAMOND has a split two night gig at O2 in London on Tuesday, July 14 and Thursday, July 16.


FINAL OVATION


DIANA DOUGLAS stage and film actress and mother of actor Michael Douglas, died from cancer on Friday, July 3, 2015 at the Motion Picture and Television Home in Woodland Hills, CA. She was 92.

Born Diana Love Dill in Bermuda, where her family had lived for centuries and her father was the attorney general, Douglas later moved to New York and met Kirk Douglas while they were both studying at the American Academy of Dramatic Arts.

She began her six-decade career with Warner Bros, and modeled on the cover of Life Magazine in 1943.

She appeared in dozens of films and TV shows, including Planes, Trains and Automobiles, ER and The West Wing.

She was married to Bill Darrid a Broadway producer and novelist from 1956 until his death in 1992. As Diana Douglas she appeared on Broadway in Everything in the Garden, Catcus Flower and The Highest Tree.

The marriage she had with Darrid was a good one. In February 1993 the recently widowed Diana sought solace by returning to the stage in The Best of Friends, written by High Whitemore. The effort was, in part, produced by her son Michael. In addition to Michael's mother, the cast included Roy Dotice and Michael Allinson. Directed by William Partian the production was at what was then known as off-Broadway's Westside Theatre Upstairs. Shirley Herz was the press rep.

Diana Douglas portrayed Dame Laurentia McLaughlin, Dotice was George Bernard Shaw and Allinson was Sir Sydney Cockerell. The play concerned their friendship from 1924 through 1962. In the Playbill it states that the production is "Dedicated to William Darrid."

On February 26, 1993 at a little past noon, I was standing in the lobby of the Westside Theater with Michael Douglas discussing his mother. The cast was on stage rehearsing. At 12:18 suddenly the building shook. I actually fell against a wall. Michael reached out his hand to steady me.

A worried look crossed Michael's face. "Excuse me," he said rushing away. "I think something must have happened back stage."

What had happened was the World Trade Center had been attacked for the first time. A large explosion ripped through the public parking garage of the World Trade Center. The explosion resulted in six persons being killed, and more than 1,000 being injured; and resulted in nearly $300 million in property damage.

The explosion was caused by a 1500-pound urea-nitrate bomb, packed in a yellow Ford Econoline rental van, and detonated with a timer after the van had been parked in the basement parking garage. The explosion created a crater 200 feet by 100 feet wide and several stories deep. Evacuation of the twin towers began after the blast. Most of the injuries were due to smoke inhalation.

The Best of Friends became an ancillary causality. Originally slated to open February 23, 1992 the opening was pushed back to March 7, 1993. That ended up being a blessing. Otherwise, the show would only have run three nights. People were jittery and not in the mood for entertainment. The production did manage 41 performances and closed on April 11, 1993.

Diana and Kirk Douglas married in 1943 and had two sons, Michael and Joel. The couple divorced in 1951 but remained on good terms, and appeared together inIt Runs in the Family, a film about a dysfunctional family, along with Michael and their grandson Cameron. After the death of her second husband she married Donald Webster who survives her, as do her sons Michael and Joel, grandchildren Cameron, Dylan and Carys; her daughter-in-law and Michael's wife, actress Catherine Zeta-Jones; and many nieces and nephews in the U.K., Bermuda and the U.S.

JERRY WEINTRAUB famed producer, died Monday July 6, 2015 in Santa Barbara, CA of cardiac arrest brought on by a bowl rupture. He was 77.

His death was a shock to everyone. According to TMZ the mogul died after lying in a hospital bed for more than 30 hours as doctors failed to figure out the source of his stomach pain. Weintraub thought he had food poisoning after falling ill at a Fourth of July barbecue, family sources told the entertainment site.

His long time partner Susan Ekins reportedly called 911 about 3 a.m. Sunday when his condition worsened. The Brooklyn-born, Bronx-raised celebrity was taken to an unidentified hospital, where doctors determined he had a "bowel obstruction" but wasn't in danger of dying, TMZ said.

Weintraub first made his name in the 1960s as a music manager and concert promoter, working with such high-profile acts as Elvis Presley, Bob Dylan and Led Zeppelin. After transitioning to the movie business in the 1970s, he produced Nashville as well as such hits as Oh God!, The Karate Kid and Ocean's Eleven.

Weintraub's first major foray into the music business came when, at 28 and after a year of cold calls, he persuaded Elvis Presley's manager, Col. Tom Parker, to let him produce and present Presley's next national tour. Instead of relying on local concert promoters, Weintraub took over booking and promotion, a strategy that proved efficient and lucrative. "In three weeks, I was a millionaire," Weintraub told Vanity Fair in 2008.

Weintraub launched his own management company. One of his earliest clients was the actress and singer Jane Morgan, whom he married in 1965. Over the next decades, his firm, Concerts West, went up against many of the titans of the concert business and produced tours by Dylan and Frank Sinatra. With his talent management company, Management III, Weintraub managed acts including the Pointer Sisters, Dolly Parton and Neil Diamond.

His credits as a TV producer included the Emmy-winning 2013 Liberace biopic Behind the Candelabra and, most recently, the HBO comedy series The Brink. His last movie, Tarzan, is set to hit theaters on July 1, 2016.

Besides his wife, Jane Morgan Weintraub, from whom he was separated but never divorced, he is survived by their three children, Julie, Jamie and Jody; a son, Michael, from a previous marriage to Janice Greenberg; a brother, Melvyn; five grandchildren; and his decades longtime companion Susan Ekins.

OMAR SHARIF an Oscar nominated and Golden Globe winner Egyptian actor who became an international star in Lawrence of Arabia, suffered a heart attack in a Cairo hospital on Friday, July 10, 2015 and died. He was 83 and had suffered from Alzheimer's.

Sharif, who spoke six languages, appeared in 118 TV and movie roles over his decades-long career. Sharif played Nicky Arnstein, the husband to Barbara Streisand's character of Fanny Brice in Funny Girl, and the sequel Funny Lady.

Sharif came to Las Vegas to star in the 1980 TV-movie Pleasure Palace. He played Algerian gambler Louie Lefevre, who romances both an insurance security agent he mistakes for a jewel thief portrayed by Victoria Principal and the owner of Caesars Palace, who was played by Hope Lange, who's trying to maintain control of the Strip resort. The flick, which was directed by Walter Grauman, also featured Jose Ferrer and Gerald O'Loughlin. The television movie was filmed in Las Vegas at, appropriately enough, Caesars Palace.

Shairf also became well-known as a bridge player, writing a syndicated column on the subject for the Chicago Tribune in the 1970s and penning two books in the 1980s.

Sharif was born to Syrian and Lebanese parents in Egypt in 1932, according to IMDB. Named Michel Demitri Chalhoub, he grew up Roman Catholic. After obtaining a degree in mathematics and physics at the University of Cairo, he worked for five years in his family's lumber business before studying acting at the Royal Academy of Dramatic Art in London.

He starred in numerous Egyptian films in the 1950s and starred alongside the Egyptian actress Faten Hamama in The Blazing Sun in 1953. He converted to Islam to marry Hamama two years later. The couple had one son, Tarek Sharif, and divorced in 1974. She died in 2015. Sharif revealed in 2004 that he has another son from a one-night stand with an interviewer.

In November 2005, Sharif was awarded the inaugural Sergei Eisenstein Medal by the United Nations Educational, Scientific and Cultural Organization (UNESCO) in recognition of his significant contributions to world film and cultural diversity. The medal is named after Russian director Sergei Eisenstein.

He is survived by his son and grandchildren.

ROGER REES a Tony, Olivier and Obie Award winning and Emmy nominated actor died Friday, July 10, 2015 at his home in New York City after a short illness. He was 71.

Rees, who was born in Aberystwyth, Ceredigion, Wales was last seen on Broadway in The Visit co-starring oppose Chita Rivera. Shortly before the musical closed he had to bow out due to a sudden decline in his health.

Rees was originally trained for the visual arts. He studied painting and lithography at the Slade School of Art, and his first paying jobs in show business were as a scenery painter.

He turned to acting on a full-time basis in the mid-1960s. After his fourth audition, the Royal Shakespeare Company finally hired him as a bit player in 1968.

He played Malcolm in the acclaimed Trevor Nunn 1976 stage and 1978 television production of Macbeth. Rees created the title role in the original production of The Life and Adventures of Nicholas Nickleby, David Edgar's stage adaptation of the Dickens novel, winning both an Olivier Award and a Tony Award for Best Actor in a Play in 1982. He also starred in the original production of The Real Thing by Tom Stoppard in London in 1984.

His Broadway credits include the musical The Red Shoes, the 1995 production of Cocteau's romantic comedy Indiscretions for which he received a Tony nomination. He appeared in a revival of Anouilh's The Rehearsal at the Roundabout Theatre Company and a 2000 staging of Uncle Vanya, starring as Dr. Astrov opposite Derek Jabobi's Vanya.

Off-Broadway, he won an Obie in Award in 1992 for his portrayal of a cynical, narcissistic British doctor in Jon Robin Baitz's The End of the Day. In 2002 at Lincoln Center Theater he starred in the musical A Man of No Importance. He played Gomez Addams in a 2011 musical of The Addams Family and starring as Vladimir alongside Sir Ian McKellen in Waiting for Godot.

Rees and his husband, the writer Rick Elice, collaborated on Peter and the Starcatcher, a play based on a novel by Dave Barry and Ridley Pearson, adapted by Elice, and co-directed by Rees and Alex Timbers. The show premiered at the La Jolla Playhouse then moved to Off-Broadway and then to Broadway in 2012. A major success, it garnered several Tony Award nominations, including one for Rees and Timbers. The following year Rees starred as the father in a revival of Terence Rattigan's The Winslow Boy.

Rees directed Lynn Nottage's Mud, River, Stone at Playwrights Horizons in 1997, and an Off-Broadway revival of Arms and the Man in 2000. In 2004, he was named artistic director of the famed Williamstown Theatre Festival, only the fourth person to hold the post in its half century history, and the first non-American. He served in that position until October 2007.

He directed BD Wong in the La Jolla Playhouse's production of Herringbone.

On television he appeared as millionaire Robin Colcord in 1980s comedy Cheers and Lord John Marbury in political drama The West Wing from 2000 to 2005.

Rees who was raised in London had lived in America for 25 years. He became an American citizen in 1989. He is survived by his husband Rick Elice. The couple married in 2011 but had been together since 1982.

















Next Column: July 19, 2015
Copyright: July 12, 2015 All Rights Reserved. Reviews, Interviews, Commentary, Photographs or Graphics from any Broadway To Vegas (TM) columns may not be published, broadcast, rewritten, utilized as leads, or used in any manner without permission, compensation and/or credit.
Link to Main Page
---
Laura Deni



For the snail mail address, please E-mail your request.
CLICK HERE FOR COMMENT SECTION