! >
Broadway To Vegas
  SHOW REVIEWS     CELEBRITY INTERVIEWS     GOSSIP     NEWS 
| | |
| --- | --- |
| | |
Copyright: July 12, 1999
By: Laura Deni
CLICK HERE FOR COMMENT SECTION

WRUNG OUT AND LIGHTS ON
Every ten years or so we in Las Vegas experience a torrential rain, which we fondly refer to "a 100 year storm." We had one last week. We've had worse, possibly because we now have a better drainage system that in the "rat pack days." There was a time when Caesars Palace and the Imperial Palace hotels flooded on a regular basis. Caesar Palace even has signs in their parking lot that caution: WARNING FLASH FLOOD AREA.

Nobody paid no mind.


CAESARS PALACE SPRUNG A LEAK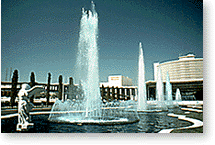 Some learned the hard way. On July 3, 1975, the rains came down and Caesars Palace started to feel the wet. Announcements came over the hotel paging system for patrons to move their cars - that flood waters were on their way. Gamblers, mentally betting they'd stay dry, remained at the tables and machines. Approximately 500 cars parked in the Caesars Palace parking lots were damaged by the floodwaters. Patrons couldn't understand why Caesars had no intention of buying the losers new automobiles.

The size of the flood used to be measured by how high the waters stood in the Imperial Palace casino, built on/next to the Flamingo wash. In the "good old days" when we had virtually no drainage system at all, you could float a boat when it rained a half an inch.

Then we put in flood control programs and most of the water went down the drain.

Last Thursday the hotels got damp again. Part of the Caesars Palace casino had some flooding and the upscale shops in the Forum Shops Mall were closed because the water was two feet high in the center of the shopping mall. Shoppers sloshing through water is not keeping with the swanky image, so a closed sign was hung out.



LANCE BURTON COULDN'T MAKE THE RAIN VANISH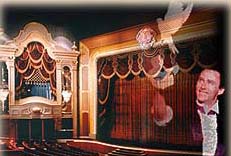 Also hanging out to dry were several performers who couldn't make it through the flooded streets. For the first time magician Lance Burton made his show disappear. His show at the Monte Carlo was canceled. It's never been considered a good idea to play an electric guitar in the rain. The House of Blues pulled the plug on Peter Frampton's show, which has been rescheduled for Aug. 16.

This isn't the first time performances have been canceled due to the weather, just the most recent. In another ten years it will probably happen again.

Meanwhile, Las Vegas is gearing up for more New Yorkers headed here to ring in the New Year. With Broadway theaters going dark at the request of the police department who are concerned about crowd control. Las Vegas is saying our lights will be bright and the joints open. For Broadway patrons who bought New Year's Eve tickets to see Chicago, they are being offered a full refund, and a free ticket for another Chicago performance. If those patrons are bound and determined to see that musical, Las Vegas has a version at Mandalay Bay.

It's a "get what you can" market, so don't expect to celebrate on the cheap. Rooms can run as high as $3,000 with a three or four-night stay required. But, we do have Barbra Streisand and Bette Midler. So, if you're put out because Broadway is going to be locked up, Vegas is wide open with all curtains going up.


YOU AIN'T SEEN NOTHIN' YET!

JOLSON a musical in two acts by British writers Francis Essex and Rob Bettinson from an original idea by Michael Freedland stars Mike Burstyn, who was last seen on Broadway as Mike Todd in Ain't Broadway Grand.

MIKE BURSTYN as Al Jolson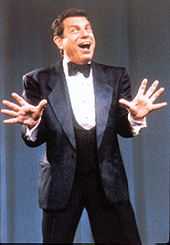 Jolson premiered in London where it won the 1996 Oliver award for best musical and had a successful Toronto run. The production had its American debut at the Allen Theater in Cleveland as part of a 34-city tour before opening on Broadway.

When Jolson died at age 64, the lights on Broadway were turned off in homage.

Born Asa Yoelson in Lithuania, the son of a synagogue cantor, he became the highest paid entertainer of his day.

The musical Jolson begins in 1929, at the height of Jolson's popularity, and deals with his rocky marriage to Ruby Keeler, the decline in his career during the 1930s, his comeback entertaining troops in World War II and the Korean War and the making of The Jolson Story, a sugarcoated biopic starring Larry Parks, with Jolson himself singing the soundtrack. This musical doesn't whitewash the entertainer whom many describe as an egomaniacal SOB with a highly inflated opinion of himself.



JOLSON: THE MUSICAL on a nationwide tour before opening on Broadway.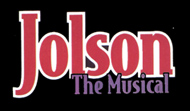 Giving the production both heart and backbone is the music. It was Jolson who made famous songs written by great composers- such as George Gershwin and Irving Berlin. While Jolson performed Swanee and My Mammy in blackface, blackface is not used in the show with officials citing a desire not to offend anybody and stressing that during Jolson's heyday performing in blackface was a common and accepted entertainment style.

Jolson was a man billed as "America's greatest entertainer." The musical about his career opens July 13 with performances through July 18 at the Fox Theater, Atlanta.


JOHNNY CARSON AND SYLVIA

Johnny Carson has been a deep pocket benefactor to Nebraska, the state in which he was raised. Projects benefiting from his largess include a community theater, christened The Johnny Carson Theater in Lincoln.

The current production is Sylvia, running through July 17.

We at Broadway To Vegas enjoyed Sarah Jessica Parker portraying the dog SYLVIA in the Broadway production of the same name. The dog has hit the road and is one of the highlights of the summer stock season. Brad Binning, himself a playwright, saw the production and we asked for his opinion of both the production and the Carson Theatre.




JOHNNY CARSON THEATRE BENEFACTOR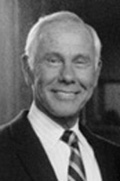 Located inside the Lied Center on the University of Nebraska campus, Binning explained that "there was this space that was supposed to be for a rehearsal hall. After creative talks the Lied guys decided to turn that designated area into a black box theatre. The Cool Carson Man was approached and he donated the green so the construction of it could get the green light

"This theatre is every bit as cool as the Mitzi Newhouse at Lincoln Center (NYC) but isn't round - more thrust like," explained Binning. "The Carson Theatre has the physical ability to be made larger or smaller depending on any given production. For Sylvia it was made very small and intimate."

As for the production of Sylvia, Binning reported the following.

"A.R. Gurney's Sylvia is an exploration of human emotional excesses and all the stupid mess they can cause. The fact that most of the human emotion comes from the dog, Sylvia, - energetically played by Ashley West - gives the play a shot at greatness. The canine acts more like a human than anyone on stage which serves as a catalyst for all sorts of dilemmas. Sitting in the audience is like being a part of some experimental and rather kinky encounter group session, as though you're watching a participant acting like a dog in order to get in touch with a feeling or experience, and by doing so, might help you get in touch with one of yours," reasoned Binning who added, "At $18 a ticket and some performances going for twofers, it's a hell of a lot cheaper than analysis."

"It's unfair to compare the actors of any production with the New York original. But even if Lincoln wasn't 1500 miles from Manhattan and if all Nebraskans had seen the original anyway, this Sylvia could stand up and hold its own. And even without the benefits of tryouts in Philadelphia and three weeks of previews, this summer stock gem is worth the drive from as far off as Kansas City or Des Moines.

"The Johnny Carson Theater production of Sylvia is part of The Nebraska Repertory Theatre's summer season. Any Nebraska Rep. Production is worth much more than a cursory glance and their Sylvia is no exception. Each year, much time and care is taken to access the finest in skill and talent from three viable avenues around the country - the acting profession, the academic world, and the community.

"The components of this Sylvia production are a fine example of that goal. Richard McWilliams (Greg) is a professional actor who has proved his versatility and competence. Any actor who can star with Vanessa Redgrave on Broadway in Orpheus Descending and played Smokey in ABC's One Life To Live with the other, is okay in my book," offered Binning.

"Virginia Ness (Kate) is an academic. Even though a member of Equity, she has taught at The Yale School of Drama for eight years. And Eric Moyer (Tom, Phyllis and Leslie) is a community member who has recently finished his undergraduate degree and intends to pursue a professional acting career."


BELLS TOLL FOR HEMINGWAY

ERNEST HEMINGWAY: SAID HIS HOME TOWN WAS FULL OF BROAD LAWNS AND NARROW MINDS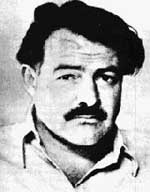 Ernest Hemingway summed up his home town of Oak Park, Ill. As "broad lawns and narrow minds." They weren't too keen on him either. Time passes and in honor of the author's l00th birthday on July 21, the Ernest Hemingway Foundation of Oak Park is staging a weeklong event including their own version of "running of the bulls" - a fiesta parade and a running of papier-maache' bulls on wheels.

Other events include a Hemingway look alike contest, a Fiesta de Hemingway, with flamenco dancing, a swing dance competition, and eats prepared from recipes in The Hemingway Cookbook.

Some of the events will include Hemingway's three sons, Patrick, Jack and Gregory. Patrick edited his father's novel, True at First Light, to be published on July 21.

Oak Park's Hemingway Museum will unveil a new exhibit of photographs and memorabilia, and nightly performances of It Just Catches, a dramatic adaptation of three Hemingway short stories, written by his daughter-in-law, Carol, will be presented July 18 to 21.

An International Literary Conference, featuring Hemingway scholars, will be held July 19-21. There will also be two screenings of a Cuban film, Hello Hemingway, about a girl's fruitless search to meet the author.

THE FROG PRINCE

TOBY WHERRY, pictured, stars as the Frog Prince in the David Mamet play. Directed by Eric Nightingale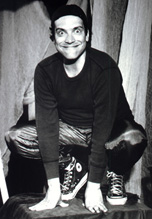 Pulitzer Prize winning playwright David Mamet's The Frog Prince, his version of the classic fairy began performances yesterday, July 11, with an opening set for next Sunday, July 18, at the 78th Street Theatre Lab, NYC.

In a charming artistic take, prior to curtain time children will be able to color flowers - which become part of the set! The Frog Prince is the classic tale about an arrogant prince who, after denying a peasant woman a simple gift, is sentenced to life as a frog - until he learns about love, loss and true riches. Written with the same wry, satiric wit that made David Mamet the renowned playwright he is, but without the caustic language that is usually a mainstay of Mamet productions!

The New York Times called the sold out 1997 production "surprisingly lyrical - even tinged with melancholy." This 1999 edition stars: E Roger Mitchell (Servingman), Jean Taylor (Peasant), Karan Wright (Milkmaid) and returning as the Frog Prince, Toby Wherry. The set design is by Si Joong Yoon, costumes by So Young Kim and the lighting design by Tyler Micoleau. A cappella vocals provided by The Decibelles (Trish Kositzky, Cyndy Taylor and Debbie Wilkinson) under the musical direction of David Barnes.



Broadway To Vegas is supported through advertising and donations. Priority consideration is given to interview suggestions, news, press releases, etc from paid supporters. However, no paid supporters control, alter, edit, or in any way manipulate the content of this site. Your donation is appreciated. We accept PAYPAL. Thank you for your interest. Laura Deni P.O. Box 60538 Las Vegas, NV 89160


SWEET CHARITY

KEVIN BLACK brother of Clint, and a musician in his own right, provided the entertainment at the Dallas Heart Ball Ranch party, a fun loving party which precedes the ball, which benefits the University of Texas' Southwestern Medical Center.

TAKING THOSE STAR TREK VOWS
FERENGI BRIDESMAID AND BEST MAN

The Star Trek Experience at the Hilton Hotel in Las Vegas is boldly transporting the marriage vows where they haven't gone before - into an intergalactic ceremony which has proven to be a hit with Treksters.

The futuristic attraction began coupling last Valentines Day. Beginning at $2,000 for 30 guests, the happy duo will legally link up on the Bridge of the USS. Enterprise.

The couple can choose two Star Trek characters to join the wedding party - Klingons, Ferengi and Starfleet officers are on duty and ready to serve.



WEDDING RECEPTION
ALA STAR TREK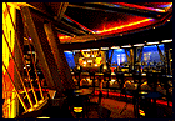 For the what it's worth department - Klingons are the fave attendants.

To make the stellar leap even more memorable the bride and bridegroom receive a goodie bag which includes Star Trek watches and a commemorative certificate.

To party Star Trek style, the reception is held in the adjacent Quark's Bar and Restaurant.






WHO'S WHERE

SMOTHERS BROTHERS July 15 & 16, Casino Magic, Bossier City, LA.

BARRY CORBIN was recently in Dallas checking out the Dallas Summer Musicals' production of South Pacific which starred John Cullum as Emile de Becque. After the curtain call Corbin headed backstage to congratulate his former colleague. Both Corbin and Cullum co-starred on the popular television series Northern Exposure.

CANDYE KANE the former stripper is now a widely respected blues-jazz singer, who is performing at the 18th Amendment Saloon, Omaha, NE after-work live music series. Backed by an eight-piece band, billed as "the queen of swing" the sultry singer knocks out songs such as 200 Lbs. of Fun.

SANDY DUNCAN fully recovered from the injury she received while rehearsing for her starring role in Chicago open July 13 in the drop dead production, Bass Performance Hall, Dallas. The production runs through July 25.


THIS AND THAT


MISS SAIGON which will celebrate its 10th anniversary on Broadway in 2001 drops the curtain on the London production on October 30.

BLUE MAN GROUP holding auditions this Thursday for the up coming Las Vegas production at the Luxor Hotel.

SEX CONVENTION tabbed Lifestyles'99 took place at the Hilton Hotel in Reno, NV this past week-end. Swingers gathered to attend workshops on such topics as: Romance on the Internet, 500 Unusual Sex Practices, Growing Up With Kinky Parents, Playing Out Your Fantasies and Sex Without Guilt. Porn star Ron Jeremy lectured on Sex and the Law.

MARIACHI SPECTACULAR Musical workshops and concerts in Mariachi music, taught by the best maestros in the world with special guests, a Mariachi Mass and concerts. Albuquerque, New Mexico July 14-18.

VON BRAUN CELEBRATION is a happening in Huntsville, Alabama. They're celebrating the impact of German culture on the city during a year long Von Braum Celebration of the Arts and Sciences. The city is observing the 50th anniversary of the arrival of Wernher von Braun and other German scientists who developed rockets for the U.S. Army. The celebration begins July 16 on the 30th anniversary of the launch of Apollo 11 atop a Huntsville-built Saturn V rocket and concludes July 16, 2000, the anniversary of the death of Von Braun in 1977.

EIGHT NORTHERN INDIAN PUEBLOS stage their annual arts and crafts show July 17-18. Approximately 1,500 American Indian artists from around the nation participate - all work is pre-judged for its authenticity and workmanship. Entertainment includes Indian dances spotlighting the Buffalo, Deer, Rainbow and Corn. Refreshments range from red and green chili to Indian tacos, oven bread, fry bred, Indian cookies and pies. The event is organized by Eight Northern Pueblo Council representing Tesuque, San Juan, San Ildefonso, Santa Clara, Nambe Pojoaque, Taos and Picuris pueblos. The host pueblo, San Juan, is 26 miles north of Santa Fe on the road to Taos.

BATS IN YOUR BELFRY in Walcott, Texas, July 15-19 at Crowley's Ridge State Park.

On Friday The Secret World of Bats is the featured flick.

On Saturday a bat house workshop with bat expert Harry Harnish will teach you more than you ever wanted to know.



Mention BROADWAY TO VEGAS for Special Consideration
Call (800) 942-9027









Next Column: July 19, 1999
Copyright: July 12, 1999. All Rights Reserved. Reviews, Interviews, Commentary, Photographs or Graphics from any Broadway To Vegas (TM) columns may not be published, broadcast, rewritten, utilized as leads, or used in any manner without permission, compensation and/or credit.
Link to Main Page
---
Laura Deni
broadway@broadwaytovegas.com

For the snail mail address, please E-mail your request.
CLICK HERE FOR COMMENT SECTION