! >
Broadway To Vegas
  
 SHOW REVIEWS CELEBRITY INTERVIEWS GOSSIP NEWS

| | |
| --- | --- |
| | |
CUMBERLAND COUNTY PLAYHOUSE SCORES COUPS - - MUSIC THEATER INTERNATIONAL - - THE LIFE AND TIMES OF BILLY WILDER - - DAVID SOUL AND DAVID HASSELHOFF ON LONDON STAGES - - ACTOR'S EQUITY CALLS EMERGENCY MEETING - -SPIES, LIES AND NAKED THIGHS - - DIAHANN CARROLL IN BUBBLIN' BROWN SUGAR - - ELTON JOHN AT RADIO CITY MUSIC HALL - - DONATE . . . Scroll Down


MAKING THE ROAD TO SOMEWHERE ELSE MATTER
Jim Crabtree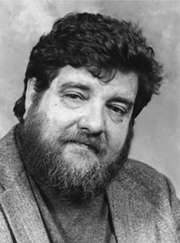 "It was the place you went through on your way to some place else," explained Jim Crabtree, producing director of the 487-seat Cumberland County Playhouse, located in Crossville, Tennessee. Respected as one of the 10 best rural theaters in America, the ground breaking Cumberland Playhouse is what put Crossville on the map. Located 64 miles from Chattanooga and 119 miles to Nashville, the Cumberland Playhouse is the first theater in the world licensed by Disney to mount their classic musical, Beauty and the Beast independently. The results are on stage through September 5.

The Rodgers and Hammerstein Organization selected Cumberland County Playhouse for the American premiere of a new version of Two by Two, which noted director Martin Charnin will audition and direct. That production will open November 11.

Crabtree spoke with Broadway to Vegas about how the Cumberland County Playhouse has scored some theatrical coups.



Britt Hancock as the Beast and Holli O'Brien as Belle. Photos by Tracy Knauss for the Cumberland County Playhouse. All rights reserved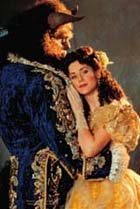 "The biggest thing was, we were able to move quickly," he said regarding snagging Beauty and the Beast. "We had the confidence that we had the horses to pull this wagon. Disney's licensing agency, Music Theater International in New York, had the confidence that we had the track record to do the show."

"Disney's instructions to Music Theater International were to ask companies like ours to reference the film and not to slavishly follow the Broadway production, as is often the case when shows are first released from New York, after having been in New York awhile."

"So, theaters, including ours, have the opportunity to look at the film - obviously we saw the Broadway production - as well. Any theater that is recreating a show that has been first created for Broadway obviously goes to school on the way in which problems were solved on Broadway."

"But, we had no obligation to follow that pattern. In fact we were encouraged to reference the film primarily. We let the film be our springboard for creativity. That was fun."

"We have complete scenic and costume studios and staff here in house. We don't have to contract our scenery or costumes out to anybody else. We design and build. We do use guest designers and a guest designer did the scenery," he said referring Curtis Phillips, who has an MFA in Scenic Design from University of Wisconsin, Madison.



Terry Schwab as Cogsworth the Clock. Photos by Tracy Knauss for Cumberland County Playhouse. All rights reserved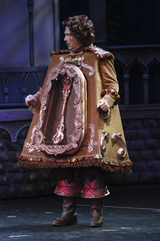 Jason Ross as Lumiere. Photos by Tracy Knauss for Cumberland County Playhouse. All rights reserved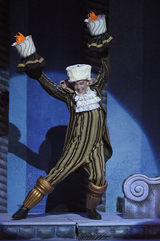 "Terry Schwab, one of our resident company, who is a wonderful costume designer as well a leading actor in Beauty and the Beast, has done just a fabulous job on the costumes with great support from Renee Luttrell, who is our resident costumer."

The cast of 60 wears 175 to 180 costumes designed Schwab and Luttrell. One costume represents about 150 to 200 hours of work - the standard for many of the production's costumes. An entire room is set aside for wigs and another set aside for shoes.

"These costumes are going to hold up very well," promised costume designer Schwab, engaging in a delightful conversation with Broadway To Vegas about his role in this massive effort.

"What I do - and some people think I'm nuts - every single thing that I buy for a show goes in the washing machine and the dryer before we work on it. I don't care if it's velvet, sequins or trim. It all goes in the washer and dryer first. If it does not survive, we don't use it,"

"Out of all the thousand yards of fabric I bought, only one piece of fabric got real crazy and I couldn't use it."

"I use drapery fabric, upholstery fabric. I'm really big on textures, so a lot of texture in the show was important to me. But, it had to be something that could survive a rental situation or just survive our run, We're doing this for three months," said Schwab, who has a degree in fashion design from Colorado State University.

"We have several dry cleaners here in town, but none of them are 24-hour dry cleaners," added Schwab. "And, it is also very expensive to dry clean. My dad owned a dry cleaners when I was younger, so I am not trying to put them out of business. But, the costumes need to be cared for within the shop. Some of it, even though it has been in the washer and dryer, we hand wash, once we get all of the sequin work on it. We do have a lot of beading and sequins on many of the costumes."



Nicole Begue as Babette and Joson Ross as Lumiere Photos by Tracy Knauss for the Cumberland County Playhouse. All rights reserved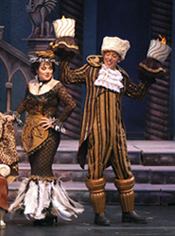 "Yesterday they said they wanted to wash Babette, which is the maid's costume. It is a skin tight, see through look dress, lined in flesh lycra, and the whole bodice has a lot of bead work. They thought they were going to need to hand wash it. I said; Are the beads falling off? Are the beads loose?"

Receiving a negative reply, he instructed - "Put in it a zippered mesh bag and throw it in the washing machine and hang it to dry."

Does that mean buying the most expensive soap or some special washing concoction?

"We look for inexpensive or generic brands," Schwab answered. "Gain is a cheaper detergent and we use it a lot. Because people can have skin allergies, we have to be careful not to use strong soaps."

"We do laundry after every single show. Anybody can throw in their tights, underwear, socks, shirts, that sort of thing. The outer wear, such as vests or even the dresses are done on a rotating schedule. Your dress didn't get done this week? It's scheduled for next week."

A costume coat that Schwab wears as Cogsworth the Clock is encrusted. "All of the buttons are made out of clocks," elaborated Schwab. "It's got copper colored lame on the cuffs. It's upholstery fabric. It's incredible - and is completely machine washable. But, I only wear it for three minutes and the curtain call. So, let's say five minutes. And, if I go out to visit with the people, 20 minutes. So, maybe that will get washed once."

Many of the roles call for the actors to portray both a human character as well as an inanimate object requiring a fast costume transformation.

"They have to have the same fabric for both outfits, which is only logical," Schwab explained. "If you become an armoire instead of an opera singer, which is what the two are, then her large French dress with the huge hips, like Marie Antoinette, has to be out of the same fabric as the armoire, so you have to make sure you buy enough. And same thing with me, Lumerie, and Mrs. Potts. We had to buy a lot more fabric than you would think. In some cases I only had a half yard left."



Terry Schwab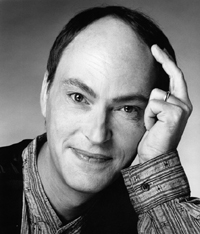 Schwab became interested in costume design out of necessity. "As a kid I was really skinny and tall. At 12, I was 5-feet 11-inches with a 26-inch waist. It was hard to find pants and shirts that fit me. So, the lady that did the alterations at the dry cleaners my father owned started showing me how to sew."

"Then I started doing alterations. This is before I was in college. I thought this isn't a dumb thing. I always had sort of a stupid sense of style anyway. I thought it was fun to make something crazy for the prom or Halloween."

"I thought it was fun because it was kind of like architecture, only with fabric, which is basically what sewing is."

That perspective helped him with this show.

"I had to look at things, like that armoire and the clock, and I couldn't think fabric and sewing. I had to think architectural structure. Those things have frame work and then all of the fabric is hand sewn over it. Every stitch on that armoire, every trim, everything, is hand sewn. I was a little bit more lucky with my costume. We were able to add a lot of the trim and then stretch it over the frame, like you would upholster a chair."

"Lumerie's outfit has over 100 yards of braided trim. That stuff is $1.29 a yard! First of all, you have to find enough and then you have to sew it all on and you have to be able to pay for it. These are expensive costumes," he said declaring the obvious.

"We did some mail ordering. Luckily, our costume shop manager and head designer, Rennee Luttrell, knows of a place in Alabama and a place in Georgia. So, we took a day trip. Renee is incredible. She does most of the designs and is there year round, heading up the show and running the crews," continued the designer/actor who is in rehearsals for Noises Off while performing in Beauty and the Beast.

"You think Crossville is in the middle of nowhere? I would never have found these places!" he exclaimed. "Both of these are very mom and pop stores. We pulled up and it was in the middle of nowhere. I don't even remember if the town had a name, I thought you're kidding. It was like a mini aluminum warehouse. We walked in and I was stunned! I bought almost all of the main characters there. I was finding stuff for $2.98 a yard. Stunning dress fabric at $6.00 a yard. That was incredible because a dress we would make takes 15 yards."

"Then the other place where we went had prices that were even more crazy. They had trim for 20 cents a yard. Here, you can have the whole bolt for $3.00. We had the car full to the ceiling. We unloaded and fabric and washed it," he related.

"I did go to Knoxville and we have a place in town, Short Sheet, which is upholstery and drapery. They get factory prices and pass that on to the customer."

"Before we even opened we had like 10 inquiries from around the country to rent the costumes. I though - Good, Lord these costumes had better be good!" Schwab exclaimed.

"They are available for rent. Once we are through using them in early September," said Crabtree. "In fact, the costumes are already rented and will be sent out just five days after the close of the play in September. Theaters from all over the nation have already contacted us about renting our original costume designs."



Martin Charnin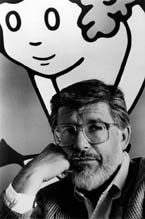 Another coup for Cummerland Playhouse was being approached by the Rodgers and Hammerstein Organization to mount a new version of Two By Two.

"We had expressed interest in Two By Two as a possibility for this season. And, I had ultimately decided to do other properties in 2003-04," Crabtree related.

"But, the Rodgers and Hammerstein organization, which licenses all of Richard Rodgers work, said - Well listen, there is a new wrinkle to Two By Two. Martin Charnin, the lyricist, who helped Dick Rodgers to create the show, along with the likes of Peter Stone who wrote the book, has shepherded a revised edition of Two By Two that he hopes to bring to the stage in 2004 and is looking for a place to do it. Would you guys we interested?"

"I said we would at least want to sit down and talk with them. So, I met with Martin and Charles Scott of Rodgers and Hammerstein Organization and Ken Gentry, the producer of Networks Inc., which is one of the largest non-union theatrical touring organization in the world."



Danny Kaye tried to run down the other actors with his wheel chair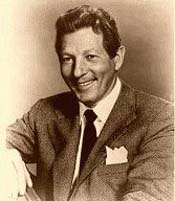 Two by Two, which premiered November 10, 1970 at the Imperial Theatre, enjoyed a run of 343 performances, closing September 11, 1971. The musical retelling of the story of Noah and the Flood starred Marilyn Cooper, Madeline Kahn, Walter Willison, Harry Goz, Joan Copeland, Michael Karm, Tricia O'Neil and Danny Kaye as Noah.

Shortly after the show opened, Kaye tore a ligament in his leg during a performance, and subsequently appeared on crutches or in a wheel-chair, in which he tried to run down the other actors, adapting the show to his injury, much to the distaste of producer and composer Richard Rodgers.

The new Two by Two was inspired in part by that event, which generated production choices the authors long hoped to change.

Charnin worked closely with book writer Stone in the months before the latter's death, and the project has the blessing of the Rodgers and Hammerstein organization, which suggested Cumberland County Playhouse as a potential producer of the premiere.

"We talked about doing an initial production of this new Two By Two here so that Rodgers and Hammerstein and Martin Charnin and the Networks, Inc can all get a look at it, prior to what they hope, in the future, will be a national tour in a larger production than ours," Crabtree elaborated.

Last Thursday Charnin was in the audience at the Cummberland County Playhouse watching Beauty and the Beast.

"Martin came to see it because Holli O'Brien, who is playing the leading role of Belle, is also scheduled to play the role of Goldie in Two By Two.



Amy Crabtree Woods, Elyn Cordeiro, and John Fionte in the paintshop preparing backdrops. Photos by Tracy Knauss for Cumberland County Playhouse. All rights reserved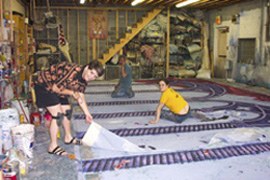 Scenic designer Curtis Phillips. Photos by Tracy Knauss for Cumberland County Playhouse. All rights reserved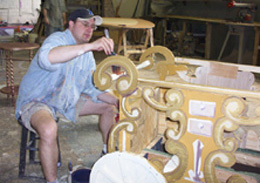 It was also an audition of sorts for the technical crew.

"We are also talking about who other creative people on Two By Two may be, to work with Martin. A good deal of our company's work is on display in our Beauty and The Beast," proudly stated the producing director.

"We are in our 40th season," he said of the playhouse founded by his parents. "I've been here full time since 1976, so that is 25 years."

Do you get a silver bowl? "Oh, heavens. I'd have to give it to myself," laughed the man who, in 2001, received the Spirit of Tennessee Award which, "recognizes an individual or group whose work exemplifies the highest standards of artistic endeavor and brings positive recognition to the place of the arts in the lives of Tennesseans."

"I also worked for the theater for my late father and my mother who, at 82, is still running rings around me," he confessed.



The Cumberland County Playhouse looks like something painted by Thomas Kinkade. Photo: Cumberland Playhouse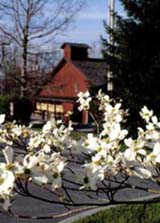 "Actually, we moved here temporarily in 1963," he recalled. "It was visionary local people who saw the opportunity and wanted to keep theater here that convinced my father to stay and build a theater, after he had produced and directed a Jr-Hi school musical, at their request," said Crabtree about his father's production of The Perils of Pinocchio.

His father's show was presented at the Crossville Junior High School with a cast, crew and orchestra of 200 youngsters. The performance electrified the community - a community with no museums, college, university, live performance organizations, one movie theater and an hour-and-a-half drive to the nearest city. A compelling idea was that Pinocchio might be the beginning of new educational horizons for their children.

Civic and cultural leaders asked Crabtree how they could keep things like Pinocchio happening in Crossville. He replied, "Well, you'd have to build a theater. The old junior high auditorium isn't even safe." Remarkably, in a town of 5,000, in a county of 25,000, that's exactly what they did - believing that a Playhouse could make a vital contribution to education and the local economy by creating new jobs.

"Crossville is my grandmother's ancestral home," Crabtree explained. "She died in 1995 at the age of 100. She rode the first train into Crossville in 1895. Her name was Eula Ducy. Like many seniors of that generation, she lived through the whole era - from the horse and buggy to the space age. And, she was the box office manager for the Playhouse when it was founded during 63-65 and she continued in that position until she was 80."



Paul and Mary Crabtree. Photo Cumberland Playhouse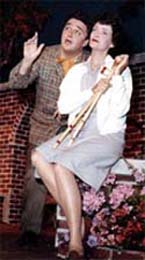 Crabtree's mother, Mary, born and raised in Crossville, moved to New York to work as a dancer and a model. George Abbott the famous director, introduced her to Paul Crabtree, an actor, writer and director.

After stints on Broadway - Paul was hand chosen by Richard Rodgers to be in Oklahoma, and selected by Eugene O'Neill to be in The Ice Man Cometh - the family, which would eventually include seven children, moved to Hollywood where Paul wrote for The Loretta Young Show and Bonanza.

Entering mid-life, Mary decided she wanted her children to experience spending the summer in the big, white, family home in Crossville.

That resulted in the "temporary" visit.

"So I am pushing 30 years here, altogether," continued Crabtree. "First as co-producing, directing with my mother, then as solo producing director since 1984."

"It's my conviction that talent exists everywhere," he stressed. "The question is - can you keep your talented people at home? Or, do all of the talented have to move to New York, Los Angeles or London in order to make a living in the performing arts? What we strive to do is to be an employment hub for the performing arts in our region. And we strive to train talent."



Madame de la Grande Bouche played by Jesse Graham whose father is the mayor of Crossville, Holli O'Brien as Belle and Wesley Webster as Mrs. Potts. Photos by Tracy Knauss for Cumberland County Playhouse
"We have an example of a young professional, Jesse Graham, who is back with us this summer. She's has had a very successful year since graduating from us and the University of Tennessee. She is playing the wardrobe, Madame de la Grande Bouche."

"Our theater is the only organization, that I know of in the world, that defines itself as both professional and community theater," continued Crabtree."

"We strive to combine a non union professional company with occasional Equity guest artists and volunteers, all of whom are committed to excellence and all of whom are trained and experienced."

"Like any other non-profit arts organization we operate on a limited resources. We have about a $2.5 million budget annually," said Crabtree about the Playhouse which serves more than 145,000 visitors annually with two indoor and two outdoor states, young audience productions, a comprehensive dance program, a concert series and touring shows. The Cumberland County Playhouse is the only non-profit professional performing arts organization in Tennessee that wholly owns and operates its own major performance facility.

"We have the double burden of supporting both of our facilities and our programming, which is rare in Tennessee," he stressed.

"Most organizations in Tennessee perform in subsidized municipal, university or state built and owned facilities."



Eldar Valiev and Lilia Valieva who trained at the Kirov School of Ballet in St. Petersburg, Russia. head the Playhouse's professional dance staff. Photo: Cumberland Playhouse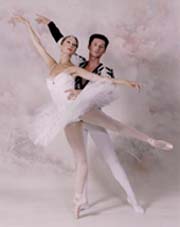 "When the theater was built the interstate wasn't even complete through Cumberland county," he related. "You had to get off the interstate and drive up the mountain on a two lane highway, get back on the interstate and go back down the mountain on the other side. Crossville got it's name because it was the cross roads. It was the place you went through on your way to some place else. We have played a major role is making Crossville a destination. And, thanks to the interstate, it's become an ideal location for a theater, in that we are now located within easy driving distance of Knoxville, Nashville and Chattanooga."

"There are many families who are in their third generation of involvement with the playhouse," he bragged while admitting they couldn't survive without the volunteers.

"No, absolutely not. Well, we might survive but we wouldn't have as much fun. And, we could not produce many of the works that we do produce, including Beauty and the Beast. We could not afford to. The ticket cost would be impossible for the folks in our rural region. As it is, you can see a complete production of Beauty and the Beast here for less than a third of what it costs on Broadway. $28 is our top and a child or a student can come in for $14."

"Our mission is to bring theater into the lives of people for whom theater would probably be impossible for them to see - a once in a life time opportunity," added Miller Leonard, Creative Director of Advertising and Publicity. "If you could see where we are, the poverty level. They could never afford to go to New York. Many of them don't have cars that could make it 60 miles to Chattanooga to see a touring company. So, we've provided an unbelievable opportunity."

"That certainly has been the case," concurred Crabtree.

The audience is not restricted by age. Children under age five are admitted, although that has been learning experience.

"We tend to assign an age range to our properties. With Beauty and the Beast we say it's for the entire family. But, we have found that, with a vivid portrayal of a roaring beast, we've had several instances in which the youngest children - two and three years old - might be frightened and have to be taken out of the auditorium. We don't have an age restriction, but we do caution people about the suitability of particular shows. And, in general most live theater shows are not suited for very young children. I know at least one theater that is producing Beauty and the Beast later this summer, Music Theater for Wichita, that is scheduling a couple of special matinees for young children with parents. That may be a good idea."

"It was the spirit of those early years and the founding of the theater that lead me to go into the theater professional," recalled the graduate of Middle Tennessee State University, who received an M.F.A. from Yale School of Drama and taught at Yale, Connecticut College and the University of the South. "The sense of community and the sense of family is really what drew me back here after graduate school and teaching and directing in the Northeast."

What is usually a mutually exclusive existence, Crabtree has made happen.

"I have a small town lifestyle and a career in the arts. That is a very difficult combination to make happen for oneself. I have the best of both worlds," he declared.

"Most of the people who are most successful in the New York theater, including Rodgers and Hammerstein, had country places that they went to every week-end, and in the summers, to get out of New York. I do it the other way around."

"We are committed to the development and employment of Tennessee talent and talent from the southeastern United States," he emphasized. "We continue to audition in New York and we have a few people cast from New York auditions in our two shows this summer. But, we have 35 professionals and another 35 volunteers who are all from Tennessee."

"For some people the small town lifestyle is not their cup of tea," he warned about life in the slow lane. "Not everybody who works in the theater is really drawn to an off the beaten path place that is unlikely to advance their credits for Broadway - at least not at first glance."

"Many of the people who have worked with us have the ability to compete successfully in New York," he declared and then cautioned, "but competing successfully in New York means getting two or three jobs a year and spending a lot of time waiting tables or working in some other capacity in a day job. It's an infinitesimally small percentage of the acting pool in New York that is employed, even as much as 30-40 weeks a year."

"People that work here are people who enjoy the work and who are focused and centered on the craft. They enjoy the community of people who work and play here. And, like me, discovered that they enjoy a small town life style while having a career in the arts."

"There has been a commitment to excellence here and the public has responded to it."


DAMN THE PROFANITY


Language that pleases the community or ulterior research motive?



Opened March 16, 1968 at the 46th Street Theater and ran for 1217 performances. Starred; William Daniels, Paul Hecht, Clifford David, Roy Poole - with David Ford, Ken Howard, and Betty Buckley.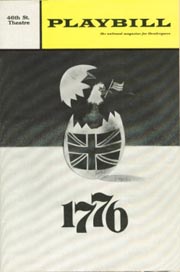 The Tony award winning musical 1776, with a book by Peter Stone and music and lyrics by Serman Edwards, is a favorite of Broadway To Vegas. Thoroughly enjoyed seeing both the original and revival productions on Broadway, also the movie and even own the RCA Columbia pictures video - which possesses a G rating.

The marvelous musical opened Saturday at the 530-seat Hale Centre Theatre in West Valley City, Utah. We hope their production, which runs through August 21, is SRO.

They requested permission to remove language they felt would be offensive to their community standards. That resulted in a newspaper article which caught our attention.

It is understandable and appropriate that a request was made to remove language which might offend their customers.

We have no quarrel with theaters seeking permission to soften language. The question concerns the appropriateness of receiving permission to soften language and then use that permission as a tool to bolster any other argument or reasoning - be it secular, religious, scientific or convoluted.

After receiving permission from Musical Theatre International - which licenses the musical and thus represents the deceased authors - to soften the language, an article appeared in the Deseret News a well respected Salt Lake City newspaper.

That article, while addressing the removal of profanity, drew attention to another motive - an individual's research and contention that gentlemen of breeding of that era did not use profanity and that was the reason permission to cut was granted. While denying that they had "Mormonized" the play, the accusation was that author Stone and lyricist Edwards did not accurately portray the way a learned gentleman would speak.

Hogwash is one seven letter word that comes to mind.



The 1997 revival at the Gershwin Theatre starred Gregg Edelman, John Herrera, Macintyre Dixon, Brent Spiner, Lauren Ward, Linda Emond and Pat Hingle Merwiv Fourd, Paul Michael Valley, Richard Poe, Lauren Ward, Carolee Carmello, Tom Aldredge and Guy Paul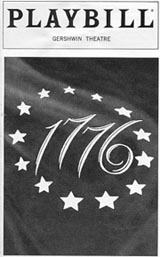 Stone, one of the most accomplished Broadway bookwriters, graduated from Bard College and earned an MFA from the Yale School of Drama. A triple threat winner, having been awarded Emmy, Tony and Academy Awards, he passed away April 26, 2003.

In addition to writing popular music, including the hit songs Broken-Hearted Melody (lyrics by Hal David), See You in September (music and lyrics co-written by Sid Wayne) and Wonderful, Wonderful (lyrics by Ben Raleigh) the Tony award winning Sherman Edwards taught American history at James Monroe High School in New York City. After earning an undergraduate degree in history, at New York University, he later did graduate work in history at Cornell University. He died March 30, 1981.

Broadway To Vegas spoke with Michael Mc Donough, manager of the non-equity licensing division for Musical Theatre International.

According to the Deseret News article:

"Producers Mark and Sally Dietlein backed up their request to trim back the profanity with research conducted previously by Vivian Adams (daughter of the late LDS leader Bruce R. McConkie)."

"The language attributed to the Founding Fathers in 1776 is contrary to the tenor of the times and the personalities portrayed. There is no historical justification for the use of profane language here."

The paper continued:

"In excerpts from several pages of her commentary, Vivian Adams noted that "Perhaps John Adams would have said things as 'God forbid,' 'God willing' (or) 'God-forsaken.' He did refer to Providence. There are quotes from time to time in which some of these men used strong language, but it was not by any means the general language of their civil or social dealings."

The article printed:

"She specifically noted that the language running all through the script and music for 1776 would be ". . . incompliant with common law in polite society of the time — certainly not what educated, wealthy men of standing would have stooped to use at the time."

Arguments could be made to the contrary, although how the people spoke is not the licensing issue, nor is the behavior of the times; regardless that virtually all the men went through life with a snoot full. Thomas Jefferson, George Washington, Paul Revere, John Hancock, and Benjamin Franklin had gout, claimed to have been brought on by downing too much "The Good Creature of God," which is how an alcoholic drink was categorized.

Several of the lines in 1776, which include the word Lord, are exact quotes taken from letters penned by George Washington.

Executive Producer Sally Dietlein is quoted in the newspaper article as saying "she believes that "Peter Stone, who wrote the script for 1776, infused today's rough language into a polished past. He assumed the commonality of his speech was conversational at the time. That incorrect assumption also bled into Sherman Edwards' lyrics. "I am relieved that we received permission from Music Theatre International and the author to rectify the language."

What the Utah production was given was permission to edit out vulgar language that might be objectionable to their customers. They were not given permission to "rectify the language" in the play by correcting or re-writing it, nor did the agreement by Music Theatre International sanction and approve any research. In fact, Broadway To Vegas was told no historical research had been presented to them.

"They didn't ask us specifically and tell us why," answered McDonough. "They just told us community standards were the reason. That they have a family audience, a huge community, family audience type venue and that they wanted to take out some of the language that they believed to be offensive to their audience, which is fine in almost all cases."

"They made a request to take out what they felt was foul language and we granted their request," he said.

"We don't concern ourselves with marketing claims," he continued. "If they wanted to change the playwright's intent or if they wanted to cut a number and gave that as a reason then we would say no."

Question: Somebody writes a play that has John Adams speaking pig Latin. You are the licensing agency. Somebody charges that they can't find any historical documentation that shows he ever spoke pig Latin, and their audience is offended by anything having to do with pigs. Therefore, they want to change the language from pig Latin to something else. Wouldn't you just say - go write your own play?

"Yes, " he answered.

As for the play itself, according to the Deseret News report, "Tamara Adams said that although everyone knows what the eventual outcome is - the ratification of the controversial declaration - the suspense still builds to the final result. "All the material in the production is true but the sequence of some events have been changed for dramatic license."

"I think they are saying that the book, the libretto as written, is not historically event for event, isn't that what they mean?" he questioned then cautioned; "They can't change the play."

Peter Stone did write a lot of "Oh, my God" lines, raising the possibility that some venues might want to remove some phrases.

"He peppered the play with Gods, damn and hells," injected McDonough.

If 'God" or 'hell' is removed it isn't going to alter the meaning of the show. However, if the removal of those words is then presented to the community as a sort of victory in a history argument never presented to Musical Theater International - that the author had misrepresented the times - is that the purpose of Music Theater International - to be used as evidence in an argument that doesn't relate to licensing?

"No," he exclaimed. "They can take the language out. Going on and saying why and basically fibbing about it - I don't like that at all. I'm not pleased with this."

"It might be true and it might not be true, (that dialogue written by Stone was spoken by men of that era) but it is none of their business to change it for that reason," stated McDonough.



Stephen Schwartz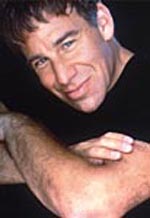 "We have also gotten letters from a lot of religious groups wanting to do Children of Eden," he continued.

"They say - it's not exactly the book of Genesis. The book of Genesis does this or the New Testament or the Old Testament says this, that, and the other. We say - Well, it's a dramatic drama. It's Steven Schwartz writing a show. If you want to perform the Bible, open it and start."

"You can't change it. I'm sorry if he didn't represent it the way you wanted," continued McDonough. "You're free to do it or not to do it."

As to anybody who might think Music Theater International can be swayed by arguments that do not pertain to licensing and legal rights, McDonough had a two word comment; "Oh, baloney."

To try to figure out what the $%##@ fuss was all about Broadway To Vegas screened the 148 minutes long film video and - line by line - tracked phrases that fell under the deity/profane category.

WORDS IN THE DIALOGUE NUMBER OF TIMES SAID

VOTE, DAMN YOU 1
TOO DAMN HOT 1
DAMN IT 9
DAMN THING 1
DAMN 4
MY GOD 1
BY GOD 3
GOOD GOD! 8
DEAR GOD 2
GOD HELP US! 1
GOD KNOWS 1
OH, GOOD GOD 5
OH, MY GOD 1
DEAR GOD, WHAT GRAVE MEN I SHALL LOSE 1
GOD BLESS YOU, SIR 1
SWEET JESUS 5
HELL 1
LIKE HELL I AM 1
WHAT THE HELL 2
WHY, HELL 1
LIVELY AS HELL 1
HELL, YES 1
WHY IN THE BLOODY HELL 1
TO HELL WITH NEW YORK 1
WHAT IN HELL ARE YOU WAITING FOR? 1
WHERE IN THE HELL ARE YOU? 1
GOOD LORD, SIR 1
LORD, YOUR VOICE IS PIERCING 1
MY ASS 1
OH, FOR HEAVEN'S SAKE 1
IN HEAVEN'S NAME 1
DAMN THE MAN 1
GOD DAMN THE MAN 1
GOD, WHAT A BASTERDLY BUNCH WE ARE 1
MATTHEW, CHAPTER 6, VERSE 26 1
WHERE IN GOD'S NAME 1
I PRAY GOD THAT SOME RELIEF ARRIVES SOON 1

WORDS IN LYRICS NUMBER OF TIMES USED

THEY SAID GOD IN HEAVEN IS EVERYBODY'S GOD 1
I ADMIT THAT GOD IN HEAVEN IS EVERYBODY'S GOD 1
GOD LEANS A LITTLE BIT ON THE SIDE OF ... 1
AMEN 1
MY GOD 1
GOD KNOWS THE TEMPERATURE IS HOT ENOUGH 2
FOR THE LOVE OF GOD 1
FOR GOD'S SAKE 4
GOOD GOD! 1
GOOD HEAVENS, NO 1
DAMN IT 1
DAMN YOU 1
GOD BLESS THE MAN WHO CAN FIDDLE 1
FOR GOD'S SAKE SIT DOWN 2
WE SAY TO HELL 1
THEY'LL BE HELL TO PAY 1
HELL, NO 1



Broadway To Vegas is supported through advertising and donations. Priority consideration is given to interview suggestions, news, press releases, etc from paid supporters. However, no paid supporters control, alter, edit, or in any way manipulate the content of this site. Your donation is appreciated. We accept PAYPAL. Thank you for your interest.


SPREADING THE WORD


SPIES, LIES AND NAKED THIGHS International Spy Museum board member and author H. Keith Melton discusses the various tricks of "sexpionage." The program includes KGB sexual entrapment videos and details about Russian "honey traps." This lecture on the history of sexpionage -- spies who stop at nothing to get their man or woman requires that attendees must be 18 or older. July 14 at International Spy Museum in Washington, D.C.

NOONTIME TALK: ON SUNSET BOULEVARD The Live and Times of Billy Wilder. In this talk, biographer Ed Sikov tells the story of Polish-born Billy Wilder, director of films including Double Indemnity, Some Like It Hot and Sunset Boulevard, one of the last directors of Hollywood's Golden Age, and the subject of the book On Sunset Boulevard. Monday, July 12 at Makor in NYC.


OTHER PEOPLE'S MONEY


A RAISIN IN THE SUN the Tony award winning Broadway revival, recouped it's $2.5 million investment in just nine weeks.

LEAGUE OF AMERICAN THEATRES AND PRODUCERS last Saturday rejected what was termed a "final offer" from The Actor's Equity Association. That union will hold an emergency meeting on Monday, July 12, to determine the next course of action. Actor's Equity represents about 45,000 actors and stage managers across the country. The union voted in favor of a strike last month.



AUNTIE MAME

Photo Collage by David Rodgers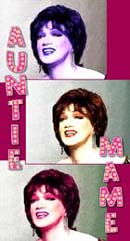 by Jerome Lawrence & Robert E. Lee.


Starring; Tolan Aman, Kerrie Blaisdell, Charles Busch, Penny Fuller, Jennifer Harmon, Michael McCormick, Susan Pourfar, Gordana Rashovich, Victor Slezak, Patrick Ryan Sullivan and Max Von Essen.

"Life is a banquet!" says Auntie Mame, and with the incomparable Charles Busch as the insatiable Mame Dennis, you'd better take your seat at the table early.

This modern day non-musical classic is the perfect summer-time treat!

Auntie Mame is produced in association with Ogunquit Playhouse Opens Tuesday, July 13 with performances through Sunday, August 1.

The Bay Street Theatre on Long Wharf, in Sag Harbor, NY.

CHICAGO at the Adelphi Theatre in London's West End welcomes Baywatch star David Hasselhoff to the role of scheming lawyer Billy Flynn. This will mark Hasselhoff's debut on the British stage. Hasselhoff, 51, is slated to appear in 60 performances starting July 16.

JERRY SPRINGER THE OPERA welcomes David Soul who takes over the lead in the London West End production on July 12, two days after original lead, Michael Brandon, leaves.

Best known as the Hutch half of Starsky and Hutch, Soul has been acting onstage since the mid-1960s. He was an original member of the Firehouse Theater Company in Minneapolis, Minnesota. In 1965, he moved to New York with the company.

Jerry Springer - The Opera is based on America's most lurid talk show and the U.S. host who brought worldwide television audiences programs entitled: Pregnant by a Transsexual, Here Come the Hookers, and I Refuse to Wear Clothes.

The show features music by Richard Thomas and book and lyrics by Thomas and Stewart Lee, who also directs.

The musical was a hit at the 2002 Edinburgh Fringe Festival and opened to rave reviews at the National's Lyttelton Theatre on April 29, 2003. It complete a sold-out extended run there on September 30 and then transferred to the Cambridge Theatre in the West End. In addition to running in the West End, Jerry Springer is scheduled to have a six-week pre-Broadway tryout at San Francisco's Orpheum Theatre in early spring 2005 and open on Broadway on October 20, 2005.

DAMN YANKEES George Abbott's delightful Broadway hit with songs by Richard Adler and Jerry Ross, directed by Starlight Associate Artistic Director Jeannette Thomas.

Steven Glaudini as Applegate, Monica Schneider as Lola and Robert J. Townsend as Joe Hardy; Susan Boland, Anita Colet, Beth Crosby, Michael Grant Hall, Daniel Greene, Jim Marshall, Michel Napolitano, Kim Neblett, Eloise Potomac, James Rouse, Robert Stark; and an ensemble of 23; costumes designed by Sparks Moeller.

Playing Thursday July 15 through Sunday, July 25 at the Starlight Bowl located in Balboa Park, adjacent to the Aerospace Museum, San Diego, CA.

BUBBLING BROWN SUGAR starring Tony Award winner and Best Actress Oscar nominee Diahann Carroll - in conjunction with the National Black Arts Festival.

Tony Award winner George Faison directs.

This delightful musical reminds a younger generation of the rich heritage left to them from those early days. The show is filled with spectacular dance numbers, gorgeous costumes and scintillating settings like the Savoy Ballroom and the Cotton Club.

The Tony-nominated musical includes a rich musical catalog with songs like Stompin' at the Savoy, Take The A' Train, Swing Low Sweet Chariot, Sweet Georgia Brown, It Don't Mean A Thing, Ain't Misbehavin' and of course Bubbling Brown Sugar!

Opens July 16 at the Fox Theatre in Atlanta.

TOAST written and performed by Elisa DeCarlo.

Toasted is the true story of Elisa DeCarlo who was caught in a media tsunami that brought her celebrity and turmoil, ultimately leading to the arrest and conviction of a confessed murderer.

It's March 1998. After a drunken party, DeCarlo checked her email to discover a shocking, detailed confession of murder. Out of 200 participants in an online chat room, only DeCarlo and two other people went to the police. The case made international headlines, including The New York Times, The Los Angeles Times, and Dateline NBC.

"I was caught in a media tsunami that culminates in my becoming famous (for all the wrong reasons) and to the arrest and conviction of the man whose confession started it all," wrote DeCarlo.

Part of the 2004 Midtown International Theatre Festival. July 14 29 at the Workshop Theater's Jewel Box.

NERDS< world premiere of a musical by Jordan Allen-Dutton. Erik Weiner, the creators of the off–Broadway hit The Bomb-itty of Errors. Music by Hal Goldberg. A "musical software satire," Nerds follows the lives of two technological geniuses, as they blaze a path from being "garage inventors" to warring titans of the computer revolution. Performances July 15 through 18 in Vassar's Martel Theater, Vassar College Poughkeepsie, NY.

WHERE'S CHARLEY in production at the Goodspeed Opera House, is based on Brandon Thomas' Charley's Aunt. Music and Lyrics by Frank Loesser with a book by George Abbott. Directed and Designed by Tony Walton. Choreographed by Lisa Shriver. Noah Racey stars as Charley Wykeham.

First Friday Happy Hour takes place July 16. Pre-show happy hour featuring an introductory talk by a member of ther creative staff with free appetizers from La Vita Gustosa, East Haddam, Conn.

THE KING AND I This Rodgers & Hammerstein classic is one of the all-time marvels of the musical stage. East versus West makes for a dramatic, richly textured and ultimately uplifting tale of enormous fascination. Anna and the King struggle to understand and, eventually, respect one another's traditions and values in a love story that rings true even today. And the award-winning score will have you whistling all the way home! July 13-18 at the Starlight Theatre in Kansas City, MO.

JULIAN FLEISHER & MARTHA PLIMPTON Together Again for the Third Time. An evening of song, story and stoli directed by Robert Egan, with promises of Good songs, good friends, good vodka.

Opens Friday, July 16th at The Actors Gang El Centro Theatre in Hollywood, CA.

A MIDSUMMER NIGHT'S DREAM Nicholas Martin directs Shakespeare's most magical play with a cast that includes Kate Burton, Andrea Martin, and a cast full of Festival alumni.

Sound by Jerry Yager. Sets by Alexander Dodge. Composer is Michael Friedman. Costumes by Michael Krass. Stage Manager Kelley Kirkpatrick.

Lighting by Donald Holder.

The cast includes; David Lansbury, Jonathan Fried, Dashiell Eaves, Jon Patrick Walker, John Forest, Lee Wilkof, Sam Breslin Wright, Jeremy Shamos, Rod McLachan, Andrea Martin, Brooks Ashmanskas, Jennifer Van Dyck, Jessica Stone, Kathryn Hahn, John Bedford Lloyd, Kate Burton, Christopher Fitzgerald, Kelly McCreary, Reginald Veneziano, Erin McMonagle, Morgan Ritchie, and Louis Ozawa Changchein.

Fairies; Kate Berton, Lauren Blumenfeld, Lee Briggs, Morgan Cox, Benjamin Curley, Craig De Lorenzo, Alexander Demers, Katherine Emmer, Genevieve Gearhart, Susan Goodwillie, Sachi Grandoit, Rachel Handshaw, Michael Hoagland, Erik Kaiko, Matt Kenney, Charlotte Ritchie, Greg Roman, Erin Salm, Emily Simones, Ben Sinclair, Amos Wolff, and Reema Zaman.

July 14-25. Williamstown Theatre Festival in Williamstown, MA.


CURTAIN DOWN


ASSASSINS which won five 2004 Tony Awards - including Best Revival of a Musical, is set to close at Studio 54 on July 18. The musical revival had been booking through September 12. At the time it closes, the production will have played 26 previews and 93 performances.


| | | |
| --- | --- | --- |
| | | |
WHO'S WHERE


ELTON JOHN And His Band and with Symphony Orchestra entertain July 13, 14, 16, 17 & 18 at Radio City Music Hall in NYC.

LYLE LOVETT the tall, lanky Texas gentleman with the refreshing cerebral style - is known for his signature blend of country, rock, folk, jazz, swing, gospel and blues. This four-time Grammy winner pushes borders and charms audiences with his bluesy serenades and deadpan wit. July 18 at the Grand Opera House in Wilmington, Delaware.

PETULA CLARK entertaining at the Hummingbird Centre in Toronto on Monday, July 12. On Wednesday she holds court at the Hollywood Bowl in Los Angeles. Thursday finds her on stage at Humphrey's By The Bay in San Diego.

THE BEACH BOYS bring their surf music to Chastain Park Amphitheatre in Atlanta, Georgia on Wednesday, July 14. On Thursday then open a two nighter at the Horseshoe Casino in Robinsonville, Mississippi.

PETER CINCOTTI center sage Friday at the Center for the Arts in Opelika, Alabama. On Saturday he can be enjoyed at the Farthing Auditorium at ASU in Boone, N.C.

DAVE MATTHEWS BAND perform tonight at the Nissan Pavilion in Bristow, VA. On Tuesday the show is at the Darien Lake Six Flags Performing Arts Center in Darien Center, N.Y. Wednesday finds the group on stage at Merrieweather Post in Columbia, MD. Friday the begin a two night stand at the ctnow.com Meadows Music at Hartford,CT.

HUEY LEWIS AND THE NEWS in the spotlight Friday at Rock Fest in Cadott, Wisconsin. Saturday they are in the spotlight at Moondance Jam in Walker, MN.

ZZ TOP perform on Stage 12 Camrose Exhibition on Camrose, Alberta Canada this evening. On Wednesday the group takes part in the Moon Dance Ranch Jam in Walker, MN. Friday they are at Bayfest 2004 at Sarnia, Ontario, Canada and on Saturday they entertain at Jamboree in the Hills in St. Clairsville, OH.

PRINCE opens a three night stand Monday at Madison Square Garden in NYC. On Friday it's the beginning of a two nighter at the Continental Airlines Arena in East Rutherford, N.J.

HARRY CONNICK, JR on stage Thursday at Sun Valley Outdoor Pavilion in Sun Valley, Idaho. On Friday he can be enjoyed at Abravanel Hall in Salt Lake City. Saturday finds him in the spotlight at Red Rocks Amphitheatre in Morrison, Colorado. Next Sunday he's on stage at Sandia Casino in Albuquerque, NM.

DIANA KRALL performs this evening at Bass Performance Hall in Fort Worth, Texas. On Tuesday she is in the spotlight at the Coors Amphitheatre in Engelwood, Colorado. Wednesday finds her at Abravanel Hall in Salt Lake City, Utah. On Friday she opens a two nighter at the Greek Theatre in Los Angeles.

ROD STEWART performs Monday, July 12 at the Montage Mountain AMphitheatre in Scranton, PA. On Thursday he can be enjoyed at the Corel Centre in Ottawa, Ontario and he closes out the week, Saturday, at the Molson Amphitheatre in Toronto, Omtario.

CHRIS ISSAK entertains Tuesday at the Westbury Music Fair in Westbury, NY. On Wednesday the performer is at FleetBoston Pavilion in Boston. Thursday finds him on stage at the Cape Cod Melody Tent in Hyannis, MA. Saturday he opens at the Toronto Blues Festival in Toronto, ON.

JOAN RIVERS AND DON RICKLES in a one two insult punch July 17 at Adrian Phillis Ballroom in Atlantic City.

THE SIOUX FALLS JAZZ & BLUES FESTIVAL JazzFest, will be held at Yankton Trail Park in Sioux Falls, SD on Friday, July 16 and Saturday, July 17. The performance schedule includes; Dickey Betts and Great Southern, Shane Henry, Jimmy Thackery and the Drivers, Chris Botti, Wumpus, Skunk Willy and the Antibots and others. JazzFest is free. Sioux Falls, South Dakota.

CAROLE KING singing about vain men Thursday at Auditorium Theatre in Chicago. Friday she's on stage at Tower City Amphitheater in Cleveland.

MAUREEN McGOVERN brings her beautiful voice to the Hollywood Bowl in Los Angeles on Wednesday, July 14.

BIG BAD VOODOO DADDY celebrating Bastille Days in Milwaukee ,Wisconsin tonight. On Monday they perform at The Ark in Ann Arbor, MI.

THE EDGAR WINTER GROUP on stage July 17 at B.B. King Blues Club in NYC.

JOHNNY MATHIS on stage July 16 at the Cape Cod Melody Tent in Hyannis, MA and on Sunday, July 18, at the So. Shore Music Circus in Cohasset, MA.

PAULA POUNDSTONE telling funny stories Thursday, July 15 through August, July 18 at the Improv in West Palm Beach, Florida.

MAYNARD FERGUSON & HIS BIG BOP NOUVEAU BAND perform July 13 - 18 at B.B. King Blues Club in NYC.
















Next Column: July 18, 2004
Copyright: July 11, 2004. All Rights Reserved. Reviews, Interviews, Commentary, Photographs or Graphics from any Broadway To Vegas (TM) columns may not be published, broadcast, rewritten, utilized as leads, or used in any manner without permission, compensation/credit.
Link to Main Page
---
Laura Deni


CLICK HERE FOR COMMENT SECTION