! >
Broadway To Vegas
  
  REVIEWS  INTERVIEWS COMMENTARY NEWS

| | |
| --- | --- |
| | |
WILLIAM AND KATE CHARM HOLLYWOOD - - THE MERRY WIDOW CD REVIEW - - UTAH SHAKESPEARE FESTIVAL CELEBRATES 50 YEARS - - FINAL HARRY POTTER PREMIERE - - INTERNATIONAL SPY MUSEUM HOSTS SPY SEMINAR SERIES AT FORD'S THEATRE - - KELSEY GRAMMER AUSTRALIA BOUND - - GLAMOUR OF THE GODS HOLLYWOOD PORTRAITS - - MUSIC FROM THE MOVIES - - DONATE . . . Scroll Down



PRINCE WILLIAM AND KATE OUTSHINE HOLLYWOOD STARS
William and Kate wave to onlookers as they arrive for the BAFTA Brits To Watch Gala. Kate is stunning in a capped sleeve, pleated,lavender-grey chiffon gown by Alexander McQueen and earrings lent to her by the Queen. The charming couple walked the red carpet with BAFTA Chief Executive Officer Amanda Berry. Credit: Kevork Djansezian; Photos: Getty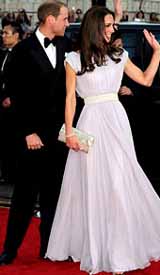 It was the biggest social event of the year - perhaps the decade.

Hollywood royalty rolled out the red carpet and eagerly bowed down before the real deal when Prince William and his new bride, Kate, made a well orchestrated, jammed packed three day stop to California.

Having made Canada theirs, the newlyweds then charmed Southern California - their first overseas assignment since their glittering nuptials April 29.

The couple has been highlighting USA-U.K. ties and raising money for royal causes.

The sought after klieg-light soiree invite was the July 9 sit-down dinner at the restored 1920s Belasco Theater in Los Angeles, the inaugural 'BAFTA Brits to Watch' event.

Tickets to the black-tie affair were available only to studios, networks, talent agencies and video game companies.

Universal, 20th Century Fox, Warner Bros. and Disney raced to pony up for the $25,000 tables.

The Belasco is capable of holding about 25 tables with the number of attendees being about 250. Two of the British talents being saluted were seated at each table.



Dapper Tom Hanks and his beautiful wife Rita Wilson arrive at the BAFTA Brits To Watch Gala. Credit: Kevork Djansezian; Photos: Getty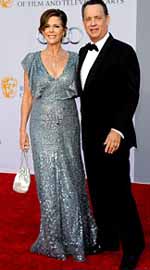 Snagging a ticket - BAFTA Award winner Barbra Streisand, royal regular Tom Hanks, who recently attended a Buckingham Palace banquet hosted by Queen Elizabeth. Kristen Chenoweth, who was also a Buckingham Palace dinner guest, is on the attendance list as is Ginnifer Goodwin and Jack Black, who has previously been presented to Prince Charles.

Some of the others receiving an invite - Lucy Davis, best known for playing Dawn in The Office, and her husband Owain Yeoman who plays Wayne Rigsby in The Mentalist, Jennifer Lopez, Desperate Housewives star Dana Delany, Nicole Kidman, Judd Apatow, Paul Rudd, Jason Reitman and Ryan Reynolds.

William is president British Academy for Film and Television Arts (BAFTA). The purpose of the Hollywood gala was to introduce young British talent to Hollywood executives and studio bosses. Examples of their work were showcased throughout the evening and distributed to the attendees afterwards.

The evening isn't really about them but honoring the select 42, who will remember the evening - because of them for as long as they live.

One of the evening highlight was a massive video showcasing the success of Brits in America.

The BAFTA banquet highlighted the depth and range of British talent currently emerging in film, television and video games.

The black tie gala presented the 42 BAFTA Brits to Watch who were selected by an expert BAFTA panel. The young talent pool met the Royal couple and mingled with powerful, take-a-meeting Hollywood executives.

BAFTA's Brits to Watch:

Rory Aitken, Producer
James Bobin, Writer/Director
Jessica Brown Findlay, Actress
David Buckley, Composer
Jamie Bull, Editor
Sam Care, Cinematographer
Joe Cornish, Writer/Director
Damian Daniel, Cinematographer
Brynach Day, Student (Director)
Patrick Dickinson, Student (Director)
Sabrina Doyle, Student (Director)
Gareth Edwards,Director
Charles Griffiths, Video Games Designer
Nick Holt, Documentary Director
Tom Hughes, Actor
Daniel Kaluuya, Actor/Writer
Ben Lambert,Visual Effects Artist
Anna Lavelle, Production Designer
Harry Lloyd, Actor
Victoria Mather, Animator
Gugu Mbatha-Raw, Actress
Lou McLoughlan, Student (Director)
Jules Nurrish, Student (Writer/Director)
Folashadé Olagundoye, Production Designer
Debs Paterson, Director
Liza Rhea, Student (Animation)
Talulah Riley, Actress
Oliver Riley-Smith, Student (Writer/Director/Producer)
Caroline Skinner, Producer
Rupert Smith, Director
Katie Sole, Producer
Kate Solomon, Producer
Adrian Sturges, Producer
Juno Temple, Actress
Jack Thorne, Writer
Rachel Tunnard, Editor/Writer
Matt Turner, Video Games Designer
Nathan Walster, Visual Effects Artist
James Watkins, Writer/Director
Dave Whyte, Animator/Graphic Designer
Owain Yeoman, Actor
Aaron Young, Documentary Director/Producer

BAFTA Chairman Tim Corrie said: "We are incredibly excited by the prospect of bringing some of the most talented emerging Brits in film, television and video games to the attention of arguably the most important people in the moving image industries today. We hope this will be only the first of a number of amazing opportunities for us to champion our very finest on-screen talent and behind-the-camera practitioners to the leading names in California."

Nigel Lythgoe, chairman of BAFTA in Los Angeles, said: "This very special event is an excellent extension of BAFTA's charitable work in Los Angeles, and around the world. Promoting the individual and collective achievements of our most promising emerging British talent is such an important part of our remit, whilst encouraging goodwill for the UK and opening further opportunities for UK-US collaboration. Being given the opportunity of meeting Hollywood's elite will provide a highly significant and beneficial moment for them, especially at such a formative stage of their careers."

Profits from the event will be used as part of the event's legacy to continue to promote and support emerging British talent in Los Angeles through future events, scholarships and mentoring schemes.



Prince William and Kate stayed at the residence of the British Consul-General Dame Barbara Hay. The Residence was designed by the renowned Los Angeles architect, Wallace Neff and completed in 1928. It has 7 bedrooms and 7 baths and been the home of successive British Consuls-General since the British Government purchased it in 1957.
The American leg of the Will and Kate successful invasion began Friday when the couple arrived at 3:55 pm via a Canadian Forces A330 at Los Angeles International Airport. They were greeted by Gov. Jerry Brown and his wife, Anne Gust, who presented Kate with a red, white and blue bouquet created from lily of the valley, roses, Sweet William, corn flower and galax leaves. Gov. Brown said, "Welcome to America."

Also making the couple feel at home were Los Angeles Mayor Antonio Villaraigosa, Britain's ambassador to the U.S.,career diplomat Sir Nigel Sheinwald who was Tony Blair's top foreign policy adviser for four years, David Fransen, Canada's consul general in Los Angeles, and Dame Barbara Hay, who is the British Consul-General.

When Kate boarded the flight from Canada to Los Angeles she was wearing a red satin and wool scarlet coat-dress by Catherine Walker. She changed aboard the flight and emerged in Los Angeles wearing a light-blue-grey cowl-neck dress by Roksanda Ilincic.

On line at Matches Fashion the dress is described as:

"Light blue grey. Draped neck to one side. Cap sleeves. Pleats down from drape neck to waist band. Pleated skirt. White tulle neckline and cuff trim. Centre back pleats. Small pleated panels from back waist band. Exposed centre back zip. Beige grosgrain front tie."

The royal couple jumped into a dark Range Rover and were escorted to the Beverly Hills Hilton by a motorcade of ten vehicles including CIA agents, LAPD and CHP officers.



The Duchess of Cambridge entering the Beverly Hills Hilton Hotel wearing the blue-grey dress by Roksanda Ilincic. Photo: Todd Williamson/Getty Images

That is a tad bit different from the time William's father, Prince Charles, visited Los Angeles. Also met at the airport by Gov. Jerry Brown, in his first go around in the office, Brown's chariot choice for the heir to the throne was his blue Plymouth sedan. The #1 guy in California gave The Prince of Wales a book on space colonies and the two stopped to snack on cold cuts.

A considerately more extravagant menu would greet the newlyweds later in the evening.

The royal couple's first duty was to attend a conference on venture capital and new media put on by Variety magazine at the Beverly Hills Hilton Hotel.

That business event was in support of U.K. Trade and Investment, which is a group that brings together British and American technologists and Venture capitalists to find new avenues for investment and creating jobs in the United States and the U.K.

That evening the Brit Week's annual VIP reception was held around the pool of Dame Hay's Hancock Park residence. 'The British Are Coming' is a cry California enjoys hearing. The United Kingdom is the state's largest source of international visitors, with 663,000 in 2009, according to the California Travel & Tourism Commission.

For the pool side mingle, Catherine changed into a green silk Maja dress by Diane von Furstenberg. She carried a Leopard print clutch bag by Net-a-Porter. Before that bag sold out, the label described it as: "Clutch has a detachable gold chain shoulder strap, a gold branch clasp fastening at top, an internal pouch pocket, a designer plaque at interior and is fully lined in satin. Designer color: Popcarn Black & Blush."

The gold charm bracelet that Kate wore was a wedding present from her step-mother-in-law, Camilla the Duchess of Cornwall.



Kate and William are welcomed to the pool side reception by Ambassador Sir Nigel Sheinwald. Kate is wearing a dress by Diana von Furstenberg. Her gold charm bracelet was a wedding gift from Camilla, the Duchess of Cornwall. Photo: Frazer Harrison/Getty Images for British Consul-General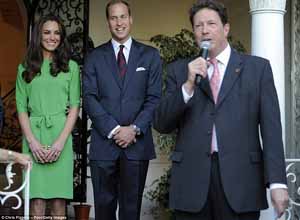 At the reception Gov. Brown presented the guests of honor an iPad 2. loaded with California related material including the show tune California, Here I Come, the Eagles' Hotel California and Tupac Shakur's as well as, among other uploads, the movie The Social Network and a brief history of Sir Francis Drake.

The selected 200 on the invite list who had an opportunity to chat with the delightful couple included; Los Angeles Mayor Antonio Villaraigosa, Assembly Speaker John A. Perez, L.A. City Councilman Tom LaBonge, USC President Max Nikias, UCLA Chancellor Gene Block and soccer star David Beckham, who had also attended their wedding.

According to the official menu, nobody went hungry. They were offered cheese, leek and onion mini quiche; chicken and mushroom bouchees; chipolata sausages; "devils on horseback" (bacon-wrapped prunes); endive with smoke salmon tartare; figs with goat cheese and prosciutto; parmesan scallion crostini with pear; Stilton tartlets with apricot chutney; Welsh rarebit; and Yorkshire puddings with roast beef and horseradish sauce.

When the evening was over, Will and Kate didn't have far to travel to their private bed and breakfast abode. They just went inside.

William and Kate stayed at the historic, Mediterranean style house, designed by the renowned Los Angeles architect, Wallace Neff in 1928. It has been the home of successive British Consuls-General since the British Government purchased it in 1957.

The house does have room for overnight guests - 7,247 square feet with seven bedrooms and bathrooms, but people were discouraged from just dropping by.

The LA Police Department has received no-trespassing contracts from the residents of seven homes surrounding the Hancock Park residence on June Street.

"Our primary concern is to protect the rights and privacy of the residents as well as the safety of the royal couple upon their visit here to the United States," said LAPD spokeswoman Mitz Fierro in a statement.

"If they trespass on property where we have a signed trespass letter, they will be arrested immediately."



William and Kate walk across the polo field. Photo: Getty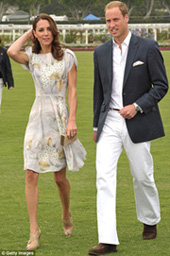 Yesterday, the Duke and Duchess attended the centenary event of the Santa Barbara Polo and Racquet Club, which was a charity event held in support of the American Friends of The Foundation of Prince William and Prince Harry, and the Duchess of Cambridge.

The foundation focuses on youth, the environment and armed forces.

"Our father and our mother instilled in us, from the word go, that with these great privileges goes an absolute responsibility to give back," Prince William posted on his website.

Three teams competed on an imported Bermudan grass field scrupulously trimmed to 7/16 of an inch.

The club has some pretty stringent rules - about everything - not only grass. When a noted Beverly Hills plastic surgeon was requested to attend Saturday's match in a professional "stand-by" mode, just in case any stiff upper lips required stitches, the medic told the press. He then received a call telling him his services would no longer be needed. Immediately, he was quoted as saying he no longer was interested in seeing the match.

He missed a good game, and nobody needed extensive medical attention.

Just as New York Yankee Derek Jeter reached his 3,000th hit with a home run, the personable royals were arriving by helicopter to the polo grounds.

The only home run the polo attendees cared about was their own - capturing the bragging rights for having spent some time with 'the man who would be king'.



Molly Sims walks the Tiffany red carpet on the way to the polo match Photo: Getty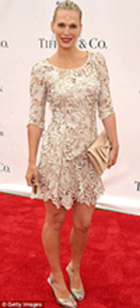 Jennifer Love Hewitt poses on a red carpet on the polo field. Photo: Getty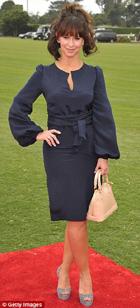 "My father, the Prince of Wales, and my brother, Harry, were as green as that grass outside when I told them I'd be here today.Catherine and I have had a busy few days - so the prospect of being able to let loose this afternoon is wonderful for me," William told a VIP reception where the deep pocket guests were treated to a private lunch catered by Food Network's Giada de Laurentiis.

On the menu: California chopped salad with parmesan frico and marinated giant shrimp, followed by sweetcorn lasagna with blistered tomatoes and roasted asparagus, and pea pesto and beef tenderloin crostini. The dessert selection included Strawberry meringue trifle, tarragon merlot truffle or toffee truffle.

Tickets cost $4,000 for VIP and $400 for regular observers; polo players paid $60,000 to participate in the match.

Jaime Geffen owner of YourBASH! was the party planner.

Former U.S. Ambassador to Jamaica Glen Holden accompanied William and Kate. Both the Ambassador and William wore white shirts and trousers with a blue blazer.

Catherine looked beautiful in a de Gournay silver and marble-grey, hand-painted chinoiserie silk dress by British designer Jenny Packh. The knee length dress featured cap-sleeves, gathers at the shoulder and piping at the waist. The fabric, created by de Gournay, featured dusky shades of peach, sage and blue.

On those pedicured feet were open toed, LK Bennett shoes, called Silver Sandal, part of the company's Signature Collection.



Billy Zane looks cool in a summer suit on Tiffany red carpet. Photo: Getty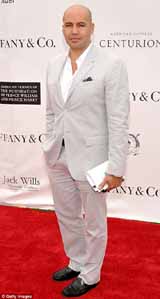 Joe Jonas in a sporty red sweater for the royal polo match. Photo: Getty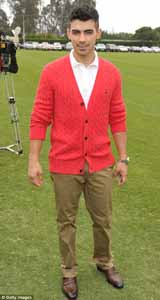 Then William changed into his polo duds and got in some practice shots before the game started.

Team members wore red, blue or white jerseys for the three competing teams. The shirts were emblazoned with the logos of the game's sponsors - Audi, American Express and Tiffany & Co., as well as the Union Flag, which is patched on the sleeve, created by Jack Wills University Outfitters, a British fashion house with "a hip edge."

William donned a blue jersey as a member of Team Royal Salute, alongside teammates Glen A. Holden Jr., Andy Busch and Santi Trotz.

Facing off against the prince: Team Audi members Wesley Ru, Marc Ganzi, Juan Bollini and Scott Devon and Team American Express Centurion with players Melissa Ganzi, Glen Holden III, Nic Roldan and Patrick M. Nesbitt.

Despite his practice time, William's first shot for Team Royal Salute was wide. He redeemed himself, scoring four goals. His team went on to win the overall match.

Suddenly, the well-mannered crowd behaved as though they were at a rave. The A-listers stormed onto the field despite an announcement telling the spectators to return their seats. Finally, security was forced to used a line of rope to push back the well-heeled royal watchers.

Celebrities in attendance included Zoe Saldana, Karlie Kloss, Orlando Bloom, Alex Pettyfer, Rosario Dawson, Billy Zane, Jennifer Love Hewitt, Rob Lowe, Pat Sajak, model-actress Molly Sims, musician Joe Jonas and Rosie Huntington-Whiteley.



Catherine poses with the winning team as William (directly behind Kate) and his team mates hoist the trophy. Photo: Getty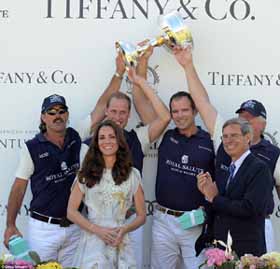 The Duchess of Cambridge presented the prize, a 14.7 pound, 18-inch, sterling silver and gold trophy made by Tiffany, to her husband along with a hug and a kiss. On behalf of Tiffany, she also presented Tiffany gifts - in those famous blue Tiffany boxes - to each of the 12 players who had participated in the six chuckkars.

Today, July 10, there is a private engagement in support of Tusk USA, the American branch of Tusk Trust, of which the Duke is Patron. The brunch for 40 guests at the home of producer Steve Tisch. In addition to current supporters, also getting some prized up close face time with the royal couple are individuals the organization hopes will become philanthropists. The invite list included the actresses Reese Witherspoon and Catherine Keener, the Oscar-nominated star of Being John Malkovich.

Then the couple will visit Inner-City Arts which is an organization that uses visual arts and performance to give inner city children an oasis of calm, fun, and learning. The center is located in the heart of Skid Row.

"In their final event of their trip, the Duke and Duchess will then attend a job fair for U.S. servicemen and women transitioning to civilian life. The event is organized by Service Nation: Mission Serve," Hay said.

Their trip will conclude with a visit to Sony Pictures Studios for an event sponsored by the U.S. Service Nation: Mission Serve campaign, which seeks to reintegrate servicemen and women into civilian life.

Prince William and Kate will help pack care packages for families of service members and will meet with people who have benefited from the program.

Co-hosted by the U.S. and Los Angeles Area Chambers of Commerce, the official release stated: "Hiring our Heroes Los Angeles" will be the biggest of the 100 hiring fairs the Chambers are holding across the country through March of 2012. The Royal Couple will also join a service project – in partnership with Blue Star Families and the USO – to create 1,000 care packages for military children, as well as attend a special reception for supporters and champions of the cause."

"The Foundation of Prince William and Prince Harry is The Princes' primary charitable vehicle and has as one of its core aims to raise awareness and support for the Servicemen and women who put their lives on the line for their Country. A key part of this focus will be to assist efforts to ensure the best possible re-integration and employment of veterans and military families. The Foundation recognizes the tremendous work being done on this in the United States, led by The First Lady Michelle Obama and Dr. Jill Biden through their Joining Forces initiative."

Will and Kate return home on July 11.

Scientists should concentrate on cloning those two. Every parent would love a daughter or son like Kate and Will. Or, we've all been flimflammed and these two are really creations of Spielberg and DreamWorks. Underneath those designer duds is a control box. The life like robots will be on the market in time for the Neiman-Marcus Christmas catalogue - batteries sold separately.



Broadway To Vegas is supported through advertising and donations. Priority consideration is given to interview suggestions, news, press releases, etc from paid supporters. However, no paid supporters control, alter, edit, or in any way manipulate the content of this site. Your donation is appreciated. We accept PAYPAL. Thank you for your interest.



ART AND ABOUT


GLAMOUR OF THE GODS - HOLLYWOOD PORTRAITS

Marlene Dietrich by George Hurrell, 1937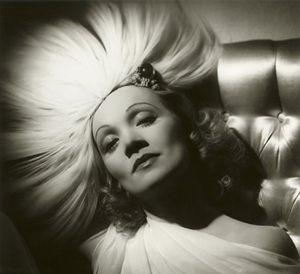 is a celebration of Hollywood portraiture from the industry's 'Golden Age', the period 1920 to 1960.

From Greta Garbo and Clark Gable to Audrey Hepburn, James Dean and Marilyn Monroe, it is these portraits that transformed actors and actresses into international style icons.

In many cases these are the career-defining images of Hollywood's greatest names and help to illustrate their enduring appeal.

Featuring over 70 photographs, most of which are exquisite vintage prints displayed for the first time, the exhibition is drawn from the extraordinary archive of the John Kobal Foundation and demonstrate photography's decisive role in creating and marketing the stars central to the Hollywood mystique.

Exhibition organized by the Santa Barbara Museum of Art.

On display through October 23, 2011 at the National Portrait Gallery in London.

WHY GROW UP? ETIENNE DELESSERT For more than 30 years, self-taught artist Etienne Delessert has been translating his - and the world's - ideas, passions, fantasies, and nightmares into the visual language of books, magazine illustrations, posters, animated films, and paintings.

Considered one of the fathers of modern children's picture books, he reaches both children and adults with his imaginary creatures and landscapes, juxtaposing the familiar with the fantastic.

Etienne Delessert has illustrated more than 80 books, some translated into 14 languages, with millions of copies sold worldwide. Why Grow Up? features 100 artworks from over 20 books, from his groundbreaking The Endless Party, created in the 1960s, along with his influential collaborations with Eugene Ionesco (Contes 1, 2, 3, 4) in French, and Jean Piaget (How The Mouse...), to his more recent award-winning A Long Long Song, Ashes Ashes, Dance!, The Seven Dwarfs, Who Killed Cock Robin?, Humpty Dumpty, Big and Bad, Full Color, Moon Theater, and Spartacus the Spider.

Delessert's illustrations have appeared in The Atlantic Monthly, Le Monde, and The New York Times. His animated films include the adventures of the endearing Yok-Yok and creations for Sesame Street. He is the recipient of 13 gold and 12 silver medals from the American Society of Illustrators, as well as the 1996 Hamilton King Award, and recently was a finalist for the 2010 Hans Christian Andersen Award.

This exhibition was initiated in 2009 at Centre de l'illustration in Moulins, France, and travels in the U.S. through the National Center for Children's Illustrated Literature, Abilene, Texas. On display through September 4, 2011 at the Joslyn Art Museum in Omaha, NE.


THE MUSIC GOES ROUND AND ROUND


THE MERRY WIDOW an operetta by Franz Lehar. Librettists Viktor Leon and Leo Stein. The 1964 Music Theater of Lincoln Center Cast Recording has been remastered, and is now available on CD by Masterworks Broadway/ArkivMusic.

The reissue of the 1964 Music Theater of Lincoln Center Recording of The Merry Widow features American soprano and Metropolitan Opera star Patrice Munsel singing the title role, while the supporting cast includes Bob Wright, Joan Weldon and Frank Poretta, plus Oscar nominee Mischa Auer and Tony nominee Sig Arno.

There are several reasons to own this CD - it's charming, light-hearted, tuneful - and a lady named Patrice Munsel.

The Spokane, Washington, born coloratura soprano was the youngest singer who ever starred at the Metropolitan Opera.

Nicknamed "Princess Pat, " she studied in New York, and was coached by Giacomo Spadoni. She first sang at the Metropolitan at age 17, in March 1943. She made her official Metropolitan debut on December 4, 1943 at the age of 18, singing Philine in Mignon. Perhaps best known for the role of Adele in Die Fledermaus, she performed 225 times at the Metropolitan. Sir Rudolf Bing called her a "superb soubrette", and implied that she was the world's best.

In 1958 she ended her career as an opera singer, and began to perform in musical comedies.

The Merry Widow a staple of Civil Light Opera productions, with a score that gave the world the endearing I Love You So (The Merry Widow Waltz). Playing the role was a natural for Muncil.

Muncil's voice is mesmerizing.

The Merry Widow librettists, Viktor Leon and Leo Stein, based the story - concerning a rich widow, and her countrymen's attempt to keep her money in the principality by finding her the right husband - on an 1861 comedy play, L'attaché d'ambassade (The Embassy Attaché) by Henri Meilhac.

The operetta by Franz Lehar debuted in Vienna in 1905 and made its Broadway debut two years later at the New Amsterdam Theatre. The operetta originally had no overture; Lehár wrote the superb one, heard on this CD, for the Vienna Philharmonic to perform at his 70th birthday concert in April 1940.

The Merry Widow was conducted by Franz Allers. Music Theatre of Lincoln Center Cast Recording,

Overture
When in France/A Respectable Wife
Who Knows the Way to My Heart?
Maxim's
Riding on a Carousel
Finale (Act I)
Villa
Women
Romance
Finale (Act 2)
Girls at Maxim's
I Love You So (The Merry Widow Waltz)

An unusual album booklet statement is that "all songs are public domain." Transfer Engineer John Fredenburg, Long Tail Audio LLC. Restoration Engineer : Brian Losch, Long Tail Audio, LLC. Remastering Engineer Charles Harbutt. Recorded on August 23, 1964 in New York City


SWEET CHARITY


ROCK THE DOCK Bay Street Theatre's Summer Benefit hosted by hosted by Chris Bauer, Richard Kind and Mercedes Ruehl - the Tony and Academy Award Winning Actress

They'll be cocktails, dinner, dancing and auctions.

Special Performance by The Street Beats Group .Music by Celebrity DJ Tom Finn .Celebrity Auctioneer: Richard Kind .

The Gala takes place Saturday, July 16. on the Long Wharf in Sag Harbor, New York.

THE JIMMY FUND/VARIETY CHILDREN'S CHARITY THEATRE COLLECTION have been collecting hope and fighting cancer since 1949.

Each summer since 1949, participating movie theaters have shown a Jimmy Fund "trailer" before the start of a feature film. Afterward, volunteers and theater personnel invite patrons to contribute to the Jimmy Fund by passing around collection canisters.

In 2010, movie audiences gave more than $530,000 through this longstanding, feel-good community program.

This year's fundraiser is currently taking place through July 28, 2011.


HARRY POTTER'S MAGIC AFFECTS BROADWAY SHOW
Rupert Grint pays tribute to JK Rowling (in green), Emma Watson is comforted by the film's producer, David Heyman while Daniel Radcliffe looks on. Getty photo.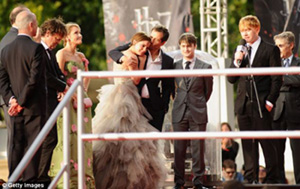 Harry Potter has power. His magic even caused the Tony Award winning musical How To Succeed In Business Without Really Trying to disappear for two nights so that its star, Daniel Radcliffe, known to millions as Harry Potter, could materialize in London for the red carpet opening of Harry Potter and the Deathly Hallows: Part 2.

The eighth and last film in the made-in-Britain series, depicts Harry's final confrontation with the forces of evil Lord Voldemort. It's an epic showdown rendered, for the first time in the series, in 3D.

Trafalgar Square and a nearby street were transformed into the magical shopping thoroughfare Diagon Alley.

Ignoring the rain for the red carpet appearance were Daniel Radcliffe, Emma Watson dressed in a silver, strapless, floor-length and tiered Oscar de la Renta gown, Michael Gambon, author J.K. Rowling in a green gown with pink flowers.

A stage was erected in Trafalgar Square where 21-year-old Radcliffe, who has played the boy wizard since he was 11, spoke to the fans.



Rupert Grint, Emma Watson and Daniel Radcliffe on the red carpet at the final Harry Potter premiere. Getty photo.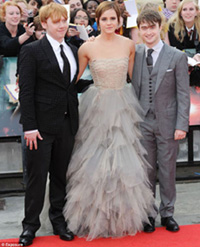 "Each and every person, not just here in this square but around the world who have watched these films for the last 10 years, they will always carry the films with them for the rest of their lives," he said.

Author J.K. Rowling wiped away tears as she thanked the actors for "the amazing things they did for my favorite characters."

Rupert Grint was first cast member to arrive. Grint disclosed that when filming wrapped on the Harry Potter And The Deathly Hallows Part 2 'final movie, he bought himself a Vauxhall Carlton car and headed off around Europe with James and Oliver Phelps, who played the twins. Since Grint paid about $96 for the junker, the 'Wacky Rally' road trip also included a mechanic. Grint told the crowd that "we did about nine countries."

In case you've never heard of it, the prized car was sold in the United Kingdom from 1978-1994. In 1986 the Vauxhall Carlton / Opel Omega saloon and estate range model earned itself the accolade of European Car of the Year.

Other notables attending the world premiere on July 7 included; Tom Felton, Harry Potter's foe Draco Malfoy, and his girlfriend Jade Olivia in a gorgeous white gown. Clemence Posey also wore white but she selected a mini-dress accented with black, cut out high heels. Also opting for a white mini with black shoes was Clemency Posy who added a black belt to her outfit.

The Ralph Fiennes, Lord Voldemort in the Harry Potter films, arrived for the big night.

Jim Broadbent, Professor Horace Slughorn to his students, was at the final Harry Potter premiere. Helena Bonham Carter, among the darkest of witches in the Potter series was there as was Maggie Smith, known in the films as Minerva McGonagall, deputy headmistress of Hogwarts School of Witchcraft and Wizardry.

Miriam Margolyes, Professor Pomona Sprout at Hogwarts; Jamie Campbell Bower, who plays Grindelwald and fiancée Bonnie Wright, who plays Ginny Weasley arrived early. Robbie Coltrane, aka Rubeus Hagrid enjoyed the night. Warwick Davis brought his wife and children. Davis plays Professor Filius Flitwick in the movie, as well as the goblin Griphook. Matt Lewis who plays Neville Longbottom attended the emotional evening.

Professor Albus Dumbledore, known in the real world as Michael Gambon Domhnall Gleeson, older brother Bill to Ron Weasley attended. Evanna Lynch, who plays Luna Lovegood, braved the rain. Twin brothers James Phelps and Oliver Phelps, who play respectively twin brothers Fred and George Weasley, wouldn't have considered missing the premiere. Clemence Poesy, who plays Fleur Delacour, enjoyed the evening. Julie Walters looked smart in a black evening pants suit.

Helen McCrory wore red on the red carpet. She plays Narcissa Malfoy, mother to Draco; Natalia Tena portrays the delightfully named Nymphadora Tonks in the films. She appeared on the red carpet wearing yellow cowgirl boots.

The film will open in the USA on July 15. Daniel Radcliffe is back on Broadway.


TONY AWARD WINNING UTAH SHAKESPEARE FESTIVAL CELEBRATING 50 YEARS


The Tony Award-winning Utah Shakespeare Festival in Cedar City, Utah is celebrating its golden anniversary.

The celebration includes numerous community and Festival events, eight plays, a new calendar and price structure, new artistic leadership, and a slightly updated logo for the venerable theatre company.

Events include a reunion of cast members from the first season in 1962, a community-wide party commemorating Shakespeare's birthday, a traveling exhibit of photos depicting the history of the Festival, special post-play entertainment throughout opening week, a vintage car show, and a beautiful coffee-table book of the Festival's first fifty years.

Eight plays will be presented to October 29.

Plays in the Adams Shakespearean Theatre include three crowd favorites by William Shakespeare: A Midsummer Night's Dream which was directed in 1964 by Festival Founder Fred C. Adams, who will return to direct this season's production. Richard III, the second play in the Adams Theatre, will be overseen by long-time Festival director Kathleen F. Conlin. The final play in the Adams Theatre will be Romeo and Juliet, directed by one of two newly appointed Festival artistic directors, David Ivers.

Plays in the Adams Theatre will run from June 23 to September 3. Plays in the Randall L. Jones Theatre will kick off with the family musical Meredith Willson's The Music Man, which will be directed by Brad Carroll, the composer for Lend Me a Tenor: The Musical, which premiered at the Festival and recently opened in England. Next will be The Glass Menagerie by Tennessee Williams. This classic American drama was featured in the first season of the Randall L. Jones Theatre in 1989 and returns this year, directed by another long-time Festival director J. R. Sullivan. These two plays will run to September 3.

The third play opening in the Randall Theatre will enjoy an extended run through October 29. Noises Off!, written by Michael Frayn and directed by Jeff Steitzer, is a hilarious send-up of all things theatrical. The longer run for this play is the first step in the Festival's plan for its future calendar.

The final two plays of the 2011 season will run from September 23 to October 29. First will be the Shakespearean romance The Winter's Tale, directed by Laura Gordon, who will be making her first Festival appearance. Rounding out the celebration will be the murder mystery Dial M for Murder by Frederick Knott. This whodunit will be directed by Brian Vaughn, also recently announced as Festival artistic director.

In addition to changing its calendar, the Festival is also making one important change to its pricing structure: the elimination of service fees. In the past, the Festival (like most theatres) has charged a per-order service fee; however, in the future, there will be no such fee.

"This is something our patrons have requested, and we feel like it is the right thing to do," said Bruce C. Lee, Festival communications director. "Now, when you order a ticket, the published price is all you pay, no fees, no postage charges, no additions of any kind."


SPREADING THE WORD


NEW JERUSALEM, THE INTERROGATION OF BARUCH DE SPINOZA AT TALMUD TORAH CONGREGATION: AMSTERDAM, July 27, 1656 David Ives' witty drama of ideas. Starring Richard Easton, Hector Elizondo, Andrea Gabriel, Arye Gross and Amy Pietz.

Young Baruch de Spinoza is a successful merchant, would-be philosopher, and heir apparent to Saul Mortera, chief Rabbi of Amsterdam. But Amsterdam's Jews have made a fateful arrangement with the city: they've agreed to "police" their own for unorthodox beliefs.

When Spinoza is accused of atheism, Mortera summons him to the synagogue to answer for himself. No written record survives of what happened inside Temple Talmud Torah on July 27, 1656, but this eloquent and masterful drama opens the temple doors on a dispute about philosophical and theological ideas that still reverberate today.

All performances will be recorded to air on L.A. Theatre Works' syndicated radio theater series, July 13-15, at the Skirball Cultural Center, Los Angeles.

KELSEY GRAMMER best-known for his two-decade portrayal of psychiatrist, Dr Frasier Crane in the sitcoms Cheers turned radio psychiatrist on Frasier, will speak at the Radio Conference about the power of speech. He will also present an Award at the Australian Commercial Radio Awards (ACRAs).

The five time Emmy Award winning actor will speak about the power of speech at the 23rd annual Australian Radio Conference which takes place on the Gold Coast on October 14-15.

He will also present an award at the Australian Commercial Radio Awards.

It will be the actor's first trip to Australia.

Grammer recently finished a year long run in the musical La Cage Aux Folles in New York and was nominated for a 2010 Tony Award for Best Performance by a Lead Actor in a Musical for his role as Georges in this production.

He is currently filming a drama series for Starz Television, called The Boss where he plays the Mayor of Chicago.

Chief executive officer of Commercial Radio Australia, Joan Warner said the industry was looking forward to having Grammer as special guest and welcoming him to Australia.

"Mr Grammer's extensive experience with acting, voice-over work, directing and producing should be highly informative and entertaining. We are greatly looking forward to his participation in our events," Ms Warner said.

Previous speakers at the conference have included Sir Michael Parkinson, Sir Bob Geldof, Clive James, Barry Humphries and John Cleese.

INTERNATIONAL SPY MUSEUM HOSTS SPY SEMINAR SERIES AT FORD'S THEATRE The Lincoln Assassination Conspiracies. led by distinguished historians and espionage experts. Uncover the conspiracies and realities of the horrific events of April 14th, 1865 - at the very scene of the crime - with renowned experts Michael Kauffman, author of American Brutus; Frank J. Williams, Chairman of The Lincoln Forum and Chief Justice (Ret) of Rhode Island; and H. Donald Winkler, author of Stealing Secrets and Lincoln and Booth: More Light on the Conspiracy.

Why did a popular theatre idol murder President Lincoln? Was Booth a Confederate spy acting as part of a larger plot? Was he a player in an internal Union scheme? Was a White House spy involved? Tuesday, July 19 at the Ford Theatre in Washington, DC.

A TOUCH OF CLASS PLUS Q&A WITH GLENDA JACKSON As part of the Kilburn Film Festival, patrons are being given the rare opportunity to watch this British classic A touch of Class, which was nominated for four Academy Awards, and earned Glenda Jackson a Best Actress Oscar, and put your questions to the lead actress after the film.

Glenda plays Vicki Allesio, a divorced fashion designer, alongside George Segal as Steve Blackburn, a married insurance executive, in this comedy of errors. The pair bump into each other wherever they go and, finally bowing to the inevitable, fall in love??but nothing, absolutely nothing, goes as planned.

Sunday, July 10, at the Tricycle Theatre in London.

CHRISTIE BRINKLEY has delayed joining the London cast of Chicago, in order to remain with her mother, Marge Brinkley, who was suddenly admitted to the hospital for an emergency procedure.

The supermodel had made her Broadway debut as Roxy in the revival of Chicago and was set to join the London cast at the Cambridge Theatre beginning July 11.

OTHER PEOPLE'S MONEY


HOTEL MOGUL STEVE WYNN

Set of four 18th-century Chinese porcelain vases purchased by Steve Wynn. Photograph: Christie's Images Ltd. 2011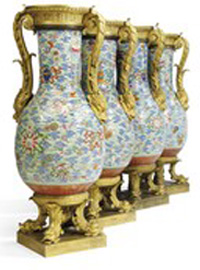 paid $12.8 million at a London auction last Thursday for a set of four 18th-century Chinese porcelain vases, far exceeding twice the current world auction record for ormolu-mounted porcelain.

The 4-foot vases, painted with Buddhist and Taoist emblems and embellished with 19th-century gilded metal mounts were the most expensive of 50 lots at Christie's International's "Exceptional'' sale. The pieces are distinctive in scale, quality and number with matched pairs being rare and matched quartets of this age and size never seen. The only known similar examples are in the collection of the British Royal Family, according to the official release from Wynn Resorts.

These exceptional examples will be displayed exclusively in the company's Cotai resort in Macao scheduled to open in 2015, continued the statement.

Sold by a private collector, the Jiaqing period (1796-1821) vases had formerly been in the collection of the Scottish aristocrats, the Dukes of Buccleuch.

The set of Historical Baluster Vases will permanently reside in the new Cotai resort as part of the company's ongoing cultural commitment to China, according to Wynn Resorts.

Wynn initiated the company's cultural commitment with the acquisition of a Ming glazed copper-red pear-shaped vase, Yuhuchunping, produced during Emperor Hongwu's reign (1368-1398). The vase was later donated to the Macao Special Administrative Region and is exhibited as part of the permanent collection of the Cultural Affairs Bureau's Macao Museum.

Other important examples of historic Chinese art, including examples of ceramics, cloisonne and textile Arts can be seen in the collections currently within Wynn Macau and Encore at Wynn Macau.



HAPPY BIRTHDAY TO . . . .


THOSE CELEBRATING BIRTHDAYS THIS WEEK INCLUDE on July 11th Richie Sambora and Suzanne Vega. On July 12th Bill Cosby and Christine McVie blow out the candles. It is also the day to remember the great Oscar Hammerstein II who was born July 12, 1895. On July 13 the birthday boys are Patrick Stewart and Harrison Ford. Getting open their presents on July 14 are Tommy Mottola, Bruce Oldfield and Chris Cross. Making birthday wishes on July 15th are Jan Michael Vincent and Linda Ronstadt. On July 16th Michael Flatley gets the cake and ice cream.






CHILDREN OF EDEN with music and lyrics by Stephen Schwartz and a book by John Caird. Based on a concept by Charles Lisanby.

This tuneful pop account of the biblical tales of Adam and Eve through Noah and the Arc, is one of Schwartz's most popular musicals for stock and amateur productions through Music Theatre International, thanks to the rich score and philosophically interesting book. The production will receive a new, symphonic presentation July 15-24 at the Kansas City Music Hall.

The fully staged production will mark the U.S. debut of new 55-piece orchestrations penned by Manfred Knaak. The new arrangements were seen in Germany in 2010 and have been revised and expanded for the Kansas City run.

Charlie Piane will direct the engagement, with a principal cast of 38, as well as a full chorus. There will also be a 25-member children's ensemble and members of the Kansas City Boys and Girls choirs under the direction of Mr. Ah'Lee Robinson.

The cast will include Nathan Granner as Father, Erikka Dunn as Eve/Mama Noah, Cary Mock as Adam/Noah, Bryson Bruce as Cain/Japeth, Brian M. Duncan as Abel/Ham, Katelyn Baron as Yonah, Seth M. Jones as Seth/Shem, Taylor Harvey as Aysha, Alisha Marie as Aphra/the Snake, as well as Kristen May Altoro, Chelsea Anglemyer, Jefferey Berger and Thomas Williams, who will all round out the Snake.

Storytellers include Whitney Armstrong, Sarah Bergeson, Amanda Burns, Mosha Clyma, Taylor Corlee, Aaron Craven, Erin Farste, Michael Golliher, Ashley Harrell, Meredith Hollan, Ansel James, Hunter Johnson, Taylor Lininger, Olivia Lynn, Kira Mayo, Rachel Mears, Ethan Miller, Emily Quinn Monrad, Ramaad Morris, Andrew Mann Nielson, Zachary J. Parker, Nicholas Perry, Jered Solace and Carley Whitt.

"At a time when many shows are cutting back the size of cast and orchestra, we look forward to presenting productions with large casts on stage and a full band in the pit. Theatre is an experience, and it is our philosophy that full-size ensembles are a vital component. We are proud to offer such opportunities with tickets priced at rates that everyone can enjoy," Piane said in a statement.

Children of Eden will have vocal music direction by James Levy, scenic design by Tabitha Pease and lighting design by SeifAllah Cristobal. Costumes will be provided by Costume World. Kevin Bogan will conduct the orchestra.

As a very special companion piece to the production, Piane Productions will present an evening of the works of legendary songwriter Stephen Schwartz. This July 18th gala concert event will include musical performances from the multi-award winning author's entire body of works, including Pippin, Godspell and Wicked. The evening will feature some of Broadway's top talents, Kansas City theatre veterans and the composer himself.

THE SWEETEST SOUNDS - An evening with Richard Rodgers & friends Richard Rodgers was one of the most successful and celebrated composers of the 20th century whose influence on American musical theatre is legendary. From South Pacific to The Sound of Music to Pal Joey, Rodgers wrote dozens of musicals for the stage and screen.

Revel in the catchy melodies of I'm Gonna Wash That Man Right Outta My Hair, Getting to Know You, Bewitched, Bothered and Bewildered, and The Sound of Music.July 14 - July 24 at the Bristol Riverside Theatre in Bristol, PA.

THE FORTUNE TELLER Music by Victor Herbert. Book and Lyrics by Harry B. Smith.

Gypsies, fortune tellers, mistaken identities, opera prima donnas, and hussars - perfect ingredients for a good old-fashioned operetta! All of this and more Victor Herbert delivers in his 1898 masterpiece Fortune Teller, first of the composer's shows to become a classic and one of OLO's most requested titles.

The libretto by Harry B. Smith, America's most prolific theater lyricist (6000 song titles to his credit), centers on the dual role of the ballerina Irma and her look-alike, the gypsy fortune teller Musette.

Irma, unaware that she is really a wealthy heiress, tries to stave off the marriage advances of a gold-digging count, who has promised to divide his future haul with his accomplice, Irma's ballet master, Fresco. Musette is instructed by Fresco to pose as Irma, so as to fool the count, ensure a marriage, and net Fresco his payoff. Irma's lover Ladislas and Musette's lover Sandor only add to the confusion and frolic, topped off by the need for Irma to impersonate her soldier twin brother Fedor, who has been falsely charged with desertion…operetta at its very best.

Herbert's musical score is a dazzler - featuring, for starters, two of the most popular songs in the operetta literature: Musette's csardas Romany life and Sandor's unforgettable Gypsy love song ("Slumber on, my little gypsy sweetheart"). The dashing Captain Ladislas enters to the strains of a rousing hussar chorus. And, the rollicking march that concludes the second act is billed as "one of the most thrilling you will ever hear - fasten your seat belts!"

July 13- August 10, at the Ohio Light Opera which is the Professional Residential Company of The College of Wooster in Wooster, Ohio.

EVER SO HUMBLE a new comedy by Tim Pinckney "Inspired by E.M. Forster's novel Howards End, with a dash of the television sitcom Will and Grace thrown in for good measure."

Directed by Peter Flynn.

Three thirty-something Manhattan roommates find themselves with no place to live when their sublet expires. Into the picture walks Howard Steinman, who owns a beautiful house in Brooklyn. Friendships blossom, complications arise, and Howard's house becomes the source of a dilemma for his heirs and his new friends.

this warm and witty comedy is a reminder that home and family are what we make them. Contains mature language and themes. July 14-23 at the Hangar Theatre in Ithaca, New York.

OH, COWARD! words and music by Noël Coward. Devised by Roderick Cook.

Presented as a nod to next year's Coward Centennial, Oh, Coward! is a revue of material from the Noël Coward library that premiered in 1972. The show intersperses some of Coward's best songs with writings and anecdotes from his life. Witty, melodic and as dry as a glass of great champagne, Sir Noël's work is unparalleled in its sophisticated style and ability to entertain theatre lovers of all ages.

Michael Montel will return to direct his 18th Mufti, more than any other director. Part of the Musicals in Mufti series presented by the York Theatre. July 15-17, 2011 at the York Theatre Company at Saint Peter's in New York City.

SHOW BOAT Goodman Theatre's current production, starring Sarah Uriarte Berry, Quentin Earl Darrington, Ben Davis and Lesli Margherita, has been extended to September 17.

THE SHOEMAKER written by Susan Charlotte. Directed by Antony Marsellis.

A world premiere starring Academy Award nominee Danny Aiello, Alma Cuervo and Lucy DeVito.

Set in New York's Hell's Kitchen, The Shoemaker is a compelling drama that focuses on a shoemaker, an Italian Jew, on a devastating day that has become a turning point in American history. As each hour passes he confronts yet another part of his past, present and an uncertain future.

This stage drama was made into a film called A Broken Sole starring Mr. Aiello, Margaret Colin, Bob Dishy, Judith Light, Laila Robins and John Shea. An earlier one-act stage version of The Shoemaker starring Danny Aiello was presented Off-Broadway in July 2010 and played to sold-out audiences. The response was so strong that Ms. Charlotte decided to expand the play into this full-length version.

Beginning Performances on July 14 with performances through August 14 at Theater Row's Acorn Theater in NYC. Each performance will be followed with a Q & A with Mr. Aiello.


WHO'S WHERE


MUSIC FROM THE MOVIES featuring The Royal Phiharmonic Concert Orchestra. Enjoy pieces from some of the greatest films of all time including Star Wars, Pirates of the Caribbean, Harry Potter, Jaws, Jurassic Park, Schindler's List and Avatar. The Royal Philharmonic Concert Orchestra will be conducted by Paul Bateman. July 15 at Kenwood House in London.

ESPERANZA SPALDING fresh from winning a Grammy Award for Best New Artist, jazz vocalist and bassist performs July 11 at the Barbican in London.

EMILY BERGL AND HARRY GROENER in their cabaret act 10 Cents A Dance - in an evening of song. Part of a Flights of Fancy event, Saturday July 16, at The Antaeus Company @ Deaf West Theatre in North Hollywood CA.

KAREN MASON brings her cabaret act, Show Queen: Life After Wonderland, referring to her recent Broadway turn when she played the lead in the short lived production Wonderland. Mason will be joined by musical director Christopher Denny on piano. Audiences can expect to hear songs from Wonderland as well as tunes by Barry Kleinbort, Kander and Ebb, Charles Strouse and more. July 19 at The Iridium in Manhattan.

MARC KUDISCH will offer a two-performance engagement of his new show, What Makes Me Tick, at Feinsteins in NYC July 17 and 18. Timothy Splain will serve as music director.

JON BON JOVI entertains Wednesday, July 13. at the Esprit Arena in Dusseldorf, Germany. On Thursday the show is at the Letzigrund Stadium in Zurich, Switzerland. Saturday's performance is at the Maimarktgelande in Mannheim, Germany. Next Sunday, July 17, he's on stage at the Stadio Friuli in Udine, Italy.

KEITH URBAN performs Thursday, July 14, at the Prudential Center in Newark, NJ. On Friday the show is at the Wells Fargo Center in Philadelphia. Saturday he'll be delighting his fans at the Times Union Center in Albany, NY.

SHAWN COLVIN AND LOUDON WAINWRIGHT III the Grammy Award winning performers will be on stage Saturday, July 16, at the State Theatre in New Brunswick, NJ.

SADE AND JOHN LEGEND on stage Friday, July 15, at the Bank Atlantic Center in Fort Lauderdale, FL. Next Sunday, July 17, their show is at the Amway Center in Orlando.

LINDA EDER performs July 16 at The Great Auditorium in Ocean Grove, NJ.

JAMES BLUNT performs next, Sunday, July 17, appears at GuilFest at the Stoke Park in Guildford, United Kingdom. On Thursday he is part of the Lucca Summer Festival at the Piazza Napoleone in Lucca, Italy.

PINK MARTINI performing Wednesday, July 14, at the Rockhal in Luxembourg. On Thurs they are at the Kaufleutensaal in Zurich, Switzerland. On Saturday they participate in the B'estfest in Bucharest, Romania.

JOSH GROBAN appears at the Conseco Fieldhouse in Indianapolis on Tuesday, July 12. On Wednesday the show is at the United Center in Chicago. Friday's appearance is at the U.S. Bank Arena in Cincinnati. On Saturday he can be enjoyed at the Palace of Auburn Hills in Auburn Hills, MI.




FINAL OVATION


ANNA MASSEY a British actress who received a 1957 Tony Award nomination for her role in The Reluctant Debutante, died July 3 after a battle with cancer. She was 73.

The daughter of Hollywood actor Raymond Massey, she was born in Surrey, England, and made her professional debut on stage at the age of 17. She enjoyed a career on stage, and in movies and television projects which spanned five decades.

She won a BAFTA for her role in a 1986 TV adaptation of Anita Brookner's novel Hotel du Lac.

She was awarded a CBE by Queen Elizabeth II for services to drama in 2005.

Massey was married to Sherlock Holmes actor Jeremy Brett for four years until 1962. They had one son, David. She met her second husband, Russian scientist Uri Andres, 27 years later. She is survived by both her son and husband..

CY TWOMBLY considered one of the most important painters of the post war era, died July 5, 2011 in Rome. He was 83 and had suffered from cancer.

Noted for his large scale, freely scribbled, calligraphic-style graffiti paintings, on solid fields of mostly gray, tan, or off-white colors. He exhibited his paintings worldwide.

The Cy Twombly Gallery of the Menil Collection in Houston, which was designed by Renzo Piano and opened in 1995, houses more than thirty of Twombly's paintings, sculptures, and works on paper, dating from 1953 to 1994. A large collection of Twombly's work is also kept by the Museum Brandhorst and the Pinakothek der Moderne in Munich. A recent (1998-1999) Twombly work, Three Studies from the Temeraire, a triptych, was purchased by the Art Gallery of New South Wales for A$4.5 million in 2004. In 2010, Twombly's permanent site-specific painting, Ceiling was unveiled in the Salle des Bronzes at the Musée du Louvre. In 2011, the Museum of Modern Art, New York, made a large acquisition of nine works worth about $75 million.

EDWARD HASTINGS one of the founders of San Francisco's American Conservatory Theater, and its artistic director from 1986-1992, died Wednesday, July 6, 2011, at his Santa Fe home from complications from Lewy body dementia. He was 80 years old.

Born in New Haven, Conn., in 1931, and a graduate of Yale University, Mr. Hastings gravitated to the theater after a stint in the Army during the Korean War. He worked in New York as an actor on TV and a stage manager off-Broadway.
Hastings was widely known for his stagings of contemporary and classic plays, in America and abroad, and for nurturing the careers of countless theater artists.

He founded the Plays in Progress program in 1972, which staged full public productions of new works in smaller venues. The program provided young playwrights with an invaluable opportunity, but also gave students in ACT's Advanced Training Program the experience of working alongside members of the acting company.

He helped create a Black Actors Workshop and Asian American Theater Workshop within ACT. The latter group soon became the Asian American Theater Company, which has fostered the careers of such significant playwrights as David Henry Hwang and Philip Kan Gotanda.

In his final year in charge, 1992, ACT celebrated its 25th anniversary with a gala featuring many artists from its past productions, including Rene Auberjonois, Annette Bening, Kathryn Crosby and Jeff McCarthy.

After leaving ACT, Mr. Hastings continued to work as a respected director of classics, new plays and operas around the country and internationally. He is survived by his partner of 50 years, Eugene Barcone.

Besides Barcone, he is survived by his brother George of West Hartford, his nieces and nephews and their children. No memorial has been announced.








Next Column: July 17, 2011
Copyright: July 10, 2011. All Rights Reserved. Reviews, Interviews, Commentary, Photographs or Graphics from any Broadway To Vegas (TM) columns may not be published, broadcast, rewritten, utilized as leads, or used in any manner without permission, compensation and/or credit.
Link to Main Page
---
Laura Deni



For the snail mail address, please E-mail your request.
CLICK HERE FOR COMMENT SECTION