! >
Broadway To Vegas
  
  REVIEWS INTERVIEWS COMMENTARY NEWS

| | |
| --- | --- |
| | |
KOFEST PRESENTS AN IRREVERENT LOOK AT AGE & AGING - - EVITA BROADWAY CAST CD REVIEWED - - DESIGNING 007 FIFTY YEARS OF BOND STYLE - - STARS WILL LIGHT UP A CAPITOL 4th - - WILLIAM IVEY LONG ELECTED CHAIR OF AMERICAN THEATER WING - - TONY RANDALL GRANTS ANNOUNCED - - NORA EPHRON BROADWAY PLAY WILL OPEN - - THEATER NAMED FOR KRISTIN CHENOWETH - - DONATE . . . Scroll Down


Copyright: July 1, 2012
By: Laura Deni
CLICK HERE FOR COMMENT SECTION

KOFEST PRESENTS AN IRREVERENT & INTERGENERATIONAL LOOK AT AGE & AGING

KoFest, named for the 49th hexagram of the I Ching, the ancient Chinese Book of Changes. "Ko," or "Revolution" can be visualized as a shedding of skin, a sloughing off of the old.

Each year KoFest, headquartered at Amherst College, is curated on a theme, and this year they're investigating aging, a process that evokes a gamut of feelings – from trepidation to celebration. They'll be presenting a multiplicity of takes on a subject that, sooner or later, affects us all.

The five weeks of performances and special events make up a season of high theatricality by a cadre of celebrated artists who join in from San Francisco; NYC; New Jersey; Portland, OR; Putney, VT/El Salvador - and, of course right there in Amherst, MA. These folks have a lot of tricks up their sleeves – including puppetry, juggling, outrageous humor and images of uncanny beauty.

Each performance is accompanied by lobby displays that contextualize the work and by lively post-performance discussions that are a springboard for inter-audience /artist exchange and civic dialogue.

The post-shows are hosted by Kermit Dunkelberg who will be joined by experts in related fields. Ko is dedicated to fostering innovative artistic collaborations in order to create work that draws from both comic and tragic traditions, mixing them with innovative uses of design and technology, in an atmosphere conducive to deep collaboration.


Constance Congdon.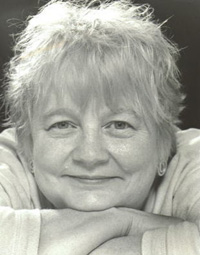 Is Sex Possible? takes place July 6-8 with Constance Congdon.

Pulitzer Prize winner Tony Kushner has called Congdon "one of the best playwrights this language has produced." Congdon received her M.F.A. from the University of Massachusetts Amherst in 1982. Highlights of her 30-year career include her original play Tales of the Lost Formicans which has been produced more than 200 times worldwide, most recently in Cairo and Helsinki and an adaptation of Maxim Gorky's A Mother with Olympia Dukakis in the lead role. The Profile Theater in Portland, Oregon devoted an entire season to her work for their 2000 season. Congdon has taught playwriting at Amherst since 1993.

Congdon will present her outrageously irreverent solo about the trials and tribulations of sex and dating after you reach 50, 60, and beyond.

Staying Vertical: Age, Aging & Ageism in America is slated for July 8. Author/journalist Ashton Applewhite is interested in why we're so ambivalent about the prospect of much longer lives. She was too, until she learned more. Her proposition? Fight ageism, not aging. A lecture with spirited discussion to follow. Admission is by donation.

Back at Ko by popular demand, "America's favorite queer juggling diva and solo performance artist" Sara Felder of San Francisco returns to Ko with a new comedy called A Queer Divine. That takes place July 13-15.

It's a reflection on the facts of her existence: She can't dance. She likes art. And people she loves are going to die.

Communications From a Cockroach: Archie & the Underside is a special event on July 15 presented by The Mettawee River Theatre Company (NYC/Salem, NY).

Based on the charming Archy (a cockroach poet) and Mehitabel (an alley cat) cartoons by Don Marquis from the 1920's and 30's. Performed under the stars with live music, movement and exquisite puppets in an atmosphere of magic and celebration.



Deb Margolin. Photo by Janusz Jaworski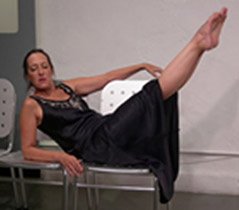 "Good Morning Anita Hill... is delivered by Deb Margolin. The actual title of the July 20-22 presentation is the full text of a voicemail Clarence Thomas' wife recently left for Anita Hill 20 years after her testimony at the confirmation hearings that brought her to national attention for her allegations of sexual harassment, and it may win a Guinness Record for longest play title.

Margolin is a founding member of Split Britches Theater Company. She is the author of eight full-length solo performance pieces, which she has toured throughout the United States, as well as numerous plays, and is the recipient of a 1999-2000 OBIE Award for Sustained Excellence of Performance and the Kesselring Playwriting Award for her play Three Seconds in the Key in 2005. In May of 2007 she traveled on a Fulbright Senior Specialist grant to University of Tel Aviv to present her play Critical Mass, in a Hebrew translation.

On July 22 it's the KoFest Story Slam & Party co-hosted by Ko festival Artistic Director Sabrina Hamilton. You've heard of poetry slams – a competitive poetry events? This is the story-telling equivalent. It's for first person, true stories – told live and without notes. All stories are 5 minutes or less and all ages invited, but all stories must relate in some way to the season theme of Age & Aging.

My Mind Is Like an Open Meadow will be presented July 27-29 by the Hand2Mouth Ensemble from Portland, OR.

Based on the recorded memoirs of ensemble member Erin Leddy's grandmother, this meditation on consciousness, memory and things passed down through generations has toured the west coast extensively, and comes to Ko right before its NYC premiere. The Festival calls it "a younger point of view on our season theme."

D-Generation: An Exaltation of Larks is presented August 3-5 by the Sandglass Theater from Putney, VT.

The world premiere of the ensemble's collaboration with Salvadoran director Roberto Salomon. With text gathered from nursing home residents using a collective creation process called "Timeslips," the production is performed with live actors, puppets, video and music.

It is a piece about dementia. It is also a piece about play, joy, and communication.





Broadway To Vegas is supported through advertising and donations. Priority consideration is given to interview suggestions, news, press releases, etc from paid supporters. However, no paid supporters control, alter, edit, or in any way manipulate the content of this site. Your donation is appreciated. We accept PAYPAL. Thank you for your interest.



ART AND ABOUT


DESIGNING 007 - FIFTY YEARS OF BOND STYLE a new exhibition at the Barbican in London marks the 50th anniversary of the James Bond film franchise, from 1962's Dr No to this year's Skyfall.

The Barbican has joined forces with EON Productions to create a unique and highly anticipated exhibition. With unprecedented access to EON's archive, Designing 007 – Fifty Years of Bond Style is a multi-sensory experience where screen icons, costumes, production design, automobiles, gadgets, special effects, graphic design, exotic locations, weapons, stunts and props combine to immerse the audience in the creation and development of Bond style over its auspicious 50 year history.

Highlights include gadgets and weapons made for Bond and his notorious adversaries, artwork for sets and storyboards and costume designs and outfits which have featured over the years from Hollywood designers and major fashion names.

The exhibition is designed by Ab Rogers, curated by the Barbican and guest-curated by fashion historian Bronwyn Cosgrave and Oscar -winning costume designer Lindy Hemming.

July 6-September 5 at The Barbican in London.

PUSHING BOUNDARIES PORTRAITS BY ROBERT WEINGARTEN presents 15 of Weingarten's digital composite portraits of iconic Americans including Sandra Day O'Connor, Hank Aaron and Chuck Close.

In addition, there are more than two dozen portraits by other photographers from the Photographic History Collection to provide context about the long history of combination printing and portraiture.

July 2-October 14, 2012 at the Smithsonian International Gallery, Ripley Center in Washington, DC.

THE ART OF EXAGGERATION

James Gillray, A Peep at Christies - or - Tally-Ho and his Nimeney-Pimmney Taking The Mourning Lounge, 1796.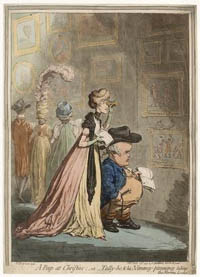 Focusing on the artistic impulse to exaggerate and distort realistic features, characteristics, and situations, this exhibition encompasses images of the grotesque, caricature, and satire.

Such artistic devices take on many forms: the tragic and comic, the ridiculous and sublime, the horrible and ludicrous, and the realistic and fantastic.

Whereas some scenes of exaggeration focus solely on the distortion of facial features, others parody specific people and character types, often as commentaries on the political, social, or moral foibles of society.

The Art of Exaggeration comprises works on paper spanning the 16th to 20th centuries, with examples by artists from Pieter Bruegel the Elder and Jusepe de Ribera to Francisco de Goya, René Magritte, and Pablo Picasso.

The exhibition also highlights major artists from the genre's heyday in the 18th and early 19th centuries, such as Honoré Daumier, James Gillray, and William Hogarth.

The graphic works on view are drawn primarily from the collections of the MFAH and Sarah Campbell Blaffer Foundation.

July 1, 2012 - September 23, 2012 at the Beck Building, Houston Museum of Fine Arts.


SWEET CHARITY


GUILD HALL SEASON SPECTACULAR An Evening with Patti LuPone and Mandy Patinkin reunites these Tony Award-winning virtuosos (and lifelong friends) for the first time since Evita.

Much more than a concert, this is a unique musical love story told entirely through a masterful selection of the greatest songs ever written for the stage. Funny, passionate, intimate and utterly unforgettable, this is An Evening a fan of musical theatre - or two of the most acclaimed performers of our time - cannot afford to miss.

An intimate dinner immediately follows the performance, where concertgoers have a chance to mingle and meet with the stars.

A Saturday, July 7, 2012 benefit for Guild Hall in East Hampton, NY.


THE MUSIC GOES ROUND AND ROUND


EVITA original cast of the Broadway revival starring Rickey Martin as Che, released by Masterworks Broadway.

This is the first complete English language stage recording of the show since the original 1979 Broadway cast album. The two-disk set, is produced by Andrew Lloyd Webber and Nigel Wright, with Tim Rice as Executive Producer.

Told almost entirely in song, Evita is narrated by a working-class stiff named Che (Ricky Martin), who has, he says, a bone to pick with the first lady's sainted reputation, and who offers up a mildly revisionist account - "No money, no class no father, no bright lights" - of her astonishing rise.

Eva Duarte (Elena Roger) was born into the lowest rung of rural life a poor, ambitious young woman who followed her crooner boyfriend (Max von Essen) into the city with dreams of becoming an actress. We're told she used sex as a boot strap to better her existence. On a higher plateau of mud she married Colonel Juan Perón (Michael Cerveris), who later won the presidency on a populist platform. From that point, Evita played convoluted life roles: a working-class hero on one hand and, on the other, a pampered player who sings: "Screw the middle classes! I will never accept them. And they will never deny me anything again."

Martin as Che explains: "Instead of a government we had a stage/ Instead of ideas, a prima donna's rage/ Instead of help we were given a crowd/ She didn't say much but she said it loud."

In addition to Martin, the production stars Olivier Award-winning Argentinean actress Elena Roger making her Broadway debut as Eva Perón and Tony Award-winner Michael Cerveris as Juan Perón. The cast also features Max von Essen as Magaldi and Rachel Potter as the Mistress.

An interesting score which begins with funeral dirge notes and rapidly turns into an anthem. Along the way there are tango and folk offerings. Told in flashback about the life and death of Eva Peron, singer Ricky Martin delivers. He is also easily understood which is crucial on this CD because he is the narrator - the show's compass.

The versatile Cerveris as Juan is excellent.

There is also an original Broadway cast album and for those who own that copy there are reasons to also purchase this one.

For instance, the different approaches to the role of Eva Peron.



Michael Cerveris, Elena Roger and Ricky Martin in Evita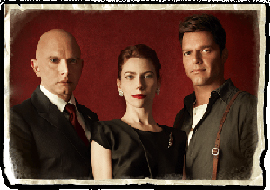 Not every entity is under the Eva spell. Sings the Army in Peron's Latest Flame: "It's no crime for officers to do as they please/ As long as they're discreet and keep clear of disease/ We ignore, we disregard/ But once they allow a bit on the side/ To move to the center where she's not qualified/ We should all be on our guard/ She should get into her head/ She should not get out of bed/ She should know that she's not paid/To be loud but to be laid/Slut - dangerous jade."

The original Broadway cast starred Patti LuPone as the strong willed, hard charged Evita - a role for which she won a Tony Award and shot her to superstardom. LuPone has been widely quoted as saying: "Evita was the worst experience of my life. I was screaming my way through a part that could only have been written by a man who hates women."

In this revival, Elena Roger, who is from Argentina, is cast as Eva. LuPone and Roger are different types of singers with different vocal ranges and styles and approaches to character development.

Vocally, Roger can be better appreciated on this CD than on stage, as her sometimes shrill abrasive acting approach to Evita isn't transferred to the recording. In hearing her sing on this CD, the listener can appreciate the desperation, naivety and vulnerability that she brings to her interpretation of Eva, which won her The Olivier Award.

The cast also includes: Ashley Amber, George Lee Andrews, Wendi Bergamini, Eric L. Christian, Kristine Covillo, Colin Cunliffe, Margot de La Barre, Bradley Dean, Rebecca Eichenberger, Melanie Field, Jennie Ford, Maya Jade Frank, Bahiyah Sayyed Gaines, Constantine Germanacos, Laurel Harris, Nick Kenkel, Brad Little, Erica Mansfield, Emily Mechler, Isabela Moner, Sydney Morton, Jessica Lea Patty, Aleks Pevec, Kristie Dale Sanders, Timothy Shew, Michaeljon Slinger, Johnny Stellard, Alex Michael Stoll, Daniel Torres and Matt Wall.

Music Supervisor/Director Kristen Blodgetter, Orchestrations are by Andrew Lloyd Webber and David Cullen, and dance arrangements are by David Chase.

Evita tells Eva Peron's passionate and tragic story through Tim Rice and Andrew Lloyd Webber's most dazzling and beloved score, including Don't Cry for Me Argentina, Another Suitcase in Another Hall and High Flying Adored, together with You Must Love Me, the Oscar-winning hit from the film Evita.

Concertmaster Victor Costanzi. Orchestra Contractor David Lai. Synthasizer Programming Stuart Andrews. Associate Conductor and keyboards William Waldrolp. Andy Einhorn keyboards. Eddie Monteiro keyboards and accordion. Michael Aarons guitar. Jefff Cooper bass. Bill Lanham drums. Dave Roth percussion. James DeLa Garza and Alex Holton trumpets. Timothy Albright trombone. Shelagh Abate on French horn. Kathleen Necter flute, alto flute and piccolo. James Ercole clarinet, bass clarinet and tenor saxophone. Katherine Livolsi-Landau, Susie Perelman, Matthew Lehmann, violins. David Blinni viola. Mairi Dorman-Phaneuf cello.

Recorded and mixed by Robin Sellars. Tracking Engineer Isaiah Abolin. Editing Engineer Paul Chandler Assistant Engineer Brett Mayer, Dan Fyfe, Ian Kagey, Michael Parnin and Roman Phelan. Mastered by Mark Wilder at Battery Studios, NYC. Mixed by SMP Studios, Chertsy, Surrey, UK. Recorded at MSR Studios, NYC on April 29-May 1, 2012.

Disc: 1
1. Requiem
2. Oh What a Circus
3. On This Night of a Thousand Stars
4. Eva, Beware of the City
5. Buenos Aires
6. Good Night and Thank You
7. The Art of the Possible
8. Charity Concert
9. I'd Be Surprisingly Good For You
10. Another Suitcase in Another Hall
11. Peron's Latest Flame
12. A New Argentina

Disc: 2
1. On the Balcony of the Casa Rosada
2. Don't Cry For Me Argentina
3. High Flying Adored
4. Rainbow High
5. Rainbow Tour
6. The Chorus Girl Hasn't Learned
7. And the Money Kept Rolling
8. Santa Evita
9. Waltz for Eva and Che
10. You Must Love Me
11. She Is a Diamond
12. Dice are Rolling
13. Eva's Final Broadcast
14. Montage
15. Lament
16. No Llores Por Mi Argentina (Bonus Track)


STARS WILL LIGHT UP A CAPITOL 4th
Matthew Broderick and Keli O'Hars in Nice Work If You Can Get It Photo by Joan Marcus.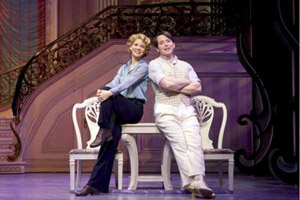 The nation's premier Independence Day holiday concert features performances from some of the country's best known and award-winning musical artists with the National Symphony Orchestra. The Capitol Fourth concert and show includes an evening of patriotic and uplifting music followed by a spectacular display of fireworks over the Washington Monument.

The multi award-winning event will feature four time Tony-nominated Broadway star Kelli O'Hara, Tony award winner Matthew Broderick, acclaimed Broadway and television star Megan Hilty, singer-songwriter Javier Colon, R&B superstars Kool & The Gang; country singer Josh Turner, tenor Russell Watson, Glee star Amber Riley, composer John Williams and a dozen U.S. Olympic athletes will be among the headliners for this year's July Fourth celebration on the National Mall.

Broderick and O'Hara will perform songs from the Tony-winning Broadway musical Nice Work If You Can Get It during the program.

John Williams will conduct a performance of his Olympic Fanfare alongside Olympians competing in this year's Summer Games, including archer Khatuna Lorig, fencer Daryl Homer and weightlifter Sarah Robles. Gold medal-winning speedskater Apolo Anton Ohno will host that portion of the program, while Tom Bergeron of Dancing With the Stars will serve as the main host.

This celebration of America's 236th birthday will feature the National Symphony Orchestra under the direction of top pops conductor Jack Everly and will be capped off with a rousing rendition of Tchaikovsky's 1812 Overture complete with live cannon fire provided by the United States Army Presidential Salute Battery, an audience favorite and now an A Capitol Fourth tradition. Also participating in the event will be The Choral Arts Society of Washington, along with The U.S. Army Herald Trumpets and the Joint Armed Forces Color Guard provided by the Military District of Washington, D.C.

The show will be broadcast live on PBS and NPR. The fireworks will last for about 20 minutes, the National Park Service said.

In The Big Apple, the 36th Annual Macy's 4th of July Fireworks show will have 40,000 fireworks going off. There will also be live performances by Katy Perry and Kenny Chesney.

In Las Vegas Stations Casinos will continue its tradition of hosting the largest fireworks display in Southern Nevada. The nine-minute fireworks show will be produced by Grucci of New York. The citywide fireworks shows will go off at Aliante Station, Green Valley Ranch Resort, Fiesta Rancho, Texas Station and Red Rock Casino Resort.


TIMES SQUARE STATUE OF LIBERTIES HOPE 4th OF JULY IS A BANG UP ONE FOR TIPS
Times Square Statue of Liberty character waits for photo opportunity. Photo: Laura Deni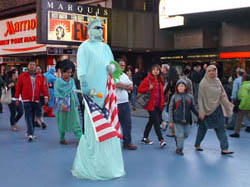 On any given evening in New York's Times Square four costumed Statue of Liberty characters march to their appointed spots.

The stand approximately 10 feet apart and wait for tourists to approach.

The stilted, draped and painted human replicas of the iconic New York landmark, hold a torch, an American flag and a green foam type Statue of Liberty crown, which they place on the heads of children as parents eagerly snap pictures to take home as souvenirs.

Tourists who didn't bother to see the real deal, view this as the next best thing.

Some weeks are better than others for the tip seeking silent performers.

Fleet Week is good, so is Memorial Day and Labor Day. This coming 4th of July the stand still and pose performers are hoping for a financial sparkler.


SPREADING THE WORD


SEARCHING FOR SUGAR MAN HOSTED BY ALEC BALDWIN presented by The John Drew Theater at Guild Hall, in Partnership with Hamptons International Film Festival.

Talkback to follow with Alec Baldwin and Director Malik Bendjelloul.

American folk singer Rodriguez's fade into obscurity in the 1970's, combined with the rumors of his death, made for a tale of broken dreams. Decades later, two filmmakers set out to understand the mystery of his tale, and what they discover must be seen to be believed.

Friday, July 6 at Guild Hall in East Hampton, New York. A limited number of special VIP Reception tickets include the screening and an after party at The Maidstone.

WARM UP 2012 MoMA PS1 in New York City presents Warm Up 2012, beginning July 7 and taking place every Saturday this summer through September 8.

Now celebrating its 15th year, the museum's highly anticipated outdoor series continues its tradition of introducing audiences to the best in experimental live music, sound, performance, and DJs.

The annual series is held in MoMA PS1's courtyard, which this year features a temporary urban landscape by HWKN called Wendy, the winning design of MoMA PS1's 13th annual Young Architects Program.

GLORIA VANDERBILT that's Anderson Cooper's mother. Long before she became famous for that reason the lady had made a name for herself - heiress, fashion designer, author and now - best gal pal to Kathy Griffin.

On Sunday, July 8, she'll take part in the Sundays with Luminaries program hosted and interviewed by Wendy Goodman. A book signing follows.

At The Guild Hall in East Hampton, NY.

LIVE BROADCAST OF THE SOUND OF MUSIC will take place on NBC. The network has partnered with the producing duo of Craig Zadan and Neil Meron to present a live broadcast of The Sound of Music, based on the original Broadway musical, it was announced by Robert Greenblatt, Chairman, NBC Entertainment.

"It is our supreme pleasure to broadcast - live - a new version of the seminal Broadway musical The Sound of Music for a whole new generation," said Greenblatt. "There used to be a tradition of broadcasting musicals live back in the 1950s and we're thrilled to do it once again with a musical that has been a family classic for five decades."

"It isn't our intention to produce a remake of the movie version of The Sound of Music - that would be artistic blasphemy," said Zadan. "What we want to do, instead, is to give audiences a completely fresh experience of this great Tony Award-winning stage musical in the form of a classic television event, combined with the spontaneity of a live performance. And all of the actors will be singing live; there will be no lip-synching to pre-recordings."

"This groundbreaking 'hybrid' of sorts will be based on the stage musical," added Meron, "and will feature all the classic songs - plus a few wonderful songs from the Broadway version that people are less familiar with."

Casting will begin immediately and an air date will be announced shortly.


OTHER PEOPLE'S MONEY


CELINE DION and her husband Rene Angeli are being sued in federal court by Keith Sturtevant, who earned $63,000 a year as their Florida handyman. He claims that the singer asked him to work 48-60 hours a week but didn't pay overtime. Sturtevant is represented by attorney Dennis Card.

According to the complaint, Dion employed at least three other full-time maintenance workers as independent contractors "in an attempt to avoid paying workers compensation and appropriate federal withholding taxes."

However, TMZ reports that Dion's spokesperson stated the ex-worker's "handsome yearly salary" covered any overtime he completed in his three years of service.

Sturtevent was fired May 12, 2012 "due to poor performance," but "Dion and Angelil wanted to make the transition as comfortable as possible for him and even offered vacation pay and a $10,000 severance package - which he rejected," according to TMZ.

Sturtevent's attorney indicated a lawsuit may be filed over the firing.






WILLIAM IVEY LONG the five-time Tony Award winning costume designer has been elected ed Chair of the American Theatre Wing. He will succeed current Chair Ted Chapin, who concludes his four-year term this year, which is the maximum number of consecutive years permitted. Chapin will maintain an active role in The Wing as Co-Vice Chair.

Long will serve as Chair of the Wing's Board of Directors, which also welcomes three new appointees: Pamela Zilly, Pamela Bell and Mark Abrahams.

ATW officers include Co-Vice Chairs Chapin and Peter Schneider, Treasurer Michael Price and Secretary Enid Nemy. The Wing's Executive Director Heather Hitchens recently completed her first full year.

Best known for creating The Antoinette Perry "Tony" Awards, now presented with The Broadway League, ATW has developed the best-known national platform for the recognition of theatrical achievement on Broadway. Yet ATW's reach extends beyond Broadway and beyond New York, with educational and media work that offers the very best in theatre to people around the world.

KRISTIN CHENOWETH has been honored by her hometown of Broken Arrow, Oklahoma. Last Sunday the Broken Arrow Performing Arts Center dedicated the Kristin Chenoweth Theater.

The Tony Award winner was born July 24, 1968, in Broken Arrow. She is a 1986 graduate of Broken Arrow High School and earned a B.A. in musical theater and an M.A. in opera performance from Oklahoma City University.

BRUCE SPRINGSTEEN will be honored as the 2013 MusiCares Person of the Year on Friday, February 8, 2013, it was announced by Neil Portnow, President/CEO of the MusiCares Foundation and The Recording Academy, and Scott Pascucci, Chair of the MusiCares Foundation Board.

Proceeds from the 23rd annual benefit gala dinner and concert - to be held in Los Angeles during Grammy Week two days prior to the 55th Annual Grammy Awards - will provide essential support for MusiCares, which ensures that music people have a place to turn in times of financial, medical, and personal need. Arranger/composer/music producer Rob Mathes will be the evening's musical director.

THE TONY RANDALL THEATRICAL FUND GRANTS have announced their 2012 recipients.

Since 2006 The Tony Randall Theatrical Fund has distributed over $1 million to more than 50 companies. This year the Fund is pleased to award general operating support grants to nine exceptional theater companies with a proven track record of artistic excellence and ambitious, mission-driven theater-making. Special consideration this year was given to companies committed to the development of new audiences and the production of relevant work with a social conscience.

The 2012 recipients are:
Tectonic Theatre Project
Brooklyn Academy of Music
Lincoln Center Theater
Pregones Theater
Red Bull Theatre
Playwrights Horizons
Elevator Repair Service
Rude Mechs (Austin, TX)
Actors' Gang Prison Project (Los Angeles, CA)

2012 ROCKEFELLER GRANTS include several for the arts.

Concerts at Brooklyn Housing projects will take place thanks to a $100,000 grant. The two-year-program will see basketball courts and lawns used as outdoor stages for free concerts, dance, plays and film screenings in three Brooklyn public housing complexes.

The Museum of Contemporary African Diasporan Arts will produce a monthly series of top-caliber performances at Fort Greene's Walt Whitman Houses and the nearby Ingersoll and Farragut complexes — the only program of its kind in New York City Housing Authority properties.

More than 30 Brooklyn arts and cultural organizations will provide performers for the events, which start in August.

The Ghetto Film School located in the Bronx was the recipient of a New York City Cultural Innovation Fund $150,000 award, toward the costs of developing students' creative and video production.

The Apollo Theatre Foundation is the recipient of a $150,000 New York City Cultural Innovation Fund award, toward the costs of leveraging its brand through a cross-platform model of licensing, merchandising and broadcasting in an effort to secure more sustainable earned-income.

Fund for the City of New York was awarded $200,000 for use by ArtHome toward the costs of Assets for Artists, an Individual Development Account program that supports low-income artists.



CROWNS a tenth anniversary production re-imagined by Goodman Theatre artistic associate Regina Taylor.

Written and directed by Taylor, the production features E. Faye Butler as Mabel, Felicia Fields as Mother Shaw and Jasondra Johnson as Velma. Also in the cast are Shari Addison, Melanie Brezill, David Jennings, Alexis J. Rogers, Kelvin Roston, Jr., Yusha-Marie Sorzano, Laura Walls, Pauletta Washington and Marketta P. Wilder.

Crowns earned five 2003 Audelco Awards and four 2004 Helen Hayes Awards, including Outstanding Musical Production and Director.

Crowns is described as: "When Brooklyn-born Yolanda relocates to the South after the death of her brother, she finds strength in the tales of the wise women who surround her-and the powerful rituals connected to their dazzling hats. Fusing the music of the South with rich storytelling and abundant 'hattitude,' Crowns is a jubilant celebration of song, dance [and] cultural history."

The creative team include choreographer Dianne McIntyre, music director Fred Carl, projection designer Maya Ciarrocchi, set designer Maruti Evans, dramaturg Tanya Palmer, costume designer Karen Perry, lighting designer Kenneth Posner, sound designer Richard Woodbury, production stage manager Alden Vasquez and stage manager Jamie Wolfe.

Previews began June 30, prior to an official opening July 9, for a run through August 5 at the Goodman Theatre in Chicago.

SLOWGIRL a new play by Greg Pierce and directed by Anne Kauffman.

A two actor production starring Sarah Steele and Tony nominee Zeljko Ivanek.

Slowgirl is the story of a teenage girl (Sarah Steele) who flees to her reclusive uncle's (Zeljko Ivanek) retreat in the Costa Rican jungle to escape the aftermath of a horrific accident. The week they spend together forces them both to confront who they are as well as what it is they are running from.

Sets by Rachel Hauck, costumes by Emily Rebholz, lighting by Japhy Weideman and sound by Leah Gelpe.

Slowgirl is the inaugural production of Lincoln Center Theater's new 131-seat theater, The Claire Tow Theater, located on the roof of the Beaumont, now the permanent home of LCT3.

Citing the need to develop strong relationships with new artists and to build new audiences, Lincoln Center Theater, under the direction of Andre Bishop, Artistic Director, and Bernard Gersten, Executive Producer, created LCT3 to offer these artists fully staged productions. Paige Evans is Artistic Director/LCT3.

Extended through July 29 at The Claire Tow Theater in NYC.

THE SOUND OF MUSIC lyrics by Oscar Hammerstein II, music by Richard Rodgers and a book by Howard Lindsay and Russel Crouse. The signature production of the Leavenworth Summer Theater. Directed by Kevin McKee.

The sun falls behind the ridge, the moon rises over the valley, and Maria descends the hillside singing Hills are Alive. Join us at the stunning Ski Hill Amphitheater for this signature Leavenworth experience. Great entertainment for the whole family. Starring: Maria Rainer: Liz Oyama - Captain von Trapp: Kent Salter- Mother Abbess: Susan Gubsch- Liesl/Nun: Nikki Delmarter, Madeline Winters - Friedrich: Jared Goetz, Jonah Gunter- Louisa: Talen Schoening, Tessa Hassinger- Kurt: Grayson Smith, Jerome Jerome- Brigitta: Chloe Forsyth, Grace Orallo- Marta: Madeline Schiefelbein, Eve Newell- Gretl: Raeme Eby, Fara Newell- Elsa Schraeder: Erin Eloise- Max Detweiler: Matthew Pippin- Rolf Gruber/Nazi: Nicholas Hyett-Schnell, Ryan Monaghan- Sister Berthe: Michelle Abad- Sister Margaretta: Christy Shearer- Sister Sophia: Marie Carlson- Postulant: Sarah Thornton.

With: Herr Zeller: Wes Aman- Frau Schmidt: Kendall Newell- Franz/Nazi: Jared Morgan- Ursula: Hannah Capelo- Baroness Elberfeld: Natalie Copeland- Admiral/Nazi: Dustyn Moir- Baron/Nazi: Bradley Stieger- Priest/Nazi: Brian Hollander- Nazi/Party Guest: Cory Dingman, FX Wood.

Nuns' Chorus: Hannah Capelo, Krista Chase, Natalie Copeland, Erica Elias, Julia Luna, Melissa Maricich, Christina Masson.

Performances begin July 6 with assorted dates through September 2 at the Ski Hill Amphitheater in Leavenworth, WA.

THE IRISH CURSE written by Martin Casella. Directed by Andrew Barnicle.

The California premiere of a new comedy about guys with "one tiny problem."

Described as: "In this wicked, rollicking, and very funny new play, size matters to a group of Irish-American men who meet weekly in the basement of a Catholic church. The focus of their self-help group? A certain anatomical shortcoming - an alleged Irish trait they all feel has ruined their lives. From its blistering language to its brutally honest look at sex and body image, The Irish Curse is a revealing portrait of how men, and society, define masculinity."

Starring Scott Conte, Austin Hébert, Shaun O'Hagan, Joe Pacheco and Patrick Quinlan.

Scenic design by Thomas A. Walsh. Costume design by Merrily Murray-Walsh. Lighting Design by Michael Gend.

Presented by the Odyssey Theatre Ensemble with performances July 7 through August 26 at the Odyssey Theatre in Los Angeles.


WHO'S WHERE


DIANA KRALL takes to the stage on Tuesday, July 3 at the Community Arts Center in Williamsport, PA. On Friday she'll perform at the Amphitheater in Chautauqua, NY.

NEIL DIAMOND performs July 3 at the Music Theatre in Detroit. On July 6 he can be enjoyed at the United Center in Chicago Next Sunday, July 8, finds him at Summerfest in Milwaukee.

AEROSMITH are in the spotlight Tuesday, July 3, at the Jiffy Lube Live Center in Bristol, VA. On Thursday the show is at The Palace of Auburn Hills in Auburn Hills, MI. On Saturday they'll be appearing at the Marcus Amphitheater as part of Summerfest in Milwaukee.

MADONNA on stage Monday, July 2, at the Parken National Stadium in Copenhagen, Denmark. On Wednesday the show is at the Ullevi Stadium in Goteborg, Sweden. Saturday she opens a two night stand at the Ziggo Dome in Amsterdam, Netherlands.

BRYAN ADAMS entertains Monday, July 2, at the Arena Riga in Rega, Latvia. Tuesday's show is at the Siemens Arena in Vilnius, Lithuania. On Thursday he can be enjoyed at the Wiener Stadthalle in Vienna, Austria. Friday's tour stop is at the Salzburgarena in Salzburg, Austria.

ROGER WATERS on stage Tuesday, July 3, at the Consol Energy Center in Pittsburgh, PA. On Friday he opens a two night stand at Yankee Stadium in the Bronx.




FINAL OVATION


NORA EPHRON the famed, beloved journalist and Oscar nominated screen writer and director died Tuesday, June 26, 2012 in New York City. She was 71. The cause was pneumonia brought on by acute myeloid leukemia.

Ephron picked up her first Oscar nomination in 1984 for the script she wrote with Alice Arlen to Silkwood, starring Meryl Streep. She was then nominated in 1990 for the romantic comedy When Harry Met Sally, that starred Billy Crystal and Meg Ryan. With David S. Ward and Jeff Arch, she shared an Oscar nom in 1994 for Sleepless in Seattle, starring Tom Hanks and Ryan.

At the time of her death she was working on her first Broadway play Lucky Guy, which will star Tom Hanks as newspaper columnist Mike McAlary. The play which is slated to open in the spring will be directed by George C. Wolfe.

Her first marriage, to the writer Dan Greenburg, ended in divorce, as did her marriage to Carl Bernstein. In 1987 she married Nicholas Pileggi, the author of the books Wiseguy and Casino.

In addition to her son Jacob Bernstein, a journalist who writes frequently for the Styles section of The Times, she is survived by Mr. Pileggi; another son, Max Bernstein, a rock musician; and her sisters Delia Ephron; Amy Ephron, who is also a screenwriter; and Hallie Ephron, a journalist and novelist.

A memorial is planned for Ephron on July 9.

DON GRADY who gained fame as one of television's most beloved big brothers playing Robbie Douglas on the long-running 1960s hit My Three Sons, died June 27, 2012. He suffered from cancer and received hospice care at his home in Thousand Oaks, Calif., He died just 19 days after his 68th birthday and one day after his My Three Sons co-star Doris Singleton.

He began his career as a member of The Mickey Mouse Club. A musical prodigy from a young age, Grady appeared with a band, the Greefs, in the television series, and he played drums for the Yellow Balloon, a group that had a minor hit with a self-titled song in 1967.

He not only wrote and performed many of his original songs on My Three Sons, he stepped behind the cameras to write some episodes as well.

He also was the featured actor in an Emmy-nominated episode of NBC's psychiatric medical drama, The Eleventh Hour, playing the deviate genius son opposite Angela Lansbury.

After he left My Three Sons he starred in the first live theatrical performance in the national tour of Pippin, and then appeared in several New York musicals, including Godspell, Damn Yankees, and Tom Sawyer

Eventually concentrating on his music, he enjoyed a successful career as a musician and composer. He penned the theme for Hugh Hefner's Playboy Awards, The Phil Donahue Show and music for the Blake Edwards movie Switch and served as Music Director and composer for the Las Vegas show EFX when it starred Michael Crawford.

His score for The Wild, Wild, Wild West show ran for 14 years. He became the Music Director for George Lucas Live, a 3-hour arena event for which he conducted the London Symphony Orchestra.

In 2001 he returned to the Disney family, composing music for more than 30 Disney DVD's including the last five Special Platinum Edition releases.

He was married to Julie Boonisar from 1976–1979 and to Virginia Lewsader from 1985 until his death. In addition to his wife, he is survived by their two children Joey and Tessa.

BRADSHAW SMITH a memorial celebration to honor his life and career has been scheduled for Monday, July 9, at The Pershing Square Center In New York City.

Smith was the founder and executive producer of Broadway Beat and Applause Video. A reception will follow in the Signature Theatre's Café and Bar.

Bradshaw Smith died on January 16, 2012, at age 57, following a sudden and severe stroke. A native of Ansonia, CT, Brad moved to New York City in the mid 70's. As a cabaret performer he won the first Manhattan Association of Cabarets & Clubs (MAC) Award for Best Male Vocalist and later also won a Back Stage Bistro Award. In 1990, he received the MAC Board of Directors Award for his cable television show Cabaret Beat.








Next Column: July 8, 2012
Copyright: July 1, 2012. All Rights Reserved. Reviews, Interviews, Commentary, Photographs or Graphics from any Broadway To Vegas (TM) columns may not be published, broadcast, rewritten, utilized as leads, or used in any manner without permission, compensation and/or credit.
Link to Main Page
---
Laura Deni



For the snail mail address, please E-mail your request.
CLICK HERE FOR COMMENT SECTION