! >
Broadway To Vegas
  
 SHOW REVIEWS CELEBRITY INTERVIEWS GOSSIP NEWS

| | |
| --- | --- |
| | |
SUNDANCE SCREENWRITERS LAB - - HURLYBURLY REVIVAL - - COMEDIANS ON STAGE - - BROOKLYN BOY OPENS - - CES SHOWS OFF GADGETS IN LAS VEGAS - -THE WORLD OF MARIO LANZA - - A DISCUSSION WITH THE CAST OF DEMOCRACY - - CAPSHAW DAUGHTER IN STAGE DEBUT - - DONATE . . . Scroll Down


THE DIFFERENCE BETWEEN MEN AND BOYS


All of those innovative and high priced toys that you'll be buying next Christmas were showcased in Las Vegas this past week.

The Consumer Electronics Show closed Sunday, January 9, after 130,000 people from ten countries eyeballed 2,400 exhibits housed on enough space for 26 football fields.



The Motorola/Burton snowboard mountain was wiped out by the rain. Photo By Laura Deni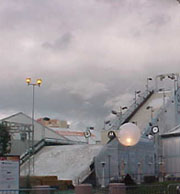 Snowboard to music. Crash and call for help - music and phone built into clothes from Motorola/Burton. Photo by Laura Deni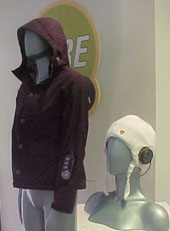 Great Grandpa couldn't do without his Motorola radio and that stalwart of the bedside table has teamed up with Burton, of snow boarding fame, to offer a line of high tech snow wear. Coats and hats with built in stereo systems and phones.

To show off the duds Motorola constructed Motomountain - a snow boarding mountain complete with machines making real snow. Mother Nature decided to trump the snow board action causing a melt down and shut off when the Vegas skies opened up to pouring rain.

Money also poured into Las Vegas. About $160 million was pumped into the Vegas economy during the four day trade show.

Microsoft's Bill Gates always attends and this year was no exception. Talk show host Conan O'Brien interviewed Microsoft Chairman and Chief Software Architect Bill Gates Late Night style.



Life size TV from Samsung. Photo by Laura Deni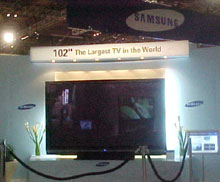 Microsoft touted alarm clocks from MZ Berger and Oregon Scientific that will display the weather forecast, using the same FM radio-based technology in Microsoft's previously released smart watches. Getting heavy play was Windows Media Center PC, a remote-controlled computer that can be used to watch and record television and other media.

The world's largest television was unveiled by Samsung. Start saving now, it hits the market in a few months.

Electronic gadgets for cars are always big. So is anything that can be integrated into a mobile phone.

Walking around the massive show were Elvis and Marilyn Monroe impersonators, comedian George Wallace who is appearing at the Flamingo Hilton, hula skirt clad females placing Hawaiian leis around necks, guys in space creature suits on stilts and girls dressed up like bees.



Busy as a bee passing out pamphlets. Photo by Laura Deni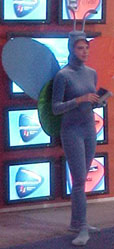 Stars are as important as the merchandise. Just a few of the celebrity throw outs included; XaviX titles announcing a strategic alliance with Jackie Chan. The Dallas Cowboy Cheerleaders held an autograph session at the Sirius booth. Elliot Scheiner the Grammy Award winning record producer of The Eagles, Steely Dan, and Beck was at the Studio@Home Showcase.

Tom Arnold made an appearance for the SSD Company Limited/XaviX. Chris and Rich Robinson from Black Crowes showed up at the Olympus booth. So did Cheap Trick.

On Saturday what would have been Elvis Presley's 70th birthday was celebrated at SIRIUS Satellite Radio with guests Dick Grob who was Head of Security for Elvis, Colonel Tom Parker's right hand man and Elvis' official photographer Ed Bonja, Cynthia Pepper who co-starred with Elvis in Kissin Cousins and Cathy Spehar whose claim to fame has having dated Elvis in Vegas.

Sirius also did a stint with Robert Goulet Ed McMahon, Wayne Newton, and Lance Burton.

Just your typical week in Vegas.


SUNDANCE STAGES SCREENWRITERS WORKSHOP


The Sundance Institute has selected 12 projects for the annual January Screenwriters Lab, which takes place January 14-19 at the Sundance Village in Utah.

The Screenwriters Lab is a five-day writer's workshop that gives independent artists the opportunity to work intensively on their feature film scripts with the support of established screenwriters. Participating writers have problem-solving story sessions with creative advisors, engaging in individual dialogues that encourage and embrace the vision of the writer/filmmaker and help them get to the most compelling version of the story they want to tell.



David Benioff. Born and raised in New York he's a graduate of Dartmouth and the UC Irvine masters in fiction program. He adapted his first novel, The 25th Hour, into the screenplay directed by Spike Lee and starring Edward Norton Photo by; Amanda Peet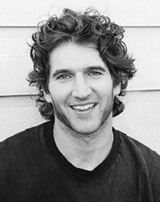 This year's participating writers have the opportunity to work under the guidance of the Lab's Creative Advisors, an extraordinary group of screenwriters, including Allison Anders, Guillermo Ariaga, David Benioff, Anthony Drazan, Naomi Foner Gyllenhaal, Nelson George, Todd Graff, Larry Konner, Craig Lucas, Walter Mosley, Frank Pierson, Jeremy Pikser, Tom Rickman, Howard Rodman, Susan Shilliday, Zachary Sklar and David Veloz.

The participants and projects selected for the 2005 January Screenwriters Lab are:

Andrea Arnold (writer/director), England, Red Road: A woman obsessed with the loss of her family uses her job as a closed-circuit television surveillance operator to confront the man responsible for their death.

Taika Waititi (writer/director), New Zealand, Choice: In rural New Zealand, a young Maori boy struggles to find his place among his peers while learning what it means to be a man as he reconnects with his estranged father.

Cruz Angeles (co-writer/director) and Maria Topete (co-writer), U.S.A., Don't Let Me Drown: In a post-September 11th world filled with fear and hate, sometimes the only thing that keeps you from drowning is love.

Dante W. Harper (writer/director), U.S.A., Dreamland: A compelling look into the heart and mind of a domestic terrorist, Dreamland is the tragic story of Tim McVeigh, from his days as a boy dreaming of being a soldier to a man at war with his own country.

Tom Gilroy (writer/director), U.S.A., Location: Hired as a location scout for an indie film version of Kerouac's On The Road, a middle-aged idealist pretends he's living a comedy and ignores he's documenting a tragedy.

Darci Picoult (writer) and Andrew Dosunmu (director), U.S.A., Mother of George: Torn between her African culture and new life in America, a woman struggles to please her husband and give him the son that will carry on his family's legacy.

Adam Bhala Lough (writer/director), U.S.A., Near As Far: A surreal, subjective portrait of a troubled teenaged girl who suffers through the death of her best friend and desperately searches for someone to take care of her.

Philippe Barcinski (writer/director), Brazil, Not By Chance: Two men obsessed with control are put to the test when they realize they aren't in command of their loved ones or the circumstances and events of their lives.

Vald Lazar (writer/director), U.S.A., Pieta: Born of a holy war, a child has but one choice – how he dies: defending those he loves or killing those he hates.

Stew and Heidi Rodewald (co-writers), U.S.A., The Seventy-Thrid Summer: The vibrant and authentic story of the deeply intimate and complex relationship between two families – one black, one Jewish – living in the Fairfax district of Los Angeles circa 1973.

Catherine Stewart (writer/director), South Africa, Girls, Girls, Girls: Set in post-apartheid South Africa amid a volatile landscape of fear, hybrid cultures, and shifting identities, three unusual love stories intertwine with startling results on the streets of Johannesburg.

Cam Archer (writer/director), U.S.A., Wild Tigers I Have Known: A lyrical telling of the coming of age of a 13-year-old boy who learns to cope with his newfound sexuality and his unrequited love for the cool kid in school.

The January Screenwriters Lab is part of the Sundance Institute's Feature Film Program, a year-round series of workshops and events. Founded by Robert Redford in 1981, Sundance Institute is dedicated to the development of artists of independent vision and the exhibition of their new work. Since its inception, the Institute has grown into an internationally recognized resource for filmmakers and other artists. Sundance Institute conducts national and international labs for filmmakers, screenwriters, composers, writers and theatre artists.


SPREADING THE WORD


THE COMEDIANS!

Dick Cavett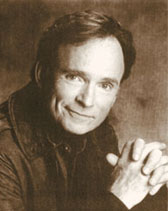 Starring Shelley Berman, Bill Dana, Dick Gregory, Louis Nye and Mort Sahl. Evening hosted by Dick Cavett.

This legendary collection of American comedians represents the surviving group of artists that changed the face of humor from the mid-20th century until now.

They brought political, social and racial issues, sex, drugs, rock and roll, and free form satire into the household and to greater heights on stage than ever before.

There has never been an event, either live or on television or film, that has brought together a more distinguished group of purely American comedy creators and visionaries.

Sunday, January 16, in the Alexander W. Dreyfoos, Jr. Concert Hall at the Kravis Center, Florida.

DEMOCRACY – A DISCUSSION WITH THE CAST OF DEMOCRACY Join cast members Richard Thomas, Robert Prosky and Michael Cumpsty in a discussion of their hit play Democracy, written by Michael Frayn.

Part thriller, part political exposé, Michael Frayn's new play is the story of former West German chancellor Willy Brandt and the scandal that overwhelms him when his devoted personal assistant is unmasked as an East German spy.

The discussion will be moderated by New York Times culture writer Anita Gates. Part of the Makor's Theater Talk Series. Monday January 17 at the Steinhardt Building in NYC.

UNDER THE BED the world-premiere reading of a delicious new play by Susan Sandler about the hilarious, heartbreaking and age-defying romantic gymnastics of young 70-somethings. Starring Tony Award winner Phyllis Newman, Academy Award winner Olympia Dukakis, Broadway star Scotty Bloch, and noted film, TV and stage actor Sam Coppola. Directed by Gus Kaikkonen. Sunday, January 16 Makor/Steinhardt Center in NYC.

BE MY LOVE - THE WORLD OF MARIO LANZA presented by the Metropolitan Opera Guild, featuring excerpts Lanza's films and a panel discussion on his life and career with: Lucine Amara, Ann Blyth, Damon Lanza, Ellisa Lanza Bregman, Elaine Malbin, Jane Powell, plus a special performance by Metropolitan Opera tenor Richard Leech Following the program there is a champagne and dessert reception. Thursday, January 13 at Alice Tully Hall in NYC.

THE PLAY'S THE THING will air Night Mother by Marsha Norman, starring Sharon Gless and Katherine Helmond. Jessie feels she has nothing to live for. And tonight, she plans to do something about it. Thus begins the nerve-wracking duel between a woman systematically preparing for her own death and the frantic, comic and touching efforts of her mother to stop her. The broadcast includes Tell Tale by Jeffrey Hatcher, one of three monologues that make up his play Three Viewings. Bruce Davison plays Emil, a respectable middle-aged mortician consumed by a passion he dare not declare. Saturday, January 15 from 10 pm - midnight on 89.3 KPCC, The Play's the Thing, produced by L.A. Theatre Works, is streamed live on the KPCC website for one week following each broadcast.



Broadway To Vegas is supported through advertising and donations. Priority consideration is given to interview suggestions, news, press releases, etc from paid supporters. However, no paid supporters control, alter, edit, or in any way manipulate the content of this site. Your donation is appreciated. We accept PAYPAL. Thank you for your interest.





Eddy Arnold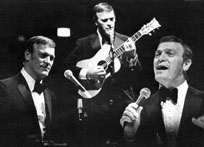 Recording artists Eddy Arnold, Art Blakey, the original members of the Carter Family, Morton Gould, Janis Joplin, Led Zeppelin, Jerry Lee Lewis, Jelly Roll Morton, Pinetop Perkins, and the Staple Singers will receive The Recording Academy Lifetime Achievement Award, it was announced last Tuesday. Hoagy Carmichael, Don Cornelius, Alfred Lion, and Dr. Billy Taylor will be honored with the Academy Trustees Award. Phil Ramone and JBL Professional have been named recipients of the Technical Grammy Award.

The Lifetime Achievement Award honors lifelong artistic contributions to the recording medium while the Trustees Award recognizes outstanding contributions to the industry in a non-performing capacity. Both awards are decided by vote of The Recording Academy's National Trustees. Technical Grammy Award recipients are determined by vote of the members of the Academy's Producers & Engineers Wing and the Academy's Trustees. The award is presented to individuals and/or companies who have made contributions of outstanding technical significance to the recording field.

Formal acknowledgment of these special merit awards will be made at a new elite ceremony during Grammy Week on Saturday, Feb. 12, as well as during the 47th Annual Grammy Awards, which will be held at Staples Center in Los Angeles on Sunday, Feb. 13, and broadcast on CBS.

"The Lifetime Achievement, Trustees and Technical Grammy Awards recognize music people who have made a lasting contribution to culture around the world," said Neil Portnow, President of The Recording Academy. "These profoundly inspiring figures are being honored as legendary performers and archetypal musicians, cultural ambassadors, and technical visionaries. Their outstanding accomplishments and passion for their craft have created a timeless legacy that has positively affected multiple generations, and will continue to influence generations to come."

Lifetime Achievement Award honorees:

Eddy Arnold — Arguably the most popular country performer in the 20th century. With 28 No. 1 singles, Arnold spent more weeks at the top of the charts than any other artist. He brought country music to the masses, making him one of the first crossover country artists.

* Art Blakey — One of the most influential jazz musicians of the past 50 years, drummer Art Blakey created a sound known as hard bop. In 1955, Blakey co-founded the Jazz Messengers, an ensemble that became known for finding and nurturing talent for many decades.

* (Original) Carter Family (Alvin P. "A.P." Carter, Sara Carter, and Maybelle Carter) — Formed in 1926 in Virginia, the Carter Family became one of the most influential groups in country music history. A.P. can be considered the father of bluegrass thanks to his penchant for collecting and recording hundreds of British/Appalachian folk songs — saving them for future generations. The Carter Family's influence can be heard today in many contemporary folk, bluegrass, and rock musicians.

* Morton Gould — An important American conductor and composer, Gould wrote in both popular and classical styles. A child prodigy, Gould played the piano and composed by age 4. In addition to writing for Broadway and scoring films and television shows, he was music director of the popular radio program "The Chrysler Hour" in the 1940s and served as president of ASCAP from 1986 to 1994.

* Janis Joplin — One of the greatest female artists of the '60s, Joplin redefined the role of women in rock with her assertive, sexual persona and electrifying on-stage presence. Her passionate and gritty vocal style made her recordings some of the best of her era and left an indelible mark on the history of rock.

Led Zeppelin (Jimmy Page, Robert Plant, John Paul Jones, * John Bonham) — Formed in 1968, the quartet's interpretation of blues, experimentation with folk and world music, and their incorporation of mystical themes defined the hard rock genre and established the concept of album-oriented rock.

Jerry Lee Lewis — Rock and roll's first great wild man, Lewis' larger-than-life personality was matched only by his energy and skill at the piano. When he emerged on the rock scene in 1957, he created his own unique brand of music by ignoring musical boundaries and merging blues, gospel, country, and rock. His work has transcended fads and fashions and is considered one of the best collections of American music in existence.

* Jelly Roll Morton — A founding father of the genre and arguably jazz's first great composer, Morton was also an extremely talented arranger, pianist, and vocalist. He traveled across the country performing during the first decades of the 20th century and fused a variety of black musical expressions — ragtime, blues, field hollers, religious hymns, and spirituals — with Caribbean influences and white popular songs, and created a sound that bore a close resemblance to the music beginning to be called "jazz."

Pinetop Perkins — With his unmistakable piano sound, Joe Willie "Pinetop" Perkins is widely recognized as the world's best blues piano player . A living repository of blues tradition — and one of the last great blues artists of his era — Perkins' brand of boogie-woogie helped shape swing music and, eventually, rock and roll.

The Staple Singers ( * Roebuck "Pops" Staples, Cleotha Staples, Mavis Staples, Pervis Staples, Yvonne Staples) — T he Staple Singers have been performing their blend of gospel, folk and Delta blues — steeped in the music of the church — since the 50's. Fronted by patriarch Roebuck "Pops" Staples, the Staple Singers have left an imprint of soulful voices, righteous conviction and danceable "message music" across the decades.

Trustees Award honorees :



Hoagy Carmichael
* Hoagy Carmichael — One of the great composers of the American popular song, Howard Hoagland "Hoagy" Carmichael's compositions such as Stardust and Georgia On My Mind have long been standards.

Numerous artists from various genres of American music have performed his songs, and each time they find new audiences and build a lasting legacy in our cultural memory.

Carmichael was one of the first singer/songwriters of the mass media age, paving the way for later performing writers.

Don Cornelius — "Soul Train" creator and executive producer Don Cornelius has been at the cutting edge of soul music for more than 30 years. "Soul Train," the first black-oriented music variety show ever offered on American television, is one of the most successful weekly programs marketed in first-run syndication and one of the longest running syndicated programs in American television history. The show's emergence and long-standing popularity marks a crucial moment in the history of African-American television production.

* Alfred Lion — Lion co-founded Blue Note Records in 1939 and developed it into one of the top independent jazz labels in existence. Lion had an enthusiastic curiosity for new music and his dedication to the quality of each record was unparalleled in the industry. He had the ability to capture the special nature of jazz by giving his artists room to operate despite their eccentricities and, as a result, Blue Note produced many groundbreaking artists under his leadership.

Dr. Billy Taylor — A distinguished ambassador of the jazz community, Taylor's career spans six decades. The recording artist, composer, radio personality and educator has crusaded for greater recognition of jazz, the genre he calls "America's classical music." One of only three jazz musicians appointed to the National Council of the Arts, Taylor also serves as artistic advisor for jazz at the Kennedy Center for the Performing Arts where he developed several acclaimed concert series.

Technical Grammy Award recipients :

Phil Ramone — Acknowledged as one of the industry's top creative producers, nine-time Grammy winner Ramone is equally respected as a technology leader. He has played an integral role in pioneering many of the advances in the art and science of music and film sound recording. As an early advocate of the compact disc, it was a Phil Ramone production - Billy Joel's 52nd Street - that was the first CD ever pressed. The first pop DVD release - Dave Grusin Presents West Side Story - also was a Ramone production. As co-broadcast audio supervisor of the Grammy telecast, it was Ramone's leadership that inspired the landmark Emmy-winning 5.1 surround broadcast of the 45th Annual Grammy Awards.

JBL Professional — Founded by James B. Lansing, JBL has been preeminent in high-end loudspeaker technology for all facets of professional sound since its formation in 1946. As broadcast, recording and motion pictures entered the stereo era in the early '50s, JBL was there with the world's first four-inch voice coil cone drivers and commercially available compression drivers. As the rock movement gathered momentum during the late '60s, JBL eventually became the preferred manufacturer for both musical instrument loudspeakers as well as music reinforcement activities. In recent years, JBL's introduction of VerTec line array systems has been heralded as the leading edge in array technology and system synthesis, and has been the sound reinforcement system of choice for the Grammy Awards shows.

Established in 1957, the National Academy of Recording Arts & Sciences, Inc., also known as The Recording Academy, is an organization of musicians, producers, engineers, and recording professionals that is dedicated to improving the cultural condition and quality of life for music and its makers.

*Posthumous



HURLYBURLY by David Rabe. Starring: Bobby Cannavale, Ethan Hawke, Parker Posey, Halley Wegryn Gross.

David Rabe's tour de force is a shocking, brutally comic reflection on the decade of decadence. Set in the cocaine-and-sex infused Hollywood Hills of the mid-1980's, featuring a newly-revised script from Mr. Rabe, this is the first New York production of Hurlyburly since its celebrated Broadway run in 1984. New Group Artistic Director Scott Elliott directs this revival.

Sets: Derek McLane. Costumes: Jeff Mahshie. Lights: Jason Lyons. Sound: Ken Travis. Fight Director: J. Steven White.

Previews start January 11. Officially opens January 11 with performances through March 5 by the New Group - Tony Award winners for Avenue Q - at Theater Row, NYC.

AN AMERICAN DAUGHTER by Wendy Wasserstein. This comedy-drama centers around Lyssa Dent Hughes, the president's nominee for Surgeon General and 40-something daughter of a long-time Senator. When an innocent indiscretion from Lyssa's past is discovered, the media turns it into a major scandal, which imperils her confirmation and divides her family and friends. She must decide whether to face an ugly Senate hearing, or decline the nomination and become a sacrificial lamb for the President.

Wasserstein's inspiration was the Zoe Baird nomination for Attorney General in the early Clinton administration.

January 14-February 5 at Carpenter Square Theatre in Oklahoma City.

GAVESTON FAVOURITE OF THE KING Libretto & Lyrics by Ken Prestininzi. Music by Christopher Winslow. Musical Direction by Darryl Archibald. Directed by Derek Charles Livingston.

Celebration Theatre presents the world premiere of this new musical based upon the 14th Century relationship of King Edward II and Piers Daniel Gaveston, is a timeless tale for these turbulent times. The operatic musical begins as Edward II becomes King, and calls to court his banished lover, Gaveston. Their reunion becomes the focus of political intrigue, emotional manipulation and finally, civil upheaval before its inevitable climax.

Livingston has assembled a cast of trained musical theatre and opera singers for this ambitious, fully sung, musical telling of the historic tale. Gaveston sings "what change will 500 years bring," in that spirit, Livingston has set this tale in modern time to reflect how little has changed when people of the same gender love each other.

The cast includes: Beau Puckett as Edward II, Charles Alan as Gaveston, Jack Harding as Lord Mortimer, Susan Asbjornson as Queen Isabel, Blanche Ramirez as Alberta, Gregory Franklin as Spenser, and an ensemble featuring Barry O'Neil, Johnny Byrne, Elke V. Kummerow and James Kyson Lee.

The set design is by Mercedes Younger and the lighting design will be created by Kathi O'Donohue.

Previews begin Wednesday, January 12 and Thursday, January 13 and will open on Friday, January 14 and run for six weeks through Sunday, February 20 at Celebration Theatre, in Hollywood.

BROOKLYN BOY By Donald Margulies. Directed by Daniel Sullivan. Starring Adam Arkin, Polly Draper, Ari Graynor, Arye Gross, Kevin Isola, Mimi Lieber and Allan Miller.

This world premiere by the Pulitzer Prize-winning author Donald Margulies and directed by Tony Award winner Daniel Sullivan is about a writer who has finally hit the big time after years of hard work with a bestselling novel primed for a Hollywood adaptation. But has success changed him? And does where we're from affect who we become? This exciting production will star Adam Arkin. Polly Draper plays his wife, Nina.

A Manhattan Theatre Club co-production with South Coast Repertory Theatre January 12 through March 20. Biltmore Theater in NYC.

FAT PIG by Neil LaBute welcomes Jessica Capshaw, Kate Capshaw's daughter to the production in the role of Jeannie. This will mark Capshaw's stage debut. She joins the cast at the Lucille Lortel Theater on Jan. 17.

FALLEN FROM PROUST a world premiere from writer Norman Allen. Directed by Will Pomerantz.

Modern-day San Francisco is the setting for this roundelay of sexual shenanigans as three hip thirty-somethings manipulate an ever-changing triangle of friendship, love and Clumber Spaniels. All bets are off in a world where Republican affiliations are anathema, homosexuality is passé and an ancient volume of Proust holds the key to all mysteries. January 11- February 20 at the Signature Theatre in Arlington, Virginia.

THE SEAGULL described by producer Joshua Weiss as "a new sexy, sassy adaptation of Anton Chekhov's The Seagull is the way The Roundtable Ensemble will celebrate its fifth anniversary. Adapted and directed by Michael Barakiva, The Seagull is the story of the original dysfunctional family: A young writer's girlfriend is in love with his mother's celebrity boyfriend, who loves them both. And then things get complicated. This accessible new adaptation highlights the comedy found in the agony of everyday life. Chekhov's dark comedic masterpiece pokes fun at situations which today's audiences can relate to: hating your job, loving someone who doesn't love you back, keeping a family together, and trying to make a better life for yourself.

The play stars Barbara Garrick as Arkadina, Maria Thayer as Nina, Saxon Palmer as Trigorin, David Barlow as Konstantin, Kelly Hutchinson as Masha, Linda Marie Larson as Paulina, Jerry Matz as Sorin, Curzon Dobell as Dorn, Garrett Neergaard as Medvedenko, David A. Green as Shamrayev, Jeremy Feldman as Yakov, and Eric Alexander Hoffman as Luka.

The rest of the artistic team includes set design by Mimi Lien, Oana Botez-Ban costume design, Nick Francone lighting design, Ryan Rumery original music and sound design, Eliza Brown properties, and Andrea Ghersetich production stage manager.

Performances begin Wednesday, January 12th and end January 29th at the Blue Heron Arts Center, in New York City.

APHRODISIAC

Thomas Jay Ryan as Avery and Jennifer Dundas as Alma. Photo by Carol Rosegg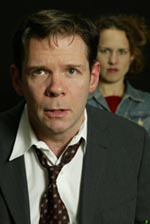 by Rob Handel. What do you do if you wake up one morning and your dad, an undistinguished member of the U.S. Congress, is suddenly famous for his sex life - and under suspicion of murder?

Is there a support group? And whom do you talk to?

If you're Avery and Alma Ferris - the adult children of congressman Dan Ferris, currently under investigation in the disappearance of Ilona Waxman - you try role-playing.

You pretend to be the congressman and the intern. You maybe even summon up the most famous intern of all time for advice.

Directed by Ken Rus Schmoll, Aphrodisiac officially opens today, January 9 with performances through January 30.

Presented by 13P Thirteen Playwrights, Inc at the Downstairs Theater at P.S. 122 in NYC.

DA KINK IN MY HAIR by Trey Anthony. Set in a West Indian hair salon in Toronto, Da Kink in my Hair gives voice to a group of women who tell us their unforgettable, moving and often hilarious stories. Mixing laughter and tears - and told in words, music and dance - the stories explore the hardship, struggles and joys of black women's lives. Originally staged at the Toronto Fringe Festival, Da Kink was invited to the New York Fringe Festival and Toronto's Theatre Passe Muraille and served as the basis for a recent drama special on Vision TV. Da Kink features (in alphabetical order) Amina Alfred, Trey Anthony, Jully Black, Zena Brown, Lisa Codrington, Raven Dauda, Miranda Edwards, Quancetia Hamilton, Abena Malika, Ngozi Paul, Rachael-Lea Rickards, Satori Shakoor and d'bi.young.

Direction, music and lyrics are by Weyni Mengesha, set and costume design by Julia Tribe, lighting design by Rebecca Picherack and choreography by Fleurette S. Fernando.

January 11 - Feb 27 at The Princess of Wales Theatre Toronto, Ontario.

THE WHITE HORSE THEATRE COMPANY in NYC threw a party last night at Select, which is the new lounge in Chelsea. The get together was to launch their upcoming production of Sam Shepard's The Late Henry Moss.

Written in response to his father's death due to a drunken roadside accident in 1984, Shepard worked on The Late Henry Moss on and off for a period of ten years before completing the final version in 2000. Perhaps his most powerful and autobiographical work to date, The Late Henry Moss re-explores well-known Shepard themes; the dark side of the American family, severed relationships, spousal abuse, alcoholism, and loss of identity.

The action takes place in familiar Shepard territory- a small run-down shack on the edge of the New Mexican desert. Two brothers re-unite at the deathbed of their destitute father in an effort to solve the mystery of his sudden demise.

In existence for about four years The White Horse Theater Company, a non-profit organization dedicated to producing plays by and involving American artists, is currently concentrating on Shepard plays. Cyndy A. Marion, the play's director, has been hailed by USA Today as "a budding young Shepard interpreter" and lauded by The Village Voice as "a young director making a quiet name for herself as a canny Shepard interpreter."

The Late Henry Moss has performances January 21-Feb 6 at The Creative Place Theatre in NYC.


| | | |
| --- | --- | --- |
| | | |
WHO'S WHERE


OVER THE RAINBOW

Faith Prince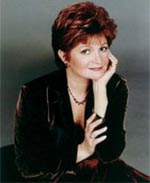 Tom Wopat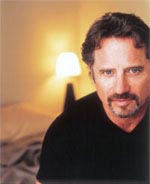 Celebrating a Century of Harold Arlen. Starring Tom Wopat & Faith Prince. Commemorating the 100th anniversary of composer Harold Arlen's birth, this concert offers a multi-media look at Arlen's life and music with rare behind the scenes clips from The Wizard of Oz, personal home movies and photos, all provided by the Harold Arlen Estate.

One of America's greatest and most prolific composers, Arlen was honored in 2000 when Over The Rainbow was named the Number One Song of the 20th century.

Come and get lost in the magic of such Arlen hits as Stormy Weather, That Old Black Magic, It's Only A Paper Moon and Get Happy. Starring Tom Wopat and Faith Prince, the show also features two jazz vocalists and a quintet of established jazz musicians.

Wednesday, January 12 at the Alexander W. Dreyfoos, Jr. Concert Hall Kravis Center, Florida.

Wopat is a busy boy. He's on a tour, including a March 19th engagement at the New Jersey Performing Arts Center and then returns to Broadway - joining Alan Alda, Liev Schreiber, Jeffrey Tambor, Frederick Weller and Gordon Clapp in the upcoming Broadway revival of David Mamet's Glengarry Glen Ross, directed by Joe Mantello. The production is scheduled to begin performances at the Royale Theatre on April 8, officially opening on May 1.

UTE LEMPER opens up this entertainment year for the Cafe Carlyle in The Big Apple - which is celebrating 50 years of cabaret - Jan. 14-Feb. 26.

KT SULLIVAN AND MARK NADLER

KT Sullivan
Mark Nadler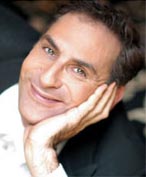 the multi-award-winning duo, star in this musical tribute to America's premier composer of popular music, Irving Berlin.

Focusing on Berlin's love affair and marriage to the most sought after heiress of the 1920s, Ellin Mackay, this tuneful retrospective features over fifty Berlin classics, including God Bless America, There's No Business Like Show Business, What'll I Do, Puttin' on the Ritz Always, which Berlin gave to Mackay as a wedding present.

Tonight, January 9 they finish a three night engagement at the Kravis Center in Florida.

On Sunday, January 16, they bring Sweet and Lowdown: An Afternoon of Pure Gershwin to the Charleston Heights Performing Arts Center in Las Vegas.

RITA MORENO the Oscar, Emmy and Tony winner returns to the Empire Plush Room for the first time in over three years. Fresh from her critically-acclaimed performance as Maria Callas in Berkeley Rep's production of Master Class, she'll take the stage in a return to her musical past in what promises to be a spectacular evening. Opening Tuesday, January 11 with performances through February 6 at the Plush Room in San Francisco.

PETER CINCOTTI opens a three night engagement Friday, January 14 at Meyerhoff Symphony Hall in Baltimore, MD.

LARRY GATLIN AND THE GATLIN BROTHERS in a two night stand January 14-15 at Boettcher Concert Hall in Denver, Colorado.

MICKEY GILLEY performs in the Events & Convention Center at the Grand Casino in Hinckley, MN on Sunday, January 16.

MARLENA SHAW opens a four night engagement January 14 in the Carston Cabaret of the Luther Burbank Center for the Arts in Santa Rose, CA.

CHER bring her Farewell Never Can Say Goodbye Tour to the Arco Arena in Sacramento, CA on January 14.

DIANNE REEVES in a two night engagement Jan 13-14 at the State Theatre in Sydney, Australia.

DEBBIE REYNOLDS has a busy week. On Monday, January 10, she's on stage at the South Florida Community College Auditorium in. Avon Park, FL. Then she has back to back two nighters Jan 12-13 at The Lakeland Center in Lakeland, FL and Jan 14-15 at Robert E. Jacoby Symphony Hall Jacksonville, FL.

JERRY SEINFELD making people laugh Thursday, January 12 at the Performing Arts Center in Topeka, Kansas. On Friday he'll bring the funny stories to the Civic Center of Great Des Moines in Des Monies, Iowa.

BO DIDDLEY in a special one-night performance January 16th on Martin Luther King Weekend with the Debby Hastings Band. The Bo Diddley beat is one of rock & roll's bedrock rhythms, showing up in the work of Buddy Holly, the Rolling Stones, and even pop-garage knockoffs like the Strangeloves' 1965 hit I Want Candy. John Ascuaga's Nugget in Sparks, Nevada.

B. B. KING entertains tonight, Sunday January 9, at the Bergen Performing Arts Center in Englewood, NJ. On Tuesday he's in the spotlight at his own B.B. King's Blues Club in NYC. Wednesday finds him at the Keswick Theatre in Lenside, PA. On Friday the show is at Pennsylvania State University in University, Park, PA. The tireless performer closes out the week, Saturday, at the Fox Theatre in Detroit, Michigan.

CONOR OBERST being compared to a "mid-period Dylan" and the mastermind behind the acclaimed Bright Eyes collective, performs January 15 at the State Theatre in Minneapolis.


FINAL OVATION


CHARLES JONES 66, Georgia-born director and playwright who in 1976, premiered his special adaptation of A Christmas Carol at the Omaha Community Playhouse. The production has been a holiday season staple ever since.

Jones began his career as a director with the Columbus (Ga.) Little Theater in 1961. Following a stint as guest director at Chicago's Theater of Western Springs, Jones came to the Omaha Playhouse as executive director in 1974.

During his tenure and guidance the Omaha Community Playhouse became the largest community theatre in the nation.

Jones expanded the number of season productions from seven to 11 and was the coordinator for a $7 million expansion and remodeling. Jones also founded the Nebraska Theatre Caravan, the professional touring arm of the playhouse. The caravan took A Christmas Carol to audiences nationwide, many years with three separate touring groups.

Under his watch, playhouse season memberships hit an all-time high and the playhouse reached out to the community through acting, dance and voice classes. Jones who had a bachelor's degree from LaGrange College in Georgia and a diploma in arts administration from London Polytechnic, suffered a stroke in 1991 and retired from the playhouse in 1998. He had been hospitalized but returned home for Christmas. He died Monday, January 3, 2005. Survivors include his wife, Eleanor; sons Geoffrey of Omaha and Jonathan of Baltimore; and one granddaughter.
















Next Column: January 16, 2005
Copyright: January 9, 2005. All Rights Reserved. Reviews, Interviews, Commentary, Photographs or Graphics from any Broadway To Vegas (TM) columns may not be published, broadcast, rewritten, utilized as leads, or used in any manner without permission, compensation and/or credit.
Link to Main Page
---
Laura Deni


CLICK HERE FOR COMMENT SECTION