! >
Broadway To Vegas
  
  REVIEWS INTERVIEWS COMMENTARY NEWS

| | |
| --- | --- |
| | |
ELVIS PRESLEY SET FOR A BUSY 2012 - -MAKING FACES: PHOTOGRAPHIC PORTRAITS OF ACTORS AND ARTISTS - - ART PATRONAGES FOR KATE - - SPIDER-MAN TURN OFF THE DARK SETS RECORD - - NBC FUNDS MAKE A MUSICAL PILOT PROGRAMS IN NEEDY SCHOOLS - - WARREN BUFFETT HAS A MUSICAL GIG - - JADE COLLECTION WILLED TO LAS VEGAS HABITAT FOR HUMANITY - - TEN CHIMNEYS STARS MARIETTE HARTLEY - - DONATE . . . Scroll Down


ELVIS PRESLEY SET FOR A BUSY 2012
Now referred to as The '68 Special the show produced "one of the most famous images" of Presley. Taken on June 29, 1968, it was adapted for the cover of Rolling Stone in July 1969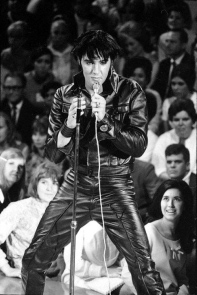 There is no rest for the dearly departed - not if you are Elvis Presley.

Elvis Presley may be leaving the building in Las Vegas with the closing of the disappointing Viva Elvis Cirque show at the Aria, but never fear, your Elvis fix is on the way.

Commemorating what would have been Elvis Presley's 77th birthday, the Presley birthday tribute week got underway last Thursday with the opening of a new exhibit, Elvis On Tour, celebrating the 1972 Golden Globe-winning documentary film about Elvis' multicity tour during April of that year.

This year the Presley empire celebrates two major anniversaries - the 35th anniversary of Elvis' death and the 30th anniversary of Graceland's opening as a tourist attraction.

This is also the year that Elvis Presley Enterprises in partnership with 2Share Entertainment will present a major exhibit of Elvis memorabilia in South America - a country that ranks only behind the United Kingdom and Mexico in the number of Elvis fans.

A first of its kind exhibition outside the United States, The Elvis Experience includes over five hundred rare artifacts, documents and photos, many of which have never left the vaults or exhibit areas of Presley's Graceland in Memphis.

Among the items that will be shipped from Graceland are Elvis' red MG automobile as featured in his classic film Blue Hawaii, a gold plated rotary dial telephone from Elvis' upstairs bedroom, and his signature white suit featured in the closing number of his 1968 television special now referred to as The '68 Special.



Elvis Presley's Aloha From Hawaii jumpsuit on display at Graceland. Elvis himself came up with his famous outfit's eagle motif, as "something that would say 'America" to the world.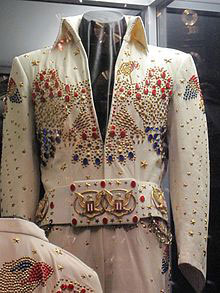 One of the most recognizable items traveling from Memphis to Brazil is one of the American Eagle jumpsuits Elvis used for the 1973 Aloha From Hawaii television special, which aired on January 14, 1973 - the first global concert satellite broadcast, reaching approximately 1.5 billion viewers live and on tape delay.

Presley was accompanied by: Vocalists: J.F. Summer & the Stamps Quartet (Ed Enoch, Bill Baize, Donnie Sumner, Edward Wideman) The Sweet Inspirations (Myrna Smith, Sylvia Shemwell, Estelle Brown) and Kathy Westmoreland.

His TCB Band: James Burton (lead guitar), John Wilkinson (rhythm guitar), Ronnie Tutt (drums), Jerry Scheff (Fender bass), Glen Hardin (piano/keyboards), Charlie Hodge (vocals/acoustic guitar).

The Joe Guercio Orchestra: Las Vegas resident Joe Guercio was Elvis's conductor and musical director and, with a few exceptions, the orchestra consisted of local musicians contracted for this particular engagement.

Brass players were Patrick Houston, Thomas Porrello, Gary Grant and Forrest Buchtel (trumpets); Leslie Benedict and William Barton (trombones); Martin Harrell (bass trombone); and David Baptist (French horn). Saxophonists were Gabriel Baltazar, Jr., Robert Winn, Peter Dovidio, Wayne Dunstan and Mary Taylor, with Baltazar and Taylor also playing flute.



Elvis Presley in Aloha From Hawaii.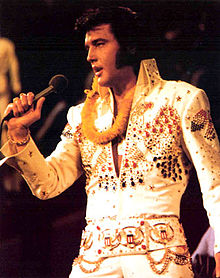 Violinist Bertine Corimby, who performed with Elvis at the Las Vegas Hilton, headed the 12-piece string section, the rest of whom were musicians from the Honolulu Symphony Orchestra: Dale Bechtel, Marianne Fleece, Louise Solmssen, Arthur Loventhal, Mervin Whitcomb, Heidi McCole and Carol Shive (violins); Betty Deeg and Diana Mallery (violas); and William Konney and Beverly LeBeck (cellos). Rounding out the orchestra were Frank Strazzeri (Hammond organ) and Dean Appleman (percussion).

Houston, Porrello, Harrell and Strazzeri had toured with Elvis in 1972 and were brought to Hawaii for the show, as were Buchtel and Corimby. Harvey Ragsdale was the Hawaiian contractor who hired local musicians for the orchestra.

"Elvis has always maintained a broad international appeal and it is no surprise that there are thousands of fans across South America and Brazil who continue to embrace his rich legacy," commented Priscilla Presley, former wife of the late music icon. "Lisa and I are happy to be able to share some of these special items that mean so much to us, as they did to Elvis, and loan them for public display in a country where Elvis is so well-loved."

In addition to the exhibition, South American fans will also be able to experience the closest they will ever come to a live Elvis concert with the announcement that Elvis Presley in Concert will take place in Sao Paulo on October 2, 2012. Concert-goers will see some of Elvis' finest performances projected on a large video screen, accompanied live on stage by a cast of singers and musicians who worked with him, a full orchestra, and additional singers and musicians.

"For the next nine months, our team at 2Share Entertainment will be working passionately to build out all the aspects of this first-of-its-kind exhibition. We are also preparing to welcome Elvis' former backup singers and band mates to South America," said Rafael Reisman, President of 2Share Entertainment.

"The exhibit will include artifacts and mementos from every facet of Elvis's life and career, from his early days to his relationship with fans today," said Scott Williams, vice president of marketing and media for Elvis Presley Enterprises. "There will also be many rarely seen items from the archives that have never been on display."

"This unique and rare loan of artifacts from our collection at Graceland, in addition to the staging of this concert experience, is going to be a fantastic addition to the 35th anniversary celebration throughout 2012," said Jack Soden, CEO and President of Elvis Presley Enterprises, Inc which is based in Memphis, with additional offices in Los Angeles. "We know there are a significant number of Elvis fans in South America and this allows us to share Elvis' rich life and legacy with them during this very special year."

Don't live in Brazil? Don't feel disheartened. There is another tour for you.

Beginning in March Elvis Presley in Concert will stage a 16 date tour through Europe which includes London, Paris, Dublin, Zurich and Frankfurt in addition to Sao Paulo, Brazil.

A new theatrical concert experience Elvis Lives - The Ultimate Elvis Tribute Artist Event will embark on a 29 city U.S. tour featuring finalists from The Ultimate Elvis Tribute Artist Contest as they "perform in an unforgettable multi-media and live musical journey across Elvis' life," with the promise that "Licensed Elvis festivals will be taking place all over the world in 2012."



Broadway To Vegas is supported through advertising and donations. Priority consideration is given to interview suggestions, news, press releases, etc from paid supporters. However, no paid supporters control, alter, edit, or in any way manipulate the content of this site. Your donation is appreciated. We accept PAYPAL. Thank you for your interest.



ART AND ABOUT


MAKING FACES: PHOTOGRAPHIC PORTRAITS OF ACTORS AND ARTISTS

Andy Warhol picture from the Portland Museum of Art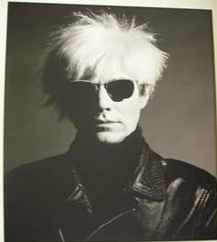 a new look at the art of photographic portraiture featuring 35 black-and-white photographic portraits of recognizable television personalities and famous artists including two newly acquired portfolios of works by artists Berenice Abbott and Robert Doisneau.

The exhibition will reveal the sometimes surprising ways in which appearance, poses, and props help to define the public perception of an artist's work - both on the stage and in the museum.

Other photographers whose works will be on view include Philippe Halsman, with his ground-breaking images of notable early television comics, such as Lucille Ball, Jimmy Durante, and Imogene Coca, whose wildly expressive faces helped forge their careers.

Barbara Morgan's photographs of the noted choreographer Martha Graham further capture the essence of modern dance in similarly exaggerated movements.

The exhibition also includes a close look at some of America's most recognizable artistic personalities - Andy Warhol, Andrew Wyeth, and Robert Indiana - masters of public relations, as well as the canvas. and highlighting.

In addition to the faces of creative personalities, these photographs also explore their art. Making Faces juxtaposes paintings, drawings, and sculptures by leading European modernists such as Pablo Picasso, Fernand Léger, and Jean Arp along with their photographic portraits.

On view January 14 through April 8, 2012, at the Portland Museum of Art in Portland, Maine.


BENEFACTOR OF THE ARTS WILLED JADE COLLECTION TO LAS VEGAS HABITAT FOR HUMANITY
A few of the pieces for sale from the Tam Jade Collection. Photo: Laura Deni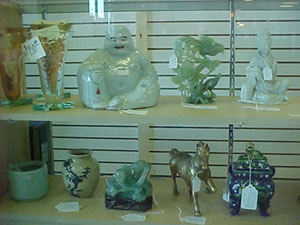 Proceeds from the jade sales will build a Habitat for Humanity home. Photo: Laura Deni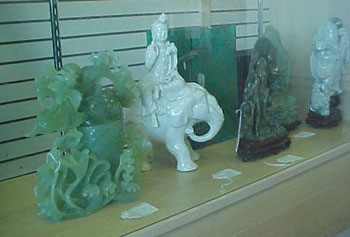 Some lucky Las Vegas family will one day live in a house that art built.

Habitat for Humanity in Las Vegas is the recipient of museum quality works of jade from the Richard Tam Foundation.

Philanthropist Tam, a longtime Las Vegas real estate developer who died in 1999 at the age of 83 from complications following heart surgery, was passionate about the arts.

The Richard Tam Alumni Center at the University of Nevada, Las Vegas is named after him. Tam donated more than $1 million to UNLV and was presented an honorary UNLV law degree in 1995.

One of Tam's dreams was to create an Asian Art Museum in Las Vegas. With that in mind, Tam collected important jade statues which he intended to display as one of the focal points of the museum.

When it became evident to him that an Asian Art Museum wouldn't be possible, he continued to collect the jade objects for his personal enjoyment.

Those impressive pieces of art have been donated to the Las Vegas chapter of Habitat for Humanity and are for sale at prices well below what you'd pay in a gallery or opening bids at an auction. Habitat For Humanity stores are also exempt from charging sales tax.

Customers at the Habitat store rooting around for building supplies can put their door hinges, bricks and tubes of calking on top of a class topped counter case which contains the interesting and impressive jade showpieces.



Intricate vase. Photo: Laura Deni

The massive collection is being sold individually at two of the Las Vegas Habitat For Humanity stores. One customer bought several pieces for a total of $24,000, which as the salesman put it was, "a good day."

Broadway To Vegas guesses the buyer is really a seller who hopes to triple his investment.

As pieces are sold more are brought out from storage.

Sizes range from table top to large and prices begin at a little over $100 to the thousands.

In addition to jade, there are some art objects carved from quartz and a few are ornate carved wood.

Jade, which is also known as 'stone of heaven', has been treasured as a precious gem material since prehistoric times. The Tam Collection includes both Jadeite and Nephrite which are two different metamorphic rocks that are made up of different silicate minerals. Nephrite can be found in a creamy white form (known in China as "mutton fat" jade) as well as in a variety of green colors, whereas jadeite shows more color variations, including blue, lavender-mauve, pink, and emerald-green colors. Of the two, jadeite is rarer, and thus more expensive.

According to Habitat For Humanity, Tam left a detailed will, which specified that the jade objects should be donated to HFH.

Those jade objects are just now being turned over to the respected organization.

Habitat for Humanity is thrilled.

HFH told us that, "We have carefully catalogued each piece with its description and the selling price. When we have enough money through the sale of the jade, we will construct a house in Las Vegas and call it the Tam Jade House, in his honor."

"Most of the homes we build have a bank or a corporate sponsor," said an HFH employee. "This is the first time we will have a house constructed from money obtain through the sale of art."

Habitat For Humanity Stores are located across the country and Canada selling useable surplus, showroom or donated building materials, office supplies and home furnishings at a fraction of the retail cost.

Proceeds from the sales help to fund the construction of Habitat houses within local communities.


IN A LEAP OF FAITH HARRY CONNICK, JR MAY BE PUT OUT OF HIS MISERY


It's heartbreaking to see the terminally ill suffer.

If the soul of a musical is the music then the wonderful score of On A Clear Day You Can See Forever will never die. The newly redone, confusing, convoluted - the program should come with Cliff Notes - book is another story.

Helping to make possible a merciful euthanasia is director Christopher Ashley, artistic director of the La Jolla Playhouse in San Diego. He received an emergency phone call to helm Leap of Faith, a musical from composer Alan Menken based on the 1992 American movie of the same name. That resulted in Ashley hot footing it out of what The Kennedy Center thought was their centerpiece theater event of its 2011-12 season - a major, reworked revival by Ashley of the 1940 Rodgers and Hart musical Pal Joey. It seems that Leap of Faith is on the fast track to take over The St. James Theatre which is where On a Clear Day is currently on life support.

As for The Kennedy Center, replacing Pal Joey, June 8 to July 1 will be First You Dream: The Music of Kander and Ebb, which was first performed at Signature Theatre in 2009. Directed by Eric Schaeffer and featuring a 19-piece orchestra and a cast of six, the musical revue celebrates the songwriting team who brought us Cabaret, Chicago, And The World Goes 'Round and The Kiss of the Spider Woman.. Each musical in John Kander and Fred Ebb's legendary five-decade partnership is included.

If Connick can just hold on a tad bit longer, his days of obviously loving the music but seeming as confused as the audience by the book - are numbered. All he needs is a leap of faith.


SWEET CHARITY


KATE, THE DUCHESS OF CAMBRIDGE the popular wife of Prince William, has officially taken on four charity patronages, including two which pertain to the arts - The Art Room and The National Portrait Gallery.

According to the official announcement which described each charity. The arts related are:

"The Art Room works with children to increase their self-esteem, self-confidence and independence through art. Many of the children are disengaged from mainstream education, disruptive or withdrawn and all have been identified as needing time away from their school. The charity's emphasis is on teaching life skills while encouraging children and young people to both relate and engage with each other. The Art Room employs senior practitioners who are trained in psychotherapy, art, teaching and social work. The charity currently works in Oxford and in north London.

The National Portrait Gallery holds the most extensive collection of portraits in the world. The Collection is displayed in London and in a number of locations around the United Kingdom. Artists range from Holbein to Hockney, and the Collection includes work across all media, from painting and sculpture to photography and video. As well as the permanent displays, the Gallery has a diverse and ever-changing programme of exhibitions and events which promote an appreciation of portraiture in all forms, and an energetic learning and outreach programme."

WE'VE GOT ELEGANCE inspired by the production of Hello Dolly! is the theme for the Maltz Jupiter Theatre's Ninth Annual Gala.

The evening includes cocktails, silent auction, dinner, grand auction and dancing the night away to the music of PowerHouse Group.

Gala Chairmen are Marcia Cohn and Roberta Golub.

Saturday, January 14, 2012 The Breakers Palm Beach, FL.


WARREN BUFFET LANDS A SINGING GIG
Warren Buffett with his Dairy Queen model ukulele. Photo: 23andMe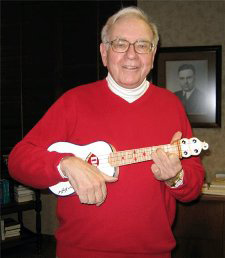 That old billionaire song-and-dance man Warren Buffett, 81, has a musical gig.

The veteran ukulele player/singer has recorded a video for this year's Chinese Spring Festival gala which will be aired online, January 23, for the Chinese New Year, according to Chinese state news agency Xinhua.

The online special is targeted at younger viewers, and will include Chinese celebrity Jackie Chan along with a number of viral videos and short films. CCTV says last year's version got 12 million views.

Joining the ranks of Arthur Godfrey and Tiny Tim, Buffett has long been known to consider the ukulele his musical instrument of choice. The billionaire even entertained a captive audience during the 2007 annual Berkshire Hathaway shareholder's meeting. Jimmy Buffett also made a surprise appearance on stage at that conclave, singing Wasted Away Again in Berkshire Hathaway-ville, to the delight and amazement of those present.

While a distant blood relative to Tony Award winner Swoosie Kurtz, the mogul has never been terribly interested in theatre. Rather, at heart he is a frustrated musical performer who is good friends with Jimmy Buffett. The two made no secret about their hope of being blood related.

The two call one another "Cousin Jimmy" and "Uncle Warren".

Jimmy even accompanied Doris Buffett, Warren's older sister and the family's resident genealogist, on a research trip to Norfolk Island, a speck of land in the South Pacific with a large population of Buffetts. But the expedition failed to yield a connection between Warren and Jimmy, according to the genetic research firm 23and Me.

The Buffett "cousins" were so enamored with the possibility of having the same musical DNA flowing through their string pickin' fingers that in 2007 the two underwent DNA testing together.

The guys spit at 23andMe, a leading personal genetics company that enables anyone to get their genetic ancestry information and more than 200 health and trait reports based on their DNA for just $99 with $9 monthly subscription.

According to Forbes, "Warren and Jimmy submitted DNA to 23andMe. (Warren "just kept spitting into a little receptacle, and then we FedExed it. Not very elegant," says his assistant. Jimmy did the same.)"

A month later the results were in.

Making the bad news phone call to Warren was 23andMe co-founder Anne Wojcicki - a 33-year-old Yale grad and former health-care industry analyst - and her associate Joanna Mountain the head of 23andMe's ancestry product line and a former professor of anthropological genetics at Stanford.

"It turns out that Warren can leave Jimmy out of his will," posted 23andMe. "Though the two Buffetts could still be distant cousins, their Y chromosomes are no more similar to one another than those of any two unrelated men."

After receiving his results, Warren broke the news. "Bottom line: We're not related," Warren wrote to his sister Doris, according to the genetic testing firm.

Undaunted, that he can't claim Jimmy's bloodline, Warren forged ahead with his musical career, playing his Dairy Queen model ukulele and singing Red River Valley with the QSB band during a Berkshire Hathaway annual meeting and then staging an encore while touring the exhibition floor prior to the Berkshire Hathaway annual meeting on Saturday, May 1, 2010. He also showed off his musical talents in a 2010 ad for his insurance company Geico, where he impersonated Guns N' Roses start Axl Rose.


NBC FUNDS MAKE A MUSICAL PILOT PROGRAMS IN NEEDY SCHOOLS


At a time budget crunching has forced many schools to cut back on arts programs, NBC has announced a groundbreaking program to help schools create musical theatre.

The new NBC television series Smash, about the making of the next big Broadway musical, is launching an initiative to implement theatre programs in 20 underserved schools across the U.S. this month.

Although the network declined to name a dollar figure, NBC which is controlled by the Comcast, Corp. has promised to fund the first round of 20 schools in cities including Atlanta, Boston, Chicago, Cleveland, Dallas, Denver, Los Angeles, Houston, Nashville, Phoenix, Seattle, and New York. The participating schools will be announced during the Junior Theater Festival in Atlanta this coming week-end

The Junior Theater Festival is the world's largest festival exclusively dedicated to young people performing musical theater. The festival is held annually in Atlanta, Georgia over the Martin Luther King Jr. holiday. Festival Highlights include: Student groups performing for professional adjudication. Workshops for teachers/directors and students. The New Works Showcase presented by Disney Musicals. Celebrity guests like Zac Efron, Stephen Schwartz, Kenny Leon, Jeanine Tesori, Thomas Schumacher and more.

In its statement released during a Television Critics Association meeting, NBC explained their plans to launch the stand-alone musical theater program which will begin this month with a pilot group of 20 schools nationwide. NBC is joined on the Make a Musical project by iTheatrics, which adapts musicals for student productions and provides tools for teacher training.

Public, private or charter middle and high schools may apply for the program.

In a partnership with iTheatrics, which creates the Broadway JR musical series, the Make a Musical initiative aims to plant and nurture self-sustaining theatre programs in schools were there is limited-to-no arts programming. The nonprofit iTheatrics' Junior Theater Project intends to begin another 180 programs this fall, building toward a 2014 goal of 1,000 school programs reaching 1 million students, NBC said.

The 10 winning schools will be selected for fall 2012 Make a Musical and receive:

A free Broadway Junior ShowKit that includes the rights to perform a musical. Musicals like Annie, Into the Woods, Fiddler On the Roof and Once On This Island are part of the catalogue.
Two master classes with iTheatrics' New York based master teachers.
A local project advisor who will guide teachers and students through the process of staging a musical.
Two teacher stipends.
A technical theater fund.

Each program will result in public performances, with the intent that the program will continue the following year.

20 additional schools receive a free Broadway Junior ShowKit that includes the rights to perform a musical.

"Smash centers around a group of people working to be part of a Broadway musical," NBC marketing president Len Fogge said in a statement. "It's only fitting that NBC play a role to further empower students and teachers to discover the thrill of one of America's most unique art forms through the process of creating their own musical theater programs."

"Musical theatre is the ultimate team sport," iTheatrics founder Tim McDonald said in a statement. "It allows young people to learn important life skills and an appreciation of the arts by working together towards the common goal of presenting a show. Through NBC's Smash: Make a Musical program, NBC is literally building the future artists and arts-supporters of tomorrow by giving schools the knowledge they need to create stand-alone arts programs in their communities."

Other such initiatives have successfully developed self-sustaining arts programs, including the New York City Department of Education's Shubert Foundation-Music Theatre International Broadway Junior Project, which started in 2005 and has created 50 musical theater programs in New York middle schools.

Smash will premiere February 6. Steven Spielberg, Neil Meron and Craig Zadan are among the producers of the series, that traces the development of a new Broadway musical Marilyn - based on the life of Marilyn Monroe. The cast features Debra Messing, Anjelica Huston, Jack Davenport, Christian Borle, Megan Hilty, Katharine McPhee, Raza Jaffrey, Brian d'Arcy James and Jaime Cepero.


DREAM TEAM SET FOR NEXT HUGH JACKMAN PROJECT
Hugh Jackson. Photo by Paul Cush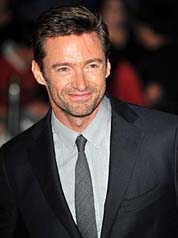 Broadway's golden - take him to the bank - Hugh Jackman, is surrounded by a dream team when he materializes in a new musical as master magician Houdini.

Jackman recently completed a record setting one man show at Broadway's Broadhurst Theatre grossing $14-plus million in just ten weeks.

Because of Jackman's involvement, the Houdini announcement was covered by NASDAQ.

Aptly titled Houdini, the musical is slated to be conjured up during the 2013-14 theater season.

Oscar winner Aaron Sorkin will pen the piece, which revolves around a battle between Houdini and trio of women who convinced million of people that they could communicate with the dead.

Tony award winner Stephen Schwartz will write the songs with Tony Award winner Jack O'Brien in the director's chair.

"I have been deeply fascinated by the life of Harry Houdini since I was young, and in many ways I've been preparing for this role my whole life," Jackman said in a statement. "I am thrilled to be collaborating with this collection of artists who are all at the top of their game."

"It's exactly the right confluence of creative forces," said producer David Rockwell, who is also designing the sets for the musical. "I worked with Hugh on the Oscars. He's as gracious as he is talented."

Houdini, a Hungarian-born American, made his name as a magician and escape artist in the early 1900s. He was known for freeing himself from handcuffs, jail, straitjackets and, later, water-filled containers, cages and nailed crates.

In the 1920s Houdini turned his energies toward debunking self-proclaimed psychics and mediums, a pursuit that would inspire and be followed by later-day conjurers. Houdini's training in magic allowed him to expose frauds who had successfully fooled many scientists and academics. He was a member of a Scientific American committee that offered a cash prize to any medium who could successfully demonstrate supernatural abilities.

This won't be the first time Houdini has been a stage production. In 1968 Stuart Damon played Houdini in a lavishly staged London musical, Man of Magic.

Houdini also repeatedly appears in E. L. Doctorow's 1975 historical novel Ragtime, which was first turned into a movie and then a Broadway musical. The Broadway version premiered on January 18, 1998. It featured Houdini as a character and has a song called Harry Houdini, Master Escapist. The book was written by Terrence McNally, with music and lyrics by Stephen Flaherty and Lynn Ahrens. The play ran on Broadway until January 16, 2000, and won four Tony Awards.

In 2009 a revival of Ragtime was mounted at the Neil Simon Theatre. Houdini, played by Jonathan Hammond, wore costumes designed by the legendary Santo Loquasto. Houdini made a grand entrance hanging upside down on a wire, suspended high above the stage.

In 2010 the world premier of Houdini - The Man From Beyond musical opened in Toowoomba, Australia, at the University of Southern Queensland.

Can't wait to see what Hugh Jackman conjures up.


SPREADING THE WORD


JAMES EARL JONES takes part in Classic Conversations presented by the Shakespeare Theatre Company. The stage and screen star will open up about his extensive acting career from Star Wars to Shakespeare. Artistic director Michael Kahn helms the event. Thursday, January 12, 2012. Sidney Harman Hall in Washington, DC.

PIRANDELLO'S HENRY IV a reading of a new version by Tom Stoppard. Featuring Richard Easton, Jennifer Ehle, John Elison Conlee, Victor Garber, Darren Goldstein, Mamie Gummer, Aaron Krohn, Patrick Page in the title role as Henry IV, Daniel Stewart Sherman, Benjamin Walker and Paxton Whitehead, directed by Jack O'Brien.

Presented by Red Bull Theater, and taking place Monday, January 9, due to demand, this sold out reading has moved to a larger venue and will be presented at The Mainstage Theater, Playwrights Horizons, NYC.

DON'T TURN A BROKEN WASHING MACHINE INTO A SEX ACT as somebody who has been a victim of vile, serious character assassination which has resulted in major harm, including financial loss, I'd like to announce that because of a broken washing machine I went to a busy Laundromat. There I discovered that attendants "help" and customers can watch. I understand attendants "helping" because they don't want a customer to put anything inside a machine that might cause damage. However, because people can now identify some of my underwear and bed sheets does not mean that they saw me in them, took them off of me or crawled between them. ( See previous Broadway To Vegas column link )


OTHER PEOPLE'S MONEY


BAY STREET THEATRE in Sag Harbor, NY holding a management, board member, public meeting on Thursday, January 12, to discuss the moving plans for Bay Street Theatre in 2013.

SPIDER-MAN TURN OFF THE DARK which started off as an accident prone, mishmash of a musical flop, turned itself around into a production which has shattered the Broadway record for single-week gross - racking in $2.9 million. Spidey's box-office gross for the week ending New Year's Day topped a previous record Wicked set earlier last year by more than $700,000, producer said.

"We are thrilled that the public has taken such a liking to this show," producers Michael Cohl and Jeremiah Harris said in a joint statement. "The audience continues to grow, and it is great to enter the New Year with such momentum."

During the record-breaking week, 17,375 people packed The Foxwood Theatre, setting another Broadway high mark for single-week attendance.

HOW TO SUCCEED IN BUSINESS WITHOUT REALLY TRYING is doing just that by raising their ticket prices during the three weeks Glee star Darren Criss is in the star slot at the Al Hirschfeld Theatre. The top premium ticket price has jumped from $302 to $402.

Criss' three-week engagement began January 3 and ends the 22nd.


WEDDING BELLS . . . .


NINA MARIE HEEBINK AND JAMIE MARK SCHMIDT were married Friday, December 30, 2011, at the Lake Windsor Golf Club in Madison, Wis. Karlos Moser, a Universal Life minister, officiated.

The bride is a freelance mezzo-soprano in Chicago. She regularly sings in the choruses of the Lyric Opera of Chicago, the Grant Park Music Festival and the Chicago Symphony Orchestra. She graduated from St. Olaf College and received a Master of Music in vocal performance from DePaul University.

The bridegroom, 39, is the associate conductor of the North American tour of The Lion King. From June 2010 to January 2011, he was the conductor of Liza Minnelli's symphony tour.

SINEAD O'CONNOR MARRIAGE/DIVORCE UPDATE although we don't really care - Sinead and her estranged, drug counselor husband apparently had a night of "love making" and decided to call off the divorce, according to her postings on Twitter. The rocker bragged: 'Guess who had a mad love makingaffair with her own husband last night? Spent beautiful evening of lovemaking with nine other than husband!' (she meant none other). Then she added: 'Yay!!!We decided to be boyfriend and girlfriend again an stay married but we did rush so we gonna return to b friend g friend an be sickeningly happy an go counselling an move in in like a yr like regular people...but stay married an we all in love.'

Her Twitter fans had some pointed, if not positive comments to which Sinead answered: 'F**k every other motherf***ker who dont like it so me all happy!! me love me hubby.. he love me... f**k who no like it.. God is good!'"


GET WELL SOON TO . . . .


RON SHOCK the popular Las Vegas based comedian and storyteller, best known for his reenactments of stories that he got out of newspapers, has entered the MD Anderson Cancer Center in Texas for treatment of urethral cancer.


CURTAIN DOWN


NAKED BOYS SINGING! is putting on is clothes and calling it quits. The fifteen-song celebration of the male form will hit its final milestone: it will end its New York run Saturday January 28th after 3,069 performances. It opened July 22, 1999 at the Actors Playhouse, making it the longest running Off-Broadway musical after The Fantasticks. But, as officials say, "everyone in that show wore clothes!"

The Naked Boys are currently appearing at New World Stages - Stage 2, in The Big Apple.

LYSISTRATA JONES the update of Aristophanes' 2,400-year-old comedy written by Douglas Carter Beane will close today, Sunday, January 8, 2012 after 34 previews and 30 performances at the Walter Kerr Theatre on Broadway.



TEN CHIMNEYS by Jeffrey Hatcher. Directed by Michael Bloom who is the eighth artistic director of Cleveland Playhouse.

Anchoring the cast is Emmy award-winning actress Mariette Hartley, who will play the role of Hattie Sederholm, mother of Alfred Lunt. The role of the legendary stage actor Alfred Lunt will be performed by actor Donald Carrier. Jordan Baker will perform the role of Lynn Fontanne, wife to Alfred. Michael McCarty will perform the role of Sydney Greenstreet, based on the real character actor. Actor Jeremy Kendall will perform the role of Carl Sederholm. The role of Uta Hagen, also based on the real stage and film actress and educator, will be performed by Kelli Ruttle. Gail Rastorfer will perform the role of Louise Greene.

Summer and scandal take center stage as real-life theatrical legends Alfred Lunt and Lynn Fontanne and friends Sydney Greenstreet and Uta Hagen rehearse Chekhov's masterpiece The Seagull at their idyllic Wisconsin retreat, Ten Chimneys, where they often entertained the titans of Broadway and Hollywood. In this comedy, a young starlet arrives to rehearse the Lunts' latest production, Chekhov's The Seagull, and unwittingly ignites a romantic triangle that eclipses any on-stage drama.

For much of the 20th century, Ten Chimneys (in Genesee Depot, Wisconsin) was considered the center of the theatrical world – an important place for artistic creation, discussion, mentorship and inspiration. Every summer, Alfred Lunt and Lynn Fontanne returned home to their beloved Ten Chimneys. And, every summer, they reveled in welcoming close friends. The Lunt's idyllic retreat beguiled and inspired the country's finest actors, writers and artists: Noël Coward, Helen Hayes, Laurence Olivier, Vivien Leigh, Julie Harris, John Gielgud, Katharine Hepburn, and Alexander Woollcott. Carol Channing was fond of saying, "What the Vatican is to Catholics, Ten Chimneys is to actors." In 2003 (after nearly being lost to development), Ten Chimneys opened to the public as a world-class house museum and a national resource for theater, the arts and the art of living.

The design team for Ten Chimneys includes Lee Savage (Scenic Design), Michael Lincoln (Lighting Design), David Kay Mickelsen (Costume Design), and Lindsay Jones (Sound Design). Also on the team: Stage Manager John Godbout .

This is the inaugural production in the new Second Stage located in Cleveland's Playhouse Square. It is one of only three fully outfitted, flexible theatres in the nation: a system for flying scenery, a floor with a trap, premium seating and the flexibility of a black box space. The CPH production of Ten Chimneys will begin in the Second Stage at PlayhouseSquare on Friday, January 13 and run through Sunday, February 5, 2012.

WIT the award winning play by Margaret Edson. Directed by MTC artistic director Lynne Meadow.

Tony and Emmy Award winner Cynthia Nixon stars as the steely poetry professor, Vivian Bearing, who faces terminal cancer.

The production also features Pun Bandhu (Technician), Olivier Award winner Suzanne Bertish (E.M. Ashford), Michael Countryman (Harvey Kelekian/Mr. Bearing), Jessica Dickey (Technician), Chiké Johnson (Technician), Greg Keller (Jason Posner), Carra Patterson (Susie Monahan), and Zachary Spicer (Technician).

Exquisitely written, affecting, and often humorous, Wit follows a brilliant and exacting poetry professor played by Nixon as she undergoes experimental treatment for cancer. A scholar who devoted her life to academia, she must now face the irony and injustice of becoming the subject of research.

Both Lynne Meadow and Cynthia Nixon are breast cancer survivors.

The play had its New York premiere in 1998 receiving universal acclaim and ran Off-Broadway for over 500 performances. It was the most-honored play of the season garnering the Pulitzer Prize for Drama and was named Best Play by the New York Drama Critics Circle, the Drama Desk Awards, the Outer Critics Circle Awards, the Drama League, and the Lucille Lortel Awards.

The creative team for the Broadway production includes Santo Loquasto (scenic design), Jennifer von Mayrhauser (costume design), Peter Kaczorowski (lighting design) and Jill BC Du Boff (sound design).

Manhattan Theatre Club's Broadway premiere of Wit began previews Thursday, January 5 and will open Thursday, January 26 at MTC's Samuel J. Friedman Theatre, NYC.

GHOST LIGHT the dramatic memoir conceived and developed by Jonathan Moscone and Tony Taccone. Written by Tony Taccone who is the artistic director of Berkeley Rep.

California Shakespeare Festival artistic director Jonathan Moscone directs.

Set in San Francisco in 1978 when Moscone's father, San Francisco Mayor George Moscone, is murdered at City Hall along with City Councilman Harvey Milk, and the shocking act reverberates across Northern California and the country. Milk became a gay rights martyr while George Moscone became a historical footnote in the minds of the public and the media.

While the creators make it plain that this is fiction, not biography, the story hangs on its true-life personal connections – a son figuring out how to make peace with a father's looming legacy. When Jon was a boy, his father was shot - and suddenly their lives were part of history. Years later, when staging a production of Hamlet, the son must confront his buried feelings about a crime that shocked the nation. In this haunting new show, Artistic Director Tony Taccone conjures an imaginary world based on the historic assassination of Mayor George Moscone. The ghost of the king stalks the battlements of a boy's mind - and speaks to all of us about love and loss. A poetic collage of fiction and memory.

Christopher Liam Moore leads the cast as Jon Moscone, with Peter Macon, Danforth Comins, Bill Geisslinger, Robynn Rodriguez, Tyler James Myers, Ted Deasy, Peter Frechette, Isaac Kosydar and Sarita Ocon.

The design team include Toff Rosenthal, Scenic Design - Meg Neville, Costume Design - Christopher Akerlind, Lighting Design - Andre Pluess, Sound Design - Maya Ciarrocchi, Video / Projection Design - and Alison Carey, Dramaturg.

A co-production with the Oregon Shakespeare Festival who commissioned the production which premiered last summer in Ashland at the Oregon Shakespeare Festival.

Officially opens on Wednesday at Berkeley Rep in Berkeley, CA.

HOW TO WRITE A NEW BOOK FOR THE BIBLE a new play from Bill Cain, the writer of Equivocation.

Directed by Kent Nicholson.

The play premiered at Berkeley Repertory Theatre, and now the playwright comes to Seattle where the audiences will get to be a part of the development of the script.

This play was taken from Cain's own experiences caring for his dying mother. He asks the questions that speak to the heart of every family: What will never change…and what has to? A Jesuit priest as well as a playwright, Cain brings a fascinating view to this simple, powerful illustration of why the details of our lives and loves matter.

A world premiere co-production with Berkeley Repertory Theatre running January 13-February 5, 2012 at Seattle Rep.

DEFENDING THE CAVEMAN written by Rob Becker.

Starring Paul Perroni.

Described as an hilariously insightful play about the ways men and women relate and always has both sexes roaring with laughter and recognition as well as serving as a peacemaker in the ongoing misunderstandings between men and women. Defending the Caveman mines the common themes in relationships that go straight to the funny bone and guarantees the audience will be affectionately nudging each other during the performances and couples will be seen strolling out into the night holding hands.

Defending the Caveman originally opened in San Francisco in 1991 and soon moved to Dallas, where it became an unqualified hit. Caveman went on to sold-out engagements in Washington DC, Philadelphia and Chicago. It opened on Broadway in 1995, where it ran for two and a half years, playing 702 performances at the Helen Hayes Theater, and entered the record books as the longest running solo play in Broadway history.

Friday, January 13 and continuing through Sunday, January 22 at the Downtown Cabaret Theatre in downtown Bridgeport, Connecticut.


WHO'S WHERE


UNDERGROUND RAILROAD: AN EVENING WITH KATHLEEN BATTLE Soprano Kathleen Battle's luminous voice has been called one of the most beautiful in the world, and she possesses an almost magical ability to create an unwavering emotional bond between herself, her music and her audience. The five-time Grammy winner celebrates the roots of African-American music and freedom via the Underground Railroad in this evening of majestic spirituals and hymns, featuring accompaniment by renowned pianist Cyrus Chestnut. Saturday, January 14, at the Scottsdale Center for the Performing Arts in Scottsdale, AZ.

CELTIC WOMAN performs at the Mastercard Center in Beijing, China on Tuesday, January 10.

PAULA POUNDSTONE telling funny stories January 13-14 at the Orleans Hotel in Las Vegas.

JOAN RIVERS brings her sharp tongue to current topics on Saturday, January 14, at the Wells Fargo Center for the Arts in Santa Rosa, CA.

WILLIE NELSON has a busy week. On Tuesday he performs at the Variety Theatre in Baton Rouge, LA. Thursday's show is at the House of Blues in New Orleans. On Friday he can be enjoyed at the Gold Strike Casino in Robinsonville, MA. On Saturday the tour stops at the Horseshoe Casino in Bossier City, LA.

MERLE HAGGARD stars at the Beau Rivage in Biloxi, MS on January 13.

JERRY SEINFELD getting laughs Friday at the F. M. Kirby Center for the Performing Arts in Wilkes-Barre, PA. On Saturday he'll spin yarns at the Academy of Music in Philadelphia.




FINAL OVATION


HERBERT NIPSON retired executive editor of Ebony magazine died December 10, 2011 at his home in Albuquerque, N.M. of natural causes. He was 91.

Ebony a Chicago based publication founded in 1945, had a target audience of urban African Americans. When Nipson came on board as assistant editor he pushed the envelope to a broader audience, covering sports, entertainment and the arts.

He was also editorially colorblind.

The December 1971 issue of Ebony features Aretha Franklin on the cover and inside a story I wrote about "Novel Nevada jobs program trains unemployed blacks as dice and card dealers."

I filed my copy with executive editor Herb Nipson who never once asked my race, which is Caucasian. Back in the days when "white" publications were being "forced" to hire "a token Black," Ebony was really the groundbreaking publication in never considering the race of the writer or a photographer. That was because of Nipson and his policy was backed by the Johnson family which owned the publication.

The publishing industry never gave Nipson the credit he deserved for breaking down the racial barrier and as such challenged "white" publications to open up their editorial copy to people of color.

I have never worked with an editor who was more ethical, honest, straightforward and fair than Herb Nipson. You didn't have to nag him to get paid and the checks cleared the bank the first time around.

By the time he retired from Ebony in 1987, after 36 years with the publication, 15 years of which were as executive editor, he had contributed to or helmed 456 issues of Ebony creating a publication with mainstream appeal for both its issue-oriented reporting and its cultural coverage.

Nipson also served for many years as president of the board of the South Side Community Arts Center in Chicago, the first black art museum in the United States when it opened in 1940.

Preceded in death by his wife of 60 years, Velvin, who passed in 2002. After her death, he spent part of the year in Albuquerque, where he lived in a house behind his daughter Maria's home, and his summers in Cambridge Mass., where he stayed with his son, Herbert, and his family. In addition to his daughter Maria and son Herbert, he is survived by two sisters Martha Nipson and Elizabeth Seitz and two grandchildren.

JOHN EDWARD BUCHANAN, JR passed away at the age of 58, on Friday, December 30, 2011 from pancreatic cancer. His death was announced by The Fine Arts Museums of San Francisco where he was Director of Museums.

Buchanan joined the Fine Arts Museums of San Francisco (FAMSF) in February 2006. During his six year tenure, the Legion of Honor and de Young Museums became the fourth most visited Museums in North America and sixteenth in the world. Membership also grew by 63% to over 120,000 households to become the third largest museum membership in the country. During the same period, Buchanan enhanced the Museums' permanent holdings by adding over 4,700 artworks in all collection areas and oversaw the production of 31 catalogues and scholarly publications.

A Tennessee native, Buchanan earned a Bachelor of Arts in English from Sewanee, The University of the South, and a Masters in Art History from Vanderbilt University.

He was predeceased by his parents, John and Jean McRae Buchanan. He is survived by his wife, Lucy Matthews Buchanan, of San Francisco; his uncle, Louis Buchanan; his aunt, Edith Buchanan McCoy, both of Nashville, and numerous nieces and nephews.








Next Column: January 15, 2012
Copyright: January 8, 2012. All Rights Reserved. Reviews, Interviews, Commentary, Photographs or Graphics from any Broadway To Vegas (TM) columns may not be published, broadcast, rewritten, utilized as leads, or used in any manner without permission, compensation and/or credit.
Link to Main Page
---
Laura Deni



For the snail mail address, please E-mail your request.
CLICK HERE FOR COMMENT SECTION