Broadway To Vegas
  
 SHOW REVIEWS CELEBRITY INTERVIEWS GOSSIP NEWS

| | |
| --- | --- |
| | |
5TH AVE THEATRE IN SEATTLE LAUNCHES BROADWAY HITS - - ROBERT ALTMAN TO MAKE LONDON THEATRICAL DEBUT - - BARBADOS JAZZ FESTIVAL - - PHANTOM OF THE OPERA REACHES MILESTONE CELEBRATES WITH MASKED BALL - - UNDERNEATH THE LINTEL - - QUEER EYE FOR THE STRAIGHT GUY COMING TO LAS VEGAS - - ElVIS PRESLEY'S BIRTHDAY - - BROOKE SHIELDS SPEAKS OUT - - DONATE . . . Scroll Down


Copyright: January 8, 2006
By: Laura Deni

CLICK HERE FOR COMMENT SECTION
FROM GATEWAY TO THE ORIENT TO GATEWAY OF BROADWAY
5th Ave Theatre in Seattle. Photo credit Dick Busher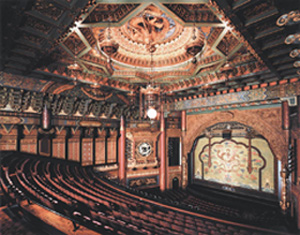 The 5th Avenue Theatre in Seattle was modeled after the Forbidden City in Beijing China - built the year before Grauman's Chinese Theatre in Los Angeles.

"Seattle was considered the gateway to the Orient," explained theatre executive Jennifer Rice. "This is a theater of great beauty. You walk in, and the dragon chandelier is about the size of a baseball diamond. It's enormous! Different rooms of the Emperor's Palace are replicated here."

In addition to great beauty, the 5th Ave Theatre is developing a reputation of great power.

Rice spoke with Broadway To Vegas about the venue which has become a gateway to Broadway, having launched Hairspray and opening a pre-Broadway world premiere of The Wedding Singer with previews beginning January 31.

"The 5th Ave Theatre has definitely taken on a new life since our Artistic Director David Armstrong has been here," replied Rice.

"Very few Broadway shows get their start West of the Mississippi. Logistically, in the early days, it was really just Baltimore. Even Chicago was a stretch. Planes, trains and automobiles dictated what you could and couldn't transport economically."

"David Armstrong has been campaigning for the past five years to really get more shows out here. We have an incredible pool of actors and technical crew available. So, that is automatically very appealing. They can try it out in Seattle and hire extremely talented local technicians and costume designers," she said of the union theatre.

Keeping a wide berth from New York critics is also a plus.



David Armstrong
"I know in talking with producers like Margo Lyon, who is the lead producer on Hairspray, it's very appealing to her from a producer's perspective to be far away from New York, to iron out all those kinks. The Seattle critics are extremely well versed. We have a bevy of news publications with talented critics. They are constructive in their reviews."

As opposed to being mean... "or useless," Rice injected. "Saying, Oh, I love everything, because that doesn't do anyone any good, either."

"The other thing is, an extremely savvy audience. We have subscribers that have been coming to our theater for 25 years. They aren't going to take mediocre. They aren't going to applaud if it doesn't work, if it isn't worthy of applause."

Two production counter-points are Hairspray, which went on to enormous success, and Princesses which thus far has not. Both received their pre-Broadway world premieres at 5th Avenue.

Audience response is a pivot point.

"In particular with Princesses that was proven quite valuable," stressed Rice. "David Armstrong would give a curtain speech before every production. He would encourage audiences to send their E-mails - what they liked and not like. He and all of the staff made sure that those E-mails got forwarded to the creative team. So, it really became a collaborative process between the audience members and the creative team behind the shows."

With subscribers having an average income in excess of $100,000 it's no surprise that the theatre has "a huge number of subscribers that do travel to New York to see Broadway productions."

"We have two theaters here," explained Rice. "The Paramount does touring productions. Their subscriber base is under or around 7,000. We have 24,000 subscribers. Although the Paramount is a bigger theater, seat capacity wise with 3,000 seats, we have 2,115 seats and a very loyal, dedicated subscription base. It is one of the largest subscription houses in the country."

"Also, producers know that they are going to have and audience - a guaranteed number of people in to see their show."

The size and configuration is also a plus for shows moving to Broadway.

"When you compare our theater with theaters in Texas, Minnesota, other west coast theaters that are newer they have cavernous backstage areas, almost like an opera house."



5th Harvey Fierstein as Edna Turnblad. Photo by Paul Konig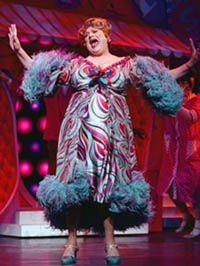 Marissa Winokur Photo by Paul Konig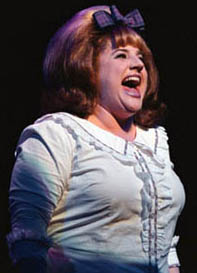 "Our theater was built in 1926 as a vaudeville show house. I know that when we did Hairspray it was very appealing to the producers who knew they were going to move to the Eugene O'Neill on Broadway. Our theater is more or less the same size and the back wings were more or less the same size. Actors like Harvey Fierstein and Marissa Winokur, who had these incredibly quick costume changes, didn't get used to huge amounts of space in the wings and then have to completely readjust when they moved to New York. That was very appealing to them."

Staging is also geared to the Broadway move.

"We had a taped stage area for a hole, which was where the orchestra pit was going to be when they moved to New York. So they didn't choreograph any numbers in a certain space."

A down side to limited backstage space involves trying to mount a national tour.

"This has been a challenge for use when we have touring productions like Phantom and Les Miz come through and we don't have the space to house all of the equipment. But, it works to our advantage when we are doing a production that is going to be in New York and they don't get used to huge amounts of space, because they aren't going to have it in their permanent home."

"We now know that The Wedding Singer will be at the Al Hirchfeld Theater. It's going to be very much the same appeal that the sets, lighting and thrushes are in a small space."

The Wedding Singer based upon the wildly popular 1998 New Line Cinema film of the same name, comes to the stage at the same time the flick is repeatedly shown on television. Doesn't that make it more difficult to mount?

"Yes," answered Rice. "The creative team is knee deep in rehearsals in New York with the script and music. They rehearse both in New York and here."

For those making the cross country trek, the 5th Ave makes it as hospitable as possible.

"We have very good relationships with extended stay apartment buildings and local hotels that cut us good rates. For Wedding Singer, they are arriving in drips and drabs. The technical got on stage December 20 to begin building the sets. The actors will arrive January 8-9. They rehearse for a month. The first preview in front of an audience is January 31. They started rehearsing in New York the middle December."

For a theater to launch what becomes a Broadway success begets money and status.

"We do have a financial relationship and it is different for each show. Hairspray and Princesses are good comparisons in contrasts. Hairspray opened here in 2002. It is the gift that keeps on giving. We get monthly checks. It only helps our theater when it was nominated for 13 Tony awards and won 8 Tony awards. We do receive a lot of recognition from both the producers both casually and ancedotally and the press for assisting them with that. We were there opening night. We were there at the Tony Awards. We were there at the cast party."

Missing was Rice who had to forgo the trips because she was pregnant. "I've had two girls since the birth of Hairspray. I was pregnant when the pre Broadway world premiere was here in 2002 and I was pregnant when the tour came back in 2004. We joked that we were going to name the kids Edna and Seaweed."

Making sure that a tour returns to the home base is also a priority.

"We made sure when we signed the contract with the producers that when and if - because at that time you don't know if there is going to be a tour - it came back to the 5th Ave Theatre."

"We put up money both through ourselves independently, as we did with Hairspray and The Wedding Singer and as a consortium through the IPN. We've done that with The Color Purple, Spamalot, Thoroughly Modern Millie."

That doesn't mean it's always clear sailing because of a group called Clear Channel.

"The Paramount Theatre, which is also here in Seattle, is owned by Clear Channel Communications which also puts up money to produce new shows," she explained.

"In the case of Hairspray, for example, both Clear Channel and 5th Avenue were producers. Clear Channel wanted it to go to their theater (Paramount) when it was on tour and we wanted it to go to our theater when it was on tour. We do occasionally battle for shows. We won with Hairspray. We lost with The Producers. With Hairspray we were smart enough to have gotten it written into our contract before hand. We did end up putting a little more money in, because we were the theater that did the pre Broadway world premiere. The Paramount has never really done a pre Broadway world premiere."

"There is a level of sophistication that comes with a couple of these under our belts," she reasoned.

"We are befitting financially from the Vegas production of Hairspray, she commented about the production which opens in February 6 at the Luxor Hotel. "We financially benefited when the Canadian and American tours occurred. We get the monthly or quarterly checks."

"We did Princesses as a pre Broadway world premiere," she said about the musical inspired by Frances Hodgson Burnett's beloved Victorian novel, A Little Princess, which was staged at the 5th Avenue Theatre August 9-28, 2005. The book is by Cheri and Bill Steinkellner with concept, direction and lyrics by David Zippel.

"I will say that, different from Hairspray, it did not receive rave reviews right out of the gate the way Hairspray did. When Hairspray opened in Seattle the critics that were here just went wild. That show did not change too dramatically between Seattle and New York. Princesses opened here and the creative team learned a lot about what these audiences were and were not reacting to - characters that they did and didn't respond to."

"Also, theaters were not opening up on Broadway when Princesses left here. Shows were not closing. There weren't theaters available. It was expected to have opened that fall on Broadway but Sweet Charity was not closing as people thought it would. Producers, Hairspray, Mamma Mia, all these shows have no end in sight, so there isn't the theater availability."

"They are still in line for a theater. Color Purple swooped into a theater they were hoping for. Lestate swooped in after All Shook Up closed. We were hoping for that theatre."

"So, it's been a little bit of a nail biter. But, they are still waiting for a theater. The creative team is still working on the book. It will have changed, I imagine, a lot between the time it was here and when it opens on Broadway."

"A lot of that is in response to the E-mails that the Seattle audience sent in."

"We do have a number of people who come to see the show twice, once at the beginning and once at the end so they can see how the show has changed. Dance numbers can get taken out and props changed. It depends upon the show. Hairspray really needed very few changes right from the gate. The finale for Princesses was totally rechoreographed by the time of the fourth or fifth preview show."

Does the creative director have any input?

"It just depends," she replied. David Armstrong is extremely talented as a director. For Princesses, David Armstrong, as outsider looking in, was crucial. He was invited in to offer his constructive criticism on meetings."

The 5th Ave Theatre is also a springboard for new talent.

"We get unsolicited scripts delivered here on a daily basis - at different levels of readiness. The team reads them, reviews them and responds to them. We are in the process right now of securing our 2006-07 season. There are two musicals that are being considered for our line up. It is part of our mission statement to include new, never before seen musicals in our line up. In any season, it might be one, or none and then two the next. This season we will have The Wedding Singer."

Promoting new works is not to be confused with amateur night.



Producer Margo Lion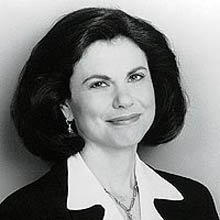 "There are a lot of big players," Rice emphasized. "Anita Waxman is on our board of directors. She is very involved with creating new musicals. Of course Margo Lion, who is the lead producer on Hairspray and is also one of the producers of The Wedding Singer, so it is no coincidence that after Hairspray they called us first."

Rice stressed that it is not a closed, good-old-boy network on scripts. "No, no, no," she repeated indicating that all scripts are at least read before being rejected. "I know that Bill Barry, the assistant to David Armstrong, receives them and part of his job is reviewing them."

"We have a very tight and well established theater community," added Rice. "I have always been told that Seattle has more Equity actors working per capita than New York City. When you deal with the population size and the ratio, the acting talent and people that choose to live out here for the life style and can stay employed here, it is alarming!"

"What keeps coming back to us is that people love this town." That can become a bargaining took for getting an actor to agree to a production. "When producers are negotiating with actors and tell them they get to do the pre Broadway tryouts in Seattle, it's a plus because they would rather come to this city than other cities mention."

"We have a vibrate downtown. I remember spending a lot of time with Harvey Fierstein who was just floored, as a New Yorker, by how he could walk everywhere. You don't think of west coast cities as walkable cities."

"Depending upon where they are staying they are always amazed to see Tiffany's or the Nordstrom flagship store right outside their hotel."

The Wedding Singer, which begins previews January 31 at the 5th Ave Theatre in Seattle, has music by Matthew Sklar, lyrics by Chad Beguelin and book by Chad Beguelin and Tim Herlihy. John Rando directs the cast in which Stephen Lynch stars as Robbie Hart opposite two-time Tony Award nominee Laura Benanti who stars as his love interest Julia. Rita Gardner is grandmother Rosie and Richard Blake plays Julia's fiancé Glen Gulia. Kevin Cahoon is band member George and Felicia Finley is the ex-fiancée Linda. Matthew Saldivar plays Robbie's best friend Sammy.

Rob Ashford is the choreographer. Scenic design by Scott Pask. Gregory Gale serves as the costume designer. Lighting designby Brian MacDevitt. Peter Hylenski is the sound designer and David Brian Brown and Joe Dulude will design the hair and make-up respectively. Orchestrations are by Irwin Fisch with dance arrangements by David Chase. The Wedding Singer will be conducted by James Sampliner.


MASKED BALL CELEBRATES PHANTOM OF THE OPERA MILESTONE


The place to be Monday, January 9, is at the milestone performance of Broadway's Phantom of the Opera followed by the masked ball at the Waldorf-Astoria.

Andrew Lloyd Webber's The Phantom of the Opera performing that 7,486th show at The Majestic Theatre will make it the longest-running show on Broadway surpassing Cats.

The creators hand picked the cast to perform at the record-breaking performance.

For the legendary title role, producer Cameron Mackintosh, composer Andrew Lloyd Webber and director Harold Prince invited back acclaimed Phantom Howard McGillin, who has played the title role on Broadway more than any other performer having donned the mask for a total of 3½ years and over 1,200 performances.



Howard McGillin as the Phantom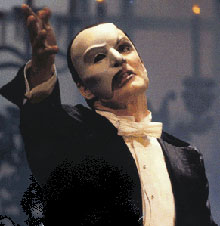 Joining Mr. McGillin in the record-breaking company are a host of Phantom favorites. Leading lady Sandra Joseph, who plays Christine, has played the role throughout the country, including over 1,000 times on Broadway. Tim Martin Gleason, who plays her romantic interest Raoul, starred in the role throughout the U.S. on the current national tour. George Lee Andrews, an original cast member who has been with the show for the entire run, plays opera house manager Monsieur André. Broadway veteran Tim Jerome plays his business partner (and comic sidekick), Monsieur Firmin.

Broadway favorite Anne Runolfsson plays opera diva Carlotta. Marilyn Caskey, who previously played the role of Carlotta for several years, now plays the mysterious ballet mistress Madame Giry. She is the only actress in the history of the Broadway production to have been contracted to play both principal roles. Larry Wayne Morbitt plays the vainglorious opera tenor Piangi, a role he's performed for over seven years at The Majestic, since 1998.

Heather McFadden, who performed with the national tour, is making her Broadway debut as Madame Giry's daughter, the young ballerina Meg. Having been on maternity leave, Ms. McFadden returned to the production this week.

The 35-member person cast features three performers who have been with the show since the beginning: George Lee Andrews (Monsieur André), Mary Leigh Stahl (Wardrobe Mistress/Confidante) and Richard Warren Pugh (Don Attilio).

Monday's audience will be studded with stars who will attend a lavish masked ball at New York's Waldorf-Astoria. Among the stars expected to attend are Michael Crawford, who created the title role and Maria Friedman who starred in the London production and then reprised her acclaimed performance in New York.

When that happens Monday, January 9, it will be eighteen years to the day from when he first started previewing The Phantom of the Opera at the Majestic. The $8 million production of Phantom opened on Jan. 26, 1988 followed by an opening-night black tie affair at the Upper West side Beacon Theatre. More than 11 million people have seen it on Broadway alone, where it has grossed $600 million.

The Phantom of the Opera became the second longest-running show in Broadway history in February 2003 when it surpassed the 6,680 performance run of Les Misérables (now closed after 16 years), putting only one show ahead of it: Cats - which closed, after 18 years and 7,485 performances. Andrew Lloyd Webber has composed the two longest-running shows in Broadway history: Phantom and Cats. Cameron Mackintosh has produced the three longest-running shows: Les Miz, Phantom and Cats.

The Cameron Mackintosh/Really Useful Theatre Company, Inc. production of Andrew Lloyd Webber's Phantom, directed by Harold Prince, played its milestone 7,000th Broadway performance at the Wednesday matinee, November 10, 2005. On that day it become one of only two productions in Broadway history to reach 7,000 performances.

Last month the Broadway and the US national touring company celebrated an unprecedented 20,000 performances in the United States.

The Phantom of the Opera had its world premiere on October 9, 1986 at Her Majesty's Theatre in London, winning every major British theatre award including the Olivier and Evening Standard Awards. The New York production opened on January 26, 1988 with a then-record advance of $18 million. The musical went on to sweep the 1988 Tony Awards, winning seven, including Best Musical and Best Actor for Michael Crawford. The Phantom of the Opera also won seven Drama Desk Awards and three Outer Critics Circle Awards. The original London cast recording was the first in British musical history to enter the charts at number one. It has since gone both gold and platinum in Britain and the United States, selling over two million copies.

Another milestone for Phantom will be opening a production in Las Vegas.

When the telephone rang last Tuesday morning the voice leaving a message on the answering machine was ecstatic. Rebecca Spencer, a talent that Broadway To Vegas first enjoyed in the original cast of Broadway's Jekyll & Hyde ( See Broadway To Vegas column of June 8, 1998 )



Rebecca Spencer plays Madame Giry in the Vegas production of Phantom.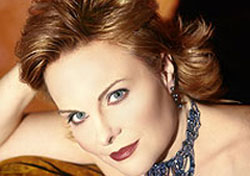 "I am so excited. I'm coming out to Las Vegas to do Phantom of the Opera," said the performer who was waiting her audition call when she spoke with Broadway to Vegas for an article which ran ( See Broadway To Vegas column of November 13, 2005 )

"Then I was in the throws of all the call backs," she explained. "Fifteen years ago I played Carlotta in the Homberg, Germany production. Fifteen years later, I'll be opening in the Vegas production but I'll be playing Madame Giry. And, it will be in English," quipped Spencer, who now joins Marilyn Caskey on the short list of performers who have taken to the stage as first Carlotta and then as Madame Giry.

Spencer begins rehearsals for the Vegas gig on April 24 for an anticipated June 24 opening at the Venetian Hotel.

The 90-minute Las Vegas version directed by Hal Prince, will use the original Maria Björnson scenic and costume design with a plus - the Venetian Resort constructed a new opera-house-style showroom for the production which will permit more creativity than in any previously mounted version.

As of Monday, January 9, the five longest-running shows in Broadway history will be:

1) The Phantom of the Opera (7,486 performances and counting, with no end in sight)
2) Cats (7,485 performances)
3)Les Misérables (6,680 performances)
4) A Chorus Line (6,137 performances)
5) Oh! Calcutta! (5,959 performances)


SPREADING THE WORD


BROOKE SHIELDS SUDDENLY STRONGER

Brooke Shields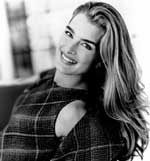 presented by Smart Talk Women's Lecture Series Tuesday, January 17, at the State Theatre in New Brunswich, N.J.

For almost four decades, Brooke Shields has been in the public eye, from Ivory Snow baby to top fashion model, Princeton honors student, award-winning actress, and most recently, author of Down Came the Rain: My Journey Through Postpartum Depression. Throughout her career, she has endured controversy, stalkers, divorce and a loved one's suicide, but nothing compared to the devastating effect the birth of her daughter Rowan had on her in 2003.

Charismatic, funny, and honest, Brooke Shields will lead you down her incredible road to recovery.

A LAUGHING MATTER; THE COMEDIC STATE OF THE UNION with Andy Borowitz, Eugene Mirman and Lisa Leingang.

Some people believe that comedy today is the new rock and roll. Others look at the slow death of the sitcom and assert that comedy is on its last legs. What is the future of comedy? Explore the nuances of this question with a panel of funny people. The topic may sound heavy but there will be at least one laugh for every serious point made. Andy Borowitz is a comedian, actor and writer whose work appears in The New Yorker and other publications. Eugene Mirman is a comedian whose credits include Comedy Central and Late Night With Conan O'Brien. Lisa Leingang is the vice president of programming and development at CBS Entertainment.

Part of the 92nd Street Y's New York States of Mid series, hosted by author and journalist Peter Hyman.

Wednesday, January 11, Steinhardt Building, NYC.



Broadway To Vegas is supported through advertising and donations. Priority consideration is given to interview suggestions, news, press releases, etc from paid supporters. However, no paid supporters control, alter, edit, or in any way manipulate the content of this site. Your donation is appreciated. We accept PAYPAL. Thank you for your interest.


BIRTHDAYS


BEN FRANKLIN'S BIRTHDAY on January 14 the city of Philadelphia will serve cake and the Franklin Institute staff will make ice cream from liquid nitrogen. It is a science experiment with a really sweet pay-off!

There are plenty of other activities to celebrate Ben's big day, including: a giant birthday card for visitors to sign; make your very own tri-cornered Ben Birthday hat and a static electricity tube that replicates Ben's experiments with static electricity; watch a colonial conjurer show-off magic tricks popular during Ben's "younger years;" learn how to make a kite with representatives from the Main Line Art Center; and a few lucky visitors will get to handle Franklin artifacts with Franklin Institute Senior Curator John Alviti.

Experience part of Ben Unplugged, The Philadelphia Theatre Company's tribute to Ben's Birthday. Ben Unplugged is a monologue that uncovers the mystery of the relationship between Franklin and his son, based on actual historical facts.

Enjoy the new, self-guided Franklin Tour, which highlights all of the Franklin history and science The Franklin Institute has to offer.

ELVIS PRESLEY BIRTHDAY though deceased the guy stills has a great birthday party. Born January 8, 1935 in East Tupelo, Mississippi, today would have been swivel hips' 71st birthday. Last night the Memphis Symphony Orchestra presented a concert of Elvis music performed from the original music charts from Elvis Presley's concert tours. The Terry Mike Jeffrey Band performed as the rhythm section with lead vocals by Jeffrey and The Imperials: Sherman Andrus, Terry Blackwood, Gus Gaches and Joe Moscheo. Special guest instrumentalist Robert Bonfiglio on harmonica. Today the traditional ceremony with a birthday cake cutting and a proclamation of Elvis Presley Day by Memphis and Shelby County officials. Scheduled to participate are Shelby County Mayor A.C. Wharton, Senior Executive Director of the Memphis Chapter of NARAS Jon Hornyak, and Elvis recording session and concert sound engineer Bill Porter.


QUIET!!!


The Los Angeles Philharmonic conducted by Esa-Pekka Salonen featuring Lang Lang on the piano will perform a special program Thursday and Friday, Jan,12-13 which Deutsche Grammophon will be recording - the first recordings to be made at Walt Disney Concert Hall in Los Angeles.

Audiences attending these historic events will be asked to remain exceptionally quiet so as to produce the finest possible master tapes.

Those in attendance will hear Night on Bald Mountain (original version), by Mussorgsky, Piano Concerto No. 2 by Bartok and The Rite of Sping by Stravinsky.



UNDERNEATH THE LINTEL By Glen Berger Directed by David Saint.

Would you recognize a miracle if you saw one?

An ancient mystery is unlocked when a Dutch librarian sets out on a quest to find the man who returned a book, 113 years overdue.

In a tale reminiscent of The DaVinci Code, a clue scribbled in the margin and an unclaimed dry-cleaning ticket sets the librarian off on a course that spans the globe and the ages, leading to an astonishing conclusion where facts and faith intersect.

Jan 10 - Feb 05 at the George Street Playhouse in New Brunswick, NJ.

THE BIRD SANCTUARY by Frank McGuinness. In this witty new drama starring Hayley Mills and Tony Award Winning actress Elizabeth Franz, the fate of a Dublin family home overlooking a bird sanctuary brings the long overdue reunion of an eccentric artist and her siblings. Old patterns and behaviors revive and through the bickering, bantering, laughter and healing a special enchantment emerges. January 8 - February 12 Alabama Shakespeare Festival in Montgomery, AL.

THE COAST OF CHICAGO Laura Eason's adaptation of the acclaimed collection of short stories about growing up in Chicago's Pilsen neighborhood.

Directed by Gary Zabinski Produced by Betsy Ingram and Kristan Schmidt.

January 12 through February 19 at The Lookingglass Theatre in Chicago.

DOUBT welcomes Jena Malone to the cast on January 10. The talented lady is making her Broadway debut John Patrick Shanley's Tony Award- and Pulitzer Prize-winning drama. The production stars Eileen Atkins as Sister Aloysius and Ron Eldard as Father Flynn.

RESURRECTION BLUES by Arthur Miller, will have Robert Altman making his London theatrical debut when he directs the play at Kevin Spacey's Old Vic. Miller described the play, in which a TV network bids to transmit the crucifixion of a messianic Latin-American revolutionary, as a 'satiric comedy verging on the tragic', in which commercialization and the media are attacked, and a choice is posed between a state of continuous revolution and 'Jacuzzi civilization's Only weeks before his death Miller was hard at work revising the play.

Open February 14 at the Old Vic in London. Performances through April 22.

O GO MY MAN by Stella Feehily. Her new play is set in the contemporary Dublin of charity conscious celebrity chefs, more types of latte than you can shake an organic brownie at, and in influx of East European immigrants to serve them. Feehily blends unrefined emotion and surreal humor to ask 'is love really all you need, or just a distraction from the big stuff?'

Neil's back from the Sudan, but with a mind full of nightmares he's taking a sledgehammer to his life. Is Sarah the one - or is she just new? Directed by Max Stafford-Clark, the cast includes; Denise Gough, Sam Graham, Paul Hickey, Susan Lynch, Gemma Reeves, Aoife McMahon, Mossie Smith and Ewan Stewart.

Set design by Es Devlin. Lighting Designer is Johanna Town, Costume Design by Emma Williams and Sound by Gareth Fry.

This production kicks of the 50th anniversary celebration of the Royal Court Theatre. During the year new plays by Terry Johnson and Tom Stoppard will be mounted along with productions by the theatre's various and varied artistic directors. These begin with Max Stafford-Clark returning to direct O Go My Man which begins previews January 12 at the Royal Court Theatre in London.


| | | |
| --- | --- | --- |
| | | |
WHO'S WHERE


LIONEL RICHIE HEADLINES BARBADOS JAZZ FESTIVAL A dazzling line-up of international performers headline the Thirteenth Annual Barbados Jazz Festival which takes place January 9-15.

The key performers this year are: Lionel Richie, Jill Scott, Arturo Tappin, Roy Hargrove & Roberta Gambarini, Art Work & Wayne Willock, Norman Brown, Cindy Alexander, boney James, Gary Davis Band and the Cuban Jazz All-Stars.

The festival will be staged at various locations, among them the historic Sunbury Plantation House, Heritage Park, set in a rum Factory, the Garfield Sobers Gymnasium and the lush and breezy Farley Hill National Park.

THE ROLLING STONES on stage Tuesday, January 10 at the Bell Centre in Montreal, QC. On Friday they open at the Fleet Center in Boston and take to that stage again on Sunday, January 15.

PRESERVATION HALL JAZZ BAND perform Saturday, January 14, at The Domaine in Sydney, Australia.

BILLY JOEL headlines the Jacksonville Veterans Memorial Arena in Jacksonville, Florida on Tuesday. Other Florida stops this weeks in Thursday at the St. Pete Times Forum in Tampa and next Sunday at the BankAtlantic Center in Sunrise.

PETER CINCOTTI performs Tuesday, January 10, at the Philharmonic Center for the Arts in Naples, FL. On Thursday he's on stage at the Ocean Reef Cultural Center in Key Largo, Florida and then he travels across country for a Saturday gig at the McCallum Theatre in Palm Desert, CA.

ANNE HAMPTON CALLAWAY entertains Saturday, January 13, at the Community Theatre in Morristown, N.J.

THE MET ORCHESTRA Renée Fleming, Soprano and Julien Robbins, Bass with James Levine, Music Director and Conductor performing Romeo and Juliet Fantasy Overture, and Letter Scene from Eugene Onegin by Tchaikovsky, Altenberg Lieder, Op. 4 by Berg; Overture and Bacchanale from Tannhäuser by Wagner and the Closing Monologue from Capriccio by R. Strauss. Sunday, January 8 Carnegie Hall in New York City.


PIFFLE AND PROFUNDITIES


QUEER EYE FOR THE STRAIGHT GUY is betting on Vegas. Those Fab Five guys - Ted Allen, Kyan Douglas, Thom Filicia, Carson Kressley and Jai Rodriguez - will be heading to Sin City to spiff up some dude who needs a re-do. If you are (or know) a straight man over 18 who lives in the Las Vegas area and whose lifestyle needs genuine improvement for a specific reason Queer Eye for the Straight Guy wants you.

In speaking with Broadway To Vegas the production company indicated they were hoping for participants with a real "Vegasy" lifestyle. (i.e. A former male stripper now entering the corporate world who needs help. Or, maybe, a professional gambler who'd have better odds for a romantic life if the Fab Five shuffled around his wardrobe.)

Casting is underway for the shows Queer Eye will do in Vegas. Go to the Bravo website download, complete and return their preliminary candidate questionnaire. You can even nominate a friend or relative.

This shoot is a coup for Vegas. Applications are usually accepted only from the New York Tri-State area. Las Vegas will join London and Texas in a short list of Queer Eye for the Straight Guy road shows.
















Next Column: January 15, 2006
Copyright: January 8, 2006. All Rights Reserved. Reviews, Interviews, Commentary, Photographs or Graphics from any Broadway To Vegas (TM) columns may not be published, broadcast, rewritten, utilized as leads, or used in any manner without permission, compensation/credit.
Link to Main Page
---
Laura Deni


CLICK HERE FOR COMMENT SECTION