! >
Broadway To Vegas
  
 SHOW REVIEWS CELEBRITY INTERVIEWS GOSSIP NEWS

| | |
| --- | --- |
| | |
THEATRE TICKET PRICES GOING UP - - ARMY TO PRESENT MEDAL TO ELVIS PRESLEY POSTHUMANOUSLY - - JAZZ IN BROOKLYN - - CELINE DION AND MAMMA MIA! TO CLOSE IN LAS VEGAS - - BRAD OSCAR TO STAR IN VEGAS PRODUCTION OF THE PRODUCERS - - RUSSIAN WINTER FESTIVAL - - THE PURSUIT OF HAPPINESS - - LONDON INTERNATIONAL MIME FESTIVAL - - DONATE . . . Scroll Down


Copyright: January 7, 2007
By: Laura Deni

CLICK HERE FOR COMMENT SECTION
TICKET BARGAINS FOR THE MIDDLE CLASS


They used to be called the Middle Class and a lot of people aspired to join their ranks. Now they are called the Working Class Poor and the ever bourgeoning populations segment is hard pressed to justify hard work.

The filthy rich have no problem coughing up premium seat price tabs of $250-$300 to see a Broadway show. The pitifully poor can position themselves to where at least their offspring get in free - to just about everything; from performances, art exhibitions and orchestras, as organizations and producers commendably donate massive numbers of free tickets to charities and schools catering to the lower economic rungs.

It's the hard working, self sufficient households - those that exceed the poverty limits but don't have a personal banker - who get shut out.

Broadway recently experienced its biggest week in history, having sold almost $30 million worth of tickets between Christmas and New Years. Nobody deserves to rake it in more than first money investors. Those courageous folks risk it all to get a production mounted.

The ticket buying public doesn't care.

Average hourly wages for non-supervisory workers - about 80% of the labor force - earn $16.94 per hour according to the Labor Department.

It is even possible that a person who qualifies for free medical care, help with food, housing, education and accompanying supplies for their children, can have more discretionary income that the working class poor who pay their own way.

Fortunately, several theatres in American have some outstanding bargains.

When Doubt starring Cherry Jones, in her Tony Award winning role opens, at the LaSalle Bank Theatre in Chicago on January 8 - tickets begin at only $20.

That may be the theatrical buy of the year.



Kathleen Turner and Bill Irwin. Photo by Carol Rosegg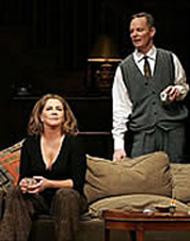 Who's Afraid of Virginia Wolff opens at Los Angeles' Almanson Theatre on February 6 and tickets can be purchased for as low at $30.00.

Currently at the Kennedy Center for the Performing Arts in Washington, D.C. through January 28, that venue had $25.00 tickets for this show.

Who's Afraid of Virginia Wolff is direct from electrifying runs on Broadway and in London's West End. This smash-hit new production of Edward Albee's masterpiece is on tour with its acclaimed original stars - Kathleen Turner who took home the 2006 London Evening Standard Theatre Award for Best Actress in this production and 200 Tony Award winner for Best Actor Bill Irwin.

The Denver Center for the Performing Arts is offering all remaining tickets for Hairspray at one-half price. Showing their sense of humor, the ordering code - blizzard.

Hairspray runs at the Buell Theatre for one week only, January 9-14.

Studies have shown that there are approximately 17 price categories for most tickets. However, commandeering a cheap seats requires the customers to travel to and then stand in line at a discount outlet or show up at the theatre at the last second just hoping to get a price break. The three above mentioned productions have low ticket prices which can be purchased in advanced with a guaranteed seat.

For those who aren't jolted that the price of coffee is going up and don't blink at the concept that to purchase just one ticket for a premium Broadway show, the average worker in America has to toil away for anywhere from one to three days - then open up your wallet and enjoy. The prices are based upon what the traffic will bear. Theatre managers and show producers make no apologies.

Is it worth it to spend an entire day's pay for a mediocre evening? Few shows ever mounted offer a theatrical experience to be savored - the memory cherished for years.

That's a determination of the ticket buyer.

Admission prices are not necessarily based on the best show. The basic equation is the theatre in which it is mounted plus the city. New York, Los Angeles and Las Vegas demand the most dollars from the patrons. Top ticket prices have exceed the $100 mark for well over a decade.

What has happened is that now the average ticket price for an ordinary seat is over the triple digit mark.

Get used to it.


ART AND ABOUT


JAZZ IN BROOKLYN A Community of Visions is a photographic exhibition that examines how jazz musicians live in Brooklyn and is part of a larger project that features musicians and others in the jazz scene that live in New York City. Born in Barcelona, Spain photographer Lourdes Delgado says her intention is to explore jazz from a social, economic and cultural viewpoint, rather than a musical one. Away from the typical locations common in jazz iconography-the bandstand or studio- her images capture these individuals in a more personal and revealing space: their homes.

With a large format camera, she's able to capture their lives and lifestyles with great detail. Her portraits focus on the subjects, but also on everything around them-the structure of the room, the quality of the light and the objects in the room. They provide meticulous data for future analysis as the jazz luminaries lounge by their record collections, stand amid scattered instruments, or simply are seated at a kitchen table. Through February 11 at the Brooklyn Public Library Brooklyn, NY.

RUSSIAN WINTER FESTIVAL On Saturday January 13 the third Russian Winter Festival - a free event offering a wonderful taste of Russia to children and adults alike - will take place on Trafalgar Square in London. . It marks Russia's Old New Year - New Year according to the Tsarist calendar which was used prior to 1917, and which is still celebrated in Russia in mid-January.

The Festival brings Russian music, dance and song - and even snow! - to the heart of London. The Suvorovsky Ensemble of the Military and Music Academy of the Ministry of Defense – originally set up as a second Moscow school for the Red Army – will perform, as will folk groups including Pelageya and Russian Song and some of Russia's most contemporary artists such as Ranetki and Tokio. The Russian pop legend Garik Sukachiov will be making a headline performance. Other attractions include the Moscow State Children's Puppet Theatre, children's art workshop craft stalls and traditional Russian food.

A new addition to this year's line up is the display by the Kremlin guard, picked - opines their press release "according to stringent criteria, such as being over 6 feet in height and possessing strong Slavic facial characteristics" they'll be entertaining the crowds throughout the festivities.


SPREADING THE WORD


OPEN REHEARSAL AMERICAN BALLET THEATRE Join ballet scholars for a behind-the-scenes view of American Ballet Theatre company members as they prepare onstage for a performance. Audio Scholar program: Through this unique program, patrons can receive informational commentary about the choreography, dancers and history of the ballet as the companies rehearse on stage, broadcast through wireless headsets. Headsets will be provided prior to the start of the rehearsal. A limited number of audio headsets are available and will be handed out on a first-come, first-served basis. January 9 at the Kennedy Center for the Performing Arts in Washington, D.C.

ABT performs two programs: Lubovitch's full-length Othello (Jan. 11-14); and a mixed program (Jan. 9 & 10) featuring La Bayadère Act II (Kingdom of the Shades), Dark Elegies, and Rodeo.



Broadway To Vegas is supported through advertising and donations. Priority consideration is given to interview suggestions, news, press releases, etc from paid supporters. However, no paid supporters control, alter, edit, or in any way manipulate the content of this site. Your donation is appreciated. We accept PAYPAL. Thank you for your interest.


ARMY TO PRESENT ELVIS PRESLEY MEDAL
GI Presley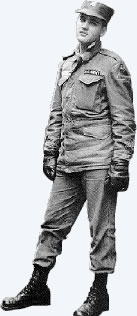 Army veteran Elvis Presley would have turned 73 on Monday, January 8. The traditional birthday ceremony with a special program hosted by Graceland/EPE officials, will feature a birthday cake cutting and a proclamation of Elvis Presley Day by Memphis and Shelby County officials.

This year's remembrance ceremony takes on a different significant.

On behalf of the US Army, members from the 95th DIV (IT) will present to the Presley Estate a special certificate and medal, earned but never received by Elvis, in recognition of his service with the army.

The military group will also make a formal color guard presentation as part of the ceremony.

On Monday, March 24, 1958 at 6:35 AM, Elvis, accompanied reported to the Memphis Draft Board.

From there, he and twelve other recruits were bused to Kennedy Veterans Memorial Hospital. There, Elvis was assigned army serial number 53 310 761, processed and sworn in. Elvis completed his 18-month stint in Germany and arrived back in the U.S. in March of 1960. At Fort Dix, New Jersey he was honorably discharged from active duty on March 5, 1960.


CURTAIN DOWN


CELINE DION issued a prepared statement announcing that her last performance in her concert show A New Day at Caesars Palace will be Dec. 15 - closing nearly five-year run. In March 2003 the Grammy award-winning singer, originally signed a three-year, $100 million contract, which was later extended through 2007. Producers say nearly 2.5 million people have seen Dion's show since it opened in the Colosseum, a $95 million theater built and designed for the production.

MAMMA MIA! performers in Las Vegas getting ample notice that the last performance at Mandalay Bay Resorts will be in late summer of 2008.



MARY'S WEDDING by Stephen Massicotte. Directed by Marc Masterson.

Starring Nell Geisslinger as Mary and Will Rogers as Charlie.

Beautiful, sweeping story of first love and uncertain fate It is the eve of Mary's wedding - a night filled with dreams of love, war and what might be. Through an exquisite dreamscape, Stephen Massicotte weaves Mary and Charlie's gentle love story - from the prairie barn where they first met during a thunderstorm, to the battlefields of France.

Everybody's life has been touched by war, but when love triumphs over loss and pain, we experience moments that stay with us forever. In Mary's Wedding, Mary keeps her love for Charlie alive through memories, letters and dreams.

To honor the beautiful moments that people keep tucked near their heart, the Actors Theatre of Louisville is paying tribute by asking everyone to share their own stories of war and romance. Letters selected by Actors Theatre will be featured in promotions regarding this production which runs through February 3 at Actors Theatre of Louisville, KY.

THE PRODUCERS getting ready to open January 31 at The Paris Hotel in Las Vegas will star Brad Oscar in the role of Max Bialystock. Nathan Lane created the role on Broadway and was awarded a Tony Award for his effort. Oscar was his understudy, doing double duty as Nazi playwright Franz Liebkind. That portrayal earned Oscar a Tony nomination.

After Lane left the show Oscar took over the Bialystock part, portraying the creatively corrupt producer over 1,00 times - both on Broadway and in the London production.

David Hasselhoff is featured in the role of the outrageously flamboyant Roger DeBris.

THE MAGIC FLUTE Mozart's final opera never fails to delight audiences of all ages. This production by Tim Supple, with its roots in popular theatre and its message of reconciliation, reaffirms The Magic Flute's reputation as an ideal introduction to opera for everyone.

Sung in English. Opens Friday, January 12. Opera North in The Grands Theatre Leeds, England.

CONFESSIONS OF A MORMON BOY written and performed by Steven Fales and directed by Tony Award-winner Jack Hofsiss.

Confessions of a Mormon Boy Fales' compelling, humorous, and inspiring true story about how a young gay man went from being a model Mormon boy in Utah to a high priced call boy in New York City. His captivating tale takes audiences through his excommunication from the Mormon church, divorce, male prostitution and drug abuse, as he struggles to reclaim himself, his children and his "Donny Osmond smile."

A breakout hit during the 2004 New York International Fringe Festival - for which the play received a coveted Overall Excellence Award - the production also received a NY Outer Critics Circle Award Nomination for Outstanding Solo Performance.

Previews begin Wednesday, January 10 at The Coast Playhouse in West Hollywood, CA. Performances continue through Sunday, February 18.

LONDON INTERNATIONAL MIME FESTIVAL The popular London International Mime Festival returns to the South Bank Centre with its boundary-breaking, contemporary visual theatre, with performances by rising stars as well as a host of established names from the world of circus arts, puppetry, physical theatre and live art.

The festival includes circus inspired performer Jean-Baptiste Andre's return to the festival with a production new to the UK.

In addition, the legendary Compagnie Philippe Genty of France makes its first UK appearance in 15 years. La Fin des Terres is a kaleidoscope of fantastic images conjured from tricks of perspective, distortion, movement, and puppets of all sizes. Simply magical and a must see of the festival.

January 23 through January 28 at the Queen Elizabeth Hall & Purcell Room of South Bank Centre in London.

PALM SPRINGS FOLLIES welcomes Gloria Loring to the production on January 10. She's in the star slot through March 18. Palm Springs, CA.

SPAMALOT Winner of the 2005 Tony Award for Best Musical and voted Outstanding Musical of 973 AD, Monty Python's Spamalot is the outrageous new musical comedy lovingly ripped off from the film classic Monty Python and The Holy Grail.

Directed by Tony Award-winner Mike Nichols, Spamalot tells the tale of King Arthur and his Knights of the Round Table as they embark on their quest for the Holy Grail. Flying cows, killer rabbits, taunting Frenchman and show-stopping musical numbers are just a few of the reasons audiences everywhere are eating up Spamalot.

Tuesday, January 9 to Sunday, January 21 at the Broward Center for the Performing Arts in Fort Lauderdale, FL.

THE PURSUIT OF HAPPINESS by Richard Dresser. Directed by Andrew Barnicle. A world premiere commissioned by the Laguna Playhouse.

This is the second play in a trilogy of plays about happiness in America. Each of the three plays is set in a different social class. Augusta, which Dresser dubs "the working class play," premiered at the Contemporary American Theatre Festival in West Virginia during the summer of 2006.Other regional and European productions are scheduled for the 2006-2007 season.

The Pursuit of Happiness is billed as the middle class play.

"The play deals with parents who have deferred their own happiness and live through their 18-year-old daughter," explains Dresser. "This creates a certain amount of pressure. The daughter ultimately has enough of fulfilling their expectations and decides not to go to college, which throws the family into chaos and forces the parents to redefine their notions of what happiness is all about." Annie's whole future happiness depends on her daughter going to college in the fall, and she'll stop at nothing to make sure that happens. Neil's obsession with work is gradually being overtaken by his fascination with a new and dangerous hobby. Jodi doesn't believe that attending college made either of her parents happy, and detests the burden of their living vicariously through her.

The cast features Tim Cummings, Preston Maybank, Matt Reidy, Deedee Rescher and Joanna Strapp.

The design team includes Tom Buderwitz (set), Paulie Jenkins (lighting), Julie Keen (costumes) and David Edwards (sound).

Performances through February 4 at the Laguna Playhouse in Laguna, CA.

IN THE CONTINUUM Written and performed by Danai Gurira and Nikkole Salter. Directed by Robert O'Hara.

In the Continuum puts a human face on the devastating impact of AIDS in Africa and America through the lives of two unforgettably courageous women. Living worlds apart, one in South Central L. A. and the other in Zimbabwe - each experience a kaleidoscopic weekend of life-changing revelations in this story of parallel denials and self discoveries. Fresh from its sold-out Off-Broadway engagement.

A post-show discussion with members of the cast and creative team follow the performances of Saturday, January 20 & 27 and Tuesday, January 23.

Performances January 12 – February 10 at Yale Repertory Theatre in New Haven, CT.

THE DIRTY TALK

Kevin Cristaldi and Sidney Williams. Photo by Monique Carboni.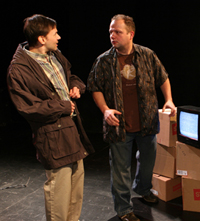 by Michael Puzzo. Directed by Padraic Lillis.

Originally developed as part of the Labyrinth Theater Company's Barn series, and premiered at the 2005 FringeNYC festival.

Set in the mountains of New Jersey, this comedy is about two men who find themselves stranded in a hunting cabin during a ferocious storm. We find out these men are not here merely by happenstance but rather by a purposefully misguided Internet chat room connection. During their tumultuous day together the two explore what defines being a man and the value of intimacy.

Sets by Rob Monaco. Lighting by Sarah Sidman. Costumes by Lea Umberger. Sound by Elizabeth Rhodes. The production stage manager will be Jen O'Byrne.

Previews begin January 11 at Center Stage in New York City.


| | | |
| --- | --- | --- |
| | | |
WHO'S WHERE


THE WALLY FIELD JAZZ ORCHESTRA presents a tribute to the genius of George Gershwin, with renowned pianist James Pearson. A supporting program of classical jazz works by Artie Shaw, Benny Goodman and Stan Kenton features the awesome talents of the band's jazz soloists, and the evening also includes a momentous performance of the Concerto in Jazz, written by bandleader Wally Fields as a tribute to bandleader Paul Whiteman, the King of Jazz. Sunday, January 14 at South Bank Centre in London.

CAPITOL STEPS perform January 9-14 at the Maxwell King Center in Melbourne, Florida.

RED HOT CHILI PEPPERS perform Friday, January 12, at the Cox Business Services Convention Center in Oklahoma City., On Saturday the show is at the American Airlines Center in Dallas.

ERIC CLAPTON on stage Saturday January 13 at the Indoor Stadium in Singapore.

STEVE MARCH TORME sings Tuesday, January 9 at McCallum Theatre in Palm Desert, CA.

MICHAEL FEINSTEIN Friday, January 12 at the McCallum Theatre in Palm Desert, CA.

LILY TOMLIN telling funny stories Thursday, January 11, at the Potawatomi Bingo Casino in Milwaukee, WI.

ANN HAMPTON CALLAWAY in a two night stand beginning Friday at the Orpheum Theatre in Vancouver, Canada.

STEVE TYRELL performs Saturday, January 13 at the Ocean Reef Cultural Center in Key Largo, CA.

LONDON PHILHARMONIC ORCHESTRA offers two premiers. The first UK performance of Noam Sheriff's Akeda, and the first ever performance of the Symphony on a Pavane by John McCabe. The energy of Handel's Dixit Dominus - a vibrant orchestral and choral flourish - provides the perfect precursor to Bernstein's setting of three psalms in Hebrew, commissioned by Chichester Cathedral. This seminal 20th-century exercise in the exuberance and reflection of faith echoes the opening work by Noam Sheriff. Wednesday January 10 Queen Elizabeth Hall, London.
















Next Column: January 14, 2007
Copyright: January 7, 2007. All Rights Reserved. Reviews, Interviews, Commentary, Photographs or Graphics from any Broadway To Vegas (TM) columns may not be published, broadcast, rewritten, utilized as leads, or used in any manner without permission, compensation and/or credit.
Link to Main Page
---
Laura Deni


CLICK HERE FOR COMMENT SECTION