! >
Broadway To Vegas
  SHOW REVIEWS     CELEBRITY INTERVIEWS     GOSSIP     NEWS 
| | |
| --- | --- |
| | |
Copyright: January 7, 2001
By: Laura Deni
CLICK HERE FOR COMMENT SECTION

LUSTING AFTER ROBERT GOULET


ROBERT GOULET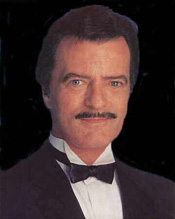 Famed theatrical producer Moss Hart was a homosexual who wanted Robert Goulet as his toyboy, claims Steven Bach's new book Dazzler from Alfred A. Knopf. In the tomb the author writes that "Hart may have had an affair with Cole Porter. He was also attracted to Robert Goulet, whom he (briefly) directed in Camelot.

"Thank God I had my heart attack and could get out of Camelot," Hart is quoted as saying. "It was the only way I could keep from being tough on Robert Goulet and taking out on him how much I resented him for being so attractive."

We just had to ask Vegas resident Robert Goulet what he thought about Hart's lusting after him?

"I think he knew I was straight," answered Goulet. "But the first day of my audition I flew in from Toronto where I had one day off from a series I was doing. I flew in and they lost my luggage.

"So I had to go to the theater dressed in what I was wearing on the plane. I got to the theater and I was sitting on the steps wearing blue jeans, boots and a brown leather jacket. Then in comes Lerner and Lowe, Budd Whitney, Moss Hart and their lawyer. They all walked in and Moss comes over to me and says 'Oh, I see you've come prepared for action.'"

"I didn't realize he was making a pass at me. I thought he wanted me to go to work, so I walked to the center of the stage and started singing. I got the part," laughed Goulet.

"I didn't know what homosexuality was all about," continued Goulet. "It took me a long, long time to realize that there are men who could be attracted to other men."

"Then one time Moss took me to lunch at Sardi's. It was just the two of us for the entire luncheon and he kept looking at me. Then he leaned over and said - 'You stick with me and you'll be wearing platinum.' I was so naive I thought he meant he was going to help my career. Then he had his heart attack and I never saw him again."



MOSS HART

Hart was one of the most successful U.S. playwrights of the 20th century. At 17 he obtained a job as office boy for the theatrical producer Augustus Pitou. He wrote his first play at 18, but it was a flop. He then worked as director of amateur theatre groups, spending his summers as entertainment director of vacation resorts in the Catskills, known in the theatrical world as "the borscht circuit."

In 1929 he wrote the first draft of Once in a Lifetime, a satire on Hollywood that became a hit the following year, after its exuberant humor had been tempered by the sardonic skill of George S. Kaufman.

Hart then wrote books for musicals for Irving Berlin and Cole Porter; but until 1941 he continued to work with Kaufman, a collaboration that produced such popular comedies as You Can't Take It with You (1936) and The Man Who Came to Dinner (1939). His success continued with his musical play Lady in the Dark, which he himself directed in 1941. Among other plays he directed was the long-running My Fair Lady (1956). In 1959 he published Act One, the story of his theatrical apprenticeship, which glosses over his sexual preferences.


LETTING ELVIS PRESCRIBE
ELVIS PRESLEY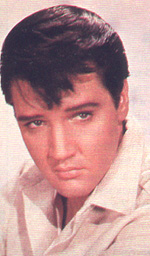 Dr. George Nichopoulous or "Dr. Nick" as he says Elvis Presley called him, served as Presley's personal physician for 11 years. To honor Elvis "Dr. Nick" has assembled an array of mementos, including numerous drug bottles Elvis used in the months before his death, and gifts that the King of Rock 'N Roll bestowed upon him - perhaps as thanks to Dr. Nick for using his prescription pad to provide Presley with his own personal pharmacy.

Dr. Nick hit the road with his Memories of Elvis exhibit and is currently at Harrah's Hotel in Laughlin, Nevada during Elvis Birthday Week. ( See Broadway To Vegas column of January 30, 2005 ).

Nichopoulos' drug rationale is that Presley felt responsible for the 150 people who traveled with him in his roady entourage. The doctor says he wrote the medications in Presley's name because the entertainer wanted to be responsible for the bills. Despite no medical training or license to administer drugs prescribed by someone authorized to do so, the singer was given the drug cadre, which Nichopoulos says, were never used by Presley.

When a bloated, 42-year-old Elvis Presley died of heart failure in 1977, the examining physicians found an interesting narcotic cocktail in his blood: butabarbital, codeine, morphine, pentobarbital, Placidyl, Quaalude, Valium and Valmid.

Before George Nichopoulos had his medical license revoked for over prescribing drugs, he was the doctor of choice for performers like Jerry Lee Lewis. Nichopoulos was charged in 1980 by the Tennessee Board of Medical Examiners with "indiscriminately prescribing" more than 5,000 pills and vials for Presley in the seven months before his death in August 1977.

Nichopoulos' license was revoked for three months. In 1981 he was charged - and later acquitted - with over prescribing drugs for Presley, Lewis and others.

In 1996, Nichopoulos' license to practice medicine was seized after the Tennessee state's Board of Medical Examiners found that Nichopoulos had improperly dispensed potentially addictive drugs to a variety of his patients. Two years later a four page legal statement denied his petition for reinstatement.

Undaunted, Dr. Nick gathered up personal possessions related to Presley - including the black doctor's bag that contains prescription drug bottles in Presley's name dated to the day before his death - and went on tour charging $10.00 admission.

Besides the black bag, the exhibit offers a look at more than 75 items, among them a display of Presley's Taking Care of Business "TCB" necklace; guns; inscribed watches from Presley to Nichopoulos; a ring Presley wore onstage; a Shelby County Sheriff's badge and revolving blue light that Elvis placed atop his own car, according to Nichopoulos.

"Elvis would have the blue-light flashing around on top of his own car, pull drivers over and give them a verbal citation," explained Nichopoulos. "Elvis gave me the blue light so I could use it to get to his house in a hurry when he needed me."

Drug run?

The exhibit runs through Jan 14. The Presley Estate called the exhibit "tacky, tasteless and unfortunate."



Broadway To Vegas is supported through advertising and donations. Priority consideration is given to interview suggestions, news, press releases, etc from paid supporters. However, no paid supporters control, alter, edit, or in any way manipulate the content of this site. Your donation is appreciated. We accept PAYPAL. Thank you for your interest.


BETTER THAN BEING MISS CHIP SHOT, BALL WASHER OR SAND TRAP

What do Debbie Reynolds, Ann Blyth, Jane Powell, Donna Douglas, Jill St. John, Barbara Eden, and Wonder Woman Lynda Carter all have in common?

They were all Hope girls.



BARBARA EDEN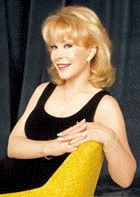 So what's a Hope girl and why would anybody want to be one?

They are part of the Bob Hope Chrysler Celebrity Golf Classic. Young women vie to be crowned either Hope, Chrysler or Classic - which is better than being dubbed Chip Shot, Ball Washer or Sand Trap - at the 42nd annual Bob Hope Chrysler Classic golf tournament for charity to be played Feb. 12-18.

The Hope Girls tradition dates back to 1960 when the tournament decided to use a Classic Queen to promote the fledgling tournament.

The Hope Girls appear at charity events, rev up the crowds at the tournament, escort players and celebrities and pose for a lot of pictures. The experience has jump started many a career.

Recently twenty-eight young women appeared at the Annenberg Center in Rancho Mirage, CA., where they were given the once over and questioned. The "hopefuls" were called five at a time before the panel and asked a series of questions ranging from the significance of the tournament, to their professional goals, how they would interact with celebrities and why they should be selected.

From that group 12 were selected as finalists.

For each of the past 20 years, the Classic has generated more than $1 million for the coffers of thirty-nine different organizations. With its total contributions at more than $34 million, the tournament ranks among the most lucrative charitable events on the professional tour.


CLARK GABLE AND CAROLE LOMBARD'S OATMAN BED-A-THON


We're not sure if the annual Oatman Bed Races are to commemorate that Oatman is the place where Clark Gable and Carole Lombard legally bedded each other for the first time.



CLARK GABLE and CAROLE LOMBARD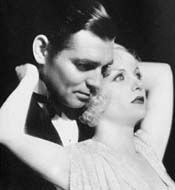 The inspiration for the annual gala is incidental to the bed racing and making frenzy.

The Great Oatman Parade and Bed Races snore off on Jan. 14. This is nothing to go to sleep over. More than 200,000 visitors show up each year. Five member bed racing teams and spectators dressed in pajamas parade through the town.

The bed racing teams are made up of four bed-pushers and one rider. Each team is timed as it races down the course, stops at the far end to put a fitted sheet on a mattress and stuff pillows in cases and race back to the finish line.

No short sheeting permitted.

If you have clean pj's and want to attend, Oatman is about 30 miles southeast of Laughlin in Arizona off U.S. 95.

The place got jumping about 90 years ago as a mining tent camp and quickly became a flourishing gold-mining center. In 1915, two miners struck a $10 million gold find, and within a year, the town's population grew to more than 3,500.

Oatman was named in honor of Olive Oatman, who was kidnapped as a young girl by Mojave Indians and later rescued in 1857 near the current site of the town.

This authentic western ghost town and historic gold mining area houses museums, shops and eateries. Gunfighters stage shows on the town's main street every Saturday and Sunday. Currently inhabited by mavericks who enjoy the tourists that visit their shops and feed the local burros. Yes, they sell feed and the burros roam the street and even try to enter the shops.

The Oatman Hotel is the site where Clark Gable and Carol Lombard enjoyed their wedding night, honeymooning there on March 18, 1939. Their honeymoon suite is still one of the major attractions that keeps the Oatman Hotel open. Gable returned often to Oatman to play poker with the local miners and escape the Hollywood hoopla.


DONKEY SHOW MULE KICKS BRIDES INTO WEDDED BLISS

The Donkey Show, much like A Midsummer Night's Dream, the libido-laced Shakespearean masterpiece on which it is based, permits its audience to participate in the vicarious pleasures of a seductive and comic structure: the triumph of youth, the fulfillment of desire, the defeat of confusion and the annihilation of disappoint.

In other words the sensuously soaked musical promises much the same things as marriage does.

A fact that has puzzled but pleased the show's insiders is that the production is turning into a right of passage for brides-to-be. Since last August, literally hundreds of brides-to-be have booked their bachelorette parties at The Donkey Show.

They arrive by the limo full or pour out of taxis.The future nuptial takers bounce wildly down the street as their faux bridal veils blow blithely in the wind. On Friday and Saturday nights the alter bound virtually take over The Club El Flamingo.

How this all started - no one is quite sure.

But it's a growing phenomenon at The Donkey Show.

Many scholars believe that Shakespeare wrote A Midsummer Night's Dream to be performed at an aristocratic wedding at which Queen Elizabeth herself was a guest.

A belief that is apparently underscored by the 30 to 40 brides and their future bride's maids that line up outside The Donkey Show on weekend nights.

The action of The Donkey Show takes place in a 1970's Disco - the home of love-sick revelers lost in a forest of misguided longings. What better setting in which to celebrate one's last days of sexual freedom.


APPLAUSE, APPLAUSE


B.B. KING will receive a lifetime-achievement award at the Congress of Racial Equality's 17th annual banquet, on Jan. 15 at the Sheraton New York.

LUCIANO PAVAROTTI receives the Joe DiMaggio Award at the Marriott Marquis, NYC on Jan 24.



MACK AND MABLE Jerry Herman's musical about the life of Max Sennett will be revived and star Douglas Sills as Mack Sennett, Jane Krakowski as actress Mabel Normand, and Donna McKechnie as their brassy cohort. All three appeared in the 2000 concert version mounted by Reprise!, the musical theatre concert series in L.A. Bill Irwin will stage the silent Mack Sennett sequences and Dan Siretta is the choreographer of the musical numbers. The revival will be produced by Jon Wilner Rehearsals begin March 1.

GHOSTS by Henrik Ibsen gets revival as the season opener at the Indiana Repertory Theatre. Ghosts, the first great tragedy about ordinary people written in prose in the 19th century, begins previews Tuesday and opens January 12. Indianapolis.

CINDERELLA starring Eartha Kitt as the Fairy Godmother Tuesday to Jan. 14 in Indianapolis at Clowes Hall. The Indianapolis Broadway Series will bring to the Murat Theatre the award-winning musical Ragtime May 1-6. Also coming to Clowes Hall Ann-Margret playing the madam of The Best Little Whorehouse in Texas March 13-18.

BLUFF will have its Indiana Premiere of Chicago's Victory Gardens Theatre production of Jeffrey Sweet's Bluff with its original director and star, Tim Grimm. It will open January 18 for a one-month run.

DOWNHEARTED BLUES: THE LIFE AND MUSIC OF BESSIE SMITH written by singer/actress Jennifer Holliday who starred on Broadway in Dreamgirls has performances at an Illyria Theatre workshop at the Chelsea Playhouse. Opens Friday to January 28.

MY MOTHER'S A BABY BOY Written and Directed by Chris Burns. Modern cacophony being what it is, does anyone actually hear what you say? In an age of verbal density and endless chitchat, people rarely get the gist of what is being said. The play examines three modern urban relationships - platonic, paternal and romantic - while illustrating the fascinating - but frustrating - ability to talk without ever truly communicating. The cast includes Chris Burns, Jane Casserly, Andrea Cirie, Caroline Ficksman, David Haugen, Tim McGee, Annie Meisels, Charlotte Patton, Stephen Speights, Baylen Thomas and Helen Coxe. Performances begin January 11th; with an opening night set for January 18 at The Kraine Theatre.

CABARET in East Lansing, MI at the Wharton Center January 9-14.

HINDENBURG -- THE MUSICAL brings a new meaning to the words "crash and burn" in the New York premiere of this backstage musical farce, written by Brian C. Petti, and presented by the Chameleon Theater Group, Inc. Hindenburg shows the audition and rehearsal process a group of theatre folk go through as they get ready to present an Off-Broadway musicalization of the Hindenburg dirigible disaster of 1937. The cast of characters include an actress who is afraid of lesbians - a fear she can only control through regular doses of Prozac; an ingenue whose elevator doesn't go anywhere near the top floor; a leading man who sees himself as God's gift to women; a director who's more interested in developing a play of his own, a talented -and somewhat vengeful - actress who is sick of not getting cast in the best parts; an alimony-poor agent desperate for money; and a stage manager who seems to be the only person who knows what's going on An Equity-Approved Showcase, with a cast featuring Rich Hotaling, Collin Warhaftig, Sal Polichetti, Lawrence Merritt, James Elmore, Mary Ellen Petti, Peter Dawson, Sarah Dawson, Tanya Long and Joe P. Morgan. January 17 - 21 at the Beckmann Theater Space at the American Theatre of Actors, NYC.


WHO'S WHERE


ROBERT CUCCIOLI

ROBERT CUCCIOLI Photo By; Laura Deni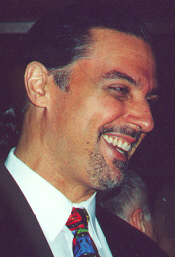 who wowed critics and audiences with his show-stopping performance in Broadway's musical thriller, Jekyll & Hyde, which closed it's Broadway run today, makes his directorial debut when he directs Frank Wildhorn's Tony Award-winning musical at the Westchester Broadway Theatre from August 2 - November 24, 2001.

"I am thrilled to be making my directorial debut at a theatre as supportive and renowned as the Westchester Broadway Theatre," says Cuccioli. "I share a history with this theatre, and have a special place for it in my heart. I worked on many musicals here during my early years as an actor, which gave me the best training an actor could ask for. I'm looking forward to the exciting new challenge of directing Jekyll & Hyde. I love the show, and it's been a major part of my life for several years. I did 900 performances of it on Broadway - not to mention the national tour!"

Robert Cuccioli received a Drama Desk award, an Outer Critics Circle Award, and a Tony Award nomination for his dual performance in the Broadway Production of Jekyll & Hyde, and garnered Chicago's prestigious Joseph Jefferson Award during Jekyll & Hyde's national tour.

BEBE NEUWIRTH returns to Chicago, the longest running revival in Broadway history. Neuwirth reprises her Tony award-winning role as Velma Kelly. In addition to the Tony Award, Neuwirth received both 1997 Drama Desk and Outer Critics Circle Awards as Best Actress as well as The Astaire Award and a special Drama League Award, for her portrayal as the scintillatingly sexy murderess. Chicago also stars Belle Calaway as Roxie Hart, Clarke Peters as Billy Flynn, P.J. Benjamin as Amos Hart, Marcia Lewis as Matron Morton and R. Bean as Mary Sunshine. Chicago has a book by Fred Ebb and Bob Fosse; lyrics by Fred Ebb and music by John Kander with direction by Walter Bobbie and choreography by Ann Reinking. Ms. Neuwirth will play a six week limited engagement beginning January 19, 2001 through March 1 at The Shubert Theatre, NYC.

ANDREA MARCOVICCI cabaret performance Park City Egyptian Theatre fund-raiser, Park City, Utah on January 13.

BERNADETTE PETERS January 11 at the Leon County Civic Center in Tallahassee, Florida and then on January 13 the multitalented lady is at the Ruth Eckerd Hall in Clearwater, Florida.

JACKIE MASON MGM Grand, Las Vegas, NV January 11-17.

CLEO LAINE & JOHN DANKWORTH Blue Note, Las Vegas January 22-28.

LESLIE GORE, SHIRLEY ALSTON REEVES, THE SHANGRA-LAS, LITTLE PEGGY MARCH take center stage at the Stardust Hotel, Las Vegas as The Legendary Ladies of Rock n' Roll. January 10-13.

VANESSA WILLIAMS headlines the Paris Las Vegas Hotel January 19-21.

MICHAEL WOLFF jazz pianist, at the Laurie Beechman Theatre at West Bank Cafe, NYC January 13.

B.B. KING performs Friday, January 12th and Saturday, January 13th at the Foxwoods Casino.


THIS AND THAT


CHRISTINA AGUILERA has been selected by 14-time Grammy winner, Golden Globe winner and three-time Oscar nominee David Foster to sing the special theme song he is composing for the Winter Olympics.

MATTHEW SHEPARD the gay teen murdered in Laramie, Wyoming which became the basic for the play The Laramie Project is continuing to be remembered. Elton John has written a song about him and Goldie Hawn is developing a TV movie for NBC based on Shepard's life.




Mention BROADWAY TO VEGAS for Special Consideration
Call (800) 942-9027









Next Column: January 14, 2001
Copyright: January 7, 2001. All Rights Reserved. Reviews, Interviews, Commentary, Photographs or Graphics from any Broadway To Vegas (TM) columns may not be published, broadcast, rewritten, utilized as leads, or used in any manner without permission, compensation and/or credit.
Link to Main Page
---
Laura Deni


CLICK HERE FOR COMMENT SECTION