! >
Broadway To Vegas
  
  REVIEWS INTERVIEWS COMMENTARY NEWS

| | |
| --- | --- |
| | |
DOWNTON ABBEY RETURNS WITH SHIRLEY MacLAINE - - CALL THE MIDWIFE USES AMERICAN MUSICAL HITS - - PYGMALION AT THE OLD GLOBE - - ELVIS PRESLEY'S 2013 BIRTHDAY CELEBRATION - - W. S. GILBERT AND THE BROADWAY HE INSPIRED - - MONTEREY JAZZ FESTIVAL ON TOUR - - IRVING PENN-UNDERFOOT - - PINOCCHIO TIME! - - DONATE . . . Scroll Down




Copyright: January 6, 2013
By: Laura Deni
CLICK HERE FOR COMMENT SECTION


DOWNTON ABBEY RETURNS WITH SHIRLEY MacLAINE WHILE CALL THE MIDWIFE USES AMERICAN MUSICAL HITS
The cast for the third season of Downton Abbey which begins January 6, 2013 on PBS. Photo: Carnival Film & Television Limited. Masterpiece Classic/PBS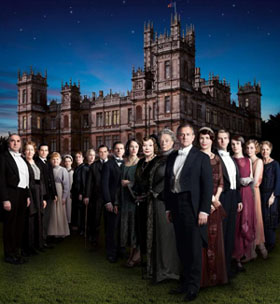 All hail the conquering British sitcoms - who look to America for their music.

The third season of Downton Abbey begins tonight, Sunday, January 6, 2013 on PBS.

While on hiatus Downton Abbey star Dan Stevens made his Broadway debut as Morris Townsend in the revival of Ruth and Augustus Goetz's The Heiress. This wasn't his first time on stage across the pond. Stevens appeared in a touring production of Shakespeare's As You Like It that was staged at the Ahmanson Theater in 2005. The production, which was staged by Peter Hall, also was mounted at the Brooklyn Academy of Music.

Elizabeth McGovern (Cora, Countess of Grantham) is in the band Sadie & the Hotheads, with Michelle Dockery (Lady Mary Crawly) making an occasional appearance. Jim Carter (Mr. Carson) does charity bike rides all over the world.

The third season has an addition to the cast, American Shirley MacLaine as Martha Levinson, widowed American heiress and mother of Cora Crawley, Countess of Grantham.

Irritable and spiteful, Martha Levinson arrives from New York for a family wedding and casts sarcastic criticisms on what she sees as self-righteous stiffness of the English well-born and well-bred.

Her two-episode appearance turns into a clash of wills - an enticing and sometimes bitchy verbal smack down between MacLaine and Lady Violet, the tart tongued Dowager Countess played by the formidable Maggie Smith.

The upper-crust location shots are in the impressive Highclere Castle while the servants' quarters are shot in a studio.



Shirley MacLaine appearing in Downton Abbey. Photo: Masterpiece Classic / PBS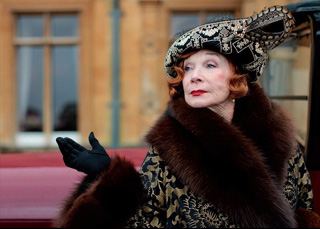 The location might strike a chord of familiarity. Robin Hood: Prince of Thieves and Stanley Kubrick's Eyes Wide Shut also used Highclere Castle for their location shots. The saloon appeared in the film The Four Feathers starring Heath Ledger while the exterior appeared as Lord Graves' house in the film King Ralph.

Highclere Castle is also the place Andrew Lloyd Webber tried to purchase, because he needed the castle version of a storage shed to hold his art collection.

Certain attributes are difficult to ignore - like the 14' high van Dyck portrait of Charles the I, or the 17th century Spanish leather wallpaper, as well as the original Victorian light fittings which were installed by the 6th Earl of Carnarvan's new American wife.

For the 8th Earl of Carnarvon, the owner of Highclere Castle, Downton Abbey has been a financial boon, if not an aggravation for his dog.

Reportedly, often during the Earl's walks with his yellow Lab, they would run into the 'acting' yellow Labrador, with the Earl's dog not happy to see some four footed 'actor' on his territory. The Carnarvon's other dogs were a bit more opportunistic, learning that if they hid under the dining tables, they would find where food tidbits had fallen.

Highclere Castle is rented by the film company, as a location shoot site, thus a quick turnaround is essential to keeping the production on time and under budget.

Some Downton Abbey props are even hidden in the bushes. Don't try to snoop because the Lady of the Manor, the one Countess of Carnarvon knows her property and "delights in running people off the place," Broadway To Vegas was told.

The castle is available for rent for weddings, corporate events and team building, and receptions. Sometimes that can pose concerns for the Downton Abbey technical crew.



Fox Hunt at Downton Abbey. The crew tries not to tear up the yard. Photo: Carnival Film & Television Limited. Masterpiece Classic/PBS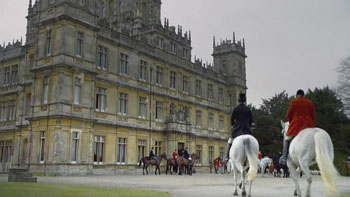 The Downton Abbey fox hunt, for instance. On that occasion the crew avoided the lawn so that it wouldn't be torn up by horses' hooves, since a real wedding was to take place there the next day.

Just as the film crew thought they had finished the day's shoot, relieved that they had kept the grass bridal pristine, a wild fox appeared out of nowhere. At first the fox sat quietly. When it decided to run towards the gardens, the hounds took off in full pursuit.

The grass was no longer bridal pristine.

The third season of Downton Abbey, is set in the early 1920s. The world was about to enter a new decade with famously charming flapper dresses, new dances imported from America while in Britain there were strikes, poverty for the returning soldiers, and a recession as the UK tried to manage its debt and balance its books.

Financial disaster looms for Downton Abbey, and the Granthams, whose priority is to preserve the estate and keep it in the family.

Such is real life.

Downton Abbey is the money maker that put the financial foundation back under the estate. Lord and Lady Carnarvon have gone to great lengths to preserve the estate and keep it in the family, in spite of the enormous expense - estimated in 2011 by Lord Carnarvon at a $20 million repair bill. At first there was fear that restoration of the castle would require selling off parcels of its land. That prompted the Carnarvons to work with English Heritage, the national trust for Britain's historic homes, to fund essential repairs.

Even if he wanted to, Lord Carnarvon is barred from selling family treasures such as the Van Dyck and Sir Joshua Reynolds art. Almost all of the art is regulated by various agreements with the Government.

While income has been derived from other film shoots, it is the repetitive business generated by Downton Abbey that has made the cash register ring.

Tour agencies offer day trips. Once there Highclere Castle boasts a gift shop, a restaurant, in addition to a museum.

The castle is home to an Egyptian Exhibition, which was founded by the 5th Earl who, along with his archaeological colleague Howard Carter, discovered the tomb of the Egyptian Pharaoh Tutankhamen in 1922. The 5th Earl was an enthusiastic amateur Egyptologist, undertaking in 1907 to sponsor the excavation of nobles' tombs in Deir el-Bahari.

Under the direction of the present Countess, Fiona Carnarvon, the castle's cellars were transformed into a replica of the Tomb of Tutankhamen, complete with a mummy, sarcophagus, gold statues, canopic jars and all other necessities the dead pharaohs felt they would need in the afterlife.

It is the Egyptian Exhibition which first put Highclere Castle on the tourist map radar.



Filming Downton Abbey at Bampton, Oxfordshire. Photo: Carnival Film & Television Limited. Masterpiece Classic/PBS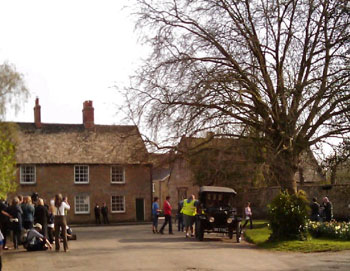 Wander around the 'Above Stairs' rooms of the property used as Downton Abbey including the drawing room, main hall and library with 6,000 books where many of the dramatic scenes involving the Crawley family were filmed.

Tourists stroll around the picturesque grounds of Highclere Castle and get beautiful views of the nineteenth century house including seeing inside the bedroom where the rather handsome Turkish diplomat Mr. Pamuk suffered a premature and suspicious demise.

If you really want to feel like the upstairs crowd, commoners can pay about $12,086 for lunch and a tour of the estate with one of the owners, the Earl or the Countess of Carnarvon.

Architectural Digest ran a photo spread on the estate in the January/February 1979 issue and revisited the historic Victorian estate after it was chosen as the home of the fictional Crawley family.

At the time of the Architectural Digest spread the man of the manor was the 7th Earl who was also the Queen's racing manager and confidant. He died in 2001.

While the 19th century, 300-room estate has long been open to tourists, it is Downton Abbey that doubled the tourist trade from 30,000 before the series began airing in Britain in the fall of 2010 to the 60,000 looky-loos who what to see the location for the on-screen glimpses of love, longing and pheasant shoots in upper-crust Edwardian England.

Nearby is Oxfordshire village of Bampton, where exterior scenes for the local hospital, village fair, church and Matthew Crawley's home were filmed.

If you want to take your time looking around the little berg and stay a spell, a 4-bedroom converted Bampton barn with plasma TVs and cushy duvets will set you back a minimum of $2,250 a week.



Dan Stevens and Michelle Dockery dancing to Jerome Kern in a scene from Downton Abbey. Photo: Masterpiece Classic / PBS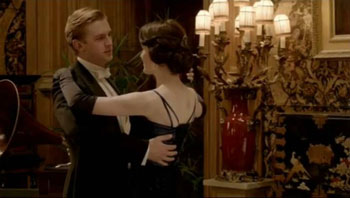 Downton Abbey is not oblivious to music. One episode paid homage to a Jerome Kern musical. When the gramophone becomes a part of the Crawley household the newfangled technology horrifies Violet, the Dowager Countess, but the younger members of the family are instantly enamored -- perhaps none more so than Lady Mary and her distant cousin Matthew, who turn up the volume to share a romantic dance and clandestine kiss.

In the scene in Episode 6 of Season 2 where the storyline has reached early-to-mid 1919, the song playing on the newfangled contraption is Look for the Silver Lining, music penned by Jerome Kern, with lyrics by B.G. DeSylva, from the 1919 musical Zip Goes a Million.

Matthew Crawley (played by Dan Stevens) observes: 'I think it's from a flop, 'Zip Goes A Million.' Strange." Lady Mary signs, "We were a show that flopped."

That line will go down in history as a board game question/answer to mistakes in Downton Abbey.

As London Daily Mail first disclosed, "That production (Zip Goes a Million did not even open – in faraway Worcester, Massachusetts – until seven months later."

That wasn't the only time that Downton Abbey has reached for the early 20th century American/British songbook.

Earlier in the same season - Episode 4 (series 2), when part of Downton was turned into a World War I hospital there is a scene where Lady Mary and her sister, Edith, perform for war invalids convalescing at Downton. The song they performed was If You Were the Only Girl (In the World), by Nat D. Ayer, with lyrics by Clifford Grey.

Clifford Grey (January 5, 1887 – September 25, 1941) was an English songwriter, actor, librettist and Olympic medalist while Nat D. Ayer (August 5, 1887 – September 19, 1952), was an American composer, pianist, singer and actor.

Downton Abbey is an escapist fantasy appealing to both men and women. Integral to making this period dramas delicious are the gorgeous costumes, the location, that castle, the jewelry and elegant banquets. There are also several strong, leading male roles which reel in the male viewers.



The cast of Call the Midwife. Photo: NealStreet Productions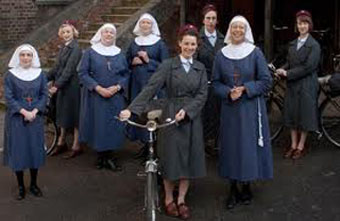 Another British hit Call the Midwife - which actually toppled Downton Abbey in British ratings has also transferred to American. There is nothing 'escapist fantasy' about Call the Midwife. It's a riveting, hits you between the eyes, total reality of midwifery the late 50's in a poverty area of London.

The ratings are slower in American probably because there are no important male figures in the story lines. There are three occurring male roles who are important to the series, though each - by itself - will not attract a following.

That doesn't mean there haven't been some important male characters. An episode titled Love Hurts featured a pregnant symphony violinist Margaret and her successful husband, David. They're in their car when Margaret suffers a seizure which throws her into labor. The baby girl, whose lungs weren't developed enough, doesn't survive. Neither will Margaret.

His reaction to her impending death is tear-jerking.

However, guys who like car chases and shoot-'em-ups, may find this series just too true-to-life gritty for them to stomach.



Sister Monica Joan played by Judy Parfitt. Photo: NealStreet Productions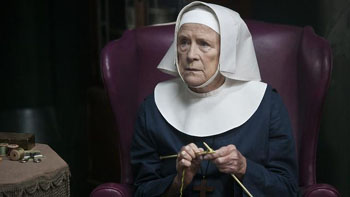 There isn't a castle in the script, rather the domiciles of the working class poor. Nurses' uniforms, nuns' habits and cheap housedresses replace gorgeous turn of the century costumes. No sumptuous banquets. Rather, sometimes a coconut cake in a tin. The only bling are inexpensive wedding rings worn by the women giving birth. Instead of a picturesque countryside, there are clothes lines.

This is a series for women. A series which every man - especially a father - should watch. Then that man of the house should offer to rub his wife's feet or back - or at least take out the garbage without being told.

Thankfully, by the mid 1960's some of the birthing procedures were modified.

However, this is a spot on depiction of life in the not too distant past.

It's what happened to your mothers and grandmothers. Their living quarters may have been more upscale and their housedresses more expensive, but this was life and the woman's role before 'the pill', before women were welcomed into all areas of the work place or could easily obtain a student loan.



Jessica Raine filming a scene. The cameraman is Luke Redgrave who is the son of Corin William Redgrave and Deirdre Deline Hamilton-Hill. He's a career cameraman who has worked with directors Phyllida Lloyd, Kenneth Branagh, Roger Michell, Richard Curtis, Justin Chadwick, Susanna White and Tom Hooper. His aunt is Vanessa Redgrave whose is the narrator on Call the Midwife, as the mature Jenny. Photo: NealStreet Productions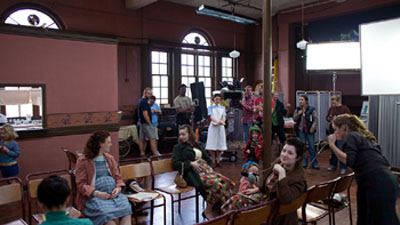 The writing, directing and acting are stellar. It's a moving, heart-warming and fabulous dramatic series, based on true events.

It's a case of 'only the names have been changed,' with the exception of midwife Cynthia Miller, played by Bryony Hannah. In real life Cynthia would later marry a Vicar.

The series begins with Jennifer, (played by Jessica Raine) who seeks nursing at the poverty location as a way to emotionally escape from her affair with a married man - a man she described as: "He was everything - except mine."

The real Jenny qualified as a midwife at the age of 22 and practiced her career for 20 years before quitting the professional to study music. She was eventually able to find a love of her own and raise a family.

The introduction of Camilla Fortescue-Cholmeley-Browne, known as Chummy, is an important component for the well balanced cast. Chummy, played by Miranda Hart, is a clumsy but kind midwife with a rich gal background who graduated near the bottom of her nursing class.



Chummy (Miranda Hart) and Police Constable Peter Noakes (Ben Caplan) leave the church after their wedding. Photo: NealStreet Productions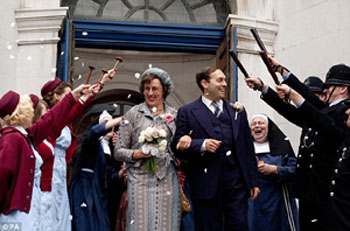 Miranda delivers the series' breakout character. However, she isn't a scene stealer as much as providing a missing component which makes the whole. It is Miranda as Chummy who, thus far, becomes the one in the series which has experience a romance from introduction to marriage.

The romance of Chummy and Police Constable Peter Noakes, played by Ben Caplan, has been embraced by viewers - although Chummy's upper-crust and proper mother almost derailed it. The relationship of Chummy and Officer Noakes is charismatic and endearing.

While Caplan has numerous dramatic credits including portraying Mississippi machine-gunner, Walter "Smokey" Gordon in the critically acclaimed 2001 mini-series Band of Brothers, produced by Tom Hanks and Stephen Spielberg, Miranda is in her first dramatic role.

The lady who turned 40 this past December 14, first gained fame as a stand up comedian. The actress and comedy writer's BBC 2 sitcom Miranda earned her four BAFTA nominations, three RTS awards and three Comedy Awards. Booked over a year in advance, beginning in February 2014 she takes her mirth on a two month tour.



Publicity release of comedian Miranda Hart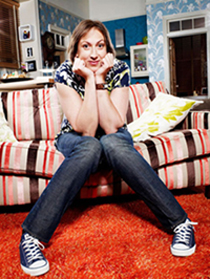 Firmly established as one of the UK's leading comedians, it was a risky leap for Miranda to take on the role of Chummy. The multi-talented lady nails the part in one amazing performance after another.

Miranda has a background which is similar to that of her character, Chummy.

Miranda's grandfather was Sir William Luce. The Rt. Hon The Lord Luce is her uncle and her father is Captain David Hart Dyke CBE, CVO, a retired Royal Navy officer, former aide-de-camp to Queen Elizabeth II, and former commanding officer of HMS Coventry, which was sunk during the Falklands War.

Her family tree can be traced back to the 12th century. Her uncle Tom Hart Dyke, the famous modern day plant hunter, and his wife are heir to and live in Lullingstone Castle, which - much like the above mentioned Highclere Castle - takes a lot of money to run.



This isn't a different view of Highclere Castle, but rather Lullingstone Castle which is where Miranda Hart's uncle calls home. It's been in her family since the 12th century. Henry VIII and Queen Anne used to drop in to visit.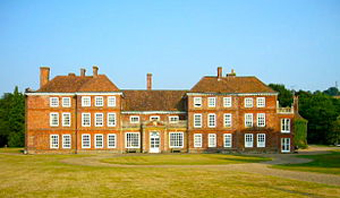 Lullingstone Castle is a historic manor house, set in an estate in the village of Lullingstone. It has been inhabited by members of the Hart Dyke family for twenty generations. Henry VIII and Queen Anne were regular visitors.

Miranda Hart was among the performers at the Diamond Jubilee concert held outside Buckingham Palace on June 4, 2012. She was also a co-presenter.

Music rocked Buck House that night, and American hit songs play an important role in Call the Midwife, which in March 2013 will begin it's second season airing in American on PBS.

Drama have always been enhanced by the use of music. Some compositions are to set the mood - a car chase, love scene, shoot-out. Some compositions are more background music which doesn't overpower the storyline. Occasionally a song will develop a life of its own - theme from The Thin Man. In the case of Call the Midwife the selections used were all 1950's megahits sung by Americans. The song use effectively helps convey the dramatic scene's emotional intent.

However, the BBC failed to acknowledge the songs in the credits at the end of each episode.

That is being rectified by the release of a 2-disc CD release on February 18, 2013 on DMGTV.

The first season of Call the Midwife featured either two or three chart topping America songs, including one by Las Vegas resident Eydie Gorme.

The double CD will also includes songs which are part of the upcoming second season.

Songs the first season included:

Episode 1
Que Sera Sera by Doris Day with Frank Devol and his orchestra.
Stranger in Paradise by The Four Aces.

Episode 2
Embraceable You by The Solitaires.
You Belong To Me by The Duprees.
Love is a Many Splendored Thing by The Four Aces.

Episode 3
Magic Moments by Perry Como and the Ray Charles Singers.
You're Just in Love (I Wonder Why) by Perry Como.

Episode 4
Lollipop by The Chordettes.
Next Time You See Me by Junior Parker.
Love Me Forever by Eydie Gorme.

Episode 5
Someone to Watch over Me by Blossom Dearie.
Who Needs You by The Four Lads.

Episode 6
Little Darlin by The Diamonds.
Hot Diggity (Dog Ziggity Boom) by Perry Como.
Why Do Fools Fall In Love by Frankie Lymon and The Teenagers.

December 2012 Christmas Special
Walk Hand In Hand by Andy Williams
Oh Holy Night by The Four Aces.

Midwife/musician/author Jennifer Worth died in June 2011 at the age of 75, just before filming started on the series.

Fortunately, she lived long enough to know that her book had been turned into a television series. She left behind two daughters.

Call the Midwife a memoir by Jennifer Worth, is the first in a trilogy of books describing her work as a district nurse and midwife in the East End of London during the 1950s. Worth wrote the book after retiring from a subsequent career as a musician, and it was originally published in 2002. Reissued in 2007, it became a bestseller, as did the sequel Shadows of the Workhouse (2005, reissued 2008) and the final volume Farewell to the East End (2009). By the time of Jennifer Worth's death in June 2011, her books had already sold almost a million copies. In 2012, the popular BBC adapt of the trilogy boosted sales further, and all four of the author's books about the East End (the Midwife trilogy and In the Midst of Life (2010) were back on the best selling book charts.





Broadway To Vegas is supported through advertising and donations. Priority consideration is given to interview suggestions, news, press releases, etc from paid supporters. However, no paid supporters control, alter, edit, or in any way manipulate the content of this site. Your donation is appreciated. We accept PAYPAL. Thank you for your interest.



ART AND ABOUT


IRVING PENN-UNDERFOOT

Masticated gum by Irving Penn. Photo Art Institute of Chicago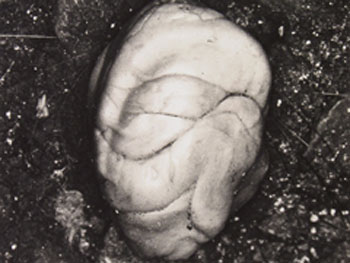 The path that led Irving Penn to the seemingly galactic abstractions of his late series Underfoot lay just outside his studio door.

Walking the streets of Manhattan with a portable stool and a camera fitted with several extension tubes, Penn lowered his eye and his equipment nearly to the pavement. There he found a universe of abject form: pebbled concrete, cheap discarded matches and cigarette butts, and above all a wealth of masticated gum.

Capturing patches of this blobby urban landscape at close range, Penn transformed it with characteristic precision into a world of odd beauty, complete unto itself and remote.
Former Chicago Art Institute Director James Wood, with whom Penn had worked closely to establish the vast archive of his photographs and papers held at the museum, visited the studio and later marveled to Penn at how these photographs showed "the cosmos underfoot."

The Irving Penn Foundation has generously offered all 36 photographs from Underfoot as a gift to the Art Institute in Wood's memory.

On display January 17, 2013–Sunday, April 28, 2013 at The Art Institute of Chicago.

PINOCCHIO TIME! the most famous puppet in history, Pinocchio! Over 130 years ago, the legend of Pinocchio began in Italy, and since then it has spread across the globe and inspired and entertained thousands of people.

The exhibit, Pinocchio Time! is made up of an assortment of hand puppets, marionettes, artwork, figurines, posters, collectibles and memorabilia.

The Puppetry Arts Institute in Independence, Missouri also features permanent exhibits, such as a room displaying different types of puppets from countries and cultures around the world.

Learn about Hazelle Hedges Rollins, a woman who began a small puppet company in 1932, which eventually became the largest puppet factory in the world. Located in Kansas City MO, the factory made thousands of marionettes, hand puppets and finger puppets until the 1980's when the factory closed.

Pinocchio Time! is on display until July 31, 2013.


SWEET CHARITY


KATHI MOSS' RAMA-LAMA-DING-DONG REUNION is a star studded event to help with the expensive medical care needed for Broadway veteran Kathi Moss who was diagnosed with the rare disease cardiac amyloidosis in 2011. Cardiac amyloidosis is a disorder caused by deposits of an abnormal protein (amyloid) in the heart tissue, which make it hard for the heart to work properly.

Moss originated the roles of Cha-Cha Di Gregorio in Grease, Saraghina in Nine (in which she introduced the show-stopping Be Italian), and Mme. PeePee in Grand Hotel.

Original Broadway cast members and creators from three landmark musicals - Grease, Nine and Grand Hotel will gather for the one night only benefit on Tuesday, January 14, at The Alice Griffin Jewel Box Theatre at The Pershing Square Signature Center in NYC.

Scheduled to appear are Tony, Olivier, Emmy and Grammy Award winners and nominees including: Tony Award nominee Karen Akers, Mark Baker, Tony Award nominee and Emmy Award-winning choreographer Pat Birch, Jeanie Bowers, Shelly Burch, Catherine Campbell, Andrew Casses, Carole Demas, international ballroom champions Pierre Dulaine and Yvonne Marceau, Taina Elg, Josh Franklin, Julie Hafner, David Jackson, Ken Jennings, Laura Kenyon, Dorothy Kiara, Tony winner/Olivier Award winner/Golden Globe nominee/Emmy nominee Jane Krakowski, Ilene Kristen, Nancy McCall, Tony Award winner Liliane Montevecchi, Rita Rehn, Ken Leigh Rogers, Steve Ross, Camille Saviola, Tony Award nominee Bob Stillman, Patrick Wilcox, Tony Award nominee and Theatre World Award winner Walter Willison, Penny Worth, Alaina Warren Zachery, Tony Award-winning songwriter Maury Yeston, Denise Nettleton Jacobs and other surprise guests.

The event is written and directed by Laura Kenyon and Walter Willison with musical supervision by Steve Ross and musical direction by Greg Jarrett and Daniel Sefik.


MONTEREY JAZZ FESTIVAL ON TOUR FOR 55th ANNIVERSARY
Dee Dee Bridgewater, Christian McBride, Benny Green, Lewis Nash, Chris Potter, and Ambrose Akinmusire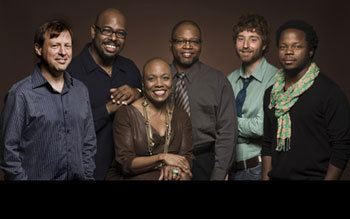 Monterey Jazz Festival, world-renowned for its artistic excellence, sophisticated informality, and longstanding mission to create and support year-round jazz education and performance programs in local, regional, national, and international venues, continues this commitment in 2013 with its third North American Tour, featuring critically-acclaimed, Grammy-winning jazz artists.

The Monterey Jazz Festival on Tour 55th Anniversary Celebration, featuring vocalist Dee Dee Bridgewater, bassist and musical director Christian McBride, pianist Benny Green, drummer Lewis Nash, saxophonist Chris Potter, and trumpeter Ambrose Akinmusire, will perform 45 dates beginning on January 10, 2013 in Santa Cruz, Calif., and will make stops in 40 cities in 23 States across the United States, Canada, and Washington D.C. through late April.

The 2013 tour takes place in two legs, from January 10 – February 3, and March 20 – April 28.

Highlights of the nine-week tour will include a six-night run at the Blue Note in New York City, the Kennedy Center in Washington D.C.; the Epcor Center in Calgary, Alberta, Canada; the Chicago Symphony Center in Chicago; and Benaroya Hall in Seattle.

Members of the 55th Anniversary on Tour Band have deep relationships with Monterey Jazz Festival and have a commitment to the cultivation of jazz audiences worldwide. Vocalist Dee Dee Bridgewater made her first appearance at the Monterey Jazz in Festival in 1973 with the Thad Jones/Mel Lewis Orchestra; bassist Christian McBride has appeared at the Festival eight times since 1994, including acting as the Festival's Artist-In-Residence in 2008; pianist Benny Green made the first of his eight performances at the Festival (as a 15-year-old in 1978) as the pianist in the Next Generation Jazz Orchestra.

Drummer Lewis Nash has appeared at the Festival twice since 2001; saxophonist Chris Potter made the first of his eight Festival appearances in 1997 and was a featured member of Dave Holland's Monterey Quartet, which performed and recorded at the Monterey Jazz Festival's 50th Anniversary in 2007; and trumpeter Ambrose Akinmusire, a two-time member of the Next Generation Jazz Orchestra, has made four appearances at the Festival since the 1990s, including acting as Monterey's Artist-In-Residence in 2012.


SPREADING THE WORD


THE VERY MODEL OF A MODERN MAJOR LYRICIST: W. S. GILBERT AND THE BROADWAY HE INSPIRED kicks off the 92nd Street Y's 2013 season of Lyrics & Lyricists.

Rob Fisher, Artistic Director & Piano - Sheldon Harnick, Host & Writer - Jason Danieley and David Garrison, vocals - Gary Griffin, Stage Director.

From Porter to Sondheim, theater's lyricists took a lesson from W.S. Gilbert's intricate rhymes and skewering wit. Trace the comic DNA from The Mikado to My Fair Lady and beyond in a celebration of Broadway humor and satire.

January 12, 13, 14 at the 92nd Street Y in New York City.

THE PASADENA PLAYHOUSE will present another reading in its Hothouse series on January 8 and 9, 2013, in the Carrie Hamilton Theatre at The Pasadena Playhouse in Pasadena, CA.

Aunt Stossie's Coming for Five Days, written by Ellen Simon will be directed by Dámaso Rodriguez who is the former Associate Artistic Director of The Pasadena Playhouse, Co-Founder of the Furious Theatre and incoming Artistic Director for the Artists Repertory Theatre in Portland.

The staged reading will star Marsha Mason in the title role, Mary Steenburgen as Aunt Mead, Kristen Vangsness as Kelly, Liza de Weerd as Jill, Beth Triffon as Alice, Kim Dalton as Bryanna, Grant Jordan as Ryan, Lucas Durham as Sean, and Taylor Emerson stage directions.

Aunt Stossie's Coming for Five Days is billed as "a comedic drama about what happens when the uninvited enters your life. Set in a Central California beach town, three generations of women and two surfer boys navigate the entanglements of sex, health and family after a tsunami warning sign goes up in their neighborhood."

AN OPEN STAGED READING of A Consuming Fire by Chris Phillips takes place Monday, January 7th at The Playroom Theater, NYC. The play features Cole Burden, Stuart Green, Scott Thomas Hinson, Lisa Tharps, and Dan Wilson.

When mysterious Jim Smalls confesses to murdering a Los Angeles man with no explanation of motive, Assistant District Attorney Mary Hamilton recruits her friend and frequent sparring partner, public defender Rory Dennis, to act as counsel for the suspect. At first, Rory considers the murder an open-and-shut case for the prosecution, but after learning of Jim's history with his first love, Derek - - mirroring Rory's own growing relationship with Mary's brother, Billy - he begins to identify more closely with his client. As Jim's dark, fifteen-year journey comes more sharply into focus, Rory and Mary both learn that the unsettling truth isn't nearly as black-and-white as it appears.

ELVIS PRESLEY'S 2013 BIRTHDAY CELEBRATION began yesterday, January 5 and continues through Tuesday, January 8, 2013 at Graceland in Memphis, TN.

On what would have been his 78th birthday, January 8, Elvis Presley Day Ceremony will be presided over by Graceland/EPE officials. The ceremony will include a birthday cake cutting and a proclamation of Elvis Presley Day by Memphis and Shelby County officials. Complimentary birthday cake and coffee will be served at the Chrome Grille restaurant across the street from the mansion following the ceremony.



PYGMALION

Charlotte Parry stars as Eliza Doolittle and Robert Sean Leonard as Professor Henry Higgins in The Old Globe's 100th anniversary production of George Bernard Shaw's Pygmalion. Photo by Henry DiRocco.
by George Bernard Shaw. Directed by Nicholas Martin.

Starring Tony Award winner Robert Sean Leonard as Professor Henry Higgins and Charlotte Parry as Eliza Doolittle, the production coincides with the 100th anniversary of Pygmalion's 1913 premiere in Vienna, Austria.

Shaw's story of a speech professor who makes a bet that he can pass off a common Cockney flower girl as the pinnacle of English society is an enduring one. In addition to its long life on the stage, the play was adapted by Shaw for the screen in 1938 with Leslie Howard and Wendy Hiller. It was adapted most famously as the beloved musical My Fair Lady starring Rex Harrison with Julie Andrews on Broadway and with Audrey Hepburn on film.

In addition to Robert Sean Leonard and Charlotte Parry this lavish new production featured. Kandis Chappell (Mrs. Higgins) Don Sparks (Mr. Doolittle) Deborah Taylor's (Mrs. Pearce) Paxton Whitehead (Colonel Pickering).

Rounding out the cast are Maggie Carney (Mrs. Eynsford Hill) and Old Globe/University of San Diego Graduate Theatre Program students Erin Elizabeth Adams (Bystander), Jeremy Fisher (Bystander), Adam Gerber (Bystander, Taxi Man), Allison Layman (Bystander, Parlor Maid), Danielle O'Farrell (Clara) and Robbie Simpson (Freddy Eynsford Hill).

Old Globe Associate Artist Robert Morgan returns to the Globe as costume designer of Pygmalion. The creative team also includes Alexander Dodge (Scenic Design), Philip S. Rosenberg (Lighting Design), Drew Levy (Sound Design), Mark Bennett (Original Music), Jan Gist (Voice and Dialect Coach), Caparelliotis Casting (Casting) and Annette Yé (Stage Manager).

Performances January 12 – February 17, 2013 on the Donald and Darlene Shiley Stage Old Globe Theatre Conrad Prebys Theatre Center in San Diego, CA.

LONG DAY'S JOURNEY INTO NIGHT by Eugene O'Neill. Directed by Joe Dowling.

For the first time in its 50-year history, the Guthrie will present this Pulitzer Prize and Tony Award-winning family drama. Starring Helen Carey and Peter Michael Goetz.

Like most American families, the Tyrones have experienced highs and lows in life – from fame and financial success to illness and loss. Yet in the course of one day in their seaside Connecticut home, their familial bond begins to unravel, and James and Mary and their sons Jamie and Edmund confront their demons in a final effort to save their family.

January 12 - February 23, 2013 on the Wurtele Thrust Stage of the Guthrie Theater in Minneapolis.

OLD TIMES by Harold Pinter. Directed by Ian Rickson.

Kristin Scott Thomas, Rufus Sewell and Lia Williams star in Harold Pinter's seductive and compelling drama.

January 12 - April 6, 2013 at The Harold Pinter Theatre in London.

CROSS PURPOSE a darkly absurd play by Nobel laureate Albert Camus.

Directed by Stephen Whitson.

A man returns home to bring good fortune to his Mother and Sister, deciding to remain anonymous.

A decision that ultimately proves fatal.

He finds them running a guesthouse, murdering their wealthy guests and dumping them in a nearby river.

Albert Camus was a French author, and philosopher. His views contributed to the rise of the philosophy known as Absurdism. Awarded the Nobel Prize for Literature in 1957 "for his important literary production, which with clear-sighted earnestness illuminates the problems of the human conscience in our times".

Designer: Jenny Gamble - Sound Design: Tim Adnitt - Lighting Design: Phil Hunter - Costume Design: Ilona Russell.

January 8, 2013-February 2, 2013 at King's Head Theatre in London.

JERSEY BOYS welcomes John Lloyd Young who returns to the role of Frankie Valli - the role he originated in Jersey Boys - for a limited engagement beginning January 11, 2013 at the August Wilson Theatre in New York City.

Young won the Tony Award for Best Actor in a Musical for the role.

AIRSWIMMING by Charlotte Jones. Directed by John Keating.

Set in 1920's England, Charlotte Jones's Airswimming is based on the true story of two women (Miss Kitson and Miss Baker), who have been incarcerated in a hospital for the "criminally insane" for having borne illegitimate children.

Forgotten by their families and not released until the 1970's, Dora and Persephone adopt alter-egos, Dorph and Porph, to enact their fantasies and survive the silence of incarceration.

By turns very funny and moving, Airswimming reminds us of the forgotten women of these generations in both Britain and Ireland.

Aedín Moloney and Rachel Pickup star as Dora and Persephone, respectively.

Presented by The Irish Repertory Theatre in association with Fallen Angel Theatre Company staged the production January 9th - February 3rd at the W. Scott McLucas Studio Theatre, NYC.

AMERICAN BUFFALO by David Mamet. Directed by Wilson Milam.

Starring Hans Altwies, Charles Leggett, and Zachary Simonson.

During one long day in a run-down junk shop, three men of great ambition and low morals plan a heist of a customer's valuable coin collection.

When the con goes awry, it's every man for himself.

This fast paced drama is noted for being "all aggression and testosterone, with characters wielding words like weapons to intimidate, cajole and manipulate each other. The results are hilarious, powerful and ultimately tragic in a play that's recognized as a modern masterpiece."

Scenic Design - Eugene Lee: Costume Design - Deborah Trout: Lighting Design- Geoff Korf: Sound Design - Matt Starritt.

Seattle Rep January 11-February 3, 2013.


WHO'S WHERE




RENEE FLEMING AND THE SAN FRANCISCO ORCHESTRA under the direction of Michael Tilson Thomas in the world premiere of Robin Holloway's arrangement, commissioned by the SFS, of Debussy's C'est l'extase. Fleming also performs selections from Canteloube's Chants d'Auvergne, and the Orchestra performs Debussy's Jeux and La Mer. January 10, 12 and 13 at Davies Symphony Hall in San Francisco.

JUSTIN BIEBER performs Monday, January 7, at the Pepsi Center in Denver. On Wednesday he takes to the stage of the BOK Center in Tulsa, OK. Thursday's performance is at the Verizon Arena in North Little Rock, AR. On Saturday the tour stops at the AT&T Center in San Antonio, TX.

IDINA MENZEL has a Carnegie Hall engagement on Sunday, January 13.

CHRIS BOTTI blowing his own horn Wednesday, January 9, at the Bergen PAC in Englewood, NJ. His show on Thursday is at the Mayo PAC in Morristown, NJ. On Saturday he opens a two nighter at the Kodak Hall at Eastman Theatre in Rochester, NY.

ITZHAK PERLMAN making that violin sing Monday, January 7, at the Broward Center in Fort Lauderdale, FL.

PAUL ANKA performing his hits Wednesday, January 9, at Van Wetzel in Sarasota, FL. On Friday the show is at The Philharmonic Center in Naples, FL. Saturday's performance can be enjoyed at the Kravitz Center, West Palm Beach, FL

BOSTON'S CELTIC MUSIC FESTIVAL taking place January 11-12, 2013, brings together over 100 musicians in a 2-day event to spotlight Boston area Celtic musicians and singers. Expect to hear lots of Irish fiddle music, Scottish, Cape Breton, Quebecois, and even New England music as the musicians explore Celtic music from Europe to the New World.


FINAL OVATION


SIR RICHARD RODNEY BENNETT the three-time Oscar nominated film composer, cabaret pianist and performer, died December 24, 2012 in New York. He was 76.

Born in England, he lived in New York City from 1979 until his death.

He wrote his first film score at age 18, and three of his subsequent 50 scores - Far From the Madding Crowd (1967), Nicholas and Alexandra (1971) and Murder on the Orient Express (1974) - were nominated for Academy Awards. The latter won at BAFTA Award in Britain. Other scores included Four Weddings and a Funeral, Enchanted April and Equus.

He also wrote long and short works in the jazz idiom, including a piece for Stan Getz. His accomplishments included more than 200 works for the concert hall, 50 scores for film and television, five operas and miscellaneous works, including settings of Christmas carols. He coached Elizabeth Taylor how to sing a nursery rhyme for the 1968 film Secret Ceremony, for which he wrote the musical score.

Bennett regularly performed as a jazz pianist, with such singers as Cleo Laine, Marion Montgomery (until her death in 2002), Mary Cleere Haran (until her death in 2011), and more recently with Claire Martin, performing the great American songbook.

Bennett taught at the Royal Academy of Music between 1963 and 1965, at the Peabody Institute in Baltimore from 1970 to 1971, and was later International Chair of Composition at the Royal Academy of Music between 1994 and the year 2000.

Prince Charles commissioned Mr. Bennett in 2005 to write Reflection on a Scottish Folk Song in honor of the prince's grandmother, Queen Mother Elizabeth.

He was appointed a Commander of the Order of the British Empire (CBE) in 1977, and was knighted in 1998.

PATTI PAGE died January 1, 2013 at her home in Encinitas, Calif. She was 85.

She was the best-selling female artist of the 1950s, and sold over 100 million records. Her nickname was The Singin' Rage - a phrase commonly followed by "Miss Patti Page". ( See Broadway To Vegas column of October 2, 2005 )

Her 1951 recording of Tennessee Waltz, sold 10 million copies and is largely considered the first true crossover hit; it spending months on the pop, country and rhythm-and-blues charts.

She performed on television, radio, had a brief movie career and starred in Las Vegas, New York City and Branson, MO. Until her death she continued to tour, performing 50 select concerts a year across the United States and Canada.

She married Charles O'Curran, a Hollywood choreographer, in 1956. They divorced in 1972. In 1990 she married Jerry Filiciotto, a retired aerospace engineer, with whom she founded a New Hampshire company marketing maple syrup products. He died in 2009. Survivors include her son, Danny O'Curran; her daughter, Kathleen Ginn; and a number of grandchildren. Neil Portnow President/CEO of The Recording Academy issued the following statement: "Grammy winner Patti Page was an extremely talented artist known for her unique and smooth vocal style. Throughout her seven-decade career, Page had hits such as (How Much Is That) Doggie in the Window?, Old Cape Cod and her version of Tennessee Waltz, which kept her on the top of the charts and made her one of the top-selling female artists in music. I recently had the privilege of speaking with Ms. Page and informing her that she would be recognized with The Recording Academy Lifetime Achievement Award this upcoming February, and she was grateful and excited to be receiving the honor. Our industry has lost a remarkable talent and a true gift, and our sincere condolences go out to her family, friends and fans who were inspired by her work."







Next Column: January 13, 2013
Copyright: January 6, 2013. All Rights Reserved. Reviews, Interviews, Commentary, Photographs or Graphics from any Broadway To Vegas (TM) columns may not be published, broadcast, rewritten, utilized as leads, or used in any manner without permission, compensation and/or credit.
Link to Main Page
---
Laura Deni



For the snail mail address, please E-mail your request.
CLICK HERE FOR COMMENT SECTION