! >
Broadway To Vegas
  
 SHOW REVIEWS CELEBRITY INTERVIEWS GOSSIP NEWS

| | |
| --- | --- |
| | |
THE BLESSING OF A BROKEN HEART - - LIVERPOOL AS A EUROPEAN CAPITAL OF CULTURE - - 2008 CES IN LAS VEGAS WELCOMES CELEBRITIES - - 2008 NEA JAZZ MASTERS - - NEW YORK SUPREME COURT JUSTICE TAKES DIM VIEW OF SEAN CONNERY LAWSUIT - - CELEBRITIES ON POSTAGE STAMPS - -THE LYRICS OF SAMMY CAHN - - NATIONAL TOUR OF TWELVE ANGRY MEN - - THE LITTLE MERMAID OPENS - - DONATE . . . Scroll Down


Copyright: January 6, 2008
By: Laura Deni

CLICK HERE FOR COMMENT SECTION
SUICIDE BOMBINGS, INJUSTICE, SPAWN PLAYS AND DIALOGUE IN A HOPE FOR HEALING AND UNDERSTANDING


The Tony Award winning San Diego REP has long been an innovative mover on the theatrical scene. Living up to its reputation as forward thinking, the production venue is branching out it's staging to engulf the entire community in meaningful, informative ancillary events.

Following the final tech rehearsal Thursday night, Todd Salovey who is in his 18th season as the REP's Associate Artistic Director spoke with Broadway To Vegas about this production and San Diego REP's expanding direction.

"It's pretty incredible. It started as a marketing idea, which is to create partnerships with other organizations and create events that add depth of the experience of seeing the play."

"What's happened with The Blessing of a Broken Heart is we now have surround events following the majority of the shows. What's interesting is that people keep calling me, offering to do events following additional shows. There is a lot of interest in people being involved with the production."

"The REP is very committed to creating new works," emphasized Todd. "What we have found is that the path to creating new work is not a straight road. You can find out the most, of course, in the development of the piece by putting it in front of an audience. However, the expectation of the audience when they see a full production in a full season, is that it is a finished product. Our theater, like a few other theaters, is now doing workshop productions in our actual season. It is a great way to involve our patrons and subscribers, as well as other audiences, in the development of a new piece."

The Blessing of a Broken Heart, opened Friday for an engagement lasting through January 20. Each show coincides with a community event.

Bringing the cohesiveness together was the brainpower of David Contois, Director of Communications and Community Partnerships for San Diego REP. "We will be having community involvement in our future productions," he told Broadway To Vegas. "Yes, it is a new direction for San Diego REP."



Sherri Mandell
"Todd Slovney read this book several years ago by Sherry Mandell," Controis continued. "He was just so moved by it that he contacted her and said - 'We're going to work on creating this play.'"

In 1996, Sherri Mandell made the life-changing decision to move her family from Maryland to the rural mountains of Tekoa, Israel. Born in New York and a graduated from Cornell University and from Colorado State, where she received her M.A. in creative writing, Sherri had taught writing at the University of Maryland and at Penn State. She left the United States in search of meaning and adventure. However, fate had a different plan for her.

On May 8, 2001, her 13-year old son Koby and his best friend, Yosef Ish-Ran, cut school to go on a picnic not far from their homes in Tekoa, a Judean settlement 20 minutes outside Jerusalem. That day, there was a demonstration in front of the prime minister's residence against the government's poor response to the deteriorating security situation, otherwise known as the "second intifada" or the "Oslo war."

Koby and Yosef never returned home. The following day, they were found brutally murdered by terrorists in a nearby cave. The blood of the boys had been smeared on the walls of the cave by the terrorists who had stoned them to death. The loss of her son sent Mandell on a twisted spiral of emotions, beginning with excruciating pain and eventually transitioning into healing and communal purpose.

Three years later, she decided to share her son's story with the rest of world and published The Blessing of a Broken Heart.

The press will not be reviewing the San Diego REP staging. While the acting, directing, set design, costumes, sound and lighting are always fair game for critics, in many ways the subject matter and dialogue of The Blessing of a Broken Heart are above review.



Todd Salovey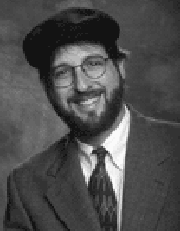 "I really think that this a universal story," continued Todd. "The first thing we do is paint the picture of Sherri Mandell as a mother. We really want this to be, not about one person, but for her to take this journey so that we don't have to. For us to feel that there is a part us, as a citizen of the world, in this experience."

"There is interest in so many areas," he continued. "The subject matter is not just for people who go to the theater. The piece is about healing. There are so many parts of our lives - wounds - that we are all looking for ways to find something that makes us feel whole. I think very few pieces in the theater are really aiming at telling a story that will give people the tools to see how somebody else took something, which could have made them resent their life - made them give up the happiness of their life - but in fact used a tragedy to create a blessing."

"It's an inspirational story," Todd stressed. "It's not an easy experience and Sherry Mandell's experience takes a lot of courage, a lot of strength and her healing is not over. She's says it's not complete. It's not a neat package. However, it is amazingly inspirational to see the experiences that she's had - to know that a terrible thing could happen and she could do great things and help many other victims of terror. She could grow as a mother. She could grow as a writer. She could really maintain a loving bond to her son after his death."

"I know of many schools that are coming to see the show. There is a Jenna Druck Foundation, which works with families who are suffering various aspects of bereavement. They are doing a surround event with us. There are many way to access the piece."

Events surrounding The Blessing of a Broken Heart include a concert following tonight's performance. Recording artist and filmmaker, Zeji Ozeri, performs a musical tribute to Koby Mandell. On Tuesday, January 8 following the performance novelist and playwright Jesse Kellerman joins adapter and director Todd Salovey to discuss the challenges and process of creating a theatrical drama from a work of autobiography or fiction.

Next Sunday, January 13, immediately following the matinee, Rabbi Aliza Berk, director of the Jewish Healing Center, will share her experiences with creativity, meditation, music, and prayer as vehicles for the renewal and strengthening of the spirit, mind and body - a process of finding shalom (peace). Rabbi Berk: "Healing is enhanced by reaching out to others who have experienced loss. We will address together the social, religious, psychological, emotional and spiritual dimensions of the bereavement process." Rabbi Aliza Berk specializes in assisting people with chronic illnesses, counseling women who have experienced domestic violence, and aiding families dealing with death, dying, and bereavement.



Peter Salovey, Dean of Yale College Dept. of Psychology at Yale University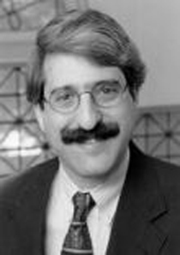 Following next Sunday's evening performance a discussion on emotional intelligence and healing will take place. "Psychological research suggests that many of our beliefs about grief are cultural myths. Grieving does not necessarily proceed in set stages, nor must it involve cathartic emotions." Peter Salovey, the brother of the Rep's Todd Salovey, is the Dean of Yale College Department of Psychology at Yale University. He is one of the world's foremost scholars in the study of human emotions. An author, acclaimed lecturer, and pioneering scholar in the field of emotional intelligence, Peter will discuss emotional intelligence and grief.

It is Peter Salovey who is the thrust and brainpower behind the long needed opposite stand of Kubler-Ross' dictum of required stages and timelines of grieving.

This marks the first time that the brothers Salovey have worked together in this fashion.

"My brother's specialty in emotional intelligence - whose theories go against Kubler-Ross. People feel that there is something wrong with them if they don't grieve in a certain way. With this piece," elaborated Todd about The Blessing of a Broken Heart. "Some people who have seen it have said - Sherry needs to express more rage," referring to the Kubler-Ross rule. "She has to feel rage from this. It is so interesting. I have said to her, again and again - Sherry, do you feel rage? She says - 'No, I don't.' A lot of the mothers at her camp don't feel rage - and some do. There is not a defined formula."

"My brother was really excited to be involved with a theatrical production, said Todd. "Interesting, he's never gone onstage at the Yale Rep, even though my brother loves the theater. My brother was an actor before I was. I remember many of my brother's shows from high school. The reason why I am into theater is because my brother was into theater. When I was looking for something to do in high school I followed in his footsteps," he laughed. "He got me started."

Peter Salovey will combine the San Diego REP program with some fund raising for Yale.

On Tuesday, January 16, following the performance San Diego's own Linda Bennett shares the story of her daughter Marla, a gifted and passionate student. San Diegan Marla Ann Bennett, was killed by terrorists at Hebrew University in Jerusalem in 2002. Linda and her husband Michael Bennett recently won a legal judgment against the Republic of Iran in a Washington D.C. court.



Jenna Druck, the Foundation which bears her name was founded in 1996 by her father. in the hopes of turning grief into hope and strength into leadership.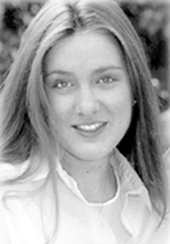 Following the Wednesday, January 16, evening performance Dr. Lori Rappaport, Child Psychologist and Bereavement specialist, joins Dr. Ken Druck, founder of the Jenna Druck Foundation, for a discussion on the unique challenges faced by surviving siblings after the loss of a brother or sister. Surviving children of any age find their lives forever changed. The family they have known is no longer the same -- and neither are they. Surviving siblings, parents and friends are encouraged to attend this enlightening discussion in which Rappaport and Druck will share the Seven Strategies for Surviving the Loss of a Sibling.

Thursday January 17 prior to the evening performance, REP Artistic Director Sam Woodhouse hosts Todd Salovey and special guest Linda Bennett on their personal views of how one finds a new view of the future after a tragedy.

Saturday, January 19, will feature author Sherri Mandell who will speak immediately after the evening performance. "Resilience means the ability to return to your original form after being bent, compressed or stretched—the ability to spring back, rebound, recover. That's the first step. But resilience also has the root sal(ire)—to jump or leap. The second level of resilience is finding a way to use difficulties and even tragedy as a springboard, so that you don't return to who you were, but you leap to a greater presence." A rare opportunity to meet the author of the book that inspired the new play.

On Sunday, January 20, author Mandell will speak on Camp Koby immediately following the 7pm performance. Since writing the book, The Blessing of a Broken Heart, Sherri Mandell and her husband Seth have created a living tribute to their son: Camp Koby. With offices in the United States, Canada and Israel, Camp Koby is a collection of rural camps in Israel that has been host to more than 400 families who are victims of terror. Mandell will share the stories of mothers, children, and siblings who have laughed, played and cried at Camp Koby on the road to newfound strength and healing.

In the summer of 2005 a group of twenty-eight teenagers from North America worked at the camp. Their intense itinerary was designed to provide a first hand look at Israeli society and families struck by terror. Participants served as counselors to campers, working with both Israeli victims of terror and the more than 120 specially trained Israeli counselors at the camp. The North American program included seminars on trauma therapy and its applications, as well as experiential seminars on bibliotherapy, extreme sports, and art and dance therapy.

In addition to the above conversations, Todd Salovey joins Lisa Robbins, the play's lead actress, in presenting parts of the play and discussing its key themes and their theatrical craft. That will take place at on Sunday, January 13, in Del Mar, CA. and on Sunday, January 27, in Poway, CA.

"I really wrote it so it could tour," Todd explained. "You can do this very inexpensively. "It could go in many different venues easily. We're doing it big and well staged," he added. "We've been in tech for four days. But, it can be as small as one adult and one child. I hope it does get seen and performed in a lot of places."

"I really think that this a universal story," he said of a subject that is not just for a Jewish audience or only for somebody who has lost a loved one on foreign soil.

"I think it will help bring understanding and heeling. I hope we will be helping people to heel," he reiterated.

In New York City, New Jerusalem is David Ives' striking new play about the interrogation of legendary philosopher Baruch de Spinoza for an idea that catapulted us into the modern age. Currently on stage at Classic Stage Company, New Jerusalem examines the clash between religion and modernity that Jews, Christians and Muslims are still, some 350 years later, struggling to reconcile.

Acclaimed Tony Award-winning Broadway director Walter Bobbie helms this world premiere production, featuring Tony Award winner Richard Easton and Ffyvush Finkel, one of the legendary performers of the New York Yiddish theatre.

In conjunction with this play a lecture series moderated by playwright Ives is being staged. The first session took place last Sunday, with upcoming events slated for January 20, 27 and February 3.

On January 20 Pros. Steven Nadler who penned Spinoza: A Life and NYU Prof. Don Garrett get the discussion going. On January 27 Prof. Alan Gabbey of Columbia University and Prof. Allan Nadler of Drew University and Rabbi Andy Bachman of Congregation Beth Elohim offer their thoughts. February 3 features the opinions of Rebecca Goldstein who penned Betraying Spinoza and Prof. Alfred Ivry of NYU.

Author, playwright, scientist and comedienne Iris Bahr spoke with Broadway To Vegas about her provocative one-woman show Dai which transports theater patrons into the fast-paced, colorful world of a Tel Aviv café. The audience is allowed entry into the lives of numerous inhabitants from all strata of Israeli society, just moments before a suicide bomber enters.



Iris Bahr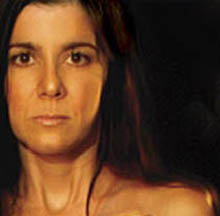 Iris portrays 10 different customers in the restaurant, as well as the hard-boiled British newswoman whose interviewing assignment is the framing device that allows them to tell their stories. Among the characters Iris brings to life are an American woman who's reluctantly in Israel to tend to her ailing mother, a Russian prostitute, a Christian Evangelist in Israel to build a Rapture Center, a gay German furniture designer who states how tired he is of everyone in Israel 'going on' about the Holocaust, an extreme right-wing West Bank settler, a Latina actress, and a Palestinian intellectual.

In production at The 47th Street Theatre in New York City, Dai had a sold out engagement at The Edinburgh Fringe Festival and played a special command performance at the United Nations Headquarters in New York City.

"A member of the Israeli mission to the United Nations had come to see the show. He loved it and said he want to bring this to the Ambassadors and delegates at the U.N," she said referring to Gilad Cohen, Spokesperson for the Permanent Mission of Israel to the United Nations. He arranged for Iris to give a special invitation-only, command performance of the show hosted by the Israeli Ambassador at the UN. "It's a non-traditional means of addressing the fight against global terrorism," Cohen had stated.

"It was unbelievable," Iris recalled. "Just a great reaction. On the one hand, it was an audience watching a theater piece. On the other hand, I think, it had an impact. The Israeli Ambassador Dan Gilman said that we had really done a service."

While Arab diplomats were invited, none attended the show. In the audience composed of over 100 ambassadors and delegates from an assortment of countries including; Pakistan, Indonesia, Israeli Ambassador Dan Gilrman, German Ambassador Thomas Matussek and US Ambassador Zalmay Khalilzad.

"One of the members of the French mission contacted me and we discussed the play. He told me how it impacted him. I'm still in touch with the Israeli delegates."

Born and raised in New York, Iris attended an orthodox Jewish school in the Bronx where she learned Hebrew. After her parents - her father a banker and mother a university registrar - divorced Iris went to live in Israel with her mother. Her older, severely autistic brother and father remained in America.

"My parents are Israeli. I love Israeli very much," stressed Iris who holds dual-citizenship. As with all Israeli youth, Iris was drafted into the Israeli Army. "I was required to serve in the Army. I was living in Israel. Everyone got drafted in high school. I was in intelligence," said the former sergeant who, after her discharge, traveled around Asia, the subject of her first book - Dork Whore: My Travels as a Twenty Year old Pseudo-Virgin published in 2007. After Asia, she went to Brown University where, in addition to theatre, she studied neuro-psychology, conducted MRI research at Stanford University and cancer research at Tel Aviv University.

Her interest in scientific research was originally sparked by her brother. "Yes, I think so. I'm fascinated by human behavior. I love exploring it. The actual manifestations and the biological basis for behavior."

It is human behavior which is explored in Dai.

"Every character is very loaded, some are more political than others. People relate to characters in different ways. Henrik is the gay German. I had a woman who said she really related to that character. What's great is the way the play can universally touch people," said Iris who has appeared in Curb Your Enthusiasm and Cable Guy.

"Performing is performing, but that being said, stand up is a very different beat. You're attentive to the audience, the audience reaction, you can tell when humor lands and when it doesn't. Anything with live theater, the audience is crucial to the performance and that's what I love about live performance."

"Some parts of the play, I'm sure, made some people uncomfortable," continued Iris about Dai. "Any character that is strongly opinioned makes some people uncomfortable."

"Yes, I knew people in Israel who were affected by the bombings and I've had people come to the show that have been directly affected. There was one gentleman who had been fighting in Lebanon and he couldn't stay through the entire show. It was too hard for him. A woman found it was cathartic for her. She found it a powerful experience and was happy she came."

"It is a microcosm of a Tel Aviv cafe - things happen in the world all the time. I think it's human nature to go on. When you are in a situation that can't be rectified, you have to live your life. You can't live in fear. You can't be victimized. It makes you suck the meaning out of life even more."

"It is a theater piece," she said of Dai. "It relates to Israeli's current situation. I'm going to be taking it to a festival in Israel. I'm very curious to find out their reaction. I'm doing the show in English. I think one of the things that makes the show interesting is how Israeli's portray themselves to a foreign journalist. I don't think the show would work presented entirely in Hebrew."

This past year in Israel the Palestinian National Theater, or Al-Hakawati, in cooperation with the Consulate General in Jerusalem sponsored the translation and production of Arthur Miller's All My Sons into Arabic, the theatre's first-ever such production. Members of Al-Hakawati chose All My Sons, believing its themes of accountability to family and society, war-profiteering, and materialism would be interesting and appealing to a Palestinian community.

Renowned American director and actor Allen Nause came to Jerusalem to co-direct the play with a Kamel Pasha, a well-respected Palestinian director. With their joint efforts and the Consulate Cultural Affairs Officer serving as choreographer, the classic play was a huge success. The opening night theater was filled to capacity, and audience members said they personally related to the story, enjoyed learning about this era of American history, and appreciated the performers' use of the Palestinian Arabic dialect.

Palestinian media was invited for a sneak preview the night before the play officially opened to an audience of approximately 275 Jerusalemites. The play ran three nights in Jerusalem before traveling to Ramallah, Bethlehem, and Jericho for ten additional performances.


STARS CONVERGE UPON LIVERPOOL'S CAPITAL OF CULTURE PARTY


Liverpool, England - home to the Beatles.

Ringo Starr returns to his hometown to open Echo Arena Liverpool, a state of the art 10,600 seat arena, with a 60'x40'x6' foot high stage including 22 VIP boxes seating 12 each, which is hyped to transform Liverpool into a European Capital of Culture.

The Capital of Culture party officially starts on Friday January 11, with a free open-air extravaganza on St George's Plateau. Liverpool's amazing architecture will be the stage as 200 of the city's greatest artists gather to bring home the European Culture Cup to the people of Liverpool. There will be music, dance, drama and an amazing mass performance from the rooftops surrounding the square.

Many performances, entertainment, receptions and parties will also be held throughout the city as 2008 venues open for the weekend. On Saturday, January 12, Liverpool's past and future will be celebrated in an extraordinary, ground-breaking show. Integrating live performances and film in a radical and new way, vertically stacking performers seven stories into the air, the show features a once-in-a-lifetime cast including: Vasily Petrenko and the Royal Liverpool Philharmonic Orchestra in collaboration with No Fakin DJs, Ringo Starr, Echo and The Bunnymen, Ian Broudie, The Farm, Riuven, The Wombats, Pete Wylie, Dave Stewart and the people of the city in massed community choirs and aerialists, and an epic aerial ballet of dancing cranes, containers and scissor lifts, as Liverpool celebrates the transformation of the 'Big Dig' into the 'Big Gig' with an exclusive one off performance of Liverpool The Musical.

Created specially to open Liverpool's new arena, Liverpool - The Musical, celebrates both the past and the future of the city.

Some 500 artists will re-invent many of the classic songs that have helped to make the city the center of the musical universe. The show will use the songs to tell the stories of Liverpool, its people, its heritage and its future. Along with specially commissioned film and rare archive footage, Liverpool The Musical features music composed by: Elgar, John Newton, The Real Thing, Frankie goes to Hollywood, The Zutons, The Farm, The Beatles, The La's, Stravinsky, and Space.



Vasily Petrenko is the youngest person and the first Russian in the 165-year history of the Royal Liverpool Philharmonic to have been appointed Principal Conductor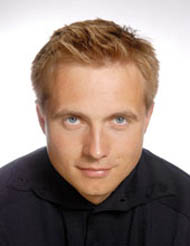 Rearranged by The Liverpool Philharmonic Orchestra in collaboration with No Fakin DJ's conducted by Vasily Petrenko. This evening to remember is also brought to life by poets, singers, aerialists, comedians, construction workers, gardeners and sailors… billed as "probably the most unusual line up ever to set foot on one stage."

Echo Arena Manager Tim Banfield says: "The capital of culture year has given the arena lots of events and the opening ceremony will bring with it some fantastic artists, such as Dave Stewart and Ringo Starr."

"These are really credible musicians that will put the Echo Arena on the map, helping Liverpool reach the world and creating a buzz in the music industry. "Now we've got an arena, artists will want to play Liverpool 'just because it is Liverpool'. "The opening event will be a big production and an ambitious production, the likes of which Liverpool has not seen before."

"It would have been nice to get a few concerts under our belt before this big one, but we will have to hit the ground running as it will be just the third event we have held here! "The indoor arena atmosphere will be superb. The Summer Pops has a great vibe and the arena will be even more exciting as it holds two-and-a-half times more people. "We really couldn't ask for a better start to the culture year and the life of the arena."

This amazing weekend of events heralding Liverpool's status as European Capital of Culture is co-directed by internationally renowned producer Nigel Jamieson who worked on the opening ceremony for the Sydney Olympics and the unforgettable closing ceremony in the 2002 Commonwealth Games in Manchester; and Jayne Casey, co-founder of Liverpool's world famous Cream.

Next up on January 19 is Number 1 Project Live. A galaxy of stars will be coming together for this spectacular concert, celebrating the fact that Liverpool has had more number one hit singles than any other city in the world – 56 number one singles over the last 50 years

Every artist who has made a recording which reached the top of the charts has been invited to attend.

Sir Paul McCartney will come home to headline the Liverpool Sound Concert on June 1 at Anfield Stadium. Conductor Simon. Rattle is scheduled to lead concerts by the Berlin Philharmonic on Sept. 4 and the Royal Liverpool Philharmonic on October 2.


NATIONAL ENDOWMENT FOR THE ARTS TO HONOR 2008 NEA JAZZ MASTERS
Oscar Peterson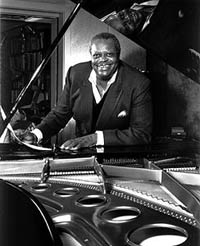 Toronto is going to feel the beat when The National Endowment for the Arts sponsors its annual NEA Jazz Masters events at the International Association for Jazz Education conference January 10 and 11, in Toronto, Canada.

Those events include the NEA Jazz Masters award ceremony and concert featuring Kurt Elling and the Smithsonian Jazz Masterworks Orchestra, a fireside conversation with the 2008 NEA Jazz Masters moderated by poet and jazz author A.B. Spellman, and new this year, a discussion with four NEA Jazz Master Advocates.

In addition, the NEA will co-host with the Canada Council for the Arts a tribute to world-renowned pianist and composer Dr. Oscar Peterson who passed away December 23. This Peterson tribute was announced before his death.



Quincy Jones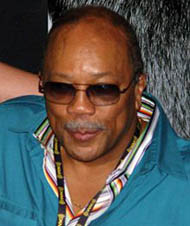 The award ceremony and concert recognize the 2008 NEA Jazz Masters; bandleader Quincy Jones, composer and arranger Tom McIntosh, trumpeter Joe Wilder, the late pianist Andrew Hill, and percussionist Candido Camero. The A.B. Spellman NEA Jazz Master Award for Jazz Advocacy is awarded to composer and author Gunther Schuller.

Award presentations to the Masters are combined with brief video biographies and musical tributes provided by preeminent jazz vocalist Kurt Elling and the Smithsonian Jazz Masterworks Orchestra (SJMO). Led by NEA Jazz Master David Baker, SJMO is the orchestra-in-residence at the National Museum of American History.

The tribute to Peterson will be part of the NEA Jazz Masters award ceremony and concert and features a special presentation by Canada Council Chair Karen Kain and NEA Chairman Dana Gioia along with a musical salute led by pianist, composer, arranger, and former Peterson student Oliver Jones who will play as soloist and with the Smithsonian Jazz Masterworks Orchestra. The tribute and concert will take place at Constitution Hall in the Metro Toronto Convention Centre, on Friday, January 11.



A.B. Spellman. Photo by Vance Jacobs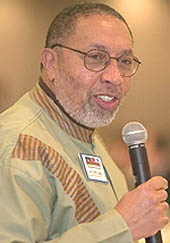 The panel conversation of the NEA Jazz Master Advocates features John Levy, Dan Morgenstern, and Gunther Schuller, along with poet, jazz author, and former NEA deputy chairman A.B. Spellman for whom the advocacy award was named. Spellman is a noted jazz writer, accomplished poet and venerated arts authority.

The unique perspectives of these individuals encompass those of performer, scholar, author, critic, archivist, educator, and artist manager. With moderator Chairman Gioia, the panelists will discuss the evolution of jazz. The panel takes place on Thursday, January 10 at the Metro Toronto Convention Center.

The following day, Friday, the 11th, Spellman will lead a discussion among the 2008 NEA Jazz Masters, exploring their careers, influences, and stories from their collective 270 years in the jazz business.

The NEA Jazz Masters concert and ceremony is a highlight of the annual conference of the International Association for Jazz Education. The world's largest gathering of the global jazz community, the conference brings together some 7,000 educators, musicians, recording executives, exhibitors, journalists, and jazz enthusiasts.


STAMP ART


The creative arts are remembered on postage stamps both here and across the pond.

You can have Bette Davis eyes teasing recipients of your mail - all for the price of a stamp.

On the 100th anniversary of her birth the Academy Award winning actress will be honored on a commemorative stamp, the 14th in the Legends of Hollywood Series.

Also getting a back of the head licking will be the likeness of Frank Sinatra. His commemorative postage stamp will be issued on 120 million first-class stamps. US Postal Service officials unveiled the stamps on December 12 – the 92nd anniversary of Ol' Blue Eyes' birth. The portrait was created by artist Kazuhiko Sano and depicts Frank during the 1950s.

Other American stamps to be issued which pertain to the arts include; Charles W. Chesnutt will be honored with the 31st stamp in the Black Heritage series. Chesnutt was a pioneering writer recognized today as a major innovator among literary realists who probed the color line in American life.

Marjorie Kinnan Rawlings, best known for her Pulitzer Prize-winning novel The Yearling and her memoir Cross Creek.

American Journalists: Martha Gellhorn, who covered the Spanish Civil War, World War II and the Vietnam War in a long career that broke new ground for women; John Hersey, whose most famous work, Hiroshima, describes what happened when the United States dropped an atomic bomb on the Japanese city; George Polk, a young reporter killed covering the strife in postwar Greece; Ruben Salazar, the first Mexican-American journalist to have a major voice in mainstream news media; and Eric Sevareid, a broadcast journalist for CBS.

Vintage Black Cinema set based on posters for five early movies.

The Art of Disney: Imagination, featuring animated characters.

Artist Albert Bierstadt, featuring his painting Valley of the Yosemite.

Latin Jazz, with a tropical evening scene.

Across the pond Britain's national postal service, Royal Mail, has unveiled a set of six stamps that feature the covers of Ian Fleming's Bond novels to commemorate the centenary of the birth of Fleming, the creator of James Bond.

The first stamp will be released on Jan. 8.

In 1952 Ian Fleming sat at his desk and created a character that 55 years later has reached mythic status. That character was James Bond, hero of 12 novels by Fleming, as well as two volumes of short stories.

This first special stamps issue of 2008 celebrates 007's earliest incarnations within works of fiction. The set consists of six large landscape format stamps, each one dedicated to the covers of a particular Bond novel, including the very first – Casino Royale.

Other stamps - all of which have been lengthened to show the covers of different Bond novels, including; Dr. No, Goldfinger, Diamonds Are Forever, For Your Eyes Only and From Russia With Love.

Julietta Edgar, Head of Royal Mail Special Stamps, said: "Fictional heroes don't come much more famous than James Bond, so it's entirely appropriate that we start our 2008 special stamp programme by honouring his creator, Ian Fleming."



For a donation of twenty dollars we encourage your opinions regarding topics of interest or what you feel we may have spent too much time covering.

We will also send you a perfectly acceptable Broadway To Vegas mousepad and a really nifty thank you note.

Please allow two weeks for delivery of your mousepad and thank you note. For that you will need to provide a name and mailing address. All information is kept confidential. We accept PAYPAL. Thank you for your interest.


SPREADING THE WORD


IT'S MAGIC: THE LYRICS OF SAMMY CAHN On January 12-14, the 92nd Street Y in NYC kicks off another fabulous Lyrics & Lyricists season with the man who invited us to "Come Fly With Me," convinced us that "It's Magic," implored us to "Be My Love," promised that "I'll Never Stop Loving You" and left us all with "High Hopes."

One of Sammy Cahn's early hits was the English version of Bei Mir Bist Du Shon – the song that catapulted the Andrews Sisters into the spotlight. Between 1942 and 1951 Cahn teamed up with Jule Styne to write movie classics like Saturday Night Is the Loneliest Night of the Week, It's Magic and Let It Snow, Let It Snow, Let It Snow. Cahn also wrote Mario Lanza's first hit, Be My Love, with Nicholas Brodzsky, and teamed up with Jimmy Van Heusen to write a string of hits for Frank Sinatra, including Come Fly With Me, Only The Lonely, Come Dance With Me and High Hopes.

Ted Sperling – arranger, music director, conductor, actor and director – explores the wide variety of Cahn's lyric writing, the simplicity of songs like I Fall in Love Too Easily, and the playfulness of novelty songs like 10432 Sheep.

Sperling won a Tony for the Broadway hit The Light in the Piazza; his other Broadway credits include The Full Monty, How to Succeed in Business without Really Trying, and Kiss of the Spider Woman. He directed Lyrics & Luricists's recent tributes to E.Y. "Yip" Harburg and Frank Loesser, and has directed several programs for the American Songbook series at Lincoln Center.

For Sammy Cahn, writing lyrics was a thrilling adventure. Take a musical expedition; Ted Sperling, artistic director. Jeffrey Klitz, music director, piano. Laura Marie Duncan, vocals. Julian Fleisher, vocals. Capathia Jenkins, vocals. Karen Morrow, vocals. Clarke Thorell, vocals. Antoine Silverman, violin. Aaron Heick, reeds. Kevin Kuhn, guitar. Peter Donovan, bass. Dave Ratajczak, drums.

January 12-14 92nd Street Y Tisch Center for the Arts in NYC.

SELECTED SHORTS The MacDowell Colony: A Centennial Celebration.

Join host Isaiah Sheffer as he brings the renowned Symphony Space program to the Westport Country Playhouse stage. This evening will feature Golden Globe Award and five-time Emmy nominee Jill Eikenberry, two-time Tony Award-winner Frances Sternhagen and Broadway actress Myra Lucretia Taylor, reading stories by Eudora Welty, Alice Walker and Julie Orringer, authors who have been nurtured and inspired by the isolation and vital community of The MacDowell Colony, which James Baldwin called a place "to crouch in order to spring."

This evenings stories are: Nineteen Fifty-Five by Alice Walker. A Curtain of Green by Eudora Welty. Pilgrims by Julie Orringer.

Tuesday, January 15, at the Westport Country Playhouse in Westport, CT.

WE LOVE PLAYWRIGHTS an exclusive Q&A Artistic Event with Playwrights moderated by Randall Arney, artistic director of the Geffen Playhouse.

Participants include;
Jane Anderson (The Quality of Life); Daniel Beaty (Emergency); Marcus Hummon (Atlanta); Neil LaBute (Some Girl(s)); Donald Margulies (The Elephant in the Room); Adrian Pasdar (Atlanta) and Joan Rivers (Joan Rivers: A Work in Progress by A Life in Progress.)

Friday, January 11 at the Geffen Playhouse in Los Angeles.


SWEET CHARITY


SYMPHONY SPACE IN NEW YORK CITY celebrates its first thirty years with a gala featuring a star-studded line-up of the artists who have helped make Symphony Space a beacon of arts and entertainment in New York City.

Guests will include: Jane Alexander, David Amram, Rene Auberjonois, Ivy Austin, Theodore Bikel, Roy Blount, Jr., Blair Brown, Don Byron, Liz Callaway, Kathleen Chalfant, The Chalks, Jane Curtin, Jacques d'Amboise, Carmen de Lavallade, Mia Dillon, Keir Dullea, Timothy Eddy, Mercedes Ellington & Dancers, Melissa Errico, Barbara Feldon, Fionnula Flanagan, Lisa Flanagan, Thomas Gibson, Joanna Gleason, Sheldon Harnick, Cynthia Harris, Paul Hecht, Hudson Shad, Mary Beth Hurt, Dana Ivey, Charles Keating, Stephen Lang, Robert MacNeill, Andrea Marcovicci, Sonia Manzano, David Margulies, Frank McCourt, Malachy McCourt, Charlotte Moore, Donna Murphy, James Naughton, Phyllis Newman, Rochelle Oliver, Ciaran O'Reilly, Estelle Parsons, Tony Roberts, Hank Sapoznik and the Youngers of Zion, Peter Schickele, Marian Seldes, John Shea, Lois Smith, Frances Sternhagen, Jerry Stiller & Anne Meara, David Strathairn, Taikoza Drums, The Thalia Follies Cast, Calvin Trillin, Maria Tucci, Fritz Weaver, Douglas Webster, The Western Wind, B.D. Wong, Nora York and Eugenia Zukerman.

Peter Jay Sharp Theatre on Thursday, January 10.

ASOLO REPERTORY THEATRE BENEFIT will feature James Barbour who starred as Sydney Carton in A Tale of Two Cities at the Asolo Repertory Theatre in Sarasota, FL last October-November. He returns to that stage on Monday, January 14 in a benefit for the Asolo Rep called Broadway In Concert.

Barbour has starred in such Broadway productions as Jane Eyre, and Assassins and played the Beast for four years in Beauty and the Beast.


COURTROOM STAR TURNS


NEW YORK SUPREME COURT JUSTICE Marcy Friedman has taken a dim view of the long-standing feud between actor Sean Connery and his downstairs neighbor, ophthalmologist Dr. Burton Sultan, who have been counter-suing each other since 2001 over the Manhattan 1869 townhouse they share on East 71st Street.

"Regrettably, both parties to this dispute have engaged in a 'slash and burn' litigation strategy," Friedman wrote, and then barred the former James Bond star and his neighbor from filing any more lawsuits without the court's permission.

Friedman threw out many of the Sultans' claims while criticizing the Scottish actor and his wife for what she called their "blunderbuss" legal salvos.

In court papers, Dr Sultan described Sean, 77, as a "foul-mouthed, fat old man" and "a bully who ignores norms of neighborliness and decency".

The Sean Connery countered with six lawsuits.

The war of the neighbors started over renovations to their six-floor Victorian house in the Upper East Side.

The Sultans have filed three lawsuits against the Connerys, including one for almost $32 million for damages to their collections of art and for disturbance during renovation work.

JAMES BARBOUR 41, last week pleaded guilty to two misdemeanor counts of endangering the welfare of a minor in exchange for 60 days in jail and three years probation when he is sentenced Feb. 29. Because the counts are misdemeanors, he will not have to register as a sex offender.

The charges stem from a 15-year-old fan who visited him backstage while he was starring on Broadway in Jane Eyre. In June 2001 a high school drama teacher arranged for the girl - an aspiring actress - and her parents to see the musical. The woman, who was 20 last year, came forward shortly before the five-year statute of limitations expired.

Barbour's attorney, Ronald P. Fischetti, is fighting the courts for permission to release the woman's name and questions why she waited so long to complain.



TWELVE ANGRY MEN by Reginald Rose. Directed by Scott Ellis . This national tour stars Richard Thomas as Juror Number 8.

Roundabout Theatre Company's Broadway production of the searing courtroom drama, Twelve Angry Men, was the longest running production at their home, the American Airlines Theatre, running for 32 weeks. This production marked the first time the show was ever seen on a Broadway stage. Its record-breaking run earned three Tony Award nominations and unanimous praise from the critics.

In Twelve Angry Men, a young delinquent awaits sentencing for the manslaughter of his aggressive father. Twelve jurors are corralled in a room for their deliberations in a murder trial. One juror feels that there is a "reasonable doubt" - to the frustration of his eleven colleagues - thereby preventing a quick verdict. During the heated debate, the hidden preconceptions and assumptions of the jurors are revealed. When faced with playing the hangman, each juror is forced to face himself.

This national tour begins its 2008 route January 8 - February 10 at the 2000 seat Princess of Wales Theatre in Toronto.

THE BRAND NEW KID adapted from the book by Katie Couric. Book & Lyrics by Melanie Marnich. Music & Lyrics by Michael Friedman. Directed by Nick Olcott.

New teachers…new books…new faces! It's the very first day of second grade, and Lazlo S. Gasky is the new kid in school. When he doesn't look or speak quite like the others the teasing and taunting begins. With his new friend Ellie McSnelly the two teach their classmates a valuable lesson – one that's not in their schoolbooks. Adapted from Katie Couric's popular children's book, this uplifting new musical proves that being yourself is the best way to be.

Kennedy Center Theater for Young Audiences on Tour. Two performances on Sunday, January 13 at the Westport Country Playhouse in Westport, CT.

ORSON'S SHADOW by Austin Pendleton. Conceived by Judith Auberjonois, this ingenious tale of two Hollywood giants – Orson Welles and Laurence Olivier will be directed by Pasadena Playhouse's newly appointed Associate Artistic Director Dámaso Rodriguez.

stars Nick Chernoch as Sean, Sharon Lawrence as Vivien Leigh, Scott Lowell as Kenneth Tynan, Bruce McGill as Orson Welles, Charles Shaughnessy as Laurence Olivier and Libby West as Joan Plowright.

Orson's Shadow takes place at a West End theatre in 1960. Legendary critic Kenneth Tynan has made a startling proposal: Orson Welles (McGill) should direct Laurence Olivier (Shaughnessy) and the young Joan Plowright (West) in Rhinoceros, Ionesco's absurdist masterpiece. But it is the rehearsal process that brims with absurdity as titanic personalities, including Vivien Leigh (Lawrence), wrestle the muse. Based on an actual event, Orson's Shadow is a witty and incisive depiction of the drama of theatre.

Joining the creative team with Rodriguez are scenic designer Gary Wissmann, costume designer Mary Vogt, lighting designer Dan Jenkins and sound designer Cricket Meyers.

Orson's Shadow originally opened at the Steppenwolf's Garage Theatre in January 2000. The play was also produced Off-Broadway at the Barrow Street Theatre in March 2005 and received a 2005 Lucille Lortel nomination for Outstanding Play.

Preview performances begin January 11, at the Pasadena Playhouse in Pasadena,CA.

POST MORTEM a new comedy by A.R. Gurney. Insight America presents the West Coast premiere of Post Mortem, a sly new comedy by famed playwright A. R. Gurney, directed by Jered Barclay.

Though he posits himself long dead in Post Mortem's play-within-a-play, eminent US playwright A.R. Gurney (Love Letters, Sylvia, The Cocktail Hour) is, at 77, very much alive and not at all forgotten, due to the recent Off-Broadway success of his newer, edgy writing. Gurney partially rewrote the new play for Insight America and attended the troupe's rehearsals in Los Angeles. Director Barclay, a lifetime Gurney friend, is celebrated for successful stagings of his plays around the US.

"When we fly this comedy overseas, it should help mend America's reputation a bit," said Alan Becker, Insight's Managing Director, who plays Dexter. "Within a funny love story, it skewers all the horrors of the Bush/Cheney security state that foreign fans give us an earful about." After Post Mortem's L.A. run, a late 2008 European tour is planned.

In Post Mortem, a secretly liberal lecturer and her adoring grad student at a "faith-based" college in the future dig up a lost play that could bring down the oppressive conservative regime. Its author? A long-forgotten scribbler called A.R. Gurney. The comedy is a lively, pointed send-up of censorship, cell phones, Dick Cheney, and Gurney's own life (deliciously embellished). Blending a slew of theater-savvy jokes with sizzling satire, Gurney's sly, edgy script bubbles far beyond his "comedies of manners" that fed the fame he pokes fun at. In Post Mortem, he also thoughtfully examines the role of theater in a world that seems to have little time left for it.

The cast features Anna Nicholas, Alan Becker and Andrea Syglowski. The award-winning design team features sets by Jeff G. Rack and costumes by Thomas Opitz. Stage Manager is Lara Nall. Previews begin Wednesday, January 9 and officially opens on opens Friday, January 11 running through Sunday, February 17, at The Lyric-Hyperion Theater Café, in Silverlake, CA.

THE LITTLE MERMAID starring Sierra Boggess as underwater princess Ariel and Sherie Rene Scott as the dirty rotten sorceress Ursula. Composer Alan Menken and lyricist Glenn Slater wrote 10 new songs to accompany familiar ones from the Disney movie. Opens January 10 at the Lunt-Fontanne Theatre in New York City.

PALM SPRINGS FOLLIES currently in its 17th season - this year celebrates the Golden Age of American popular music. Opening January 9 a salute to Cole Porter. Starring The Four Aces who will be reprising some of their dozens of Top 40 hits. Among their now classic recordings are Tell Me Why, Love is a Many Splendored Thing, Three Coins in the Fountain and Strangers in Paradise. Palm Springs, CA.

SHINING CITY By Conor McPherson. Directed by Robert Falls.

In a Dublin psychiatrist's office, a distraught man reveals a fantastical happening: the recent sighting of the ghost of his newly deceased wife. Thus begins this haunting, mysterious tale about two people's searches for love, meaning and their places in the world.

January 12-February 17 in the Albert Theatre at the Goodman in Chicago.

I AM FALLING A dance theatre collaboration exploring the fickleness of memory, of ageing, love and loss.

dance theatre collaboration exploring the fickleness of memory, of ageing, love and loss Carrie Cracknell directs the company composed of; Ben Duke, Simon Molloy and Petra Soor.

Choreographer is Anna Williams. Design by Garance Marneur. Dramaturg is Jenny Worton. Lighting Designer is Katharine Williams. Sound Design by Ed Lewis.

Performances through February 2 at Gate Theatre in London.

PEER GYNT translated and adapted by Robert Bly from the original by Henrik Ibsen. A world premiere adaptation directed by Tim Carroll.

Peer Gynt is arrogant, manipulative, and dishonest, yet we can't take our eyes off him. Henrik Ibsen's timeless and rarely-produced masterpiece, with a newly commissioned translation by prolific poet and Minnesota native Robert Bly, captures the misadventures of its charismatic central character in a bold, raucous and satirically funny journey to find his place in the world.

Mark Rylance will star.

Previews begin January 12 with the official opening slated for January 19. Performances through March 2. Presented by the Guthrie on the Wurtele Thrust Stage. Minneapolis, MN.

THE 39 STEPS adapted by Patrick Barlow. Based on an original concept by Simon Corble & Nobby Dimon. Based on the book by John Buchan.

Maria Aitken directs the cast which stars; Arnie Burton, Charles Edwards, Jennifer Ferrin, Cliff Saunders. The company also includes Claire Brownell, Cameron Fulmar and Mark Shanahan.

Mix an Alfred Hitchcock masterpiece with a juicy spy novel, add a dash of vintage Monty Python and you have The 39 Steps, a hilarious whodunit, part espionage thriller and part slapstick comedy, adapted for the stage from the famous film and novel.

Shots ring out across a crowded theatre and Richard Hannay is lured into a world of intrigue by a mysterious woman claiming to be a spy. When she winds up dead in his flat, he flees London with the police hot on his trail. A runaway hit in London and the winner of the 2007 Olivier Award for Best New Comedy, this tongue-in-cheek thriller features four actors taking on more than 150 roles.

Scenic & Costume Design by Peter McKintosh. Lighting Design by Kevin Adams. Sound Design by Mic Pool.

Performances through March 23 at the American Airlines Theatre in NYC.

AS MUCH AS YOU CAN Written by Paul Oakley Stovall. Directed by Krissy Vanderwarker.

Starring Tony Award-Winner Tonya Pinkins and Wes Ramsey.

The cast will also feature Yassmin Alers, J. Nicole Brooks, Andrew Kelsey, Paul Oakley Stovall, and J. Karen Thomas.

When Jesse returns home to Chicago for his brother's wedding, he surprises - or, as his best friend Nina says, "ambushes"-his family by bringing along his Swedish boyfriend, Christian. Jesse's three siblings have varying reactions to the couple: half-sister Ronnie is supportive and anxious for the family to fully accept Jesse and Christian as a couple; younger brother Tony, once he conquers his initial homophobia, is resistant to welcoming a white man into their African-American family; deeply religious sister Evy thinks that Jesse is betraying the memory of their deceased parents by "choosing" what she considers a sinful, unnatural lifestyle. Through card games, language lessons, and literature, they all strive to live, love, and give as much as they can.

The set and lighting design is by Heather Graff and Richard Peterson. The Sound Design is by Josh Horvath and Andre Pleuss.

Performances in this West-Coast premiere continue through Sunday, January 27 at Celebration Theatre in Hollywood.


| | | |
| --- | --- | --- |
| | | |
WHO'S WHERE


RUFUS WAINWRIGHT plus Special Guest Lucy Wainwright Roche. Over the course of his five-album career - including new album, Release The Stars - singer-songwriter Rufus Wainwright has mixed Pop, Rock, Classical, and everything else to create a sound entirely his own. Saturday, January 12 at the State Theatre in New Brunswick, NJ.

BARRY MANILOW stars at the Xcel Energy Center in Saint Paul, MN on Friday, January 11. On Saturday he's on stage at the United Center in Chicago.

HANNAH MONTANA/ MILEY CYRUS Best of Both Worlds Tour stops Monday, January 7, at the Verizon Center in Washington, D.C. On Tuesday the show is at the lst Mariner Arena in Baltimore. Wednesday fans will be screaming at the TimesUnion Center in Albany, NY. The Friday performance is at the Joe Louis Arena in Detroit., Next Sunday the tour stops at the Bradley Center in Milwaukee.

BON JOVI has taken his tour to Japan where he performs Friday, January 11, at the Nagoya Dome in Nagoya, Japan.

MICHAEL BUBLÉ brings his wonderful stage show to the Save on Foods Memorial Centre in Victoria, BC on Thursday, January 10. On Saturday he can be enjoyed at General Motors Place in Vancouver. Next Sunday, January 13, he is on stage at Prospera Place in Kelowna, BC.

JAY AND THE AMERICANS open a three night gig at the Suncoast Hotel in Las Vegas on Friday, January 11.

ELTON JOHN on stage next Sunday, January 13 at the Cricket Grounds in Cape Town, South Africa.

OZZY OSBOURNE takes to the stage on Tuesday, January 8, at the DCU Center in Worchester, MA. On Thursday he brings his antics to The Wachovia Spectrum in Philadelphia.

DAVID BENOIT opens a four night engagement at the Metro Convention Centre in Toronto, Ontario on Wednesday, January 9.

PAULA POUNDSTONE telling funny stories Friday, January 11, at Gallagher Bluedom PAC in Cedar Falls, IA. On Saturday she'll be getting laughs at the Brighton Center for the Performing Arts in Brighton, MI.

BIG BAD VOODOO DADDY getting the beat going Friday, January 11, at the IMAC Inter-Media Art Center in Huntington, NY. On Saturday the band is on stage at Trump Marina in Atlantic City. Next Sunday, January 13, finds them at HighLine Ballroom in New York City.




PIFFLE AND PROFUNDITIES


THE CES (CONSUMER ELECTRONIC SHOW) which is closed to consumers, welcomes celebrities. Yoko Ono on the John Lennon Educational Tour Bus, Pat Monahan of Train also on the same bus, Kevin Costner and his band, Amanda Beard, Darryl "DMC" McDaniels from Run DMC, ex-Spyro Gyra member Dave Samuels, Michael Douglas, David Ortiz, Mary J. Blige, Mad Mike, Steve Grisham, and a host of others. CES opens Monday in Las Vegas and shows off the new gadgets through January 10.

Next Column: January 13, 2008
Copyright: January 6, 2008. All Rights Reserved. Reviews, Interviews, Commentary, Photographs or Graphics from any Broadway To Vegas (TM) columns may not be published, broadcast, rewritten, utilized as leads, or used in any manner without permission, compensation and/or credit.
Link to Main Page
---
Laura Deni


CLICK HERE FOR COMMENT SECTION