! >
Broadway To Vegas
 
  SHOW REVIEWS CELEBRITY INTERVIEWS GOSSIP NEWS

| | |
| --- | --- |
| | |
THE KREMLINAIRES AIM TO OVERTHROW GOVERNMENT - - AUDITIONS FOR SAMMY DAVIS, JR MUSICAL - - NY TIMES ART & LEISURE WEEK-END - - TRIPLE BROADWAY DEATHS - - RAVE REVIEWS FOR A LITTLE NIGHT MUSIC - - BUT I'M A CHEERLEADER GETS READING - - CHICAGO THEATRES TEAM TO STAGE FRENCH PRODUCTIONS - - AN IMMACULATE MISCONCEPTION - - DONATE . . . Scroll Down


THE COLD WAR IS BACK BUT THIS TIME IT'S COOL
The Kremlinaires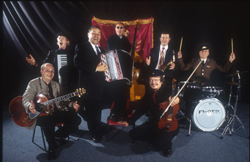 As the song in the musical Gypsy proclaims; You Gotta Have a Gimmick

The Kremlinaires do and Broadway To Vegas thinks we missed a really great party - the one where the Conservative members of British Parliament were dancing around the room with that Soviet flag and then there was that show last night at the National Theatre in London.

In one of the most clever and witty PR concoctions we've discovered in an ice age, some extremely talented and experienced musicians have donned an image that has both raised eyebrows and resulted in paying gigs.



Chris Haigh, fiddle player and in charge Vodka control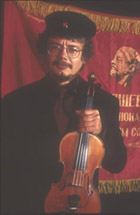 Behind the faux political facade the seven guys are great swing jazz musicians who perform with expertise on accordion, guitar, clarinet/sax, piano, drums, violin and bass.

Their repertoire is a mix of Trad Russian and 40's American swing, with everything presented in the style of the latter. Everything has a twist including the titles. Stomping With Stalin and A Tsar Is Born are part of the repertoire. Take Me Back to Belgrade was Tulsa in the Bob Wills' version.

There is also a claim that the Kremlinaires project is sponsored by the Arts Council of Northern Korea, Cuban Airlines and totally made up criminal organizations from Moscow.

Reviews include fabricated quotes by Stalin, Putin and the current President George Bush.

It's a hoot.

The press release explaining this group and last night's booking states:

Bernard Borisovitch O'Neilski; Double Bass, debt collection AKA as Dublin born Bernard O'Neil, a jazz examiner for the Associated Board of the Royal Schools of Music and member of The Royal Society of Musicians.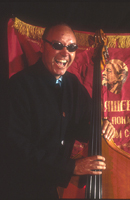 "Comrades, fellow party members, ladies and gentlemen: welcome please the official highly trained elite special forces of the Moscow Conservatoire of Swing! It is said that Joseph Stalin, faced with an all-out propaganda war against his former allies in the west, became convinced that the Americans had one unbeatable advantage in the struggle for the hearts and minds of the proletariat – namely, swing jazz. A top secret government program soon created boogie battalions of Soviet swingers, hotter than Glenn Miller and Count Basie jamming in a sauna. The final batch of these elite musicians stand before you today. The Kremlinaires are world leaders in Soviet Swing and Bolshevik Boogie. The Cold War is back. But this time it's cool!"

"The band regrets the following alarmist piece of black propaganda being spread by the fascist right-wing press:

"Defense chiefs held crisis talks today after it was announced that the Kremlinaires were due to appear at the National Theatre foyer on 3rd Jan, in spite of fierce opposition from police and Mi6. Thousands of bearded revolutionaries, disheveled Hampstead radicals and wild-eyed Norkolk farmers are expected to gather on the south bank, armed with pitchforks, kalashnikovs, molotov cocktails and rolled-up copies of the New Internationalist. Whipped up to a high pitch of revolutionary fervor by madcap marxists the Kremlinaires, they are expected to march on parliament, before dispersing in confusion when they realize that it is after midnight and everyone has gone home."



Stephan Borisovitch Curtisov; Clarinet, Sax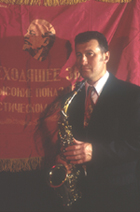 "An embarrassed Alexandra Satta, foyer events manager, admitted that booking the band had probably been a mistake - she had been duped by promises of the bands revolutionary approach to Russian Swing music, the humorous and ironic delivery, and thirteen cases of vodka delivered mysteriously to her office."

The musician behind the concept and copy is Chris Haigh, whose musical credits span pages.

He's authored a couple of respected music books, published by Spartan Press; filled in for Eileen Ivers in Riverdance, saw his Hank Williams tribute album done with Rusty Steele and the Tintacks voted BCMA album of the year (1999). He also worked for the RSC on a bluegrass version of a Winter's Tale at the Roundhouse and at the Royal Shakespeare theatre at Stratford on Avon. He's taught jazz violin at Middlesex and Brunel Universities.

Tracks from his albums have been used on over three hundred different films and TV programs around the world; one tune has been licensed for a global ad campaign by Nike.

"My most recent, ambitious and completely inexplicable venture is the launch of The Kremlinaires, a seven-piece Soviet Swing band mixing Russian folk with 40's swing, dedicated to the overthrow of Capitalism and the establishment of the Peoples Soviet Republic of Great Britain."

Broadway To Vegas tracked down Haigh and questioned him about his political plan to overthrow the government through the use of a fiddle as a weapon.

That's when we discovered we missed a really great party.

"The band was launched in November and is just getting off the ground," Haigh told Broadway To Vegas. "Two of the musicians - including the frontman/singer Serguei - are Russian; the rest of us are British. We're all based in London."

"The act is basically all music apart from some spoken introductions. The comedy element is pretty well integrated into the songs, the presentation and appearance of the band."



Michael Howard danced the night away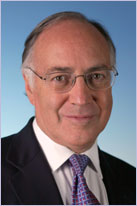 "My main goal for the band is to do festivals, though we've also discovered that the band is ideal for certain theme party/corporate events. Just before Christmas we did a very big Russian theme party at Whitehall for a bunch of politicians, financiers and intellectuals. The punters danced all the way through, including Michael Portillo, who grabbed our Soviet flag and waved it round the dance floor in front of Michael Howard!"

For those not immediately familiar with British Parliament, Portillo is a Conservative member of Parliament who is also Chairman of a chamber orchestra, Sinfonia 21, which is involved in pioneering work at the frontiers of music and science. Howard is the Member of Parliament who is the Conservative Party Leader & Leader of the Opposition.

The zany band members are secure enough with their own strong musical credentials to get a kick out of the mock Russian name alterations and off the wall bios.

They are officially billed as;

Viktor Borisovich Unukovsky on Guitar; Clarinet and Sax - a former professor of applied hyperstitial mathematics at University of Kiev; Nobel prizewinner for pioneering work on Internal Contradictions of Quantum Mechanics. He gave up brilliant career when, incapacitated by vodka at Nobel award ceremony he was abducted by gypsies who believed him to be long lost son of Django Reinhardt.

Stephan Borisovitch Curtisov on Clarinet and Sax. When it comes to Klezmer, this man wrote the book! At age of eight he was touring Moldova with Count Molotov and his Flaming Cocktails; he went on to record with Bob Wilkovitch and his Tashkent Playboys, and then with Dancing Dan Cusack and his Don Cossacks. When he whips it up, it stays up! When he lays it down, it stays down!



Andrei Borisovitch Dewarov on drums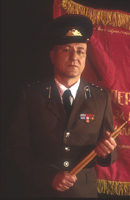 Andrei Borisovitch Dewarov on drums. Former colonel of KGB, double agent operating under cover in Hampstead as newsagent and in Moscow as Estate Agent; mastermind of Counterintelligence Operations. The spy who came down with a cold!

Alan Borisovitch Dunov on piano. On the seventh day, when God had finished creating the Earth, he told the angels to lay down their harps, get in some champagne and caviar, and get round to his place for a party! Did he book a disco? No! Did he book a bagpiper to play Amazing Grace? No! Did he book a gospel choir to sing Amazing Grace? No! Did he book Cliff Richard to sing Summer Holiday? No! He hired a grand piano and to play it he booked the Moscow Maestro himself, Alan Borisovitch Dunov!



Serguei Pahnine; Accordion, vocals, frontman and Political Commissar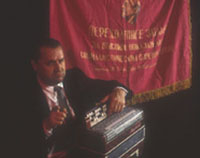 Serguei Pachnine on Accordion, vocals, frontman and Political Commissar. You may have noticed the high standards to which this band aspires - smartly dressed, polite, well rehearsed, disciplined, and, at least at the start of the evening, sober. This is because, like all factories, farms and barracks in the Workers' Paradise, this band has its own political commissar. It is his job to keep a fatherly eye on every aspect of the behavior of the band. A first misdemeanor is met by a friendly talking to in his office. Alas, all too often there is a second misdemeanor, but there is no second chance! A knock on the door at three in the morning, and the musician is off on an extended holiday to Siberia, never to be seen again.

Bernard Borisovitch O'Neilski on double Bass and debt collection. Wearing a suit and shades worth more than a collective farm in Omsk, over on the double bass is the man to see for all your documentation, investment and armament needs. He and his brothers will provide ample protection to any business, wanted or unwanted. He has supplied more concrete overcoats than Al Capone - the Godfather of Bass, Boris Bernard Onyilski!

Chris Haigh on fiddle and control of Vodka Supply. If you have any complaints about the authenticity of the music, the sobriety of the performers, the accuracy of the biographical information, or the sincerity of our political message, this is the man who accepts entire responsibility. Great Grandson of the revolutionary leader Leon Trotsky, he spent his early years as a leading mountaineer and glaciologist, until he was diagnosed by doctors as suffering from a severe allergy to icepicks. Disappointed, he moved into left wing politics, rapidly rising through the ranks of the British Communist Party, until he became its leader in 1992 - sadly the party was disbanded the following day owing to him being the only remaining member. In despair, he took up the fiddle, with which he made rapid progress - he is now widely accepted as the finest jazz fiddle player on this stage tonight!

Commented Haigh: "Long live the Revolution!"


EMULATING SAMMY DAVIS, JR.


The late, great Sammy Davis, Jr. can't be replaced by a single person. JTR Entertainment are casting about for two performers - "who can sing, dance, act and do impersonations, all at the same time" - to portray Sammy Davis, Jr. in a live musical stage production.

"The show will focus on Sammy's triumph over his own doubts and fears, and will recreate the once-in-a-lifetime experience of seeing Sammy live," said a statement issued by Gerry Dedera, the show's director.

Davis died in 1990. He final performance was at Harrah's Hotel at Lake Tahoe, Nevada. Davis made his Las Vegas debut as part of the Will Mastin Trio at the El Rancho Hotel in 1945.



Presidential hopeful John F. Kennedy visited the Clan at the Las Vegas Sands Hotel during the 1960 filming of Ocean's Eleven. Pictured outside the hotel; director Lewis Milestone (back turned) Dean Martin left of Milstone shaking hands with Kennedy, Buddy Lester, Joey Bishop center, Sammy Davis, Jr., partially hidden by Kennedy's arm, Kennedy and Frank Sinatra.
Superstar Davis spent decades headlining in Las Vegas and was a prominent member of the Rat Pack whose other members were - Frank Sinatra, Dean Martin, Joey Bishop and Peter Lawford. Their famed "Summit at the Sands," three week January 1960 engagement carved itself into showbusiness history.

Ocean's Eleven was filming in Sin City and hotel press agent Al Freeman capitalized on that event - including inviting world leaders Dwight Eisenhower, Winston Churchill and Nikita Khrushchev to attend the show.

During one of the shows Sinatra rushed over to Davis, picked him up like a sack of groceries, and said into the microphone: "Ladies and gentlemen, I want to thank the NAACP for this trophy." With Davis still being held like an award, Sinatra walked over to the edge of the stage and dropped Davis into the lap of a ringsider -- Sen. John F. Kennedy of Massachusetts.

Auditions are set for Jan. 10 in Chicago, Jan. 17 in New York and Jan. 24 in Los Angeles. The show will open in early 2004 in what is promoted as " major casinos across the country."


SPREADING THE WORD


TIMES TALKS Arts & Leisure Weekend will feature an exciting lineup of writers, artists, scholars, actors, filmmakers and musicians in discussions all moderated by New York Times critics, reporters or editors.

This year's panelists include Elizabeth Murray, Placido Domingo, Dave Matthews, Lesley Stahl, Barbara Cook, Stephen Sondheim, Matthew Broderick, Nathan Lane Daniel Boulud and Toni Morrison --to name a few!

The weekend kicks off Jan. 10 with Singing Out. Moderated by chief music critic, Anthony Tommasini. The session will discuss whether audiences are willing to accept gay performers. Panelists will include Rent's Anthony Rapp, On the Town's Lea DeLaria as well as David Daniels and Caushun.

New York Times associate editor John Darnton will moderate Celebrating Sondheim, Jan. 10. The panelists will include the composer Stephen Sondheim and singer Barbara Cook.

Nilo Cruz, Tony Kushner, Neil LaBute and Terrence McNally will all take part in Masters of the Stage on Jan. 11. Moderated by cultural reporter Mel Gussow, the panel will address, "What does it take to write a new play and get it produced? And, where does the playwright's inspiration come from?"

Also on January 11 Producers' co-stars Matthew Broderick and Nathan Lane will discuss their creative collaboration. Cabaret critic Stephen Holden moderates.

TimesTalks: Special Edition, part of the third annual Arts & Leisure Weekend. Hosted by The New York Times, the star-studded event takes place Jan. 10 and 11 at the CUNY Graduate Center, New York City.

THE CAST OF OUR SINATRA a show which celebrates the music of Frank Sinatra, makes an in studio visit and performance on David Kenney's Everything Old Is New Again radio program tonight, January 4. Our Sinatra is currently performing at Birdland in NYC. Everything Old Is New Again can be heard on WBAI 99.5 FM.



Broadway To Vegas is supported through advertising and donations. Priority consideration is given to interview suggestions, news, press releases, etc from paid supporters. However, no paid supporters control, alter, edit, or in any way manipulate the content of this site. Your donation is appreciated. We accept PAYPAL. Thank you for your interest.


FRENCH THEATRICAL PRODUCTIONS TO BE SHOWCASED IN CHICAGO


Over the years, the Alliance Française has been an integral part of Chicago city life through a wide range of lectures, exhibitions, performances, movie screenings and various clubs. The office stresses a "strong commitment to promoting awareness of French culture continues to enhance Chicago's image as an international city."

With that philosophy in place the French Cultural Services office of Chicago is teaming with 10 Chicago theatres to stage a festival designed to showcase the work of contemporary playwrights from France and other French-speaking nations. The festival is slated for October and November.

The mix of full productions and readings will be performed in English by both theatrical companies and university theater programs.

It is the intent to bring as many of the playwrights as possible, as well as several guest performances, to Chicago. A series of films and documentaries is also planned, as is a photography exhibition about the annual Avignon Theatre Festival, and many educational outreach activities.

Working with the French Cultural Services office will be the Department of Cultural Affairs, the Alliance Francaise Chicago, the Lycee Francais of Chicago, the Chicago public schools, and the University of Illinois at Chicago.

Based in New York, the Cultural Services of the French Embassy's mandate is to enable the American public to experience the rich and dynamic world of French culture in its various manifestations on U.S. territory.

To achieve this, their departments - Books, Performing Arts, Visual Arts, Cinema, Television, and Education - work with American educators, presenters, and audiences.

The Cultural Services of the French Embassy has affiliate offices in nine other US cities: Atlanta, Boston, Chicago, Houston, New Orleans, Los Angeles, Miami, San Francisco, and Washington, where the Embassy is based.



A LITTLE NIGHT MUSIC by Stephen Sondheim. Gary Griffin directs this waltz-filled musical about the folly of love and the lunacy of lovers. A revival of Sondheim's 1973 musical is receiving rave reviews. Inspired by Ingmar Bergman's early film Smiles of a Summer Night. Book by Hugh Wheeler.

Splendid cast includes; Barbara Robertson, Kevin Gudahl, Julie Ruth, Paul Keating, Michael Cerveris, Samantha Spiro, Helen Ryan, Mattie Hawkinson, Jodi Jean Amble, Carol Kykendall, Kathryn Kamp, James Bank, John Clonts and Jenny Powers. 15-piece onstage orchestra under the musical direction of Thomas Murray.

Dan Ostling (sets) and Mara Blumenfeld (costumes) Through Feb. 15 at the Chicago Shakespeare Theater.

ALBERT AND VIOLETTE by Will Stutts is a new drama set in Philadelphia's art world in the 20s and 30s centering on art collector Albert Barnes and his disciple Violette de Mazia. Premieres in the Walnut Street Theatre's studio series January 6-25. Philadelphia.

THE LADIES written by Anne Washburn and directed by Anne Kaufman.

A look that the lives of infamous dictator brides. Notorious first ladies Elena Ceausescu, Imelda Marcos, Eva Perón and Jiang Qing (a.k.a. Madame Mao) - all deeply ambitious and determined, married powder and turned their countries into a stage for their vast personal fantasies.

In The Ladies playwright Washburn and director Kaufman, who began an investigation intro these women's lives by recording and transcribing discussions of their research, becomes characters in their own play along with the infamous four.

Incorporating historical fact and analysis, fantasy, torch songs. a brief dance number and excessive candor, Washburn creates a spectacle about the way we think about women and power. Previously, The Ladies had a brief workshop at HERE Arts Center in January 2003. This opening, marks it's official New York premiere, with performances beginning February 6 with the official opening on February 8. Dixon Place, NYC.

TITANIC the national tour of this five- time Tony Award winning production sales into the Crest Theatre in Delray Beach, Florida Jan. 9-11.

BUT I'M A CHEERLEADER based on the Lions Gate film by Jamie Babbit and Brian Wayne Peterson with book and lyrics by Bill Augustin and music by Andrew Abrams conducts a by-invitation-only reading Jan. 12 at Primary Stages in NYC. Amy Rogers will direct the reading, which features musical direction by Andrew Byrne. The cast includes; Laura Bell Bundy, Nancy Opel, Stephanie Kurtzuba, Simone Catalano, John Dewar, Mary Faber, Barrett Foa, Colby Foytik, John Hill, Telly Leung, Logan Lipton, Michael Longoria, Moeisha McGill, Stefani Miller, Peter Reardon, Tom Richter and Monté Smock.

The musical - based on the 1999 Lions Gate cult film by Jamie Babbit and Brian Wayne Peterson - centers around a teenage girl who is sent to a "sexual redirection" camp after she tells her parents that she is a lesbian.

AN IMMACULATE MISCONCEPTION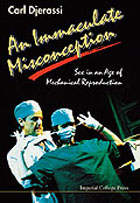 Sex in an Age of Mechanical Reproduction by Dr. Carl Djerassi. Starring JoBeth Williams, Kevin Kilner, and Philip Casnoff. On Thursday, January 8th, there is a Q & A with Dr. Djerassi, the world renown "Father of the Pill"

One of the most challenging issues of the 21st century is the impending separation of sex (in bed) and reproduction (under the microscope) as a result of recent advances in contraception and assisted reproduction. Many of the ethical and societal issues associated with these new reproductive technologies, notably intracytoplasmic sperm injection (ICSI), are raised in an unusual format - namely in dialogic form - using both wit and humor to deliver a production which is both entertaining and pedagogically informative. In play format presenting intriguing issues about medical ethics, parenthood, and the rights of child. Performances January 7, 8, 9, 11 presented by Theatre Works at the Skirball Cultural Center, Los Angeles.


| | | |
| --- | --- | --- |
| | | |
WHO'S WHERE


YO-YO MA and members of the Silk Road Ensemble. Cellist Yo-Yo Ma formed the Silk Road Project to promote the cultural, artistic and intellectual traditions along the ancient Silk Road trade route, which extended from easternmost Asia to Europe. Explore a sonic, cultural tapestry as woven by one of the greatest cellists on the planet. Jan 10 at Ruth Eckerd Hall in Clearwater, Florida.

LAURA BRANIGAN has a five night engagement at the Mohegan Sun Casino in Uncasville, CT Jan.7-11.

SARAH BRIGHTMAN performs Saturday, January 10, at the Auditorio Nacional in Mexico City, Mexico.

CHRIS ISAAK performs Thursday Jan. 8 at the House of Blues in West Hollywood, CA.

JERRY SEINFELD on stage January 10th at the Paramount Theatre in Oaskland, CA.

CHRIS ROCK performs tonight at the Paramount Theatre in Oakland, CA. On Thursday he's in the spotlight at the Arlene Schnitzer Hall in Portland, Oregon. He's got a two nighter Friday and Saturday at the Paramount Theatre in Seattle, Washington.

JEFF FOXWORTHY getting laughs Friday in Evansville, Indiana when he performs at the Evansville Auditorium. On Saturday he'll be telling his down home stories at the Fox Theatre in Detroit, Michigan.

PAUL ANKA puts on a super show. You can enjoy him tonight January 4 at the Barbara B. Mann Hall in Fort Myers, Florida. He's doing a two nighter Friday and Saturday at Casino Magic in Bay St. Louis, MS.

BETTE MIDLER on tour can be found tomorrow, January 5 at the Gund Arena in Cleveland. On Thursday she's in the spotlight at the Mellon Arena in Pittsburgh and Saturday her energy is on stage at the Palace of Auburn Hills in Auburn Hills, MI.

GRAND DAMES OF BROADWAY is a show featuring celebrity impersonators performing with their own voices as legendary ladies from Broadway & the concert stages. The Grand Dames are: Holli Vest as Tina Turner, Anne Kissel as Roseanne, Janet Fanale and her many voices, and Richard Skipper as Carol Channing. Jan 9-11 at Dillons in NYC.

HILIARY DUFF entertaining Saturday at the Municiptal Auditorium in San Antonio, Texas.


FINAL OVATION


ALAN BATES who won a best actor Tony Award in 2002 for his portrayal on Broadway of an impoverished nobleman in Fortune's Fool, died of cancer in a London hospital Saturday night, December 27. He was 69. Bates was made a Commander of the British Empire in 1995 and knighted at the end of 2002. His son, Tristan, 19, died of an asthma attack in 1990, and his wife, actress Victoria Ward, died in 1992. He is survived by two brothers; his son, Benedick, and a granddaughter.

GERALD GUTIERREZ 53, Tony Award-winning director died December 29, of respiratory complications from the flu. Gutierrez, a New York native, took home Tony Awards in 1995 and 1996 for his direction of revivals of The Heiress and A Delicate Balance. A Juilliard graduate, Gutierrez was a mainstay at Lincoln Center Theater where he also directed last season's revival of George S. Kaufman and Edna Ferber's Dinner at Eight. He is survived by his brother, Nick Gutierrez, two nieces and a nephew.

ISABELLE STEVENSON chairman of the board of the American Theatre Wing, which established the Tony Awards, died Sunday, December 28. She was 90. Stevenson received a special lifetime achievement Tony Award in 1999. In 2001 she was inducted into the Theatre Hall of Fame. Beginning her career as a vaudeville dance in Earl Carroll's Vanities, she was president of the American Theatre Wing from 1966-98. She joined the Wing's board in 1957, becoming its president nine years later and chairman in 1998.

She was preceded in death by her husband, John Stevenson who passed away in 2002. She is survived by two daughters and an adopted niece: Susan Brown of New York City, Laura Maslon of Venice, CA, and her niece Francine Ringold Johnson of Tulsa, OK. She also had two grandsons: David S. Brown and Ethan W. Brown and one great-granddaughter Ella. She is also survived by great grandnieces and grandnephews and their children. Services were held in New York City at All Souls on Dec. 30. Marquee lights were dimmed on Broadway in her honor Dec. 30.
















Next Column: January 11, 2004
Copyright: January 4, 2004. All Rights Reserved. Reviews, Interviews, Commentary, Photographs or Graphics from any Broadway To Vegas (TM) columns may not be published, broadcast, rewritten, utilized as leads, or used in any manner without permission, compensation and/or credit.
Link to Main Page
---
Laura Deni


CLICK HERE FOR COMMENT SECTION