! >
Broadway To Vegas
  SHOW REVIEWS     CELEBRITY INTERVIEWS     GOSSIP     NEWS 
| | |
| --- | --- |
| | |


MILLENNIUM REHEARSAL
James Woods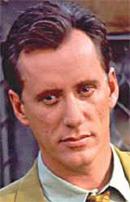 Las Vegas is always in a party state of mind. Actor James Woods, who stars in the just released movie Another Day In Paradise hopped into a car with three of his divorced buddies and drove to Las Vegas from Beverly Hills to spend what Woods thought was going to be "the worst Christmas ever." Instead, he had a bell ringing time. While playing the quarter poker machines Woods hit a reversal royal flush, meaning he won $1,000. That set bells ringing throughout the casino to notify other gamblers that a jackpot had been won.



Neil Diamond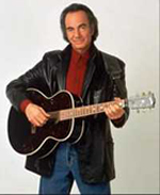 Neil Diamond came off a two month tour to perform his first ever New Year's Eve gig at the MGM-Grand Hotel. The sold out event was telecast on the hotel's marquee reader-board, so those unable to get tickets could stand outside and enjoy the show.

Las Vegas officials and hotel executives called this past New Year's Eve week-end a dress rehearsal for the millennium, when a half million are expected to usher in the turn of the century in Sin City.

An estimated 250,000 high-energy funsters wasted no time bringing in 1999. John Neeland, publicity manager for the Riviera Hotel, arrived at work the morning of New Years Eve to discover eight fully clothed people frolicking in the resort's swimming pool.

The Riviera's director of food and beverage Lloyd Wentzell and his staff dished up 10,000 dinners, including 2,000 that went to those attending the Bobby Rydell show. They also guzzled 300 magnums of champagne.

The Rio Hotel uncorked 3,000 bottles of the bubbly, while the MGM Grand served 20,000 meals washed down with 13,000 bottles of champagne - which equals 68 billion bubbles.

Officials lined up 300 port-a-potties, which came to about one port-a-potty for every 900 people. There was also 18 tons of garbage.

With three new mega-resorts opening within the next few months, Las Vegas will ring in the next millennium with more hotel rooms that any other city in the world. That means there are job openings for another l000 maids. The hotel industry already has on staff 12,500 maids and housekeeping attendants. Many hotels report that they are already sold out for the millennium welcome. If you want to celebrate Y2K in Vegas, make your reservations now.


ANTONIO BANDERAS MEMENTOS

All sex symbols should save their hair clippings. There's money to be made in those follicles.

Recently Antonio Banderas, that hot dude with the bedroom eyes, was in Las Vegas filming White River Kid. The production needed some showgirls, so a couple of lookers from the Riviera Hotel's Crazy Girls adult stage romp were cast as day players.

Kim Barranto serves as line captain for Crazy Girls and thus didn't have far to stretch, performing as a showgirl in full regalia. "It was a one day movie shoot for me on the Las Vegas Strip. But, it was the day it snowed in Las Vegas," she said complaining about snow that only lands on Las Vegas soil about once every decade. "Spectrum Services cast me and two other showgirls," she said. The cold didn't bother the scantily clad girls who got warm just being in the same room as Banderas.

Antonio Banderas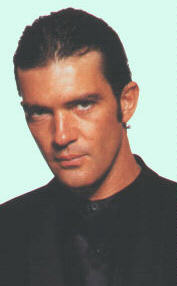 "The movie is a comedy called White River Kid. It's about two friends who find some money," explained Barranto, who is a certified personal trainer. "Antonio is the number one male sex symbol in the world. He's very handsome, generous and friendly."

"It was very funny," confessed the showgirl. "When we were in his suite, he had just had his hair cut and his boots and jeans were hanging over the chair. The other two girls were saying; - Oh, my God! We want to steal his boots or some of his hair from off of the floor."

"I thought he was going to be like some sort of sly, sexy Latino lover boy," admitted Barranto who never did explain how the showgirls came to be invited to the star's suite. "He didn't treat anybody any different than anyone else. He was really a lot of fun."

"It was interesting because while we were there his wife, Melanie Griffin, called him," divulged the leggy showgirl. "He said; - Oh, the kids are fine and I'll be there tomorrow. - It was interesting to see the private side of him, since he's such a big movie star."

"I actually had a very long conversation with him," she continued. "I invited him to come and see Crazy Girls. He said to me; -"Unfortunately, the only time I've been to Vegas was five or six times when I had a location shoot. That's on my New Year's resolution list - to get to Vegas and actually play a little bit."



Broadway To Vegas is supported through advertising and donations. Priority consideration is given to interview suggestions, news, press releases, etc from paid supporters. However, no paid supporters control, alter, edit, or in any way manipulate the content of this site. Your donation is appreciated. We accept PAYPAL. Thank you for your interest.


ON THE TOWN


When the movie On The Town opened in 1949 history was made. The production was totally shot in New York. The film also starred two of the screen's hottest idols; Gene Kelly and, Frank Sinatra. The movie was third in MGM's trio of pairing the two. They were joined by co-star Jules Munshin for a film version of the hit Broadway musical, with Gene Kelly and Stanley Donen directing. It was in this movie that Kelly actually taught Sinatra how to dance.

The female co-stars were equally hot property; Ann Miller, Betty Garrett and Vera-Ellen. Sinatra's duet with Garrett Come Up To My Place was - as Sinatra's daughter Nancy termed it - "one of the niftiest duets ever."

It was also one of the niftiest movies ever made. The movie turned New York New York into an anthem. The Betty Comden/Adolph Green/Leonard Bernstein musical is an unforgettable classic.

That gives the current revival On The Town at the Gershwin Theatre a hard act to follow.

This production has a cast that is not marquee bankable.

The original Broadway production and the hit movie came on the scene as America was winning a popular war. Women were suddenly wearing the pants while sexually desperate to get a man out of his. Some of that angst is no longer the audience grabber it was in the 40s.

However, three sailors on shore leave finding pretty girls and longing for a good time is ageless. Just look at New York during Fleet Week.

There should have been more promotional efforts tied in with any Navy ships who happened to be hanging around the harbor when the production opened on Nov. 21, 1998. Military personnel, preferably wearing Navy suits, should have papered that theatre. Ticket discounts to anyone in the military. Despite show officials insisting that promotions with the Navy are in the game plan, the night I saw the production not one audience member was in any military uniform. This show has been lacking something from the time it piped itself on board the Gershwin stage.

Making her breakout performance in this production is Lea DeLaria, who plays the sex starved cab driver, Hildy - the part played by Betty Garrett in the movie. All similarities end there.

DeLaria is a big, brassy stand up comedian who puts out an over the top performance, in this her Broadway debut. The in your face, lesbian stand-up comic, who performed under the alias The Fuckin' Dyke, is by her own definition something that "sprang fully formed from the head of Zeus." At 33, the Illinois native gives a performance that demonstrates she is a star on the ascendant.

Also a stand out is Mary Testa as the inebriating vocal coach Maude P. Dilly.

The beauty queen segment showing how Miss Turnstiles is fawned over for a month, only to find once her ticket has been punched she's a has been beauty queen - could have been punched up. Over fifty years after it was written Presentation of Miss Turnstiles has some pithy lyrics that may even be more relevant today.

Throughout the show I missed Jerome Robbins' choreography.

Adrianne Lobel's scenery is inventive and brings meaning to the production. A New York bridge spanning the stage, outlined by lights, houses the spirited orchestra permitting them to be in full view.

This is a feel good show that was meant to provide the audience with a good time. No deep messages are delivered. No serious dialogues are meant to be pondered. The show's music is the strong suit. It's the book that needs some tweaking. This isn't a bad show, it just could have been better.


N SYNC MAKES VEGAS DEBUT
`N Sync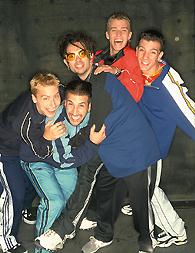 The Florida quintet, with two albums in the Top 10 that brought them out from under the Backstreet Boy's shadow, made their Las Vegas debut Friday night performing to a hysterical sold out crowd at the Thomas and Mack Center.

The relatively young, good looking guys have gotten into a habit of causing teen-age girls to scream their brains out.

James Lance Bass, JC Chasez, Joey Fatone, Justin Timberlake and Chris Kirkpatrick - all strong dancers, vocalists and performers - didn't appear from out of nowhere. They've been kicking around in the business since they were ... well - even younger. Two of them, Justin and JC, are former Mickey Mouse Clubbers and Kirkpatrick performed at Universal Studios in Orlando, Florida.

Justin, by the way, is looking for a girlfriend who either has a lot of patience or can turn a deaf ear - not to his music - to his talking. Justin admits he blabbers on too much and will have to find a girlfriend who can put up with his motor mouth.

The guys got together and one of their mother's came up with the group's name. That living room meeting also came up with a marketing strategy - they'd conquer Europe before bringing their act to America.

It worked.

Their hit singles Tearing Up My Heart, and God Must Have Spent A Little More Time On You, have earned them the respect of parents as well as the idolization of their offspring. Don't look for this group to copycat some of the over-the-hill groups - doing the same act when their age equals the highway speed limit.

"In ten years the five of us will still be in the music business, but as producers, songwriters or Broadway performers," divulged 27 year old Kirkpatrick, whose favorite foods are tacos and orange juice.

"We know that right now, when you think of N Sync you think of teen age girls going to a show and screaming their heads off," added the Pennsylvania native who in l999 is going to attempt to stop biting his finger nails. "But, the parents and the older kids end up having just as much fun," insisted the N Sync member.

Indeed, that's what happened January 1 when the group took the stage at the Thomas and Mack. For all of the screaming and hoorah nobody could really tell what was being sung. By the reaction of the audience nobody cared. They buy the CDs to soak in the music. The fans attend the concert to have an emotional experience.


A STEADY HAND DOES IT
John Schuck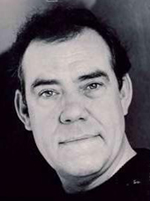 John Schuck who played Painless the dentist in the movie M*A*S*H, Sergeant Enright in television's McMillan and Wife and guested on Sisters as Swoosie Kurtz's love interest, a podiatrist whose favorite movie is My Left Foot, has spent several years touring as Daddy Warbucks in Annie, which closed a successful run last night in San Francisco.

To immerse himself into the part the lanky actor changed his appearance and name. He added his first name, Conrad, and lost his hair.

Using a safety razor - every day Schuck shaves his head - physically transforming himself into the role of a cold heart multi-millionaire who is won over by the orphan.

The actor who got his start at ACT in the late 60s says he related more to the Daddy Warbucks part than any of his previous roles. "My life was absorbed by acting, but I also built up an armor that kept me socially distant. It turned out I was a late bloomer like Warbucks. I waited until I was 41 to have a child. That made all the difference. It melted me."


A SWOOSIE KURTZ NEW YEAR
Swoosie Kurtz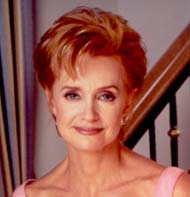 Two time Tony Award winner Swoosie Kurtz rang in the New Year by soaking up some verbal atmosphere for her new play. The talented actress is in New York to rehearse for Pulitzer Prize (How I Learned To Drive) winner Paula Vogel's latest, The Mineola Twins, which begins performances later this month at The Roundabout's Laura Pels Theatre. By the way, this will be the final production in that space before The Roundabout exits.
Joe Mantello directs the play which is described in the Performing Arts Bulletin as "four decades of Long Island life with twins who are opposites." Swoosie plays both twins. Mo Gaffney is also in the cast.

Swoosie went out for an early New Years Eve dinner at Les Rotiers on the Upper West Side with a few friends. Among the group was her good buddy, NY publicist Jim Baldassare who gave her some insights in what it was like living on Long Island during the period in which the play takes place.

Jim lived in Carle Place, which is right near Mineola - the town of the title - and Roosevelt Field, now and then home to the Mall and the spot where Lindberg took off on his famous solo flight to Paris.

Swoosie admits to being a compulsive shopper - "I'll shop till I drop." - Baldassare got her attention when he told her that Roosevelt Field was one of the very first Malls in the US - he even thinks it may have been the first - and when it first opened it was an outdoor mall.

The gifted actress first hit it big in 1980's The Fifth of July on Broadway. She learned in a hurry not to take herself too seriously. Shortly after the play opened she was at dinner at a popular theater district restaurant and was flattered to notice people getting up from their tables, walking towards her and whispering to each other.

"I was feeling very pleased with myself. I'd give them a profile, flip my hair, then get very serious so they could get the many sides of Swoosie Kurtz. Suddenly, I realized everybody was really looking at the blackboard with all of the dinner specials on it, which I was sitting under."

She went on to play Jane Fonda's working class sister in Stanley and Iris, Squeaky Fromme in a workshop for Stephen Sondheim's stage musical Assassins in which she "had a wonderful duet with John Hinckley."

She once worked with David Letterman on a really bad variety show featuring Mary Tyler Moore, Dick Shawn and Michael Keaton. Eleven shows were taped, but only five were aired. "It was a bomb," Kurtz admits. Although it failed on television Michael Bennett caught one of the shows, realized that Swoosie could sing, and cast her in Scandal, the last musical he worked on before his death.

She became a house hold name in the hit television series Sisters. Her unusual moniker is because the lady was christened after a plane. When Swoosie's mother was pregnant with her, her father a one-time Olympic diver, was flying his B-17 on bombing missions over Germany. Her mother didn't know from one day to the next whether or not her husband was alive. She even wrote a book about taking second place to a plane called My Rival In The Sky.

Col. Frank Kurtz - one of our most decorated pilots - was a real American hero. His plane was called the Swoose; half-swan, half-goose. When Swoosie was born in Omaha, Nebraska on Sept. 6, 1944, the Associated Press declared: "The Second Swoose Has Landed." So, says the actress "I was Swoosie, instead of Grace."

Her return to Broadway should help brighten the season. "Stage takes a certain kind of energy," she declared, "doing the same role over and over."

Yes, but she always does them so well.



CHICAGO has returned to its namesake city for a limited engagement at the Shubert Theatre through Jan. 31. What makes this razzle dazzle production even more so is Joel Gray reprising his role of Amos Hart, which garnered him both Drama Desk and Outer Critics Circle awards.

FINAL PIROUETTE for Swan Lake on Jan. 23 when the boys pack up their tutus. Despite jaw dropping at the thought of staging an all-male production, Swan Lake deserved its bows. At it's closing this production will be the longest-running ballet in Broadway history. Could also end up being an award winner - think choreography. The cast shouldn't put the stopper back on the Nair just yet- the men begin rehearsals for Matthew Bourne's production of Cinderella at the Los Angeles Music Center for a March opening.

THREE DOG NIGHT AND THE NELSON BROTHERS sons of rock icon Rick Nelson and grandsons of television pioneers Ozzie and Harriet Nelson, perform a one nighter at the Stardust Resort, Friday, Jan. 8. The Stardust engagement features four members of the original Three Dog Night; vocalists Danny Hutton and Cory Wells, keyboardist Jimmy Greenspoon and lead guitarist Michael Allsup. They've earned nine gold singles and 14 gold albums. The Nelson Brothers, Matthew and Gunnar, have sold more than 2.3 million copies of their debut album After The Rain worldwide.

NY PHILHARMONIC performs Wednesday, January 6 at Art Ham Hall, Las Vegas.


GET WELL AND SYMPATHY


GET WELL SOON to Charlton Heston, who has spent a lot of time in Nevada stumping for political candidates. The actor announced he has prostate cancer. The actor, who is passionate about his causes, even put off radiation treatment until after the November election, so he could continue to campaign for his candidates and issues. We're not trying to tell "Moses" what to do -- but - he should put his own welfare at the top of the pecking order. The country won't turn in any direction because he's there. However, his family's heart beat does revolve around him. Get your priorities in order, Charlton.

CONDOLENCES TO SINGER JACK JONES His mother, actress Irene Hervey, recently passed away. Newspaper reports of her death indicated she was survived by a daughter, Gail Christensen and a son, Jack Jones. Her son is the entertainer. Hervey was the second wife of Jack's father, singer Allan Jones.


THIS AND THAT


TIMM ROLEK has been named artistic director of the Sacramento (C.A.) Opera. Rolek served his apprenticeship with the Minnesota Orchestra from 1979 to 1984, studying with Neville Mariner and Klaus Tennstedt. For the past four years Rolek has been music director of the Grand Forks (N.D.) Symphony.

HARRY BELAFONTE was the last entertainer to perform in Bally's Celebrity Theater, Las Vegas. When Belafonte closed last week, so did the showroom. It's going to be turned into a shopping mall walkway connecting Bally's hotel with the new Paris Resort.

A BUCKET OF COAL FOR SANTA Macy's NYC does a dreamlike Santa Land. It's a Macy's tradition. Young and old stand in line to walk through the festive holiday adventure, capped off by a visit and photo session with that guy in the red suit.

Upon reaching that spot I felt awkward, but several elves assured me that everyone sees Santa. An extremely young looking St. Nick was attired in an expensive Santa get-up. The photo session took only a second.
I even anted up and bought the picture set.
However, feeling a bit self conscious, as an adult about to sit next to Santa - I attempted to make myself feel better by greeting Santa with - "I haven't had my picture taken with Santa Claus since I was a young child." To which Santa replied - "That would have been a long time ago."
Next Column: January 11, 1999
Copyright: January 4, 1999. All Rights Reserved. Reviews, Interviews, Commentary, Graphics or Photographs from any Broadway To Vegas (TM) columns may not be published, broadcast, rewritten, utilized as leads, or used in any manner without permission, compensation and/or credit.
Link to Main Page
---
Laura Deni




For the snail mail address, please E-mail your request.
CLICK HERE FOR COMMENT SECTION