! >
Broadway To Vegas
  
  REVIEWS  INTERVIEWS COMMENTARY NEWS

| | |
| --- | --- |
| | |
BROADWAY TO OFFER BABYSITTING SERVICES - -A DEGREE IN THE BEATLES - - SETTING THE WORDS OF BUDDHA TO MUSIC - - TOULOUSE-LAUTREC AND FRIENDS: THE STEIN COLLECTION - - SPACE & LIGHT: EDWARD GORDON CRAIG - - ANDREW LLOYD-WEBBER SELLS WINE COLLECTION - - LOMBARDI ON BROADWAY CATCHES SUPER BOWL FEVER - - DANGEROUS BEAUTY AT PASADENA PLAYHOUSE - - DONATE . . . Scroll Down



BABYSITTING ON BROADWAY


Of course!

Why didn't somebody think of this before?

Reasonably priced or even free babysitting provided for those attending a Broadway show.

Manhattan babysitters earn an average of $11-14 per hour, plus $2.00 per hour additional for after 10 pm and don't forget to tip. Those rates "assume that the babysitter is a teenager and is looking after just 1 child," according to a research report.

The fact that paying a sitter is expensive hasn't been lost on the Broadway community. The pay-what-you can, as well as the upwardly mobile, theater going segments bale when it's baby on board.

An effort is being made to get parents' backsides back in touch with a theater seat.

Playwrights Horizons has expanded their on stage creativity to off-stage innovativeness by launching Playtime!

Tim Sanford the Artistic Director and Leslie Marcus the Managing Director of Playwrights Horizons have announce the launch of Playtime!, a brand new program offering affordable, professional childcare while you see a show. Playwrights Horizons has teamed up with Sitters Studio, a bonded and insured company made up of sitters who are working artists, which will provide and operate the program in the Playwrights Horizons' building.

Playtime! will debut during the run of the theater company's next production, Kin, the world premiere of a new play by Bathsheba Doran, directed by Sam Gold which begins performances on Friday, February 25.

With Playtime!, while patrons enjoy a Playwrights Horizons performance, their children will be upstairs in a rehearsal space having his or her own fun, artistic experience - learning a dance or song, making a craft project or participating in a myriad of other artistic activities provided by Sitters Studio. The program is available for children ages 4-12 - potty-training required. All Studio Sitters undergo background checks and are CPR certified.

Parents may drop off their child or children no earlier than 45 minutes and no later than 15 minutes prior to curtain at the 2nd floor lobby, where they will be met by a Playtime! representative and brought to one of their 5th floor rehearsal rooms. Children must be picked up immediately following the performance.

Also, on Playtime! performance days, The West Bank Café across the street from the theater is creating a special menu with reasonably-priced meals for children.

In the event of an emergency requiring parental attention, Playtime! representatives will be in touch with the parent via text message. If needed, a representative who knows your seat location will enter the theater to meet and escort you to the 5th floor.

Playtime! is free to Playwrights Horizons subscribers and available to non-subscribers for a flat fee of only $15 per child. Playtime! care will be offered during the following matinee performances of Kin on February 27, March 20 and April 2.

This is the first program of its kind among New York City theaters.

"Playwrights Horizons is thrilled to be launching this new audience development program," said Marcus. "The combined cost of theater tickets and childcare is the factor most often cited by people with young children as the reason they rarely attend the theater. By offering affordable childcare during performances, we are responding to this concern and hope to welcome back these audiences. We are grateful to the Theater Subdistrict Council for making Playtime! possible, and we look forward to serving arts-loving parents and children. Our hope is that this program will become a model for other performing arts organizations in New York."

The practice of offering on-site, inexpensive child care won't be an over-night success. Neither was the idea of signing certain performances, a practice which had a bumpy start 30 years ago and is now standard. Offering sign interpreted performances opened up the Broadway experience for thousands of new ticket buyers who have become regular customers.

When it catches on, matinee child care will broaden the base of people attending afternoon performances - younger parents, rather than the current tilt to the over 50 crowd.

Test marketing this with select matinee performances is genius.



Broadway To Vegas is supported through advertising and donations. Priority consideration is given to interview suggestions, news, press releases, etc from paid supporters. However, no paid supporters control, alter, edit, or in any way manipulate the content of this site. Your donation is appreciated. We accept PAYPAL. Thank you for your interest.



ART AND ABOUT


TOULOUSE-LAUTREC AND FRIENDS: THE STEIN COLLECTION

Henri de Toulouse-Lautrec'sLa Clownesse au Moulin Rouge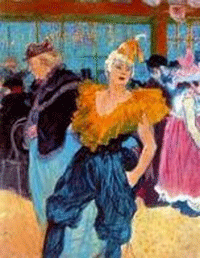 a gift of 47 works of art, the majority of which are prints and posters by major artists working in fin-de-siécle Paris, from prominent Atlanta collectors Irene and Howard Stein are on display at The High Museum in Atlanta.

The Stein collection includes many rare and extremely prized works by Henri de Toulouse-Lautrec, such as La Clownesse au Moulin Rouge (1897), one of only a handful of impressions of this color lithograph, and Miss Loïe Fuller (1893), a ghostly image of the famous American dancer that incorporates powdered gold. The exhibition also includes important prints and drawings by Pierre Bonnard, Edgar Degas, Paul Gauguin, Honoré Daumier and Paul Signac, and sculptures by Pieter Xavery, Martin Desjardins, Charles Cordier and Jules Dalou.

Toulouse-Lautrec and Friends: The Stein Collection will feature approximately 80 works. In addition to the 47 new gifts, the exhibition will include approximately 30 works that were either previously given to the High by the Steins or purchased with funds given by the Steins. Among these is a rare complete set of Toulouse-Lautrec's lithographic masterpiece The Elles Series (1896), which the Steins presented to the High in 2001; the set is remarkable because it is unbroken and virtually in perfect condition.

Toulouse-Lautrec and Friends: The Stein Collection, opened January 29 and runs through May 1, 2011 at the High Museum at The Woodruff Arts Center in Atlanta, GA.

SPACE & LIGHT: EDWARD GORDON CRAIG

Exhibition image featuring a design for Hamlet by Edward Gordon Craig. Craig reproduced with permission of the Edward Gordon Craig Estate for V&A Museum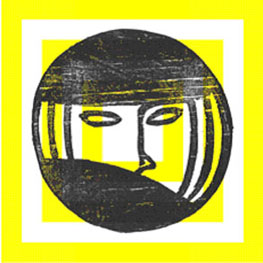 was a pioneer of Modern stage craft, whose experimental theatre techniques have shaped live performance today.

Craig, the son of actress Dame Ellen Terry, asserted that the director was "the true artist of the theatre" and, controversially, suggested viewing actors as no more important than marionettes. He designed and built elaborately symbolic sets; for instance, a set composed of his patented movable screens for a Moscow Art Theatre production of Hamlet. He also was the editor and chief writer for the first international theatre magazine, The Mask.

Craig concentrated on keeping the designs simple so as to set off the movements of the actors and of light, and introduced the idea of a "unified stage picture" that covered all the elements of design. After settling in Italy, Craig created a school of theatrical design with support from Lord Howard de Walden.

Craig was considered extremely difficult to work with and ultimately refused to direct or design any project over which he did not have complete artistic control. Craig's idea of using neutral, mobile, non-representational screens as a staging device is probably his most famous scenographic concept. In 1910 Craig filed a patent which described in considerable technical detail a system of hinged and fixed flats that could be quickly arranged to cater for both internal and external scenes. He presented a set to William Butler Yates for use at the Abbey Theatre in Ireland, who shared his symbolist aesthetic vision.

Craig's second innovation was in stage lighting. Doing away with traditional footlights, Craig lit the stage from above, placing lights in the ceiling of the theatre. Color and light also became central to Craig's stage conceptualizations.

The third remarkable aspect of Craig's experiments in theatrical form were his attempts to integrate design elements with his work with actors. His mise en scene sought to articulate the relationships in space between movement and sound, line and color. Craig believed in a theatre of the craft of the director - a theatre where action, words, color and rhythm combine in dynamic dramatic form.

The Gordon Craig theatre, built in Stevenage, the town of his birth, was named in his honor in 1975.

Space and Light is an interactive installation that uses sound, light, projection and drama to engage the audience with Edward Gordon Craig, his life, works and visions.

The exhibition also features a number of Craig's beautiful woodcuts and engravings.

Through March 13, 2011 at Theatre and Performance galleries of the Victoria & Albert Museum in London.


SETTING THE WORDS OF BUDDHA TO MUSIC
Ronald Corp. Photo by John Reddihough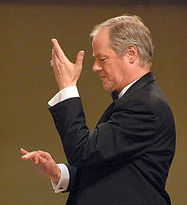 People who can't roll out of bed until they read what somebody else tells them should be their thought of the day have never been in tune with my psyche wavelength. If you need an affirmation to make it through your waking hours you're vapidity level is more than I care to experience. Somebody once asked me what would be my thought of the day and I replied to spend less time with people who need a thought of the day.

Then there is Buddha. An interesting person. Historians differ as to when he lived offering guesses from 411 BCE to 483 BCE - but they all agree that it was a long time ago.

He seemed to have talked a lot and what he said made sense. His thoughts became the basis for codes of conduct and law which are infused into life as we know it today. Surrounding his words of wisdom with music is a new concept which take his messages to an even greater plateau.

Thoughts of the day tossed about by everyone have their origins from this guy's mouth.

A few of his verbal pearls:

- Avoid aiming at the ruin of others.

- Both frivolous talk and covetousness may be unwholesome.

- Avoid evil deeds as a man who loves life avoids poison

- Death is not to be feared so much by one who has lived wisely

- You yourself, as much as anybody in the entire universe deserve your love and affection.

- Better than a thousand hollow words is one word that brings peace.

- An idea that is developed and put into action is more important than an idea that exists only as an idea.

- To keep the body in good health is a good task. Otherwise we shall not be able to keep our mind strong and clear

- Find your own light.

- Neither overrate nor underestimate what you have received.

- Work out your own salvation. Do not depend on others

- The words we utter should be chosen with care, for people will hear them and be influenced by them for good or ill.

For the first time his sayings have been set to Western music. It doesn't appear to be a gotta get up and boogie tempo, but never-the-less, Buddha set to music.

On February 6, Vignette Productions will present the world première of Dhammapada and host the CD launch with Stone Records. Ronald Corp will conduct a choir of 8 soloists at Shoreditch's Village Underground in London.

Dhammapada is a collection of sayings of the Buddha compiled by his followers after his death 2,500 years ago and transmitted orally for over 500 years before being written down around 2,000 years ago. It is the core work in Buddhist thought.

Although much loved and often translated, it has never previously been set to Western music. A new singing translation of key sections of Dhammapada has been set for a capella choir by Corp, who is the founder of the New London Orchestra and New London Children's Choir as well as Music Director of the London Chorus and Highgate Choral Society.

Corp, a respected choral composer, has a reputation of championing neglected music and a mission to make music more accessible.

Dhammapada is viewed as a spiritual work without being religious. It contains the Buddha's key messages, expressed in striking and often beautiful images; a manual for living a good life, as relevant today as it was then.

The choral work, which is around an hour long, is interspersed with field recordings of bells, chants and drums made in the exact locations in India where the Buddha lived and taught.


SWEET CHARITY


HAROLD BLOOM in a conversation with CSC's Artistic Director Brian Kulick will discuss Shakespeare's late collaborations with John Fletcher on The Two Noble Kinsmen and the lost play, Cardenio upon which the play Double Falsehood is believed to be based.

In what promises to be a provocative and insightful look into the last and least fully-understood phase of Shakespeare's writing career, a one-night-only event to benefit Classic Stage Company's ongoing Shakespeare programming.

There is a post-performance champagne reception.

Monday, February 7, at the Classic Stage Company in New York City.

Double Falsehood, written by William Shakespeare and John Fletcher, adapted for the 18th Century stage by Lewis Theobald, and directed by Kulick will play a limited engagement at CSC from Friday, March 11 through Sunday, April 3.

THE 27th ANNUAL DRAMA LEAGUE BENEFIT GALA a black-tie event which will fete two-time Tony winner Patti LuPone with an original, one-night-only revue based on her iconic performances in Evita, Les Miserables, Anything Goes, Sweeney Todd, and Gypsy.

A cocktail reception, silent auction, and a specially-crafted three-course meal are part of this special night, where the stars of Broadway and Hollywood come together to support The Drama League. The cast includes Tony winners Audra McDonald, Boyd Gaines, and Laura Benanti. As well as performances from Chad Kimball, Montego Glover, Nick Adams, Chris Burke, Christopher Sieber, Emily Skinner, and more.

David Mamet, Brian Stokes Mitchell, Mandy Patinkin and Stephen Sondheim are the Honorary Chairs.

Monday, February 7 at the Pierre Hotel in New York City.


ALL YOU NEED IS . . . A DEGREE IN THE BEATLES
Mary-Lu Zahalan-Kennedy. Photo: Hope University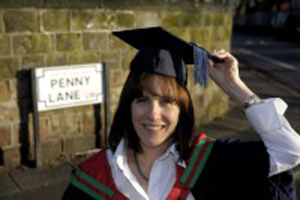 A Canadian recording artist has become the first person in the world to graduate with a Masters degree in The Beatles from Hope University in Liverpool, England.

Former Miss Canada finalist Mary-Lu Zahalan-Kennedy was one of the first students to sign up for the first ever course on the Fab Four when it launched in March 2009. In total, 12 full time students joined the Master of Arts course that year and Mary-Lu is the first from her class to graduate.

The unique MA in The Beatles, Popular Music and Society looks at the studio sound and compositions of The Beatles and how Liverpool helped to shape their music. The MA examines the significance of the music of The Beatles and how it helped to define identities, culture and society.

Mary-Lu Zahalan-Kennedy commented on her achievement: "The course was challenging, enjoyable and it provided a great insight into the impact The Beatles had and still have to this day across all aspects of life. The faculty and students at Liverpool Hope University were crucial in providing an unforgettable experience and their support was invaluable."

Mike Brocken, founder and leader of the Beatles MA at Liverpool Hope University, said: "It is with great pleasure that the Department of Music announces the graduation of the first intake of full-time Beatles, Popular Music and Society MA students 2009/2010. This program is the only postgraduate degree program in the world of its kind.

"Mary-Lu now joins an internationally recognized group of scholars of Popular Music Studies who are able to offer fresh and thought-provoking insights into the discipline of musicology."

Hope's Winter Graduation Ceremony took place on January 26, in the Hope Chapel, Hope Park campus. The ceremony saw over one hundred and thirty students receive a range of qualifications, from Foundation Degrees to PhDs.

During the ceremony, an honorary degree was awarded to Patricia McGuire, President of Trinity Washington University in Washington DC.


BROADWAY SHOW LOMBARDI CELEBRATES SUPER BOWL WEEK


The play Lombardi at the Circle In The Square theater on Broadway is the play which has made football fans out of those who never liked the sport, while motivating couch jocks, who never miss a televised game, into actually attending a Broadway show.

Thus, Super Bowl Week is now a big deal on The Great White Way.

The production is hedging its bets, congratulating both the NFC Champion Green Bay Packers and the AFC Champion Pittsburgh Steelers.

Lombardi about the life of the great Vince Lombardi, wants their patrons to catch a serious case of Super Bowl Fever.

See Lombardi on February 1, 2 or 3 and you can enter for the chance to win a pair of tickets to Super Bowl XLV in Dallas, Texas. Ticket holders can enter to win at the merchandise booth in the lower lobby of Circle in the Square before or after the show, or you go to their website and enter your email address for your chance to win.

One winner will be selected at random on Thursday, February 3 at 10pm EST.

From February 1-6, see Lombardi and have the chance to take your picture with the 1986 Vince Lombardi Trophy, awarded to the New York Giants upon their victory in Super Bowl XXI on display in the lower lobby.

Those attending Lombardi at select performances can meet New York Giants stars Carl Banks, Brad Benson and Jim Burt who will be autographing Lombardi Playbills before the performance.

Tuesday, February 1st it's former New York Giants linebacker Carl Banks signing his autograph. The Flint, Michigan born Banks was a member of the NFL's 1980's All-Decade Team. He was a member of the Giants teams that won Super Bowls XXI and XXV as well as a key part of the Big Blue Wrecking Crew. Banks was a standout in their Super Bowl XXI victory in which he recorded 14 total tackles, including ten solo tackles. Currently, Banks can be heard as one of the voices of Sirius NFL Radio and WFAN. Starting in 2007, he became an analyst for the radio broadcasts of the New York Giants.

On Thursday, February 3, the guy with the pen will be former New York Giants offensive lineman Brad Benson who was a pivotal member of the 1986 Giants team that defeated the Denver Broncos in Super Bowl XXI. Benson was selected to play in the 1986 Pro Bowl.

On Friday you can get former New York Giants nose tackle Jim Burt to scribble his name. Burt played nose tackle for the Giants team that won Super Bowl XXI and the 49ers team that won Super Bowl XXIV. The primary responsibility of the nose tackle - which is a defensive alignment position for a defensive lineman - is to absorb multiple blockers so that other players in the defensive front can attack ball carriers and rush the quarterback. Burt is known for knocking out 49ers quarterback Joe Montana on a pass in the 1986 Divisional Playoff game. Montana's pass was picked off and returned for a touchdown by Giants linebacker Lawrence Taylor. The Giants won, 49-3, on their way to winning Super Bowl XXI.

There are also going to be prize drawings during Lombardi Super Bowl Week.

Ticket holders on February 1, 2 and 3 will be automatically eligible to win. Three winners will be selected at random each night after the performance; three prizes will be awarded each night. Each winner must confirm his or her seat number to receive prize. All winners must be present. One winner per prize only.

Prizes include:

$100 gift card to Modell's Sporting Goods
Football signed by the cast and crew of Lombardi.
$100 bar tab at Emmett O'Lunney's Irish Pub (across the street from the theatre)
Lombardi Merchandise Gift Bag
Official Super Bowl Merchandise Gift Bag
Private Tour of the NFL Headquarters located in New York City
$25 gift card to NFLShop.com
Lombardi poster autographed by the cast
Autographed copy of When Pride Still Mattered by David Maraniss

And, through February 6 only, official Super Bowl XLV merchandise will be available at the merchandise booth in the lower lobby of the Circle in the Square.

The National Football League is America's most popular sports league, comprised of 32 franchises that compete each year to win the Super Bowl, the world's biggest annual sporting event. Each Super Bowl-winning team receives the Lombardi Trophy, named for Hall of Fame coach Vince Lombardi.


SPREADING THE WORD


THE AMERICAN THEATRE CRITICS ASSOCIATION presents its N.Y. Weekend Conference, February 4-6 in NYC.

The Friday program features a discussion of contemporary acting techniques with leading teachers; lunch; and a Perspectives in Criticism panel featuring Marsha Norman and Bartlett Sher.

The Saturday Brunch with the Stars at Sardi's is an informal, quotable affair with a dozen or so Broadway actors, including Stacy Keach, Dana Ivey, Paxton Whitehead, Linda Lavin, Lily Rabe, Colin Quinn, Andre De Shields, Dan Lauria, Judith Light and Jeffrey Wright.

Sunday is a working session on The Digital Critic, led by Andy McGibbon, Andy Propst and Leonard Jacobs.

KING LEAR performance at the Donmar Warehouse in London will be broadcast live by National Theatre Live. The sold-out production stars Derek Jacobi and is directed by Michael Grandage.

In the New York City area, screenings continue at NYU's Skirball Center, City Cinema 123, Kew Gardens Cinema, Fairfield University (CT), the Shakespeare Theatre Company (DC) and more.

The broadcast will also be shown on screens across the United States including the Mann Theatre in Hollywood, Lensic Performing Arts Center in Santa Fe, NM, Coolidge Corner Theatre in Boston, MA, Guthrie Theater in Minneapolis, MN, La Mirada Theatre for the Performing Arts in La Mirada, CA, Shalin Liu Performing Arts Center in Rockport, MA, Hopkins Center for the Arts at Dartmouth University and many more.

Screenings begin on February 3, 2011.

The broadcasts will have encore showings in most markets.

King Lear will be filmed live from London's Covent Garden. An ageing monarch. A kingdom divided. A child's love rejected. As Lear's world descends into chaos, all that he once believed is brought into question. One of the greatest works in western literature, King Lear explores the very nature of human existence: love and duty, power and loss, good and evil.

The Donmar's production of King Lear will transfer to the Brooklyn Academy of Music in New York from April 28 to June 5, 2011.

LIEV SCHREIBER the Tony Award-winning actor will deliver the Elizabethan Club's 20th annual Maynard Mack Lecture on Monday, January 31, at Yale University in New Haven, CT.

Schreiber graduated from the Yale School of Drama in 1992. He will join Yale Repertory Theatre artistic director and Yale School of Drama dean James Bundy for the discussion at the University Theatre. The Lectureship honors the late Maynard Mack, Sterling Professor of English at Yale, chair of the Department, and eminent scholar and critic of Shakespeare, Pope, and other literary figures. The event is free and open to the public. The private Elizabethan Club was founded in 1911 and is a meeting place to discuss literature and arts.

In celebration of the one-hundredth anniversary of its founding, the Elizabethan Club of Yale University is sponsoring a series of public lectures, concerts, and performances during the 2011 calendar year.

Life and Law in Early Modern England: Selections from the Elizabethan Club of Yale University and Yale Law School, curated by Justin Zaremby, is in progress having opened on January 28 and can be enjoyed through May 24 at the Yale Law School Library.

CONSENT a reading of a new play by Frank J. Avella as part of the Dramatists Guild Friday Night Footlights series.

Consent examines the many types of bullying certain teens face, both obvious and subtle. The work focuses on a troubled sixteen-year old trying to come to terms with his sexuality in the face of ridicule and prejudice. The play explores the responsibilities we all have to communicate with our youth and teach our children to celebrate their differences instead of denigrating them. Consent also warns against taking advantage of the trust teens place in the adults they look up to.

Featuring Matthew Crooks, Christine E. Dow, Liza Harris & Alexander Haynes. Friday, February 4 at The Dramatists Guild, Frederick Loewe Room, NYC.


OTHER PEOPLE'S MONEY


COMPOSER ANDREW LLOYD-WEBBER has sold his lavish wine collection, gaveled down by Sotheby's, in a Hong Kong auction last Saturday for $5.6m

Before the six hour event started, Serena Sutcliffe, Sotheby's worldwide head of wine, said: "It's a great collection and an obvious one for Hong Kong because there is a great love of French wines such as Bordeaux and Burgundy. It happens to be a category appreciated so much in this region." Among the 746 lots, the most expensive case of wine was a Chateau Petrus 1982, 12 bottles going for $77,564.


HAPPY BIRTHDAY TO . . . .


BRENT SPINER who celebrates his birthday on February 2.

He got his start on the New York stage appearing in The Three Musketeers and Stephen Sondheim's Sunday in the Park with George.

In 1997 Spiner returned to Broadway, playing the leading role of John Adams in the Roundabout Theatre Company revival of the musical 1776.

ANNE JEFFREYS who celebrated her 88th birthday on January 26. She starred on Broadway in the 1947 opera Street Scene, the 1948 Cole Porter musical Kiss Me, Kate replacing Patricia Morrison and the 1952 musical Three Wishes for Jamie.

ALICIA KEYS who celebrated her 30th birthday on January 25.

ALAN ALDA the five time Emmy Award winner celebrated his 75th birthday this past Friday. Currently a Visiting Professor at the Stony Brook University School of Journalism, in 1966 Alda starred in the musical The Apple Tree on Broadway and was nominated for the Tony Award as Best Actor in a Musical.

Alda starred in the original Broadway production of Art, which opened on March 1, 1998, at the Bernard B. Jacobs Theatre and won the Tony Award for best original play. Alda also had a part in the 2000 romantic comedy, What Women Want. In the spring of 2005, Alda starred as Shelly Levene in the Tony Award-winning Broadway revival of David Mamet's Glengarry Glen Ross, for which he received a Tony Award nomination for Best Featured Actor in a Play.


GET WELL SOON TO . . . .


BRET MICHAELS who is recovering from surgery last Monday at St. Joseph's Hospital and Medical Center in Phoenix to repair a hole in his heart. He was released from the hospital on Wednesday to continues his recovery at home. Dr. Mansour Assar, who performed the operation, issued the following statement: "Bret's procedure had excellent results. Because of the successful outcome and Bret's determination, I believe he will be able to return to normal activity within weeks."

Frankly, Broadway To Vegas is tired of constantly offering get well wishes to the Poison frontman and Celebrity Apprentice winner, who has had more than his share of medical problems. A burst appendix, brain hemorrhage and a stroke. Doctors discovered a hole in Michael's heart in April after he was treated for a brain hemorrhage. Medical people think the hole in his heart could have caused the stroke he suffered last year. Here's hoping this cures all his medical problems.

JIMMY BUFFET who took a header off a stage last week in Australia. He was rushed to a hospital where he was observed treated and released. However, Jimmy was scheduled to perform at the Auckland Viaduct on Te Wero Island this past Saturday night but cancelled the New Zealand show to allow himself time to recover from his injuries. Buffett has additional concert dates booked in the United States starting April 16th. He is also lined up to perform in this spring's New Orleans Jazz & Heritage Festival.

CHARLIE SHEEN 45, who was rushed by ambulance to Cedars-Sinai Medical Center last Thursday morning, suffering from what has been called "a hiatal hernia," exacerbated by an excess of everything. He has been released from the hospital and checked into rehab. Two and a Half Men, which was to have resumed shooting on Tuesday, has gone into hiatus.


IN THE COURTS . . .
BRUNO MARS the Grammy-nominated singer, last Friday accepted a plea deal over a felony cocaine possession charge. Mars will appear before a Las Vegas judge on February 4 to waive an evidentiary hearing and then pled guilty and be sentenced in state court. His defense lawyers David Chesnoff and Blair Berk said that if he pays a $2,000 fine, performs 200 hours of community service, completes drug counseling and stays out of trouble for a year, no conviction will remain on his record.

Mars is up for seven Grammy awards next week. His nominations include best male pop vocal for his hit, Just the Way You Are. He also co-wrote (Expletive) You and was featured on B.o.B's Nothin' on You which has been nominated for record of the year.

VINCE NEIL of Motley Crue fame, plead guilty last Wednesday in Las Vegas to driving drunk last summer near the Las Vegas Strip.

Las Vegas Justice of the Peace Pro Tem Gerry Zobrist accepted the plea and sentenced Neil to 15 days in the Clark County jail and 15 days on house arrest under terms of an agreed-upon deal that avoided a trial on a misdemeanor driving under the influence charge. Neil could have faced up to six months in jail if convicted.

The rocker was ordered to begin serving his sentence February 15, a week after his 50th birthday.

Neil was represented by lawyers, Richard Schonfeld and David Chesnoff, (busy, busy, busy - see Bruno Mars) He was also fined $585 and ordered to attend drunken driving abatement school and to view a victim impact video online.



DANGEROUS BEAUTY: THE MUSICAL with a book by Jeannine Dominy, lyrics by Amanda McBroom and music by Michele Brourman. Adapted from the New Regency screenplay The Honest Courtesan written by Jeannine Dominy, released as the film Dangerous Beauty and inspired by the scholarly book The Honest Courtesan by USC Professor Margaret Rosenthal.

Tony Award-nominee Sheryl Kaller directs a cast of twenty.

Based on a true story, Dangerous Beauty tells the tumultuous tale of Veronica Franco, a celebrated courtesan/poet of 16th century Venice. Forced to become a courtesan when her family fortune is lost, preventing her from marrying the man she loves, Veronica ultimately embraces the courtesan life because it affords her extraordinary education and access. It is not long before she is the most influential woman in the cultural and political life of her beloved city.

As Veronica's star rises, however, Venice is ravaged by war, plague, and the Inquisition. When Veronica finds herself on trial for witchcraft, she realizes that only her personal integrity can save her.

The cast is led by Jenny Powers as Veronica Franco, James Snyder as Marco, Bryce Ryness as Maffio, Laila Robins as Paola, Michael Rupert as Domenico, Megan McGinnis as Beatric, John Antony as Pietro, Morgan Weed as Giulia, Michael Baker as Bishop Della Torre, Joe Mandragona as Tintoretto, Nigel Columbus as Ramberti, Marcus Choi as Tron, Matthew Tyler as Grand Inquisitor, Irasole Cardona as Courtesan/Wife, Melissa Harding as Courtesan/Wife, Jessica Lee Keller as Courtesan/Wife/Dance Captain, Katherine Malak as Courtesan/Wife, Angela Wildflower Polk as Courtesan/Wife, Angel Reda as Courtesan/Wife, Jessica Vosk as Courtesan/Wife.

Joining the creative team with Kaller are Benoit-Swan Pouffer, choreography; Fred Lassen, music director; Bruce Coughlin, orchestrations; AnnMarie Milazzo, vocal design; Ben Butler, additional orchestrations; Tom Buderwitz, scenic design; Soyon An, costume design; Russell Champa, lighting design; Jon Weston, sound design; Brian Danner, fight director; and Joe Witt, production stage management.

Dangerous Beauty was selected for the 2004 West Coast ASCAP Workshop. In 2005, it was read at the Rubicon Theatre and had a workshop production at Vassar College's New York Stage and Film Powerhouse Theatre Season. In 2006, the production was part of the National Alliance of Musical Theatre's Festival of New Musicals and in 2007 it was chosen to be part of Northwestern University's American Musical Theatre Project. Performances at the Pasadena Playhouse February 1 – March 6, 2011 with the official press opening on February 13, 2011.

THE WHIPPING MAN a new play by Matthew Lopez, directed by Doug Hughes.

The cast includes André Braugher, André Holland and Jay Wilkison.

Three men tied by faith, bound by secrets, at a crossroads - a Jewish Confederate soldier (Wilkison) who has returned from battle, and two former slaves (Braugher and Holland), who were raised as Jews in his household. As the three men reunite to celebrate Passover, they uncover a tangle of secrets that might cost each man his freedom.

The creative team includes: John Lee Beatty (scenic design), Catherine Zuber (costume design), Ben Stanton (lighting design), Jill BC DuBoff (sound design), Tom Watson (hair & wig design), and J. David Brimmer (fight direction).

Manhattan Theatre Club's New York premiere officially opens Tuesday, February 1 at New York City Center – Stage I.

AMERICAN IDIOT welcomes Melissa Etheridge to the cast, for a week long gig, as the sinister drug dealer St. Jimmy beginning February 1 at the St. James Theater.

RICHARD SKIPPER AS "CAROL CHANNING" IN CONCERT receiving rave reviews from the critics. Richard as Carol can be enjoyed in an open ended run at St. Luke's Theatre, NYC on Mondays and Wednesdays. A special performance in honor of Carol Channing's 90th birthday takes place on Monday, January 31.

WICKED is back on its broomstick in Brisbane Australia. The massive flood caused the performances scheduled for Jan 13-23 to be postponed. However, parking is still a major problem.

"QPAC and other riverside car parks are still closed due to flooding. Brisbane Convention and Exhibition Centre (BCEC) will open their car parks for QPAC patrons. Patrons who have pre-purchased car parking vouchers can use them at BCEC car parks. BCEC Parks 1 and 2 only accept cash. Patrons who can, are encouraged to use public transport or car pool."

THE IMPORTANCE OF BEING EARNEST the Oscar Wilde comedy, directed by and starring Brian Bedford as Lady Bracknell, at the American Airlines Theatre in New York City is a rousing smash, with the Roundabout Theatre Company announcing a 17-week extension..

The Importance of Being Earnest cast also features Dana Ivey as Miss Prism, Paxton Whitehead as Rev. Canon Chasuble, Santino Fontana as Algernon Moncrieff, David Furr as John Worthing, Tim MacDonald as Merriman, Paul O'Brien as Lane, Charlotte Parry as Cecily Cardew and Sara Topham as Gwendolen Fairfax.

The design team includes Desmond Heeley (sets and costumes), Duane Schuler (lights) and Drew Levy (sound).

The limited engagement has been extended through July 3. It was originally scheduled to run through March 6.

THE CATHOLIC GIRL'S GUIDE TO LOSING YOUR VIRGINITY written by Annie Hendy. Directed by Gregg W. Brevoort. Starring Annie Hendy and Cyrus Alexander.

The Catholic Girl's Guide to Losing Your Virginity is billed as telling "the hilarious and invigorating story of Lizzy, a witty and soulful Midwestern girl blossoming in the big city of her dreams. Upon realizing her priest has a better sex life than she does, she decides to abandon the rules of her religion and is determined to lose her virginity before her impending 25th birthday. The only trouble is...with whom will it be?

February 2 - March 6, 2011 at the Falcon Theatre in Burbank, CA.


WHO'S WHERE


VIC DAMONE pulled off the impossible last week - coming out of a 10 year retirement following a health crisis - taking command of his voice, stage and the Kravis Center audience as though he was 50 years younger.

The West Palm Beach Dreyfoos Concert Hall at the Kravis seats 2,193 and the SRO crowd paid top dollar. Those in attendance included Damone's six grandchildren who had never before seen him perform on stage.

Backed by a 60-piece orchestra with Vic's famed conductor Richard Hayman and guitarist Don Demarco delivering an evening of American Songbook perfection punctuated by standing ovations. Hayman - who by the way turns 91 on March 27 - accompanied Damone on the harmonica while the crooner sang Ruby. The thunderous applause nearly took the roof off the place. A pat on the back has to be given to Hayman, the man who took what was considered to be just an ordinary theme for the motion picture Ruby Gentry, and, through his specially stylized arrangements, utilizing a harmonica as the solo instrument with a large, quasi-symphonic orchestra, turned it into a release that zoomed to the top of the charts all over the world. Ruby was also featured on the soundtrack of Barbara Streisand's film The Mirror Has Two Faces in a version recorded by Hayman, arranged and conducted by Marvin Hamlisch.

The Vic Damone performance at the Kravis will never be replicated.

The only complaint is that this performance should have been taped as a PBS special, which could have aired for 10 years during their pledge week drives, enabling the retirement of a couple of those long-in-the-tooth special pledge programs that we've all seen one too many times.

MONDAY NIGHT AT THE NATIONAL presents a variety of Washington vocal ensembles beginning January 31st. Free performances. Monday evenings. Limited seating. Tickets distributed 30 minutes before each show. One ticket per person in line. On Monday, January 31 its Three Boys' Night Out, presenting traditional and contemporary acoustic music: bluegrass, "old-time," and American folk songs of love and romance, tragedy and drama, inspiration and humor. Fred Nelson is on acoustic mandolin and guitar; Roger Williams on acoustic guitar; and Mike Ritter on acoustic bass. National Theatre in Washington, DC.

MICHAEL FEINSTEIN with the Los Angeles Philharmonic February 5, Walt Disney Concert Hall in Los Angeles.

THE MAX WEINBERG BIG BAND performs Wednesday, February 2 at The Kent Stage in Kent, Ohio. On Friday the show, with a swinging repertoire drawing on Count Basie, Frank Sinatra and even the Beatles and The Boss himself,. is at the Carolina Theatre in Durham, NC.

JOHN PIZZARELLI opens a four nighter Monday, January 21, at the Robinson Theatre in Jacksonville, FL. On Saturday he's on stage at the Van Wezel Performing Arts Gall in Sarasota, FL.

REBA McENTIRE AND GEORGE STRAIT with Lee Ann Womack opening the bill, perform on Friday February 4, at the Save Mart Center in Fresno, CA. On Saturday they are at the MGM Grand in Las Vegas.

BROOKE SHIELDS the nightclub debut of film, television and stage star takes place from February 1 - 12 at Feinstein's at Loews Regency in NYC. In her show In My Life, the lovely lady will share stories from her incredible journey in show business in an evening that will include songs from Broadway, pop and beyond.

NORM CROSBY known as The Master of the Malaprop will be telling funny stories February 4-5 at The Orleans Hotel in Las Vegas.




FINAL OVATION


JAY GARNER who created the role of the side-steppin' governor in The Best Little Whorehouse in Texas and the bigoted politician Dindon in the original La Cage aux Folles, both on Broadway, died in New York City of respiratory failure resulting from pneumonia on January 21, 2011. He was 82.

In 1971, Garner replaced Howard Da Silva as Benjamin Franklin in the Tony Award-winning 1776. He would go on to play the role in regional theater productions throughout the U.S. until the late 1990s.

Following La Cage Garner took over the role of Sir John Tremayne in Me and My Girl. He also played Ben, the gardener, in the first national tour of The Secret Garden in the early 1990s.

Garner also appeared in Broadway's Goodtime Charley, Captain Brassbound's Conversion and Beggar on Horseback. He last appeared on Broadway as Horace Vandergelder opposite Carol Channing in the 1995 revival of Hello, Dolly!.

An only child, he leaves no immediate family.

CHARLIE CALLAS the comedian noted for his work with Mel Brooks, Jerry Lewis and Dean Martin died in Las Vegas on January 27, 2011. He was 86.

Callas performed as the opening act for Frank Sinatra in Las Vegas and New York.

He was also known for his many talk show appearances and his role as Malcolm Argos, the restaurant owner of Eddie Albert's and Robert Wagner' characters on Switch. Callas was preceded in death by his wife Evelyn, and is survived by two sons Larry and Mark.

BRUCE GORDON stage, television and film actor died Thursday, January 20, two weeks shy of his 95th birthday. He was best known for playing mob boss Frank Nitti on The Untouchables.

He made his Broadway debut in 1937, playing several small roles in The Fireman's Flame, a musical melodrama about Old New York's rival volunteer fire companies. Gordon played alongside Boris Karloff in the original cast of Arsenic and Old Lace on Broadway from 1941 to 1945.

His other Broadway credits include Medea (1949), Richard II (1951); the original American production of The Lark (1955 ), and Nowhere to Go But Up, a short-lived 1962 musical about Prohibition-era federal agents.

Funeral home reports indicate that at the time of his death, he lived in Santa Fe, New Mexico with his wife Marla.

GENNIE MCILVAINE one of the first women executives on the Las Vegas Strip, working as publicity and advertising director at the Desert Inn and the Tropicana hotel, died December 14, 2010. She was 67.

One of the nicest people you'd ever know, she was the ex-wife of the late media personality Red McIlvaine. During their lengthy marriage she was an integral part of his radio and TV shows. Together in the 1980's they wrote and published, How to Love Living in Las Vegas, selling 100,000 copies, along with Your LV Connection newsletter. She designed and wrote many political campaign pieces, was marketing director at the Horseshoe Casino and public information officer for the City of Las Vegas in 1987. Services were private.

FRANK H. LIEBERMAN journalist turned Las Vegas public relations man died Saturday, January 22, 2011 in Las Vegas. He suffered from several health issues and was 68. (For Frank Lieberman Obit Commentary click here )








Next Column: February 7, 2011
Copyright: January 30, 2011. All Rights Reserved. Reviews, Interviews, Commentary, Photographs or Graphics from any Broadway To Vegas (TM) columns may not be published, broadcast, rewritten, utilized as leads, or used in any manner without permission, compensation and/or credit.
Link to Main Page
---
Laura Deni



For the snail mail address, please E-mail your request.
CLICK HERE FOR COMMENT SECTION