! >
Broadway To Vegas
  
 SHOW REVIEWS CELEBRITY INTERVIEWS GOSSIP NEWS

| | |
| --- | --- |
| | |
CELINE DION THROWS $50,000 BIRTHDAY PARTY - - HAIRSPRAY TO OPEN IN LAS VEGAS - - SNIFFING AROUND THE CASTING DIRECTOR - - PHANTOM OF THE OPERA SETS RECORD - - BEVERLY SILLS, JOANNE WOODWARD, ROB FISHER RESIGN - - RED BALL GALA - - THE NEW YORK MUSICAL THEATRE FESTIVAL RECEIVES GRANT - - BLUE MAN GROUP TO OPEN NEW SHOWS - - DONATE . . . Scroll Down


CELINE DION DRINKS WARM PEPSI AND THROWS $50,000 BIRTHDAY PARTY


The sign outside the ice-skating rink at the Fiesta Hotel in Las Vegas said "no skating today."

That was because somebody had rented out the entire rink for a party. That somebody was Celine Dion.

On Tuesday, January 25, the singer threw a $50,000 bowling/ice-skating birthday party for her son, Rene-Charles Angelil, who turned four years old.

By noon multi-colored helium balloons were placed around the ice-skating rink. Waiters in white jackets arranged serving carts which would hold enough hot dogs and gourmet appetizers to feed a small village.

First the birthday bunch gathered at the Texas Stations Hotel to bowl. At 3:00 p.m. they were scheduled to cross the street for the ice skating segment, cake cutting and dinner party.

Fortunately, they were late.

That permitted the catering department added time to locate that special cake knife and allow the Pepsi to get warm.

At about 2:45 p.m. an irritated catering person carrying two six packs of Pepsi wasn't pleased that they were ice cold.

"Celine only drinks warm Pepsi. These were cold. Hours ago I put these in hot water to get them warm. Somebody put them back in ice and now they are cold again. Even if I put them in hot water now, do you know how long it will take to get the soda warm and Celine is due here in fifteen minutes," came the exasperated comment from a person muttering to a wall.

Thirty minutes later executives scurried, looking for "a special cake knife. It has to be an extra special knife," said the person to no one in particular.

"We want to make a good impression! We want everything perfect! We want them to come back!"

Fortunately, the knife was located and no wrists were slit.

Just in case an uninvited attempted to transgress, two hotel security guards quietly took their places outside the ice arena. Heavy curtains surrounding the ice arena were closed.

In other parts of the hotel people with briefcases talked about their business meetings and retired Navy personnel were setting up for their own function. Gamblers, diners, and those attending various meetings, didn't pick up on the increased tension level.

White, stretch limos pulled up. A phalanx of private security took control of the ice rink. The lady who stars at Caesars Palace had arrived. The Subway and TCBY next to the ice rink kept serving as usual.

Inside the birthday party expert skaters dressed as Superman and Coolio - the animated children's character - delighted tots on ice. Parents jabbered and Celine communicated mostly in French.

The Coolio decorated birthday cake was so massive it required two banquet tables and the "extra special knife" hit the mark.

Rene-Charles Angelil had a very happy birthday.


SNIFFING AROUND THE CASTING COUCH


Preened, well groomed. They wiggled their rear ends, groveled, begged. When the casting director used that old ploy of offering an aspiring star food, some were willing to climb on top of him.

Those who made the first cut - that would be a dishwater blonde with a cute nose and another with a more street wise look - advanced to the next level. As many starlets have discovered, that can mean moving in with the casting director.

Just your usual casting call.

Only this time those in the cattle call were canines. The goal was to get a job on Broadway - as a cast member of Chitty Chitty Bang Bang.

The Broadway show invited dogs from animal shelters across the city to an open casting call January 21 at the Hilton New York. Twenty dogs tried out for three spots.

Bill Berloni, who has trained dogs for more than a dozen Broadway shows and discovered the original Sandy for Annie, auditioned the would-be canine stars. He had already cast five dogs for the show, all found in shelters, and he was looking for three more for the mutt mob scene, in which the pups race into the candy factory and swarm Kenneth Kantor, an actor who has appeared in nine productions on Broadway. This was his first encounter with needing to relate to a warm snout.

It may be a short one scene walk on but the tail waggers get billing and the food is good. The hours are short and the retirement plan is fabulous. And - depending upon the four footer's previous living condition - it could get you off death row.

Two formerly homeless dogs - Argyle and Fred - made it past the first hurdle.

"Those two dogs, Fred and Argyle, are potentials for Chitty Chitty Bang Bang, stressed Sandra DeFeo, the co-executive director of the Humane Society of New York who spoke with Broadway To Vegas about dogs in show business. "They are not necessarily going to be in the production."

Did they get the equivalent of a callback?

"Exactly," she replied. "Like any other Broadway star, they have a callback," said DeFeo countering other published reports that the two canines had a lock on the parts.



Reid Shelton, Andrea McArdle and Sandy in the original Broadway production of Annie The original Sandy did 2,333 performances.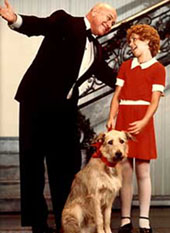 The omnipotent casting director, famed animal trainer Berloni, is also director of animal behavior and training for the NY-ASPCA

Berloni who has a NFA in theatre, began his animal training career in 1976 by rescuing a dog from an animal shelter. That dog was the original Sandy in the Broadway musical Annie who performed for seven years — the longest for any animal in Broadway history. Sandy was the first animal to play a major character in theatre whose actions influenced the outcome of the story. Before that, no one had been able to train an animal in that capacity for live theatre. That breakthrough led to Berloni's continuing success as Broadway's premiere animal trainer. Since that time, he and his trainers have provided animals for hundreds of films, commercials, television shows and printwork as well as theatre all around North America.

"He saw a collie that he needed, named Argyle, and the mixed breed, Fred, is the young puppy, continued DeFeo about the Chitty Chitty casting call.

"When he finds a dog that he thinks will be good for the part and he adopts it from a shelter. It becomes his dog and then it is in the production," DeFeo explained about the process.

"The production doesn't contact the shelter. The production contacts Phil Berloni. He is the one to determine if a dog is going to be in a show with him or not - or be his dog or not," she explained.

For the soon to open Broadway production of Chitty Chitty, Bang Bang, DeFeo reported that Berloni needed dogs "with a certain look - a turn of the century type looking dog."

"Then there is the second stage," she added. "The key thing is that they all get along, because they will all live together and work together for - hopefully - a long time. In this production it is a large group of dogs - eight dogs - so they all have to be friendly and work together."

That many dogs is unprecedented for a Broadway show. The record for number of dogs on stage is The Will Rogers Follies, with six.

Prior to the New York audition, Berloni had already cast Bart, Harriet, Patches, Barney and Lady Guinevere - chosen by him from different animal shelters. "Argyle, a 10-month old collie, was resumed from a locked basement in the Bronx. Fred, an eight-month old foxhound mix, was brought to the American Society for the Prevention of Cruelty to Animals after his owner dumped him," said DeFeo.

"Harriet was a found dog," she reported. "She was found in Prospect Park by somebody and they brought the dog here. We completely vet her. She has to be spayed, vaccinated. We have a hospital that is open seven days a week."

"We named her Harriet a couple of years ago. So, we have had her a year-and-a-half or two years. Bill adopted Harriet from us. There was another one, Lady Guinevere, who came with that name and came from somebody who didn't have time to properly care for her."

"Argyle was in a basement and came from a rescue group Herding Dog Rescue. All of the dogs that came to the audition were brought to us through either a breed rescue group or a shelter in NYC. There were a lot of breed rescues because he was specifically looking for a collie."

"A lot of time animal abuse is a benign neglect," DeFeo continued. "In other words, they get the dog and then they can't care for it. That's why we don't get upset if somebody brings us an animal they no longer want, because they are doing the right thing. If they don't have time for the dog, then they thought about it and they decided to bring it to a shelter."

During the adoption process the shelter takes pride in match making.

"We are going to make sure when we interview adoption prospects - and sometimes I get criticized for that - but we really don't care. We are very strict about our adoptions and our interview process," she emphasized. "We want to make sure you have the time and the money and that this is going to be the right situation for this dog. We want to make sure the people in the home have the time and the financial means, because some dogs are very expensive to maintain."

"So far two dogs from this shelter are in the show - Harriet and Lady Guinevere."

Once the dog gets their paw print on the contract, life becomes a bowl of dog biscuits.

Beginning in March the dogs will live with Berloni in a Brooklyn apartment.

"Bill Berloni is our director of animal behavior and training so there is no one more strict about animal care than Bill Berloni," she emphasized. "He knows all of the rules. He is the rules and he is always watching out for the animals. If he is in a production and someone else has an animal in the show, he's going to let them know if that animal needs better care."

"I've got to tell you that the American Humane Association goes to films and they are there while they are shooting, if they aren't also there before and after," stressed DeFeo.

"Bill lives with these dogs, so they are completely taken care of - like 24/7. It's a whole different vibe. He devotes 100 percent to taking care of these dogs."

When the curtain drops, the theatrical canine old dog home is the farm home of William Berloni Theatrical Animals Inc., where Berloni and his wife live with 15 dogs, three cats, three horses, two llamas, a donkey and a pony.

"For certain dogs, being in show business is fun for them," speculated DeFeo.

For instance, who wouldn't want to be cuddled in the arms of Bernadette Peters. During the revival of Gypsy at the Shubert Theater, a two pound poodle named Coco, who took the stage name of Chowsie for the production, was easily tossed into the arms of co-star of Peters, who is an ardent animal lover.

Coco shared the spotlight with an animal colleague, a pure white lamb. Both animals shared a dressing room constructed especially for them below the stage.

Coco was discovered after an Internet search by Berloni. He trained the 5-month-old dog not to be upset or frightened by all the people, and of course, by the applause. Berloni has also trained a sheep dog for a revival of Camelot, and Asta, a wire-haired terrier in Nick and Nora, a musical based on The Thin Man.

Like other actors, some animals are cast for touring companies. For instance, Blanca, a tail wagging star of Oliver. Blanca has traveled more than 45,000 miles to over 45 cities.



Blanca starred in Oliver. She had massages and a make-up person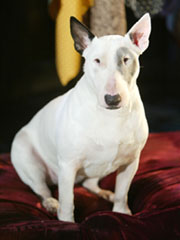 The producer of Olivier came to Berloni explaining that the show had 17 children and would be traveling to between 50 and 75 cities. They needed a bull terrier in the show. There were also numerous safety issues. During the talent search, Berloni found Blanca in an Indiana shelter frightened, unsocialized and depressed. She had been rescued and taken to an Indianapolis shelter after being found tied up in a garage for two years.

Rescued by Berloni who made her a star.

When a company tours, Berloni finds a handler to accompany the dog. For Blanca, it was Guy Wegener, understudy for villain Bill Sikes and on-the-road handler. Blanca however did not have an understudy. If she couldn't go on, her character, Bullseye, was written out of the script for that performance. With a better track record that many human actors, Blanca only missed three performances.

Even though she had no understudy, she still received full star treatment including a dressing room, massages and even stage makeup. Blanca's trademark black circle was painted around her left eye for every show. And before the first performance in every city, Guy Wegener took her on a grand tour of the new venue permitting her meet the new house staff. At the curtain call, she took her bows alongside the full cast.



Moose on Frasier.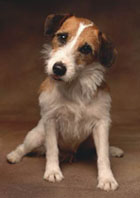 Canines also are scene stealers on television and in Las Vegas. Almost as many people tuned in Frasier to enjoy Moose, as they did the famous actors.

In Las Vegas, one of our favorite performers, Rita Rudner (see Broadway To Vegas column of June 11, 2000) is the star of her own long running show at New York- New York. Rita, who appeared in six Broadway shows before turning stand up, includes her dog Bonkers in the act. The pooch comes on stage and sings Happy Birthday to members of the audience. This isn't Bonkers first Las Vegas gig.

He was in a high jumper in a dog show at the Excalibur Hotel. "Then he got hit by a car which ended his career at a very early age. They were going to get rid of him and I saved him," said Rita whose only complaint is that "the dog gets more fan mail than I do."

The ASPCA and animal rescue groups hope that those enjoying performances, which feature animals from shelters, will be inspired to adopt. Chitty Chitty Bang Bang, about a flying car and its inventor, begins previews at Broadway's Hilton Theatre on March 27 and officially opens on April 28.



Broadway To Vegas is supported through advertising and donations. Priority consideration is given to interview suggestions, news, press releases, etc from paid supporters. However, no paid supporters control, alter, edit, or in any way manipulate the content of this site. Your donation is appreciated. We accept PAYPAL. Thank you for your interest.

PHANTOM OF THE OPERA which won seven Tony Awards, including Best Musical, in 1988 and became the second longest-running show in Broadway history in 2003 when it surpassed the 6,680 performance run of Les Miserables. The Andrew Lloyd Webber musical played its 7,089th performance last Wednesday becoming one of only two productions in Broadway history, along with Cats, to reach that milestone. Productions worldwide have grossed more than $3.2 billion and have been seen by more than 100 million theatergoers. In New York the show has been seen by more than 10 million and grossed over $560 million.


SPREADING THE WORD


TWO TRAINS RUNNING by two-time Pulitzer Prize-winner August Wilson, directed by Lou Bellamy currently being staged through February 13 at the Kansas City Repertory Theatre is holding a series of discussions The scholars forum featuring Clyde Ruffin, Professor of Theatre at the University of Missouri, Columbia takes place prior to the matinee on February 5. The Actors' Forum where the visits with the actors and discover more about them, the process of acting and life "on the boards." occurs on February 6.

ESCAPE: 6 WAYS TO GET AWAY will have Sandra Bernhard join the ensemble cast in a benefit reading of new one-act plays. January 31 at the Circle in the Square Theater in New York City.


SWEET CHARITY


EIGHTH ANNUAL RED BALL billed as The Year's Most Romantic Evening, at the Pierre Hotel in NYC on Monday, February 7th.

Broadway and film producer Marty Richards established this event in 1995 as a loving tribute to his late wife, Mary Lea Johnson. This year the honorees are Richard Gere and Carey Lowell.

Honorary Chairs: Elaine Johnson Wold and Catherine Zeta-Jones. Benefit Chair: Marty Richards.

Proceeds from this evening benefit The Mary Lea Johnson Richards Organ Transplantation Center at New York University and The Children's Advocacy Center of Manhattan.


SILLS, WOODWARD and FISHER MOVE ON


BEVERLY SILLS

Beverly Sills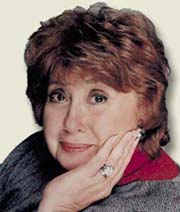 the lady with the great voice, red hair and low cut dresses announced on January 25 that she had resigned from her volunteer post as chairman of The Metropolitan Opera for family and personal reasons effective immediately.

Joseph Volpe, general manager of The Metropolitan Opera, said, "Beverly Sills has been a dear friend of mine and of The Metropolitan Opera, so I am deeply saddened by her decision. I understand however that the poor health of her husband, Peter Greenough, and her own recent fall, which resulted in a fractured knee, made this decision necessary. Her achievements at The Met have been considerable. Her relationships and her leadership in the 'Save the Met Broadcasts Campaign' have raised millions of dollars for the company and the broadcasts. She also played a major role in the search committee set up to find my successor. I know that the strength of her spirit and her unfailing sense of humor even when things get rough will help her through the present difficulties. She's earned the gratitude and respect of all of us, and I am sure I speak for everyone at The Met in wishing her the best."

ROB FISHER the longtime music director of the New York Encores! concert series at City Center, has handed in his resignation. He is leaving to pursue other projects, according to a letter sent to subscribers. Arlene Shuler, president and chief executive of City Center, said Mr. Fisher would leave at the end of the 2005 season, which begins February 10-12 with the stagings of A Tree Grows in Brooklyn, followed by Purlie and The Apple Tree. Fisher has been responsible for the look and sound of Encores! productions since the series began in 1992.

JOANNE WOODWARD

Joanne Woodward. Photo: Westport Country Playhouse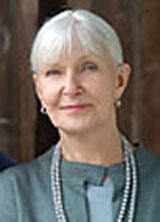 announced on January 26 that she will resign as artistic director of the Westport Country Playhouse at the end of this year to become artistic director emeritus. She has served as artistic director since 2001 and will remain throughout the 2005 season.

Ms. Woodward made the announcement now to immediately set in motion a smooth succession plan. The search for a new artistic director will be led by the Playhouse board of directors, coordinated by Management Consultants for the Arts of Cos Cob, a firm which has conducted over 40 comparable searches for artistic leadership for many of our nation's professional theatres. Ms. Woodward's successor will begin on January 1, 2006.

"I'm the same age as the Playhouse. It got a renovation, but there's not much they can do for me," she quipped. Ms. Woodward and the Playhouse will celebrate 75 years of existence in 2005. She added, "This seems like the right moment in my life, and in the theatre's, to adjust my role at the Playhouse, since we'll soon be in a beautiful new space and will become a year-round enterprise."

John Vaccaro, president of the Connecticut Theatre Foundation board of directors which operates the Playhouse, said, "Joanne made a significant artistic mark on the Playhouse and brought it national focus. She also offered expert input on the quality of the newly renovated performance space."

As artistic director emeritus, Ms. Woodward will remain involved with the historic theatre as a member of the board of directors, with special interest in an area dear to her heart, strategic educational initiatives.

"I was happy to be there in the beginning, and I'm looking forward to passing the baton while continuing to play a role in this wonderful place," she said.


OTHER PEOPLE'S MONEY


THE NEW YORK MUSICAL THEATER FESTIVAL has received a $100,000 grant from Jujamcyn, the Broadway theater owner. The prize, awarded annually by Jujamcyn, is given to a group displaying an "outstanding contribution to the development of creative talent for the theater."

The New York Musical Theatre Festival burst on to the scene in September 2004, with the largest musical theatre event in US history. With the center-piece of the festival being 31 new musicals presented in six buzzing midtown venues, the Festival also included a staggering 141 events across 26 venues, 46 concerts, 332 performances, 7 seminars, 39 movies and almost 1000 performers and musicians.

Several musicals staged during that festival have since been optioned by commercial producers. Its second festival begins in September.



HAIRSPRAY will bring the teased-hair laugh getter into Las Vegas with a $12 million dollar production. The cut down 90-minute intermissionless show will be mounted in a remodeled theatre at the Luxor Hotel. The production, with tickets going for $65-$85, is set to open in November.

Currently calling the Luxor home is the inventive and entertaining Blue Man Group. They announced months ago that they had signed a new contract with the Venetian Hotel where they open October 5 in a 1750-seat custom built theatre. Their last performance at the Luxor will be September 15.

Blue Man Group will also be opening a new production in Toronto, Canada in June of 2005. The show will be at the New Yorker Theatre, which is located in the heart of Toronto's off-Broadway.

THE MEMBER OF THE WEDDING by Carson McCullers. Directed Marshall W. Mason.

Based on the classic novel, The Member of the Wedding was born out of the poignant loneliness of adolescence, and the strange bond between black and white in the American South of the 1940s. McCullers' coming of age story explores the life of an introspective white southern girl, twelve-year-old Frankie Addams, who suffers from overwhelming loneliness, uncertainty and despair. Her strongest ally is the family's African American maid, Berenice Sadie Brown, who must deal with her own life - and Frankie's - in a racially charged environment. The Broadway version starred Ethel Waters and Julie Harris, who both later appeared in the film version that immortalized the drama and the spiritual His Eye is on the Sparrow.

February 4 through February 27 at Ford's Theatre in Washington, D.C.

THE SWEETEST SWING IN BASEBALL by Rebecca Gilman. Directed by Amy Glazer. An American premier from Pulitzer Prize-nominated author Rebecca Gilman.

The toast of the art world, top artist Dana finds herself in a psychiatric ward after her latest exhibition bombs. It might be the safest place for her but her insurance will only pay for ten days. As unlikely friendships and strange alliances develop, Dana draws on the inspiration of American baseball star Darryl Strawberry - he had the sweetest swing. Previews began January 22. Officially opens January 29 with performances through February 20 at The Magic Theatre in San Francisco.

HURLYBURLY revival of the David Rabe play in a newly-revised script. A look at the addled lives of four Los Angeles men caught in love/hate relationships with Hollywood women. Starring Bobby Cannavale, Josh Hamilton, Ethan Hawke, Parker Posey and Wallace Shawn.

The play, which is 130 pages long, is described as "a brutally comic reflection on the 1980s, a decade of decadence in the cocaine-and sex-infused Hollywood hills." Officially opened to rave reviews January 27 at Theater at St. Luke's in NYC.

THE WOMAN IN BLACK A GHOST STORY

Photo from the London production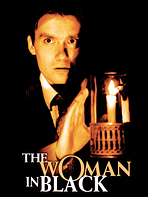 A spine chilling thriller - the second longest running play in London!

Written by Stephen Mallatratt from the novel by Susan Hill. This season's Winter Thriller is a hauntingly eerie, creepy story of a solicitor who has been sent to wind up the affairs of the deceased Mrs. Alice Drablow. Unaware of the tragic secrets which lie hidden behind the shuttered windows of Eel Marsh House, it is not until he glimpses a wasted young woman, dressed all in black, at the funeral, that a creeping sense of unease begins to take hold, a feeling deepened by the reluctance of the locals to talk of the woman in black - and her terrible purpose. Years later, as an old man, he recounts his experiences to an actor in a desperate attempt to exorcise the ghosts of the past. The play unfolds around the conversations of these two characters as they act out the solicitor's experiences on Eel Marsh all those years ago. And what of the Woman in Black? Scary!

The cast includes; Mark Anders, Deborah Fialkow, David Pichette.

Previews begin February 4. Officially opens February 9 with performances through March 6. In the Allen Theatre of the ACT in Seattle, Washington.

In London the production has expanded ticket sales by four months, from May 2 to September 3 at the Fortune Theatre. The production first opened at the Stephen Joseph Theatre in Scarborough in 1987 transferred to the Fortune Theatre on June 7, 1989. The London play currently features Brian Miller & William Rycroft and is directed by Robin Herford, designed by Michael Holt with lighting by Kevin Sleep.



WHO'S WHERE


JOSH GROBAN AND CHRIS BOTTI a powerhouse two-some perform Friday February 4 at the RBC Center in Raleigh, NC.

JANE KRAKOWSKI the sultry Tony-Award winner is making her sizzling solo concert debut, Better When It's Banned: A Sinful Songbook. Part of Lincoln Center's American Songbook series. Tuesday February 1, at The Allen Room in Lincoln Center, NYC.

JOHNNY MATHIS performing Monday, January 31, at the Van Wezel Performing Arts Hall in Sarasota, FL.

K .D. LANG performs Wednesday, February 2 at the Convention Center in Hong Kong, China. On Friday the performance takes place at The Esplanade in Singapore.

BRIAN STOKES MITCHELL performing February 1st – 19th at Feinstein's at the Regency in NYC. A Special Valentine's Day show on Monday, February 14th.

PETER CINCOTTI on stage Wednesday, February 2 at the American Music Theatre in Lancaster, PA.

JOAN RIVERS whose biting, cutting-edge humor has paved the way for many other comediennes is stepping off the red carpet and onto the stage and asking, "Can we talk?" February 4 at the Palace Theatre in Stamford, CT.

TOM WOPAT on stage Tuesday, February 1 at Kuss Auditorium at Clark St. College in Springfield, Ohio. On Wednesday he's in the spotlight at the Orr Auditorium in New Wilmington, PA. Thursday finds him at the High School in Bradford, PA. Friday he performs at the Grand Opera House in Wilmington, DE. On Saturday the artist entertains at Staller Center in Stony Brook, NY. Next Sunday he'll be delighting the crowds at the Performing Arts Center in Purchase, NY.

CHER AND THE VILLAGE PEOPLE in the spotlight Monday, January 31 at the Delta Center in Salt Lake City. On Wednesday the action shifts to the World Arena in Colorado Springs, Colorado. Friday finds the performers at the Kay Yeager Coliseum in Wichita Falls, Texas and on Saturday they can be enjoyed at the Century Tel Center in Bossier City, LA.

JOSE FELICIANO performs Thursday, February 3 at the Fox Theatre in Redwood City, CA. On Friday he brings his talents to the Cerritos Center in Cerritos, CA.


PIFFLE AND PROFUNDITIES


SUPER BOWL FACTS It would take over 289,000 Brach's Malts to equal the weight of Super Bowl Champion New England Patriots Defensive team.
















Next Column: February 6, 2005
Copyright: January 30, 2005. All Rights Reserved. Reviews, Interviews, Commentary, Photographs or Graphics from any Broadway To Vegas (TM) columns may not be published, broadcast, rewritten, utilized as leads, or used in any manner without permission, compensation and/or credit.
Link to Main Page
---
Laura Deni


CLICK HERE FOR COMMENT SECTION