! >
Broadway To Vegas
  SHOW REVIEWS     CELEBRITY INTERVIEWS     GOSSIP     NEWS 
WAYNE NEWTON OPENS; ERNEST BORGNINE BIRTHDAY BOY
WAYNE NEWTON Photo By; Laura Deni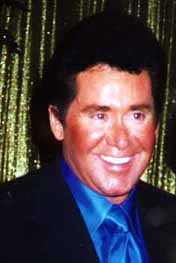 Wayne Newton spent 1999 trying to perform while suffering from walking pneumonia. (See Broadway To Vegas column of Nov. 21, 1999) He admitted that the illness strained his voice.

The Midnight Idol has been in the business since he was a teenager and enjoys a rabid following relished by few performers. He has an engaging personality, uses the best musicians - directed by Greg Macaluso - and back-up singers he can sign on a dotted line and then gives it his all.

The fact that he now talks his way through most songs didn't bother the blue ribbon packed house that attended last Monday's opening night at the Stardust Hotel, Las Vegas.

Some things stay the same - Wayne's dramatic entry through a space ship, the patter with ringsiders, accepting flowers and kissing the ladies, playing the piano and a variety of instruments - minus horns. He's also dropped most songs that would require vocal strength. Pneumonia has taken its toll on Newton, who has also lost a lot of weight, but never looked better.



WAYNE NEWTON has lost weight and never looked better. Photo By; Laura Deni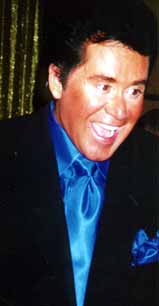 His personality is of showmanship quality. The part Indian performer, who tends to perspire, termed it "my Cherokee drip." He pretended to be exasperated when a fan requested Danke Schoen. Before singing the number Newton explained that the 1963 hit had been used in 17 motion pictures. The audience howled when he divulged that Matthew Broderick lip-synched it in Ferris Bueller's Day Off. He added that he always breaks up watching the movie Family Business in which Sean Connery - while in a bathtub - sings another of his hits, Red Roses for a Blue Lady.

Newton effectively utilizes his backup singers; Jeff Brandt, Paula Harbin, Sasha Simms and Genevi Bakeli. He offers a strong duet on Endless Love with Simms and spotlights Brandt, who is a skilled singing impressionist.

The man known as Mr. Las Vegas closed his show by talking his way through MacArthur Park complete with fog and fireworks.

Newton introduced Ernest Borgnine who had jumped into his car and driven by himself to Las Vegas from Los Angeles, to celebrate his 83rd birthday by attending Newton's show. Newton led the crowd in singing Happy Birthday to the Hamden, Connecticut born actor whose title role portrayal in Marty earned him an Academy Award.



ERNEST BORGNINE celebrated his 83rd birthday by attending Wayne Newton's show at the Stardust Hotel, Las Vegas. Photo By: Laura Deni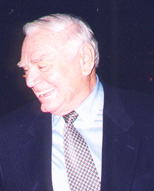 After the curtain went down it took Borgnine almost 30 minutes to leave the showroom. He was mobbed by Newton fans who asked the actor to autograph their Newton ticket stubs. The gracious actor obliged explaining "When you stop being nice to your fans, you are no longer a star."

In the Stardust casino Borgnine was again mobbed by not only employees but gamblers who left their slot machines and table games to shake Borgnine's hand and request his autograph. In a rather unauthorized move, Borgnine acknowledged the greetings from the casino dealers by walking into the pit area to shake the outstretched hands and even used the roulette table as a base for autograph signing.



BORGNINE USES A ROULETTE TABLE TO SIGN AN AUTOGRAPH FOR THE DEALER Photo By: Laura Deni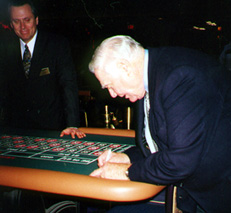 He skipped Newton's post show party because he was driving back to LaLaLand.

Also in the Newton audience and staying on to have a grand time at the post show party were Clint Holmes, who is enjoying his own successful show at Harrah's Hotel.

Jim Stafford flew in from Branson, Mo for his friend's opening night, before racing back to Branson where he is set to open Feb. 9.



CLINT HOLMES enjoyed Newton's post show party Photo By: Laura Deni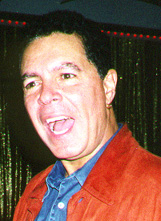 Breck Wall looked over the impressive dessert selection as he told us about the rave reviews his new production Passions is receiving at Lake Tahoe.

Newton's wife was present as was Newton's daughter, Erin, who was celebrating her birthday. Newton is back in the recording studio finishing up Wayne Newton and Friends which includes Peabo Bryson, the Dixie Chicks, and Ray Charles. Newton would like to add Ricky Martin to the list, cutting a duet with the teen heart throb.

Other celebs that turned out for Newton's show were Lance Burton who stars at the Monte Carlo Hotel and impressionist Bill Acosta, who stars at the Luxor Hotel.


ELVIS' DRUGS DO A ROAD SHOW WHILE VEGAS NEEDS ELVIS IMPERSONATORS

Dr. George Nichopoulos, who was accused and then exonerated of improperly prescribing drugs for Elvis Presley, has hit the road with what is billed as a traveling Elvis drug exhibit.



ELVIS PRESLEY his drug bottles go on display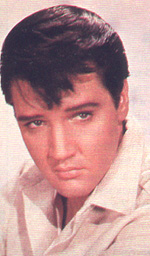 First stop is at the Hollywood Casino in Tunica, Miss. where Elvis fans and those that enjoy the morbid can eyeball - among other things - 13 medicine bottles, including one for a powerful pain killer Elvis consumed in the months prior to his death.

The Presley Estate called the exhibit "tacky, tasteless and unfortunate."

For what tacky is really meant to be - come to Las Vegas. A new movie 3000 Miles to Memphis, starring Kurt Russell and Kevin Costner, needs 200 Elvis impersonators. All wannabe Elvis copy cats must have the appropriate outfits and vocals.

Any version of The King - from sex god slim to the over-the-hill parody of himself - is hunka hunka okay.

The movie has a tentative start date of March 1. Any Elvis impersonator who wants to apply as an extra should contact Lear Entertainment (702) 385-9000, ext 17.


RUBY MAZUR INVADES VEGAS
Ruby Mazur of The Rolling Stones Mouth & Tongue logo fame has left New York for Las Vegas. The artist whose works have graced everything album covers to cigar bands is opening Star City Galleries - a celebrity art gallery - which will be located in the Desert Passage Mall in the new Aladdin Hotel.



RUBY MAZUR's art work has appeared on everything from record albums to this cigar band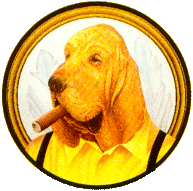 Although the gallery isn't set to open until the first week of August rounding up the celebrities and their artistic creations takes months of preparation. Mazur provided us with a partial list of celebrities whose paintings will be exhibited.

Tony Bennett, David Bowie, Pierce Bronson, Jon Mellancamp, Anthony Quinn, Paul McCartney, Tico Torres, Carly Simon, Peter Falk, Joni Mitchell, Tony Curtis, Billy D. Williams, Ronnie Woods, Christie Brinkley, Johnny Cash, Donna Summer, Gene Hackman, Jack Palance, Sharon Stone, Jane Seymore, Jon Entwistle, John Lennon, Diana Ross, Frank Sinatra, Sylvester Stallone and Graham Nash.

"To celebrate the opening of the gallery there will be a group show consisting of myself, Tico Torres, Peter Falk and Pierce Bronson," said Mazur. "At the opening evening these celebrities will be there. Their original paintings will be for sale as well as signed and numbered lithographs. The lithos will be very affordable for the public to purchase. The lithos will range in price form $1,500 to $7,500," Mazur continued.

"Every month there will be another opening with a different celebrity's work," added the artist.

As for Mazur, he's known the world over for his legendary mouth and tongue logo used on The Rolling Stones' Tumbling Dice record sleeve. At the age of 21, the Brooklyn born artist was hired as Art Director of Paramount Records, and within that first year he received a Grammy award nomination for his design on the Crowfoot album.

Innovative and influential, his outrageous and trendsetting designs have graced over 3,000 various album covers for the likes of Elton John, Billy Joel, Ray Charles, Sarah Vaughn, Van Morrison, Jim Croce and B.B. King in addition to such movie soundtracks as Love Story, Willy Wonka and the Chocolate Factory, Malcolm X and Lenny Bruce.



Broadway To Vegas is supported through advertising and donations. Priority consideration is given to interview suggestions, news, press releases, etc from paid supporters. However, no paid supporters control, alter, edit, or in any way manipulate the content of this site. Your donation is appreciated. We accept PAYPAL. Thank you for your interest.


FROM GENERAL HOSPITAL TO JEKYLL & HYDE

A stepping stone to starring in the Frank Wildhorn/Leslie Bricusse musical Jekyll & Hyde just may be having starring on the popular ABC soap General Hospital! Having the last name of Wagner also has a common thread.



CHUCK WAGNER as Jekyll turning into Mr. Hyde Photo By: Carol Rosegg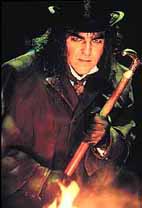 Jack Wagner is making his Broadway debut in the two faced role, while Chuck Wagner, who also appeared on General Hospital, is starring in the touring version of the show. The two stars are not related. Chuck also played Javier in the 1992 touring company of Les Miserables.

The Broadway production is in its third year, while the national touring company stages the show Feb. 2-6 at the Capitol Theatre in Salt Lake City as part of the Theatre League of Utah's 1999-2000 season.

The road show version also includes numbers not in the Broadway version. Confrontation is sung by Wagner when Dr. Jekyll is confronted by his monstrous alter ego - Hyde. Perhaps taking a make-up cue from Phantom of the Opera, Chuck Wagner has long hair and a fierce demeanor on one side of his head and the suave, sophisticated, kindly features of Jekyll on the other.

Also included is Bring on the Men setting up the scene when the deranged Hyde heads into the seedy brothels, and a power number I Need To Know, referred to by Wager as his "schizophrenic primal scream therapy."


BISTRO AWARDS ANNOUNCE WINNERS

Back Stage: The Performing Arts Weekly has announced the winners of the 15th Annual Bistro Awards for outstanding achievement in cabaret. The awards will be presented February 28 at the Supper Club in New York City.

The dynamic Sherry Eaker who as Editor-in-Chief of Backstage East has turned the publication into a "must read" for the showbiz community, is producing and hosting the event.



LEA DELARIA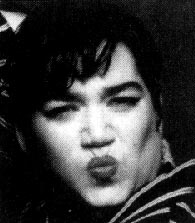 The awards evening will feature performances from all Bistro-winning artists and shows.

Twenty-eight artists will be recognized for their distinguished work in 1999. In keeping with tradition, the name of the recipient of the coveted Bob Harrington Lifetime Achievement Award will be reveled at the ceremony. Past honorees include Julie Wilson, Barbara Cook, Marcia Lewis, and Eartha Kitt.

Faith Prince will receive the award for Outstanding Major Engagement, and Lea De Laria is the award recipient for Outstanding Musical Comedy. This year's Outstanding Vocalists are Alexandra Haas, Lynn Lobban, Carlos Martin and Lennie Watts.

Other winners are; Michael Garin, the Howard Fishman Quartet, Marcy Heisler and Zina Goldrich, Ton Andersen, Rich Vos, David Malocco, David Gurland, Dane Vannatter, Paula West, Mark Nadler's Hard Candy, Heather Gilchriest and Gary Lyons' Looking Around Corners For You, and Toujours Cabaret starring Sigrid Sunstedt.

This year there are three Special Awards: Karen Miller, Erv Raible, and Rochelle Seldin are being honored for Eight Eight's, one of New York's most beloved cabarets, which closed its doors last May.



"TEDDYCARES" receives a special award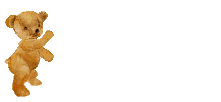 A Special Award goes to Ruby Rims for almost a decade of "Teddycares," which brings holiday cheer to countless hospitalized children and other patients.

And, for their many years of delightful entertainment, John Wallowitch and Bertram Ross will also receive a Special Bistro Award.
SWEET CHARITY

Tina Turner impersonator Larry Edwards and Elton John in Atlanta, where he and his significant other, David Furnish, have a home, tossed a celebrity studded party last night.

The by invitation only event will benefit Elton's AIDS Foundation, as well as Gridiron Glamour, a traveling fashion show that benefits the HollyRod Foundation, raising money to fight breast cancer.

Attending were; Phil Collins, Rosie O'Donnell, Bruce Hornsby, Holly Robinson Peete, Daisy Fuentes and Faith Hill.

When the Las Vegas Riviera Hotel based An Evening at La Cage star Larry Edwards, who plays Tina Turner, recently enjoyed a successful London romp, Edwards took the opportunity to his picture taken with John.

In real life John and Turner are on the outs. They don't speak to each other, much less stand next to each other for a picture.


APPLAUSE, APPLAUSE




KEVIN SPACEY on a professional winning streak, picked up the prestigious Piper-Heidsieck Tribute to Independent Vision Award at the Sundance Film Festival. The Piper-Heidsieck Award is given to actors who contribute to "the original voice and vision of independent films." Previous honorees include: John Turturro, Denzel Washington, Gene Rowlands, Nicolas Cage, Tim Robbins, Frances McDonald and Laura Dern.

The award was presented at a press conference that included a ceremony showcasing clips of Spacey's works. Host was Danny Devito, who co-starred with Spacey in The Big Kahuna, which Spacey also produced. The Big Kuhuna was debuted this year at Sundance. Not even ringing cell phones could dampen Spacey's jubilant mood.Twice cell phones rang during Spacey's thank you speech and news conference. Spacey quipped, "I'm not in, if that's for me."

STEVE MARTIN will receive the Lifetime Achievement Award at the 14 annual American Comedy Awards February 6 at the Shrine Exposition Center in Beverly Hills. Golden Hawn will do the honors in presenting Martin with the award.



CAKEWALK by Peter Feibleman, starring Elaine Stritch and Bruce Davison. Directed by Rosaline Ayers. Broadway star Stritch plays legend Lillian Hellman in this beguiling account of Hellman's tumultuous relationship across two decades with a man 25 years her junior. Elaine won raves when she created this marvelous role at the American Repertory Theatre in Cambridge. Skirball Center, LA. Feb. 2-6.

THE CIVIL WAR starring Larry Gatlin Indianapolis Feb 1-6

WIT Geffen Playhouse, West Hollywood. The production stars the magnificent Kathleen Chalfant, who created the role off-Broadway. Don't miss.

JOSEPH AND THE AMAZING TECHNICOLOR DREAMCOAT has some creative casting in the Grand Forks, ND production. Director Kari Miller, a former church youth music director in Lakerville, Minn., before entering medical school is serving a family practice residency at Altru. When not tending to the ill and injured she keeps her hand in the theater. In this contemporary version of the show that gave us Donny Osmond in a loin cloth, Dr. Miller has the pharaoh costumed as an Elvis impersonator, the storytellers are dressed in genie outfits, and Joseph wears ice hockey star Jay Penzer's old University of North Dakota jersey. Joseph's brothers are mostly sisters, each of whom wears a robe to represent various walks of life; cowboy, physician, beauty queen. Casey Koop stars as Joseph. Scott Vaupel is musical director.

AUGUST WILSON

AUGUST WILSON
the famed Playwright, who has chronicled blacks in America, has three of his plays being performed in Tennessee.

Joe Turner's Come and Gone, based on the real life enslavement of blacks by a Tennessee bounty hunter, continues through February 13 at the Tennessee Performing Arts Center's Johnson Theater.

Seven Guitars has performances at Tennessee State University through February 9 and the most commercially successful of Wilson's plays The Piano Lesson staged by Murfeesboro Ensemble Theater is at the Murfeesboro/Rutherford County Center for the Arts February 10-19.

SAY THE WORD a singular group of comedy writers reading their own words including; Scott Carter (Politically Incorrect), Larry Charles (Seinfeld, Dilbert), Wendy Goldman, Laura Knightlinger (Quick Shots of False Hope), Merrill Markoe (What The Dogs Taught Me), George Meyer (The Simpsons), Bruce Wagner (I'm Losing You) and others. Skirball Center, LA Feb. 5.

COLORADO BALLET under the artistic direction of Martin Fredmann, makes its first ever Manhattan appearance with its Joyce Theater debut, Feb. 1-6. The program includes Sir Frederick Ashton's Facade, Peter Pucci's gritty and powerful Picture of Sedalia and the New York premiere of Stantion Welch's Of Blessed Memory, set to Joseph Contaloube's haunting Chants D'Auvergne. Welch, a principal dancer and resident choreographer with the Australian Ballet, is considered one of the dance world's up-and-coming choreographers.

KING LEAR

LYNNEA BENSON and JAIME SANCHEZ star in the Frog & Peach Theatre Company presentation of King Lear at The Theatre at the West-Park Church, NYC. Photo By: David Cross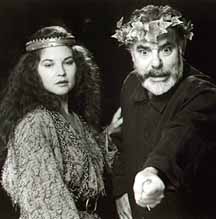 Shakespeare's tragedy that shows what happens when a father has committed incest with two of his three daughters and then decides to give away all of his wealth and power.

In this complex play we get to see the destruction of family and the downfall of an absolute tyrant.

King Lear presented by Frog & Peach Theatre Co, and directed by Ted Zurkowski officially opens tonight with performances running through Feb 20 at The Theatre at the West-Park Church, NYC.

Award winning actor Jaime Sanchez stars as Lear with company co-founder Lynnea Benson doubling in the roles of Cordelia and The Fool. Other cast members include; Phillipe Brenninkemeyer, Joe Corey, Tom Fenaughty, Matthew Freeman, Maervyn Haines, Jr., Ted Joseph, Stephen T. Kaiser, Vivien Landau, Robert Lehrer, Andrea Leigh, Tom Marsden, Hal Smith-Reynolds, and John Steinfels.

Set design and lighting design by Gabe Hakvaag. Ian Marshall serves as Fight Director for the production.


WHO'S WHERE

SHIRLEY BASSEY will make a rare Las Vegas appearance opening Feb. 3 at the MGM Grand Hotel. Sitting ringside will be her old friends Siegfried & Roy.

British born song stylist shot to superstardom when she performed the title tune from the action-packed James Bond thrilled, Goldfinger, beneath the actual film credits, and then the selection was issue as a single.

Her debut recital at Carnegie Hall concluded with the audience awarding Shirley a ten minute standing ovation.

Shirley is swept off her feet by Siegfried and Roy. The illusionists will welcome their chum back to Vegas when Bassey attends their February 1 performance at the Mirage.

Bassey first met the illusionists when they both performed at a Monte Carlo benefit (pictured) in the Theatre Princess Grace.

TIM CONWAY AND HARVEY KORMAN bring their slide spitting skits to the Florida Atlantic University Auditorium in Boca Raton, Florida on February 4.

TONY BENNETT King Center in Melbourne, FL on February 3.

THE PITTSBURGH POPS in its Carnegie Hall debut with Marvin Hamlisch February 1.

LINDA EDER makes her Carnegie Hall debut on February 2.

THE EVERLY BROTHERS who don't speak to each other off stage, closed out an engagement at the Orleans Hotel, Las Vegas last night. Al Martino opens on February 4.

ANITA O'DAY the 80 -year old jazz legend who nearly died from pneumonia and blood poisoning in 1997, does a one-nighter Jan. 31 in New York City's Blue Note. She'll be backed by an eight-piece band that calls itself "Legends of the Swing Era." The ageless O'Day won't be the one on stage who has celebrated the most birthdays. The band includes 92-year-young Larry Lucie.


THIS AND THAT

LEIF GARRET was to have performed last Thursday in Las Vegas. That engagement was canceled when fewer than 20 tickets were sold.

BINION'S HORSESHOE CASINO was the Las Vegas joint that had $1 million on display. It was a tourist gimmick that worked. People from all walks of life stood in front of the horseshoe shaped display to have their picture snapped next to the molah. Even Charles Manson and his geeks got their picture taken. The display was the largest single collection of $10,000 bills in existence. Reason for the removal? According to hotel officials, "A million dollars just isn't what it used to be."

AINSLEY HARRIOTT

AINSLEY HARRIOTT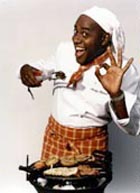 is a delightful British import.

The latest television daytimer has a talk cum cooking show - sort of a cross between Dinah Shore and the guy who discovered him - Merv Griffin.

This chap, who really does know how to cook, has a cunning way of making people cooperate.

Although she feigned to faint in his arms, he got Dyan Cannon to eat meat and Virgin mogul Richard Branson to admit that he should have married before he had children.

Harriott also brews a wicked cup of tea and you can't help but feel good after watching his show.

MIKE LEIGH writer/director of Topsy Turvy, the award winning Gilbert and Sullivan film will guest February 3 on Theater Talk which airs on NY's thirteen/WNET, hosted by Michael Riedel of The New York Post and Susan Haskins.

MISS CHINESE INTERNATIONAL PAGEANT will take place Feb. 5 at Caesars Palace, Las Vegas. The resort has teamed with Television Broadcast Ltd. and Designer Productions to present the 12th annual event. Previously staged in Hong Kong, this year the pageant will be broadcast from Las Vegas via satellite to Hong Kong, North America and the Far East. The expected viewing audience is about 50 million. Approximately 20 contestants, winners of local pageants in San Francisco, Los Angeles, Seattle, Vancouver, Toronto, Hong Kong, Singapore, Malaysia, and other Asian countries, will compete before a panel of five judges.


FINAL OVATION

BILL WILLIARD 86, former Las Vegas based correspondent for Daily Variety died in Las Vegas last Thursday. One of the nicest people you'd ever hope to know, Williard was the first executive director of the Nevada State Council on the Arts in 1966. Born in Terre Haute, Indiana on April 27, 1913, he is survived by his wife Lucy, a former June Taylor Dancer. Also surviving are a brother Bertram Williard of Alameda, Ca, and a sister, Frances Willard of London, England. Services were private.

ELIZABETH SUE "BETTY" MORGAN mother of comedian Rip Taylor died Monday in Las Vegas. She was 88. She was buried Wednesday and, as she would have wanted, that night Rip performed two shows at the Flamingo Hilton Hotel where he is starring in The Great Radio City Musical Hall Spectacular. The comedian moved his mother to Las Vegas 25 years ago, and preferred to accept Las Vegas engagements so he could remain close to her.


Mention BROADWAY TO VEGAS for Special Consideration
Call (800) 942-9027









Next Column: February 6, 2000
Copyright: January 30, 2000. All Rights Reserved. Reviews, Interviews, Commentary, Photographs or Graphics from any Broadway To Vegas (TM) columns may not be published, broadcast, rewritten, utilized as leads, or used in any manner without permission, compensation and/or credit.
Link to Main Page
---
Laura Deni


CLICK HERE FOR COMMENT SECTION