! >
Broadway To Vegas
  
 SHOW REVIEWS CELEBRITY INTERVIEWS GOSSIP NEWS

| | |
| --- | --- |
| | |
TYLER PERRY RETURNS TO THE STAGE AS A FORM OF GRIEF THERAPY - - THE BECHTLER MUSEUM OF MODERN ART OPENS - - MICHAEL JACKSON'S THRILLER HONORED WITH FILM REGISTRY - - CELEBRATING ELVIS PRESLEY'S 75th BIRTHDAY - - BETTY BUCKLEY TEACHES - - ROYAL HARPIST ADMITS TO DOING HEROIN IN BUCKINGHAM PALACE - - THIS FABLE IS FOR YOU: A WORK-ENERGY PRINCIPLE - - NO RECESSION FOR BETTE MIDLER FANS - - DONATE . . . Scroll Down


CELEBRATING ELVIS' 75TH BIRTHDAY - P.S. HE'S DEAD


Paying homage to Elvis' birthday seems to be a rite of passage for Elvis worshippers who have passed on the tradition to their children and grandchildren.

Celebrations take place all over the globe - although the hoped for Las Vegas over-the-top opening of Viva Elvis, the Cirque du Soleil show paying tribute to the life and musical legacy of Elvis Presley, has encountered one obstacle after another. The gala premiere was originally announced for January 8, on what would have been Elvis Presley's ' 75th birthday. Twice forced to push back the date, the latest opening is set for February 19 at the Aria Resort.

There is, of course, the annual fan pilgrimage to Graceland. Others are opting for The Rock and Roll Hall of Fame and Museum in Cleveland, Ohio which will welcome Elvis fans from near and far for a weekend of events surrounding the Museum's Elvis exhibit beginning Friday, January 8.

The Rock Hall's exhibit devoted to Elvis includes more than 40 artifacts that tell the story of the undisputed King of Rock and Roll. Rising from a humble background, Elvis launched the rock and roll revolution with his commanding voice and charismatic stage presence and the world was never the same.

Exhibit highlights include:



Photo of Elvis' Jukebox currently on display at the Rock Hall courtesy of the Rock Hall/Design Photography.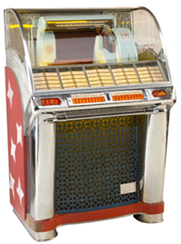 1975 Lincoln Continental Mark IV 2 Door Coupe - the car was purchased by Presley on July 28, 1975 at Schilling Motors in Memphis, Tennessee. It is one of many cars that Presley famously purchased as a gift. This particular car was given to his bodyguard Dave Hebler. The day before Presley bought this car, he purchased 13 Cadillac's for a total of $140,000. He gave the 13 cars away to friends, family and a woman named Menni Person who happened to be window-shopping for a Cadillac at the dealership when Presley arrived.

Jumpsuit, 1973 - Presley wore this suit, called Snowflake, at concerts in San Diego, California, and Uniondale, New York.

Jacket, c. 1956 - When he was a young man, Elvis Presley bought many of his clothes at the Lansky Brothers store on Beale Street in Memphis. Like most businesses on Beale, the store primarily catered to African-Americans.

Elvis Presley Acoustic Guitar - When Elvis Presley sent his 1956 Gibson J-200 back to the factory to be refurbished and customized, the company sent this one as a replacement. He used it on his first recording sessions after his discharge from the Army and in his 1968 television special.

Smith and Wesson Model 19-3 Revolver, 1967 and Colt Python Revolver, 1974 - Elvis Presley was a firearms enthusiast who owned many handguns in his lifetime. The Colt bears an engraving of the TCB logo on one side and the initials EP on the other.

Elvis Presley Jukebox: Seeburg Selectromatic 100 - Presley's record company, RCA Records, presented this jukebox to him.

Some Elvis events connect to worthwhile causes. At the King Center in Melbourne, Florida, award winning Elvis Tribute Artist, Jack Smink and his 14 piece Lightning Strikes Twice band are set for a concert on the weekend of Elvis's 75th birthday anniversary. The performance will benefit United Way of Brevard and Brevard Alzheimer's Foundation.



Broadway To Vegas is supported through advertising and donations. Priority consideration is given to interview suggestions, news, press releases, etc from paid supporters. However, no paid supporters control, alter, edit, or in any way manipulate the content of this site. Your donation is appreciated. We accept PAYPAL. Thank you for your interest.


ART AND ABOUT


THE BECHTLER MUSEUM OF MODERN ART

Niki de Saint Phalle - Untitled, © Niki Charitable Art Foundation. All rights reserved / ARS, NY / ADAGP, Paris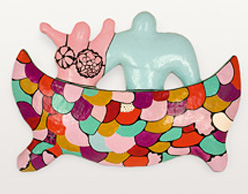 opened its doors to the public yesterday, January 2, 2010. The Bechtler is a jewel of a museum, only the second in this country designed by the Swiss architect Mario Botta. It is intended to be intimate in scale, delightfully arresting in its spaces and vistas and simple and elegant in its materials.

Patrons entering museum's plaza pass The Firebird, a playful, monumental outdoor sculpture. This is Charlotte's newest work of privately-owned public art and is a permanent fixture in the Bechtler Museum of Modern Art collection. Standing 17-feet 5-inches tall, the creation is a whimsical, bird-like creature covered from top to bottom in pieces of mirrored and colored glass.

A key design element of the four-story structure is the soaring glass atrium that extends through the museum's core and diffuses natural light throughout the building. The open atrium allows for visual interplay between spaces. Other notable features include a vaulted skylight system and an enveloping terra cotta exterior.

The second floor gallery celebrates the work of two interconnected artists in the Bechtler collection. Few partnerships in the world of art yielded so much inspired mutual reinforcement and yet such disparate outcomes than the artistic relationship between Niki de Saint Phalle and Jean Tinguely. The artists, who eventually married, worked in a variety of media, had dramatically different backgrounds and were almost a generation apart in age.

The collection presented includes works by the most important and influential artists of the mid 20th century including Miró, Giacometti, Picasso, Calder, Hepworth, Nicholson, Warhol, Tinguely, Ernst, Le Corbusier, Chillida and many others. Only a handful of these wonderful artworks have been on public view in the United States. Until now, the collection was privately held by the Bechtler family of Switzerland.

Inspired by his parents, art patron Andreas made his remarkable collection - amassed by the Bechtler family over 70 years - available for all to engage - whether for solace and reflection, inspiration and surprise or for challenge and self-discovery.

The Bechtler Museum of Art in Charlotte, NC is the result of a successful public-private partnership between Wachovia/Wells Fargo, the City of Charlotte and Mecklenburg County.

THIS FABLE IS FOR YOU: A WORK-ENERGY PRINCIPLE part of a three phase project by MK Guth, a multidisciplinary artist who uses art as channels of social exchange, redefining how we look at public art by crafting exhibition that are entirely dependent upon a social exchange or donation.

In her 2008 Whitney Biennial piece, Ties of Protection and Safekeeping, she wove visitors' responses to the question "What is worth protecting?" by braiding fake hair into Rapunzel braids, while the Red Shoe Delivery Service saw her drive a truck of red glitter Dorothy shoes around New York City offering to transport unsuspecting pedestrians wherever they wanted to go.

To create the current project, This Fable Is For You: A Work-Energy Principle she collected clothing from New Yorkers, cut the garments into strips and wove the fabric into cords. 24 people are connected through a series of these braided cords. As they move throughout the World Financial Center Winter Garden, the performers create temporary geometric shape and forms that mimic elements of the Winter Garden's architectural features.

This Fable is Intended for You: A Work-Energy Principle is a public project and working exhibition that amplifies the human presence and connections of the people living and working in Lower Manhattan.

MK Guth received her BA in Sociology from the University of Madison Wisconsin and her MFA from NYU. Her work has shown nationally and international including the 2008 Whitney Biennial and the Melbourne International Arts Festival.

Presented January. 6-24, 2010 as part of the Public Theater's Under the Radar Festival. World Financial Center in New York City. All events are free.





TYLER PERRY RETURNS TO THE STAGE AS A FORM OF GRIEF THERAPY
Tyler Perry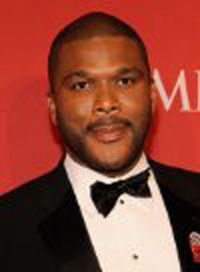 Actor, director, screenwriter, producer, and author Tyler Perry is turning Madea's Big Happy Family into a touring stage production. Perry - in a wig and padded suit - portrays the iron-willed title character.

Perry confesses that he has turned to work as his way of coping with the recent death of his mother.

Last Saturday Perry sent out an E-mail and posted on his website:

"A few months ago, I said I was taking off the rest of 2009. The reason for that, although I didn't say it at the time, was so I could spend my mother's final days at her side. I am so glad I did. It made all the difference in the world to me. Thank you all for your condolences. As you know, my mother was the apple of my eye, so this has been difficult to say the least ... All I'll say is, take care of your mothers . . . you only get one."

His mother, Willie Maxine Perry, died December 8 at age 64. In her obit The Atlanta Journal Constitution quoted a 2006 interview with Perry in which he said his mother was the basis for his most popular character, Madea. The newspaper said Maxine Perry was a preschool teacher who worked at the New Orleans Jewish Community Center for most of her life.

"You have no idea how much I need to go to work right now, for no other reason than to just be busy. If you think I've been working at a crazy pace before, you ain't seen nothing yet!" Perry wrote.

Perry's films have grossed nearly $400 million worldwide, not including his plays. In 2008, Perry earned around $75 million, placing him just outside the top five highest-paid men in Hollywood.



Tyler Perry as Madea. Photo: Lionsgate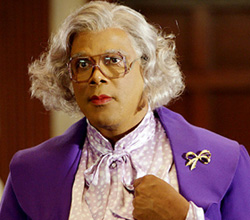 "Anyway, I am so glad I have decided to go out on tour," he continued "You can't imagine how much I need to be in front of the people right now. To get that give-and-take, I am so looking forward to it. Can you believe it's been 5 years since I've toured?"

Madea's Big Happy Family is my new play. All I want to say is that if you have not seen Madea live on stage you haven't seen Madea at all. In the movie, I'm limited but on stage ....freedom!!!"

Perry has said he based Madea on an aunt who lives in Georgia, as well as on his mother. Madea dispenses wisdom in a "no-nonsense manner", and she is usually involved in physical comedy and/or a sight gag. The nickname "Madea" comes from a Southern African-American contraction of the words "mother dear", which is commonly used as a term of affection. It is also used as a reference to a great-grandmother.

"This is truly my biggest and best play ever~ I've done some things in this show that have never been seen in a play before. . . And the music! The music is off the chain," declared Perry.

Guesting recently in a previously taped segment of Live with Regis and Kelly Show Philbin asked Perry if there were plans for Madea to have a boyfriend. A shocked Perry answered: "I couldn't ever imagine that!"

The tour begins January 4 at the Don Haskins Center in El Paso, TX. This week's stops include a January 5 mounting at the Dodge Theatre in Phoenix, AZ January 6 the performance is at the San Diego Sports Arena in San Diego. January 9 the tour stops at the Key Arena in Seattle and on January 10 Perry is on stage at the Memorial Coliseum in Portland.


DOING HEROIN IN BUCKINGHAM PALACE
In July, 2004 Prince Charles meets his new Official Harpist Jemima Phillips, from Ebbw Vale in South Wales, and presents her with a brooch to be worn when she plays for him. Photo: The Media Centre-Prince of Wales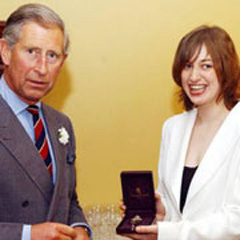 Though she frequently sat only a few feet away from him, Prince Charles had no idea that his official harpist was a heroin addict.

On July 13, 2004 harpist Jemima Phillips was appointed the Official Harpist to The Prince of Wales, a position that was reinstated in 2000 to help celebrate and foster musical talent in Wales and the UK and to raise the profile of the harp as an instrument. Phillips was 22-years-old when Prince Charles presented to her the official brooch to be worn when she played for him.

In the capacity of Royal Harpist she was the only musician to play at the wedding reception of Prince Charles to Camilla Parker-Bowles. She also did royal duty when she performed at the wedding of Autumn Kelly and Queen Elizabeth's eldest grandchild, Peter Phillips, and was featured in the first concert to be recorded in the ballroom of Buckingham Palace. She also performed at events at Balmoral, Clarence House, Prince Charles's Highgrove home and the House of Commons.

Strumming and plucking those harp strings wasn't the only thing the Royal College of Music graduate was doing inside the royal walls during her three-year appointment.

To get prepared for her performances the 28-year-old confessed that she smuggled heroin into the palaces and then smoked the drug before performing for the Royal Family.

The tearful disclosure came during her Gloucester Crown Court trial in which she was found guilty of handling stolen goods and sentenced to 12 months of community service and 6-months in drug rehabilitation.

In June 2009, Phillips and former boyfriend William Davies, 40, were charged with three counts of house burglary and a fourth count of fraud by false representation. During her trial last month Phillips confessed to being a heroin addict, and divulged how she was able to sneak heroin past Prince Charles's security officers and attempted to explain why she turned to drugs.

"I took over as royal harpist. Even then my drug problem had started. Sometimes I would just play background music at private functions, when I would be sat a few feet away from Prince Charles. Sometimes it would be concerts."

"A lot of the time when I was playing for the Royals I was detoxing, for example, when I played at Balmoral. But I always ended up going back. Small things - little disappointments and conversations - would have me reaching for the phone to call my dealer again. That's what was so frightening." she added.

Phillips described how she started using crack cocaine shortly after undergoing her second abortion when she was 23 before acquiring a heroin addiction during an affair with a violent boyfriend.

Phillips' attorney Paul Grumbar told the court: 'This is a very, very vulnerable girl. 'She had an appalling childhood, abuse, tragedy in her family, the death of her younger brother, the illness her sister suffers from - a dreadful life coupled with a spectacular talent, but a very weak personality and I would submit a very vulnerable personality."

"She has had disastrous relationships in the past. This was in a similar vein. She fell for Davies, and went off the rails for a very, very short period." He said she had made 'valiant efforts' since her arrest and added: "There has been a complete transformation. She's been consulting specialists, attending everything religiously and carrying on working."

Phillips pleaded guilty to one count of attempted fraud, and was found guilty of handling stolen goods. Davies, who was convicted of burglary, was sentenced to four and a half years in prison.


OTHER PEOPLE'S MONEY


BETTE MIDLER'S New Year's Eve show was the most expensive in Las Vegas. The Divine Miss M's The Showgirl Must Go On "Smug Mutha" experience, included a front row ticket, an autographed show program, a VIP escort into the theatre, two drink vouchers and the chance to meet and take a photo with the multi-talented performer backstage after the show.

The cost? $2,010 per person.

Bette ends her two-year engagement at The Colosseum at Caesars Palace on January 31, 2010.

VIVA ELVIS created by Cirque du Soleil to celebrate Elvis Presley, didn't ring in the New Year as planned. Intermittent fire alarm problems at the new Aria Resort at CityCenter in Las Vegas caused the cancellation of a Viva Elvis preview show.

Other parties, including the one hosted by Desperate Housewives star Eva Longoria Parker and her San Antonio Spurs star husband Tony Parker, didn't let fire alarms ringing distract them from their festive countdown. The star pair were fronting the grand opening New Year's Eve Party of Eva's chic Eve nightclub, which is part of her restaurant Beso, located in Crystals, the glam shopping experience at CityCenter. If you are one of those evacuated from Viva Elvis contact the hotel for a refund.

AVERAGE TICKET PRICE for a Broadway show in 2001 was $58.73. In 2009 it was $113.00.

The Broadway League released The Demographics of the Broadway Audience 2008-2009, a profile of the audience at Broadway shows from June 2008 through June 2009. It is the twelfth annual report in their series, analyzing the composition of the audience today in comparison to past years and attempting to note trends for the future.

In the 2008—2009 season, approximately 63% of all Broadway tickets were purchased by tourists.

In fact, international visitors accounted for 21% of all Broadway admissions, the highest portion in recorded history.

Sixty-six percent of the audiences were female. This has been the trend for the past few decades, at least.

The average age of the Broadway theatregoer was 42.2 years old.

The percentage of theatregoers under age 18 dropped slightly from the past few years; however, those aged 25-34 accounted for 16% of all tickets sold, higher than it has been since the 1999-2000 season.

Seventy-four percent of all tickets were purchased by Caucasian theatregoers. Although still obviously homogeneous, audiences have actually gotten slightly more diverse in the past decade.

Broadway theatregoers were a very well-educated group. Of theatregoers over 25 years old, 73% had completed college and 36% held a graduate degree.


THE SHAOLIN TEMPLE will not be listed on the stock market, declared Shi Yongxin, the abbot of China's famed Temple during a press conference last Thursday in China.

Shaolin, which has become a household name around the world, has developed business operations such as kungfu shows, film production and online sales under the leadership of Shi Yongxin.

At the press conference it was stressed that Shaolin Temple will neither become a shareholder nor join in the business operation of the newly established tourism company in Dengfeng City of Henan Province, China where the temple lies.

Four days earlier a joint venture was established between the Dengfeng city government and the Hong Kong-based China Travel International Investment Hong Kong Limited, a subsidiary of the state-owned China National Travel Service (HK) Group Corporation (HKCTS). Shi said at the press conference that he welcomed HKCTS to do business in Dengfeng, but reaffirmed that Shaolin Temple will never participate in commercial operation of the joint venture as its core functions are to organize religious activities to meet the demand of religious followers.

The Shaolin Temple, built 1500 years ago during the Wei and Jin Dynasties, is famous for Buddhist teaching and Chinese martial arts, particularly Shaolin kungfu.

Two weeks ago Shi Yanlu chief coach of Shaolin Warrior Monks, and 13 Kungfu monks from Shaolin Temple in China, arrived in Chicago to help promote cultural exchange between China and other countries. Invited by Suncastv, a Chicago-based IPTV provider, the Shaolin delegation presented a martial arts performance at the Paramount Theatre of Aurora, a suburb of Chicago.

In 1988 Shi won the championship at the World Martial Arts Meeting held in Toronto, Canada. In 2004, he set up overseas divisions of the Shaolin Training Base in many countries including the United States, France, Russia and Germany.

Shaolin will also stage performances of the 80-person Shaolin Temple: Saga of Warriors Monks during the 2010 Shanghai World Expo.


POLICE CHIEF SENTENCED TO JAIL
Sarah Jessica Parker and Matthew Broderick in a family photo featuring their newest additions: twin girls Marion and Tabitha, and their big brother James Wilke, 6. Photo; "complimentary handout image" by agency Getty.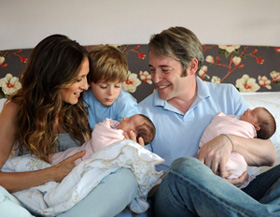 Former Martins Ferry, Ohio police chief Barry Carpenter, convicted of crimes in connection with a scandal involving the surrogate who bore twins for Sarah Jessica Parker and Matthew Broderick, was sentenced to two years and eight months in jail on Wednesday, December 30 by Common Pleas Judge John Solovan. See Broadway To Vegas column of August 2, 2009

Solovan sentenced Carpenter to six months for receiving stolen property, eight months for theft in office and two years for tampering with evidence.

His attorney, Dennis McNamara, vowed to appeal.

The former police chief, who was immediately taken into custody, was convicted of receiving stolen property, theft while in office and tampering with evidence - although acquitted of burglary - from the home of the surrogate Michelle Ross who bore the twin girls in June. Neither Sarah Jessica Parker nor Broderick Crawford were required to testify.

Carpenter resigned as chief of police for Martins Ferry, where Ross lived, three weeks ago. Prosecutors had alleged that Carpenter broke into Ross's home in May and took items related to her pregnancy and the surrogacy for actors Parker and Broderick.

Carpenter was also accused of plotting with another police officer, Chad Dojack, to sell the items to celebrity photographers.

Bridgeport Police Chief Chad Dojack is also charged in connection with the alleged theft and will go to trial this month. Dojack is charged with two counts of complicity to commit burglary and one count of complicity to receiving stolen property. He stepped aside as Bridgeport chief while he deals with the charges. Charges were previously dismissed against Bruce Callarik, who owns the motel where the celebrity photographers were reportedly staying. Callarik is the son of the Bridgeport mayor and also Dojack's father-in-law. He faced the least severe charge: one count of receiving stolen property. The prosecutor said it would be better to use Callarik as a witness so he can cooperate fully and openly with the ongoing investigation.

As well as twin daughters, Marion Loretta Elwell and Tabitha Hodge, Parker and her husband Broderick have a six-year-old son, James.



2009 NATIONAL FILM REGISTRY SELECTIONS

Michael Jackson's Thriller is the first time a music video has been named to the registry.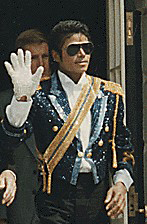 include Michael Jackson's Thriller. The selection of the 1983 music video marks the first time a music video has been named to the registry. It is one of 25 films to be preserved in the 2009 National Film Registry of the Library of Congress.

The library selects films that are "culturally, historically or aesthetically" significant after reviewing hundreds of titles nominated by the public and consulting with the National Film Preservation Board. Steve Leggett, coordinator of the National Film Preservation Board, announced the selections on December 30.

"Spanning the period 1911- 1995, the films named to the 2009 National Film Registry of the Library of Congress range from the sci-fi classic The Incredible Shrinking Man and Bette Davis' Oscar-winning performance in Jezebel to the Muppets' movie debut and Michael Jackson's iconic video Thriller. This year's selections bring the number of films in the registry to 525."

Under the terms of the National Film Preservation Act, each year the Librarian of Congress names 25 films to the registry that are "culturally, historically or aesthetically" significant to be preserved for all time. These films are not selected as the "best" American films of all time, but rather as works of enduring importance to American culture.

Other selections to this year's registry include Al Pacino's Dog Day Afternoon, the World War II drama Mrs. Miniver, the swashbuckling adventure The Mark of Zorro and the popular spaghetti Western Once Upon a Time in the West. Among the lesser-known films named to the registry are The Jungle, a hybrid documentary/dramatization made by a group of young African-American gang members; A Study in Reds, directed by amateur filmmaker Miriam Bennett; and Martin Brest's student film Hot Dogs for Gauguin.

2009 National Film Registry Selections
1) Dog Day Afternoon (1975)
2) The Exiles (1961)
3) Heroes All (1920)
4) Hot Dogs for Gauguin (1972)
5) The Incredible Shrinking Man (1957)
6) Jezebel (1938)
7) The Jungle (1967)
8)The Lead Shoes (1949)
9) Little Nemo (1911)
10) Mabel's Blunder (1914)
11) The Mark of Zorro (1940)
12) Mrs. Miniver (1942)
13) The Muppet Movie (1979)
14) Once Upon a Time in the West (1968)
15) Pillow Talk (1959)
16) Precious Images (1986)
17) Quasi at the Quackadero (1975)
18) The Red Book (1994)
19) The Revenge of Pancho Villa (1930-36)
20) Scratch and Crow (1995)
21) Stark Love (1927)
22) The Story of G.I. Joe (1945)
23) A Study in Reds (1932)
24) Thriller (1983)
25) Under Western Stars (1938)

BRITAIN'S HONOURS LIST FOR THE NEW YEAR INCLUDES THE ARTS

Patrick Stewart
which includes Norman Barrett, the first-ever circus ringmaster to be honored, as well as the four-times British National Aerobatic Champion Beth Tweddle. Also getting their just due are Status Quo singers Richard Parfitt and Francis Rossi receive OBEs. Patrick Stewart, the Shakespearean actor best known as Star Trek's Jean-Luc Picard, is knighted for services to drama. There is also a knighthood for Nicholas Hytner, the director of the National Theatre, who brought Alan Bennett's The History Boys to both the stage and the screen. He also directed a stage adaptation of Philip Pullman's trilogy, His Dark Materials.

A CBE was awarded to Channel 4's film controller, Tessa Ross, who was instrumental in bringing Slumdog Millionaire to the big screen. Maggi Hambling, 64, the sculptress known as "the female Francis Bacon." There was also a CBE for one of the grand dames of the theatre, Margaret Tyzack, who first found fame in her role in the 1967 television adaptation of The Forsyte Saga. Phyllida Lloyd, the director of the Mamma Mia! film and stage musical, also received a CBE. An OBE was also given to the Glasgow-born composer Craig Armstrong, 50, who created the scores to films including Romeo & Juliet, Moulin Rouge! and Love Actually. An MBE was awarded to The Shadows' bassist, Jet Harris, 70, who performed on Cliff Richard's hit Living Doll.

Those who have been appointed to the Order of the British Empire may purchase an emblem to be worn on everyday clothing. for 15 pounds, about $23.78. The emblem is based on the badge of the Order, enclosed in a circle of ribbon of its colors of pink and grey. It is intended to be worn by those who have been appointed GBE, DBE, KBE, CBE, OBE, MBE or who hold the British Empire Medal. In total there are around 120,000 living in the UK and overseas. The emblems do not replace the badge and ribbon are presented at the Investiture.

THE 21st ANNUAL PALM SPRINGS INTERNATIONAL FILM FESTIVAL will present Academy Award winners Marion Cotillard with the Desert Palm Achievement Actress Award and Quentin Tarantino with the Sonny Bono Visionary Award, named after the Festival's founder. Presented by Cartier, the Awards Gala will kick off the 2010 awards season on Tuesday, January 5 at the Palm Springs Convention Center.

The Awards Gala will also present Academy Award-nominated director Jason Reitman with its Director of the Year Award for Up in the Air, Jeremy Renner with its Breakthrough Performance Award for The Hurt Locker and T Bone Burnett with its Frederick Loewe Award for Film Composing for Crazy Heart. Four-time Academy Award nominee Jeff Bridges will receive the Desert Palm Achievement Award. In year's past, the award has gone to such actors as Sean Penn, Daniel Day-Lewis and James Stewart. Mariah Carey receives the Breakthrough Performance Award for her performance in Precious. Oscar-winner Morgan Freeman will be honored for his career achievements while Anna Kendrick picks up the Rising Star Award and Helen Mirren will be bestowed with the Career Achievement Award.

Celebrating its 21st anniversary, PSIFF was founded in 1990 by then-Mayor Sonny Bono. This year's Festival will include over 400 screenings of more than 200 films from approximately 60 countries. The Festival presents a majority of the films submitted for consideration in the Best Foreign Language category for the Academy Awards, as well as a large number of American independent and international features and documentaries marking their world, North American or U.S. debuts. Screenings are held on 15 screens throughout Palm Springs. The Festival runs January 5-18, 2010.


CREATIVE CHANGES MEAN MUSICAL CHAIRS FOR DIRECTORS JERRY ZAKS AND CASEY NICHOLAW
All About Me starring Michael Feinstein and Dame Edna, will preview at The John Golden Theatre, beginning previews Friday, February 19, 2010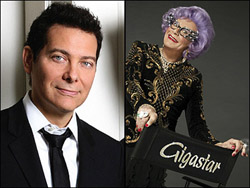 Jerry Zaks was all set to direct All About Me, which promises to be a delightful evening of Broadway music and inside patter from Michael Feinstein and Dame Edna Everage.

Then the Broadway bound musical The Addams Family opened in Chicago and chatter ruminated that the production needed help.

On December 29, it was announced that Tony-winning director Zaks would assume creative duties of The Addams Family, meaning he couldn't be two places at the same time.

The Feinstein-Everage project understood the circumstances, thus the parting was amicable.



The Addams Family will begin preview performances March 8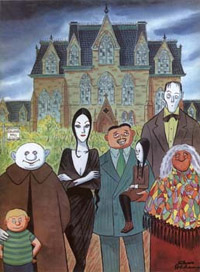 Enter Tony-nominated director and choreographer Casey Nicholaw who now takes over as director of All About Me, which will play the Henry Miller's beginning February 19, 2010, and officially open March 18, 2010.

The Addams Family will now begin preview performances March 8, rather than March 4, towards an April 8 opening at Broadway's Lunt-Fontanne Theatre.

The musical stars two-time Tony Award winners Nathan Lane and Bebe Neuwirth as Gomez and Morticia.

The production features two-time Tony Award nominee Terrence Mann as Mal Beineke, two-time Tony Award nominee Carolee Carmello as Alice Beineke, two-time Tony Award nominee Kevin Chamberlin as Uncle Fester, Jackie Hoffman as Grandma, Zachary James as Lurch, Adam Riegler as Pugsley, Wesley Taylor as Lucas Beineke and Krysta Rodriguez as Wednesday.




SPREADING THE WORD


THE VIVIAN BEAUMONT THEATER: A MARVELOUS COMPROMISE Architect Hugh Hardy will present an insider's look at the Vivian Beaumont Theater's creation with Bernard Gersten and Michael H. Yeargan.

Designed by architects Eero Saarinen and Gordon Bunshaft, Lincoln Center's Vivian Beaumont Theater featured one of American theater's most advanced and flexible interiors, designed by Saarinen and famed set designer Jo Mielziner.

Architect Hugh Hardy, AIA, founder of H3 Hardy Collaboration Architecture, was intimately involved in the theater's design and will present an insider's look at its creation. He will be joined by Bernard Gersten, Executive Producer of Lincoln Center Theater, and Michael H. Yeargan, Tony and Drama Desk Award-winning set designer (A Light in the Piazza, South Pacific) for a discussion of the challenges and opportunities of creating successful theatrical works at the Beaumont. Tuesday, January 12 at the Museum of the City of New York.

BETTY BUCKLEY conducts a six-session Song Interpretation Workshop beginning Tuesday, January 6 at the Fort Worth Community Arts Center in Fort Worth, TX. The classes run through January 27.

The classes will permit the Tony Award winner to share her expertise for telling stories in song and guide her students through a methodology to facilitate audience connection through songs and monologues. She will also assist aspiring young artists and experienced performers and educators in the craft of singing, acting and storytelling.

An accompanist will be provided. However, auditors who participate in all aspects of the class except the individual singing are also welcome.





CURTAIN DOWN


RAGTIME the current revival of the 1998 Tony Award winner will not close on January. 3, 2010, as previously announced. Due to a sudden surge in ticket sales the production will have an extra week of performances at the Neil Simon Theatre, to January. 10. At that time the show will have played 28 previews and 65 regular performances. It opened November 15 after previews from October 23, 2009. The 40-actor production opened on Broadway after a run at the Kennedy Center in Washington, DC.

FINIAN'S RAINBOW which opened to outstanding reviews will close on January 17, 2010. The announcement was made December 30.

Finian's Rainbow opened October 29, 2009, at Broadway's St. James Theatre. At the final curtain, the revival will have played 22 previews and 92 performances. A cast album from PS Classics was recorded on December 7 will be released in February. The producers stated, "Despite the rave reviews and extraordinarily positive audience reception, the economic realities of Broadway today do not allow us to play at the St. James as long as we would have hoped. We are thrilled, however, that our gorgeous musical score - performed by our incredible cast and brilliant orchestra - lives on in our soon to be released cast album."



BABALU-THE AMERICAN SONGBOOK GOES LATIN

Desi Arnaz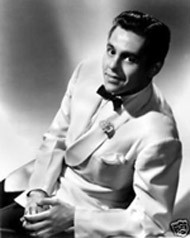 featuring the music of the Desi Arnaz Orchestra whose artistic director is Desi Arnaz's daughter Lucie Arnaz, who also hosts and performs.

The production includes a Latin big band, vocalists Raul Esparza and Valarie Pettiford and Latin dancers Mark Stuart Eckstein and Kristine Bendul. Lucie's brother, Boulder City, Nevada resident Desi Arnaz, Jr. is a special guest, making the show a family affair.

Babalu-The American Songbook Goes Latin is not only Lucie's way of paying tribute to her father, but a chance to celebrate Desi Arnaz's musical career and the major role Latin music has played in the American Songbook.

For this show, Lucie has resurrected her father's original orchestra charts, which have been housed at the Library of Congress for the last 20 years.

In 1939, he starred on Broadway in the musical Too Many Girls. He went to Hollywood the next year to appear in the show's movie version at RKO, which starred Lucille Ball.. Arnaz and Ball married on November 30, 1940. Arnaz also played guitar for Xavier Cugat.

Desi achieved lasting fame for his groundbreaking work on I Love Lucy, but earlier in his career, he was a major player in the big-band era of the 1930s and '40s, when he toured the country and played top-tier New York clubs like Ciro's. Desi was instrumental in popularizing the conga, which became one of the first popular dance crazes and paved the way for the Twist and the Macarena.

January 9-11 at the 92nd Street Y in NYC.

SIX DEGREES OF SEPARATION by John Guare. Directed by David Grindley.

When Ouisa and Flan Kittredge let an injured young man into their home in the middle of the night, they open the door on a new and enticing world. But is it really what it seems? Guare's witty play scratches beneath the surface of a world obsessed with money and fame – how can anyone be sure that people are who they say they are?

Inspired by the real life story of a flamboyant con artist who convinced wealthy residents in Manhattan that he was the son of actor Sidney Poitier, Six Degrees of Separation is a captivating study of society's pretensions exposed by one man's self-confidence and imagination.

The play originally debuted on Broadway in 1990 and in 1993 it was adapted as a film starring Stockard Channing - reprising her Broadway role - Donald Sutherland and Will Smith. This new production will be the first major London revival of the play in almost 18 years.

Set Design by Jonathan Fensom. Lighting by Jason Taylor. Sound by Gregory Clarke.

January 8 through April 3, 2010 at The Old Vic Theatre in London.

THE FABULOUS PALM SPRINGS FOLLIES

The Four Aces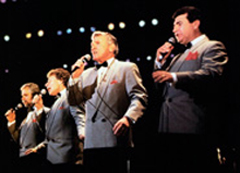 welcomes The Four Aces to the star slot beginning January 6.

Half a century before teen girls went crazy for 'N Sync or the Backstreet Boys, radio airways and record players were dominated by the close harmony and soaring melodies of golden-throated male vocal groups. By any measure, the most successful of these original "boy bands" are The Four Aces, who return to guest star at The Fabulous Palm Springs Follies to February 6, 2010.

Like many groups in the early 1950s, The Four Aces began playing locally in the Philadelphia area. Unable to land a recording deal at first, they released their first record, "(It's No) Sin", themselves. When that debut sold more than a million copies, major label Decca Records signed the group in time to release its next platinum record, Tell Me Why.

By 1958, The Four Aces had seen more than 30 of their records climb the Top-40 charts, and had earned widespread acclaim for their live performances. Among their best known hits were Heart and Soul; Perfidia; Dream; Mr. Sandman and Stranger in Paradise. But the group scored its biggest successes with the title tunes from a pair of hit movies: Love Is a Many-Splendored Thing and Three Coins in the Fountain. Each theme song shot to #1 on the Billboard charts, won the Academy Award for Best Song for its year and became an international standard.

The Four Aces include Fred Diodati, 79, the group's senior member and lead singer; Joe Giglio, 69, high-tenor; Danny Colingo, 65, baritone; and Harry Heisler, 64, bass. Heisler also serves as the quartet's musical conductor. The Follies is housed in downtown Palm Springs' historic Plaza Theatre in Palm Springs, CA.

LEAR written and directed by Young Jean Lee

A radical and moving response to King Lear. A Lear-less "Lear" about children turning their backs on their aging fathers, Lee's irreverent tragedy challenges our love of watching terrible things.

Set Design: David Evans Morris. Lighting Design: Raquel Davis. Sound Design: Matt Tierney. Costume Design: Roxana Ramseur. Production Stage Manager: Anthony Cerrato.

World Premiere begins January 7 at Soho Rep. New York, NY. Performances through January 31, 2010.

SHOWBOAT Book and Lyrics by Oscar Hammerstein II. Music by Jerome Kern. Based on the novel Show Boat by Edna Ferber. Directed by Eric Schaeffer.

Featuring Sandy Bainum, Terry Burrell, Will Gartshore, VaShawn McIlwain, Jim Newman, Bobby Smith, Stephanie Waters, Delores King Williams, and Harry Winter.

In the vein of earlier productions like Allegro and Les Misérables, Signature Theatre reinvents this American classic in a brand new production that features such beloved songs as Make Believe, Bill, Can't Help Lovin 'Dat Man, and Ol' Man River.

Spanning the years 1880 to 1927, this lyrical masterpiece concerns the lives, loves, and heartbreaks of three generations of show folk on the Mississippi. Show Boat is a sweeping tale of enduring love and devastating hatred, illuminating through unforgettable music the cruelty of prejudice - and the beauty of romance.

Performances through January 17, 2010 at the Signature Theatre in Washington, DC.

Patrons can also enjoy On The River - a behind-the-scenes on the set of Show Boat with cast members as your guides. Get on board either before you see the show or after you see the production to get an exclusive look at how it all comes together. Tours take place Saturdays and Sundays.

CAMELOT featuring book and lyrics by Alan Jay Lerner and music by Frederick Loewe. Nine-time Emmy Award-winning director/writer/producer David Lee (co-creator of Frasier and director of the Ovation Award-winning production of Can-Can at Pasadena Playhouse) directs a cast of eight in this timeless tale of passion, desire and betrayal. Based on The Once and Future Kingby T.H. White.

"In the previous incarnations of Camelot there has always been an emphasis on pageantry, big sets, stunning costumes with lots of armor and ladies in pointy hats, a large chorus of singers and dancers, funny mythical characters and even a dog; much of this to stunning effect. But even though the story has large philosophical resonance, it really is a rather small tale about the relationship among three human beings – Arthur, Guenevere and Lancelot," said director David Lee.

"A couple of years ago, just for fun, I went through the script and eliminated everything that did not contribute directly to telling their story. What I was left with was the same beautifully written tale, but one that now seemed more direct, clearer and more emotionally accessible. Plus it was shortened enough that I could afford to add back music that is often cut." Lee added, "The heirs to the Lerner and Loewe estates have been very gracious in allowing me to attempt this hybrid. Liza Lerner, Alan's daughter, has been of particular help to me."

The cast of eight features: Shannon Stoeke as Arthur; Shannon Warne as Guenevere; Doug Carpenter as Lancelot; Will Bradley as Mordred/Dap; Seth Daly as Tom; Zachery Ford who was in Monty Python's Spamalot in Las Vegas as Lionel; Richard R. Segall as Dinadan and Andrew Ross Wynn as Sagramore.

Joining the creative team with Lee are Mark Esposito (choreography), Tom Buderwitz (scenic design), Maggie Morgan (costume design), Michael Gilliam (lighting design), Vikram Kirby (sound design), Christy Crowl (musical director), Michael Donovan (casting), Jill Gold (production stage manager), and Lea Chazin (assistant stage manager).

The musical will play January 8 – February 7, 2010 with the official press opening on Friday, January 15 at Pasadena Playhouse in Pasadena, CA.

11, SEPTEMBER by Paul Kampf. Chicago's Breadline Theatre Group kicks off its move to L.A. with a new moniker and this world premiere play.

Gita Donovan, former Artistic Director of Alchemy Theatre Company in New York City, directs the two-hander, in which the playwright stars opposite Liz Rebert.

What are the defining moments in our lives - those accidents of fate that change everything? In this new drama about coincidence, truth, denial, and the secrets we keep, incredible circumstances bring two strangers together in a chance meeting that alters their lives forever. In Chicago, Breadline Theatre Group was devoted to exploding traditional notions of theater and exploring new theatrical viewpoints. Under the artistic direction of Paul Kampf, the not-for-profit collective combined a variety of theatrical styles to present more than 30 productions, of which 25 were world premieres, including Love for Three Oranges; Madam Mao; The Cartesian Heart; American Gothic; Game of Shards; Sons of Liberty; and original adaptations of Peer Gynt, The Good War and Faust Triptych.

Breadline renovated a warehouse facility to develop the Breadline Center for the Performing Arts, home to five arts organizations, rehearsal facilities and two performance spaces. Kampf relocated Breadline to Los Angeles after directing the independent feature film Brothers Three (adapted by him from his stage play, American Gothic) with Patrick Wilson, Neal McDonough, Scott Michael Campbell and John Heard. He has recently completed shooting a second feature, From Grace, and two short films, all of which are currently in post-production.

Scenic Design for 11, September is by James Spencer, and Lighting Design is by Bosco Flanagan.

11, September begins previews January 6, officially opening for a five-week run on January 8 at the Odyssey Theatre, Los Angeles.

THE SATIN SLIPPER by French playwright, poet and diplomat Paul Claudel. Directed by Peter Dobbins.

Considered one of the 20th century's greatest geniuses, his work has been strangely neglected in the English speaking world.

The scene is set during the Renaissance at the time of the conquistadors. The play is a love story dominated by the ideas of sin and redemption and the various characters, some divine and some comic, frequently engage in a dialogue as though between Heaven and Earth.

In the process, this cosmic romance cuts to the core of human existence in a way that only the greatest of dramas can. Originally nine hours long, Claudel cut the script down to four hours and forty five minutes for its world premiere in 1943 - directed and starring Jean Louis Barrault - at the Commedie Francaise during the Nazi occupation. This production has been abridged to 2 hrs and 45 minutes.

Featuring Gabe Bettio, Erin Teresa Beirnard, Ross DeGraw, Joshua Dixon, Dihn Q. Doan, Jenn Zarine Habeck, Merel Julia, Maury Miller, Meredith Napolitano, Cassandra Palacio, Glenn Peters, Anthony Russo, Christopher Tocco, and Harlan Work.

Set design by Ken Larson, costume design by Laura Bacon Taber, sound design by Amy Altadonna, lighting design by Michael Abrams and stage management by Charles Costano.

Presented by The Storm Theatre and Blackfriars Repertory Theatre The Satin Slipper will be performed from January 8 - February 6, 2010 at The Theatre of the Church of Notre Dame, New York City.





WHO'S WHERE


ELAINE STRITCH SINGIN' SONDHEIM . . . .ONE SONG AT A TIME opens January 5 at the Café Carlyle in New York City. The engagement runs until January 30.

THE MARCUS SHELBY JAZZ QUARTET FEATURING FAYE CAROL Led by esteemed bassist, composer, and band leader Marcus Shelby, the Marcus Shelby Jazz Quartet, featuring vocalist Faye Carol, performs music from its evocative MLK and Jazz suite. This work celebrates the history of Dr. Martin Luther King, Jr. and the Civil Rights movement through original compositions and dynamic arrangements of freedom songs, spirituals, blues, and jazz written during that pivotal era. During the program, Shelby will discuss the history of the movement, the life of Dr. King - who called freedom songs the "soul of the movement" - and other key characters, highlighting how music was critical to the success of the famed struggle for equality in America. The Marcus Shelby Jazz Quartet also features Howard Wiley (tenor sax/soprano sax), Adam Shulman (piano), and Jeff Marrs (drums). LA Premiere, Sunday, January 10, at the Skirball Cultural Center in Los Angeles.

WEDNESDAY NIGHT AT THE IGUANA hosted by Dana Lorge and Richard Skipper. Barry Levitt on keyboard & Saadi Zain on bass. Wednesday's guests include: Kelly Esposito-Broel, Travis Moser, Fred Martin, J. Michael Reeds, Marya Zimmet. January 6, 2010 at the Iguana in New York City.

GEORGE WINSTON performs Thursday, January 7 at the Crest Theatre in Sacramento, Ca. On Saturday the show is at the tower Theatre in Fresno, CA.

THE BLIND BOYS OF ALABAMA AND THE PRESERVATION HALL JAZZ BAND appear together Thursday, January 7, at the Music Hall in Tarrytown, NY. On Friday they are on stage at the Warner Theatre in Washington, DC.

ANDRE RIEU makes music Thursday, January 7 at the SAP Arena in Mannheim, Germany. Other performances in Germany this week are on Friday at the Seidensticker Halle in Bielefeld and on Saturday at the Color Line Arena in Hamburg.

BRAD PAISLEY on the road with his show which stops Thursday, January 7 at the AT&T Center in San Antonio, TX. On Friday he's on stage at the Ford Center in Oklahoma City. Saturday finds him at the Bank Arena in Wichita, KS.

TONY BENNETT sings his hits Tuesday, January 5, at the Van Wezel Performing Arts Hall in Sarasota, FL. On Wednesday the he is at Ruth Eckerd Hall in Clearwater, FL Friday the crooner is at the Arsht Center for the Performing Arts in Miami, FL.

JOAN RIVERS will be performing at the Laurie Beechman Theatre in New York City on Tuesday, January 5, to workshop her newest and most uninhibited standup comedy yet.

SHECKY GREENE brings his innovative sense of humor to the South Point Hotel in Las Vegas for shows January 8-10-2010.

BOB NEWHART brings his button down mind and droll sense of humor to the Peabody Auditorium in Daytona Beach, FL for a show Friday, January 8, 2010.






PIFFLE AND PROFUNDITIES


PREDICTIONS When Broadway To Vegas was started almost 12 years ago I was interviewed by several outlets and asked my reasons of launching a website. I replied that one of the reasons was that in 15 years the newspaper industry, as we knew it, would no longer exist. That within 15 years massive numbers of newspapers and magazines would close down because they could no longer afford to stay in business. Reactions towards me from people within the industry were vile. I have several other predictions for the future, which I'm going to keep to myself. Next Column: January 10, 2010
Copyright: January 3, 2010. All Rights Reserved. Reviews, Interviews, Commentary, Photographs or Graphics from any Broadway To Vegas (TM) columns may not be published, broadcast, rewritten, utilized as leads, or used in any manner without permission, compensation and/or credit.
Link to Main Page
---
Laura Deni



U.S. Postal Address: Post Office Box 60831, Las Vegas, NV 89160
CLICK HERE FOR COMMENT SECTION