! >
Broadway To Vegas
  
  REVIEWS INTERVIEWS COMMENTARY NEWS

| | |
| --- | --- |
| | |
MASTERWORKS BROADWAY WAR HORSE CD REVIEW - - YOU MUST REMEMBER THIS EXHIBIT - - FREE LOVE IN TIMES SQUARE - - COMPOSER RESIDENCY PROGRAM INVITES APPLICATIONS - - PASSPORT TO BROADWAY - - MUSICAL GIANT OPENS IN TEXAS - - NEVADA BALLET THEATRE HONORS EVA LONGORIA - - ROGER DALTREY WILL BRING TOMMY TO JAPAN - - DONATE . . . Scroll Down


Copyright: January 29, 2012
By: Laura Deni
CLICK HERE FOR COMMENT SECTION

ADRIAN SUTTON CREATES A THOROUGHBRED WAR HORSE CD

War Horse - London transferred, Tony Award winning play, which last Tuesday picked up an Oscar nomination for Best Picture, has issued a Masterworks CD of the London production.

Released January 24 in the United States, featuring members of the original London cast, this Masterworks Broadway CD is not to be confused with Warhorse the debut album by English hard rock band Warhorse, which was re-released on vinyl in 1984 under the name Vulture Blood.

The score to War Horse is an orchestral epic, featuring a blend of 20th-century English and continental styles, together with arrangements of the folk songs of John Tams. Adrian Sutton is a British composer based in London. In June 2010 the Royal Philharmonic Orchestra gave the world premiere of his War Horse Suite, a 20-minute orchestral work adapted from the show's music.

"At the outbreak of World War I, Joey, young Albert's beloved horse, is sold to the cavalry and shipped to France. Joey is soon caught up in enemy fire, and fate takes him on an extraordinary odyssey, serving on both sides before finding himself alone in no man's land. But Albert cannot forget Joey and, still not old enough to enlist, he embarks on a mission to find his horse and bring him home."

The star of either the stage or the movie version is Joey, the horse. On stage a series of life-sized equestrian puppets, which have the capability of strikingly lifelike movement, are manipulated by an on-stage crew of three puppeteers who give life to Joey, as he grows from a skittish foal into a full-grown horse.

The Handspring Puppet Company make it look easy, seamless, believable.

The music to War Horse is also seamless, and sounded easy. It wasn't. There is no huge orchestra. Rather, director Sutton used a recorded string section and then over-dubbed - as many as five times. The first commercially released overdubbed recording made on multitrack magnetic tape was by guitarist Les Paul, whose 1947 record Lover (When You're Near Me), featured eight different electric guitar parts. Many artists from Enrico Caruso to Buddy Holly and Michael Jackson have used overdubbing.

In the hands of the unskilled and inexperienced the technology can result in an aural nightmare.

Sutton knows what he doing. There is the perfect balance of equalizer and reverb. This CD is a blend of a cappella folks songs and numbers performed by a few musicians which convincingly sound like a full orchestra.

The atmospheric music using simple folk songs interspersed with powerful musical arrangements is poignant and captivating.

Melancholy, moody, slowing building into a powerful introduction Devon at Peace merges into the a cappella Only Remembered, in which the lyrics proffer that people are "only remembered for what we have done."

There is power in simplicity. War Horse has 7 musicians who deliver the emotion of evocative folk music that doesn't overpower the plotline yet maintain a crucial presence.

First Gallop swells to deliver the power of 50 musicians - helping to transport the listener or show patron along for the ride from horse Joey's 'first gallop' to Learning to Plough, which features the accordion playing of Tin van Eyken, to Wheel of Fortune throwing the animal into the dangerous and emotional world of war.

The sense of youthful ignorance as eager soldiers march away for the first time morphing into the reality that war is really a four letter word.

In the liner notes director Tom Morris states: War Horse couldn't work without its extraordinary musical score. There are whole scenes without words in which the story is carried by Andrian Kohler's miraculous puppets, Rae Smith's wild and evocative design, the performances in the company, and the music recorded on this CD."


Composer Adrian Sutton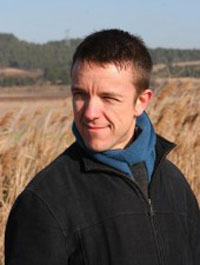 Very well put.

An a cappella Devonshire Carol is shattered with the instrumentally dramatic The Charge leaving no doubt that this is - war.

That the song is followed by the a cappella Hold the Line makes the plot even more poignant.

The exuberant Goodbye Dolly Grey is a song from the late 1800s, meant to be sung by a soldier saying goodbye to his girlfriend as he is about to depart for war.

Frederick's Theme, and Into the Crater transports the listener to the surreal world of longing and suffering wrapped in a noble cloak that unwraps into the power of Pulling The Gun

Overall the CD is - haunting.

War Horse began Broadway previews March 15, 2011, and earned five 2011 Tony Awards, including Best Play and Best Direction. It is directed by Marianne Elliott and Tom Morris. Nick Staggord adapted Michael Morpurgo's 1982 children's novel for the stage.

Musicians: Tim von Eyken, songman, accordion - John /tans, additional vocals - Andy Callard, trumpet, cornet - Colin Rae, trumpet, cornet, flugelhorn - Richard Ashton, horn, tenor horn - Tracy Holloway, trombone,euphonium - Neyire Ashworth, clarinet - Adrian Sutton, violins, viola.

Members of the War Horse Company Chorus: James Barriscale, Finn Caldwell, Paul Chequer, Conor Doyle, David Gyasi, Bryony Hannah, Stephen Harper, Kit Harington, Gareth Kennerley, Pieter Lawman, Jane Leaney, Tim Lewis, Colin Mace, Mervyn Miller, Allel Nedjari, Toby Sedgwick, Howard Ward, Roger Wilson.

Orchestral arrangements, programming and production by Adrian Sutton.

The track list:

1. Devon at Peace
2. Only Remembered
3. Albert and Joey
4. The Year Turns Round Again
5. First Gallop
6. Learning to Plough
7. Wheel of Fortune
8. The Scarlet and the Blue
9. Crossing the Channel
10 The Wounded
11 Devonshire Carol
12. The Charge
13. Hold the Line
14. Goodbye Dolly Grey
15. Friedrich's Theme
16. Emilie's Theme
17. Into the Crater
18. Pulling the Gun
19. The Year Turns Round Again (Reprise)
20. The Tank
21. Joey's Long Night
22. Albert and Joey Reunited
23. Only Remembered" (Reprise)





Broadway To Vegas is supported through advertising and donations. Priority consideration is given to interview suggestions, news, press releases, etc from paid supporters. However, no paid supporters control, alter, edit, or in any way manipulate the content of this site. Your donation is appreciated. We accept PAYPAL. Thank you for your interest.



ART AND ABOUT


YOU MUST REMEMBER THIS

Clint Eastwood will receive the James Smithson Bicentennial Medal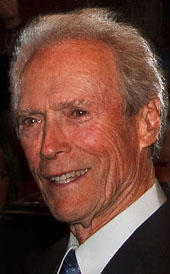 Coinciding with the grand opening of the Warner Bros. Theater at the National Museum of American History, in Washington, DC - this display will showcase rare Hollywood memorabilia, including costumes worn by Humphrey Bogart, Lauren Bacall, and Clint Eastwood, along with Daniel Radcliffe's Harry Potter robe.

Visitors will also see objects representing Warner Bros. Studio history such as Jack Warner's silver telephone and Bugs Bunny animation drawings.

At a ceremony on Wednesday, February 1, marking the opening of the Warner Bros. Theater, the Smithsonian will present Clint Eastwood with the James Smithson Bicentennial Medal in honor of Eastwood's contribution to the American experience through film. The medal recognizes Eastwood's six decades of captivating national and international audiences through his work as an award-winning actor and director.

The $5 million Warner Bros. Entertainment donation to the Smithsonian's National Museum of American History enabled the museum to transform its 46-year-old auditorium into a modern theater with 3-D capability. The auditorium has been renamed the Warner Bros.

The theater now has the equipment to showcase films still in their original 35-mm reel format.

In addition to the Eastwood presentation, when the red carpet rolls out for the inaugural event, a three-day film festival Friday, February 3 – Sunday, February 5 will spotlight Humphrey Bogart and the Golden Age of Hollywood, featuring Casablanca, Maltese Falcon, Treasure of Sierra Madre and The Big Sleep.



Sydney Greenstreet and Humphrey Bogart in Casablanca.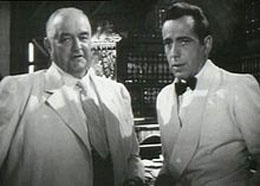 Stephen Bogart, son of Humphrey Bogart and Lauren Bacall, is among the special guests who will introduce Casablanca and take questions from the audience afterward.

The Warner Bros. Theater will be used for lectures, symposia, concerts and other programs and events as well.

The Warner Bros. gift complements the museum's existing entertainment and photo-history collections that include costumes, props and scripts from film and television as well as cameras, projectors and editing equipment.

The museum's collections include an 1890s motion-picture rotary lens; props from 1920s silent films; drawings from the first Mickey Mouse animated film, Steamboat Willie, made in 1928; one of the Technicolor Motion-picture cameras used in 1939 to film The Wizard of Oz; and the ruby slipper Judy Garland wore in that movie.

With the opening of this theater, audiences are now able to experience how these objects were actually used in performance, and curators will provide commentary on the objects and films to further communicate their historical and cultural legacy.

HAJJ: JOURNEY TO THE HEART OF ISLAM

Hajj certificate. 17th–18th century AD. Nasser D. Khalili Collection of Islamic Art (Khalili Family Trust).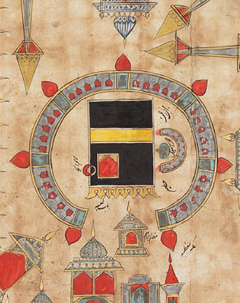 is the world's largest exhibition on the Muslim pilgrimage to Mecca, with objects drawn from 40 collections from around the globe.

Prince Charles opened the exhibition in London's British Museum Thursday night, January 26, 2012.

"I wanted to pay tribute, if I may, to Custodian of the Two Holy Mosques who, in accordance with Islamic teaching, generously hosts Hajjis making the pilgrimage to Makkah, providing remarkable practical and logistic facilities," Prince Charles said in his opening address.

Prince Charles continued, "This recalls the hospitality shown to earlier pilgrims by the families of the Prophet Muhammad (peace be upon him), itself following a noble tradition reaching back to Abraham who built the original Kaaba."

"I am sure you will see that, by gathering together a remarkable collection of treasures from across the world, this exhibition brings to life the very human stories of the countless generations who have completed the Hajj through the ages - from Singapore to Istanbul, from Nanjing to Mombasa. Through the vivid images and artifacts on display, the exhibition reveals the truly universal character of the Hajj," he said.

Saudi Ambassador to the United Kingdom Prince Mohammed bin Nawaf also attended the opening event.

One of the five pillars of Islam central to Muslim belief, Hajj is the pilgrimage to Mecca that every Muslim must make at least once in their lifetime if they are able. This major exhibition charts the history of this deeply personal journey.

Examining the extraordinary travel logistics involved and how the wider operation of the event has changed over time, the exhibition compares how pilgrims over the centuries negotiated this often monumental undertaking and how it continues to be experienced by people from all corners of the globe today.

Beautiful objects, including historical and contemporary art, textiles and manuscripts, bring to life the profound spiritual significance of the sacred rituals that have remained unchanged since the Prophet Muhammad's time in the 7th century AD.

Curated by Venetia Porter and Qaisra Khan. The exhibition is in partnership with King Abdulaziz Public Library, Riyadh, Saudi Arabia.


SWEET CHARITY


NEVADA BALLET THEATRE held their annual Black and White Ball last night at Aria Resort in Las Vegas and honored Eva Longoria as their Woman of the Year.

An actress, producer, philanthropist and activist, Longoria accepted this honor during the event, which is the company's annual fundraiser.


FREE LOVE IN TIMES SQUARE


No better place to say I Love You than Times Square - with a Renewal of Vows.

On February 14, 2012, join in a Times Square declaration of love as the Crossroads of the World celebrates romance, passion, and sweethearts in what is being billed as "a one of a kind tour-de-love."

Whether you're coming from across the river or around the globe, if you've been married 1 year or 50 years, you're invited to a free romantic event in which you can say I do all over again.

On Valentine's Day a renewal of the vows ceremony will take place on the iconic glass Red Steps in the heart of Times Square.

For four years, Times Square has hosted an annual heart sculpture to celebrate Valentine's Day, selecting a special architect to design a romantic public art installation in Times Square for all to enjoy.

This year's 2012 Times Square Valentine heart sculpture is City Pulse by BIG Design, which utilizes the flow of people, air and movement to bring its heart to life.

The 10-foot tall glowing sculpture consists of 10 transparent, LED lit, acrylic tubes that form a cube around a suspended red heart. The transparent tubes refract the lights of Times Square, creating a cluster of condensed city lights around the heart. The hovering heart will appear to pulsate as its tubes wiggle in the wind. As more people gather around the illuminated sculpture, the heart will glow brighter as the energy from their footsteps is converted into more light.


COMPOSER RESIDENCY PROGRAM INVITES APPLICATIONS
Lembit Beecher is a 30-year-old, New York-based composer from Santa Cruz, California
The Opera Company of Philadelphia, in collaboration with Gotham Chamber Opera and Music-Theatre Group in New York, has announced the launch of the second track for its collaborative operatic Composer In Residence program, with applications being accepted from February 15 - March 7, 2012.

Funded over five years by a $1.4 million grant from The Andrew W. Mellon Foundation, the Composer In Residence (CIR) program provides a highly individualized professional development path for two of today's most promising opera composers. The goal of the CIR program is to foster tomorrow's American operatic masterpieces through personalized creative development and intensive, hands-on composition opportunities. The first CIR Lembit Beecher, was chosen during a competitive search in 2011.

The chosen candidate will embark on a three year personalized track providing opportunities to cultivate his/her skills in all aspects of opera production, from working one-on-one with librettists and dramaturges, to workshops and scene treatments with world-class performers. The CIR will have exceptional access to observe and work hands-on in every aspect of creative development, production, and performance.

This award includes a yearly salary of $60,000 and benefits, and the composer's term will begin September 2012.

Eligibility Requirements

The chosen composer:

Must be a US citizen based in the United States
Must not be enrolled or designated ABD in a degree-granting program at time of residency
Must be in residence in Philadelphia and New York for a minimum of four to six weeks, twice per year (housing and travel expenses provided)
Will participate in monthly meetings with senior executive and artistic staff
Will participate in youth and audience development programs across a variety of media


PASSPORT TO BROADWAY


StudentsLive, a premier Broadway Education Company, announces the final performance of its international Passport to Broadway program featuring students from South Korea on Friday, February 3, 2012 at Manhattan Movement and Arts Center, NYC.

The performance is approximately 30 minutes in length and will be followed by a discussion with Broadway Guest Artists.

Passport to Broadway offers international and domestic students the opportunity to experience first hand the best live, interactive Broadway theater education programs, taught by the top professionals working on Broadway.

The program allows students to experience the intensive training of a professional, successful and highly disciplined Broadway artist and to develop the many skills it requires to become one, including collaboration, interpersonal relations, communication and human exploration.

The goal is to expand and deepen students' understanding and familiarity with Broadway. Through challenging music, dance, acting and production studies, the program prepares students to become highly competitive in whatever career they may choose to pursue.

The Final Performance features forty four 8 to 14 year-old South Korean students performing Journey to America – an original musical that featuring a medley of 40 classic and contemporary Broadway show numbers.

The Passport to Broadway Creative Team includes: Amy Weinstein - Director/President of StudentsLive, Michael Sansonia - Musical Director, & Leeanna Smith - Choreographer (Contact and Radio City Rockettes).

Broadway Guest Artists Include: Hair and Make-Up Artist Kat Ventura who has worked on such productions as Chicago; Spring Awakening, Young Frankenstein, and Guys & Dolls; Kevin Woodworth, who has spent the last ten years as Wardrobe Supervisor of William Ivey Long's costume designs for Chicago and, in that capacity, has kept track of 8,000 pairs of hose and 400 pairs of suspenders, among other items of apparel; Benton Whitley, a partner at Duncan Stewart and Company and currently responsible for casting the Broadway, London (star/celebrity) and National touring companies of Chicago The Musical and the national tour of the Tony Award winning musical, La Cage Aux Folles starring George Hamilton, and Nick Pramik (Director, Marketing and Partnerships - SpotCo).


SPREADING THE WORD


THE FAITH OF THE FAITHLESS: SIMON CRITCHLEY AND CORNEL WEST IN CONVERSATION Two of today's most prominent philosophers discuss the resurgence of religious extremism in our times and the concept of faith in secular society.

The prominent and provocative democratic intellectual Dr. Cornel West, best known for his classic Race Matters, Democracy Matters and his recent memoir Brother West: Living and Loving Out Loud, joins Simon Critchley, Hans Jonas Professor at the New School for Social Research and moderator of The New York Times philosophy column The Stone, for a conversation based on Critchley's new book, The Faith of the Faithless: Experiments in Political Theology (Verso, 2012).

Tuesday, February 7, 2012 at BAMcafé in Brooklyn, NY.

REHEARSALS HAVE BEGUN for the Broadway production of Evita, starring Ricky Martin, Elena Roger and Michael Cerveris, ahead of its opening at the Marquis Theatre on April 5, 2012.

THE TONY AWARD WINNING OREGON SHAKESPEARE FESTIVAL'S 2012 preview performances begin February 17, opening a season dedicated to Executive Director Paul Nicholson, who is retiring at the end of the season after 33 years at OSF. Nicholson assumed the position of Executive Director in November 1995. He joined the Festival in 1980, serving as general manager for 16 years.

The season will open Friday night, February 24 with Shakespeare's Romeo and Juliet, directed by Laird Williamson. On Saturday, the world premiere of The White Snake, adapted and directed by Tony Award-winning Mary Zimmerman, takes the stage, as does George S. Kaufman and Morrie Ryskind's Animal Crackers, directed by Allison Narver. Sunday afternoon in the New Theatre, a new adaptation of Anton Chekhov's Seagull by Libby Appel opens, and Appel will also direct.

The Oregon Shakespeare Festival is located in Ashland, Oregon.

ROGER DALTREY has announced that he is taking his tour of Tommy, Who Classics and More to Japan, in addition to the dates he's already announced in Italy, France and Australia.

Daltrey will be performing The Who's legendary rock opera Tommy from start to finish (The Who never actually played the complete Tommy). Daltrey premiered the show at The Royal Albert Hall in aid of Teenage Cancer Trust on March 25th and has since toured it throughout the UK, US and Canada.

Employing striking visuals to accompany the music Roger will be accompanied by Scott Devours (drums), Jon Button (Bass), Loren Gold (Keyboards), Frank Simes (Guitar and Musical Director) and Simon Townshend, brother of Pete (Guitar).

The Japanese dates begin April 23 at the Tokyo International Forum.



CHRISTOPHER PLUMMER

Christopher Plummer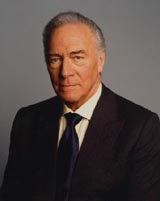 was awarded the Santa Barbara International Film Festival's Modern Master Award January 28, 2012 at the historic Arlington Theatre in Santa Barbara, CA.

The Modern Master Award is the highest honor presented by SBIFF. Established in 1995, it was created to honor an individual who has enriched our culture through his or her multi-faceted accomplishments in the motion picture industry.

Christopher Plummer has enjoyed almost 60 years as one of the theatre's most respected actors and as a veteran of over 100 motion pictures. Plummer currently co-stars in David Fincher's The Girl With The Dragon Tattoo, and he will next portray John Barrymore in Erik Canuel's Barrymore, a role which Plummer originated on Broadway and for which he won the Tony Award.

An Academy Award nominee, Plummer has been nominated for six Emmy Awards and won two; he's received 7 Tony Award nominations and twice took home the award.

Previous recipients of the Modern Master Award include Michael Douglas, Jodie Foster, Sir Anthony Hopkins, Diane Keaton, Sean Penn, Jeff Bridges, Peter Jackson, George Clooney, Will Smith, Cate Blanchett, Clint Eastwood, James Cameron and Christopher Nolan.

The 27th annual Santa Barbara International Film Festival takes place January 26 through February 5, 2012.

THE PHANTOM OF THE OPERA by Andrew Lloyd-Webber, directed by Harold Prince and produced by Cameron Mackintosh and The Really Useful Company, Inc., will yet again make theater history when it celebrates its 10,000th performance on Saturday, February 11 at 2PM, a feat achieved by no other Broadway show. The milestone follows the musical phenomenon celebrating its equally unprecedented 24th Anniversary on Thursday, January 26 at The Majestic Theatre. The historic 10,000th performance will benefit The Actors Fund.

The Phantom of the Opera became the longest-running show in Broadway history on January 9, 2006 with its 7,486th performance - surpassing the previous record-holder Andrew Lloyd Webber's Cats, also produced by Mackintosh.

On Broadway, since its debut on January 26, 1988, the musical has grossed $845 million, making it the highest-grossing show in Broadway history.


CURTAIN DOWN


CHINGLISH the critically acclaimed play, named by Time Magazine as the #1 new American play of 2012, will mis-translate its last phrase today, January 29, 2012 at the Longacre Theatre in NYC. David Henry Hwang's cross-cultural comedy will have played 128 performances.



GIANT Music and Lyrics by Michael John LaChiusa, Book by Sybille Pearson. Based on the novel by Pulitzer Prize-winning author Edna Ferber, which also inspired the film starring James Dean, Elizabeth Taylor, and Rock Hudson, has officially opened at the Dallas Theater Center.

The musical had its world premiere at the Signature Theatre Company in Arlington, VA, April 28- May 31, 2009 at Signature Theatre in Arlington, VA. ( See Broadway To Vegas column of May 3, 2009 )

Directed by Michael Grief.

Starring Tony Award nominee Kate Baldwin as Leslie, Aaron Laazar as Texas cattle man Bick and P.J. Griffith as young oil tycoon Jett.

The cast of Giant also features Enrique Acevado as Miguel; Raul Aranas as Polo and Tony nominated John Dossett as Bawley, Martin Sola as Dimodeo and Katie Thompson as Vashti - the five reprising their roles from the 2009 production; Mary Bacon as Adarene and Mrs. Lyntonn; Miguel Cervantes as Angel, Jr. and Angel, Sr.; Natalie Cortez as Juana; Rocio Del Mar Valles as Analita; Matt Doyle as Jordy, Jr.; Andrea Green as Lil Luz; Michael Halling as Lord Kafrey; Jason Hite as Bobby, Jr.; Tony nominee Dee Hoty as Luz; Doreen Montalvo as Lupe; Allison Rogers as Heidi; Isabel Santiago as Mrs. Obregon; Matthew Stocke as Mike; and William Youmans as Pinkie.

"Giant is an epic love story set in the Lone Star State that spans generations. Bick Benedict is the heir apparent to the largest ranch in Texas, Reata. When he falls in love with a Virginia girl, Leslie, and brings her home, complications ensue as Leslie learns to cope with a new land and culture, and Bick tries to cope with a changing country and changing times. Jett Rink, represents a new age in Texas - oil. The struggles between the cattle ranger's way of life and the drilling for oil, hostilities between whites and Mexicans, exploitation of the land and the desire to preserve it, the challenge of adapting to a changing world versus clinging to traditional values - Bick, Leslie, their children, and all those they know and encounter must face these challenges."

The creative team includes costume designer Jeff Mashie, scenic designer Allen Moyer, lighting designer Ken Posner, sound designer Broan Ronan and choreographer Alex Sanchez. Christ Fenwick is musical director. Orchestrations are by Bruce Coughlin.

The production runs through February 19 in the Wiley Theatre in thee Dallas Theatre Center.

LOOK BACK IN ANGER by John Osborne, directed by Sam Gold.

The cast features Adam Driver as "Cliff," Sarah Goldberg as "Allison," Charlotte Parry as "Helena," and Matthew Rhys as "Jimmy".

Look Back in Anger is often regarded as a pivotal theatrical work of the last century. It is a shocking and vibrant drama about four people struggling to live together and love each other in 1950s England.

Presented by the Roundabout Theatre, Look Back in Anger will open officially on February 2, 2012 at the Laura Pels Theatre at the Harold and Miriam Steinberg Center for Theatre. The production will play a limited engagement through April 8, 2012.

BUDDHA: TRIUMPH & TRAGEDY IN THE LIFE OF THE GREAT SAGE written and performed by Evan Brenner.

Directed by Oscar and Tony nominated John C. Reilly.

Writer/performer Evan Brenner's critically-acclaimed one-man play enacts the extraordinary life of the Buddha entirely from the original texts. The life of the Buddha in his own words - the evolution of his thought, his triumphs, and the rarely portrayed tragedy at the end of his life.

The man we know as the Buddha lived in Northern India around 500BC and introduced the teaching known as Buddhism. After his death, an extensive oral history of the movement was written down and carried throughout Asia, becoming the taproot for all Buddhist traditions. Framed in a most unusual and personal context, writer/performer Evan Brenner brings selections from these texts to the stage, unchanged, to enact the extraordinary life of the man from start to finish. It's an epic story of personal struggle, supreme enlightenment and horrific tragedy.

Performances February 3-25 at the Bootleg Theater in Los Angeles.

THE AGONY AND THE ECSTASY OF STEVE JOBS created and performed by Mike Daisey and directed by Jean-Michele Gregory officially opened on Monday, October 17, was extended through Sunday, December 4, and now returns for a limited engagement beginning Tuesday, January 31 at The Public in New York City.

In The Agony and the Ecstasy of Steve Jobs Mike Daisey turns his razor-sharp wit to America's most mysterious technology icon in this hilarious and harrowing tale of pride, beauty, lust, and industrial design. He illuminates how the former CEO of Apple and his obsessions shape our lives, while sharing stories of his own travels to China to investigate the factories where millions toil to make iPhones and iPods. Daisey's dangerous journey shines a light on our love affair with our devices and the human cost of creating them.

FINDING FOSSILS written by Ty DeMartino. Directed by Suzanne Hunt.

Starring Mark Costello, John Gowans, and Chet Grissom.

Finding Fossils tells the story of an estranged father and his gay son in the wake of the death of a family member. The two meet up at the family's cabin over the July 4th weekend and explore their rocky past, attempt to find common ground in their grief and determine what the future holds for each of them. In the end the ties between father and son are too powerful to deny. The play is a journey that at times is sorrowful, yet also funny, entertaining and deliciously human.

Performances through March 18, 2012 at the Lankershim Arts Center in North Hollywood, CA.

EL NOGALAR (The Pecan Orchard)by Tanya Saracho - Inspired by Anton Chekhov's classic The Cherry Orchard.

Directed by Laurie Woolery.

Starring Yetta Gottesman, Justin Huen, Isabelle Ortega, Diana Romo, Sabina Zuniga Varela.

El Nogalar charts a Mexican family's experience as their way of life is threatened by encroaching drug cartels and economic upheaval. Set in present-day Northern Mexico and infused with Spanish, Spanglish and Espanglés. Dramaturg Luis Alfaro.

West Coast premiere presented through March 11, 2012 at The Fountain Theatre, Los Angeles.

VISITING MR. GREEN by Jeff Baron. Directed by Jen Shuber.

Starring Oscar, Emmy and Tony nominated Theodore Bikel in the title role. The play also features Aidan deSalaiz as Ross Gardiner.

The play is described as: "Found guilty of reckless driving, Ross is ordered to spend the next six months making weekly visits to Mr. Green. What starts off as a comedy about two people who resent being in the same room together develops into a gripping and poignant drama, as family secrets are revealed and old wounds opened."

The creative team include set and costume designer Cameron Porteous and lighting designer Lesley Wilkinson.

This is the Toronto premiere of Visiting Mr. Green and began January 28 with the official opening slated for January 31. Presented by the Harold Green Jewish Theatre Company at The Jane Mallett Theatre located at the St. Lawrence Centre for the Arts in Toronto, Canada. The production runs through February 18, 2012.

Founded in 2006, the Harold Green Jewish Theatre Company is Toronto's only professional theatre company established to celebrate, illuminate and share Jewish culture.

SINGIN' IN THE RAIN

Adam Cooper, Scarlett Strallen and Daniel Crossley. Photo by Chris Nash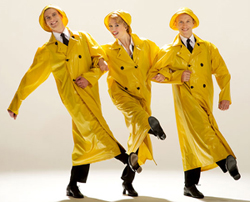 Jonathan Church's brand new production, based on the legendary MGM movie.

This is the story of the first Hollywood movie musical, when the silver screen found its voice and left silent movies, and some of its stars, behind. Packed full of all the charm, romance, comedy and tinsel town glamour of one of the world's best loved films, the musical features a glorious score including Good Morning, Make 'em Laugh, Moses Supposes and the classic Singin' in the Rain.

Starring: Adam Cooper as Don Lockwood, Scarlett Strallen as Kathy Selden and Daniel Crossley as Cosmo Brown.

Featuring Lina Lamont Katherine Kingsley as Lona Lamont, Michael Brandon as R. F. Simpson, Peter Forbes as Roscoe Dexter. Sandra Dickinson as Dora Bailey.Miss Dinsmore, David Lucas as Production Tenor/Diction Coach, Ebony Molina as Olga Mara/Broadway Ballet Girl, Brendan Cull as Rod Zelda Zanders Nancy Wei George as Zelda Zanders.

The production also includes; David Birch, Danielle Crockford, Matthew Croke, Jennifer Davison, Flora Dawson, Jaye Juliette Elster, Luke Fetherston, Gemma Fuller, Francis Haugen, Daniel Ioannou, Peter Le Brun, Charlie Martin, Scott Mobley, Gillian Parkhouse, Sherrie Pennington, Lisa Ritchie and Jack Wilcox.

Choreographer - Andrew Wright; Designer - Simon Higlett: Lighting Designer - Tim Mitchell: Sound Designer - Matt McKenzie: Video Designer - Ian William Galloway: Musical Supervisor - Robert Scott: Additional Orchestrations - Larry Blank: Casting Director - Gabrielle Dawes: Children's Casting Director - Jessica Ronane: Costume Supervisor - Bill Butler: Associate Director - Luke Sheppard: Assistant Choreographer - Gemma Fuller: Resident Director - Cameron Wenn: Associate Lighting Director - Adrian Barnes.

Performances from February 4 at the Palace Theatre in London.


WHO'S WHERE


SIR JAMES AND LADY GALWAY are about to sail away on a dream vacation. The flautists will be performing during Cunard's Queen Mary 2s World Voyage February 1-20, 2012.

A POULENC CABARET an evening of music by French composer Francis Poulenc (1899-1963). Conductor and pianist Jennifer Peterson and assistant curator of Macklowe Gallery, soprano Jessica Goldring, co-curates a program of vocal and instrumental music by the celebrated master and unceremonious champion of banality over atonality, whose melodies bridged the world wars and beyond. Guest artists include French pianist Max Midroit, Chicago clarinetist Cory Tiffin, sopranos Goldring, Michelle Jennings and Marcy Richardson, mezzo-soprano Kimberly Sogioka, countertenor Nicholas Tamagna, tenor John Carlo Pierce, and baritones Ross Benoliel, Randal Turner, and Michael Weyandt. Presented by operamission and Neke Carson at the Gershwin Hotel in New York City on Thursday, February 2.

THE COLLEGIATE CHORALE presents Sir Michael Tippett's 1941 unique oratorio A Child of Our Time and Anton Bruckner's powerful Te Deum on Friday, February 3, 2012 at Carnegie Hall, NYC. The performance features Nicole Cabell, Marietta Simpson, Russell Thomas, John Relyea and the American Symphony Orchestra, conducted by James Bagwell.

GUY DAVIS performs February 2 at Duff's Garage, Portland, OR. On Friday the bluesman can be enjoyed at the Cozmic Pizza, Eugene, OR and Saturday's show is at the Unitarian Fellowship Hall, Ashland, OR.

DANA CARVEY telling funny stories February 3-4 at the Orleans Hotel in Las Vegas.

JOHN EATON Made In America—A Salute to Our Great Immigrant Composers. Jazz pianist Eaton traces the fascinating odyssey of distinguished foreign born American songwriters, including Irving Berlin (White Christmas, God Bless America), Vernon Duke (April in Paris, I Can't Get Started), and Kurt Weill (September Song, Spread Low). These and numerous other distinguished foreign born American song writers are presented in a program that pays tribute to our unique citizen mixing bowl. Saturday, February 4, The Barns at Wolf Trap in Vienna, VA.




FINAL OVATION


NICOL WILLIAMSON the Tony Award nominated, legendary Scottish born actor, died in Amsterdam from esophageal cancer on December 16, 2011. He was 75.

Amazingly talented and equally as eccentric, he performed to his own mindset, and in doing so frequently made headlines.

Williamson was described by playwright John Osborne as the greatest actor since Marlon Brando, and, by Samuel Beckett, as "touched by genius".

His son Luke posted the following message on his father's website:


"He leaves behind him an immense body of work: movies, stage performances, music, book narration, poetry and prose. . . ."

"He was the most honest, funny and intelligent man I have ever had the pleasure of knowing; he was my father and words cannot adequately express how proud I am of him. Before he died Nicol was able to finish the CD he had been working on, albeit slightly shorter than it might have been."

He and the actress Jill Townsend were divorced. He is survived by his son, Luke.

JAMES FARENTINO a stage, film and television actor died January 24 in Los Angeles from heart failure. He was 73.

The actor made his Broadway debut playing a bit role in the original 1961 production of Tennessee Williams' The Night of the Iguana. After he moved to Hollywood, be became one of the last contract players signed by Universal. Hardheaded, he was suspended ten times for not accepting assignments.

After ten years of steady television work, his friend George C. Scott encouraged him to return to the stage and challenge himself. Farentino accepted the lead in a production of One Flew Over the Cuckoo's Nest, at the Arlington Park Theatre in Chicago. He was awarded the 1973 Joseph Jefferson Award for Best Guest Artist for his performance in the play. Jules Irving, director of the Repertory Theatre of Lincoln Center, saw the show and cast the actor in a revival of A Streetcar Named Desire, playing opposite the Blanche of Rosemary Harris.

In 1975 he was Biff to George C. Scott's Willy Loman in a Circle in the Square production of Death of a Salesman. He had previously played Happy in a 1966 Lee J. Cobb television movie of the play.

In 2003, he received rave reviews playing a Russ Meyer-like porn producer in the play Boy Gets Girl, staged at the Geffen Playhouse in Los Angeles.

He frequently made headlines for his off stage troubles. In 1994 Farentino pleaded no contest to stalking singer Frank Sinatra's youngest daughter, Tina, after being charged with 24 misdemeanor counts of stalking, making harassing phone calls and violating a restraining order to stay away from her. The pair had previously had a stormy, five-year off-and-on relationship.

Farentino was placed on 36 months' probation and ordered to undergo psychiatric and alcohol counseling.

Married four times, his first two unions were to stage actresses Elizabeth Ashley (1962-1965) and Michelle Lee (1966-1982). He had a son, David, by Lee. A marriage to Debrah Farentino lasted from 1985 to 1988. He is survived by his fourth wife, Stella, whom he wed in 1994, even though both parties filed for divorce at different points in the marriage. In addition to his wife, he is survived by his sons David and Saverio.

EIKO ISHIOKA Oscar and Grammy winning and Tony Award nominated costume designer, died January 21, 2012, of pancreatic cancer. She was 73.

Japanese designer Ishioka won an Academy Award in 1992 for her costumes worn in Francis Ford Coppola's Dracula. She received a Grammy for her design of the Miles Davis album cover, Tutu. She was nominated for two Tony awards for her sets and costumes on the 1988 production of M. Butterfly. She also designed costumes for the Beijing Olympics opening ceremony. It was her production design work on the Paul Schrader film Mishima which earned her the artistic contribution prize at the 1985 Cannes Film Festival. Most recently, she designed the costumes for the Broadway production of Spider-Man - turn off the Dark.

The show's producers, Michael Cohl and Jeremiah J. Harris, dedicated Thursday's performance of Spider-Man to the artist and issued a joint statement.

"Her work will continue to touch audiences for years to come," they said. She designed the set and costumes for Richard Wagner's Ring Cycle at the Netherlands National Opera, and she directed Bjork's controversial music video for the 2002 single Cocoon. That same year she designed the racing uniforms and outerwear for the Olympic athletes, who took part in the games in Salt Lake City.

A graduate of Tokyo National University of Fine Arts and Music, she became the first woman to be elected a member of the Tokyo Art Directors Club.

She is survived by her husband, Nicholas Soultanakis, whom she married last year; her mother, Mitsuko Saegusa Ishioka; two brothers, Koichiro and Jun Ishioka; and a sister, Ryoko Ishioka.

ROBERT HEGYES who rose to fame playing Juan Epstein, one of the Sweathogs on the 1970s TV sitcom Welcome Back, Kotter, died January 26, 2012, of an apparent heart attack at John F. Kennedy Medical Center in Edison, New Jersey after suffering from chest pains at his Metuchen, New Jersey home. He was 60 years old. Hegyes had suffered a heart attack two years ago. Other health issues included needing a hip replacement.

He began acting in high school. Upon graduation from Glassboro State College (now Rowan University), with a B.A. in Speech/Theater and Secondary Education, Hegyes ventured to New York City to pursue a career in acting and soon became a member of a Greenwich Village children's theater group called, "Theater in a Trunk", performing educational theater at U.S. President Theodore Roosevelt's birth place, on East 20th Street. Hegyes continued performing in the Village in educational children's theater, this time as a puppeteer with an arm and rod puppet company, playing Mr. Toad, in The Wind & the Willows. At the same time he managed to work a third performing job in Washington Square Park and at the Provincetown Playhouse as a member of the political improvisational guerrilla troupe, Jack LaRumpa's Flying Drum & Kazoo Band.

Within a year of graduating from college, Hegyes was cast to co-star in the Off Broadway drama Naomi Court, starring actor Brad Davis. Following that successful Manhattan Theater Club engagement, Robert was cast by Tony Award-winning actor Len Cariou (making his directing debut) to co-star in the Broadway drama, Don't Call Back, starring Arlene Francis and Dorian Harewood. While performing on Broadway, Hegyes auditioned for television producer James Komack and was cast to star in Welcome Back, Kotter, which also starred John Travolta, Lawrence Hilton-Jacobs and Ron Palillo as wise-cracking students at a Brooklyn high school who were mentored by their teacher, played by Gabe Kaplan. It aired on ABC from 1975 to 1979. Hegyes became one of the show's directors at age 25.

Later Hegyes would guest star in more than thirty television shows.

He made his Los Angeles stage debut as Chico Marx in the Westwood and national touring company engagements of, An Evening with Groucho, which starred Kaplan in the title role.

Upon returning from the tour, Hegyes was cast by Producer Barney Rosenswieg to star as a series regular portraying undercover detective Manny Esposito in the Emmy Award winning drama, Cagney & Lacey, starring Tyne Daly and Sharon Gless.

Hegyes became Artist-In-Residence at Rowan University, teaching screenplay writing, acting for camera and public speaking, and was a guest lecturer in the Radio/Television/Film & Theater Departments. He was an adjunct instructor at Brooks College in Long Beach, California, where he taught essay writing and public speaking.

But he would be best remembered for Welcome Back, Kotter. "It's a job where I went to work and laughed every day," he told the Los Angeles Times in 1995. "So how do you beat that?"

John Travolta is Godfather to his two children, Cassie and Mack, who survive him. He is also survived by two step-children, Sophia and Alex, and three siblings.

MARCIA GARDNER an actor, educator, dramaturg, casting director and literary manager frequently associated with Signature Theatre, died January 20 at her Alexandria, VA home after a battle with cancer. She was 66.

Gardner, a graduate of the American Academy for the Dramatic Arts in New York and of the University of California at Berkeley held MFAs in directing and playwriting from the University of Minnesota.

In 2006 Signature Theatre in Washington, DC named her Education Director.

As an actor, Gardner received a 1996 Helen Hayes nomination as Outstanding Supporting Actress in a Resident Play for her work in Signature's Poor Superman, and also appeared at the Guthrie Theatre, Berkeley Rep, Cleveland Playhouse, Minneapolis Children's Theatre and Colorado Shakespeare Festival.

Gardner taught at the University of Minnesota and at Hamline University, where she also served as Director of Theatre. As Signature's Education Director, she founded Signature in the Schools, which helps students in Arlington's Wakefield High School to develop one-act plays.

Gardner is survived by a daughter, Rachel, and a granddaughter, Rosemary. Signature will hold a celebration of Gardner's life on February 13. The event will feature songs, scenes from plays in which she acted and a performance by students in this year's Signature in the Schools program.








Next Column: February 5, 2012
Copyright: January 29, 2012. All Rights Reserved. Reviews, Interviews, Commentary, Photographs or Graphics from any Broadway To Vegas (TM) columns may not be published, broadcast, rewritten, utilized as leads, or used in any manner without permission, compensation and/or credit.
Link to Main Page
---
Laura Deni



For the snail mail address, please E-mail your request.
CLICK HERE FOR COMMENT SECTION