Broadway To Vegas
  
 SHOW REVIEWS CELEBRITY INTERVIEWS GOSSIP NEWS

| | |
| --- | --- |
| | |
MOZART MANIA - - BIOGRAPHY CHANNEL COMES UP TO SEE MAE WEST - - THE COLOR PURPLE CD - - TOMMY TUNE AND DEE HOTY IN DR DOLITTLE - - MIKE WALLACE IN CONVERSATION - - ELTON JOHN BACK AT CAESARS PALACE - - THE WEDDING SINGER OPENS IN SEATTLE - - CLEVELAND PLAYHOUSE WANTS TO CLEAN YOUR HOUSE - - DONATE . . . Scroll Down


Copyright: January 29, 2006
By: Laura Deni

CLICK HERE FOR COMMENT SECTION
MOZART MANIA - SOUVENIRS AND BIRTHDAY CAKE
Some people get bigger birthday parties after Requiem has been played over their body then when they were able to blow out the candles. For instance, the guy who wrote Requiem, - Mozart. A life marked by tumult and contradictions.

Requiem in D Minor left incomplete by a dying Mozart, who began to talk of death, and maintained that he was writing the Requiem for himself. According to The Mozart Project, his wife was of the opinion that he was sickening from some illness, and the Requiem was overstraining his sensitive nerves, she called the doctor and took away the score of the Requiem.

On the day of his death he had the score brought to his bed. "Did I not say that I was writing this Requiem for myself?" he said, and carefully looked through the whole score. It was the last painful, parting glance at his beloved art - a presentiment of his immortality!

If you've forgotten what you learned in Music Appreciation check out the Academy Award winning movie Amadeus. This year marks Mozart's 250th birthday. In honor of that occasion the musical world has arranged itself in a mostly Mozart mode.

Taking advantage of their world renown reputation as the pastry capital of the world, on Friday, January 27, Vienna pastry chefs gave away pieces of a 308 lb, four-layer chocolate cake.

At 6 p.m. the upper-crust attended a sold-out concert of musical luminaries including baritone Thomas Hampson, pianist Mitsuku Uchida, violinist Gidon Kremer, violist Yuri Ba and the eyebrow raising last minute replacement of Renée Fleming with Italian mezzo-soprano Cecilia Bartoli, performing with the Vienna Philharmonic Orchestra under the baton of Riccardo Muti.

Those with a lesser budget ventured to the outdoor Mozart stage in the Kapitalplatz to hear The Orchester TransArt Salzburg play the first movement of Eine Kleine Nachtmusik.

Intermission coincided with 8 p.m. when everything came to a halt. At that magic moment bells of Franziskaner Kirche, St. Peter's and Dom - three churches where music was played during his lifetime - were rung celebrating the life and music of the Austrian Wunderkind born on the third floor of a medieval town house in the Getreidegasse at 8 p.m. on January 27, 1756.



This commemorative silver coin from Germany is legal tender.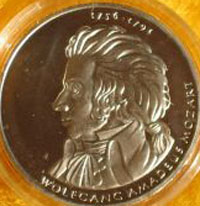 More than half a million people fight their way through small streets to visit Mozart's birthplace each year. This year the figure is expected to triple.

While there are Sound of Music tours in Salzburg, The Sound of Music was the creation of Rodgers and Hammerstein. For Salzburg - Mozart is the cash cow.

The city admits to reeling in more than half of its multimillion-dollar tourist income from the Mozart industry.

Souvenirs range from tacky to tremendous. Birthday cakes abound.

Salzburg is the pivot point for Mozart birthday parties thrown throughout the world.

The Phoenix Symphony celebrates the 250th anniversary of Mozart's birth this weekend with their Mozart Birthday Bash! Complete with celebratory birthday cake at intermission, Music Director Michael Christie leads The Phoenix Symphony in three all-Mozart concerts which began on January 26 running through this evening. Performances took place at the Scottsdale Center for the Arts, the Orpheum Theatre in Phoenix and tonight's January 29 performance at Mesa Arts Center. Nearly 30 sheet cakes were ordered and were served to audiences in honor and celebration of Mozart's 250th birthday. The complimentary birthday cake was served to all concert-goers during intermission at each concert.

Today St. Bonaventure University in St. Bonaventure, NY stages their Mozart's Birthday Cake Contest in the Quick Center theater atrium. Prizes will be awarded for the Most Delicious (Best Overall), Best Decorated (Most Original), and Audience Favorite. All are invited to enjoy cake, coffee and tea.

The Virginia Opera held their cake contest last week. If there's one thing Wolfgang Amadeus Mozart might have despised, it would have been a boring party - after all, some historians regard Mozart as having been as outlandish in his antics as he was revolutionary in his music. With that in mind, the good people of Virginia paid tribute to the composer by throwing a party that even Mozart himself wouldn't have missed! A contest to create the most original and zany Mozart birthday cake set the festive mood for this soiree at Norfolk's elegant Marriott Waterside Hotel, with $3,000 at stake for the first-prize entry, and prizes of $2,000 and $1,000 for the runners-up.

The Music Department of Duke University spent this week-end celebrating Wolfgang's natal day with lectures, concerts, and a screening of the film, Amadeus and - of course - birthday cake. Duke University musicologist Bryan Gilliam spoke and members of the audience were invited to join local professional musicians in a sing-a-long of Mozart's Requiem. Those performing included Anthony Deaton, Diane Thornton, Kevin Turner, Jacqueline Culpepper, the Davidson College Choirs and Symphony Orchestra, and the Davidson United Methodist Church Chancel Choir. Following the concert, the department served a Mozart birthday cake illuminated with 250 candles.

Also in a let them eat cake mood - the music faculty and students Eastern Michigan University. This week-end they staged a variety of events; a recital of music and readings, followed by birthday cake; viewing of the film Amadeus; performance of Mozart's four horn concertos by faculty artist Willard Zirk.

The Notre Dame and Saint Mary's communities observed Mozart's birthday posthumously with as much celebration as he would have warranted in his day with a celebratory concert at the DeBartolo Performing Arts Center. Under the direction of maestro Tsung Yeh, The South Bend Symphony orchestra performed four works of Mozart last Sunday. However, the highlight of the afternoon was the appearance of Wolfgang himself. Dressed in the composer's typical garb and complete with white fuzzy wig, vocalist Paul Appleby blew out the candles of a ceremonial birthday cake, which was quickly consumed at the reception that followed.

For Mozart lovers who have had their fill of cake this week-end, Radio Disney and The Dallas Opera are throwing a birthday party for Mozart - but not until Saturday, February 18th at the Music Hall. Sounds like fun for everyone. You can try on costumes, have your makeup done, meet performers, get your picture taken, and take a backstage tour. The Dallas Opera Orchestra will play a selection of Mozart music starting following by cutting and serving of the birthday cake.

In Prague the gala concert of Saturday, January 28, commemorated the great friendship between Mozart and the Czech opera singer Josefina Dušková. The program included arias Mozart wrote for her, most notably, the concert aria Ah, lo previdi, dedicated to Josefina Dušková in Salzburg in 1777, the scene for soprano Bella mia fiamma…Resta, o cara, written November 3, 1787 at Bertramka, and the aria Non piu di fiori, which was later to become Vitelia's rondo in the opera La clemenza di Tito.



Mozart paper napkins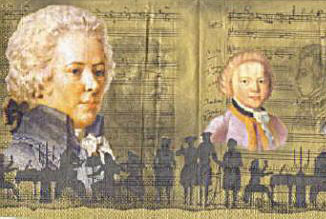 Prague has a deep affection for Mozart whose life, artistic inspiration and work itself is such an integral part of the city. It was here that his Prague Symphony, the famous opera Don Giovanni and later La clemenza di Tito had their premieres in the Nostitz Theatre, now the Theatre of the Estates. During his visits to the city he spent a great deal of time with the Dušek family in their villa called Bertramka.

Mozart and his work received rousing receptions in Prague. In December, 1786 the Italian impresario Pasqual Bondini put on the Marriage of Figaro in what also part of the Theatre of the Estates. In stark contrast to Vienna, where the opera did not meet with great acclaim and was quickly removed from the repertoire, in Prague it was a huge success. In January 1787 Mozart came to Prague for the first time and directed the opera in person. On the 19th of January that same year his Symphony No. 38 in D major was performed in Prague, and has since been called the Prague Symphony.

During his time in Prague he composed Six German Dances for count Pachta, and agreed to write another opera - Don Giovanni based on the text by Viennese court poet and librettist Lorenza da Ponte. Mozart completed the opera in Prague, and directed its premiere personally on the October 29, 1787 at the Nostitz Theatre. The success of this immortal piece which at the time met with a lack of understanding in most other countries, was just as popular among Czech audiences as The Marriage of Figaro had been before it.

The Mozart Prague Celebration will features more than 150 concerts, opera performances, exhibitions and film screenings.



Mozart was commemorated with this stamp issued in 1941 by the Third Reich.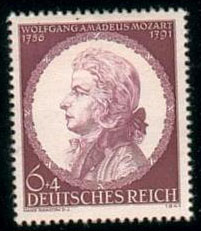 The capital of Saxony will be commemorating the 250th anniversary of Wolfgang Amadeus Mozart, who stayed in Dresden in 1789. The city's attachment to Mozart was demonstrated in 1896 with the foundation of Dresden's Mozartverein, the city's oldest amateur orchestra. Mozart's monument, Mozartstrasse and the twinning of Dresden with Salzburg, the city where Mozart was born, also bear witness to the importance of Mozart to Germany's Florence on the Elbe. The anniversary year will also be celebrated in a number of other places wishing to pay special respect to the musical genius. For example, in Chemnitz with the all-year-round Mozart festival, in Augsburg, and along the cross-border Mozart cycle route, which runs from Chiemgau through the Berchtesgadener Land to the Salzburg region.

Elsewhere, the Paris Opera will stage a new production of Don Giovanni, directed by avant-garde filmmaker Michael Haneke, while the New York Philharmonic launches three weeks of events devoted to the maestro.

A new David McVicar production of The Marriage of Figaro for the London Royal Opera opens January 31 at the Royal Opera House in London. Gerald Finley and Dorothea Roschmann sing the Count and Countess, with Uruguayan-born baritone Erwin Schrott in the title role. Miah Persson as Susanna and Rinat Shaham as Cherubino are supported by house favorites in lesser roles under Antonio Pappano's baton. Sir Colin Davis will conduct a new cast in June.



The Mozarts at home: Johann Nepomuk Della Croce's portrait of a young Wolfgang with his father, Leopold, and his sister, Nannerl. Alinari/Art Resource, New York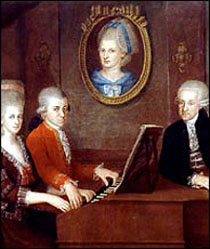 Mozart stunned the courts of Europe with his brilliance as a child pianist and violinist and began composing at age five. By his 15th birthday he had performed before Empress Maria Theresa of Austria, Louis XV of France, George III of Great Britain and Pope Clement XIV. He fled to Vienna when he felt the provincialism of Salzburg was cramping his style.

The Vienna Mozart Orchestra plays concerts with internationally renowned singers and soloists - all in magnificent historical costumes and wigs and creates a special atmosphere in Vienna´s largest and most famous Concert halls, like State Opera, Musikverein Golden Hall, Hofburg and Konzerthaus.

In the style of musical academies, as Vienna concerts were known in Mozart's time, audiences will enjoy single movements from symphonies and solo concertos, as well as operatic overtures, arias and duets from especially popular and well-known works.

The celebrations aren't limited to large cities or places Mozart called home.

Tonight in LaJolla, California cellist Stephen Erdody, who can be heard playing a duet with Yo-Yo Ma on the soundtrack of the movie Memoirs of a Geisha, takes to the stage as part of the Richard Stoltzman and Friends event. Those friends of clarinetist Stoltzman include Lucy Stoltzman and Jeff Thayer playing violins; Scott St. John and Stephen Erdody on the cello and David Deveau, piano. Presented by the LaJolla Music Society the festivities are at the North Park Theatre in LaJolla, CA.

Last Friday New Zealand radio Concert FM broadcast 24 hours of Mozart's music and traced his life through family letters. A selection of experts - including Allan Badley, Rosemary Cathcart, Geoffrey Coker, Paul Downie, John Drummond, Uwe Grodd, Sophie Jerram, Peter Lockwood, Peter Russell and Monika Smith - stepped in at points through the program to throw light on aspects of Mozart's life and times.

By the time Mozart died at age 35, he had completed 41 symphonies, 27 piano concertos, 23 string quartets, 17 piano sonatas, 7 major operas, and numerous works for voice and other instruments.


THE MUSIC GOES ROUND AND ROUND


THE COLOR PURPLE CD released on January 24, by Angel Records, is an original cast recording of the current Broadway production. This is a CD for those who loved the movie, saw and enjoyed the Broadway production or an original cast album collector.

Some musicals are light on the book. Those are productions which are showcases for individual songs with enough words in between to string together a plot line. The Color Purple is a powerful, dark story. The music is meant to emphasize the plot - much like special effects would be used in a radio drama.

While there is a wide mix of musical styles, to fully appreciated the CD the listener needs to either see the show, movie or both.

The Color Purple features a libretto by Pulitzer Prize-winner Marsha Norman, original music and lyrics by Grammy nominated and Grammy Award-winning composer/lyricists Brenda Russell, Allee Willis and Stephen Bray. The show is produced by Oprah Winfrey, Scott Sanders, Roy Furman and Quincy Jones.

The CD is produced by Jay David Saks. Orchestra conducted by Linda Twine. Associate conductor Joseph Joubert.

Musicians on this CD:
Trumpets: Barry Danielian, Brian O'Flahery, Kamau Adlilifu. Trombones; Larry Farrell and Jason Jackson. Woodwinds; Les Scott, Lawrence Feldman and Jay Brandford. Keyboards; Joseph Joubert and Shelton Becton. Drums/percussion; Buddy Williams and Damien Bassman. Guitar; Steve Bargonetti. Bass; Ben Brown. Violins; Paul Woodiel, Mineko Yakima, Martin Agee, Belinda Whitney, Sylvia D'Avanzo, Marilyn Reynolds, Maura Giannini, Christoph Franzgrate, Cenovia Cummins, and Laura Seaton. Violas; David Cresswell, Richard Brice, Debra Shufelt-Dine; Cellos' Clay Ruede and Eugene Maye.

Marketing for the Broadway production included the full cast singing two numbers on Oprah's November 11th show. 500 frequent theatergoers received direct-mail offers with a three-song CD. Producer Scott Sanders' recording contract with Angel Records, part of EMI Group, included not only this cast album but also two singles by big-name performers. Early in the project the composers were told to create an uplifting song that lead character Celie, played in the Broadway production by LaChanze, could sing on any early morning television show, and a pop ballad for Celie and Shug, portrayed on Broadway by Elisabeth Withers-Mendes, that would generate radio play. Sanders recently signed Patti LaBelle and Jill Scott to record that emotional, standout ballad which should be a run-away hit. The second song Angel is interested in as a single is The Color Purple itself. Oprah is reported to be an active participate in a talent search for the appropriate singer.

SWEENEY TODD the cast recording of the current Broadway revival is released Tuesday. Composer Steven Sondheim and the stars, Patti LuPone and Michael Cerveris, will sign copies from 10 p.m. to midnight on the stage of the Eugene O'Neill Theater in The Big Apple.



Broadway To Vegas is supported through advertising and donations. Priority consideration is given to interview suggestions, news, press releases, etc from paid supporters. However, no paid supporters control, alter, edit, or in any way manipulate the content of this site. Your donation is appreciated. We accept PAYPAL. Thank you for your interest.


SPREADING THE WORD


MAE WEST

Mae West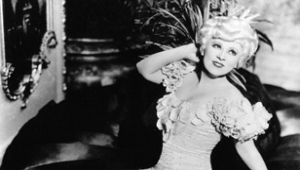 is featured in an hour-long episode on The Biography Channel Tuesday, January 31.

Discover the life of this actress who wrote her own dialogue and set herself up as a provocative sex symbol and as the mistress of verbal innuendo. Mae West was the daughter of a boxer and a corset model, who became a vaudevillian at the age of fourteen. At thirty three, in 1926, she wrote, produced and directed a Broadway show called Sex, and landed in jail on obscenity charges. Her next play, Drag, was banned on Broadway because it dealt with homosexuality.

After wowing Broadway in Diamond Lil, she signed with Paramount in 1932 and moved to Hollywood. Her risque 1930s comedies were ground-breaking, in terms of both sexual content and roles for women.

Proving insight is New York dramatist LindaAnn Loschiavo, whose play Courting Mae West will be in a theatre later this year. Since Courting Mae West is based on true events during the 1920s when the Brooklyn bombshell was arrested and jailed on obscenity charges, Loschiavo focused on East Coast addresses for this TV episode, some of which are spotlighted in her play.

According to Loschiavo, "footage for the Biography special was filmed at several locations familiar to Mae West fans: 62 West 9th Street [now Stephen Lyle's Village Restaurant], an Italian-French eatery known as Paul & Joe's during the early 1920s, a favorite of heavyweight champion Jack Dempsey who introduced it to Mae; Jefferson Market on Sixth Avenue at 9th Street, the 19th century courthouse where Mae was on trial several times during 1927-1929 [now a dilapidated library, where worn limestone bits pelt pedestrians]; Cypress Hills Cemetery in Brooklyn, where it took the magic wand of Boro President Marty Markowitz to open the creaky pearly gates for the TV cameras; 57 East 54th Street, Bill's Gay Nineties, where Mae toasted her vaudeville and Broadway buddies; and other locales."

"When Mae wasn't occupied with a play or a film, some of her favorite activities were organizing a séance, consulting a psychic at Lily Dale Assembly, or penning a book about ESP," Loschiavo continued. "Her passion for the paranormal led her to take part in séances organized by Texas Guinan at Manhattan hotels or backstage at the Royale Theatre [242 West 45th Street], before matinee performances of Diamond Lil and The Constant Sinner.

On August 17th, 2005, a birthday gala for Mae in a haunted mansion had featured a séance attended by Loschiavo along with those who knew Mae such as TV legend Joe Franklin. The TV crew recreated this séance, led by psychic Chris Fleming, who connected with some of the entities therein, playing peek-a-boo in hand-held light."

DER ROSENKAVALIER Bruce Donnell and Susan Graham; Roger Pines, moderator.

Undoubtedly the most popular German opera of the 20th century, Der Rosenkavalier offers plenty of beauty, charm, and Viennese schlag. It's a Richard Strauss classic! Director Bruce Donnell, today's Octavian of choice Susan Graham, and Lyric's own Roger Pines will offer their thoughts on this Straussian love story. A feature of the Lyrics Opera of Chicago preview lecture series Tuesday, January 31, at the UBS Tower in Chicago.

MIKE WALLACE IN CONVERSATION WITH STEPHEN B. SHEPARD Mike Wallace has been co-editor of 60 Minutes, CBS's groundbreaking newsmagazine, since its premiere in 1968. He has interviewed many major figures and won numerous awards. Wallace is a member of the Television Hall of Fame. He is the author of Between You and Me: A Memoir. Stephen B. Shepard is founding dean of the new Graduate School of Journalism of the City University of New York. February 1 at the 92d St Y Kaufmann Concert Hall in NYC.



DR. DOLITTLE the national tour which stars nine time Tony Award winner Tommy Tune and Dee Hoty as love interest Emma Fairfax.

Tune also directs and handpicked newcomer Aaron Burr to play Chee-Chee the chimpanzee. The rest of the cast is comprised of; Joel Blum, Amanda Braddock, Jessica Leigh Brown, Kristin Dawn Calgaro, Matthew Crowle, Sandi DeGeorge, Jack Doyle, Mike Erickson, Joe Jackson, Lesley M. Klose, Scott Leindecker, Allan Mangasser, Amanda Rose, Jonathan Sandler, Sarah Stiles, Sally Ann Swarm, Elisa Van Duyne, David F.M. Vaughn, Erin Webley, Steven Wenslawski and Jessica Wu.

For the tour, orchestrations are by Larry Blank. Dance and incidental music by Gordon Harrell.

Based on Leslie Bricusse's Oscar-winning film, with special effects designed by Kenneth Foy, Ann Hould-Ward and Michael Curry - is comprised of actors playing fully realized animals, hand puppets, marionettes and enormous flying animals.

The charming and witty score features songs such as When I Look in Your Eyes, I've Never Seen Anything Like It and the Academy Award-winning Talk to the Animals.

Dr. Dolittle plays the Buell Theatre in Denver Jan 31-Feb 12.

THE WEDDING SINGER stages its World Premiere in Seattle.

The Wedding Singer is based upon the New Line Cinema film, which opened in 1998 and has grossed over $120 million worldwide. For this new musical, the music is by Matthew Sklar, book by Tim Herlihy and Chad Beguelin, and lyrics by Chad Beguelin.

The story is set in 1985 and rock-star wannabe Robbie Hart is picking up gigs as a wedding singer while he waits for his big break. Gettin' down with his collar up, this crooner is the life of the party. But when his own fiancé dumps him, the bitter and broken entertainer becomes a wedding planner's worst nightmare. It's only when he meets a sweet-tempered waitress named Julia that his heart begins to mend. There's just one problem: Julia is engaged to another man. And unless Robbie can pull off the performance of the decade, the girl of his dreams will be gone forever.

Paying loving homage to the pop songs of the 1980s, The Wedding Singer features a sparkling new score.

A former head writer for Saturday Night Live, Tim Herlihy wrote the screenplay for the film The Wedding Singer and also made a cameo appearance in the film as a bartender.

Performances January 31-February 19 at The 5th Avenue Theatre. From Seattle, The Wedding Singer will move directly to Broadway.

BOSTON MARRIAGE Los Angeles Premiere. Written and Directed by David Mamet.

Starring Rebecca Pidgeon, Alicia Silverstone and Mary Steenburgen.

The Geffen is thrilled to welcome yet another Pulitzer Prize-winning dramatist to its stage, as both writer and director. David Mamet, who has long been known as the voice of male America, has tackled another animal altogether with his wickedly funny drawing room' comedy Boston Marriage. Set at the turn of the century, Mamet takes us inside a Boston Marriage, a euphemism commonly used for two women living together without apparent male companionship or support. What ensues is a perfect blend of an old-fashioned drawing room comedy infused with the fast, furious and side-splitting dialogue that Mamet always delivers.

January 31 - March 12 at The Geffen Playhouse in Los Angeles.

ARMS AND THE MAN by George Bernard Shaw. Directed by Brendon Fox. The cast features Teri Garr, Michael Winters, Jason Kravitz, Sarah Rafferty, Al Espinoza, Anne Heche and Jeremy Sisto.

George Bernard Shaw's Arms and the Man was written a century ago, but its serious-and-silly look at the relationship between reality and idealism in times of war and romance will still resonate with the sophisticated theater audiences of today.

Arms and the Man is the story of a young Bulgarian woman, Raina, whose views on the world are turned upside down by the arrival of self-professed Serbian army officer Captain Bluntschli in her apartment one night. Bluntschli is being sought by the army in which Raina's father is a top-ranking officer. She gives him safe harbor and helps him regain his sapped strength by feeding him chocolate. Soon, sparks fly between the two, as Raina considers taking her young "chocolate solider" as her lover, despite her engagement to another. Shaw mocks romantic illusions, blind devotion and the folly of war in this seriously silly confection.

Five performances are set to be recorded before a live audience February 1-5 at the Skirball Cultural Center in Los Angeles.

THE VELVET SKY a world premiere by Roberto Aguirre-Sacasa, directed by Rebecca Taichman featuring Rick Foucheux, Jennifer Mendenhall & Michael Russotto.

Hovering in a neverland between dreaming and waking, poor Bethany hasn't slept in 13 years in an effort to protect her son Andrew from the Sandman. When her husband whisks Andrew away in the middle of the night, her already fragile grip on reality starts to weaken - setting into frenzied motion this blissfully twisted journey brimming with wild comic detours and surreal hallucinations.

January 30 - March 5 at Woolly Mammoth Theater in Washington, D.C.

LYING IN STATE a comedy by David C. Hyer.

The late state senator has been laid to rest as a result of a ridiculous gun accident that has made him into a national hero.

The local political party officials are strenuously looking for someone to fill his Senate seat.

His ex-wife is looking for a bugler to play for his funeral.

And Buttons, the stripper, and a host of other zany characters are looking for love, votes, the right casket, and a big purple squirrel named Mel — all in this madcap comedy about love and politics in a world where everything is not what is seems.

February 1 to April 15 at the Barter Theatre which is the State Theater of Virginia located in Abingdon, Virginia.

NEW YORK FLAMENCO FESTIVAL features more than 100 dancers, vocalists and guitarists from Spain. The annual event begins on February 3 and will kick up its heels through February 19. A highlight is the all star Gala Flamenca, a benefit for the World Music Institute, on Feb. 15. The event will feature Merche Esmeralda, Manolo Marín, Javier Barón, Soledad Barrio, Rafael Campallo and Adela Campallo, and takes place at City Center in NYC.

THE ROMANS IN BRITAIN Samuel West's production of Howard Brenton's play will be the first major revival since it was first seen at London's National Theatre in 1980. Mary Whitehouse made the play notorious when, her wrath roused by the simulation of anal rape, she sued the theatre for obscenity. The consequent furor diverted attention from Brenton's purpose of using the Roman invasion to debate the presence of the British army in Northern Ireland, but this aspect of the play reported to be restored in this production which opens February 2 at the Sheffield, in London.

THE END OF THE MOON Conceived and Performed by Laurie Anderson. The second in a series of Laurie Anderson's new solo works, this signature piece combines stories, songs and music in a low-tech setting to create an ambitiously large picture of contemporary American culture. NASA's first artist-in-residence draws on her recent research and travels to look at the relationships between war, esthetics, spirituality and consumerism. Anecdotal and wide ranging and epic, The End of the Moon also features Anderson's new music for violin and electronics.

February 2 – 4 at the Prince Music Theatre in Philadelphia.

INDOOR/OUTDOOR a new romantic comedy by Kenny Finkle about life and love as seen through the eyes of a pampered house cat named Samantha. Poor Samantha has to contend with many things, including a nerdy owner, a visiting pet psychologist, and the attention of a feral tomcat named Oscar.

Directed by Daniel Goldstein, the cast includes Mario Campanaro, Brian Hutchison, Emily Cass McDonnell and Keira Naughton.

A graduate of Columbia University's MFA Playwriting program and NYU's Tisch School of the Arts, Kenny Finkle is a recipient of a NYFA fellowship and has been awarded the University of Illinois Inner Voices Prize.

Sets by David Korins. Lighting by Ben Stanton. Costumes by Michael Krass. Sound by Walter Trarbach, Tony Smolenski IV.

Opens February 2 at the DR2 Theater in Manhattan.

THE CLEAN HOUSE by Sarah Ruhl. A finalist for the 2005 Pulitzer Prize, The Clean House is an offbeat comedy about clean homes and messy lives.

A high-powered and humorless doctor hires a Brazilian maid who hates to clean but loves to tell jokes. When the maid befriends the doctor's oddball sister, who does love to clean, a strange match is made. That is, until a crisis at home makes a mess of the doctor's life. The surprising relationships that result send everyone reeling in this humorous and moving new play about laughter we don't understand, events we can't control, houses we can't keep tidy and the power of the perfect joke.

The cast includes: Paul DeBoy, Susan Greenhill, Lynn Milgrim, Priscilla Shanks and Michele Vazquez.

Production Team: Directed by Michael Evan Haney. Set design by Narelle Sissons. Gordon DeVinney is the Costume Designer. David Lander is Lighting Designer. Jill BC Du Boff is Sound Designer. Andrea L. Shell serves as First Stage Manager. Suann Pollock is Second Stage Manager.

The Clean House runs through February 24 at the Robert S. Marx Theatre of The Cleveland Playhouse in Cleveland, Ohio.

In a unique promotion The Cleveland Playhouse, which was the 2004 recipient of the regional Tony Award, teamed up with Procter & Gamble to "help you clean your own home!" Theatergoers can register to win a special gift package, "filled with all the products you need to keep your home in order." Four packages will be awarded to participants who register at the Playhouse throughout the run of The Clean House or through the Playhouse web site. Each package includes: A Swiffer Carpet Flick, Mr. Clean Ultimate Orange Multi-Purpose Cleaner Febreze Air Effects Dawn Botanicals Dishwashing Liquid Downy Fabric Softener Cascade Complete Dishwasher Detergent Bounce Dryer Sheets with Febreze Mr. Clean T-shirt

Winners will be chosen by a random drawing on February 27 and will be notified by the Playhouse. All products for the gift packages (as well as the products used in the production) were donated by Procter & Gamble.


| | | |
| --- | --- | --- |
| | | |
WHO'S WHERE


ELTON JOHN returns to Las Vegas opening January 31 with his Red Piano Show at Caesars Palace. He flew to Vegas from San Francisco where he had viewed his latest creation Lestate, which closes its pre-Broadway tryout today at the Curan theatre. With music by John and lyrics penned by Bernie Taupin, critics put a stake through it - using a thesaurus full of play on theme negatives - anemic being a favorite. Reportedly, John has the life-saving antidote for the Broadway bound musical. beginning previews March 11 towards an April 13 opening at New York's Palace Theatre.

TONY DANZA will usher in the winter-spring season at Feinstein's at the Regency in New York City with his cabaret show I'm Back, from Jan. 31 through Feb. 11.

COLDPLAY on stage Monday, January 30, at the ARCO Arena in Sacramento, CA. On Tuesday they perform at the Oakland Arena in Oakland, CA. Wednesday finds them at the HP Pavilion in San Jose, CA. On Friday they are in Las Vegas at the MGM Grand Garden. Friday they are on stage at The Forum in Inglewood, CA.

GEORGE JONES performs Friday, February 3 at the Muskogee Civic Center in Muskogee, OK. On Saturday he is on stage in Norman, OK at Lloyd Noble Center.

MICHAEL BUBLE opens a two night stand Thursday, February 2, at the Niagara Fallsview Casino in Niagara Falls.

BILLY JOEL performs Monday, January 30, at the Fleet Center in Boston. On Thursday he can be enjoyed at Madison Square Garden in NYC. Saturday he'll be playing and singing his hits at a return stop to Boston's Fleet Center.

CHRIS BOTTI entertains Thursday, February 2 at the Lebanon Opera House in Lebanon, NH. On Friday he's center stage at the Tilles Center in Greenvale, NY and on Saturday he'll be delighting the crowd at Jazz By The Bay in Palmetto Bay, Florida.

PRESERVATION HALL JAZZ BAND on stage Saturday, February 4 at the high school in Vero Beach, Florida.

LENNY KRAVITZ appears at the Air Canada Centre in Toronto on Monday, January 30. On Thursday the show is at the MCI Center in Washington, D.C. On Saturday the performance takes place in Atlantic City at the Atlantic City Boardwalk Hall.

FRANK SINATRA, JR AND HIS BIG BAND on stage Saturday, February 4 at Cypress Gardens in Florida.

THE CHIEFTANS in the spotlight Monday, January 30 at Central Washington University in Ellensburg, WA.
















Next Column: February 5, 2006
Copyright: January 29, 2006. All Rights Reserved. Reviews, Interviews, Commentary, Photographs or Graphics from any Broadway To Vegas (TM) columns may not be published, broadcast, rewritten, utilized as leads, or used in any manner without permission, compensation/credit.
Link to Main Page
---
Laura Deni


CLICK HERE FOR COMMENT SECTION