! >
Broadway To Vegas
  SHOW REVIEWS     CELEBRITY INTERVIEWS     GOSSIP     NEWS 
| | |
| --- | --- |
| | |
Copyright: January 28, 2001
By: Laura Deni
CLICK HERE FOR COMMENT SECTION

MISS SAIGON CLOSES

The sixth longest-running show in Broadway history, and one of the greatest stage successes ever, Miss Saigon closed today after 4,097 performances, with it's original star - Tony Award winner Lea Salonga having returned to the production for the past month - closing the show which she opened.

The production has taken in more than $1.3 billion internationally at the box-office since its world premiere in London in September 1989.

The Broadway production, which premiered on April 11, 1991, has itself grossed $275 million and been seen by more than 6.2 million people.

A native of Manila, the Philippines - where she has been starring in a new international cast production of Miss Saigon- Lea Salonga was originally chosen to play the show's powerful and demanding title role during an exhaustive worldwide talent search in 1988. Only 18 at the time, Ms. Salonga left the Philippines and moved to London to begin rehearsals for the show's world premiere in September, 1989 at the Theatre Royal, Drury Lane.


LEA SALONGA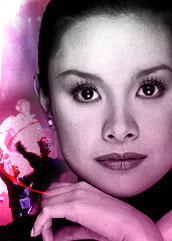 Both the production and Miss Salonga's performance were hailed as triumphs. Ms. Salonga went on to receive the prestigious Olivier Award as Best Actress in a Musical.

The production's design elements were outstanding and award winning: John Napier in charge of scenic design created the illusion of a helicopter shell and chopper blades; Costumes by Andreane Neofitou, David Hersey lighting designer, orchestrations by William D. Brohn, and musical staging by Bob Avian made the production history making.

Miss Saigon also made history and international headlines -- for the casting controversy that ensued when Actors' Equity initially refused to allow Jonathan Pryce to re-create his original London role of The Engineer on Broadway, which for a time, resulted in the cancellation of the production by producer Cameron Mackintosh. Under pressure from many of its own members, the theater community, the general public, and numerous editorial columnists, Actors Equity eventually reversed its decision and allowed Pryce to perform on Broadway. The actor went on to win rave reviews as well as the Tony Award as Best Actor in a Musical.

Pryce's original London co-star, Phillipine-born Lea Salonga was also denied permission by Actors' Equity to perform on Broadway on the grounds that she was an alien and that the role should be given to an American actress. The production took the matter to binding arbitration and prevailed.

Lea not only reprised her role for the show's Broadway debut in April, she went on to sweep the 1991 New York theater awards, winning the Tony, Drama Desk, Outer Critics' Circle and Theatre World Awards as Best Actress in a Musical.



JONATHAN PRYCE

The Broadway company of Miss Saigon has employed 155 actors in its nine years. All U.S. companies of Miss Saigon combined have employed 421 actors.

With the original London production of Miss Saigon producer Cameron Mackintosh established the Bui Doi Fund, whereby the proceeds of a certain number of house seats, at each performance of the show around the world, would be donated to various Southeast Asian refugee relief programs and organizations. A total of $3.5 million has been distributed to charities throughout the world by the Bui Doi Fund. The Broadway cast has raised more than $1.1 million through various fund-raising activities for Broadway Cares / Equity Fights AIDS since the show's premiere in 1991.

While Miss Saigon has closed on Broadway, a national tour is planned. Theatre Under the Stars in Texas secured the rights to produce the show which opens at the Arena Theatre in Houston for a March 20-April 1 engagement.


JEFF DANIELS' PURPLE ROSE THEATER A SUCCESS


Actor Jeff Daniels may be the best thing that ever happened to his home town of Chelse, Michigan, a semi-rural burg 60 miles west of Detroit.



JEFF DANIELS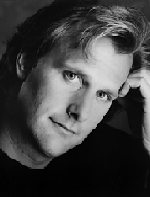 Granted, the Jiffy Baking Mix corporation is based there, but the town's economy got a better rise ten years ago when Daniels opened his Purple Rose Theatre.

The venue has 168 purple seats, an expanded lobby and an exterior of rose-colored brick, green woodwork around new lobby windows, and purple doors. A tall, purple neon sign stands atop a flat-roofed green awning.

Purple Rose operates on a $1.3 million budget, which makes it a mid-size theater.

Over the last decade Daniels has discovered what an economic effect his theater had had on the community.

Amid much celebration the theater reopened last week after a $2 million, 18-month renovation. At the re-opening Daniels said that The Purple Rose, which gets it's name from The Purple Rose of Cairo, the Woody Allen film that starred Daniels, "is a perfect example of what arts can do for a community. Before we opened, half a dozen Chelsea businesses were boarded up."

The remodeled 80-year-old theater - previously a bus and truck repair shop, a pizza joint, a fruit and vegetable market, a plumbing parts store, and a Buick garage, re-opened with the premiere of Lanford Wilson's new drama Rain Dance directed by PRTC artistic director Guy Sanville.

Rain Dance, set in Los Alamos, N.N. in 1945, centers on a young American scientist (played by Matt Letscher) who leaves New York to work on a top-level project in Los Alamos in 1945. Amidst the tranquil beauty of the desert Southwest, he is joined by a German colleague (played by Paul Hopper), his wife (Suzi Regan) and a Native American soldier (Billy Merasty) on the eve of an historic breakthrough. Within the next 24 hours, the culmination of their work will unfold and disrupt the serenity of the New Mexico mountains. As destiny approaches, will the quality of their lives, along with the rest of humanity, ever be the same?

This is the second Purple Rose commission for Wilson, whose Book of Days won the 1998 Best New American Play Award from the American Theatre Critics Association. His plays include the Pulitzer Prize-winning Talley's Folly, plus Balm in Gilead, The Rimers of Eldritch, The Hot l Baltimore, 5th of July, Burn This and Redwood Curtain.

The bond between Daniels and Wilson developed more than 20 years ago when Wilson gave Daniels, then an acting student, his first break.

Daniels also starred on Broadway in Wilson's Redwood Curtain.

After Daniels became successful he returned to Chlesea, where he still lives, and began The Purple Rose Theatre Company, which recently celebrated its 1800th performance. He's "dedicated to the belief that there are creative and revolutionary voices in Americas heartland that need to be heard and explored. The Purple Rose is committed to seeking out and developing playwrights, actors, designers and directors who believe a healthy, working theatre can strengthen a healthy working community."

"Live theatre is an art form usually reserved for those from New York, Chicago or Toronto and can afford to pay $50 or more for a theatre ticket. At the Purple Rose, the average ticket price is $20, covering only half of the actual production cost. Money raised from events like The Comedy Golf Jam and those who support us allow us to keep ticket prices affordable for everyone," Daniels tells the curious.

The 6th Annual Jeff Daniels Comedy Golf Jam will be held on Tuesday July 17th, at Ann Arbor's Polo Fields Golf and Country Club.

Since 1991, the Equity company with a 119-seat theatre has been has been a forum for many emerging playwrights, including Daniels himself, whose works Apartment 3A, Shoe Man, Boom Town, Thy Kingdom's Coming, and The Vast Difference have been presented there. Daniels has also directed work at PRTC but has not yet acted there.

The building shut down in 1999 to begin a renovation-construction plan. The Purple Rose was razed and reconstructed on the same site over the past year.

Missouri born Wilson who has been in Chelsea since December putting the final touches on Rain Dance - "It's a beast of a play to do." However, he enjoys the place -"I've made some good drinking buddies here."

In the course of 90 intermissionless minutes, this intermingled quartet of characters undergo profound changes in their personal lives and in their view on this night that will change the world forever.

Four good people who are a combustible combination.

"I can't remember another time when a group of great, great people changed everything, and in such a small little hideaway. The idea that two people could sit in a room and literally change the universe."

The playwright calls science one of his major loves in life. "I've been reading it since I was a kid. Of course I grew up in that paranoid early Cold-War era when we did fallout drills of getting under your desk when the sirens went off. It was very scary, and I think it just drilled itself into my head. Science keeps worming into my plays, such as Angels Fall and Talley & Son."

Even Talley's Folley - Wilson's Pulitzer Prize-winner - was originally going to be about atomic secrets, but "it didn't work because the dates in the play weren't right."

Designers for Rain Dance are Vincent Mountain (set), Dana White (lighting), Rebecca Ann Valentino (costumes), Danna Segrest (props) and Suzi Regan (sound design).

Rain Dance continues performances at The Purple Rose in Chelsea, Michigan.


THE DAY THE MUSIC DIED


It's an annual pilgrimage. Fans and historians of early rock's biggest names Buddy Holly, Ritchie Valens and J.P. "Bid Bopper" Richardson commemorate their musical legacy by visiting Clear Lake, Iowa where it happened - as it was immortalized by Don McLean's 1971 hit America Pie - The Day The Music Died.



BUDDY HOLLY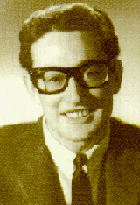 On Feb. 3, 1959, a small plane carrying the musical greats crashed in a cold winter night only hours after the three had performed at a capacity crowd concert at the Surf Ballroom in Clear Lake.

The Surf Ballroom still exists. At the corner of Buddy Holly Place and North Shore Drive. There is the 22nd Annual Dance Party which takes place Feb. 1-3, a tribute concert held in honor of Holly, Valens and Richardson. Scheduled to perform are the Crickets, who played with Holly on many of his greatest hits, Brian Hyland, the Fantastic Convertibles, the Vee's Johnny Preston and Bobby Vee.



The Memorial at the Surf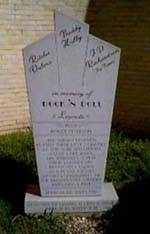 The 55-year-old venue was completely restored a few years ago and hosts concerts throughout the year. On display are old photographs, concert posters and memorabilia related to the departed legends as well as current artists. The pay phone where Holly and Valens made their last calls has been preserved

The actual site where the plane crashed has been memorialized by Wisconsin artist Ken Paquette .



A display from the Surf Ballroom: (clockwise, starting in the upper left) a golden copy of notfadeaway, a collection of Holly hits by modern artists, a set of headphones from the fatal plane a photo of The Big Bopper, and a poster advertising the Winter Dance Party from Feb. 1959.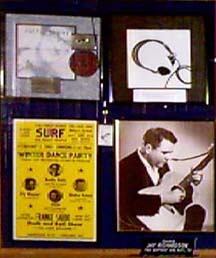 The memorial features a stainless steel guitar and a set of three stainless-steel records. On the records are the names of their artists' record labels and a major hit from each of the legendary rockers: Holly's Peggy Sue on Coral, Valens' Donna on DelFi and Richardson's Chantilly Lace on Mercury.

In 1999, four trees were planted along the fence row, one for each performer and the pilot.

Fans from around the world make the half mile walk - described by many as "eerie" - to leave items ranging from notes to stuffed animals. It's their way of saying their music has lived on.

Holly, a native of Lubbock, Texas is also remembered in his hometown with the Buddy Holly Center - the goal of which is to motivate public interest in contemporary visual arts and in the music and music history of Texas and West Texas.

Exhibitions and programs reflect the diverse cultural characteristics of the region and encourage interaction between artists and the community. The Center collects, preserves and interprets artifacts relevant to Lubbock's most famous native son, Buddy Holly, as well as to other performing artists and musicians of West Texas.



Buddy Holly with his Gibson Guitar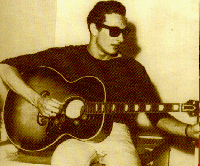 The Buddy Holly Center, which is open to the public, is committed to creating learning opportunities for people of all ages and backgrounds through exhibition tours, outreach programs, educational initiatives and family activities.

Holly's widow, Maria Elena, views the center from a more personal perspective. "My husband was one of the first major performers of rock music. He began his music career by playing the piano at age 11, but soon turned to playing the electric guitar. It was not until a year before his death that he gained his fame when he and his band, the "Crickets" recorded "That'll Be the Day." His energetic style that combined the elements of country music with a strong background rhythm was very influential to many American and British rock performers. While many of his fans will relive his music, I will always remember him as the man I fell in love with many years ago."


CELEBRATING HILDEGARDE


Tonight David Kenney on his Everything Old Is New Again radio show heard on WBAI-FM a listener supported non-commercial NYC radio station, will be celebrating Hildegarde's 95th Birthday, featuring the music of The Incomparable Hildegarde, including her performance recorded live at Carnagie Hall in 1986.

Born Hildegarde Loretta Sell in 1906 in Adell, Wisconsin. She was raised in Milwaukee, Wisconsin, and began her career playing piano in silent movie theatres.

Later, she began to sing, performing in clubs and bars. For a few years, she toured the vaudeville circuit, accompanying the popular black-face entertainer Gus Edwards.

In 1933 she visited London, playing in cabaret and building a reputation as an international entertainer. Her real breakthrough to popularity came almost by chance. Her manager, Anna Sosenko, wrote a song especially for her, in which English and French words were skillfully mixed. The song, Darling, Je Vous Aime Beaucoup Hildegarde recorded April 13, 1941 for Decca Records, accompanied by the Harry Sosnik Orchestra.

That song became synonymous with Hildegarde; and the intriguing mixture of languages allied to both her faintly exotic-sounding name and her husky delivery led audiences to believe that she was of European origin.

If she was aware of this misapprehension, Hildegarde was too smart to set the record straight, recognizing that as a slightly mysterious Continental chanteuse - the elegant singer with the long white gloves - would attract more attention than as a simple songstress from Wisconsin.

During the 40s Hildegarde had her own radio show in the USA and late in the decade returned to tour Europe. She was so famous that designers fought over who would dress her. Bruyere's 1948 silk and rayon blocks of green, black four-inch black patent belt was custom made for the singer in Paris.

By the 50s her career had petered out and she never regained the popularity of her early years. Even so, she was still attracting excellent reviews in the early 90s at venues such as the Russian Tea Room in New York and London's Pizza On The Park.


OTHER PEOPLE'S MONEY


SFX BUYS EVENING STAR New York based concert promoter SFX has purchased Arizona based Evening Star started and owned by Danny Zelisko, whom we first interviewed when he was hoping to book shows in Vegas.

That was 20 years ago.

Since then Zelisko has promoted over 4,200 shows, grossing $300 million in just New Mexico, Arizona and Las Vegas. The buyout means that Las Vegas will receive virtually everything that SFX books, pumping Las Vegas up into a major concert market.



Broadway To Vegas is supported through advertising and donations. Priority consideration is given to interview suggestions, news, press releases, etc from paid supporters. However, no paid supporters control, alter, edit, or in any way manipulate the content of this site. Your donation is appreciated. We accept PAYPAL. Thank you for your interest.


SWEET CHARITY


BIDE-A-WEE holds its annual "Have a Heart" gala at the Pierre Hotel on January 31. This black-tie gala benefits Bide-A-Wee animal shelters, which provide care to thousands of animals each year. Brian W. Barrett, v.p. of Pfizer Inc. will be honored for his support of animal care. Tony Randall, Rue McClanahan and the Pet Channel's Warren Eckstein are among the stars expected to attend.

SONGWRITERS NIGHT a concert Feb. 1 to benefit the Tennessee Performing Arts Center's education program will feature Marcus Hummon, Gary Burr, Bob Regan and Annie Roboff. The writers who have penned hit songs for; Wyonna, Tim McGraw, Dixie Chiks, Sara Evans, Faith Hill, Ty Herndon, Randy Travis, Trisha Yearwood, Billy Ray Cyrus, Keith Utban, Diamond Rio and Mark Willis, will perform their work on behalf of TPAC's Wolf Trap Early Learning Through the Arts program for local preschool children. The annual event, now in its fifth year, raises funds for the regional arm of the nationwide arts program established by the Wolf Trap Institute in Vienna, Va. Wolf Trap Early Learning Through the Arts allows professional performing artists in Head Start classes to work with children ages 3-5, enlivening the classroom with dance, puppetry, music, storytelling and theater. Feb. 1 at 328 Performance Hall in Nashville.

TOPA, TOWARDS OLDER PERSON AWARENESS BENEFIT will be hosted by Carol Channing impersonator Richard Skipper staging An Evening with Carol Channing and Friends, Tuesday, Jan 30 at Don't Tell Mama, NYC. The evening stars Skipper as Channing and will also include performances from cabaret's Aaron Lee Battle, Sandi Durell, Audrey Lavine, Jeanne McDonald, Kristopher McDowell, Carolyn Montgomery, Georga Osborne and Scott Samuelson.



GLIMMER GLIMMER AND SHINE by Tony award winning author Warren Leigh, directed by Evan Yionoulis, opened last Thursday at the Mark Taper Forum, Los Angeles. Glimmer, Glimmer and Shine unravels the story of Martin and Daniel Glimmer, twin brothers and trumpet players, torn apart by the very music and hard-living lifestyles that once joined them.

For a brief incandescent moment in the early 50's, they played together with Eddie Shine as Glimmer, Glimmer and Shine. Choices made years before still reverberate in several lives and spark an unlikely romance. Now, after nearly forty years apart, a romance between Danny's daughter and Shine's son, reunites the estranged brothers. Their journey toward reconciliation reveals the alternately exhilarating and heartbreaking improvisations found in jazz, and life.

The production stars John Spencer of West Wing fame as Martin Glimmer, Nicolas Surovy as Danny Glimmer, John Silverman, and Alexa Fischer. Spencer, who is burning the candle at both ends is taping West Wing which is a full time job in itself, as well as starring in this production. He's been with Glimmer, Glimmer and Shine since it was produced at the 1999 Williamstown Theatre Festival in Massachusetts.

P.S. 69 presented by Asen-Fulham Productions Starring Susan Jeremy, Co-Written and Directed by Mary Fulham, P.S. 69 is a one-teacher extravaganza with a class full of challenge and a life lived on the edge - the hilarious tale of a gay substitute teacher who moonlights as an exotic dancer. Based on Jeremy's experiences as a teacher in an unnamed NY public school, framed by Fulham, whose two children attended it; the 22 separate characters portray an all-too-real school fueled on Ritalin and government neglect.

Winner of two comedy awards at the Montreal Fringe Festival, performances begin February 1st with the official opening slated for Feb. 3 Walker Space NYC.

FOSSE welcomes Tony Award winner Ben Vereen into the star slot on Friday. NYC Vereen, who has survived a series of horrific catastrophes, including a stroke, takes care of himself. He's a spokesperson promoting the benefits of taking aspirin. He also sticks to his vegan diet. During his run in Fosse the Zen Palate Vegeteria, where Vereen regularly eats, will deliver his orders directly to his dressing room.

THE VAGINA MONOLOGUES continues at Theatre On The Square in San Francisco. Starring in the show through Feb 4th are: Nell Carter, Nora Dunn and Carol Kane.

CURTAINS with a score by John Kander and Fred Ebb (Cabaret, Chicago) and a book by Peter Stone (Titanic, 1776) has had its first reading. The musical comedy plot centers on the murder of a producer during the out-of-town try out of a Broadway musical. Taking part in the reading were Ruthie Henshall, James Naughton, Debra Monk and Edward Hibbert, with Scott Ellis direvting. The Neaderlanders are producing.


WHO'S WHERE


RICK SPRINGFIELD takes over the lead in EFX at the MGM Grand Las Vegas on January 30. The show opened in March, 1995 with Michael Crawford followed by David Cassidy and Tommy Tune.

BO DIDDLEY Harveys Casino Hotel Convention Center, Council Bluffs, Iowa February 9.

THE CHIEFTAINS Lied Center for Performing Arts, Lincoln, NE February 3.

ED McMAHON seems to be everywhere. He's just completed city number twenty-five of a 100-city talent hunt tour. The ageless and unbelievably energetic talent scout is conducting auditions for his "Ed McMahon's Next Big Star," a national Internet/television talent show. Ed appears, talks to the crowd, signs autographs and poses for pictures. "We're finding a lot of talent," he told the crowd in Springfield, Mo. "Eventually, we'll hit 100 cities. We're trying to find as many talented people as we can." Keeping it in the family the resident photographer/pr person is Pam McMahon, Ed's wife. She's on the trip with her husband. At every stop, she's been taking pictures of Ed signing autographs and of some of the acts. Mike Stevens, road manager and the emcee of the show, is also on the tour.


THIS AND THAT


WESLEY SNIPES handcuffed and escorted out of Mandalay Bay in Las Vegas last Thursday. When he calmed down and stopped bothering hotel guests he was permitted to return to his room.

SIEGFRIED AND ROY SICKOUT It seems it took all of their combined magical powers to make the flu bug disappear A big deal press conference and VIP show, slated to announce the illusionists inked a lifetime contract with MGM-Mirage was cancelled because Roy is really ill. By counting on fingers and toes we've determined that he's missed more shows since the first of this year than he has in his entire career.Then the posh press event was given the green light again when Roy materialized back into good health.



Mention BROADWAY TO VEGAS for Special Consideration
Call (800) 942-9027









Next Column: February 4, 2001
Copyright: January 28, 2001. All Rights Reserved. Reviews, Interviews, Commentary, Photographs or Graphics from any Broadway To Vegas (TM) columns may not be published, broadcast, rewritten, utilized as leads, or used in any manner without permission, compensation and/or credit.
Link to Main Page
---
Laura Deni


CLICK HERE FOR COMMENT SECTION