! >
Broadway To Vegas
  
  REVIEWS INTERVIEWS COMMENTARY NEWS

| | |
| --- | --- |
| | |
NORBERT LEO BUTZ CD REVIEW - -JELLY BEAN ART - - COMPOSER MIKE STOLLER AND WIFE DONATE $1M - - IAN McKELLEN AND PATRICK STEWART TEAM UP - - LAWYER BILLED FOR SEX - - BACKBEAT EXPLAINS THE BEATLES - - AMERICAN PREMIERE OF THE GIFT - - HOUSE OF MUSIC VIRTUAL CONDUCTOR - - DONATE . . . Scroll Down




Copyright: January 27, 2013
By: Laura Deni
CLICK HERE FOR COMMENT SECTION


TWO TIME TONY AWARD WINNER IS SINGING THE BLUES
Norbert Leo Butz and John Lithgow in Dirty Rotten Scoundrels. Photo: Joan Marcus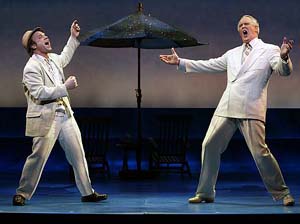 Norbert Leo Butz stole the show, winning a well deserved Tony Award for his role as Freddy in Dirty Rotten Scoundrels. Before the awards were announced, even the sensational Tony Award winning John Lithgow, who played opposite Butz and was nominated for a Tony in the same category indicated that Butz deserved to win.

Then Butz originated the role of Carl Hanratty in the musical Catch Me If You Can, which resulted in him taking home his second Tony Award for Best Actor in a Musical.

Butz got his start on the Great White Way in the musical Rent. His numerous other stage credits include Wicked. The rock-edged songs he sang on Broadway conjure up an image. There is no question that Butz can sing those Broadway songs.

Now Norbert Leo Butz is singing the blues.

When his engagement at the New York City cabaret 54 Below was announced, many assumed that the show would be a mix of American Songbook standards and numbers from his Broadway musicals.

His cabaret gig was captured in a CD Memory & Mayhem released by Broadway Records which - in a partnering move just shy of genius - has teamed with the producers of 54 Below to record their cabaret performances.

This CD is a startling, pleasant surprise.

Butz is a blues' singer with the best of 'em. This is a powerful performance where Butz and some of the best musicians ever heard in a cabaret, tear apart, reconstruct and totally deliver on songs associated with others. This isn't a cabaret act which "covers" songs. This is Butz making the compositions his own.

There is a scope and depth to Butz's ability to deliver a song that would astound those who only know him from his Broadway performances.

Unlike many cabaret acts where the performer is backed by a piano or few pieces which, for all intent purposes, basically stay out of the way, this is a cabaret show where the band is an intricate component.

When Butz says, "What a band! What a band!" - the urge is to go 'Yeaaah!'

With Michael J. Moritz, Jr. doing the arrangements and serving as musical director, Moritz also does duty on piano and vocals. Butz plays guitar as does Kenny Brescia. Slapin' that bass is Steve Gilewski. Making the drum skins talk is Gary Seligson. Dave Rimeli plays the violin, guitar and banjo, "and everything but the kitchen sink," announced Butz. Lauren Kennedy's beautiful voice rounds out the assembly.

This CD is mix of country, folk and soul. No matter how far reaching and sometimes obscure the selection, his deliver is emotional, raw and powerful. The numbers are tied together with short memory vignettes.

The sound is gold standard. When appropriate, the audience can be heard.

So many singers under the guise of being emotional and into the lyrics, garble them. With Butz, the emotion is there. He feels the words all right, but without an exception, every single word can be understood.

The listener can feel the club atmosphere. It's funky, the blues, raw emotion, life transferred to music in the opening Home by Marc Broussard.

Butz then greets the audience and jokes about his name. He refers to a play he did, How I Learned to Drive, a memory play, and thus he put together these songs which reminded him of instances in his own life. Van Morrison's The Way Young Lovers Do, about recalling his very first love.



Norbert Leo Butz is a dynamite cabaret performer.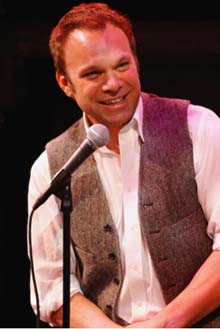 The mood and tempo shifts in Kurt Elling's setting of Theodore Roethke's The Waking, with Butz backed by Stave Gilewski on bass.

A comedic nod to Broadway is in I Could Be in Love With Someone Like You, which was written by Jason Robert Brown for his The Last Five Years, though eventually cut.

"Oh, why must it go so wrong sometimes? Why does it have to go so far south?" Butz asks the rhetorical questions as a lead-in to the mournful Killing the Blues, and the musically defiant Can't Let Go.

When Butz was in the pre-Broadway tryout of Catch Me If You Can at the 5th Avenue Theatre in Seattle, Washington, tragedy struck. The first week of previews were cancelled due to the rape and murder of his sister, Teresa Butz, which made national news when an assailant stabbed both her and her partner in her Seattle-area home on July 19, 2009.

If Butz had specifically gone into details on this CD, it would have been too much of a downer. While the CD is dedicated to her and his deceased brother, Butz properly handles the issue of losing somebody you love - "Remember the people that you've lost, remember them well" - then he sings Jimmy Webb's If These Walls Could Speak.

Butz mused that when you love someone and then lose them, you start to idolize them, forgetting the bad and remembering only the good. That leads into a haunting duet with Lauren Kennedy on The Civil Wars' ballad Poison and Wine, with its poignant message: "I don't love you, but I always will."

He gives a shout out to his newest daughter, explaining that when his new wife became pregnant with what would be Butz's third child, the singer who displayed his limited knowledge of genetics, assumed the baby would be a boy, which they would have named George. Because it was a second trimester problem pregnancy, numerous tests were taken which divulged the baby would be healthy - and also a girl. Thus George became Georgia which leads into the Hoagy Carmichael classic Georgia on My Mind.



Michael J. Moritz, Jr.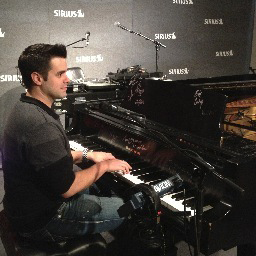 Although he now lives three blocks from his ex-wife and they get along well, sharing custody of their two daughters, that wasn't always the case. Butz describes that situation with tact and salutes his two oldest with My Girls and Alicia Keys' No One.

Butz shows his sassy side explaining that he had a dream that Tennessee Ernie Ford and David Yazbek were lovers. As the audience laughs, Butz slams home a revved up mash-up of the Ford's chart topper Sixteen Tons and Great Big Stuff from Dirty Rotten Scoundrels. The audience laughs and applauds.

The Tom Waits penned Broken Bicycles and David Gray's Be Mine are delicate and sensitive. Butz thanks the crowd for coming, ends with Be Mine and encores with Shadow of Doubt.

Years ago this performance would have been described as "gut bucket blues," meaning a singer had taken songs representative of what is now called a "bucket list" and delivered the tunes from his emotional depths. It's both a memory piece and a wish list. It's also cabaret blues perfection.

You'll not only want to own this CD but also store it where it can be easily located, since the urge is to play it - a lot.

Mixed at Aerial View Studio by Aaron Ankrum. Mastered by Greg Reierson of Rare Form Mastering. FOH Mix and Recording Engineer for 54 Below is Kris Umezawa.





Broadway To Vegas is supported through advertising and donations. Priority consideration is given to interview suggestions, news, press releases, etc from paid supporters. However, no paid supporters control, alter, edit, or in any way manipulate the content of this site. Your donation is appreciated. We accept PAYPAL. Thank you for your interest.



ART AND ABOUT


HOUSE OF MUSIC

The House of Music's Virtual Conductor exhibit. Photo: House of Music.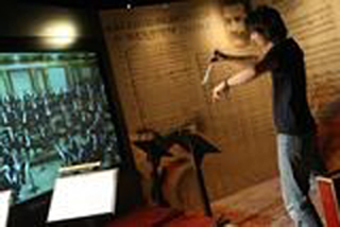 in Vienna, Austria promises patrons that they will be "all ears."

Six floors invite you into the world of the sound and noise phenomena - every day until 10:00 p.m. Music is not only for listening to: in the House of Music, you can also see, feel and even create the sounds and noises yourself. Computer installations are your tour guides.

Observe the great composers, look over their shoulders as they work, confront the greatest musicians of our time, and look at the musical future of computer music.

The 'virtostage' is a multimedia and interactive production. Anyone who moves in front of the screen takes part in running the 15-minute opera Zeitperlen.

The music was recorded by members of the Vienna Philharmonic, the vocals are by opera star Natalia Ushakova. These sound environments blend with the image worlds into a new overall work of art on each occasion. The special virtostage for children presents the "zookonzert", where the crocodile sings the blues, the frog dances the polka and the centipede tap-dances.

Another installation is Namadeus, which was created after Mozart's musical game KV 516f. The names are changed into an original Mozart interpretation.

In the case of the virtual conductor, the Vienna Philharmonic - or at least its video projection - obeys everyone who wants to try their hand at conducting. However, the professional musicians respond to an overly poor sense of rhythm with criticism.

Located in the historical palace of Archduke Karl in the old city center in Vienna, Austria.

PICTURING NEW YORK: PHOTOGRAPHS FROM THE MUSEUM OF MODERN ART

Picturing New York exhibition at the Art Gallery of Western Australia in Perth. Photo AGWA.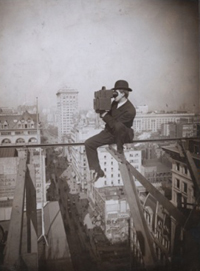 is the second exhibition in the MoMA Series, an Australian exclusive for the Art Gallery of Western Australia.

Featuring over 150 photographs by some of the world's most legendary photographers depicting the iconic New York that captivates the world's imagination and the idiosyncratic details that define New Yorkers' sense of home, this exhibition from MoMA's extraordinary photography collection celebrates the city in all its vitality, ambition and beauty.

Made by approximately 90 artists responding to the city as well as professionals on assignment, including Henri Cartier-Bresson, Walker Evans, Lewis Hine, Helen Levitt, Cindy Sherman, Alfred Stieglitz, and Weegee, over 140 works reveal the deeply symbiotic relationship between photography and the 'city that never sleeps' – New York.

Both an exploration of the life of the city and a documentation of photography's evolution throughout the twentieth century, Picturing New York celebrates the great and continuing tradition of capturing the grit and glamour of one of the world's greatest urban centers.

Officially opened January 26 and is on display through May 12, 2013 at the Art Gallery of Western Australia in Perth, Australia.

JELLY BELLY MASTERPIECES OF JELLY BEAN ART

The Starry Night in jelly beans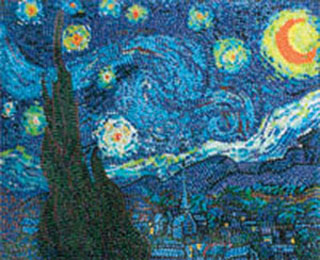 This unique show includes eight masterpieces of art made entirely from Jelly Belly jelly beans - each a sweet replica of a classic painting found in some of the world's most prestigious museums.

Each Jelly Belly Art work is approximately four by six feet, and is made with between 9,000-12,000 Jelly Belly jelly beans.

The collection includes: American Gothic (original by Grant Wood); Girl with a Pearl Earring (original by Johannes Vermeer); The Great Wave Off Kanagawa (original by Katsushika Hokusai); Mona Lisa (original by Leonardo da Vinci); The Starry Night (original by Vincent van Gogh); We Can Do It! (original by J. Howard Miller); Woman with a Mango (original by Paul Gauguin); and Young Blonde Girl (original by Pierre-Auguste Renoir).

Commissioned by Jelly Belly Candy Company, California artist Kristen Cumings created Jelly Belly Masterpieces of Jelly Bean Art for the company's private collection. The eight individual works were meant to capture the original vibrant colors of some of history's most recognizable paintings. Each artwork in the collection was created over the course of several months and took up to 100 hours to complete. Cumings worked on small sections at a time and placed each Jelly Belly jelly bean by hand using mosaic-making techniques.

The concept of Jelly Belly Art was created in 1982 when San Francisco artist Peter Rocha created a portrait of President Ronald Reagan - a famous fan of Jelly Belly jelly beans.

Through May 5, 2013 at the Reading Public Museum in Reading, PA.


SWEET CHARITY


THE PLYMOUTH PHILHARMONIC ORCHESTRA AND THE VISITNG ANGELS OF SOUTH SHORE GALA OF GIVING takes place Saturday, February 2, 2013 at the Indian Pond Country Club in Kingston, MA.

Dancing with the Angels connects communities through music and dance.

A live and silent auction, amateur dance competition, entertainment by The White Heat Swing Band, a buffet and cash bar.

Proceeds benefit the Phil's Cultural Programs and the Special Needs Emergency Fund of Old Colony and South Shore Elder Services.


COMPOSER MIKE STOLLER AND WIFE ARE MILLION DOLLAR ANGELS
Mike Stoller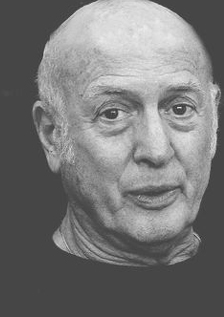 Elvis Presley sang the praises of the songwriting team of Leiber & Stoller, recording more than 20 of their songs, including Hound Dog, and Jailhouse Rock.

Now the Pasadena Playhouse is singing the praises of Mike Stoller, one half of the legendary songwriting team. It seems that Stoller and his wife, Corky, are the anonymous donors whose one million dollar gift to the Pasadena Playhouse in May 2010 was vital to The Playhouse's emergence from bankruptcy that summer. It inspired additional substantial donations as a part of a matching fundraising campaign.

That announcement was made last week in conjunction with the upcoming opening of The Playhouse's production of Noël Coward's comedy Fallen Angels, with the Stoller's hope that other patrons and organizations will be inspired to contribute to The Playhouse's continued efforts to bring excellence in the performing arts to its stage and the community.

"Without doubt, it inspired others to come forward to match their donation at a vitally important time. It was also a meaningful and deeply moving validation of the work of our theatre both onstage and off - not to mention a huge vote of confidence in my leadership of the company. Their support is very much at the heart of the theatre's revitalized life and our current state of good health, both artistically and fiscally. I will always be deeply grateful to this lovely and generous couple," stated Sheldon Epps, Artistic Director of The Pasadena Playhouse.



Corky Hale Stoller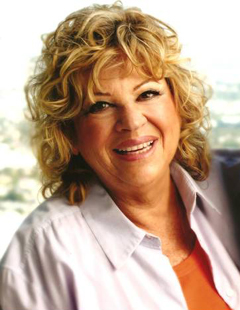 The multi-talented pianist, harpist and singer Corky Hale Stoller, has performed with Tony Bennett, Barbra Streisand, Frank Sinatra, Liberace, Billie Holiday, Peggy Lee, Mel Tormé, Judy Collins, George Michael, James Brown and Björk. She has appeared at The White House, the Hollywood Bowl, Carnegie Hall, The Kennedy Center, Lincoln Center, London's Royal Albert Hall and the RFK Stadium in Washington, D.C.

Leiber & Stoller have a prolific catalogue. Two of the most memorable songs written for Peggy Lee are their I'm A Woman and Is That All There Is? Among their many other hits are Stand By Me, Kansas City, Yakety Yak and Love Potion #9.

Smokey Joe's Café: The Songs of Leiber & Stoller still holds the record as the longest-running revue in Broadway history. Leiber & Stoller have been inducted into the Songwriters Hall of Fame and the Rock and Roll Hall of Fame. They are recipients of the prestigious Ivor Novello Award in London and the World Soundtrack Award in Belgium. In 2009, Simon & Schuster published Hound Dog: The Leiber & Stoller Autobiography.

Mike Stoller and Corky Hale Stoller met in the late 1960s in New York and were married in 1970. They became residents of Los Angeles in 1989.

In 2010, in conjunction with their donation, they both joined The Playhouse's Board of Directors.


WAIT NO MORE FOR WAITING FOR GODOT WITH IAN McKELLEN AND PATRICK STEWART
Patrick Stewart (Vladimir) and Ian McKellen (Estragon) in the London production of Waiting for Godot. Picture: Production photo.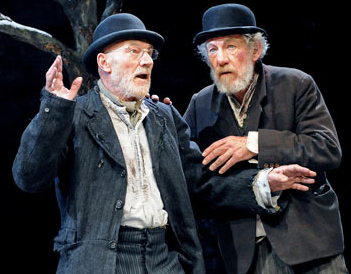 Fans of X-men and Broadway whose wish list was for Sir Ian McKellen and Sir Patrick Stewart to reprise their roles in Samuel Beckett's Waiting for Godot on the Broadway stage, have been granted.

As a bonus, the pair will also perform together in a new version of Harold Pinter's No Man's Land. The two iconic plays will run in repertory at an unnamed Broadway theater this fall.

Director Sean Mathias who worked with the actors on Waiting for Godot during its 2009 West End run, will helm the productions.

McKellen, 73, will play Estragon in Waiting for Godot and Spooner in No Man's Land. He made his Broadway debut in The Promise in 1967 and went on to win a Tony award for his performance as Salieri in Amadeus 14 years later.

Stewart, 72, will take on the roles of Vladimir and Hirst. He is best known for playing Captain Jean-Luc Picard in Star Trek: The Next Generation, first appeared on Broadway in A Midsummer Night's Dream in 1971 and has recently been seen in Macbeth.

Both productions will include sets and costumes by Stephen Brimson Lewis and lighting by Peter Kaczorowski.

In the meantime those involved are keeping busy.

McKellen is currently filming the gay sitcom Vicious with Sir Derek Jacobi for ITV. He will then travel to New Zealand to shoot scenes for the next Hobbit movie.

Mathias, a Tony nominee in 1995 for Indiscretions, will be directing his Theatre Royal Haymarket production of Breakfast at Tiffany's on Broadway this spring.

With two high wattage stars, it hasn't been announced who will receive top billing.

However, Stewart announced that there was "no question" who should. "Ian was a star actor while I was still working in regional theater. To be absolutely frank, I was in awe of him and his work long before I knew him."


SPREADING THE WORD


THE RECORDING ACADEMY PRODUCERS & ENGINEERS WING will celebrate its sixth annual Grammy Week event titled An Evening of Jazz honoring 27-time (Twenty-Seven!) Grammy winner and multi-talented music producer Quincy Jones and 18-time (Eighteen!) Grammy-winning producer/engineer Al Schmitt for their commitment to excellence and ongoing support for the art and craft of recorded music.

The event will be held on Wednesday, February 6, 2013, at The Village Studios in West Los Angeles.

Grammy Week culminates with the 55th Annual Grammy Awards on Sunday, February 10, 2013, airing live on the CBS Television Network.

BOLSHOI BALLET APPOINTS former prima ballerina Galina Stepanenko as a temporary replacement for its artistic director Sergi Filin who is recovering from an acid attack.

Galina Stepanenko joined the ballet company in 1990, retiring last year. Stepanenko said she would fulfill Filin's plans and stick to his chosen repertoire, beginning with the opening of La Bayadere last Thursday. Stepanenko and Filin danced together for many years. She has been described as "a virtuoso of classical dance."

Filin had facial surgery last Tuesday and a second eye operation the following day. Doctors are most concerned about saving the sight in his right eye.

L.A. THEATRE WORKS reunites Broadway cast - Bobby Cannavale, Chris Rock, Elizabeth Rodriguez, Annabella Sciorra and Yul Vazquez - to record Tony-nominated Best Play The Motherf***er with the Hat by Stephen Adly Guirgis.

The high-octane, Tony-nominated, verbal cage match about love, fidelity and misplaced haberdashery. Jackie and Veronica have been in love since the eighth grade. Nothing can come between them - except a hat. All performances will be recorded, without sets or costumes, to air on L.A. Theatre Works' syndicated radio theater series, which broadcasts weekly on public radio stations nationwide and can be streamed on demand.

January 31-February 3 at the James Bridges Theater UCLA School of Theater, Film and Television, Los Angeles.


OTHER PEOPLE'S MONEY


BILLED FOR SEX Minnesota attorney Thomas P. Lowe had a penchant for sex and running up billable hours. Somebody forgot to tell the married barrister that both were wrong.

Lowe has admitted that his bills to a client for services rendered included charges for the time the pair spent having sex.

The sleaze confessed to having an affair with a client he was representing in a painful divorce. And then billing her for his sexual services. The official report, first published in The St. Paul Pioneer Press, disclosed that Lowe's wooing tactics involved asking the client, whom he had known since 1985, about her sexual relationship with her husband, commenting on her appearance and asking if she wanted to have sex with him. The vulnerable client agreed.

After Lowe's wife learned of the affair, Lowe terminated the eight month romance in March 2012, withdrew as his client's attorney and sent her a bill with time they spent in bed coded as meetings or drafting memos.

This event isn't as funny as it is sad. The client attempted to commit suicide shortly after she got the bill. Pressured to tell medical responders what happened, she eventually told the Emergency Room staff what had prompted the suicide attempt, who them reported Lowe to the Minnesota Bar.

Lowe, who had previously been put on probation for buying cocaine from a client, was barred from practicing law. Lowe had his license revoked Jan. 10 by the Minnesota Supreme Court on the grounds of "professional misconduct, namely, engaging in a sexual relationship with a vulnerable client and billing the client for meetings in which they engaged in sexual relations." He will have to wait at least 15 months before he can reapply to practice law.



MILOS FORMAN will be honored with a lifetime achievement award from the Directors' Guild of America, in an awards ceremony taking place February 2 in Los Angeles.

The Czech-born film-maker, 80, won two Oscars for best director of 1975's One Flew Over The Cuckoo's Nest, starring Jack Nicholson, and 1984's Amadeus.


GET WELL SOON TO . . . .


BARRY MANILOW the victim of an attack when something vicious called bronchitis snuck up on him and stole his voice.

The Grammy award winning singer-songwriter, who has sold over 80 million records, was to have begun previews of his Manilow On Broadway show Tuesday January 22, with the official opening slated for January 24. Those were all cancelled after Manilow discovered shortly before showtime that he didn't have a voice.

His show is expected to resume at the St. James Theatre on January 29 with a new official opening night to be announced.

BURT REYNOLDS 76, who is in the intensive care unit of a Florida hospital suffering from the flu.

Famous for his movie and television roles, he began as a stage actor.

While in high school Reynolds won the 1956 Florida State Drama Award for his lead performance in Outward Bound. That award included a scholarship to the Hyde Park Playhouse, a summer stock theatre, in Hyde Park, New York. While working at Hyde Park, Reynolds met Joanne Woodward, who helped Reynolds find an agent, and he was cast in Tea and Sympathy at the Neighborhood Playhouse in New York City. He received favorable reviews and went on tour with the production.

After the tour Reynolds returned to New York and enrolled in acting classes. His classmates included Frank Gifford, Carol Lawrence, Red Buttons and Jan Murray.

He was cast in a revival of Mister Roberts, with Charlton Heston as the star. He made his Broadway debut in Look, We've Come Through. In early 2000, he created and toured Burt Reynolds's One-Man Show.



THE GIFT by acclaimed Australian playwright Joanna Murray-Smith.

The this comedic American premiere is directed by Maria Aitken.

Starring Kathy Baker as Sadie, Chris Mulkey as Ed, Jaime Rae Newman as Chloe, and James Van Der Beek as Martin.

When two couples meet while vacationing at a ritzy resort, they instantly transition from strangers to the best of friends. Despite their almost comical differences - Ed and Sadie are middle-aged, rich and traditional, while Martin and Chloe are young artists glowing with their potential to change the world - they find themselves spending the rest of their week together.

When one seemingly inconsequential event throws both their lives into a tailspin, the couples find themselves wrestling with a moral dilemma: while it's human nature to want what you don't have, is it unnatural to abandon something that you do?

This provocative new work "draws audiences in with a beguiling hilarity that gives way to an unsettling twist, posing searing questions rather than providing comfortable answers."

Scenic Designer - Derek McLane; Costume Designer - Laura Bauer; Lighting Designer - Peter Kaczorowski; Sound Designer - John Gromada; Media Designer - Howard Werner; Production Stage Manager - Mary Michele Miner; Assistant Stage Manager - Gary J. Breitbach.

January 29, 2013 - March 10, 2012 at the Geffen Playhouse in Los Angeles.

FALLEN ANGELS By Noël Coward. Directed By Art Manke.

Julia and Jane are the best of friends and happily married. But before they tied the knot, they each had a brief affair with Maurice, a handsome, charming Frenchman. While their husbands are away for a day of golf, guess who is back in town and requesting the pleasure of the ladies company?

This is Noël Coward at his inimitable best – a champagne cocktail of wit, charm and insane hilarity.

January 29 – February 24, 2013 on the Mainstage of the Pasadena Playhouse in Pasadena, CA.

ROMEO AND JULIET Created by celebrated choreographer Alexei Ratmansky, former Artistic Director of Russia's Bolshoi Ballet, this ballet was commissioned by The National Ballet of Canada's Artistic Director Karen Kain in honor of the company's 60th anniversary.

This version of Romeo and Juliet audaciously blends the elegance and stateliness of classical ballet with the physicality of contemporary expression.

The performances of The National Ballet of Canada takes place at the National Art Centre January 31-February 2 in Ottawa, Canada.

BACKBEAT co-written by Iain Softley and Stephen Jeffreys, based on the 1994 Universal Pictures film by Softley, Michael Thomas and Stephen Ward. Directed by five-time Tony Award nominee David Leveaux.

Direct from London to the Ahmanson Theatre in Los Angeles which has the exclusive U.S. premiere of the remarkable story of friendship, love and the sacrifice it takes to be an artist.

Before Sgt. Pepper. Before Abbey Road. Even before Ringo, there were five Beatles.

Backbeat is set in 1960 when John Lennon, Paul McCartney, George Harrison, Pete Best (the drummer before Ringo Starr joined the group) and Stuart Sutcliffe (the bands original bassist) embarked on their journey from the docks of Liverpool to the red light district of Hamburg. Five rowdy working class lads from the docks of Liverpool rocking out eight days a week in the raucous clubs and red-light seediness of Hamburg, Germany, performing rock n roll covers night after night, all the while honing what would become the Beatles sound.

Meet John, Paul, George, Pete and Stu.

A a stage production that promises to rock the house and break your heart!

Backbeat thunders with live rollicking classics like Twist and Shout, Love Me Do, Long Tall Sally, P.S. I Love You, Rock and Roll Music, I Saw Her Standing There and so many more.

The cast features Nick Blood (as Stuart Sutcliffe), Leanne Best (Astrid Kirchherr), Andrew Knott (John Lennon), Oliver Bennett (Pete Best), Daniel Healy (Paul McCartney) and Daniel Westwick (George Harrison).

Rounding out the rest of the cast are ensemble members Edward Clarke, Josie Dunn, Sam Ford, Mark Hammersley, Perry Ojeda, Charlotte Palmer, Phil Pritchard, Dominic Rouse, Louise Shuttleworth, Adam Sopp, Charles Swift, James Wallace and Miranda Wilford.

See How the Fab 5 became the Fab 4.

In previews, with the official opening set for Wednesday, January 30. Performances through March 16, 2013 at the Ahmanson in Los Angeles.

OUR TOWN by Thornton Wilder. Directed by Stephen Rayne.

"Do any human beings ever realize life while they live it?" -Emily, Our Town

For 75 years, Thornton Wilder's Pulitzer Prize-winning drama has captivated us with its timeless commentary on the transience of human existence. Teenagers George and Emily meet, fall in love, marry - and suffer the slings and arrows of everyday life.

Wilder transforms their ordinary story into a poignant and captivating exploration of mortality and the interconnectivity of human beings.

Now, Ford's Theatre in Washington, DC utilizes a diverse cast to stage a 75th anniversary production.

Featuring Craig Wallace, Kim Schraf, Nickolas Vaughan, Alyssa Gagarin, Portia (in black), Jenn Walker and James Konicek.

In honor of the 75th anniversary, Ford's Theatre will present a series of events including readings, seminars, and on February 4th the Thorton Wilder Society will award the Thornton Wilder Prize on stage during the opening night festivities.

Performances through February 24, 2013 at Ford's Theatre in Washington, DC.

THE FANTASTICKS has welcomed George Dvorsky who has joined the cast in the role of the narrator El Gallo. He replaced actor Richard Roland.

The cast also includes pop sensation Aaron Carter, legendary television, film and stage performer John Davidson, who played Aaron's role in the 1964 Hallmark Hall of Fame television version of The Fantasticks, MacIntyre Dixon, Addi McDaniel, Michael Nostrand, Daniel Rowan, Natasha Ashworth and Dan Sharkey.

The Fantasticks plays at The Jerry Orbach Theater in the Snapple Theater Center in New York City.

MY NAME IS ASHER LEV a new play by Aaron Posner, based on the best-selling novel by Chaim Potok.

Directed by Gordon Edelstein.

Set in post-war Brooklyn, My Name is Asher Lev tells the powerful story of a boy prodigy who must paint at any cost -- against the will of family, community and tradition. It is a luminous portrait of a young artist with a universal theme to follow our passion.

The cast features Ari Brand, Mark Nelson, and Jenny Bacon. Naama Potok, Chaim Potok's daughter, understudies the lead role of Rivkeh.

The creative team includes set design by Eugene Lee; lighting design by James F. Ingalls; costume design by Ilona Somogyi and original music/sound design by John Gromada.

Performances at The Westside Theatre in New York City extended through May 26th..

SHIRLEY VALENTINE written by Willy Russell. Directed by Andrew Barnicle.

Starring DeeDee Rescher.

This transformative comedy follows middle-aged Liverpool housewife Shirley Valentine (Dee Dee Raacher), who is trapped in humdrum domesticity, frequently talking to her kitchen walls just for a bit of conversation. But when her best friend wins a trip-for-two to Greece, Shirley is suddenly pulled away from her boredom into a life-altering adventure. Faced with sudden self-awareness, Shirley begins to see the world, and herself, in a different light.

January 30 - March 3, 2013 at the Falcon Theatre in Burbank, CA.

THE MAN WHO LAUGHS Written by Kiran Rikhye. Based on Victor Hugo's novel The Man Who Laughs.

Directed by Jon Stancato.

Featuring Raife Baker, Dave Droxler, Jon Froehlich, Molly O'Neill, Noah Schultz and Rebecca Whitehurst.

The play is performed in the style of a silent film, complete with live piano accompaniment, projected title cards, and a vibrant black-and-white set.

Dramaturgy by Emily Otto. Music by Eugene Ma.

Makeup by Jaclyn Schaefer with Stephanie Cox-Williams. Costume Design by Julie Schworm.

Lighting Design by Daniel Winters. Set Design by Michael Minahan. Stage Management by Colin Miller. Props & Graphic Design by Aviva Meyer.

Presented by Stolen Chair Theatre Company with performances January 31-February 24 at Urban Stages in New York City.


WHO'S WHERE




FIRST MONDAYS WITH DAVID YAZBEK Known for his thrilling live performances and irreverent style, award-winning musical troublemaker David Yazbek takes the stage with his band at 92YTribeca in a new series, presented the first Monday of each month. Yazbek - whose influences range from Captain Beefheart to Frank Loesser - plans to deliver musical pyrotechnics, new songs debuted at every show, and unexpected, thrilling guests from the worlds of theater, music, comedy and beyond. For his show on February 4, at the 92Y Tribeca, NYC, Yazbek welcomes Tony award-winning singer and actress Patti LuPone.

SLASH the former Guns N' Roses guitarist will perform alongside Myles Kennedy and the Conspirators as part of the closing weekend for the Dubai Shopping Festival 2013. You can see them at the Dubai Tennis Stadium on January 31, 2013, Dubai, UAE.

KANYE WEST entertains at the du Arena stage in Abu Dhabi, UAE on January 31, 2013.

GEORGE STRAIT returns to Las Vegas for a Super Bowl-weekend performance live from the MGM Grand Garden Arena on Saturday, February 2.

THE TEMPTATIONS AND THE FOUR TOPS featuring The Temptations' original member Otis Williams & The Four Tops founder Duke Fakir perform Wednesday February 6, 2013 at the Stamford Center for the Arts in Stamford, CT.

LISA LAMPANELLI brings her tart tongue comedy to the Apollo in New York City for a show on Wednesday, January 30.

LADYSMITH BLACK MAMBAZO the all-male South African a cappella singing group that sings in the vocal styles of isicathamiya and mbube, performs Friday, February 1, at the Flynn Center in Burlington, VT.


FINAL OVATION


PAUL AINSLEY who created the role of King Herod in the original Broadway production of Jesus Christ Superstar, died January 19 in Los Angeles. The cause of death was heart related complications. He was 67.

He also played the part on tour and in stock productions.

The Boston-born actor's other theatre career highlights included originating the part Thenardier in the first national company of Les Miserables, playing Mr. Darling/Captain Hook to Cathy Ribgy's Peter Pan, succeeding Barry Bostwick and Jim Belushi as the Pirate King in Pirates of Penzance, and playing Herbie to Karen Morrow's Rose in Gypsy. In 2002 he played Abner Dillon in 42nd Street at the Fox Theater in Atlanta, Georgia.

The actor was also a member of the Improvisational Theatre Project at the Mark Taper Forum. The Council of Actors' Equity Association issued a statement saying the organization "mourns the passing of our friend and colleague Paul Ainsley, a dedicated member and former Councillor of this Association. "







Next Column: February 3, 2013
Copyright: January 27, 2013. All Rights Reserved. Reviews, Interviews, Commentary, Photographs or Graphics from any Broadway To Vegas (TM) columns may not be published, broadcast, rewritten, utilized as leads, or used in any manner without permission, compensation and/or credit.
Link to Main Page
---
Laura Deni



For the snail mail address, please E-mail your request.
CLICK HERE FOR COMMENT SECTION