! >
Broadway To Vegas
  
 SHOW REVIEWS CELEBRITY INTERVIEWS GOSSIP NEWS

| | |
| --- | --- |
| | |
METROPOLITAN THEATER HAS FOOTHOLD - - PHANTOM OF THE OPERA BREAKS BROADWAY RECORD - - THEATRE HALL OF FAME INDUCTS NEW MEMBERS - - DON'T MISS NOVEMBER - - CHARLES DURNING RECEIVES SAG LIFETIME ACHIEVEMENT AWARD - - SCOTT BAKULA, PATRICK PAGE AND BETH LEAVEL STAR IN DANCING IN THE DARK - - ALVIN AILEY DANCE TROUPE KICKS OFF 50TH ANNIVERSARY TOUR - - BRONZE THE FONZ - - DONATE . . . Scroll Down


Copyright: January 27, 2008
By: Laura Deni

CLICK HERE FOR COMMENT SECTION
METROPOLITAN THEATRE ESTABLISHES ITS NICHE


When an Artistic Director of a theater determines there is both the need and budget to support hiring a Managing Director, that is a significant milestone. So it was - with a certain pride - that Metropolitan Theatre in Manhattan announced that James Haugland had been secured as the first Managing Director in its history. Haugland had worked as a Program Manager with the Baltimore Shakespeare Partnership and Canvas Director with Citizen's Campaign Network, a national not-for-profit advocacy group, and is a graduate of Goucher College and Circle in the Square Theater School.

He spoke with Broadway To Vegas about the Metropolitan Theater - and how to pronounced his name which "everyone messes up." Haugland is actually pronounced with a long "o" as in "Hogland." At least that's how it is pronounced now. It used to be pronounced Patterson.



James Haugland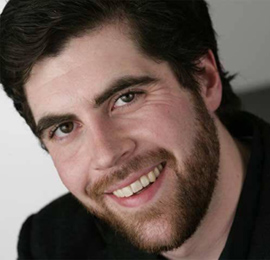 "It is Norwegian. My original family name was Patterson," explained Haugland. "When my great-grandfather immigrated, he wanted to work next to his best friend in the quarries of Connecticut. They assigned workers alphabetically. Being from the Highlands which is what the name Haugland means - he changed his name to Haugland in order to work next to his buddy."

Caring on the family trait of ingenuity and hard work, Haugland is looking forward to being part of the team that further established Metropolitan Playhouse as an important East Side venue, which offers a slightly different edge of stage than other local venues.

"Metropolitan has been working so hard to carve out a place on the New York theater scene," said Haugland who describes success of the 16-year-old theater "in no small part because we are specific about our mission and what we are trying to accomplish. It gives us opportunity to be a distinctive piece of that landscape."

Since its 1992 inception as a small membership company housed in a high school auditorium, Metropolitan Playhouse has grown into a professional theater of national renown, at home in a unique East Village theater, and producing over ten separate productions and festivals each season. Under the leadership of Artistic Director Alex Roe since 2001, Metropolitan is devoted to works that examine American identity in the context of our history and theatrical tradition. The core of Metropolitan seasons are four main stage plays, chosen individually for their dramatic worth, intellectual sophistication, social significance, and emotional depth.

Haugland arrived at Metropolitan through social motivation.

"I graduated from college in 2002 and found myself, as many young people do at that time, extremely motivated in what I thought was some real injustice happening on the part of the administration. I grew up in Vermont, so on a very deep spiritual level, I've always had a very strong affinity for the natural world."

"I was a theater major and always interested continuing down that road," he stressed. "But, it was a passion of the moment to go down the environmental road. "That it allowed me the opportunity to not only be able to work on an issue that I cared so much about, but to cultivate some of the leadership and managerial skills that are serving me now."

"The biggest thing in terms of skill that I think I was able to cultivate during that period of time with Clean Water Action is community building - to cultivate relationships, to make people feel that we, as an organization, were not reaching out to them just for their money or time, but because they were needed to be a part of that movement - working together to solve problems."



Margaret Loesser Robinson who played the protagonist in this season's production of Margaret Fleming. Robinson's portrayal was honored by Backstage as one of the best performances of 2007 in New York Theater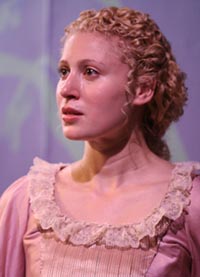 "That is also key in this setting because Metropolitan being a small, not for profit theater, we don't have the marketing budget to do the saturation strategy of a Broadway production. The way we get people to come back show after show is to really make them feel that they are a part of this community. That this is their theater. They are vested in what's happening here."

"The way to do that is two-fold," he continued. "Most important is the caliber and quality of the work, which I am proud to say is extremely strong. Artistically, I feel we bode well above our weight. Another way to bring people back is to reach out and make them feel they are a part of this community. Not only do we get a lot of people with these festivals - Hawthornucopia which was so cool with 13 independent produced productions. ( See Broadway To Vegas column of January 13, 2008 ) When people come we want to make them feel that they are really coming into our living room. That this is a cultural hub that people have a piece of - that they aren't coming just for the show but to be a part of something exciting that is happening in the theater."

"Alex the artistic director is great," exclaimed Haugland. "He is extremely interested in being a cultural resource to the community the East Village. What is great about the Festivals of Original Works is that it provides an outlet for people to lend their own voice. This is the third year that we have done a festival based on work of an American author. The first was the Poefest. Last year was Twainathon and now Hawthornucopia. We get submissions from abstract movement pieces right down to adaptations of bio pics."

"This will be the fifth year of the East Village Chronicles something that we take great pride in because it gives an opportunity for local artistes and to celebrate the culture of the East Village. Every year there is slightly different theme. For example, this year the theme is Places and Spaces of the East Village. All submissions need to be inspired by some landmark of the East Village. It could be almost anything; a lamppost, a street corner, a building, a bar. We do this as festival work - where local artists have the opportunity to write, direct, produce and act in their own production."

"It's really what attracted me to this place," he confessed. "There is an opportunity for aspiring artists in the local community to have those opportunities. That, of course, is coupled with four main stage productions each year that are under our own artistic auspices that pursue our mission, which is to explore the American theatrical legacy. We do a lot of pieces mostly pre O'Neal that just don't get done in New York very often. We get a lot of people coming who say - I always wanted to see this kind of stuff produced here in New York, but it's rare that we have an this opportunity. So, it is a very rich, sort of diverse season that comes out every year."

"It's invigorating for me in terms of the actors, because there are so many wonderful actors and actresses in this city. It's really hard for actors to get a foothold. Here actors - particularly the young - have an opportunity to be seen, to play some of the roles that they might not otherwise have a chance to play, because we are producing something that isn't being produced anywhere else in the city."

"What is wonderful about being a 55-seat theater is that, because it is so intimate - actor centered - a lot of the spectacular bells and whistles that we get typically in New York theater, won't work. Its about people on stage communicating. In a place our size the actors can't get away with telling a lie. So, it is really about the actors."

"Alex Roe the artistic director, cares deeply about seeing everybody, emphasized Haugland. "Right now he is in the process of casting our next main stage, Year One of the Empire. It's an exciting project. Alex knows so many actors. It would be very easy for him to pick up the phone and call the people that he thinks would be good for the roles. But, he has been so deliberate about - literally - going through hundreds and hundreds of submissions - reading resumes, bringing people in - trying to discover new talent and really find the best person for the role. If anyone is a bit tenacious, they will definitely have an opportunity to be seen here. He spends so much time on that. It is just something that he values. And, I appreciate that."

"The first week I got here in November it was a thrill because Alex said to me I'm having a call with Elinor Fuchs and this afternoon and I'll like you to join us in a conference call,'" recalled Haugland.

"She is a renown dramatist, critic and teaches at Yale. It was a thrill for me because I had read her book, The Death of Character, at college and it had been a meaningful piece to me. Here I was, the first week on the job, having a phone call from this great theater intellect that I respect so much. This is a play that she wrote 35 or so years ago with a friend of hers, Joyce Antler, who is a historian. They wrote this play sort of in response to the Vietnam War."

"It is actually a play that has drawn all of the words from the historical record - letters, Senate debates, etc. The characters are everyone from Teddy Roosevelt, to President McKinley, some of the Senators at the time of the war with the Philippines at the turn of the last century - the late 1800s. It's so fascinating. It follows the war with Spain. America sort of occupied the Philippines. It's a part of history that some Americans might not know."

"There are so many parallels to Americans foreign policy agenda at that time and what is happening and has been happening in Iraq." he stated. "It really is scary to see how history repeats itself. It received great critical acclaim with a well received production in Los Angeles. Then it respectfully went on the shelves a piece of history. But, it is coming back here as a New York premiere. It is just amazing how it resonates in terms of what's happening in Iraq right now," he reiterated. "Elinor Fuchs had seen some work here and came to Alex saying - 'I would like you Metropolitan to do the New York premiere production.' We felt very humbled and honored."

"I'm sure someone of that respect and caliber in the theatre world could have gone to bigger venues with higher budget productions. But, she valued what we value in terms of quality and depth of work being done. We're thrilled to be producing that piece in late February and March."

Next up for Metropolitan Playhouse is Mortal Decisions: A Diary of the Donner Party. In this one man show Stu Richel brings to life one of the most terrifying and infamous tales of the American frontier. In 1846, thirty-three souls set out from Springfield, MA, in search of a new life out West. Instead, they discovered the limits of human compassion and endurance in the snowbound Sierra Nevada. Commonly known as a sensational tale of cannibalism and depravity, the trials of the party are seen in vivid detail through the eyes of a lucky survivor in Mortal Decisions - a saga of impossible choices and defiant courage. Performances are February 8th, 9th, 15th, and 16th.

That will be overlapped with The Festival of the Vegetables by Michael and Rachel Kosch. Part of Metropolitan's New Children's Series, this is a whimsical series of brief, witty poems, piano pieces, and dances that reveal the secret life of vegetables. We find ourselves in a huge supermarket where a toddler, shopping with mom, nods of to sleep. The child dreams of vegetable adventures—stories of bravery, brattiness, and paleontology—each introduced by an eloquent produce clerk. The family friendly production with performances on week-ends from February 2 through February 17, stars The Truly Fooly Children's Troupe.

As for money and people looking twice at their budgets, Haugland is optimistic.

"My suspicion is what people will cut back on will be the $150 ticket to the opera, the $100 tickets to Broadway shows. I think actually this may serve us because our prices are so low. Under the Equity Showcase rules, what we do on our main stage, the most we can charge is $20 a ticket. I think people as they are monitoring their budget and looking for affordable options to get their theater fix, if you will, may be turning more to the downtown scene and may discover Metropolitan as a wonderful affordable alternative."

"That would be my hope. In fact, we felt that a little bit during the Broadway strike. We were doing The Pioneer, which was five short plays by Eugene O'Neal - most of them rarely if ever performed in New York. Only two ever performed here and none at all in the last 15-20 years. There were a number of factors why that was so successful. Eugene O'Neal is so popular and a number of people wanted to explore his more obscure works. It was the highest selling show in our history. I think in no small part, because people were forced to dig a little deeper to find that high quality theater during the strike. There is a silver lining to every bad situation. For us, the silver lining of that bad situation was, we discovered some new friends for our theater."



For a donation of twenty dollars we encourage your opinions regarding topics of interest or what you feel we may have spent too much time covering.

We will also send you a perfectly acceptable Broadway To Vegas mousepad and a really nifty thank you note.

Please allow two weeks for delivery of your mousepad and thank you note. For that you will need to provide a name and mailing address. All information is kept confidential. We accept PAYPAL. Thank you for your interest.


TWO THUMBS UP - BRONZE THE FONZ


Milwaukee fundraisers - including a bakery selling thumbs-up cookies - has raised the $85,000 required to erect a bronze statue of Henry Winkler as Arthur "Fonzie" Fonzarelli, the adored leather-jacketed biker from Happy Days

Move over the cheese-head trinkets - you're getting a bronze Fonz.

The statue will form a troika boosted by cable network TV Land. The other two cast in metal are Bob Newhart in Chicago and Mary Tyler Moore in Minneapolis.

Henry Winkler, who played Fonzie during the show's run from 1974 to 1984, was in Milwaukee for the formal announcement and called the Bronze the Fonz project "a phenomenal compliment."

The statue is expected to dedicated around Labor Day along the Milwaukee River.

Aaaaaaay!


SPREADING THE WORD


BROKENBROW A new version from Ernst Toller's 1922 play Hinkemann translated by Peter van Suntum. Adapted and Directed by Alex Harvey.

Featuring actor Scott Parkinson, composer Timothy Requarth and Tony Award winning designer Richard Hoover. Mentored by Anne Cattaneo.

A wildly theatrical play which examines an injured WWI veteran's attempt to reintegrate into civilian life. Director Alex Harvey and his talented company have highlighted the play's universal vision while exploring its resonance in today's world. This is a rare opportunity to re-discover a little-known 20th century Expressionistic masterwork.

Part of the Drama League Directors Project's New Directors/New Works Program of works in progress.

One performance only on Tuesday, February 5 at the Bruce Mitchell Room ART/NY Spaces in NYC.


SWEET CHARITY


6TH ANNUAL MARDI GRAS BALL sponsored by the Daytona Beach XII Night Revelers to benefit Seaside Music Theater's Arts Education Fund. This festive evening includes musical entertainment, dancing, New Orleans style hors d'oeuvres, an oyster bar and open bar. You must be at least 21 years of age and Carnival Costume or Black Tie and Mask Required! Saturday, February 2 at the News-Journal Center in Daytona Beach, FL.

THE PHANTOM OF THE OPERA directed by Harold Prince, reached an unprecedented milestone on Saturday, January 26, when it celebrated its Twentieth Anniversary on Broadway playing its 8,318th and 8,319th performances at The Majestic Theatre.

The longest-running show in Broadway history - a feat it achieved in January 2006 when it surpassed the then-record run of Cats, the musical is the winner of seven 1988 Tony Awards including Best Musical. Since its Broadway debut on January 26, 1988, The Phantom of the Opera has grossed over $675 million, making it the highest-grossing show in Broadway history. Total New York attendance is at 12.5 million. It has since gone on to play over 8,000 performances – the only show in Broadway history to do so.

The Phantom of the Opera stars Howard McGillin in the tile role with Jennifer Hope Wills as Christine and Tim Martin Gleason as Raoul. Having donned the mask in over 2,000 times, Mr. McGillin has performed the title role more than any other actor in the Broadway production.

The musical also co-stars George Lee Andrews (Monsieur André; Mr. Andrews is the only cast member to have been with the Broadway production for the entire run), David Cryer (Monsieur Firmin), Patricia Phillips (Carlotta), Marilyn Caskey (Madame Giry), Wayne Hobbs (Piangi) and Heather McFadden (Meg Giry). At certain performances, Elizabeth Loyacano plays Christine.

THEATRE HALL OF FAME hold their annual ceremony on Monday, January 28, at the Gershwin Theater in Manhattan. Her inductees include; the actor and playwright Harvey Fierstein, the actors John Cullum, Lois Smith and Dana Ivey, the director Jack O'Brien, the playwright Peter Shaffer, the librettist Joseph Stein and, posthumously, Mel Gussow, a critic for The New York Times.

Nine time Tony winner Tommy Tune will be the M.C.

Presenters are: Hal Prince, Mike Nichols, Sheldon Harnick, Ellen Stewart, Emanuel Azenberg, Alfred Uhrey, Frank Galati and Gerald Schoenfeld.

CHARLES DURNING who received a Tony award for his performance in the 1990 revival of Cat on a Hot Tin Roof, will be honored tonight, Sunday, January 27, with the 2007 Screen Actors Guild Lifetime Achievement Award. The annual award is bestowed to an actor who fosters the "finest ideals of the acting profession".

In a statement Screen Actors Guild President Alan Rosenberg said, "Charles Durning is the perfect choice for the Life Achievement Award as Screen Actors Guild celebrates its 75th anniversary. Throughout his career, he has epitomized the art and grace of acting and brought something special to every role. He is above all things a great actor with the talent to which we all aspire: the power to create indelible characters."

Charles Durning has appeared on Broadway in Poor Bitos, Drat! The Cat!, Pousse-Café, The Happy Time, Indians, That Championship Season, Boom Boom Room, The au Pair Man, Knock Knock, Cat on a Hot Tin Roof, Inherit the Wind, The Gin Game and Gore Vidal's The Best Man.

Last year's recipient of the Lifetime Achievement Award was Academy Award winner Julie Andrews.


FIRE AT MONTE CARLO HOTEL IN LAS VEGAS MAKES MAGICIAN LANCE BURTON DISAPPEAR


Magician Lance Burton, who operates under a 13-year contract at the Monte Carlo Resort, saw his act temporarily go up in smoke when part of the hotel's facade caught fire on Friday.

Until the hotel re-opens, performances of Burton's acclaimed now-you-see-em'-now-you-don't show have been suspended in mid-air until further notice.

MGM Mirage, owners of the property, issued a statement Saturday which in part reads; "County inspectors and company executives continue their assessment of the building. The process of determining a schedule for re-opening the resort is underway."

At that point Burton should magically re-appear.

Anyone holding tickets for performances which are unable to be staged should contact the hotel about a refund.



NOVEMBER a new political comedy by David Mamet. Directed by Joe Mantello.

Starring Nathan Lane who may be the gold standard for timing. He is cast as Charles H.P. Smith, lame-duck turkey of a president, Dylan Baker as the slippery amoral White House Counsel Archer Brown and scene stealer Laurie Metcalf as Smith's chief speechwriter, Clarice Bernstein - a lesbian mother with a terrible cold, newly returned from China via Hawaii with her lesbian lover, their newly adopted baby girl and possibly bird flu. Rounding out the talented cast are Michael Nichols as Chief Dwight Grackle the head of an Indian tribe on Nantucket Island, who demands the U.S. give back part of the land for a casino and Ethan Phillips as "Turkey Man" the representative of the National Association of Turkey By-Product Manufacturers.

Scenic Design by Scott Pask. Costume Design by Laura Bauer. Lighting Design by Paul Gallo.

( See Broadway To Vegas column of December 23, 2007 )

A winning ticket comedy for any time of the year, but especially timely in this election year. Don't miss this world premiere at The Ethel Barrymore Theatre in NYC.

JERRY SPRINGER THE OPERA Starring Harvey Keitel who is appearing on a New York stage for the first time in over 20 years.

Directed by Tony Award nominee Jason Moore. Stephen Oremus serves as Music Director.

Inspired by America's most lurid TV talk show, Jerry Springer - The Opera channels all the mayhem and excitement that held worldwide television audiences in utter rapture into an absurd singing and dancing version of his lurid daytime talk show. In the performance, actors play the show's guests and the audience. And there are cameos by men in diapers and tap-dancing members of the Ku Klux Klan. The show has been a huge hit in Britain since it opened in London four years ago.

January 29-30 Stern Auditorium / Perelman Stage at Carnegie Hall, NYC.

APARTMENT 3A by Jeff Daniels. Directed by Owen Smith. Original Music by Angelo Miliano.

Annie Wilson, Director of Fundraising at the local PBS station is left reeling from the loss of what she thought was the love of her life. After moving into a shabby, but conveniently vacant apartment, she searches for a reason to hope again when she meets a next-door neighbor who teaches her what it truly means to be in love forever, and how to have faith in what is to come.

Starring Marianna McClellan as Annie; Doug Nyman as Donald; Jay Rohloff as Elliot; Philip J. Cutrone as Dal and Vincent Vigilante as Tony.

The production features Scenic Design by Olga Mill; Co-Lighting Design by Josh Windhausen and Taryn Kennedy; Costume Design by Jocelyn Melechinsky; Co-Sound Design by Scott Anderson and R. Canterberry Hall; Technical Direction by Vincent Vigilante. Stephanie Cali is the Production Stage Manager and Props Master/Asst. Stage Manager is Michele McNally.

Previews began January 26. Opening night is February 1 with performances through February 16 at Off-Broadway's Beckett Theatre, NYC.

DANCING IN THE DARK Based on the classic MGM musical The Band Wagon. Book by Douglas Carter Beane. Adapted from the screenplay by Betty Comden and Adolph Green. Music by Arthur Schwartz. Lyrics by Howard Dietz. Directed by Gary Griffin.

Director Gary Griffin is bringing this musical comedy extravaganza to the San Diego Globe stage and then to Broadway,

In Dancing in the Dark, Tony Hunter is a Hollywood star with a career on the wane. Jeffrey Cordova is a Shakespearean actor-manager with a taste for high art. Together they team up with a diverse assortment of theatrical personalities to create a new musical that's strictly entertainment. With a score packed with classics like A Shine on Your Shoes, that quintessential ode to show business That's Entertainment!, and the title song, Dancing in the Dark is the musical comedy that promises to have audiences dancing in the aisles.

Golden Globe-winner and multi Emmy-nominated stage and screen star Scott Bakula will play the role of Tony Hunter. Patrick Page, who just wrapped up his second season playing the title role in the Broadway production of Dr. Seuss' How the Grinch Stole Christmas! will portray the role of Jeffrey Cordova, and Tony Award-winner Beth Leavel will play Lily in this delightful new musical.

The complete cast includes Mara Davi as Gabrielle, Adam Heller as Lester, Benjamin Howes as Hal and Sebastian LaCause as Paul. Ensemble members include: Clyde Alves, Rachel Coloff, Dylis Croman, Nicolas Dromard , Cara Kjellman, Adam Perry, Eric Santagata, Kiira Schmidt, Jacob Ben Widmar, Branch Woodman and Ashley Yeater.

Tickets go on sale today, January 27, for shows running March 4 through April 13.

SOME GIRL(S) West Coast Premiere. Written and directed by Neil LaBute.

Seattle. Chicago. Boston. Los Angeles.

Not battlegrounds that you may recognize from history but watch the painful laughter flow when a writer returns to the scene of four crimes of the heart.

Before getting married, 'Guy' decides to make amends with some girls he left behind. Or does he?

Some Girl(s) is a searing, funny portrait of the artist as a young cad.

Preview performances begin on Tuesday, January 29 with an opening night of Wednesday, February 6. The production runs through Sunday, March 9, at the Geffen Playhouse in Los Angeles.

NO CHILD LEFT BEHIND written and performed by Nilaja Sun. Directed by Hal Brooks.

Its year-long Off-Broadway success left audiences cheering – and now writer/performer Nilaja Sun brings her inspiring solo piece to DC.

Reacting to the No Child Left Behind law, Sun transforms herself with rapid-fire precision into the teachers, students, parents and janitors who inhabit one New York City public school. Her portrait of life at Malcolm X High School highlights how one determined woman can change the lives of countless others. Radiating irresistible charm, Sun performs this timely work with unforgettable virtuosity.

Performances at the Woolly Mammoth Theatre in Washington, D.C. through February 17.

DRIVING MISS DAISY written by Alfred Uhry, directed by Brian Kite and starring Emmy Award-winning actress Michael Learned.

The characters in Driving Miss Daisy are based on people that Uhry knew growing up, including his grandmother and her African-American chauffeur. Driving Miss Daisy, Uhry's first play, was an instant success, running for three years in New York. Uhry won a Pulitzer Prize in 1988 for it. Uhry also wrote the adaptation for the film version of this work.

The cast will also feature Lance E. Nichols as Hoke and Morgan Rusler as Boolie.

The design team includes; set design is by John Iacovelli. The lighting design is by Craig Pierce. The sound design is by Craig Wolynez. The costume design is by Judy Jou. The Casting is by Julia Flores. The Production Stage Manager is Conwell Worthington III.

Performances begin on Friday, February 1 and will run through Sunday, February 17 at La Mirada Theatre for the Performing Arts, La Mirada, CA.

BRAINPEOPLE by José Rivera Directed by Chay Yew.

In an apocalyptic future, two women are invited to dine at the home of a wealthy, lonely stranger. As they eat and drink, they reckon with the complexities of their pasts and the maddening nature of love, death, and poverty.

Starring Rene Augesen, Lucia Brawler and Sona Tatoyan.

Brainpeople is an A.C.T. world-premiere production and newest work by José Rivera, the Oscar-nominated screenwriter of The Motorcycle Diaries. Scenic design by Daniel Ostling. Costumes by Lydia Tanhi. Lighting Design by Paul Whitaker. Sound design by Cliff Caruthers. Michael Paller serves as Dramaturg. January 30-February 16 at the Zeum Theater in San Francisco.

HELLO AGAIN a musical adaptation of La Ronde by composer and lyricist Michael John LaChiusa. The first production of La Ronde, written by Arthur Schnitzler in 1900, sparked riots resulting in obscenity charges for its frank depiction of sex.

Attempting to ease their loneliness, ten characters mistake sex for intimacy in various decade of the twentieth century. In a dizzying array of music from each era, the bruising effects of reckless passion are chronicled in a daisy chain of sexual encounters.

Directed and Choreographed by Stephen Colyer. Featuring Lisa Callingham, Nathan Carter, Zack Curran, Keane Fletcher, Kate-Maree Hoolihan, Vincent Hooper, Gareth Keegan, Katrina Retalick, Liz Stiles and Matt Young.

Musical Director Geoffrey Castles. Set Design Iona McAuley. Costume Design Kate Williams. Lighting Design Gavan Swift. Sound Design Brooke Rezise. Assistant Director Bec Martin. Associate Choreographer Gretel Scarlet.

Preview begin Wednesday January 30 January. Officially opens on Thursday, January 31 with performances through Saturday February 23. A Gaiety Theatre production at Darlinghurst Theatre Company in Potts Point, New South Wales, Australia.

25 QUESTIONS FOR A JEWISH MOTHER Judy Gold performs her one woman show, drawn from interviews with over fifty women in her search for the essence of what makes a "Jewish Mother."

Through February 24 at Theatre J in Washington, D.C.

CONJUR WOMAN

Photo of Sheila Dabney by Jerry Vezzuso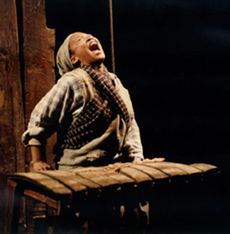 by Beatrice Manley. In honor of Black History Month, La MaMa e.t.c. presents this production - a dramatic folk opera chillingly sung by Obie-Winner Sheila Dabney and directed by George Ferencz, a resident director at La MaMa.

Original music for Conjur Woman is composed by La MaMa Founder & Artistic Director Ellen Stewart along with Sheila Dabney, Harry Mann, Jasper McGruder and Yukio Tsuji, and is played on a cornucopia of instruments including a harmonica, washboard, jug, acoustic guitar, bass and percussion…think 1800s music of the slave.

In this one-woman folk opera, a conjur woman uses spells and potions to turn her lover into a tree so that he cannot be sold into slavery. Tragically, even the conjur woman's powers cannot stop the tree from being chopped down and made into logs. Conjur Woman is billed as a compelling piece that moves in and out of memory, panic, agony and clarity, leaving us profoundly moved. The title Conjur Woman is an homage to Billie Holiday.

The design team includes Obie-Winner/La MaMa resident set designer Jun Maeda, who has created a unique bass instrument for the show, and light designer Jeff Tapper.

Performances take place January 31 to February 10, in the 299 seat La MaMa's Annex Theater in NYC.



WHO'S WHERE


ALVIN AILEY AMERICAN DANCE THEATER with Judith Jamison serving as artistic director and Masazumi Chaya, who has been with the group for 35 years, is associate artistic director. The famed troupe, which is celebrating its 50th- anniversary year, reaches the Wharton Center in Lansing, MI on Tuesday for their first stop in a four-month, 27-city tour which ends May 18. Following the Lansing date, the company performs January 31-February 3 at the Opera House in Detroit, Principal dancers include Matthew Rushing.

REBA McENTIRE AND KELLY CLARKSON in the spotlight Thursday, January 31 at the Kansas Coliseum in Valley Center, KS. On Friday they can be enjoyed at the Mabee Center in Tulsa, OK. On Saturday they take to the stage at the Century Tel Center in Bossier City, LA.

ALANIS MORISSETTE headlines the Philips Arena in Atlanta, GA on Monday, January 28. On Tuesday the show is at the Cricket Arena in Charlotte, NC. Friday finds her at the Sears Centre in Hoffman Estates, IL. On Saturday she performs at the Palace of Auburn Hills in Auburn Hills, MI.

THE SPICE GIRLS performs at the TD Banknorth Garden in Boston on Wednesday, January 30. On Thursday they entertain at the Bell Centre in Montreal, QC. Friday finds them at the DCU Center in Worcester, MA. Next Sunday, February 3, they open a two night gig at Air Canada Centre in Toronto, ON.

GALT MacDERMOT composer of the ground-breaking rock musical Hair and a Grammy and Tony-award winning artist, will perform original music with his New Pulse Jazz Band at the West Bank Cafe in Manhattan, Monday January 28. Making a special appearance will be Broadway vocalists Suzanne Griffin, Catrice Joseph Hart & Melanie May Po. Featuring Bernard "Pretty" Purdie on drums, Wilbur "Bad" Bascomb on bass, Allen "Wing" Won on reeds, John Frosk on trumpet, Vince MacDermot on trombone, and Jeff Schiller on baritone sax.

HANNAH MONTANA/ MILEY CYRUS Best of Both Worlds Tour opens a two night gig on Monday, January 28, at the Amway Arena in Orlando, FL. On Wednesday the show is at the Veterans Memorial Arena in Jacksonville, FL. On Thursday the performance is at the American Airlines Arena in Miami.

DAVID LANZ Grammy nominated New Age recording artist, will perform at Stamford Center for the Arts' Rich Forum Theatre on February 2. Stamford, CT.

ERNIE WATTS a two-time Grammy Award winner - one of the most versatile and prolific saxophone players on the music scene - has a career that spans more than thirty years. On January 27 he brings his talented trio to the Sunday Jazz Series sponsored by San Jose Jazz at the Improv in San Jose, CA.

PAULA POUNDSTONE telling funny stories Saturday February 2 at the Meyer Theatre in Green Bay, WI.

JACKIE DRAPER Just in time for Valentine's Day, Jackie Draper returns to the Laurie Beechman Theatre with her new show, The Language of Love. Joined by Ritt Henn on bass, Musical Director Gregory Toroian at the piano, and special guest – dancer Franklin Ayala – Jackie travels with Gershwin and Porter, through Weill and Nash, via Trenet and Legrand, down Loesser Lane, with nods along the way to Duke, Lehrer, Mercer, and Bucchino, among others, whose soaring songs inspire, amuse, and refresh - in French, Spanish, and English - with their own distinctive language of love. Helen Baldassare directs. Sunday, February 3 and Friday, February 8. Laurie Beechman Theatre in NYC.




FINAL OVATION


SUZANNE PLESHETTE died Saturday, January 19, at her home in Los Angeles. She was 70. She had undergone chemotherapy for lung cancer in 2006. The case of her death was respiratory failure.

Gaining superstar fame as Emily Hartley the on screen wife of Bob Newhart's character in The Bob Newhart Show, Pleshette made her Broadway debut in Compulsion, a drama about the Leopold and Loeb murder case. In 1959 she appeared in Golden Fleecing, a comedy set in Venice, opposite Tom Poston, whom she would marry more than four decades later. Her real Broadway triumph came in February 1961 when she replaced Anne Bancroft (who had just won a Tony Award as Annie Sullivan in The Miracle Worker, opposite 14-year-old Patty Duke. The reviews proved she could hold her own.

Her final appearance on Broadway was the 1982 offering Special Occasions a play about a divorced couple. While Pleshette's performance was special, the play wasn't - closing the night after officially opening.

Her television success was enormous. She was nominated for an Emmy Award four times, first in 1962 for a guest performance in Dr. Kildare, twice for The Bob Newhart Show (1977 and 1978) and in 1991 for playing the title role in the television movie Leona Helmsley: The Queen of Mean.

Twice widowed, Pleshette was wed three times. Her first married to actor Troy Donohue lasted eight months. Her second husband was Texas oilman and businessman Tom Gallagher. They married in 1968 and that union lasted until his death in 2000. In 2001 she wed Tom Poston, her long-ago Broadway co-star, who had also been a guest star on The Bob Newhart Show and a regular in Newhart's second sitcom, Newhart, in the 1980s. He died last year.

On her 71st birthday - January 21 - Pleshette was planning to appear at the Hollywood Walk of Fame ceremony honoring her contribution to the television industry.

MICHAEL ABBOTT Broadway, television and film producer died of cancer January 24 at Beth Israel Medical Center in New York City. He was 81. At the time of his death he was working with Spike Lee on a revival of produced Donald Bevan and Edmund Trczinski's prisoner-of-war drama Stalag 17. Abbott had produced the original off-Broadway production at the Lambs Club.

His Broadway credits include the 1953 comedy Late Love starring Cliff Robertson, Arlene Francis and Elizabeth Montgomery. He was associate producer with David Susskind on A Very Special Baby in 1956 and on Rashomon, based on the famous Ryunosuke Akutagawa story, in 1959. His final Broadway producing effort, in 1971, was The Incomparable Max, about critic and bon vivant Max Beerbohm. Abbott is also given credit or orchestrations for the 1988 off-Broadway Playwrights Horizons mounting of Lucky Stiffs.

Abbott had served as producer and executive-in-charge of the West Coast offices of Talent Associates-Paramount, which produced television adaptations of The Prince and the Pauper, The Bridge of San Luis Rey, and A Tale of Two Cities.

Born in New York City, he studied at both Pratt Institute and the American Academy of Dramatic Arts. He was a member of the Bucks County Playhouse acting company. His only Broadway appearance as an actor was in The Traitor, written by Herman Wouk and produced and directed by Jed Harris.

His funeral took place today, Sunday January 27th, at Frank E. Campbell Funeral Chapel in Manhattan.

Next Column: February 3 2008
Copyright: January 27, 2008. All Rights Reserved. Reviews, Interviews, Commentary, Photographs or Graphics from any Broadway To Vegas (TM) columns may not be published, broadcast, rewritten, utilized as leads, or used in any manner without permission, compensation and/or credit.
Link to Main Page
---
Laura Deni


CLICK HERE FOR COMMENT SECTION