! >
Broadway To Vegas
 
  SHOW REVIEWS CELEBRITY INTERVIEWS GOSSIP NEWS

| | |
| --- | --- |
| | |
WOMEN WHO STEAL AT SAN DIEGO REP - -KEEPING LARRY KING ON TRACK - - THE POWERFUL ENTERTAINMENT CONSULTANT - - TAPS FOR ANN MILLER - - FIDDLER ON THE ROOF REVIVAL - - COMEDY CARES - - BEHIND THE SCENE AT ATLANTA'S MY FAIR LADY - - HUGH JACKMAN ON VACATION - - DONATE . . . Scroll Down


Copyright: January 25, 2004
By: Laura Deni

CLICK HERE FOR COMMENT SECTION
CONSULTANT: CONFUSING TITLE, POWERFUL POSITION
Don Tillman. Photo by; Laura Deni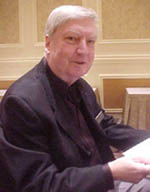 The entertainment consultant. A job title so confusing it can baffle one's mother. The job itself - powerful.

Don Tillman is an entertainment consultant. His opinions have wide ranging effects - helping to determine whether Las Vegas will welcome your television or film production to whether a star on the road will give you an autograph. He sat down with Broadway To Vegas to discuss the complicated world of an entertainment consultant.

"I got involved with the Las Vegas Convention and Visitors Bureau when the powers that be - the city - decided to make Las Vegas an all family destination. Towards that end they wanted to reach children."

Prior to that marketing change Circus Circus resort was the only property that directly encouraged the family to visit Sin City.

"Steve Wynn was the lead in this new concept," Tillman recalled. "He had the tiger display at the Mirage. He had Siegfried & Roy and the MGM was putting in a theme park."

Wynn is a powerful, persuasive presence. Many don't feel comfortable in challenging his opinion - even if it's misguided. Thus, the gang went along for the bumpy ride.

"The idea was to have a destination where families would come and ten years later the kids would come back to gamble - thus we would be building our audience," explained Tillman.

It was the comfort theory - which critics might allege was an attempt to emotionally addict children to gambling. If a child is comfortable with gambling - remembered as a pleasant experience with Mom and Dad gambling in that fun casino, the offspring - who used a plastic slot machine coin cup as a teething toy - will be anxious to get big enough to pull the handle.

"It was a pretty good theory," argued Tillman. "A lot of effort was put out," he continued referring to a promotion team sent out across the country to sell the idea.

"Part of my job was to find every children's program that aired on local television. These were children's programs where our pitch people could guest on - which they did. And, families did start to come to Las Vegas."

"It didn't take long - only a couple of years - to realize this was a mistake," he admitted. "The families came, but they didn't have gambling money. After they paid for the hotel rooms, food, traveling expenses and attractions, there was no money left for gambling. More important, how do you gamble into the middle of the night with your kids here?"

"At that point one of the delegates to the meeting so eloquently said: 'We've got to get back to what Las Vegas was built on - wine, women, song and debauchery.'"

"That's when the turn was made to try to attract a young, adult audience," he related. "They changed their ad thrust to Las Vegas being open all night and the most recent one, of course, is what goes on in Las Vegas stays in Las Vegas."

Tillman is a Wynn admirer.

"Every time I have ever met the man, which is only maybe five or six times, I find him to be an absolute, unbelievably, charismatic individual. He has a presence about him when he walks into a room. He commands attention when he speaks. He has built a reputation, certainly in Las Vegas, and should have respect for all he has contributed to this city."



Donald Trump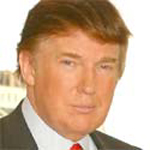 "I've never met Donald Trump, but I think he is a terribly classy and interesting individual. The new reality television show he is doing - he's not doing anything other than being Donald Trump," opined Tillman about The Apprentice, which is now required viewing at the Wharton School of Business.

"Trump is one of these guys - again - it's that magic quality that everyone would love to have - when you walk into a room, everyone knows it. You just know it is someone special. It's their deportment, the way they dress, eye contact with people."

Las Vegas has long been a favorite location shoot for television and movies. If the script treatment is really a pitch idea for a free vacation the producer needs to shelve the concept.

"There are a lot of people who want to use Las Vegas as a backdrop. In some cases they are legitimate people and it is to Las Vegas' advantage to cooperate. It's to the hotels' advantage to cooperate. But, there are other cases - a lot of them - where people see this as an opportunity to get some free rooms and meals and two or three days in Las Vegas to have a good time," complained Tillman. "Whatever it is they are supposedly shooting or producing never sees the light of day. More importantly, as far as Las Vegas is concerned, the project would not contribute anything to the bottom line."

"What we do is weed out some of these people," he elaborated. "Or, say - 'Yes this is a good project.' It's up to the individual hotel or the Convention and Visitor's Bureau as to how deeply they cooperate and how much to get involved. That's the way it should be. If we, as a third party, can help them make the decision more quickly and efficiently, that's to everyone's benefit."

Part of his consulting work is as an advance man for touring artists, many of whom have had lucrative careers on the important fair circuit.

"I'll tell you how much of a livelihood it was," he injected. "I was involved with the Indians State Fair, because I lived in Indiana at the time. I attended all of the meetings. I can remember the year that Kenny Rogers came in. He did one performance in front of the grand stand for 18,000 people and walked out of there with $90,000. That was in 1973 and that was a lot of money."



Too many backstage passes create problems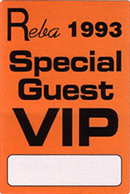 Prior to replacing Bernadette Peters on Broadway in Annie Get Your Gun, actress/singer Reba McEntire toured the fair circuit on a regular basis.

"I did advance work for Reba McEntire," continued Tillman. "She is a marvelous lady. The interesting thing about Reba is what you see is what you get. There is not a stage Reba and an off stage Reba. There is only one Reba," stressed Tillman.

"We did some logistical planning, so that when she arrived everything is planned. There are no big surprises. Such things as when she comes off stage and all of a sudden there are 40 members of the a state fair board standing there, all wanting autographs and pictures."

"That is not only time consuming, it is tiring," he stressed. "So, we tried to arrange all that, so it was controlled. When she came off the stage there would be only 6 or 10 people standing there to get pictures. It had to be done diplomatically, because she did not want to offend anyone - particularly Reba. She would never offend anyone if she could help it."



Don Tillman wearing the watch Reba McEntire gave him. Photo by Laura Deni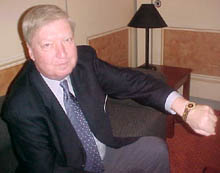 Watch was a gift from Reba. Photo by Laura Deni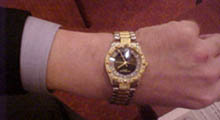 "By virtue of the fact that it has been pre-arranged, she doesn't have offend anyone. She does what she is suppose to do and everyone is happy. The time is better spent and they know what they are going to get."

It was Don who didn't realize what he was going to get.

"Reba paid me very well. But, I was heading for the airport and all of a sudden she raced up and shoved a box into my hand and said 'thanks for all you've done.' Inside was a gorgeous watch."

Now about that title consultant - it can confuses people, including a mother.

"My mother was sure about my occupation when I worked in radio. I started my career in radio in my hometown in Indiana. I was 17 years old and a DJ/announcer on WMRI."

"At that time there was no format in radio. If you were an on the air DJ/announcer you would go into the record library and pull the things you wanted to play and for the next three hours you played those records. There was no format, no play list, no timing. If you wanted to sit and talk about ten minutes you could. If you wanted to play records back to back, you could," reminisced Tillman. "While I was there my Mom knew exactly what I was doing. She could turn on the radio and there I was."

"Later, when I got into television and worked in front of the camera in Indianapolis, she knew what I was doing because she could see it. Even when I moved to Los Angeles and went to work for Metromedia and later for Fox, my mother knew that I was in the television business. It was not until I started my own company in 1993 that my mother lost track of what I did. I remember her saying - I know you're successful. I know you're okay. But - what exactly do you do?"

Good question.

"It is difficult to explain what a consultant does," conceded Tillman who is California based. "When I started my business I had no idea what I was going to do. I just knew I wanted to do something on my own. I wanted to control my own destiny. I set up a company called McCarty and Co., named after my grandfather, Bernard J. McCarty, a furniture salesman. My Dad never understood what it wasn't called Tillman & Co. I had a good relationship with by Dad, but when I started my own company I wrote down Tillman & Associates or Tillman Productions and it all looked so phony. It looked like a guy who was out of work, which was true - I was."

"So, I started McCarty & Co., and my first client, as a consultant, was Mark Goodson who was producing game shows. He was getting ready to go into the lottery game show business. In doing so they had to call on individual television stations and they'd never done that. Previously, Mark Goodson Productions had picked up the phone and called CBS and all of a sudden had a show on the air."



Mark Goodson and Bill Todman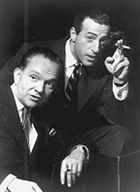 "So, they hired me to be the guy who showed them how to call on individual stations - how to get a program placed."

"That was my first consulting client and Mark Goodson Productions, now Jonathan Goodson Productions, are still a client ten years later," Tillman added.

Mark Goodson died of pancreatic cancer in 1992. Yale Law School grad Jonathan Goodson joined what was then Goodson-Todman Productions in 1973 as Chief Counsel, but soon became - along with his father Mark - the key creative figure behind all Goodson-Todman, and Mark Goodson Productions' shows created since that time. Jonathan became president and CEO of Mark Goodson Productions in 1993.

The interest in the lottery game show business continues. For instance, in April, 2000 the Kentucky Lottery Corporation (KLC) Board of Directors gave enthusiastic approval for the Kentucky Lottery to participate in a Powerball TV game show that offers a top prize of $1 million. The Multi-State Lottery Association, the group that operates Powerball, contracted with Jonathan Goodson Productions of Beverly Hills, California, to produce a weekly half-hour game show for member states.

Consultant Tillman was in Las Vegas last week for the National Association of Television Program Executives (NATPE) an organization he has been involved with for a decade. He might be what it called a celebrity wrangler.

"We make sure that the person coming into the convention is given all courtesies and extended all of the niceties that we can," he stated. "When they leave we want them to have a good taste in their mouth and if NATPE calls them next year to do something, they'll say yes."



Milton Berle, known as "Mr. Television"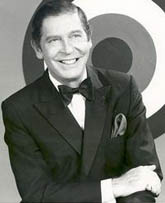 It was Tillman's ability to cope with the ego of celebrity that brough him to NATPE.

"I was in San Francisco in 1993 and I had become friends with Milton Berle in my days of Fox and Metromedia. For some reason Milton liked me. When he was booked into the NATPE convention they also had Steve Allen and Burt Reynolds. I got a call from the president of the NATPE board saying can you come and help us - Milton Berle is an absolute pill to work with, which he was. Milton was a very demanding individual. He knew what was right and he wanted to tell everyone how to do their jobs. He went into a place where there were cameras and say that camera is not in the right place. That light is not in the right place. This microphone isn't right. Well, the truth of the matter is, he had been doing it since the beginning of television, so he really did know. It was the way he did it. He was a bit demanding and a little bossy and irritating."

"So, I came in and handled Milton Berle, Burt Reynolds, Steve Allen and things went well. They all left the convention saying how well they had been treated. Shortly after that I was asked if I would be willing to come into NATPE the following year. I've been with NATPE ever since."

To keep his sanity in the world of celebrity Tillman plays with toy trains. "I am a model train nut. I collect them and I have layouts."



One of the drag queens getting ready to audition for Cooking's A Drag. Photo By; Laura Deni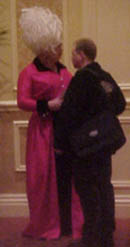 One of the most popular events at NATPE were auditions held for a proposed new show called Cooking's A Drag, distributed by Coyote TV, in which the host/cook of the show would be a drag queen. Would-be hosts - all dolled up in their high heeled finery - lined the hallway waiting to audition for a program that may never air.

"Who is to know if it is a good idea?" commented Tillman. "On the surface you're first impression is - that's a nut idea. By the same token it may be very entertaining, and that's the business we're in - entertaining people. If it is entertaining and carried off in the right style and level, it may work. Who knows what the public will or won't like. The people who auditioned certainly went to great lengths with the costumes. They have had literally hundreds of people audition."

"One of my clients has been the Hooters Restaurant chain. A couple of years ago at the NATPE convention one of the production companies approached Hooters about doing a show called So You Want To Date A Hooters Girl. It was going to be a game show - not much of a game - but a game show. The end result was that the winner got to date a Hooters Girl. Well, it looked like a great idea on the surface. At that time all of the dating shows were just becoming popular. But, it wasn't executed well. The idea wasn't good. We took it to market place and market place looked it and said - who cares? That was the end of it."

"The track record is about 82-83 percent failure for new shows. But, that means there is still another 10-13 percent that works and becomes successful."

"It's a very tough business," he stressed. "Unfortunately, there are no new ideas. The drag queen cooking show is not a new idea. It may be that it is executed differently, but back in the past there have probably been three or four people who have thought - why don't we have a drag queen do something on television."

As to how entertainment is changing, Tillman sees the future holding "the merging of television and the internet."

"Now on websites, the pictures are about an inch by an inch. In another few years the pictures will be full screen. And, with the convergence of television and the computer that full screen will be the same. Now, in most homes, the computer is in one room and the TV set in another. But, all of a sudden, there will just be one unit - that is your computer and television set," he predicted. "There will be programs geared for content, available all over the world. So, the traditional distribution methods, that we have had all these years, become less important."

"I've thought on profanity in general," he continued. "I really feel that worldwide we have lost out way when it comes to being able to communicate without using profanity."

"I can't set myself up as a saint, because I'm the least of that. I find sometimes profanity is needed and accurate. But, by the same token, I am not sure that in broadcast television, it has a place."

"In cable television, where you are paying for this service and you have control over which channels you get and watch, then I think it is a little different thing."

"On broadcast, which is accessible to everyone over the air, I think we still have a responsibility that we have always had, that is, there is a level of morality and decorum that must be maintained."

"What brings that down is the almighty dollar - the bottom line. As a broadcaster, which I was for the better part of 25-years, I feel some responsibility to hold the high moral ground and not let things go on my air that are inappropriate."

"I may some day have to wake up and look at the rating book and look at the dollars and say to myself my competition is beating the hell out of me - pardon the expression - and in order for me to maintain some kind of competitive edge, I'm going to have to let my morality issues sink a little bit," he admitted. "It's a terrible thing to say, but that is the reality of life. The bottom line - the almighty dollar, the ratings."

"It comes down to - Do I want to keep my job? I have to constantly evaluate that."

"If the public is accepting - the guy said f... it, or whatever the word is - and the public doesn't care. If the public's reaction is acceptance, then probably I'm going to live with the public's acceptance of it, because I'm not going to be able to drag them up. The public sets the level of what they accept and we've got to deal with that, because we play to the public."

"I may personally disagree with it. I may personally have a different standard, or maybe I don't, but it is a reality I have to deal with."

"I think it is more difficult now for broadcasters who are in many cases right on the edge, at the very edge. In all honesty, we wouldn't be at the very edge if the public hadn't accepted it. If the public hadn't said - fine - we like that."


FROM A PRESIDENT TO A KING
Larry King and Bridget Leninger. Photo by Laura Deni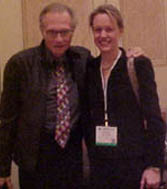 Bridget Leninger has had an interesting life - working in the White House under the Clinton administration and - as of a week ago - working at CNN for popular talk show host Larry King.

Virginia educated with a degree in political science, Bridget is the former spokeswoman for the Arizona Democratic Party. In 2002 she was listed as a press contact by the Democratic National Committee when they - on Equality Tennessee stationery - sent out press releases stating "The Democratic National Committee (DNC) today approved a resolution urging the protection and strengthening of the Social Security system - and making history by urging that Social Security protections be equally available to same-sex couples and their families."

Savvy in the press political arena, Bridget spent over a decade hop-scotching across the country in her duties of handling numerous political candidates. Along the way she acquired a solid reputation and a large contact list.

Broadway To Vegas spoke with Bridget when she, as press intermediary, accompanied King to Las Vegas where the television personality moderated a panel for NATPE.

Brainy, blonde and beautiful, Bridget's career had demanded extensive travel and her job security was dependant upon somebody else being elected. She decided it was time for a lifestyle change.

Since she had previously done some work for CNN with political candidates, the cable network knew her capabilities.

"When an opening with Larry King came up, they called me," she said.

For the woman who wanted to stay put she discovered her first assignment was to pack a bag and head to Vegas with King. There she kept his overbooked schedule running smoothly, from making sure the flight plan hadn't changed to keeping track of the luggage.

"He didn't drop anything to come here. He added to his schedule," she explained. "He's amazing."

Yes, he is.

Held at the Venetian Hotel, King moderated a panel composed of Governor Jesse Ventura, Jerry Springer, Mark Cuban and Roger King. The applause and laughter could be heard down a block long hallway.

With a limo waiting to speed off the minute King left the stage, they flew back to Los Angeles where King did not one but two live broadcasts covering the Iowa caucus. For a woman who thought she was leaving the road and politics it must have seemed like deja vu.



Broadway To Vegas is supported through advertising and donations. Priority consideration is given to interview suggestions, news, press releases, etc from paid supporters. However, no paid supporters control, alter, edit, or in any way manipulate the content of this site. Your donation is appreciated. We accept PAYPAL. Thank you for your interest.


SWEET CHARITY


COMEDY CARES a special one night fundraising evening Feb. 2 for Broadway Cares/Equity Fights AIDS. Hosted by Jim David at Carolines On Broadway, the evening will feature the comedic talents of Joy Behar, Mario Cantone, Julie Halston, Darrell Hammond, Judy Gold and Cori Kahaney.



WOMEN WHO STEAL by Carter W. Lewis. Directed by Sam Woodhouse.

A 21st century comedy loaded with wit and wisdom; and also features three San Diego Rep favorites ~ Shana Wride, Linda Libby and Bernard Baldan. Peggy's husband has an affair with Karen, a young acquaintance. So the question for Peggy is, which one of them do you shoot?

Both achingly familiar and wonderfully "out of the box," Women Who Steal is the story of two very contemporary women on an all night road trip to discover the truth about love and marriage.

This new comedy comes complete with a hijacked Mercedes, a mink coat, lots of tequila, and a toy BB gun that forever changes the rules of marital engagement.

Opening Friday, January 30 running through February 22 in the Lyceum Space at San Diego Rep.

FIDDLER ON THE ROOF the eagerly anticipated revival of the 1964 Jerry Bock and Sheldon Harnick hit, began previews Friday at the Minskoff Theatre in NYC. The production stars Alfred Molina as Tevye and features a new song "Topsy-Turvy" written for this production. Bock and Harnick had not collaborated in more than 30 years but reunited after David Levaux, who is directing this production, suggested the new number, which is sung by Yente the Matchmaker, played by Barbara Barrie.

BOSTON MARRIAGE by David Mamet. Directed by Doug Mercer January 31 - February 22 at the Guthrie Lab, Minneapolis, Minn.

TOP DOG /UNDERDOG Suzan-Lori Parks' Pulitzer Prize-winning play directed by George C. Wolfe. Feb. 1-March 28 at the Mark Taper Forum in Los Angeles.

MRS. ROBINSON starring Lorraine Bracco Jan. 27-Feb 8 at the Colonial Theatre in Boston.

MY FAIR LADY Book and lyrics by Alan Jay Lerner. Music by Frederick Loewe. Susan V. Booth directs a cast of 10 which uses composer Frederick Loewe's rarely-heard original two-piano musical arrangements in an intimate, illuminating new production of the 1956 musical which returns the story to its dramatic roots.

However, the show retains all of the songs that have made it a favorite among generations of musical theatre fans - blooming with standards such as Wouldn't It Be Loverly?, I Could Have Danced All Night, The Rain in Spain, On the Street Where You Live and Get Me to the Church on Time - while it brings a heightened focus to Shaw's charming story of a halting, hesitant love that grows between the teacher and his student. The result of this boldly reimagined production is at once brand new and yet wonderfully familiar.

The cast features two-time Tony Award-nominated actress Crista Moore as Eliza Doolittle, and Broadway veteran Neal Benari as Higgins, and includes Keith Howard, Howard Kaye, Jeffrey Kuhn, Russell Leib, Alan Souza, Rebecca Spencer, Linda Stephens and Peter Van Wagner.

On Tues, Jan. 27 at Noon on the Alliance Stage Artistic Director Susan Booth, the cast and design team of My Fair Lady will provide a behind the scenes look at the show. The production runs January 28 - February 29 on the Alliance Stage in Atlanta, GA.

ROULETTE by Paul Weitz will star Anna Paquin, Larry Bryggman and Ana Gasteyer. Joaquin Perez Campbell and Leslie Lyles also appear in the show in which a suburban father of two decides to spice up his life by playing Russian roulette and loosens his family's handle on reality in the process. Ensemble Studio Theatre production begins performances at the John Houseman Theatre on January 30.

THOROUGHLY MODERN MILLIE opens January 27 closing February 1 at the Naples Philharmonic Hall in Naples, Florida.

FLAMENCO VIVO CARLOTA SANTANA in their NYC Premiere. Led by Carlota Santana, hailed "the keeper of Flamenco" by Dance Magazine, this acclaimed company of dancers and musicians captures the spirit of flamenco with powerful music, exuberant dancing and unbridled rhythmic movement. Brooklyn Center's World of Dance Series on Sunday, February 7, in the Whitman Theatre.

PILOBOLUS Sculpted bodies twist into mind-bending shapes; a fluid dance begins to emerge. Always thought-provoking, frequently astonishing, Pilobolus reinvents the vocabulary of dance with engaging, often erotic results. January 30 Ruth Eckerd Hall in Clearwater, Florida.

THE BOY FROM OZ in which Hugh Jackman received rave reviews, virtually saying the success of the show is because of Jackman, will cancel performances during Jackman's vacation periods. No shows from February 1 through February 6 and March 28 through April 2.

THE GOLDEN AGE OF BROADWAY will be presented by Goodspeed Musicals during its 2004 musical season at the Goodspeed Opera House in East Haddam, Conn. The amusing Call Me Madam, April 16 – July 3, the hysterical Where's Charley?, July 9 – September 25, and the glamorous Mack & Mabel, October 1 – December 12 will frolic on the Goodspeed Opera House stage.

TALLEY'S FOLLY by Lanford Wilson. Directed by Andrew Traister, starring Angela Reed and Michael Santo, continue at the Pasadena Playhouse in Pasadena, California through February 15.


| | | |
| --- | --- | --- |
| | | |
WHO'S WHERE


JOSH GROBAN on stage tonight, Jan. 25 at Arlene Schnitzer Hall in Portland, Oregon. On Tuesday he'll be performing at the Memorial Auditorium in Sacramento CA. On Wednesday he's in the spotlight at the Paramount Theatre in Oakland, CA and on Friday the show is at the Shine Auditorium in Los Angeles.

DAVID BOWIE AND MACY GRAY entertain this evening at the Paramount Theatre in Seattle, Washington. On Tuesday they star at the HP Pavilion at San Jose in San Jose, CA. Friday finds the duo in Las Vegas at the Hard Rock Hotel. They open a two nighter Saturday at the Shine Auditorium in Los Angeles.

CHRIS ROCK getting laughs tonight at the Riverside Theatre in Milwaukee, Wisconsin. On Wednesday he begins a five night gig in Madison Square Garden in NYC.

JOHNNY MATHIS singing his hits Saturday, Jan. 31, at the Orange Country Performing Arts Center in Costa Mesa, CA.

LARRY GATLIN AND THE GATLIN BROTHERS entertain Thursday at the Whitaker Center in Harrisburgh, PA. On Friday they are in the spotlight at the Schwartz Center for the Arts in Dover, DE. On Saturday the show is at the Avalon Theatre in Easton, MD.

MICHAEL FEINSTEIN January 29 at the Vilar Center for the Arts in Beaver Creek, Colorado. On Jan. 30 he's on stage at the McCallum Theatre for the Performing Arts in Palm Springs, CA and on Jan. 31 he's in the spotlight at the Performing Arts Center in San Luis Obispo, CA.

SUSAN EGAN the legendary original Belle in Disney's stage version of Beauty and the Beast will reign supreme on the stage of the Annenberg Theater for an evening of Broadway classics. Palm Springs Desert Museum January 31.

DARYL HALL is best known for his partnership with John Oates. Hall & Oates joined forces in 1972 in Philadelphia. By 1984, they were the most chart-topping duo in history. The duo is currently on a US concert tour and enjoying a revival of interest among their millions of fans.

Both Hall and Oates are actively pursuing their distinct artistic visions. The King of blue-eyed soul, as he is most often labeled, Daryl Hall has just released a new solo CD, Can't Stop Dreaming. Performs Jan. 21 at B.B. King Blues Club, NYC.

DIANNE REEVES in a two nighter Tuesday-Wednesday at the Ellen Eccles Theatre in Logan, Utah. On Friday she performs at the Columbia Theatre in Longview, Washington and on Saturday, January 31, it's center stage at the Washington Center in Olympia, Washington.

STEVE TYRELL opens Tuesday, Jan. 27 at Feinstein's At The Regency in New York City He's be performing through Valentine's Day.

MINDI ABAIR at the McCallum Theatre in Palm Desert, CA on Saturday, Jan. 31.

STING takes his tour to the Tampa Bay Performing Arts Center on Monday, Jan. 26 in Tampa, Florida. On Wednesday the show is at the Saener Theatre in New Orleans. Friday finds him at the Majestic Theatre in San Antonio, Texas. On Saturday the show is at Next Stages at Grand Prairie in Grand Prairie, Texas.

GEORGE WINSTON performs at the West Acres Baptist Church in Evans, GA or Thursday, Jan. 29.


FINAL OVATION


ANN MILLER 80s, who could lay down 500 taps a minute, died of lung cancer last Thursday at Cedars-Sinai Medical Center in Los Angeles.

In 1969 the energetic, leggy dancer replaced Angela Lansbury on Broadway in Mame. The movie star went on the road with touring companies of Can-Can, Panama Hattie, Hello, Dolly! and Blithe Spirit.

In 1979, when she was in her 60's, she returned to Broadway co-starring with Mickey Rooney in Sugar Babies. The Broadway production ran for 1,208 performances. She was nominated for a Tony Award for her performance. Later Miller headed a touring company.

Miller was married three times and had no children. She wrote two books, the memoir Miller's High Life (1972) and Tapping Into the Force (1990), a book about psychic phenomena.


















Next Column: February 1, 2004
Copyright: January 25, 2004. All Rights Reserved. Reviews, Interviews, Commentary, Photographs or Graphics from any Broadway To Vegas (TM) columns may not be published, broadcast, rewritten, utilized as leads, or used in any manner without permission, compensation/credit.
Link to Main Page
---
Laura Deni


CLICK HERE FOR COMMENT SECTION