! >
Broadway To Vegas
  
  REVIEWS INTERVIEWS COMMENTARY NEWS

| | |
| --- | --- |
| | |
COLORBLIND TONY AWARDS ARE BASED ON TALENT - -JOAN BAEZ'S BEACON THEATER BIRTHDAY PERFORMANCE TO BE FILMED FOR PBS - - SUNDANCE BRINGS MONEY TO COMMUNITY - - NEW YORK'S NUBIAN UNION LEGEND AWARD - - JAY LENO TO AUCTION TRUCK FOR CHARITY - - THE 32nd NATIONAL COWBOY POETRY GATHERING - - TAPING SHAPE - - BETTE MIDLER TO STAR IN REVIVAL OF HELLO DOLLY! - - DONATE . . . Scroll Down






Copyright: January 24, 2016
By: Laura Deni
CLICK HERE FOR COMMENT SECTION


COLORBLIND TONY AWARDS ARE BASED ON TALENT
James Earl Jones has been nominated for four Tony awards and won twice.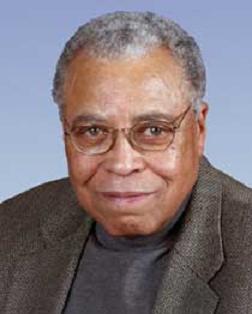 The dust-up surrounding the recent all white Academy Award nominations amounts to another chapter in the frequently controversial process of nominations and awards.

Ingrained feelings and layered bias runs deep.

Elizabeth Taylor won an Oscar for Butterfield 8 - not because it was a great part but, according to serious rumors, because she had survived pneumonia the year before.

According to IMDB: "It is generally accepted as truth that she won Oscar voters by a vote of sympathy, because of the recent death of her husband, Michael Todd, and her near-fatal illness and emergency tracheotomy to save her life (her scar was very visible on Oscar night). Wisecracker and Rat Pack member Shirley MacLaine, who was favored to win for her role in The Apartment (1960), said afterwards that "I lost out to a tracheotomy."

The Academy of Motion Picture Arts and Sciences' Board of Governors issued a statement on Friday stating they are putting in place significant changes such as doubling the number of women and people of color in its membership by 2020.

They also indicated an expansion of the number of films nominated.

With proposed changes let's hope we don't suddenly see people getting nominated based primarily upon their sex or a darker hued skin. Neither do the awards deserve to be diluted. If the roster of nominees continues to expand will the day arrive when a nomination is guaranteed if a movie has taken a certain number of dollars to complete or employed a large crew?

All nominations should be based upon talent, not quotas.

Barbra Streisand is rarely given credit for writing Yentl and didn't even receive a directing nomination - punishment because she was considered too talented. She was also shut out of a nomination for directing The Prince of Tides. While a man would be respected and applauded, a woman is resented if she can apparently succeed in anything - as can Streisand. Instead of upping their own game, those who feel intimidated lash out to put down and destroy. A man would be called a brilliant, exacting perfectionist. A woman is called a bitch or worse.

The Academy has always been a good ol' boy network.

The Academy isn't going to change ideology over night. Change always comes with stumbling, small steps.

With the Academy's new game plan, it does appear there is hope. Give them a chance to improve. And, don't ruin the upcoming, televised award event for all of the talented individuals who received nominations and deserve the right to have a wonderful, memorable evening. For some of them it will be their only nomination. Those receiving nominations didn't do anything wrong. They delivered brilliant, award worthy performances. Don't ruin somebody else's night to shine because your bulb didn't get lit.

Despite back biting, gossip and expected pressure from investors Broadway's Tony Awards have always been weighted towards talent rather than race.

If you've got the talent, the part - and put on a great show (which hopefully can tour), that's a leg up on receiving votes. As with all awards, it's easier to be nominated that to take home the trophy.

Because the current flap concerns talented African American actors who were snubbed by the Oscars and that February is Black History Month, Broadway to Vegas has spotlighted the African-American nominees and winners - not forgetting that others who don't possess a white bread and mayonnaise background have also enjoyed their deserved time in the recognition spotlight. See a list of the nominees and winners.






Broadway To Vegas is supported through advertising and donations. Priority consideration is given to interview suggestions, news, press releases, etc from paid supporters. However, no paid supporters control, alter, edit, or in any way manipulate the content of this site. Your donation is appreciated. We accept PAYPAL. Thank you for your interest.





ART AND ABOUT


TAPING SHAPE invites visitors to enter and explore another world. This indoor landscape will be made of hundreds of rolls of packing tape, bound together to create a translucent maze of rooms and tunnels.

Visitors of all ages can climb, slide, learn, delight and explore.

The exhibition explores STEAM (Science, Technology, Engineering, Art and Math) concepts of tensile strength, materials science, geometry, spatial relations, architecture, engineering, sound and more.

The exhibition was developed in-house at the Reuben H. Fleet Science Center in partnership with local artist and engineer David Ghilarducci. It will also feature accompanying hands-on exhibits and interactives for further discovery.

Taping Shape spotlights the unusual and unexpected use of packing tape to create another world.

January 30 to June 12, 2016 att the Reuben H. Fleet Science Center in San Diego, CA.





SWEET CHARITY


JAY LENO

Jay Leno by his truck which will be auctioned off for charity. Photo: Barrett-Jackson Auction House.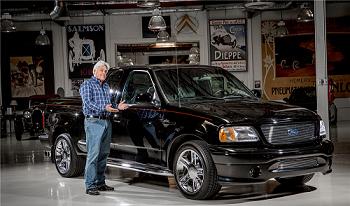 is selling a one of a kind Harley-Davidson F-150 truck equipped with the 360 hp 5.4-liter supercharged V8 which was presented to Jay Leno by Ford Division President Jim O'Connor in May 2000.

The truck will be auctioned (Lot 3006) at the Barrett-Jackson event in Scottsdale, Ariz., on January 29th, with all of the proceeds going to the Multiple Sclerosis Society.

This one-of-one 2000 Harley-Davidson F-150 It represents the first collaborative effort between Ford Motor Company and Harley-Davidson Motor Company. The truck has been titled to Jay Leno since the presentation and all proceeds will be donated to benefit the National Multiple Sclerosis Society.

A truly unique one-of-one truck, Leno's Harley-Davidson F-150 is the only 2000 model that features the SVT Lighting powertrain. Equipped with a 5.4-liter, supercharged Triton V8 engine, this truck cranks out approximately 360hp and 440 ft/lbs of torque. Additionally, the truck was lowered 1" with revised springs and heavy-duty sway bars, adding to the vehicle's brawny appearance. Other interior features include ebony black leather-trimmed captain's chairs with embossed Harley-Davidson logo, chrome steering column stalks and door release hardware, and black leather-wrapped trim and steering wheel.

Outside, the Harley-Davidson F-150 is a black, monochromatic 4x2 SuperCab pickup with a flareside box topped by a hard-shell tonneau cover. Design engineers specially tuned the single-inlet/dual-outlet exhaust to give it a more "robust" aural signature. Ford and Harley-Davidson badges adorn the front fenders and a lower front valence encompasses built-in driving lamps.

Standard equipment includes air conditioning, speed control, tilt steering wheel, remote keyless entry, privacy glass, power windows/locks/driver's seat, overhead console with temperature and compass, and AM-FM stereo with single CD player. The 2000 Harley-Davidson F-150 came with only two options: a six-disc CD changer and sliding rear window.

Last January Leno gave permission to gavel down his 2008 Dodge Challenger SRT8 which sold for $360,000 to benefit the USO, and garnered another $205,625 in donations along with it.

THE EAST LYNNE THEATER COMPANY based in Cape May, NJ is the benefactor of the 9th annual New York City fundraiser hosted by long time supporters Elizabeth and Stuart Hodes.

The afternoon soiree on Sunday, January 31, begins with scenes from State of the Union by Howard Lindsay and Russel Crouse. First on Broadway in 1948, selections are seen here just in time for an election year. The cast includes Liz Hodes, Thomas Cox, J. Dolan Byrnes, Tom Beel, and Joanne Joseph, under the direction of Jeremy X. Halpern. Following these scenes will be a short introduction to ELTC's 2016 season given by artistic director Gayle Stahlhuth.

After the performances, a light supper, prepared by Stuart Hodes, along with wine, will be served. All proceeds will go to benefit ELTC.

ELTC was the first Equity professional theater in the country to focus on classic American plays and new works based on American literature and history. The forgotten gems of the past revitalized by ELTC, along with provocative premieres, all relevant to today, provide a portal to the past for a better understanding of the present.

RICHARD LEDERER will perform Presidents Tonight on February 1st in a benefit for the North Coast Rep in Solana Beach, CA.

The San Diego Union-Tribune history quizmaster and language columnist will offer a treasury of insights into the feats, fates, families, foibles, and first of our American presidents, including their patterns of their elections.

Richard Lederer is the author of more than 50 books about language, history, and humor, including his best-selling Anguished English series and his current books, Amazing Words, Lederer on Language, and Monsters Unchained!

During the performance, Dr. Lederer will auction off his services and the proceeds benefit North Coast Rep. The two auction items are the following:

Lederer On Language. Dr. Richard Lederer will come to your home, child's school, house of worship, local library, service club, supper club, book club, or business to present whatever program of language learning and fun you wish.

Poker 101. As the father of Howard "The Professor" Lederer and Annie Duke, "The Princess of Poker," Richard Lederer is the most successful breeder of world-class poker players in history. Dr. Lederer will instruct you in the fundamentals of the great American game of Texas Hold'em.

There will be a book signing after the show and mingle with the audience.






SPREADING THE WORD


BETTE MIDLER returning to Broadway to star as widow Dolly Gallagher Levi, in a revival of Hello Dolly! is magnificent news. Credit Scott Rudin with convincing her to do the part. Interesting is that according to The New York Times in doing extensive research for the role, the muti-talented Midler went to the New York Public Library for the Performing Arts to watch a film of Carol Channing in the 1995 revival. An important segment of the New York City library system the Library for the Performing Arts houses one of the world's largest collections of materials relating to the performing arts. Patrick Hoffman has been the TOFT Director since 2001.

Midler's Dolly will arrive on Broadway in the spring of 2017, 50 years after the actress first appeared on Broadway as Tzeitel in the original production of Fiddler on the Roof.

CATS that Andrew Lloyd Webber musical which gave the world Memories and a lot of actors employment is returned to The Great White Way beginning previews July 14 at the Neil Simon Theater. This will be the musical's first revival. The original mounting ran for 18 years from 1982-2000 which is longer than the typical life span of an alley cat.

Original director Trevor Nunn will also helm the revival.

PRESIDENT RONALD REAGAN who began his political career as an actor once stated that Family Ties, a sitcom starring Michael J. Fox as young conservative republican Alex P. Keaton, was his favorite TV show. Reagan even offered to appear on the show, though his offer was refused by the show's producers.

THE 32nd NATIONAL COWBOY POETRY GATHERING takes place January 25-30, 2016, in Elko, Nevada. The Western Folklife Center, producer of the Gathering, will present nearly 50 performers at the event, including 16 ranchers, poets, musicians and artists from the Northern Plains of the U.S. and Canada, who will perform on seven stages at four different venues. The line-up includes Ian Tyson, Don Edwards, Michael Martin Murphey, Waddie Mitchell, Yvonne Hollenbeck, Dave Stamey, Stephanie Davis, Wally McRae, Paul Zarzyski, Elizabeth Ebert, Hot Club of Cowtown, Wylie Gustafson and many more.

The National Cowboy Poetry Gathering also features hands-on workshops in traditional Western arts including hat making, leather carving and traditional food, as well as Western dances, films, open-mic sessions, and discussions about topics of importance to the rural West. A special exhibition will present an artful view of the Northern Plains through photography, illustrations, paintings and handcrafted work.

The keynote address will be delivered by Dan Flores, a cultural and environmental historian of the plains.

The poster artwork is from Comes Back, by Donald F. Montileaux, an Oglala Lakota ledger artist. Ledger art is a Northern Plains Indian art form that refers to the accounting ledger books that were a common source of paper for the Plains Indians from the 1860s to the 1940s. Montileaux has rekindled ledger art with a collection of striking images that capture the unique Lakota ways of life.



OTHER PEOPLE'S MONEY


SUNDANCE is taking place in Park City, Utah through January 31. Last year the Robert Redford helmed festival contributed over $83m into the Utah economy.

Robert Redford, Keri Putnam, and John Cooper talked diversity, evolution in documentary film, and virtual reality when they kicked off the 2016 Sundance Film Festival.



NEW YORK'S NUBIAN UNION LEGEND AWARD given for "outstanding leadership and meritorious community service," were recently presented at a Chasing Stars Gala in Greenwich Village in New York City.

Those receiving the award included Randy Gener, two years after he survived a racially biased and anti-gay hate attack after seeing the Roundabout Theatre Company's production of Sophie Treadwell's MACHINAL starring Rebecca Hall.

On January 18, 2014, Gener was targeted and bloodily assaulted because of his identity as an Asian American and an openly gay man. News of the violent attack landed in all major media in the U.S. and around the world.

The NY County District Attorney's Office named the criminals as Leighton Jennings of 166th Street in Jamaica, Queens, and a female accomplice who served as a decoy in order to first provoke the bloody attack. Police arrested Jennings. NY's District Attorney Office and NY's Hate Crimes Unit both slapped Jennings with hate crime and felony assault charges.

A former Village Volice staff writer/arts critic, he is now proprietor of In the Culture of One World, a live event and media project.?

In 2010, Gener received a Philippine Presidential Award, which designated him as a "Living Legacy of the Filipino Nation (Pamana ng Pilipinas)." President Benigno Aquino III conferred the award on Gener at the Malacanang Presidential Palace. He was the first to be honored solely for an American theater career.

The Chasing Stars Gala featured a host of clergy, celebrities and community leaders who watched as a Nubian Union Legend Award went to concert pianist Richard Alston who earned both his Bachelor's and Master's degrees from the Juilliard School of Music.

Under his direction an associate degree program in music at Essex County College has flourished into a full-fledged performing arts department of Music, Dance, and Drama. Highlights of Professor Alston's contributions to the department include a High School Music Advancement Initiative program allowing high school students to audition for and earn opportunities to study at the collegiate level, and the development of courses in musical computer technology (MIDI, Pro – Tools, and Sound Engineering, etc.) marked by the construction of a new technical music lab.

Alston has also served as a faculty member of Rutgers University, Newark Campus, on the Board of Music Advisors for Westminster Choir College's Education Opportunity Program and, formerly, as a member of the Juilliard School of Music's Music Advancement Program faculty.

Other honorees were Dr. William Gibbs of Kings County Hospital; fashion and media specialist China Flowers; and Nadege Dady, Dean of Student Affairs at Touro College of Osteopathic Medicine Harlem.

Recipients of this unique award "exemplify unconditional sacrifice and service to the communities that they serve, and they stand as icons of stewardship to everyone," stated Clark Everson, President of Unity Missionary Investors.

The Nubian Union is made up of two African-American advocacy organizations focused on the alarming increase of brain injuries among young black men: Unity Missionary Investors, which aids economically-challenged communities; and Nubian Cultural Center for Research & Development, a multigenerational program that promotes racial and ethnic harmony through education.



GREAT EXPECTATIONS by Charles Dickens. Adapted by Lucinda Stroud For Book-It Repertory Theatre.

Book-It Repertory Theatre has created more than 90 world-premiere adaptations of classic and contemporary literature for the stage. Its trademarked Book-It Style celebrates the author's voice by preserving the original work as it is written, with actors speaking both dialogue and narrative text, and sometimes referring to their own characters in the third person.

Directed by Jane Jones.

Based on Charles Dickens' classic coming of age novel, Great Expectations tells the adventures of the Victorian orphan Pip. As a boy, Pip has three encounters with people that will change his life: the escaped convict Magwitch, the bewitching and cold Estella, and the unhinged Miss Havisham. When Pip comes into an unforeseen fortune and begins the life of a gentleman his past is not so easily left behind, and the surprising adventures of his new life are decidedly unexpected.

In his PCS debut, Stephen Stocking plays the ambitious young hero Pip. Gavin Hoffman plays Pip's brother-in-law, the blacksmith Joe Gargery. The other actors play multiple roles, including Dana Green as the iconic spinster Miss Havisham and Pip's caretaker Mrs. Joe; Maya Sugarman as the warmhearted Biddy and cruel Estella; and John Hutton as the escaped prisoner Magwitch and lawyer Jagger.

The creative team includes: Christopher Mumaw - Scenic Designer. Ron Erickson - Costume Designer. Peter Maradudin - Lighting Designer. Casi Pacilio - Sound Designer. Joshua Kohl - Composer. John Armour - Fight Director. Gin Hammond - Dialect Coach. Gavin Hoffman - Fight Captain. Janine Vanderhoff - Stage Manager. Stephen Kriz Gardner - Production Assistant. Amy C. Vaught - Assistant to the Director. Harriet Bass - New York City Casting. Rose Riordan and Brandon Woolley - Local Casting.

Performances through February 14 at Portland Center Stage in Portland, Oregon.

A TASTE OF THINGS TO COME: UNDRESSING BETTY CROCKER ONE SONG AT A TIME book, music and lyrics by Debra Barsha and Hollye Levin.

Bucks County Playhouse artistic associate Lorin Latarro will make her directorial debut as director and choreographer for the production.

"Smack dab in the middle of America, in Winnetka, Illinois, four women enter a Betty Crocker cooking contest in the hopes of changing their lives. Little do these women know that it will take a zoologist from Indiana University, Alfred C. Kinsey, to really get them cooking. In an age when the way to a man's heart is through his stomach, they discover that the way to a woman's heart is through her best friends."

Previews begin January 30, 2016, and runs through February 21 at the Bucks County Playhouse in New Hope, PA.

RABBIT HOLE David Lindsay-Abaire's Pulitzer Prize winning drama.

Directed by Artistic Director Edward Hall.

Starring Claire Skinner, Tom Goodman-Hill, Alison Steadman, Georgina Rich and Sean Delaney.

Becca (Claire Skinner) and Howie Corbett (Tom Goodman-Hill) are a happy suburban family with everything they could want until a shocking and sudden event turns their world upside down and leaves them drifting perilously apart. Riding the turbulence of domestic life, Becca and Howie must find a way back to each other while their unpredictable family tries to bridge the 'infinite space between', which life changing events create. David Lindsay-Abaire's stunning Pulitzer Prize winning drama, filled with distinctive wit and grace, charts the journey of grief and its antidotes – love and hope.

The UK premiere of Rabbit Hole previews from Friday January 29, 2016 at the Hampstead Theatre in London.

THE METROMANIACS by David Ives.

Directed by Michael Kahn.

In 18th-century Paris, poets are the rock stars of the day, and young people like Damis have gone métromanie - crazy for poetry. Damis has a serious case of verse-mania, so much so that he falls in love with his favorite poetess, not knowing that his idol is actually a middle-aged gentleman writing under a pen name. Soon we're off and running in a breathless series of complications, plot twists, and mistaken identities.

The cast includes Benjamin Cole (Servant), Christian Conn (Damis), Cary Donaldson (Dorante), Michael Goldstrom (Mondor), Peter Kybart (Baliveau), Adam LeFevre (Francalou), Amelia Pedlow (Lucille), Connor Sullivan (Servant), and Dina Thomas (Lisette).

The creative team includes James Noone (Scenic Design), Murell Horton (Costume Design), Mark McCullough (Lighting Design), Matt Tierney (Sound Design), Adam Wernick (Original Music), Laura Stanczyk, CSA (Casting Director), Carter C. Wooddell (Additional Casting), and Jess Slocum (Production Stage Manager).

This new "translaptation" of a classic French farce, Alexis Piron's La Métromanie, will be, presented in association with Shakespeare Theatre Company. Running run on the Donald and Darlene Shiley Stage in the Old Globe Theatre, in San Diego, CA . January 30 – March 6, 2016.

THE ROLLING STONE by Chris Urch.

By Ellen McDougall.

Dembe and Sam have been seeing each other for a while. They should be wondering where this is going and when to introduce each other to their families. But they're gay and this is Uganda. The consequences of their relationship being discovered will be explosive. Especially for Dembe, whose brother goes into the pulpit each week to denounce the evils of one man loving another.

Featuring Faith Alabi, Fiston Barek, Jo Martin, Julian Moore-Cook, Faith Omole, Sule Rimi.

The creative team includes: Joanna Scotcher; Designer - Joshua Pharo: Lighting Designer - David Norton: Sound Designer - James Fortune; Musical Director - Alexandra Faye Braithwaite; Associate Sound Designer - Kevin McCurdy; Fight Director - Hazel Holder; Dialect Coach.

Performances through February 20, 2016 at Orange Tree Theatre in London.

McGUIRE Dick Enberg's one-man play about legendary Marquette basketball coach Al McGuire.

Starring Cotter Smith.

Dick Enberg, one of the most prominent and respected play-by-play announcers in network television history, with a career spanning more than forty years, will do a talkback with the audience after each performance. He is recognizable by his trademark exclamation, "Oh, my!"

"This is one of the most exciting things I've ever done," Enberg said. "Writing in the first person, it was almost as if Al was standing over my shoulder saying, 'No, Dickie, I wouldn't have said it that way, I would have said it THIS way.' He was not only in my head, he was in my soul."

Presented at North Coast Repertory Theatre in Solana Beach, CA on January 25 and January 26.


WHO'S WHERE




JOAN BAEZ celebrates turning 75 with a show next Wednesday, January 27, at the Beacon Theatre in New York City. This special event will celebrate Baez's many contributions to music and will feature performances by David Bromberg, Jackson Browne, Mary Chapin Carpenter, Judy Collins, Emmylou Harris, Indigo Girls, Damien Rice, Paul Simon, Mavis Staples, Nano Stern, Richard Thompson and will be filmed for future broadcast on PBS' Great Performances.

ELLIE GOULDING entertains Monday, January 25, 2016 at the Jahrhunderthalle in Frankfurt, Germany. Tuesday's stop is at the Ziggo Dome in Amsterdam, Netherlands. O Wednesday her tour stops at the Porsche Arena in Stuttgart, Germany. On Friday she's in the spotlight at the Wiener Stadthalle in Vienna, Austria. On Saturday she can be found at the 02Arena in Prague, Czech Republic.

THE TENORS entertain Monday, January 25, at the Schermerhorn Symphony Center in Nashville. On Wednesday the show is at the Durham PAC in Durham, NC. Thursday finds then at the Peace Center in Greenville, SC. Next Sunday, January 21, they are in the spotlight at Ruth Eckerd Hall in Clearwater, FL.

CHICAGO stars at the Maui Arts & Cultural Center in Kahului, Hawaii on Tuesday, January 26. On Thursday they entertain at the Cross Insurance Arena in Portland, ME. Friday finds them at the Lynn Memorial Auditorium in Lynn, MA.

BARRY MANILOW performs Thursday, January 28, at the Pensacola Bay Center in Pensacola, FL. Friday's show is at the Smoothie King Center in New Orleans. On Saturday he'll be performing his hits in Bossier City, LA at the CenturyLink Center.

PINK MARTINI perform Tuesday, January 26, 2016 at Centennial Hall in Tucson, AZ. On Wednesday they star at the Del E. Webb Center for the Performing Arts in Wickenburg, AZ. On Wednesday they open a five night stand at the McCallum Theatre in Palm Desert, CA.

IMAGINE DRAGONS continue their European tour with a stop on Tuesday, January 26, at The New Arena in St. Petersburg, Russia. On Wednesday they perform at the Hartwall Arena in Helsinki, Finland. Friday's show is at the Saku Suurhall in Tallinn, Estonia. On Saturday they are on stage at the Arena in Riga, Latvia. Next Sunday, January 31, they are in the spotlight at the Siamens Arena in Vilnius, Lithuania.


FINAL OVATION


MIC GILLETTE legendary trumpet and trombone player and founding member of Tower of Power died of a sudden heart attack on Sunday, January 17, 2016. He was 64.

"The Tower of Power family was stunned today by the news that Mic Gillette, our dear friend and bandmate going back to 1966, passed away," Tower of Power band leader Emilio Castillo said on the band's Facebook page.

His daughter Megan Gillette McCarthy, a musician and songwriter was part of the Mic Gillette Band.

He was prominently featured on the band's best-known recordings, including such hits as You're Still a Young Man, So Very Hard to Go and What Is Hip?

He is survived by his wife Julia and daughter Megan.

GLENN FREY a founding member and guitarist of the Eagles, died in New York City on Monday, January 18, 2016 from rheumatoid arthritis, acute ulcerative colitis and pneumonia while recovering from intestinal surgery. He was 67.

The Eagles were inducted into the Rock and Roll Hall of Fame in 1998, the first year they were nominated. Consolidating his solo recordings and those with the Eagles, Frey released 24 Top 40 singles on the Billboard Hot 100.

Neil Portnow President/CEO of The Recording Academy issued the following statement:"As a founding member of the Eagles, Glenn Frey was an integral part of one of the most storied bands in pop history. His songwriting, especially with bandmate Don Henley, resulted in some of the biggest hits and standards of the '70s, including songs like Desperado, One Of These Nights, Lyin' Eyes, and Hotel California. The latter two earned the Eagles two of their six Grammy Awards. Desperado and the milestone album Hotel California, along with its title track, have been inducted into the Grammy Hall OF Fame. The band's Their Greatest Hits: 1971-1975 remains one of the best-selling albums of all time, a testament to the enduring music that Glenn played a significant role in creating. Glenn's untimely passing is a huge loss for the music community, and we offer our condolences to his family, friends, colleagues, and fans."

THOMAS McANULTY sculptor was killed when he was in a crosswalk and hit by a driver of a Ducati motorcycle in New York City. He was struck on January 14, 2016 and died in the hospital the next day. He was 73.

McAnulty had been a sculptor and a recognized teacher for thirty years. He has had many exhibitions in New York and his work is in the collections of Arthur Danto, Richard Seiver and many other private collections. He is a Professor Emeritus at Adelphi University and teaches every year in Florence, Italy. He has done several ecclesiastical works and installations and has exhibited his work at major liturgical venues.

The bulk of McAnulty's work was relief sculpture, often depicting simple, everyday objects. He also worked with charcoal on paper, and took commissions for sculptures at Christian churches. He had originally studied to become a Catholic priest before turning to art as a career.

He is survived by his wife Mary, son Steven McAnulty, daughter Kathleen Bernier and several grandchildren.



















Next Column: January 31, 2016
Copyright: January 24, 2016 All Rights Reserved. Reviews, Interviews, Commentary, Photographs or Graphics from any Broadway To Vegas (TM) columns may not be published, broadcast, rewritten, utilized as leads, or used in any manner without permission, compensation and/or credit.
Link to Main Page
---
Laura Deni



For the snail mail address, please E-mail your request.
CLICK HERE FOR COMMENT SECTION