! >
Broadway To Vegas
  
 SHOW REVIEWS CELEBRITY INTERVIEWS GOSSIP NEWS

| | |
| --- | --- |
| | |
ANYONE CAN WHISTLE REVIVAL - -PAUL SORVINO STARS IN FIDDLER ON THE ROOF - - JAI RODRIGUEZ: XPOSED - - MILLION DOLLAR BABE NICOLA BENEDETTI - - LONDON SYMPHONY ORCHESTRA DISCOVERY CONCERT - -THE RENAISSANCE MUSE - - ELVIS COSTELLO'S NEW OPERA - - ROBERT REDFORD DELIVERS HIS POLITICAL PLATFORM - - DONATE . . . Scroll Down


ROBERT REDFORD TAKES A JAB AT WASHINGTON WHILE VIP TYPES GET ULTIMATE GOODIE BAG


On inauguration night Laura Bush - who can dance - and her husband - who has two left feet - gamely smiled as they lumbered through 60 seconds of Laura at nine Inaugural Balls. Robert Redford was at his own gala at Park City's Eccles Center for the Performing Arts, delivering his annual address to those attending the Sundance Film Festival.

Referring the Washington, D.C. festivities, Redford told the crowd: "I'm here tonight because I wasn't invited to another event." He then set forth his own platform.

''I don't like labels, Sundance doesn't like labels,'' he said. ''I found it pretty offensive that we had to live through seeing our country being reduced to red states and blue states. Sundance really stands to resist that. I don't think that we can be broken down that easily, because of the diversity in our country.''

The Oscar winning actor encouraged movie-makers to dissent and speak their minds.

"I like to think of this festival as a festival of dissent, and I'd like to celebrate that," Redford said. He stressed that such a profile diversity is evident in Sundance's roster of films, which he declared, '' really reflects a little more accurately the world that we live in." He explained to the responsive audience that "we just flood the place with all kinds of films, so eventually we lose those labels, and we won't be defined that way anymore.''

Expanding the profile of international films through The World Cinema is a key part of that goal, Redford said. Through international films presented at the festival, which represent 30 nations in 23 languages, ''we're able to see other points of view and other cultures around the world,'' Redford said. ''Through that, it might increase our own understanding of what happens in the world beyond our borders.''

He praised the "different and diverse voices" of the filmmakers with works in this year's event, especially in a world that he says is "depending on your point of view, chaotic, divisive, fearful, unstable or . . . perfect."



Lisa Kudrow in Happy Endings Photo: Lion's Gate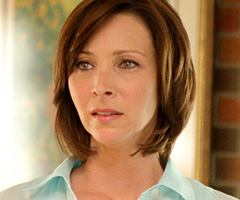 Enjoying Redford's speech were Lisa Kudrow, Tom Arnold and Maggie Gyllenhaal. They along with Jason Ritter, Laura Dern, Edward Furlong, plus Ray Liotta, and Jesse Bradford star in Happy Endings, which was the opening night's featured film.

The ensemble film by writer/director Don Roos tells 10 intertwining vignettes about the strange curveballs that life throws our way.

In one story, a father and son discover that they're dating the same woman, while another tale centers on a lady who's being blackmailed about a baby she gave up for adoption.

"Happy Endings is the perfect film to open the Festival this year because it examines the many layers of relationships in American families and shifting values that are at the heart of our country," stated Geoffrey Gilmore, Director of the Sundance Film Festival.



Kevin Costner and Joan Allen in The Upside of Anger Photo; New Line Productions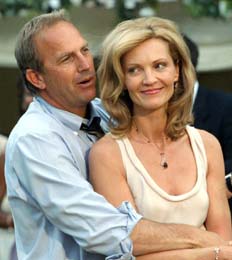 Creating buzz is Kevin Costner romancing Joan Allen in The Upside of Anger.

Screened Saturday, The Upside of Anger casts Costner as a washed up, former baseball player-turned DJ who makes a play for the newly single, middle-aged mother (Joan Allen) of four girls - Erika Christensen, Alicia Witt, Keri Russell and Evan Rachel Wood.

A romantic, comedic drama about family, forgiveness and repressed desires, the film was written and directed by Mike Binder, who also appears as one of Costner's friends.

Getting a lot of attention is The Squid and the Whale, written and directed by Noah Baumbach, who based the storyline on his own childhood.

The films stars Jeff Daniels, Laura Linney, Jesse Eisenberg brother of the Pepsi kid, Hailie Eisenberg and Owen Kline who has a sister, Greta. Their parents are Kevin Kline and Phoebe Cates.



Jesse Eisenberg and Owen Kline in The Squid and the Whale. Photo: Sundance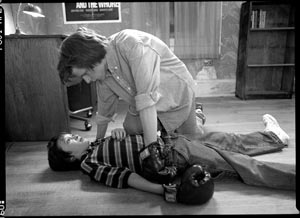 In this movie the Berkman children are caught in the crossfire of their parents' divorce. Set in Brooklyn in 1986s, Linney and Daniels star as the academic parents whose meltdown threatens to destroy everything precious to them.

The patriarch of an eccentric Brooklyn family, Bernard - a once successful novelist - has been reduced to teaching. At the same time, his wife discovers a literary talent of her own and is being published in highly respected literary magazines. As the family breaks apart the teenage sons,Walt (Jesse Eisenberg), 16, and Frank (Owen Kline), 12, are divided between their parents. The wife starts an affair with her younger son's tennis coach, while the husband starts sleeping with a student whom his elder son is courting.

Getting the most face time is Glenn Close who is featured in three films - Nine Lives, Heights and The Chumscrubber.

Other bold faced names include Kudrow's former Friends co-star, David Schwimmer, who plays a divorced drunkard in Duane Hopwood, and James Bond actor Pierce Brosnan heads the comedy The Matador, in which he plays a Speedo-wearing hit man.



Michael Keaton in Game 6. Photo; Sundance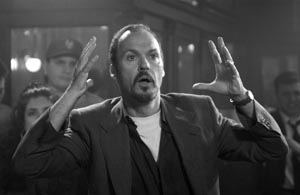 The Don DeLillo-scripted Game 6, stars Michael Keaton, Robert Downey Jr., Griffin Dunne, Catherine O'Hara and Tony award winners Bebe Neuwirth and Lillias White.

Nervous about the opening night of his Broadway play, playwright Nicky Rogan, played by Keaton, becomes even more crazed when a critical baseball game is played on the same night. Rogan skips the play's opening to attend the 1986 World Series. As his life falls apart, a mean spirited and powerful critic played by Downey, Jr. lies in wait. A certain segment of baseball fans may find some scenes particularly funny because Game 6 is based partly on how the character's run of bad luck rivals that of his favorite baseball team - the cursed Boston Red Sox. The film was written and in the can before Boston won the World Series last fall.

Actor Kevin Bacon will be honored with the Ray-Ban Visionary Award, an event that is fun but not affiliated with the festival. Bacon is at Sundance because his flick Loverboy, based on the celebrated novel of the same name by Victoria Redel, received a Sundance screening. Loverboy, which Bacon both starred and directed, is an ensemble drama featuring Kyra Sedgwick, Matt Dillon, Oliver Platt, Marisa Tomei and Dominic Scott Kay.

The story follows Emily (Sedgwick) on a relentless quest to have a child of her own. When artificial insemination fails, she engages in many anonymous liaisons with a wide variety of fathers, equaling nothing but memories and a miscarriage. But when a traveling businessman passes through her life one night, she conceives a boy and names him Paul. But to her, the child will always be her little "Loverboy."

Sundance, which runs through the 30th, will showcase 120 feature films: 82 shorts: screen 202 films taking up 12,551 minutes of screen time. The longest film slated to be screened, The Garden - would have unspooled at 196 minutes - was suddenly pulled by the director, Frederick Wiseman, a day before it was scheduled to premiere.

Wiseman issued a statement saying that his decision to withdraw was made because of "unresolved issues between me and Madison Square Garden."

In addition to its independent film showcase and competition, Sundance includes panel discussions, a music cafe and the closing-night awards ceremony. The screenings will conclude with a showing of a Jenny McCarthy-Carmen Electra flick Dirty Love.

Let us not forget that all important goodie bag. Celebrities, filmmakers and important film industry types received what was dubbed the "Ultimate Comfort Bag," with luxurious products valued at about $50,000.

Nor will the guests go home hungry. A new concept this year is Chefdance, created by Kenny Griswold, in which 10 world class chefs make dinner for guests each night.

SKITCH HENDERSON

Skitch Henderson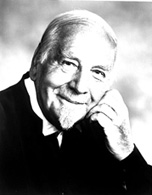 has been selected to receive the James Smithson Bicentennial Medal from the Smithsonian Institution for his contributions to American music.

Henderson is the founder of the New York Pops and the longtime music director for NBC Television.

In tribute to Henderson's magnificent career - and to celebrate his birthday - the Tommy Dorsey Orchestra will perform. The 18-piece ensemble - recognized as one of the best all–around dance bands - enlivens the night and, for old time's sake, Henderson sits in on a tune or two!

The sold out event takes place January 29 at the Baird Auditorium, National Museum of Natural History in Washington, D.C.


The Birmingham, England born Henderson toured with Judy Garland and Mickey Rooney, and with Bob Hope's Pepsodent Show, and was the musical director for Frank Sinatra's Lucky Strike show on NBC Radio; Bing Crosby gave him his nickname.

Previous winners of the medal, which is named after the Smithsonian's founder, have included Sir David Attenborough, Artie Shaw, Celia Cruz, Dave Brubeck, Jerry Lee Lewis, Steven Spielberg, George Lucas and Jim Henson.

LAURENCE OLIVIER AWARDS have announced the nominations for the prestigious award.Mary Poppins led with nine nominations. The ceremony will take place Sunday, February 20th at the Hilton, Park Lane in London.

CLICK FOR LIST OF NOMINEES



Broadway To Vegas is supported through advertising and donations. Priority consideration is given to interview suggestions, news, press releases, etc from paid supporters. However, no paid supporters control, alter, edit, or in any way manipulate the content of this site. Your donation is appreciated. We accept PAYPAL. Thank you for your interest.


AWARD WINNERS UNPACK
Robert L. Freedman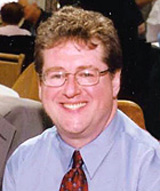 Steven Lutvak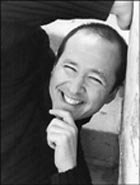 Robert L. Freedman and Steven Lutvak, a musical writing team that has garnered Emmy awards, Golden Globes and numerous other accolades, take up residence in February at the William Inge Family Home as part of the William Inge Center for the Arts Guest Artist Series at Independence Community College, Independence, Kansas.

Emmy-winning writer Robert L. Freedman and acclaimed composer/musician Steven Lutvak will be working on their latest collaboration based on the famous film starring Alec Guiness, Kind Hearts and Coronets. Both worked on the teleplay for Rodger's and Hammerstein's Cinderella, starring Brandy, Whitney Houston, Whoopi Goldberg, Bernadette Peters, and Jason Alexander, which was seen by an estimated 60 million viewers on The Wonderful World of Disney on ABC. A stage adaptation of their teleplay toured the country in a production starring Eartha Kitt.

Freedman and Lutvak will conduct free public workshops on their craft at Independence Community College.

The pair will stay at the historic William Inge Family Home in Independence. William Inge, the Pulitzer-Prize winning dramatist for Picnic, is a native of Independence and the home is used year-round for Inge Center guest artists and playwrights-in-residence, who have the opportunity to work on their current artistic projects.

The Inge Center is best known for its annual William Inge Theatre Festival. The 24th annual festival takes place April 20-23 at Independence Community College, Independence, Kansas. Playwright Tina Howe is the guest honoree.


SPREADING THE WORD


IMITATIONS FOR SAXOPHONE enters Molly's Salon which, in the spirit of artistic and literary salons of the past, features Arena Stages' Artistic Director Molly Smith and other artistic leaders from Arena Stage in a series of lively, in-depth conversations with the playwrights, actors, directors, designers and audiences.

On Monday, January 24 following the matinee performance at Arena Stages in Washington, D.C. Artistic Associate Wendy Goldberg will sit down with Imitations for Saxophone adapter Michael Kinghorn and director Anne Bogart.

JEWTOPIA Sam Wolfson, Bryan Fogel, Jackie Tohn and Lorry Goldman. The moderator is Carl Kissin.

Jewtopia, the longest-running comedy in the history of L.A. theater, is now playing in New York. Jewtopia tells the story of a gentile man who wants to marry a Jewish girl so he'll never have to make another decision. Join the creators and stars of Jewtopia for an evening at Makor. Laugh 'til you plotz.

Monday, January 31 at the Steinhardt Building in NYC.

LONDON SYMPHONY ORCHESTRA DISCOVERY CONCERT Pierre Boulez, Conductor. Get inside the music with Pierre Boulez, Ara Guzelimian, and the LSO as they examine Igor Stravinsky's seminal Rite of Spring with in-depth discussion accompanied by musical examples; following intermission, the work will be performed in its entirety. Friday, January 28 at the Stern Auditorium in Carnegie Hall, NYC.

MODERN ORTHODOX a behind-the-scenes look at Modern Orthodox, a new play starring Jason Biggs, Molly Ringwald, Craig Bierko, Jenn Harris and playwright Daniel Goldfarb.

In this new romantic comedy, an Upper West Side couple (Bierko and Ringwald) finds their lives turned upside down after a brief meeting with an Orthodox diamond dealer (Biggs) from whom they purchase an engagement ring. Join the cast and playwright at Makor as they give a us glimpse into the process of creating a new play with Jewish themes.Moderated by Daniel Gallant. Sunday, January 30 at the Steinhardt Building in NYC.

DIANE VON FURSTENBERG gets up from her design board and moves center stage to discuss the secrets of her career. Monday, January 24, at the Corcordan Gallary of Art in Washington, D.C. Following the talk, the ambassador of Belgium and Baroness von Daele invite participants to their residence for a reception in honor of Ms. von Furstenberg.

SIXTEEN WOUNDED RECORDED Omar Metwally reprises his Tony Award-winning role as a Palestinian radical, and Ron Rifkin portrays the elderly Jewish baker with whom he develops an unlikely relationship, when L.A. Theatre Works presents Sixteen Wounded, the provocative and controversial new play by Eliam Kraiem. Five performances take place at the Skirball Cultural Center, January 26 through 30. All performances are recorded to air on LATW's nationally-syndicated radio theater series, The Play's The Thing, which broadcasts weekly on public and satellite radio.


SWEET CHARITY


JAI RODRIGUEZ: XPOSED

Jai Rodriquez
Sexy, edgy, and fresh, Jai Rodriguez bares his soul and tells his provocative story in an autobiographical pop/rock Moulin Rouge - style rendition of his life through song and dance.

Best known as the "concierge of cool" on Bravo's Queer Eye for the Straight Guy, Jai will be joined by team mates Ted Allen and Carson Kressley in an evening that will feature Shoshana Bean from Wicked, and the hottest singers and dancers on Broadway and other surprise guests!

Directed by Schele Williams.

A one-night-only benefit performance for The Actors' Fund, Monday, January 31 at Jazz at Lincoln Center's Frederick P. Rose Hall, NYC.

ROMEO AND JULIET currently staged at the Folger Theatre in Washington, D.C., on January 28, 50 percent of proceeds from the show will be donated to USA for UNHCR, a nonprofit group that builds support in the United States for refugee causes and the work of the U.N. Refugee Agency.

A gift to the American people from Henry Clay Folger and his wife Emily Jordan Folger, the Folger opened in April 1932. It is listed in the National Register of Historic Places. The 250-seat theater, built inside the Folger Shakespeare Library, is a replica of an inn-yard theater of Shakespeare's time, with "Juliet windows" on the stage and painted timber construction decorated with animals and Tudor roses. The overhead canopy is lit from behind to suggest the open-air theater construction of 17th-century En Home to the world's largest Shakespeare collection, the Folger Shakespeare Library is a major center for scholarly research and a lively venue for exhibitions, cultural programs, and the performing arts.


OTHER PEOPLE'S MONEY


NICOLA BENEDETTI has proved that seven hours of violin practice each day pays off. The 17-year-old has signed a million dollar recording contract with Universal Music, considered the most prestigious classical label in the industry. The contract is for six albums.

She has completed her debut album for Universal/ Deutsche Grammophon with the London Symphony Orchestra, conducted by Daniel Harding, 29. That CD will be released in the spring.

The Scottish lass, born in West Kilbride Ayrshire, began playing the violin at the age of four and six years later started attending the Yehudi Menuhin School for gifted musicians in Surrey. At the ripe old age of eight she was leading the National Children's Orchestra of Scotland. The first Scot to win the BBC Young Musician of the Year prize, she played at the opening of the Holyrood parliament building in a ceremony attended by Queen Elizabeth and celebrities including Sir Sean Connery. She's already made her debut at Carnegie Hall.Two tours of the United States are planned.

PETER B. LEWIS the Guggenheim Museum chairman who donated $77 million, has resigned in a dispute with the museum's director, Thomas Krens, over the direction of the world-famous institution which boasts some 10,000 works - including pieces by Pablo Picasso, Jackson Pollock, Salvador Dalí, Paul Cézanne and Andy Warhol, and covers the period from the late 19th century to the present, encompassing the cubist, impressionist and pop art movements among others.

Krens has goals of expanding the Guggenheim into a worldwide brand - a marketing strategy some claim overstretched the institution's artistic and financial resources and dumbed down the respected modern art collection into crass commercialization.

When Krens took over in 1988 the Guggenheim had two museums - its Frank Lloyd Wright-designed home in Manhattan, and an elegant palazzo in Venice. Expansion included the Frank Gehry-designed museum in Bilbao, and a branch in Berlin. The Guggenheim opened a museum in Las Vegas's Venetian Hotel/Casino in 2001, but closed 15 months later. The Sin City venue was promoted as a gallery equal to those in Venice, Bilbao and Berlin. Krens is currently forging ahead with plans to establish a Guggenheim in Rio de Janeiro. Another one in Guadalajara, Mexico is due for a feasibility study and other cities are on his wish list.

Lewis, who has been the Guggenheim's chairman since 1998 and a trustee since 1993, questioned international expansion and wanted the focus to remain on the New York property.



ANYONE CAN WHISTLE

March 1964 playbill for the Pre-Broadway tryout at the Forrest Theatre in Philadelphia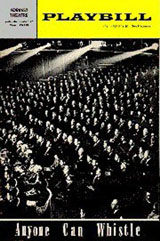 Book by Arthur Laurents. Music & Lyrics by Stephen Sondheim. Directed by Charles Gilbert with Chuck Wagner as J. Bowden Hapgood.

Anyone Can Whistle - a rarely seen early Sondheim gem! - is a wacky, rarely seen, unconventional musical satire that has attained a cult-like popularity among musical theater fans.

After a pre-Broadway tryout at the Forrest Theatre in Philadelphia the production opened April 4th, 1964 at the Majestic Theatre in New York City and closed after only nine performances making it the shortest run of any Sondheim show. The musical starred Lee Remick, Angela Lansbury and Harry Guardino and featured Henry Lascoe who suffered a heart attack during tryouts in Philadelphia and was replaced by Gabriel Dell.

This early work has one of Stephen Sondheim's all-time great scores and includes such brilliant songs as Everybody Says Don't, There Won't Be Trumpets, and the title song, Anyone Can Whistle.

The zany story seems eerily apt in the world today. A corrupt mayor invents a fake miracle in order to attract visitors and save her town from bankruptcy. Chaos ensues when a lonely nurse from the town mental hospital sets out to expose the fraud as she searches for romance with an easy-going doctor. Raucous and witty, this comedy skewers government, religion, psychology and anything else that stands in its way. In the end, it celebrates the rare triumph of individual integrity in a conformist - and sometimes truly crazy – society.

This production will include the full score in all its glory, with a 20-piece orchestra, first-rate singers, and concert staging.

January 26 - February 6 at the Prince Music Theater in Philadelphia.

FIDDLER ON THE ROOF stars Paul Sorvino as Tevye. Book by Joseph Stein adapted from the colorful characters and timeless stories of Sholom Aleichem. Music by Jerry Bock and lyrics by Sheldon Harnick. Directed by Greg Ganakas. Winner of Nine Tony Awards and boasting memorable music such as; Tradition, Matchmaker, and Sunrise Sunset

While Sorvino got his start singing on Broadway, as the Second Patrolman, in the musical Bajour, based on New Yorker stories by Joseph Mitchell, it's been 25 years since he's performed in a musical comedy - that would be The Baker's Wife. His previous turn on the board was nearly 20 years, when Sorvino directed and starred in a 1987 production of All The King's Men.

During a "conversation" sponsored by the Screen Actors Guild Foundation and moderated by Theatre in the Park's Ira David Wood III. Sorvino told the gathering, "I've been offered the role of Tevye six or seven times in my life, but I never felt that I was old enough to play it. I think, when I was younger, I saw Tevye as passive."

"What makes Tevye heroic for me," Sorvino explained, " is he has a great heart and his endurance and his sense of values."

He added, "I came to understand that Tevye, indeed, was a hero, because of the way he adapts to very difficult changes. His is the first generation to have to adjust to the very difficult changes in Jewish life."

While Sorvino indeed turned down opportunities to play Tevye both on Broadway and in regional theatres, he stated that after having raised three children, two of them daughters, he now feel he is seasoned enough for the part.

Director Greg Ganakas and choreographer Ken Daigle stage the show, and McCrae Hardy serves as musical director/conductor.

In addition to Paul Sorvino, the North Carolina Theatre cast for Fiddler included Carolann Page as Tevye's wife, Golde, Dana Meller, Elena Shaddow, and Cary Michele Miller, as Tevye's three oldest daughters: Tzeitel, Hodel, and Chava, respectively; Louise Farmer as Yente the Matchmaker; Tim Caudle as Lazar Wolf the Butcher; Keith Gerchak as Motel the Tailor; Michael Hunsaker as Perchik the Student/Revolutionary; Tom Sellwood as Fyedka the Russian Soldier; and Julie Oliver as Grandma Tzeitel.

The musical's production team also includes producer William Jones, technical director Curtis Jones, lighting designer John Bartenstein, costumer Annie Bruskiewitz, hair/wig designer Patti Del Sordo, and sound designer Jonathan Parke. The production opened last night, January 22, at the North Carolina Theatre in Raleigh and runs through January 30.

AS YOU LIKE IT By William Shakespeare; directed by Sir Peter Hall; designer.

Starring Rebecca Hall (Rosalind), Dan Stevens (Orlando), David Barnaby (Adam), Freddie Stevenson (Oliver and Amiens), Rebecca Callard (Celia), Michael Siberry (Touchstone), James Laurenson (the Usurping Duke and the Banished Duke) and Philip Voss (Jaques).

John Gunter; lighting and projection designer, Peter Mumford; composer, Mick Sands; sound designer, Gregory Clarke; associate director, Trish Rigdon. A Theater Royal Bath production. Presented by the Brooklyn Academy of Music at the Brooklyn Academy of Music's Harvey Theater in Brooklyn, NY.

LITTLE WOMEN new musical, based on the Louisa May Alcott novel, tells the timeless tale of Jo, a young writer, and her three sisters during the Civil War period. Starring Sutton Foster, Maureen McGovern, Janet Carroll, Danny Gurwin, John Hickok, Amy McAlexander, Megan McGinnis, Jenny Powers, Robert Stattel and Jim Weitzer. Officially opens tonight, January 23, at the Virginia Theatre in NYC.

NINE SINATRA SONGS

Photo by Joe Gato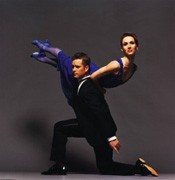 Miami City Ballet presents three company premieres in one remarkable evening.

Featured will be the Twyla Tharp masterwork Nine Sinatra Songs, an elegant ballroom-style dance set to the music of Ol' Blue Eyes.

Each of the nine songs Tharp has chosen has its own musical and dance/theater character. Also on the program will be Paul Taylor's spicy Piazolla Caldera, celebrated for its Latin flair and sensual steps, and The Reassuring Effects of Form and Poetry, a magnificent neoclassical ballet by Trey McIntyre, performed to the music of Dvorak.

Thursday, January 27 at Hayes Hall, Philharmonic Center for the Arts in Naples, Florida.

BROTHER JONES by Garth Stein. The great-grandson of a Tlingit Indian, Stein was co-producer of the Academy Award-winning short film, The Lunch Date, and director of When Your Head's Not a Head, It's a Nut, an award-winning documentary about his sister, Corey, and the brain surgery she underwent to treat her epilepsy. Head was broadcast nationally on PBS and in Japan on NHK. Other co-production credits include two music video projects which were directed by Johnny Depp and the documentary, The Last Party, which featured Robert Downey, Jr.

Brother Jones is the story of Jones Riddell who returns to his family's estate in Aberdeen, Washington after a twenty-four year banishment. Now a successful boat builder on the East Coast, Jones feels compelled to attend the wedding of his youngest sister. Accompanied by his wife, Sara, who has experienced firsthand the Riddell family's tradition of being elusive and vague, Jones ventures back into the world of his family's dark and unspoken secrets, unaware that he, alone, holds the key to the future of Riddell House.

Tony Gotto directs a cast of five including Tricia Allen, John Ross Clark, Patrick Gorman, Ongyie Phoerly and Elizabeth Reynolds. Previews begin January 23 with an official press opening on Wednesday, February 2. The Lyric Hyperion Theatre in Silver Lake, CA.

TRUMBO Written by Christopher Trumbo, and directed by Peter Askin. Brian Dennehy stars as the legendary author of Spartacus, Roman Holiday, Exodus, Papillon, and Johnny Got His Gun.

Dalton Trumbo was at the top of his game when, in 1947, he stood up to the House Un-American Activities Committee, was thrown in prison and blacklisted as one of the infamous Hollywood Ten. Though vilified, exiled and "broke as a bankrupt's bastard," Trumbo refused to be silenced. In a script born from funny and brilliant letters to his friends, former friends, fronts and family, emerges the story of a family's survival and one stubborn artist's quest to break the blacklist. Trumbo is the story of a spirited American who took on Congress, Hollywood, and a fearful nation - and won. January 25-30 at the Pantages Theatre in Minneapolis.

THE RENAISSANCE MUSE

Andreas Scholl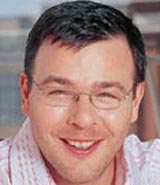 a play directed by award-winning director Mark Lamos, will open a new season of Lincoln Center's New Visions series.

Renaissance art blossomed from the ashes of the Dark Ages, and acclaimed director Mark Lamos brings the romance and sense of discovery of the time to life in the world premiere of The Renaissance Muse.

Countertenor Andreas Scholl lends his voice, described by BBC Magazine as "a thing of crystalline translucent purity", and is joined by Tony-nominated actress Laila Robins, reciting text by Renaissance greats such as John Ford, Samuel Daniel and, of course, Shakespeare.

Post-concert discussion with Mark Lamos and Andreas Scholl on Friday, January 28 in Gerald W. Lynch Theater at John Jay College.

Crawford Young on Lute. Stacey Shames playing the Harp. World premiere performances on January 26, 28 and 29, at John Jay College Theater, NYC.



WHO'S WHERE


ELVIS COSTELLO is on tour including a performance January 24 at the Utrecht Music Centrum in Utrecht, Netherlands. Costello should feel comfortable in that area since he is writing The Secret Arias,an opera based on Hans Christian Andersen's unrequited romance with Jenny Lind, a Swedish a soprano called the "Swedish Nightingale." Andersen longed for her, despite Lind never returning his affections. It is believed that Andersen based his story The Nightingale on Lind. Costello's opera will be staged by at the Royal Theater in Copenhagen. The work will open in 2006 in the opera house's experimental stage which seats 200. After Copenhagen, Costello plans for The Secret Arias to have an international tour.

In the meantime Costello has a busy week. He's on stage January 26 at the Antwerp Koningen Elizabeth Hall in Antwerp, Belgium. On January 28 he can be enjoyed at the Berlin UDK in Berlin Germany. On January 29 Costello is center stage at the Jamberg Kampnagel in Hamburg, Germany. January 30 the shows shifts to the Frankfurt Mouson Turm in Frankfurt, Germany.

LONDON SYMPHONY ORCHESTRA DISCOVERY CONCERT Pierre Boulez, Conductor. Get inside the music with Pierre Boulez, Ara Guzelimian, and the LSO as they examine Igor Stravinsky's seminal Rite of Spring with in-depth discussion accompanied by musical examples; following intermission, the work will be performed in its entirety. Friday, January 28 in the Stern Auditorium of Carnegie Hall, NYC.

CHER AND THE VILLAGE PEOPLE on stage Tuesday, January 25, at the Rose Garden Arena in Portland, Oregon. On Wednesday they perform at the Everett Events Center in Everett, Washington. On Saturday they can be enjoyed at the MGM Grand Garden Arena in Las Vegas.

JOSH GROBAN AND CHRIS BOTTI a dynamite duo, appearing Tuesday, January 25 at St. Pete Times Forum in Tampa, Florida.

GEORGE STRAIT will headline a concert at the United Spirit Arena in Lubbock, Texas on Jan. 27. Other stops in the Southwest include Jan. 28 show at the Frank Erwin Center in Austin, and Feb. 3 at the Pan American Center in Las Cruces, N.M.

PETER CINCOTTI in the spotlight for a three night stand beginning Friday, January 28 in Milwaukee, WI at Uihlein Hall.

CHARLEY PRIDE in a two nighter at the Events & Convention Center at the Grand Casino in Hinckley, MN on January 27 and 28.

CAROL CHANNING (SORT OF) IS THROWING A PARTY AT THE NATIONAL THEATRE TO CELEBRATE HER 84th BIRTHDAY On Monday, January 31, Richard Skipper, will bring his acclaimed Carol Channing to the National Theatre for this one night only birthday bash. Free tickets will be distributed 30 min. prior to the show. No advance reservations. Performances in the Helen Hayes Gallery.

An Evening with Carol Channing and Company "will be a 60-minute musical montage celebrating the career and persona of one very unique entertainer - Carol Channing.

Skipper is the recipient of the MAC (Manhattan Association of Cabaret) Award for Outstanding Achievement in Impersonation and the Backstage Bistro award for best performer.

DIANNE REEVES in the spotlight Saturday, January 29 at Walt Disney Concert Hall in Los Angeles.

JERRY SEINFELD telling funny stories Thursday, January 27 at the Marina Civic Center in Panama City, FL. On Friday he will again make the crowds laugh at the Dade County Auditorium in Miami, Florida.

TOM WOPAT performs Monday, January 24 at Uihlen Hall in Milwaukee. On Tuesday he's center stage at the North Shore for the Performing Arts in Skokie, IL. Wednesday finds him at the Arts Block Grand Theatre in Wausau, WI. On Friday he begins a two night stand at Yardly Hall in Overland Park, Kansas. Next Sunday he can be enjoyed at the Toujill Performing Arts Center in Saint Louis, MO.

MARLENA SHAW center stage at Le Jazz Au Bar in New York City January 26-30.

GLENN YARBROUGH performs Tuesday, January 25 at the Vilar Center for the Arts in Beaver Creek, CO. On Wednesday he's on stage at the Performing Arts Center in Lancaster, CA. Next Sunday he's performing at the Cerritos Center in Cerritos, CA.

JOHNNY MATHIS on stage Saturday, January 29 at the Peace Center in Greenville, SC.

CANADIAN BRASS sound off Saturday January 29 at the University of Tennessee at Knoxville. Next Sunday, January 30, they'll be tooting their horns at the Alys Stephens Center in Birmingham, Alabama.

YANNI will be packing the Pepsi Arena with 15,000 middle aged women. The new age superstars performs Tuesday, January 25 at the Pepsi Arena in Albany, NY.

STEVE TYRELL performs Saturday, January 29, at the Norton Center in Danville, KY.


FINAL OVATION


PETER ZEISLER died of heart failure Sunday, January 16, at his home in Dobbs Ferry, N.Y. He was 81.

Born in New York City, he helped found the Guthrie Theater in Minneapolis serving as its managing director and producer from 1963 to 1970. In 1972 he became executive director of the Theater Communications Group. Retiring in 1995 Zeisler continued to serve as an arts consultant to foreign governments and theater festivals.
















Next Column: January 30, 2005
Copyright: January 23, 2005. All Rights Reserved. Reviews, Interviews, Commentary, Photographs or Graphics from any Broadway To Vegas (TM) columns may not be published, broadcast, rewritten, utilized as leads, or used in any manner without permission, compensation and/or credit.
Link to Main Page
---
Laura Deni


CLICK HERE FOR COMMENT SECTION