! >
Broadway To Vegas
  SHOW REVIEWS     CELEBRITY	INTERVIEWS     GOSSIP     NEWS 
BROTHEL TO HONOR ANDY KAUFMAN

The Moonlite Bunny Ranch - the brothel that has given us the Jesse Ventura "Oral Office" suite named in honor of the Minnesota governor is opening a theme room in honor of the late comedian Andy Kaufman.



ANDY KAUFMAN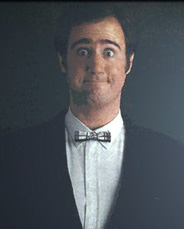 The Ventura suite was originally going to ballyhoo his stint as a Navy seal - since it was during those days that Ventura admitted to being a visitor at the brothel located in Lyon County, just outside Carson City. However, the Navy took a dim view of the decorating theme, so the motif took on an "Oral Office" concept as well as displaying memorabilia denoting Ventura's days as a wrestler.

The wrestling theme will also be carried out in the Kaufman bedroom. It seems that the actor "used to hire two girls, one in a black leopard, the other in white. Kaufman would pay $350 to $400 per match. They'd wrestle each other and then he'd wrestle the winner," divulged brothel owner Dennis Hof, who insisted that Kaufman never engaged in sexual activity with either of them. He just got his kicks by wrestling. "He'd spent thousands of dollars in a weekend. A lot of people are sexually repressed. Wrestling women is a fantasy for some men. It's a way to satisfy their desires," he continued.

Kaufman is the subject of the hit movie Man on the Moon. His brothel wrestling events took place during the time he starred on Saturday Night Live. On that show he'd offer $1,000 to any woman who could beat him in a wrestling match.

Kaufman's sexual antics at various Nevada brothels have been well documented. In 1979, while in Nevada for a week, he decided to have sex with every prostitute in one brothel, paying $100 per girl - twice the then going rate. He bedded 49 prostitutes in those seven days.


SUNDANCE - LOOKING FOR DISTRIBUTORS AND ROBERT REDFORD
ROBERT REDFORD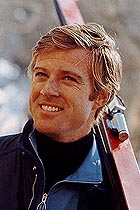 Robert Redford was a no show at the opening night of his Sundance Film Festival. Nobody was too sure what happened to Bob, who was away finishing up his next directing effort, The Legend of Bagger Vance. He had been expected to not only attend but deliver opening remarks. Somebody goofed and neglected to inform the Festival that - at the last second- Bob wasn't going to make it. He did arrive the next day, attending a brunch at the Sundance Resort where 19 films will be screened. Jodi Foster is also at the Festival.

Also missing, but with a good reason, was Stanley Tucci. He was attempting to get to Utah for the world premiere of his movie Joe Gould's Secret. He flew from Rome to Los Angeles and was ready to board a flight for Park City, Utah when he got word that his pregnant wife - expecting twins - had gone into labor a month early in New York. Tucci immediately flew to his wife's bedside. We wish them all the best.

As for Sundance - that's the premiere Festival for independent films looking for distributors. Last year the event gave the world The Blair Witch Project.

WHAT'S COOKING Lainie Kazan (left) Maury Chaykin, Albie Selznick, Estelle Harris & Ralph Manza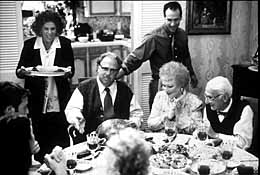 This year the opening night film was What's Cooking, set at Thanksgiving. Gurinder Chadha, an Englishwoman of Indian descent co-wrote and directed the film. Along with two of the film's stars, Alfre Woodward and Julianna Margulies, Chadha introduced it at the premiere.

What's Cooking takes the traditional Thanksgiving dinner viewed through the eyes of four families.The Williamses - Ronald (Dennis Haysbert) and Audrey (Alfre Woodard) - are an African-American couple trying to live a WASP lifestyle. The children of a Mexican-American family, the Avilas, (Julianna Margulies) are trying to get their fighting parents back together. The Seeligs (Lainie Kazan and Maury Chaykin) are attempting to cope with the fact that their daughter (Kyra Sedgwick) is a lesbian, And Vietnamese immigrants the Nguyens (Joan Chen and Francois Chau) are faced with rebellious children.

During the 10-day the Sundance Film Festival will screen 112 feature films, 71 of them making their world premiere.

On Tuesday Kevin Spacey will be honored with the festival's Piper-Heidsieck Tribute to Independent Vision Award. Spacey's next project will find him in Las Vegas. His next flick Pay It Forward will be filming in Las Vegas.



Broadway To Vegas is supported through advertising and donations. Priority consideration is given to interview suggestions, news, press releases, etc from paid supporters. However, no paid supporters control, alter, edit, or in any way manipulate the content of this site. Your donation is appreciated. We accept PAYPAL. Thank you for your interest.


NOTRE DAME DE PARIS; PARIS HOTEL, LAS VEGAS


This isn't your father's Hunchback of Notre Dame. In fact, the program says this award winning highly touted musical is "based on the novel by Victor Hugo."
There is a program which explains every scene. That's a good thing, because unless you read the program before the performance you're going to get lost. Even so, be prepared for culture shock.

If Rent was your all time favorite Broadway musical, then Notre Dame De Paris is right up your alley. And, you're going to have to see it in Las Vegas, because this isn't going to make it to Broadway. The music is recorded. Beautifully composed, arranged and exquisitely balanced - but recorded. The musician's unions in Paris and Toronto have lodged charges. Las Vegas has several hotels that use canned notes, making Notre Dame De Paris mountable in Vegas without the litigation.



FRANCIS RUIVIVAR plays Frollo. He starred on Broadway in Miss Saigon, becoming the first Asian-American to portray the Engineer, replacing Jonathan Pryce. He originated the role of Lord Toranaga in Shogun.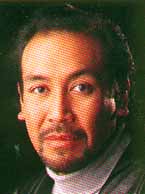 If you are a dance major, or have a deep appreciation for acrobatic dancing, then you're going to marvel at the highly trained dancers - many of whom should be getting hazard pay.

Those who rank Andrew Lloyd Webber's Les Miserables or Phantom of the Opera at the top of their personal preference list won't know what to make of this show. There are no elaborate period costumes. Think sweats, karate outfits, The Gap and anything that might be roaming around a high school hallway.

The set - singular - is your basic rock climbing wall from the gym, cut into sections and made moveable. The lighting effects are excellent and the choreography inspired. The bell ringing scene being a highpoint. What this show has is enormous talent taken straight from Broadway.



DOUG STORM is Quasimodo. He comes directly from the Broadway cast of The Scarlet Pimpernel. Credits include Les Miserables, The Civil War, Terrance Mann's Romeo & Juliet, Chess and Jesus Christ Superstar.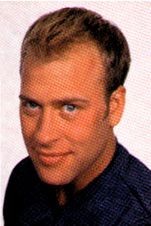 Bringing that combination to Glitzville is taking quite a gamble - six the hard way.

Chicago the award winning musical, has triumphed in Vegas at Mandalay Bay Resort because the household name cast is regularly changed. It's a pleasure to see Chicago more than once.

Notre Dame De Paris has no marquee names. It's been a sell out in Toronto - one of the world's greatest theatre cities. The fact that it's been a smash in Paris is a given. This is its first engagement in English. Something may have been lost in the translation - like character development. There are no supporting cast comic relief roles. Even all the cast members look about the same - young. We have a Paris only inhabited by the 25 or younger crowd. There are no songs delivered in a stand out, memorable fashion. When Dr. Jekyll sings This Is The Moment in Broadway's Jekyll & Hyde the house comes down. When Quasimodo sang God You Made The World All Wrong, referring to the pain of his affliction, the audience responded with polite applause.

The audience never really develops any empathy - or hatred - for any character or situation. The audience needs to feel something besides puzzlement. The opening night audience appreciation went to the acrobatic skill of the dancers and in acknowledgment of the great singing ability of the stars.



DAVID JENNINGS plays Clopin. His many Broadway credits include in Ragtime, Miss Saigon, Godspell, Play On, Once Upon A Mattress, Ain't Misbehavin and Guys & Dolls.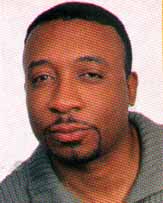 The first show - Saturday - opening night was a heavily papered house. The couples in front of me and to my right were from Canada and friends of the producer. Many in the audience had connections with the production. Even so, the response was tepid although there was a standing ovation at the end. I overheard many Canadians indicate they preferred the Canadian production, which we haven't seen.

Las Vegas has a large contingent of Oriental and Spanish tourists with English as a second language, who may not be able to follow the show and won't enjoy it unless they are crazy about interpretative dance. To make this show succeed will be an interesting challenge. The showroom of the Paris Hotel seats about 1200. There are two shows a night 7:30p.m. and 10:30 p.m. Tuesdays through Saturdays, with two separate casts. That's a lot of tickets - at $69.50 - for an avant guard production with crib notes and no intermission to try to sell - week after week, month after month.

Leaving the theater there was a couple behind me - age approximately 50. The man said to his wife: "There were some great voices up there on that stage. And, yes it was a musical. But, to tell you the truth I'd rather have seen Tony Bennett."

It took a lot of innovative thinking and courage to mount Notre Dame De Paris in Las Vegas. There is a lot of talent up on the stage. That may not be enough.


JERRY HERMAN LEADS THEATER PANEL; SCHOLARSHIP FORMED IN HIS NAME
JERRY HERMAN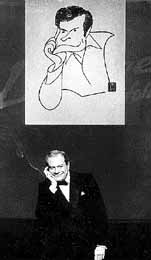 Jerry Herman, composer of Mame, Hello Dolly! La Cage Aux Folles among other Broadway hits, was the featured guest artist in the three day Utah Theatre Association Conference, which ended last night, at Dixie College, St. George, Utah.

The conference theme was "The Best of Times" taken from the lyrics of the stand out song from La Cage Aux Folles. Proceeds from a concert which culminated the three day conference will be used to establish a scholarship in Herman's name.

Panel participants included Herman, Paige O'Hara, Karen Morrow, Jason Graae and Don Pippin.

O'Hara, who sang the role of Belle in Disney's Beauty and the Beast, appeared on Broadway as Fantine in Les Miserables and performed in the national tour of The Mystery of Edwin Droos and the Broadway revival of Showboat before moving to Las Vegas where she starred in the Rockettes show at the Flamingo Hilton Hotel.

Graae is currently featured as Chad in the Showtime series RudeAwakening and performed as Houdini at the Shubert Theater in the Los Angeles production of Ragtime. Karen Morrow has appeared on Broadway in The Grass Harp, If I Had a Ball and The Selling of the President and off Broadway in The Boys from Syracuse. Musical director Don Pippen rounded out the panel. In addition to being musical director for many of Herman's works, he has had a distinguished career that includes A Chorus Line, Woman of the Year, and Cabaret. He was the first musical director to receive to receive the Drama Desk Award "for consistently outstanding musical direction and commitment to the theater."



DON PIPPEN

The discussion and question and answer period focused on the professional musical theater.

Keynote speaker for the conference was James Christian, Weber State University's director of theater studies. He also conduced a series of workshops which culminated in a cabaret performance showcasing the students who participated in the sessions.

College from Utah, Idaho, Colorado and Nevada took part in the conference. The Utah Theatre Association is a coalition of representatives from public education, higher education and community theaters throughout Utah. The major aspect of the conference is giving high school seniors the opportunity to audition for college and university scholarships.

Tony award winning Herman is the only composer/lyricist in history to have had three musicals running more than 1,500 consecutive performances on Broadway. Among his other accomplishments are Dear World, Milk and Honey, Mack and Mabel, and Jerry's Girls, a revue showcasing highlights from his previous hits. His newest show will be Miss Spectacular,opening next year at the Mirage Resort in Las Vegas.


LAS VEGAS WEALTH BENEFITS PERFORMING ARTS STUDENTS


Juilliard, Yale and Columbia are about to get some competition from the Midwest.

Thanks to a gift of $18 million from the estate of a guy who got lucky buying undeveloped Las Vegas real estate, the College of Fine Arts at the University of Nebraska-Lincoln intends to jump to the top of the pecking order for fine arts-theatre training institutions.

Christina M. Hixson, the sole trustee of the Lied Foundation Trust announced last week that the latest bequest by the Lied Foundation Trust, Las Vegas is an $18 million grant to the University of Nebraska, Lincoln College of Fine and Performing Arts. "This has the potential of moving this college literally to the top of the performing arts training institutions in this country," announced college dean Richard Durst.

"We are exceedingly grateful for the generosity Christina Hixson has shown to the college," continued Durst. "Since the college was founded in 1993, we have striven to offer an outstanding education in art, art history, theatre, dance and music. This wonderful gift will create an even more effective learning environment, continuing the highest professional standards in fine and performing arts education. It will enable this college to take a place at the pinnacle on fine arts training."



DANCE DEPARTMENT IN THE HIXSON-LIED COLLEGE OF FINE ARTS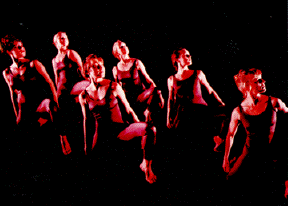 Part of the money will be used to compete with the top college fine arts departments in recruiting both faculty and students.

The University Board of Regents also voted 8-0 to rename the college in honor of the Lied Foundation and the sole trustee, Christina Hixson. The college will be called the Hixson-Lied College of Fine and Performing Arts. In the 131-year history of the University of Nebraska, this marks the first time a college will bear the name of a supporter.

The late Ernest F. Lied was a University of Nebraska graduate - class of 1927 - who became the owner of a growing Buick dealership in Omaha. Lied hired Hixson as his secretary. The two worked together in Omaha until the 1950s, when Lied moved to Las Vegas and began investing in underdeveloped land purchased at low prices. Those investments grew to extraordinary proportions. When Hixson joined Lied in Las Vegas as his assistant in 1960, he had already developed shopping centers, homes and a hotel. As Las Vegas began to expand, the land he owned continued to increase in value.

Lied established the Lied Foundation Trust in Las Vegas in 1972, in honor of his parents, Ernest M. And Ida K. Lied. Before his death in 1980 at age 84, Lied named Hixson, his associate for more than 40 years, as the sole trustee of the trust, and instructed her to sell the acquired land to benefit the trust.

Proceeds from the Las Vegas land sale resulted in a $133 million trust.

According to reports presented at the regents meeting, the money will be placed in an endowment fund to generate income for the Fine and Performing Arts College. It is expected to be fully funded within four years. At that time $900,000 a year is expected. The principal will be permanently invested as a means of providing the annual income.



THE LIED CENTER FOR THE PERFORMING ARTS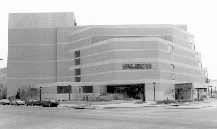 Half of the income will go to programs at the college and it's ancillary units including the Lied Center for the Performing Arts, Sheldon Memorial Art Gallery, the Mary Riepma Ross Film Theater, the Lentz Center for Asian Culture and the Nebraska Repertory Theater.

The other half will be divided equally; 25 percent will fund faculty chairs and professorships to attract and retain leading national scholars in fine and performing arts. The other 25 percent will be used for student support, including student scholarships, fellowships, working grants and research grants.

Endowing institutions of higher learning has been a staple of the Lied Foundation.

In 1984, the Lied Center was built thanks to a $10 challenge grant from the Lied Foundation. The Nebraska State Legislature approved fund and individuals jumped on the donation bandwagon. Construction of the 150,000 square foot, $20 million structure began in October, 1986, completed late in 1989. The Lied Center's premiere season was a tremendous success with sellout performances by Isaac Stern, the Joffrey Ballet, the Philadelphia Orchestra and the Broadway hit Les Miserables.

Through various projects at the University of Nebraska, Hixson has provided more than $47million in gifts from the Lied Foundation Trust.

The Christina Hixson Opportunity Awards program was created at Iowa State University when Hixon gave $5 million from the Lied Foundation Trust of Las Vegas to a program that provides 100 full tuition awards to students from Iowa. One student from each of Iowa's counties is provided with a $2,500 scholarship each year.

The Lied Foundation didn't forget the city where the wealth was acquired. At the University of Nevada, Las Vegas there is the Lied Institute for Real Estate Studies. During an anniversary celebration held last May at the Venetian Hotel, Hixson was honored.

"The Institute is forever grateful to Christian and the Lied Foundation Trust for sharing our vision of becoming the premier academic real estate program in the Western Unite States," said Larry Singer, chair of the Lied Institute Advisory Committee.

"In 1992, Christina made the Lied Institute one of her priorities by endowing the program at UNLV. As the chair of the Lied Institute's Board of Governors, she continues to influence and steer the program's direction academically, in community outreach and in the wise investment of the Lied Institute Endowment."

Hixson was also recognized by The Las Vegas Review Journal as Best Humanitarian.


COWBOYS WAXING POETICALLY


"If I can't drown my troubles, baby, I'll teach them how to swim."

"He's got a way with woman, and he just got away with mine."

"Next time I fall in love, I won't."

Inspirational words written by Country Music Hall of Famer, Hank Thompson, 76, one of the great songwriting sages who penned 180-proof songs with poignant lyrics that put a foam on emotion.

Waxing poetically is a mainstay of the country/cowboy lifestyle, with cowboy poetry roots going back to the 1860s.

The 16th annual Cowboy Poetry Gathering is taking place in Elko, Nevada through Jan. 29. The event brings together cattle people, rural folks, poets, musicians, gear makers, as well as city folk who gather round the bunkhouse to participate in workshops - ranging from blacksmithing to rawhide braiding, horsehair photography to ranch cooking - poetry and music sessions, concerts and dances.



RED STEAGALL the official Cowboy Poet Laureate of Texas entertains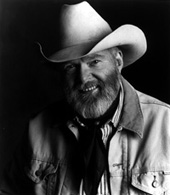 Three full days of performances by cowboy poets and traditional western entertainers will include; Baxter Black, Red Steagall, Ian Tyson, Joni Harmd, and Paul Zarzyski. Byron Price, Executive Director of the Buffalo Bill Historical Museum in Cody, Wyoming, will give the keynote address.

Special guests are the winners of the Quantas-Waltzing Matilda Australian Bush Poetry Champions; Louise K. Dean from Hugheden, Queensland, Australia; and Guy McLean who entertains guests at the Susan River Homestead Ranch Resort in Queensland by riding his buckskin quarter horse stallion, Nuggett, into the dining room and reciting poetry while guests eat dinner.

While there are more than 150 cowboy poetry gatherings throughout the United States, the Elko Ho-down is the granddaddy of them all.

This year's gathering focuses on; The American Cowboy - tough enough to survive the new millennium?

And for your Hank Thompson fans, there is a 12-CD package of all his recordings available on Germany's Bear Family label for approximately $200. That includes 320 songs and a hardcover booklet.


APPLAUSE, APPLAUSE

THE PENUMBRA THEATER CO based in Minneapolis, devoted to the work of African-American artists, is the winner of the $50,000 Jujamcyn Award for 1999. The prize, for artist development, will be presented to them this week by Danny Glover.

MICHAEL MC DONALD former Doobie Brother, received the Yamaha Lifetime Achievement in Musical Excellent Award. Tribute takes place Feb. 4 at the Shrine Auditorium, L.A. The event will be hosted by Jeff Bridges with performances by Ray Charles, Kenny Loggins, Steve Winwood and Patti LaBelle.


OTHER PEOPLE'S MONEY

DONALD TRUMP intends to build an opulent residential community and golf course in Henderson, Nevada announced Mayor Jim Gibbons. "Donald Trump plans to build an upscale, master-planned community in the city of Henderson that will bear his name," Gibbons said. Trumpville or Donald's Delight is a 640-acre project on what is now Pago Pago Street. When completed the development, which will have no more than 600 lots, will include single family homes and golf villas. Expect lot prices to start in the $1 million range.


SWEET CHARITY


ANGIE DICKINSON and GREGORY PECK in Las Vegas last Thursday for an Alzheimer's Benefit held during the grand opening of Wolfgang Puck's latest eatery - Postrio - located inside the Venetian Hotel.


ANGIE DICKINSON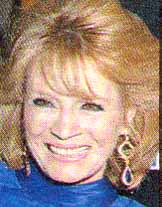 Dickinson had been at the forefront of Alzheimer benefits. Her older sister, Mary Lou Belmont, was diagnosed with the disease in 1985 at the age of 55. At that time the actress pay $80 a day for nurses to care for her sister. Angie took care of Mary Lou until the disease progressed to the point that Angie was forced to place her beloved sister in a home. At that time Dickinson announced that if she ever got the disease she'd kill herself. Then she marshaled her energies to find a cure for Alzheimer's.

At the benefit bad boy Robin Leach was emcee for the live auction. Gaveled down was a dinner and private sex therapy lessons by Dr. Ruth Weitheimer, who also attended. Also auctioned off was a walk-on part in Ally McBeal and some enjoyer of gourmet food plunked down $50,000 for a private dinner provided by Wolfgang Puck. Tom and Dick Smothers attended as did the Las Vegas Greenspun published family, who are best buds with Bill Clinton and his missus. All in all over $800,000 was raised.

HOPEFEST 2000 Bo Diddley, Chuck Berry, Billy Branch and the Sons of the Blues, The Robert Cray Band, The Kenny Wayne Shepherd Band, The Staple Singers, KoKo Taylor, and other special guests, Jan. 25 at the Riviera Theatre, Chicago. Performance and VIP reception; proceeds benefit Chicago Coalition for the Homeless and Willie Dixon's Blues Heaven Foundation.



OUR PLACE IN TIME by Clare Coos premieres as part of Women's Project & Productions Theatre, NYC. A collage of New York stories woven from the defining event of the last 50 years. The cast features Gena Bardwell, Elizabeth Hess, Jacqueline Knapp, Norman Maxwell, Daniel McDonald, and Keith Randolph Smith. Sets by Narelle Sissons, with costumes by Gail Copper-Hecht, Jane Cox on lights and Stefan Jacobs, sound. Performance begin Wednesday, Jan. 26. The Women's Project & Productions is the nation's preeminent non-profit Off-B'way theatre company dedicated to producing and developing new plays by women. Founded in 1978 by Julia Miles, WPP has produced over 100 plays by women playwrights and sponsored 400 readings and workshops. In addition the Women's Project publishes anthologies of the plays produced, and hosts conferences and panels on women in theatre.

KING JOHN by William Shakespeare, directed by Karin Coonrod begins performances January 25 at the American Place Theatre, NYC. King John is a rarely produced and neglected play which is filled with political acumen and depicts a world where expedience is more important than honor. King John is Shakespeare's only play about the English medieval history prior to the fall of Richard II. The plot line revolves around the question of who is England's rightful heir. It chronicles the entire span of John's turbulent reign, from his coronation in 1199 to his death in 1216 and dramatizes timeless topics - the conflict between church and state and politicians driven by self-interest rather than public good. The cast includes Ned Eisenberg in the title role, Derek Smith as The Bastard and Bruce Turk as Louis, Glenn Fleshler, Nicholas Kepros, Michael Rogers, Craig Wroe, Myra Carter, Michael Ray Escamilla, Katie MacNichol, Neil Maffin, Pamela Nyberg and Mark Vietor. The creative team includes Douglas Stein sets; PK Wish costumes, Christopher Akerlind lighting, Ben Neill composer/sound design, B. H. Barry fight choreography and David Hale Flying Effects by Foy.

DEFENDING THE CAVEMAN opened on Broadway in March 1995, ran two and on-half years, played 671 performances, and entered the record books as the longest-running solo play in Broadway history. Written by and starring Rob Becker, Defending the Caveman which hilariously explores ways that men and women struggle to relate, opens January 24 at the Civic Auditorium, Portland, Oregon in an engagement running through January 30.

THE KEY The United States premiere of Philip King's mystery-thriller about a famous actor who's wife is discovered murdered in her bedroom. Opened January 21 at the Delray Beach Playhouse, Delray Beach, Fl. Engagement runs through February 6.

LITTLE ME Royal Palm Dinner Theatre, Boca Raton, Florida through February 27

MISS SAIGON opens January 28 at the Morrison Center, Boise, ID. Performances through February 6.

CAMELOT Chester Fritz Auditorium, Grand Forks, ND January 29. Upcoming Victor/Victoria and 1776.
WHO'S WHERE

MARC ANTHONY slated for a Feb. 17 performance, Rosemont Theatre, Chicago. Tickets now on sale. $29.50-$49.50.

PAULETTE WILLIAMS renowned back up singer for Marvin Gaye, Quincy Jones, Luther Vandross, Patti LaBelle, R Kelly, Mary J. Blidge, Aretha Franklin steps out with her own band of soul. Joe's Pub, NYC Tuesday, January 25.

JACK WAGNER who has a long list of fans thanks to his roles on General Hospital and Melrose Place makes his Broadway debut in the dual role of Dr. Jekyll and Mr. Hyde in Jekyll and Hyde beginning Jan. 25.

JERRY HADLEY AND BRIAN ZEGER in the first of a three part series of performance chats with prominent classical singers who are breaking the boundaries. Opera stars Hadley and Zeger will each sing about 25 minutes which will provide the context for conversations following the performance. January 30, Joe's Pub, NYC.

JAY LENO entertains at Caesars Tahoe, Nevada January 28-29.

WAYNE NEWTON accompanied by police escorts rode his $360,000 Rolls Royce up to the entrance of the Stardust Hotel, Las Vegas to throw a switch sending power to the multi-million dollars sign turned on 33,000 lights. That renamed the hotel's theater in his honor. Monday has also been dubbed Wayne Newton Day in Las Vegas in honor of The Midnight Idol, whose grand opening Monday at the Stardust begins an engagement running until Newton passes away from old age.

THE BACON BROTHERS, JEFFREY GAINES/FIVE POINTS SOUTH The Bacon Brothers - that would be Kevin and Michael January 26 Music Hall, Birmingham, Alabama and then head into The Big Apple for their first big time NYC concert - Town Hall, Friday, January 28. Kevin is also the first recipient of the Film Society of Lincoln Center's annual Young Friends of Film Honors. At the presentation they'll screen his Telling Lies in America. movie. Michael, of course, already has his own awards. He took home an Emmy for his score for The Kennedys.

ZZ TOP AND LYNYRD SKYNYRD marking their 30th anniversary, perform Tuesday, January 25, Pepsi Arena, Albany, NY.

THE MOODY BLUES February 2-3 Plaza Theatre, Chicago.

JIM STAFFORD who underwent laser throat surgery January 9, to remove a benign nodule on his vocal cords, expected to be able to open as scheduled on February 9 in Branson, MO. Stafford reported that his physicians told him there were no complications and a complete recovery was expected. Until then he'd been told to keep quiet.


THIS AND THAT


SWING! the original Broadway cast recording, will be released by Sony Classical Records on Tuesday, Jan. 25. The vocalists of Swing! include Ann Hampton Calloway, Everett Bradley and Laura Benati, with Casey MacGill. The all-singing, all-dancing musical plays at the St. James Theatre, NYC.

SYLVESTER STALLONE in Las Vegas filming Get Carter a flick in which Sly plays a casino collection - the person who goes after gamblers who owe casinos money.




Mention BROADWAY TO VEGAS for Special Consideration
Call (800) 942-9027









Next Column: January 30, 2000
Copyright: January 23, 2000. All Rights Reserved. Reviews, Interviews, Commentary, Photographs or Graphics from any Broadway To Vegas (TM) columns may not be published, broadcast, rewritten, utilized as leads, or used in any manner without permission, compensation and/or credit.
Link to Main Page
---
Laura Deni


CLICK HERE FOR COMMENT SECTION