Broadway To Vegas
  
 SHOW REVIEWS CELEBRITY INTERVIEWS GOSSIP NEWS

| | |
| --- | --- |
| | |
HENRIK IBSEN'S CENTENNIAL - - THE PRODUCERS OPENS IN DENMARK - - THE BAMSE PROJECT - - PRINCESS GRACE THEATRE AND PLAYWRITING GRANTS - - BEVERLY SILLS ARTIST AWARD PRESENTED - - RENAISSANCE ART IN BEIJING - - SUNDANCE MUSIC CAFÉ - - DIE FLEDERMAUS AFTERNOON TEA - - DONATE . . . Scroll Down


Copyright: January 22, 2006
By: Laura Deni

CLICK HERE FOR COMMENT SECTION
THE FATHER OF MODERN DRAMA
Ibsen Centennial Award winners. Photo by Norwegian Ministry of Foreign Affairs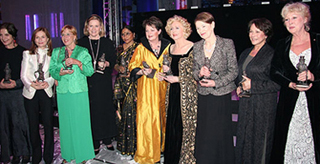 The year 2006 will mark the 100th anniversary of the death of the Norwegian playwright Henrik Ibsen. Throughout the year, a wide range of events will be arranged both in Norway and abroad, which will highlight the importance of Ibsen's legacy and provide opportunities for fresh interpretations of his work.

The opening of Isben Year was unveiled Saturday, January 14, at Oslo City Hall. In the presence of Their Majesties King Harald and Queen Sonja, as well as Prime Minister Jens Stoltenberg and Minister of Foreign Affairs Jonas Gahr Støre, the Ibsen Centennial Award was presented to ten prominent actresses for their Ibsen interpretations on stage and screen throughout several decades.

They included; Brits Glenda Jackson and Claire Bloom, Isabelle Huppert of France, Germany's Angela Winkler, Saoli Mitra of India, as well as Scandinavian first ladies of theatre Denmark's Ghita Nørby, Bibi Andersson of Sweden, and three from Norway - Liv Ullmann, Lise Fjeldstad and Wenche Foss.

Earlier on Saturday, Jonas Gahr Støre hosted a lunch for the winners at the Ibsen Museum.

On screen, English actress Glenda Jackson played Hedda in 1975 while German Angela Winkler and French Isabelle Huppert have fairly recently had successes on the stage with modern versions of Peer Gynt and Hedda Gabler respectively. Scandinavian actresses Ghita Nørby, Bibi Andersson and Liv Ullmann have all interpreted Nora and many others, like Indian Saoli Mitra. Vanessa Redgrave's latest Ibsen credits are her role as Mrs. Alving (1986) and Ella Rentheim in John Gabriel Borkman. Lise Fjeldstad and Wenche Foss were also award winners of the Ibsen Centennial Award since "few other actors can boast such intimate knowledge of Ibsen."

The evening's entertainment featured dancers, singers and musicians from all corners of the world who presented Ibsen in new shapes and forms: Peer Gynt in motor-mouth Danish rap-style, Hedda Gabler in fiery red Chinese silk. Ghosts as a sensual British ballet, and Margrete's lullaby in Swahili. From India, a dramatic pas de deux between Krogstad and Helmer from A Doll's House. The performances had a focus on Ibsen as a generator and inspiration for other artists within theatre, film, dance and music – worldwide.

Not only is Henrik Ibsen performed each week on over 130 stages worldwide - his characters and his dramas also inspire artists and generate new works, says Bentein Baardson, Director of Ibsen 2006 and stage director for the performance.



Claire Bloom and Donald Madden in A Doll's House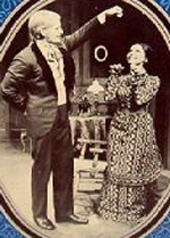 After the opening event Claire Bloom flew from Oslo, Norway to Utah where she conducted a series of master classes. She told the students at Weber State University that her most challenging role had been Hedda Gabler. "It's also one of the greatest plays ever written," she told the crowd. "Ibsen's women are very mysterious."

Considered the father of modern drama, at the time of his death, almost 100 years ago, Henrik Ibsen's significance as a leader of thought was undisputed.

Ibsen wrote 26 plays including A Doll's House, Brant, Peer Gynt, Ghosts, An Enemy of the People, The Wild Duck, Hedda Gabler and The Master Builder.

In 1900, the young James Joyce, still a student, wrote of him: "It must be questioned whether any man has held so firm an empire over the thinking world in modern times ... his genius as an artist faces all, shirks nothing ... the long roll of drama, ancient or modern, has few better things to show." Joyce (and later Wittgenstein) learned Norwegian specifically in order to read Ibsen's plays in the original.

"Ibsen proclaims the freedom of the individual in his work, but his humanistic ideals are too rich and varied to be categorized in a single philosophy. What he does is to show paths we can follow in our own search for personal freedom, shaking life and forcing it to reveal its secrets, to borrow James Joyce's imagery," stated Baardson.

"More than any other writer, he has forced us to reflect on our fundamental rights and values. The social conflicts he confronts us with are still relevant – very much so. Even today, some of his texts are censured and some of his plays prohibited in parts of the world by authorities who consider them too controversial and too much of a threat to the establishment."

The Norwegian program has been developed and co-ordinated by the National Committee for the Ibsen Year. The international program is co-ordinated by the Ministry of Foreign Affairs in co-operation with the National Committee, the foreign service missions and Ibsen societies in Norway and other countries.

"The Ibsen Year will be a tribute to the playwright's prominent position in the world of drama. We hope that these events will be a source of enrichment and inspiration for a new generation of world citizens," continued Baardson.

Upcoming events include;

In London two Ibsen plays opened this week. Ghosts, a powerful social saga interwoven with comic irony that ends in shocking revelations, giving brutal insight into a dysfunctional family and the strength and destruction of a mother's self denial has performances at The New Wimbledon Theatre through February 4.

Ibsen's play Little Eyolf has a new adaptation, translated and directed by Terje Tveit. This is one of Ibsen's rarely performed plays in which a tragic accident ignites an explosion of unexpressed resentment and desire that exposes the weak foundations of a marriage. Performances to February 12 at the Riverside Studios, London.

The Riverside Studios is also displaying Ibsen - the most important plays as seen through the eyes of six contemporary artists. This exhibition celebrates the Henrik Ibsen centenary. Opening today, January 22 and running through February 12, all exhibits are for sale.

They include; Therese Nortvedt: A Doll's House. Hanne Christiansen: Peer Gynt. Thore Hansen: An Enemy of the People. Bjørn Carlsen: The Wild Duck. Ulf Nilsen: The Lady from the Sea. Thomas Knarvik: Hedda Gabler.

The London-based Norwegian composer Kjell-Ole Haune has composed a new musical work to Ibsen's epic poem Terje Vigen. The musical work will be launched on CD in no less than three versions, with vocals in respectively English, Norwegian and German. The publication of the CD will be accompanied by an book with the poem itself reproduced in the three languages and with illustrations to the poem executed by Norwegian artists - among them Helene Knoop and Pål Gulsrud. The world premiere of the work in concert version with Rein Alexander as soloist will take place at Drammens Teater January 28.



Wolfgang Plagge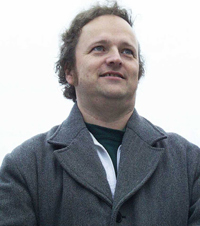 On March 20, the date of Ibsen's birth, a large event will be held in Beijing. The launch will include VIP guests, an exhibition produced by the Norwegian Folk Museum on behalf of the Norwegian MFA, a presentation of the most authoritative Ibsen-biography to date The Artist's Way in Chinese translation, a mini-concert with Wolfgang Plagge, Annar Follesø and Gao Xia, and could include staging parts of Hedda Gabler in Shaoxing Opera style and parts of Peer Gynt in Beijing Opera style.

The opening concert will be held at Peking University Concert Hall with pianist Wolfgang Plagge, violinist Annar Follesø and Chinese soprano Ms. Gao Xia. They will perform songs by Mozart, Sjostakovitsj and J. Wieniawski, as well as a few Grieg-romances based on six poems written by Henrik Ibsen. Wolfgang Plagge has also composed a new piece called Knappestøperen incorporating elements from Ibsen's Peer Gynt and Mozart's The Magic Flute and Don Giovanni.

On March 24 the program is presented in Shanghai.



Professor Simon Critchley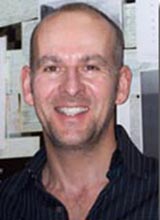 The Centre for Asian Theatre organizes an International Ibsen Conference and Theatre Festival which will take place in Dhaka May 11-18. The theme of the conference is Socio-political Aspects of Ibsen's Plays.

The Centre for Women and Gender Research at the University of Bergen will present an international seminar The Sexed Ibsen. Four prominent academics, professor Simon Critchley, New University, New York, professor Margaret Stetz, University of Delaware, professor Joan Templeton, Long Island University and professor Atle Kittang, University of Bergen, will approach Ibsen in light of the sexed figurations found in his plays. How do we read Ibsen today? Must we read his figurations of masculinity and femininity as visionary tropes of freedom or, rather, as figurations of tragic insights? How does Ibsen speak to us in 2006?

For the 11th International Ibsen conference the world's most distinguished Ibsen scholars will gather at the University of Oslo August 21-27. The main theme of the conference will be: The Living Ibsen.


BURIED WITH HIS HEAD TOWARDS NORWAY
With his sailor hat worn proudly on his head and his pass hung around his neck, Bamse made his rounds. No sailor ever served more honorably. When he was laid to rest members of his crew formed a guard of honor at the grave. The Navy called Bamse "a very special symbol to the Norwegian Navy."

Now the Bamse Project is over the half way mark in raising over $100,000 to commission a life-size bronze statue of the legendary WW II Norwegian sea dog, Bamse. Renowned Scottish sculptor Alan Herriot has been selected to immortalize the beloved animal.

The city of Montrose, Scotland fondly remembers Bamse, a St. Bernard, who was taken onboard the KNM Thorodd by his owner, the ship's captain, Erling Hafto in 1942. Soon he became the sailors' best friend, but Hafto was required to leave the dog behind when he finished his duty onboard the Thorodd.

In battle the massive St. Bernard would take up his position at the foremost gun tower. Photos of him were printed on patriotic Christmas cards sent to the Norwegian forces all over the world.

Bamse also looked after the crew while the ship was in harbor at Montrose, Scotland. He make the rounds of Montrose pubs rounding up the men of the Thorodd.

Director of the Montrose Bamse Project is Henny King. For over twenty year King was the wife of American singer Solomon King who was the first white singer to tour with blues legend Billie Holiday, and had solo hits in 1967 with She Wears My Ring followed in 1968 by When We Were Young. After their divorce Henny remained in Europe and Solomon, who was born Allen Levy in Lexington, Kentucky returned to America. "On 20 January will be the first anniversary of the death of my former husband," said Henny. "He died at the beautiful Veterans Hospital in Norman Oklahoma and in February was given a military funeral and buried in Arlington, Virginia."



Vigdis Hafto and the St Bernard Harriet, representing Bamse, at his grave.Photo: Royal Norwegian Consulate General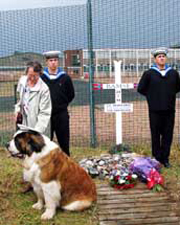 Regarding the Montrose Bamse Project she told Broadway To Vegas. "Bamse will definitely be wearing the Royal Norwegian Sailor's Hat. Also, we are in the process of locating a replica of the 1940's bus pass which he wore around his neck. All the bus drivers knew him and would stop to let him on. He knew exactly where he wanted to get off and was familiar with all the pubs around Montrose. He used to go around to each one to round up his men and drag them out so as not to miss curfew."

"I heard the story 18 months ago when I became a Board Member of the Montrose Port Authority and at first I thought someone was pulling my leg - but it turns out all the stories about Bamse are true."

Bamse died and was buried in Montrose. For the pooch's funeral the schools in Montrose closed, and several hundred school children attended the services. Bamse was laid to rest in a man-size coffin, with his head towards Norway.

60 years to the day after he was laid to rest, the sea dog Bamse was honored by the Norwegian Navy, the family that owned him and the Montrose community.



Montrose remembers man's best friend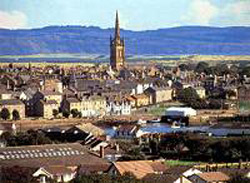 An important harbor for the past 900 years, Montrose is a fishing village, from salmon to whales and herring, which has also been an important timber port. For many centuries Montrose was one of Scotland's largest exporters of wool. Today it also benefits from harbor activity connected with the North Sea Oil industry

"Bamse is a very special symbol to the Norwegian Navy, said Captain Øistein Jensen of KNM Utvær. Members of his crew formed a guard of honor at the grave. "It is amazing to see how much Bamse means to the local community here, and it is an honor for us to represent the Norwegian Navy."

Sculptor Herriot has visited Montrose to assist a committee in deciding the best site for the bronze, which they hoped will be placed on garden ground in Wharf Street overlooking the South Esk estuary.


ART AND ABOUT


RENAISSANCE ART IN BEIJING

Head Portrait of a Lady by Leonardo Da Vinci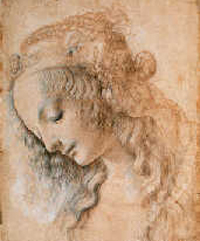 "The grandest show ever held in China," declared Wang Limei, director of the Millennium Museum in Beijing, as 86 paintings by Italian Renaissance masters, including Leonardo, Raphael and Titian were unveiled for their first exhibition in China.

"In Florence, the artworks are spread out in many museums, but in Beijing they are brought together for the grandest show ever held in China," said Wang Limei. On loan from 12 museums in Florence, the art which includes Head Portrait of a Lady by Leonardo Da Vinci (1452-1519) and the David Holding the Head of Goliath by Caravaggio (1571-1610), is exhibited through April 23 as part of Italian Culture Year in China.

After the Renaissance art show, the Italian Culture Year in China will feature dozens of events, such as the exhibition of avant-garde art from Venice Biennale at the National Museum of China, and the performance of the La Scala opera house of Milan in Beijing and Shanghai, according to Li Shaoping, an official with the Chinese Ministry of Culture.

THE NORTON MUSEUM OF ART AND THE SOLOMON R. GUGGENHEIM MUSEUM have collaborated in the search for Laurette–Matisse's mysterious model who inspired a series of forty portraits.

Co-organized by the Norton Museum of Art and the Solomon R. Guggenheim Museum, Matisse in Transition: Around Laurette is the first in-depth examination of this fascinating period of the artist's career—1916 to 1919—when he began to paint in series. This dossier exhibition will examine two of the major works in the collections of the Norton and the Guggenheim: Laurette with Long Locks, 1916 and The Italian Woman, 1916, as well as numerous other examples from among the many studies and more formal portraits of Laurette (whose surname is unknown).

The period from 1916–1919 marked a turning point in Matisse's career. First, he created the austere pair of Stein portraits in 1916, which led directly to a suite of nearly forty works devoted to his new model, Laurette. With this group, Matisse initiated a major transition in his art. For the first time, he began to paint in series, as he would continue to do during his subsequent years in Nice.

Approximately twenty-five paintings and numerous related drawings, lent from public and private collections in both Europe and America, will be on view at the Norton before the exhibition continues at the Guggenheim Museum (New York City) where it will be presented from May 6 to July 23.

The Norton's freshly-cleaned Portrait of Marguerite, which entered its collection in 1986, was painted during the same period and will also be featured in the exhibition. Prior to its acquisition by the Museum the painting had been considered "lost" or missing for several decades. Marguerite was the artist's daughter; her mother was not Mme Matisse, but she was accepted in the family and lived with them, growing up as the older sister of Jean and Pierre.

Institutions lending works include the Metropolitan Museum of Art; the Musée National d'Art Moderne, Centre Georges Pompidou; the Art Institute of Chicago; and the Brooklyn Museum of Art. The numerous private lenders include descendants of the artist himself.

The exhibition catalogue has been authored by world-acclaimed Matisse scholar Jack Flam.

Matisse In Transition: Around Laurette January 28-April 16 at the Norton Museum of Art in West Palm Beach, FL.



Broadway To Vegas is supported through advertising and donations. Priority consideration is given to interview suggestions, news, press releases, etc from paid supporters. However, no paid supporters control, alter, edit, or in any way manipulate the content of this site. Your donation is appreciated. We accept PAYPAL. Thank you for your interest.


SWEET CHARITY


49TH ANNUAL INTERNATIONAL RED CROSS BALL Exquisitely jeweled tiaras, red carpets, trumpets, Marine Corps escorts and Ambassadors from around the globe - this is the International Red Cross Ball, known throughout the world as the most sought after event in Palm Beach. National and International dignitaries attend the Ball, held at the famed Mar-a-Lago in Palm Beach, adding to the pomp and circumstance for which it is known.

Chaired by Simon C. Fireman. To be held in Donald Trump's new Grand Ballroom at the Mar-a-Lago Club in Palm Beach on January 28.

Tickets are $1,000 each.


SPREADING THE WORD


MEASURE FOR MEASURE SYMPOSIA

Illustration by Scott McKowen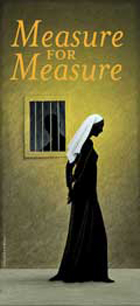 Sex, Politics, Religion A three part Symposium January 28, 29, 30.The University of Colorado at Boulder and the Denver Center continue a sixth year collaboration presenting Symposia 2006.

Free and open to the public however reservations are requested.

Measure for Measure Panel Members:

Ann Carlos Professor, Department of Economics, University of Colorado at Boulder. Jeffrey N. Cox Director, Center for Humanities and the Arts; Associate Vice Chancellor for Faculty Affairs; Professor of English and of Comparative Literature, University of Colorado at Boulder. Katherine Eggert Professor and Chair, Department of English, University of Colorado at Boulder. Susan Frye Professor and Chair, Department of English, University of Wyoming. Gary Hart Attorney at Law, Former U.S. Senator. Kent Thompson Artistic Director, Denver Center Theatre Company; Director of Measure for Measure.

Donald R. Seawell Grand Ballroom. The Denver Center for the Performing Arts in Denver, Colorado.

DIE FLEDERMAUS AFTERNOON TEA With music by Johann Strauss, Jr. libretto by Carl Haffner and Richard Genée this production is based on Henri Meilhac's and Ludovic Halevy's Réveillon.

Set in Vienna, in a time of waltzes and champagne Rosalinde has two men in her life, her husband Gabriel von Eisenstein and a local tenor Alfred. Rosalinde has resisted Alfred's recent attempts to woo her, although she finds him appealing.

First Performed at Theater an der Wien, Vienna, April 1874.

In English with English captions.

The orchestra is composed of members of the Seattle Symphony Orchestra. They include; Elisa Barston, Jennifer Bai, Mariel Bailey, Cecilia Poellein, Buss, Jun Liang Du, Xiao-Po Fei, Ayako Gamo, Leonid Keylin, Mikhail Shmidt, Kyung Chee Yeung, Kathleen Stern, Gennady Filimonov, Steve Bryant, Wesley Fisk, Sande Gillette, Linda Kang, Larisa Miropolsky, Linda Scott. Susan Gulkis Assadi, Arie Schachter, Vincent Comer, Wesley Anderson Dyring, Laura Renz, Rachel Swerdlow. Theresa Benshoof, Walter Gray, Roberta Downey, Richard Eckert, Vivian Gu, Charles Jacot, Jordan Anderson, Todd Larsen, Ben Musa, Steve Schermer, Scott Goff, Robin Peery, Ben Hausmann, Dan Williams, Christopher Sereque, Craig Rine, Seth Krimsky, Mike Gamburg, Mark Robbins, Adam Iascone, Jeff Fair, Scott Wilson. David Gordon, Richard Pressley. Ko-Ichiro Yamamoto, David L. Ritt, Stephen Fissell, Randolph Baunton, Michael Clark, Ron Johnson, Valerie Muzzolini.


GET WELL SOON


MARILYN HORNE the famed mezzo-soprano has received a diagnosis of localized pancreatic cancer, Columbia Artists Management announced on Wednesday. The statement said that "allowing for recent significant breakthroughs in treatment," the prognosis for full recovery was excellent.

MARIA FRIEDMAN star of the Broadway production The Woman in White will begin radiation and hormone therapy for treatment of breast cancer. Judy Kuhn will replace Ms. Friedman in performances from Feb. 14 through March 26.

NATHAN LANE is expected to return to The Odd Couple after missing several performances due to laryngitis.


OTHER PEOPLE'S MONEY


THEATER AND PLAYWRITING GRANTS have been announced by the Princess Grace Foundation -USA. Applications for the 2006 Princess Grace Awards in Theater and Playwriting must be postmarked by March 31, 2006. Founded in 1982, the Foundation is dedicated "to identifying and assisting young artists in theater, dance and film," and has awarded over 400 grants in excess of a total of $4,000,000 so far in its history.

Princess Grace Awards take the form of scholarships, apprenticeships and fellowships. Candidates must be United States citizens or have permanent resident status at the time of application. Grants are awarded based on the quality of the emerging artists' past work, their potential for future excellence, and the appropriateness of the Award toward the artists individual growth.

Typically, grants range from $5,000 to $25,000. Previous award-winners include playwrights Tony Kushner, Kate Robin, and Edwin Sanchez, and directors Christopher Ashley, Brian Kulick, and Tina Landau.

To apply, a candidate must be nominated by the Artistic Director of a theater company or the Deans or Department Chairs of professional nonprofit theater schools. The Theatre Awards includes six special named awards, Robert and Gloria Hausman Theater Award, Fabergé Theater Award, the Grace Le Vine Theater Award (in honor of Princess Grace's niece, the Pierre Cardin Theater Award, George C. Wolfe Theater Award and the Gant Gaither Award, endowed by the late founding Princess Grace Foundation-USA Trustee.

Apprenticeships and fellowships are awarded to individuals through non-profit theater companies and are commensurate with proposed nominees' salaries. Beginning with the 2006 apprenticeships and fellowships, companies will receive a small grant to be used for general operating expenses. This grant will represent an additional 15-20% of the apprenticeship or fellowship Award amount. For example, if the Award is $15,000, the nominating company will also receive $2,250 – $3,000 in operating support. Typically, apprenticeships and fellowships have ranged from $5,000 to $25,000.

Unlike the Theater Awards, playwrights may apply individually by submitting an un-produced, unpublished full length play. The winning playwright receives a $7,500 cash grant, a residency (including transportation costs) at the prestigious New Dramatists, Inc. in New York City; the inclusion of their work in the lending library at New Dramatists; and representation by Samuel French, Inc.



NATHAN GUNN baritone, has won the first Beverly Sills Artist Award, a $50,000 prize intended for singers 25 to 40 who have performed at the Metropolitan Opera, the Met announced last Monday. Ms. Sills said his performance this season in the Met's American Tragedy, a new opera by Tobias Picker, inspired the choice. The award is intended to help emerging artists pay for lessons, coaching and travel.




RESTLESS SPIRITS by Allen Havis. A World Premiere mystery about the place we call home; directed by Sam Woodhouse.

Restless Spirits is a contemporary mystery set in the neighborhoods of San Diego and Tijuana. A story of a woman who discovers wisdom, community, civic pride and finally enduring love from her neighbors, past and present, in the city she calls home.

The cast includes REP favorite Karole Foreman starring as Jessie, Kinan Valdez as Felix, Raul Cardona, Jim Chovick, April Doctolero, Zoe Eprile, Sylvia M'Lafi Thompson, Bibi Valderrama and Wendell Wright.

Creative team: Robin Roberts (Scenery), Jean Isaacs (Choreography), George Ye (Music and Sound), Melanie Watnick (Costumes), Jennifer Setlow (Lighting) and Victoria Petrovich (Projections).

Performances begin January 28 for a February 3 opening running through February 19 in the Lyceum Space Theatre in San Diego, CA.

THE PRODUCERS will open a Danish version at Copenhagen's Ny Teater from Jan. 26 until the end of May. This marks Mel Brooks' Tony Award winning sensation's first non-English version. Actors Preben Kristensen and Steen Springborg will alternate as the unscrupulous impresario Max Bialystock, while Mads Knarreborg and Kristian Boland will portray his companion Leopold Bloom.

THE CLEAN HOUSE by Sarah Ruhl. An offbeat comedy about clean houses and messy lives.

A high-powered and humorless doctor hires a Brazilian maid who hates to clean but loves to tell jokes. When the maid befriends the doctor's oddball sister, who does love to clean, a strange match is made. That is, until a crisis at home makes a mess of the doctor's life. The surprising relationships that result send everyone reeling in this humorous and moving new play about laughter we don't understand, events we can't control, houses we can't keep tidy and the power of the perfect joke. Regional premiere at the Cincinnati Playhouse January 24 - February 24. Opening night is January 26.

OURE CONFIDENCE by Carlyle Brown in a project jointly commissioned by the Alabama Shakespeare Festival and Actors' Theatre of Louisville.

Discover the truth of human relationships as racial barriers are broken and respect emerges in a time when these lines are rarely crossed. This powerful tale weaves the story of Simon Cato, a determined and heroic slave jockey who has the imagination to pursue what may be unfathomable for his fellow slaves – freedom. Simon's struggle is rendered with vivid detail as we're taken into a world of nineteenth-century racetracks, prize horses, betting and bargaining.

January 22 - February 19 Alabama Shakespeare Festival in Montgomery, AL.

THE ITALIAN IN ME written and performed by Dina Morrone. Directed by Peter Flood.

A comedy about one woman's lesson in sex, cinema, and saints while in Italy. In The Italian In Me, a doe eyed aspiring actress who has been raised by an Italian grandmother on good old fashioned values and an overabundance of Roman Catholic guilt, moves to Rome, Italy from North America with a lot of unanswered spiritual questions, not much cash, and big dreams of working in Italian Cinema. Once in Rome, she quickly learns that things in the Eternal City are not as "Holy" or as romantic as she had imagined.

Lighting Designer Joe Morrissey. Creative Consultant Stephen Rivkin. Performances begin January 26, at the Globe Playhouse in West Hollywood.

1776

Gary Lynch, Michelle Dawson as John and Abigail Adams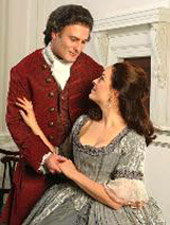 Ron Holgate won the Tony Award for Best Supporting Actor in a Musical for his show-stopping performance as Richard Henry Lee in the original Broadway production of 1776 that won the Tony Award for Best Musical. Now Holgate is directing NYSTI's production of the hit musical which will run from Friday, January 27 through February 11 in the Schacht Fine Arts Center on the Russell Sage College campus in Troy, NY.

Playing the trio of our founding fathers are Joel Aroeste as Benjamin Franklin, David Baecker as Thomas Jefferson, and Gary Lynch as John Adams. Michelle Dawson performs as Abigail Adams, and John Romeo portrays John Hancock. Aroeste, Lynch, and Dawson are all Broadway veterans, and Romeo performed a leading role Off-Broadway.

The cast also includes veteran regional actors: Steve Aron as Joseph Hewes, David Beditz as Richard Henry Lee, David M. Girard as Edward Rutledge, David Bunce as Charles Thompson, Carl Danna as Caesar Rodney, Mary Jane Hansen as Martha Jefferson, Ron Komora as John Dickson, Morton Hess as Lewis Morris, John McGuire as James Wilson, Byron Nilsson as Samuel Chase, Alex Pavone as Robert Livingston, Joe Phillips as Col. Thomas McKean, Eric Rose as Rev. Jonathan Witherspoon, Brian Sheldon as Roger Sherman, Carole Edie Smith as Andrew McNair, Michael Steese as Stephen Hopkins, Bill Hickman as George Read, Sky Vogel as Dr. Lyman Hall, and NYSTI interns Brendan Doyle, Donell James Foreman, Kerry Kazmierowicztrimm, and Chris Lawton.

CITY OF ANGELS !REPRISE! Broadway's Best continues their 2005-2006 season with the 1990 Tony Award winning Best Musical, City of Angels, with book by Oscar, Emmy and Tony award-winner Larry Gelbart, music by Cy Coleman, lyrics by David Zippel, musical direction by Gerald Sternbach, choreography by Kay Cole and direction by Joe Leonardo.

The production will feature Stephen Bogardus as Stine, Burke Moses as Stone, Tami Tappan Damiano as Gabby/Bobbi, Kevin Earley as Jimmy Powers, Vicki Lewis as Donna/Oolie and Alli Mauzey as Mallory/Avril. Daniel Guzman as Munoz, Marguerite MacIntyre as Alaura/Carla and Michael Lerner as Buddy Fidler. Also featured in the cast are Stephen Breithaupt, Randy Brenner, Eric Leviton, Wes Ramsey, Teresa Marie Sanchez, Brent Schindele, Joe Souza, Herschel Sparber, Anne Fraser Thomas and Freyda Thomas.

In City of Angels Coleman, Zippel, and Gelbart spoof the private eye movies of the 1940's. The story follows Stine, a fiction writer in Hollywood trying to adapt his own detective novel into a screenplay. As the action begins, we meet Stone, Stine's detective, in the hospital with a bullet wound. As Stone relates the story of his injury, Stine begins to rewrite his story. As he rewrites, the "movie" is rewound and the actors move and speak backwards. As Stine buries himself in the fantasy world of his detective story, however, his personal life begins to fall apart. When his wife leaves him, he must make some decisions about what is really important in his life.

City of Angels will preview on Tuesday, January 24 and will open on Wednesday, January 25 and continue through Sunday, February 5 at UCLA's Freud Playhouse.

THE SOLDIER'S TALE a world premiere. Written by Igor Stravinsky and Charles Ferninand Ramuz in a new version by Abdulkareem Kasid and Rebecca Lenkiewicz.

When a war-weary soldier hands his violin to a stranger in exchange for a book, has he sold his soul to the devil?

The unique perspective of a Western/Middle Eastern company is brought to bear on a story of profound choices. The Soldier's Tale, a Russian legend made vivid by Stravinsky and Ramuz during World War I, is brought crashing into our lives by The Motion Group. This world-first collaboration of Iraqi and European actors and musicians weaves together new Arabic and English texts with Stravinsky's evocative music and new compositions by Ahmed Mukh.

Actors: Deaa al Deen, Falah al Flayeh, Julian Glover, Martin Marquez, Ciaran McMenamin and Ala'a Rasheed.

Musicians; Sattar Alsaadi, Henry Baldwin, Alex Caldon, Diego Conti, Rory Dempsey, Shakir Hassan, Claire Hawkes, Adam Mackenzie and Miguel Tantos.

Directed by Andrew Steggall. Music Direction by Robin O'Neill. Composer of additional music is Ahmed Mukhtar. Designer is Jon Bausor. Lighting Designers are Paule Constable & Jon Clark/ Sound Design by Christopher Shutt.

Opens January 26 at The Old Vic in London.

THE FANTASTICKS on stage at the Bristol Riverside Theatre is having a Luncheon and Theatre Special on January 28.

The day begins at noon with a spectacular luncheon at the King George II Inn followed by a matinee performance of The Fantasticks.

Written by Tom Jones and Harvey Schmidt, this is America's longest running musical and has delighted audiences worldwide for over four decades.

The Fantasticks is a timeless fable of young lovers who become disillusioned, only to discover a far more mature and meaningful love. At the heart of its breathtaking poetry and subtle theatrical sophistication is a purity and simplicity that transcends cultural barriers and manages to be nostalgic and universal at the same time. The songs Try to Remember, Soon It's Gonna Rain, and Plant A Radish have become classics of the musical theatre.

January 28 at The Bristol Riverside Theatre is in Bristol, PA.

DON GIOVANNI a new production with music by Wolfgang Amadeus Mozart. Libretto by Lorenzo da Ponte. In Italian with English captions.

An aging Casanova at the end of his career shocks and seduces the audience with his wicked charm. How can one so heartless be so entrancing? No less captivating are the opera's arias, which require exceptional range and breath control. Our two strong casts are up to the challenge of Mozart's demanding, and always thought-provoking opera.

Seattle Opera through January 27.


| | | |
| --- | --- | --- |
| | | |
WHO'S WHERE


HEART AND SOUL: FRANK LEOSSER'S HOLLYWOOD Ted Sperling, artistic director. Jeffrey Klitz, Music Director & Piano.

Frank Loesser (1910-1969) will forever be remembered as the composer of the Broadway hits Guys & Dolls and The Most Happy Fella, but he also wrote lyrics for some of the best-loved songs from the golden age of movies, including the Academy-Award winning Baby, It's Cold Outside, as well as Heart and Soul, On a Slow Boat to China and The Boys in the Backroom, which was immortalized by Marlene Dietrich.

Tony-Award winner Ted Sperling celebrates Loesser's contributions to Hollywood with a look at his partnerships with composers Hoagy Carmichael, Burton Lane and Jule Styne, among others. Ted Sperling - arranger, music director, conductor, actor and director - recently won a Tony for the current Broadway hit The Light in the Piazza.

January 29-31 at 92nd Street Y in NYC.

SUNDANCE MUSIC CAFÉ 2006 LINE-UP The Sundance Film Festival's Music Café daytime programming is produced by ASCAP. Performances begin at 2:30 in the afternoon with the last performer taking the stage at 4:30.

Monday, January 23 features Darrell Scott, Mike Doughty, Bruce Hornsby and Judy Collins. Tuesday, January 24 has Sarah Lee Guthrie & Johnny Irion, Darrell Scott, Darren Hayes and Rodney Crowell. Wednesday, January 25 features Roberto Poveda, Michael Penn, Athlete and Rodney Crowell. Thursday, January 26 the performers are Schuyler Fisk, Roberto Poveda, Athlete, Brazilian Girls, and Sharon Stone & Friends. Friday, January 27 showcases Kristin Hoffmann, Schuyler Fisk, Darren Hayes, Michael Penn and Martin Sexton. Saturday, January 28 it's Bird York, 2 Foot Yard, Persephone's Bees, Musicians from Wristcutters and A Love Story.

PATTI AUSTIN crosses all musical genres with her Grammy and Oscar nominated songs. The goddaughter of Dinah Washington and Quincy Jones will be performing her highly acclaimed Tribute to Ella Fitzgerald. January 28 at John Ascuaga's Nugget in Sparks, NV.

WAYNE SHORTER at the Walt Disney Concert Hall in Los Angeles on Saturday, January 28. Next Sunday he on stage at the Memorial Auditorium in Stanford, CA.

THE ROLLING STONES roll into the United Center in Chicago on Monday, January 23. They'll do a second show there on Wednesday. On Friday they are in the spotlight at the Savvis Center in Saint Louis, MO. Next Sunday finds them all over the stage at the Qwest Center in Omaha, NE.

LILY TOMLIN telling funny stories Friday, January 27, at the Smothers Theatre in Malibu, CA. On Saturday she'll be getting laughs at the Haugh Performing Arts Center in Glendora, CA.

BILLY JOEL in a two night engagement Monday, January 23 and Thursday, January 26 at Madison Square Garden in New York City.

COLDPLAY appear Wednesday, January 25 at the KeyArena Seattle, WA. On Thursday they open a two nighter at General Motors Place in Vancouver,BC.

SHERYL CROW entertains Thursday, January 26, at the Fox Theatre in Detroit. On Friday he is in the spotlight at the Riverside Theatre in Milwaukee. Saturday finds her on stage at the Auditorium Theatre in Chicago. Next Sunday she'll perform at the Ryman in Nashville.

SPANISH HARLEM ORCHESTRA New York's Spanish Harlem is the birthplace of Salsa, Latin Soul, Boogaloo and countless other variants within the tropical idiom. Led by world-famous pianist and arranger Oscar Hernandez, the Spanish Harlem Orchestra has established itself as the curator of this tradition born of "El Barrio." Recognized in 2003 at the Latin Billboard Awards as Best New Group and for Salsa Album of the Year, SHO also received the Grammy Award in 2004 for Best Latin Recording. Saturday, January 28 at the Tennessee Theater in Knoxville, TN.


PIFFLE AND PROFUNDITIES


GET TO BREEDING The Chinese New Year is based on lunar and solar calendars and this year begins on Saturday. This year is the year of the dog which means that anyone born in it is likely to be honest, loyal, stubborn and wealthy. So if you want your kids to keep you in your old age now is the time to get breeding.

















Next Column: January 29, 2006
Copyright: January 22, 2006. All Rights Reserved. Reviews, Interviews, Commentary, Photographs or Graphics from any Broadway To Vegas (TM) columns may not be published, broadcast, rewritten, utilized as leads, or used in any manner without permission, compensation/credit.
Link to Main Page
---
Laura Deni


CLICK HERE FOR COMMENT SECTION