! >
Broadway To Vegas
  
 SHOW REVIEWS CELEBRITY INTERVIEWS GOSSIP NEWS

| | |
| --- | --- |
| | |
THE MAMMY PROJECT ENCOURAGES DEBATE - - THE YORK THEATRE'S DEVELOPMENTAL READING SERIES - - ETHEL WATERS: HIS EYE IS ON THE SPARROW - - BERNADETTE PETERS AT THE BROWARD - - FIRST LOOK FESTIVAL AT CLASSIC STAGE COMPANY - - RISING MOON GALA AND FUNDRAISER - - STAMFORD CENTER SEEKS 10-MINUTE PUB PLAYS - - WAYNE NEWTON IN NEW JERSEY - - DONATE . . . Scroll Down


Copyright: January 21, 2007
By: Laura Deni

CLICK HERE FOR COMMENT SECTION
THE MAMMY PROJECT


As a Navy brat Michelle Matlock frequently found herself as the only black in a white Seattle neighborhood. When she was in sixth grade she decided to wear a bandana to school - "because I thought it was stylish and looked good. When I went into the classroom a boy said - Hey, look it's Aunt Jemima. Everyone laughed and I remember thinking that didn't feel good. I was the only person of color in the class. That was my first memory of being seen as this character and it gave me bad feelings."

Years later author/actor Matlock would unsuccessfully audition for a role as Aunt Jemima and has successfully authored The Mammy Project, a thought provoking theatre experience.

Aunt Jemima - a black icon which is adored by whites, while many blacks find the image repulsive.



Michelle Matlock in The Mammy Project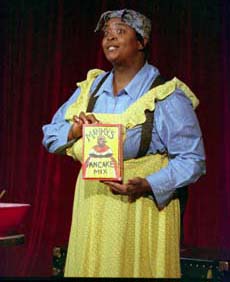 Michelle Matlock spoke with Broadway To Vegas about the significance of Aunt Jemima to the socio/political history of this country and her attempt with The Mammy Project to open up dialogue.

"It's a part of our history," stated Matlock about the polarizing icon. "The old Aunt Jemima was on the box until 1989. The whole thing about Aunt Jemima is the way she is seen between a black family and a white family. That has never really been talked about. What I was interested in was how my mother and the women of my family saw it as such a oppressive and unhealthy thing. While, my white friends and their families saw her as a big comforting symbol - an accepted thing."

The phrase Aunt Jemima is sometimes used as a female version of Uncle Tom to refer to a black woman who is perceived as obsequiously servile or acting in, or protective of, the interests of whites.

Aunt Jemima is depicted as a plump, smiling, bright-eyed black woman, originally wearing a kerchief over her hair. She was represented as a slave and was the most commonplace representation of the stereotypical "mammy" character.

In 1889, the Aunt Jemima Pancake Mix was introduced in St. Joseph, Missouri after Chris L. Rutt, a newspaperman, and Charles G. Underwood bought the Pearl Milling Company. Searching for a novel product to survive in a highly competitive business, the two men hit on the original idea of developing and packaging a ready-mixed, self-rising pancake flour that permitted pancakes to be made with only the addition of milk and access to a griddle.

In the fall of 1889, Rutt attended a vaudeville show where he heard a catchy tune called Old Aunt Jemima, written by acclaimed black musician Billy Kersands, being sung by a blackfaced performer, clad in apron and bandana headband. Soon after, the whole town was humming the song, and Rutt immediately decided that Aunt Jemima was the name for his pancake mix.

According to the Afro-American Almanac, "Rutt and Underwood went broke and sold the formula to the R.T. Davis Milling Company in 1890. Davis decided to try a new idea, and began looking for a Negro woman to employ as a living trademark for his new product. He found Nancy Green in Chicago, Illinois. She was 59 at the time and worked in the home of a judge."

In 1893, the Davis Milling executives boldly decided to risk their entire future with an all-out promotion at the gigantic World's Columbian Exposition in Chicago. They constructed the world's largest flour barrel. "Aunt Jemima," in the person of Nancy Green, demonstrated the pancake mix. Green cooked, sang songs and told tales of the Old South, while reportedly serving more than a million pancakes and helping generate more than 50,000 orders for the mix.

She was such a sensation that special details of policemen had to be assigned to keep the crowds moving at the Aunt Jemima exhibition booth.

Fair officials awarded Nancy Green a medal and certificate for her showmanship, and proclaimed her the Pancake Queen. Davis signed her to a lifetime contract, and she traveled on promotional tours all over the country. Because of Nancy Green's fame, her arrival was usually announced on giant billboards. The Davis Company prospered, and by 1910, the name of "Aunt Jemima" was known in all of the then 48 states.

Quaker Oats acquired the Aunt Jemima trademark in 1926 and revived the portrayers in the 1930's. Those appearances continued until the mid 1960's. According to the Houston Chronicle; "Most of the subsequent Aunt Jemimas played to more limited audiences, however, working in assigned geographic regions. A few did appear in radio and print ad campaigns and some got their pictures on the box."

As a small child I lived in one of those geographic regions where Aunt Jemima was promoted as coming to town. The event would be held in the housewares section of a department store for the promotion of both pancake mix and griddles.

The lines were white and long. The thought of being able to get up close with Aunt Jemima was overpowering. Grown women, dragging along their children, qued up for hours. Finally, there she was - Aunt Jemima surrounded by white men in suits. She was slaving away cooking pancakes. The crowd was salivating at the anticipation of actually eating a flapjack made by Aunt Jemima.

Suddenly my mother's best friend screamed - "That's my maid!"

The person making the pancakes had gotten a one day gig as Aunt Jemima and called in sick to her day job, possibly never dreaming that her boss would show up.

Before the days of CNN or FOX, the internet and non-stop airplane service to everywhere, the company would quietly hire women in different cities to portray Aunt Jemima. They would earn more in one day than what they took home working for a week as a maid. Nobody would know the difference - or so they thought.

Aghast executives explained the awkward situation by comparing Aunt Jemima to Santa Claus saying there was a real one, but that Aunt Jemima had many helpers around the country.



Pancake mix offered a bonus. For 25 cents a customer could order Aunt Jemima salt and pepper shakers.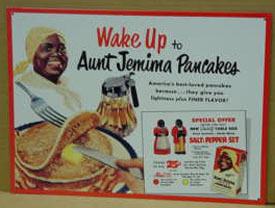 "It really has less to do about pancakes," declared Matlock. "We all eat Aunt Jemima pancakes and syrup. We like the product. It's the icon and what is behind that icon - which doesn't just live on that box," charged Matlock. "For black women, it translated into real life."

"The modern expectation for black women - especially in the 50's and 60's was that the only position that they could have was as a servant," continued Matlock.

"For the whites, the dreamy expectations defined for them from the movies was to have a maid in your home. That was a status symbol. It crossed over to reality with black women in the work force. Both my grandmother and great-grand mother were domestics for white families," Matlock related.

The "mammy" figure is defined by Deborah Grey in her book Aren't I a Woman as: "a women completely dedicated to the white family, especially to the children of that family. She was the house servant who was given complete charge of domestic management. She served as a friend and advisor. She was, in short, surrogate mistress and mother."

"They weren't paid well," admitted Matlock. "Black women ran whole households of children but when they went home they were impoverished. My grandmother was a domestic and she was treated fine. She wasn't treated like a slave. In the south that was every black woman's occupation. But, my parents tell me stories of growing up where she worked as a domestic over at the other side of town and then came home to poverty."

"The white employers were oblivious to their maid or domestic worker's economic situation. They could go - "We love her. She raised my children. - But, at the same - for the work she was doing - she wasn't being paid fairly."

"You still see blacks stereotyped in some commercials," Matlock asserted. "You still see big black women as caretakers."

"At the same time the opportunities for African American women and men have moved forward but I don't think you are ever going to get rid of stereotypes - which are based both in reality and fantasy."

"For me, as an actress, to be aware of that history lets me walk a little better in my work."

"The Mammy Project is not just the history behind that Mammy icon," Matlock elaborated. "The play also delves into other history which I think is the beginning of the Civil Rights movement. The Aunt Jemima character was debuted in the 1898 World's Fair, which was an incredible time in American history. That fair started tons of things - the fighting for citizenship for black people. Fighting for representation and they were denied representation. There were so many (white) people who came to see her at that fair that they needed security to keep the crowds in line, while at the same time that African American presence wasn't there."

"The play goes into why that icon has remained popular."

Each presentation is followed by an audience discussion.



Mammy by Andy Warhol who painted a Myths in America series, ranging from Aunt Jemima to Mickey Mouse, stamped with his own acute perception the socialized conditions of a commercialized culture. 1981: Andy Warhol Foundation for the Visual Arts/ARS, New York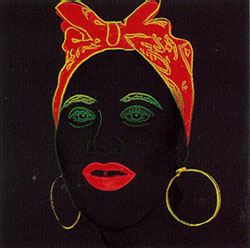 "The story of the history behind the icon is what I want people to take away from it," she emphasized. "The discussion that happens afterwards. The discussion about stereotypes and gender is what is really important to me. To me, sometimes the discussion is more important than the show, because we are talking and communicating which many times we lack on certain levels."

"I think the show allows people to talk in ways in which they might feel uncomfortable in other situations. I've had white people say I had a Mammy and I love her. Or, my mother was a domestic worker or a nanny. To bring that gap in communication is important. The negative feeling that someone might get through that image and the loving feeling that another might get from that image. We communicate about it."

"It has gotten better for black families, but it is still there," said Matlock. "Now you see South American or Caribbean women working as domestics - but it is still women of color."

"Things have changed for a lot of African American people in general. Now-a-days black women have opportunities, so you can't blame it on the man. The opportunity is there. If you really want it, you can do it."

"There is still some of the mentality out there to hold you down but I think we are moving to the point where, if you really want to make something happen, as an American person, you can," she asserted. "It can be harder because there is still this sort of racism that is ingrained in our society. I think The Mammy Project shows how ingrained it is. You don't even consciously know it."

"A study was recently done on resumes sent to corporate America. People will file resumes according to the name. Somebody with a name which sounds African-American won't get an interview. So, that is ingrained. How do you fight that?"



In 1955 Disneyland opened the Aunt Jemima Restaurant at Frontierland in Disneyland. The paper place mat tells The Story of Aunt Jemima in drawings based on N.C. Wyeth paintings.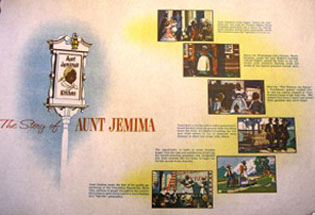 "I do the show in such a way that it does make people comfortable in talking about their feelings behind the image. The best conversations we've had is when there is a real diverse audience."

"A lot of people are really interested in the history of Nancy Green. They didn't know that there wasn't an Aunt Jemima and that men came up with this image."

"People are interested in how The Mammy Project plays in different parts of the country."

"It's been hard to penetrate the black community because of the title The Mammy Project, Matlock admitted. "The word Mammy puts blacks off. It is not a positive word."

"One of the reasons I did the project is that I didn't want the image - the memory - to be so hurtful any more. Knowing the history helps to eliminate the hurt. That's why I continue to reach out to African-Americans, because it is definitely a healing thing."

"This Mammy icon was born out of slavery which is not something that was publicized or has been acknowledged in a healthy way," criticized Matlock. "That history and that pain lives on. That is another reason there is a such a negative feeling from the black community. Aunt Jemima was created out of the guilt of slavery. After all of the negative things that came out of slavery - that to have this slave who was loyal to her master, comforting, loving and cooked food for him and reminisced about being on the plantation was a lovely thing to hear, while other things were going on - the Klux Klux Klan - the beginning of the Civil Rights movement."

"That was another reason she was so popular. She was a lovely thing for white people to latch onto," said Matlock referring to white people being in denial. "Loving Aunt Jemima made it okay to ignore the existence of the Klux Klux Klan. If you loved Aunt Jemima you were a good person."



Before air-conditioning, Aunt Jemima Church fans were popular and practical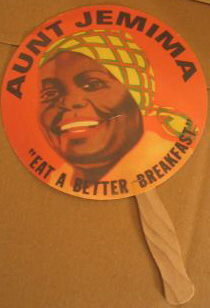 "Being a slave wasn't so bad - I cooked for my master and he loved my pancakes. It was a psychological thing that people grasped onto, so they could ignore slavery and what surrounded it."

"The University of Pittsburgh had me come in as the Pride Project. I did five shows there and the audience was mostly African-Americans. The people that came were tight - sort of uptight about what the school was presenting for them to see. By the end of the show they were relaxed and on their feet clapping. Some of their tension just melted away."

"I went to UCLA. They are more liberal and they were ready for it. It was great. They loved it."

"Going to universities has been an extraordinary experience for me," she exclaimed. "It's a space where people are really interested in the history and in discussion."

The show will be staged at the University of Wisconsin, a tour of several universities around Pittsburgh is scheduled and in June a presentation will be held in Argentina.

"I was asked by the Hemispheric Institute to do the show during there conference which will be held in Buenos Aires. I am excited about that."

As to the women who portrayed Aunt Jemima - they are dead but not forgotten.

A Texas controversy was covered by the Houston Chronicle. Hearne, Texas is the birth and burial place of Rosie Lee Moore, one of a few dozen black women from the 1930s through the '60s who were paid to give cooking demonstrations dressed as Aunt Jemima.

Speaking in dialect, the portrayers gave away samples at fairs, grocery stores and other public gatherings. Along the way, they made up legends about the mythical Aunt Jemima, like the one about how she revived a group of shipwrecked survivors with her flapjacks.

For 21 years, Moore never even had a headstone to mark her grave.

"In 1988, to promote the town, some folks in Hearne decided they should play up Moore's legacy. They erected a headstone and declared the grave a local historical site. In 1994, when the Hearne Chamber of Commerce put up an Aunt Jemima window display, town boosters discussed ways to promote the burial site, including a plan to broaden the entrance to the cemetery in the event, however unlikely, that tour buses might one day pull up to visit," wrote the Houston Chronicle.

Two local women donated the window display items which included Aunt Jemima cups, coin banks and cookie jars, black mammy dolls and notepad holders, all featuring the distinctive apron-clad cook with a bandanna tied around her head.

A quick check with E-bay yesterday had 501 Aunt Jemima collectables for sale.

Cindy Wallace, manager of the Hearne Area Chamber of Commerce, where the knickknacks were displayed. told the Houston Chronicle; "Lots of people stop and look - of all colors. And there's always a smile on their faces."

True, but backlash caused the town to drop the tourist promoting project.

Rosie Lee Moore Hall is buried at the Hammoind Colony Africa American Cemetery outside of Hearne near the Black Jack Community.

According to Marilyn Kern-Foxworth's book, Aunt Jemima, Uncle Ben and Rastus: Blacks in Advertising, Yesterday, Today and Tomorrow the following women had been under contact to play Aunt Jemima. However, occasionally a local women would be hired to portray Aunt Jemima was logistics made it difficult for the "real" Aunt Jemima to appear.

Nancy Green (1834 - 1923)


Edith Wilson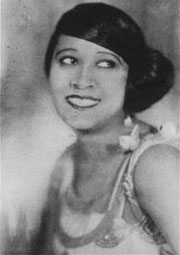 The first Aunt Jemima, Nancy Green, was born a slave in 1834. She signed an exclusive contract which gave her the right to portray the character for the rest of her life. Green was featured at the 1893 World's Columbian Exposition in Chicago. Green, as Aunt Jemima, cooked pancakes, sang songs, and told stories of the Old South.

Anna Robinson ( ? - 1951)
In 1933, Anna Robinson became the second Aunt Jemima, and was featured at the Chicago Century of Progress Exhibition. Robinson's likeness was captured on a painted portrait, an image that changed the product's packaging.

Edith Wilson ( ? - 1981)
Prior to becoming the character, Edith Wilson was a classic blues singer and actress in Chicago. She appeared in Amos 'n' Andy playing Kingfish's mother-in-law and the movie, To Have and Have Not. Quaker Oats had Wilson portray Aunt Jemima on radio, television, and in personal appearances from 1948 to 1966. Wilson was the first Aunt Jemima to appear in television commercials.

Ethel Ernestine Harper ( ? - 1981)
Ethel Ernestine Harper was Aunt Jemima during the 1950s. Prior to assuming the role, Harper graduated from college at the age of 17 and became a teacher. As an actress, Harper performed in the Hot Mikado and the Negro Follies.

Rosie Hall (1900 - 1967)
Rosie Hall worked for Quaker Oats in the company's advertising department until she discovered their need for a new Aunt Jemima. In 1988 they declared her grave an historical landmark.

Aylene Lewis ( ? - 1964)
Aylene Lewis first portrayed Aunt Jemima in 1955 at a restaurant of the same name at Disneyland. As Aunt Jemima, Lewis posed for pictures with visitors.

Ann Short Harrington (1900 - 1955)
Little is known about the career of Ann Harrington. Clippings from New York papers indicate the Harrington was "discovered" working as a cook in Syracuse, New York for the Kappa Sigma fraternity house. Before the fraternity, Harrington had worked for the former New York Governor Thomas E. Dewey. It is unknown how long Ann Harrington portrayed Aunt Jemima, but she apparently appeared on television shows as the character in the New York area.

Since 2001 The Mammy Project, using original music, storytelling and historical speeches, has helped schools kick off their diversity, black and women's history month celebrations, exploring questions about stereotype, icon and myth in an educational, entertaining and inclusive manner. The Mammy Project, written and performed by Michelle Matlock, presented by The Roundtable Ensemble, has performances through February 9 at the American Theatre of Actors in New York City.



Broadway To Vegas is supported through advertising and donations. Priority consideration is given to interview suggestions, news, press releases, etc from paid supporters. However, no paid supporters control, alter, edit, or in any way manipulate the content of this site. Your donation is appreciated. We accept PAYPAL. Thank you for your interest.


SPREADING THE WORD


FIRST LOOK FESTIVAL presented by the Classic Stage Company. One-Night-Only Staged Readings featuring the great plays of Anton Chekhov takes place January 22nd & 29th February 5 & 12th.

January 22, is Kathleen Chalfant in The Cherry Orchard directed By Diane Paulus.

January 29 features Dianne Wiest, John Mahoney, Michael Stuhlbarg in The Seagull, directed By Austin Pendleton.

February 5, has Peter Dinklage in Uncle Vanya, directed by Erica Schmidt.

February 12, is Elizabeth Marvel in Three Sisters, directed by Gregory Mosher.

Classic Stage Company in New York City.

VICTORIAN JOKES will be performed by Manchester University students on Thursday at the Blackpool Grand Theatre, London, where Dr Ann Featherstone will also talk on Victorian clowns. The jokes haven't been heard since their 19th-century hey-day. It seems Feathertone was helping a friend do research when this long-neglected stash of jokes in two books surfaced. The volumes had been passed down through generations of the family, but no one paid such attention. Further research revealed that the friend's great-great-great-great grandfather was touring clown Thomas Lawrence, who had documented the jokes to help him preserve his pioneering stand-up routines. Examples include; "What's the difference between a rowing boat and Joan of Arc? One is made of wood and the other is Maid of Orleans."

THE 10-MINUTE PUB PLAYS Stamford Center for the Arts in Stamford, CT is seeking 10-minute plays for an environmental (site specific) play festival in early Spring. Selected plays will be performed in area restaurants and bars, exact location dependent on the requirements of the plays and the participating locales.

Eligible plays will have no more than 4 characters, must take place in a bar or a restaurant, and run 10 minutes in length.

Deadline for submission: Friday February 16. Plays will be selected in early March. Participating playwrights will receive a $100 honorarium.

THE YORK THEATRE'S DEVELOPMENTAL READING SERIES presents some 40 readings and workshops of new musicals by emerging and established authors throughout the year, free of charge to the public and the writers. These readings are a vital part of the writing process. Post-performance discussions are occasionally held with audiences.

This series also serves as an incubator for shows to be considered for Mainstage production, thus serving the York's unique mission of taking new musicals through the complete development process to full production.

Monday, January 22, The Sheriff And Cuputo, a comedy/drama by P.J. Barry. In a hospital, two enemies fight to live. Two women wait, pray, clash, deny. One man goes home.

Monday, January 29, Greetings From Yorkville with music and lyrics by Robert Grusecki and lyrics and book by Anya Turner, Greetings from Yorkville is about lovers, collaborators, partners in all things, a couple of songwriters from the Midwest trying to make it in the big city. Together they set out on the journey of a lifetime. Ultimately, this is a love story about trying again, and again, and again.

Tuesday, January 30, The New Jello Is Always Red with book, music and lyrics by Clark Gesner (the late author of You're A Good Man, Charlie Brown), The Jello Is Always Red, the hit cabaret revue which premiered off-Broadway at York in 1996, will be seen in a substantially revised version featuring rarely-seen material from his other shows and cabaret songs never performed outside Vermont. Clark Gesner's uniquely funny and wise perspective on the world comes back to life, better than ever.

Wednesday, January 31, A Park Avenue Christmas, a new musical by Ed Dixon which takes place on December 24th, 1929 in the Hollingsworth Mansion on Park Avenue. At their annual party, Mr. Hollingsworth is dressed as Santa, but then so is a notorious jewel thief, and so is the hit man sent to dispatch Mr. Hollingsworth for his gambling debts. Gangsters, the stock market crash and mistaken identity make for a very untraditional and very funny holiday romp.

Thursday, February 1, Stella Rising, a musical written and performed by Napua Davoy. Mother vs. daughter, East vs. West, a painful childhood vs. an unexpected second chance. Stella Rising is a complex and uplifting musical autobiography that distills Davoy's turbulent history into a potent evening of theater. The story of a daughter forced to reevaluate her contentious relationship with her mother is movingly told through monologue, movement and haunting original compositions that range from Jazz to Blues to Opera. An established recording and concert artist, Ms.Davoy possesses a command of the stage as a performer/playwright/composer that makes this a tour de force.

Tuesday, February 20, It's Not What I Say.. a Mae West musical with music by Daniel Lanning, book and lyrics by Daniel Lanning and R. Bell. It is 1953, and Mae West has just turned 60. She has not made a movie in ten years and decides to go back to play writing, but this time she's writing a musical…about herself, naturally. However, as she is busily musicalizing the "sexsational" events of her life, Mae is once again faced with the danger of landing in jail.

Wednesday, February 28, You Don't Know Jack, with music by Jason Loffredo and book and lyrics by Jay Falzone, Mother Goose would have you believe that "Jack & Jill" is just another harmless childhood nursery rhyme. Or is it just another fairy tale? As Mother Goose begins to compose the story of their lives, Jack and Jill long to escape Nursery Rhyme Land to live their own Happily Ever After. Their best friends, Bo Peep and Georgy Porgy, try to protect the couple. Accompanied by the famous jazz trio, The Three Blind Mice, these four friends sort through jealousies, fears, sexual indiscretions, and a political conspiracy involving one rather well-known Egg. The most important nursery rhyme ever told. No, seriously. Ever.

All reading at The York Theatre at St. Peter's in New York City.


SWEET CHARITY


FIRST ANNUAL RISING MOON GALA AND FUNDRAISER to benefit Coyote Rep takes place Monday, January 29 at the historic Players Club in NYC. The event will include a cocktail reception following the Patron's Dinner. Entertainment will be provided by the star of the recent Broadway show High Fidelity, Jenn Colella.

There will be a live auction and presentation of two Moon Awards, one to the Drama Desk Awards Executive Producer Robert Blume for Outstanding Contributions to Theater and one to playwright Rebecca Tourino for Excellence in Playwrighting.

Coyote Rep is a not-for-profit theatre company dedicated to balancing process and production, and committed to developing, producing and inspiring original plays through innovative means.

Coyote Rep was founded by Artistic Director, Jeanne LaSala, and is comprised largely of graduates from UC Irvine's Masters of Fine Arts in Theater Program.



ETHEL WATERS: HIS EYE IS ON THE SPARROW Opening January 23, 2007, and continuing into Black History Month, Bristol Riverside Theatre pays tribute to Philadelphia's own legendary African-American singer and actress in Ethel Waters, His Eye is On the Sparrow, by Larry Parr.

Born the daughter of a 12- year old rape victim in Chester, Pennsylvania in 1896, Ethel Waters grew up living in poverty in Philadelphia— occasionally stealing food, milk or money, and at times sleeping on grates in the streets to keep warm in winter. But in her early teens she found music, and her singing career propelled her from seedy jazz clubs, to Broadway stages, to the silver screen and Hollywood, where she became only the second African-American actress to be nominated for an Academy Award.

Starring Demetria Joyce Bailey as Ethel Waters. Nine days before opening she replaced Two time Tony nominee Ernestine Jackson, who was slated to play the role, but left the production stating that her health would prohibit her from continuing with the production.

Hear her unforgettable renditions of Stormy Weather, Black and Blue and her signature number - His Eye is On the Sparrow.

Performances January 23 - February 11 at the Bristol Riverside Theatre in Bristol, PA.

SUNDAY IN THE PARK WITH GEORGE Directed by Tony Award winner Jason Alexander.

Music and Lyrics by Stephen Sondheim. Book by James Lapine. Musical Direction by Gerald Sternbach.

Reprise! Broadway's Best continues its celebratory 10th anniversary 2006-2007 season with the Tony Award and Pulitzer Prize-winning musical masterpiece, starring Tony Award-nominees Manoel Felciano, Kelli O'Hara. and Nancy Dussault.

Sunday In The Park With George is a moving portrait of an artist struggling to reconcile the perfect, imaginary world of his painting with the imperfect, messy world of real life. Act I revolves around Georges Seurat (1859-1891) and the creation of his signature painting Sunday Afternoon On The Island Of La Grande Jatte. Seurat's inability to commit to anyone or anything but his work is echoed in Act II as George's great-grandson confronts his own artistic demons and failure to connect. Past and present merge as both Georges discover basic truths about art, human connection and the constant struggle to "break through to something new".

Some of Sondheim's most beautiful songs are featured in the score including Putting it Together, Move On, Children and Art and Sunday.

The design team includes set design by Bradley Kaye. Lighting design and projections by Jason Thompson. Sound design by Phil Allen. Costume design by Heather Carleton and Bethany Jane Bohatila.

Previews begin on Tuesday, January 30 and will open on Wednesday, January 31 and continue through Sunday, February 11 at UCLA's Freud Playhouse in Los Angeles.

SAFETY by British playwright Chris Thorpe. This West Coast premiere is directed by Peter Forster and features Mac Brandt, Peggy Goss, Katrina Lenk and John Montana.

Set and Lighting Design by Russ Borski.

In Safety, Michael is an internationally-renowned war photographer who has spent his career on the front lines, capturing what have become iconic images of combat atrocities, pain and suffering. As he prepares for a major retrospective of his work at a London gallery, Michael confronts the inner truths he has submerged and revaluates his roles as a reporter, as a husband who's never there, and as a father who hesitated when his daughter needed him most.

"The heart of the play is a scene between Michael and his dinner guest, Sean, who saved the life of Michael's young daughter," comments Forster. "Showing Sean a picture taken in Bosnia of a dying woman, Michael proclaims the composition and effect of the photo 'amazing.' Sean sees only death, pain and despair. Part of the brilliance of this play is the interplay of the immediate and the distant. We often think of death as something happening far away, and of war as a series of photographs and news bulletins."

Safety deals with a very modern form of alienation: how can we continue to respond humanely to the constant horrors of war depicted in the media? And what happens to those whose job it is to report them? Unlimited Theatre premiered Safety at the Traverse Theatre in Edinburgh in 2006, and it received a New York production in 2006 at Urban Stages. Safety at the McCadden Place Theatre in Hollywood through February 18.

ROOM SERVICE will serve up a free meal for tickets purchased for Monday, Wednesday and Thursday evenings & Wednesday matinees as part of their winter ticket campaign for performances thru March 25th at Off-Broadway's SoHo Playhouse.

Meal packages include a choice of 3 entrees, coffee/tea/soft drink and a slice of freshly baked Chocolate Cake.

Room Service features a cast of twelve directed by Dan Wackerman.

A classic screw-ball comedy, Room Service centers around the efforts of an unscrupulous producer to find a backer for his new show. Holed up in a Times Square hotel with nineteen hungry actors and a ballooning room service bill, he tries to forestall eviction by convincing the show's gullible young playwright to fake his own death. Meanwhile, an emissary from one of the country's wealthiest businessmen turns up with money to invest in the show; that is, until he discovers the hotel doctor bound and gagged in the bathroom. The situation goes from bad to worse as the much-abused hotel manager threatens to have the entire show confiscated by the sheriff on opening night!

GUTENBERG! THE MUSICAL musical comedy by Scott Brown and Anthony King. Directed by Alex Timbers. Starring Christopher Fitzgerald and Jeremy Shamos. The production features Ryan Karels. The show has musical direction and arrangements by T.O. Sterrett. The musical has lighting design by Tyler Micoleau and costume design by Emily Rebholz.

In the two-man musical spoof, a pair of aspiring playwrights, Bud Davenport (Fitzgerald) and Doug Simon ( Shamos), perform a backers' audition for their new project - a great big musical about printing press inventor Johann Gutenberg. They hope that one of the producers in the audience will give them a Broadway contract - fulfilling their ill-advised dreams. With an unending supply of charm and enthusiasm (and idiocy), Bud and Doug sing all the songs and play all the parts in their crass historical epic, using only baseball caps to differentiate between the show's 30 characters.

Performances to March 25 at The Actors Playhouse in Greenwich Village, New York.


| | | |
| --- | --- | --- |
| | | |
WHO'S WHERE


BERNADETTE PETERS in an evening of songs from the Broadway shows she's received accolades for, as well as from all her Grammy-nominated albums, including standards, Rodgers & Hammerstein, Stephen Sondheim, among others. A glamorous evening with a full orchestra conducted by Marvin Laird. Wednesday, January 24 at the Broward Center for the Performing Arts in Ft. Lauderdale, FL.

WAYNE NEWTON aka Mr. Las Vegas, returns to the State Theatre, in a show which includes his hits Danke Schoen, Red Roses for a Blue Lady, and Daddy Don't You Walk So Fast. Friday, January 26 at the State Theatre of New Jersey in New Brunswick, NJ.

SECOND CITY Chicago's Famed Comedy Company Returns to the Englert Theatre in Iowa City, Iowa. An hysterical evening with Chicago's famed improv comedy group that has launched the careers of Jeremy Piven, Chris Farley, Julia Louis-Dreyfus and many more! January 25-27.

BIG BAD VOODOO DADDY on stage Monday, January 22 at The Birchmere in Alexandria, VA. On Tuesday they begin a two night stand at Rams Head on Stage in Annapolis, MD.

CHRIS BOTTI performs Monday, January 22 at Abravanel Hall in Salt Lake City, UT. On Thursday the show is at the McCallum Theatre in Palm Desert, CA. On Friday he has a two night gig at Touhill Performing Arts Center in Saint Louis, MO.

THE KINGSTON TRIO singing their hits Saturday, January 27 at the Liberty Theatre in Astoria, OR.

LARRY GATLIN entertains Saturday, January 27 at the Williams Trace Baptist Church in Sugar Land, TX.

RED HOT CHILI PEPPERS in the spotlight Monday, January 22 at the RBC Center in Raleigh, NC. On Tuesday the show is at the Charlotte Bobcats Arena in Charlotte, NC. Thursday finds the group at the Verizon Center in Washington, D.C. On Friday the performance is at the John Paul Jones Arena in Charlottesville, VA.

ERIC CLAPTON stars at the Mission Estate Winery in Taradale, New Zealand.

AN EVENING WITH JAMES NAUGHTON This two-time Tony Award-winning theater and television star brings the bright lights of Broadway to The Barns at Wolf Trap on Thursday, January 25, Vienna, VA.




PIFFLE AND PROFUNDITIES


PRINCE CHARLES along with his wife, the Duchess of Cornwall, are flying to Philadelphia and New York on a jumbo jet with a staff of 20 - to receive a Global Environmental Citizen prize from Harvard Medical School's Center for Health and the Global Environment. He will be presented with the award from last year's recipient, former vice-president, Al Gore.

The two day stay will take place January 27-28. The heir to the British throne has plans to emphasize that climate change is a key international priority of the British government.

During the trip Prince Charles and Camilla will visit youth development, urban regeneration and environmental conservation projects, the British Council in New York said Friday.

The last time the couple came to this side of the pond they attended Beach Blanket Babylon during their San Francisco visit.

Next Column: January 28, 2007
Copyright: January 21, 2007. All Rights Reserved. Reviews, Interviews, Commentary, Photographs or Graphics from any Broadway To Vegas (TM) columns may not be published, broadcast, rewritten, utilized as leads, or used in any manner without permission, compensation and/or credit.
Link to Main Page
---
Laura Deni


CLICK HERE FOR COMMENT SECTION